50 of the best souvenirs from London you should absolutely buy!
This post includes affiliate links. As an Amazon Associate, I earn from qualifying purchases. Full disclosure.
All the best souvenirs from London that you will want on your list of must-buy for your next trip! It includes 50 souvenir ideas with price range and where to get them.
Whether you're planning to spend only a couple of days in London or a longer vacation to the UK, having a list of British souvenirs you should buy is a must.
I've prepared one for my trip to Japan, a list of souvenirs from Italy and one for our road trip in Scotland: there's nothing worse than going home only to realize you haven't bought a particular something that you won't find anywhere else!
London is also a particularly large city so you should incorporate your shopping sessions in your itinerary: that way you'll be able to easily buy everything on your list.
Let me offer a few ideas for the best souvenirs from London you should absolutely buy, and where to find them. I've included some of my favorites, that I always buy whenever we visit London and I'm sure you'll love them too!
Quick Links to Post Content
Souvenirs from London: treats and more
Tea from Fortnum & Mason
Let me be super-honest here: while we've been exploring the City quite a few time, in search of the best London photography spots, we'd still never been to Fortnum & Mason. Shame on us!
On our latest trip to London, my dear friend Bernadette told me about this famous department store in London, that would provide quite a few info on the best souvenirs from London, and also delicious samples of traditional British dishes.
I don't think I could ever thank her enough!
Fortnum & Mason is not only one of the most instagrammable spots in London, but it'll also make you feel like stepping into a fairytale. Daily tastings are the norm: cookies, bits of cheese or other freshly cooked dishes.
If you're hungry while looking for London souvenir ideas, this is the right place to be.
You might also like:
A quirky itinerary for two days in London
Here you will also find quite a few things from the list of London gifts for the foodies, which is perfect: you won't have to waste any time in searching for other shops!
The shop has a wonderful clock that chimes every 15 minutes and on the hour, with a pretty intricate design.
You can either have an afternoon high tea in their tea room, or you can buy a selection of their teas from the department store as London souvenirs.
They have some very nice ones in tin boxes that would make a lovely present, as you can keep the box even when the tea's over!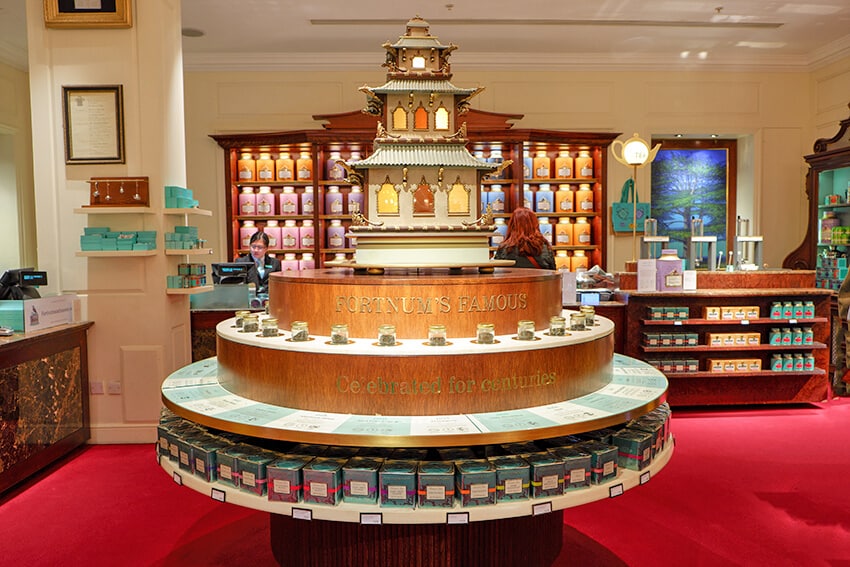 Cookies, biscuits and shortbread
As mentioned in the previous chapter, you'll also be able to find delicious cookies at Fortnum and Mason. They bake them daily, and if you want a long-lasting British souvenir, you can also buy them in a tin box that you can re-use once the cookies are finished.
We loved the Pistachio and Clotted Cream cookies, but they're all delicious, no matter which one you're buying!

Another great place where you can find yummy cookies in London is Ben's Cookies. They bake daily all sorts of cookies, including some of the London's favorites like double chocolate and nuts or matcha and white chocolate.

These cookies come in a nice red to-go box and are sold in several locations, so you can easily fit your search for the best souvenirs from London into your itinerary.

Personalised biscuits are also some of the best things to buy in London. Imagine a very nice biscuit with a hand-written love quote on it, or birthday wishes, an engagement biscuit or a London themed one with your name on the top.
They're the kind of London souvenir ideas that always come in handy!
Click to check out some handy tips for buying London souvenirs on a budget!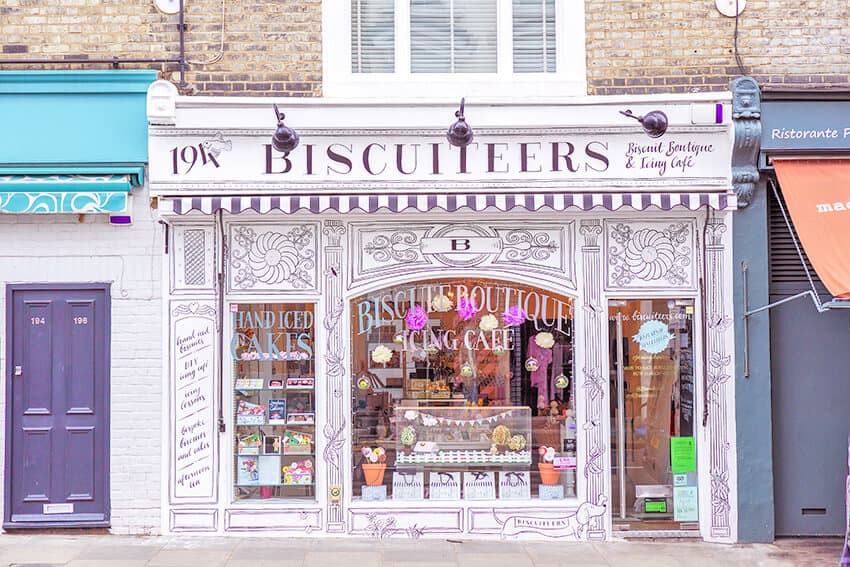 You can find amazing biscuits at Biscuiteers, Notting Hill. If the fact that they're hand-iced is not enough to convince you, their storefront is super cute so you can also add it to your Instagram to-do list!
As you probably already read from our trip to Edinburgh, I love to buy shortbread as a souvenir from Scotland. Yet they sell Walkers Pure Butter Shortbread also in most supermarkets in London. They are the perfect cheap London souvenirs, or at least they are for us, because we can't find Walkers shortbread in Italy!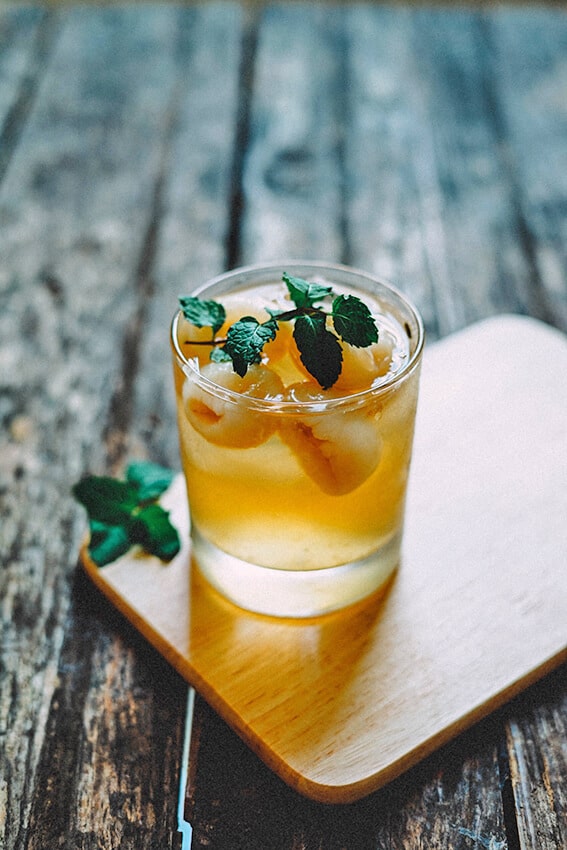 Artisan gin
Since in London (specifically if you explore Soho) you can drink a wide range of locally produced gins, it's only fair that you should consider it like a cool British gift you can bring home.
Before we discuss about the best gins in London, let me remind you that you should always make sure to check if you can import gin to your Country and how much you can buy. Also you'll need to carefully wrap the bottle in your checked luggage to make sure it won't break.
You might also like:
10 hidden restaurants and clubs in Soho London
Buying a bottle of gin at the airport can make things easier because you will be able to put it under the seat in front of you on the plane, but as Aldo always says, it's a bit of a risk. You don't know if you'll also find local gins, and they might not be as cheap as they tell you.
That being said, artisan gin fits into the cool London souvenir ideas that you can use if you have to buy a present to someone who enjoys quality liquors.
Some of the best London-made gins are Jensen's Old Tom, Sacred Pink Grapefruit, Little Bird London Dry Gin and ELLC Barrel Aged, which also comes in a nice bottle.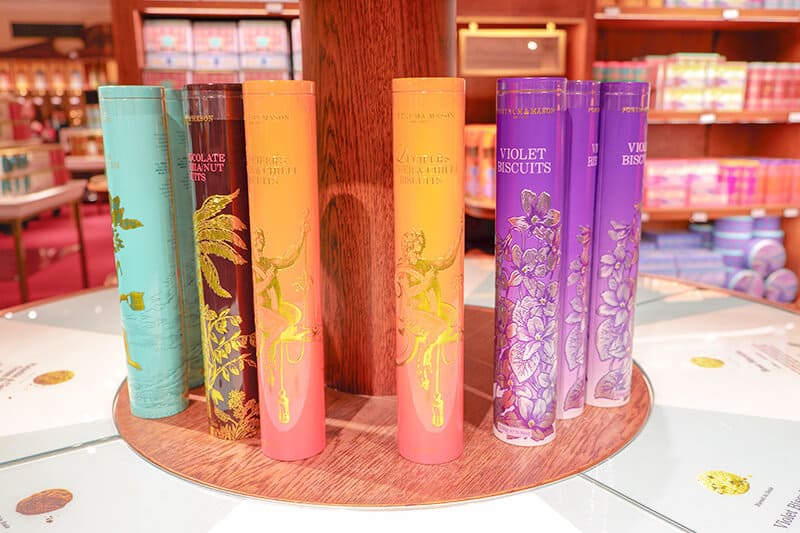 Maltesers, Digestives, Cadbury Chocolate, M&M's
Some of the best souvenirs from London are also pretty cheap. Who said that you can't buy any British souvenirs if you're on a budget?
The ideas on this list are also hand luggage friendly, and perfect if you're in need of buying many gifts without breaking the bank.
Maltesers are a British confectionery product. Basically a small sphere covered in chocolate, with a malted milk centre. They are sold in a variety of packaging, including cardboard boxes and tubes.
Now and then, Mars, the manufacturer, pushes out limited editions: keep your eyes open if you're looking for unique London souvenirs!
Ok, who has never had a digestive? In Italy we use them often as a base for delicious cheesecakes, and we can find it at most supermarkets.
Yet in London we found digestives coated in milk chocolate, Rich tea digestives, those with ginger and nuts. The point is that if you like this kind of cookies you're going to find a lot of different flavors in London.
Make sure you buy McVitie's, which is the best brand, at a supermarket, because you'll get the best prices. Souvenir shops are usually much more expensive!
Some of the best souvenirs from London have to do with chocolate. Or delicious treats. Unless it's very hot then, you should buy Cadbury Chocolate!
Cadbury is a British confectionery company, known for its Dairy Milk chocolate, Creme Egg and Roses chocolates. It's also one of Britain's most successful exports.
Sadly, we don't have Cadbury chocolate in Italy, so we found it the kind of unique gift we can bring home to family and friends.
The purple packaging makes Cadbury chocolate immediately recognizable: some of their products make me think of Willy Wonka and the chocolate factory! According to your needs, you can buy single bars, pocket sized bags, bigger blocks and so on.
Maltesers, Digestives and Cadbury chocolate can be found at supermarkets, where usually prices are cheaper if compared to souvenir shops in London!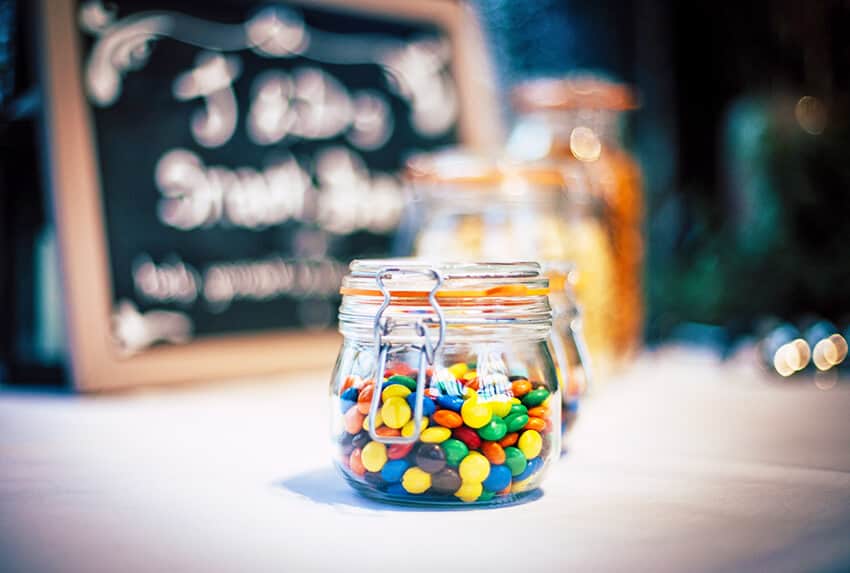 M&M's are of course sold almost everywhere in the world. Yet in London you will find the only M&M's World store in Europe.
Opened in 2011, this shop in Leicester Square is worth a visit. Not only it's huge, but you'll also find quite a few London souvenir ideas, since they sell London-themed products.
Unfortunately M&M's at the M&M's Store are also expensive: be careful when choosing from the long tubes full of yummy flavors, as the final price might floor you!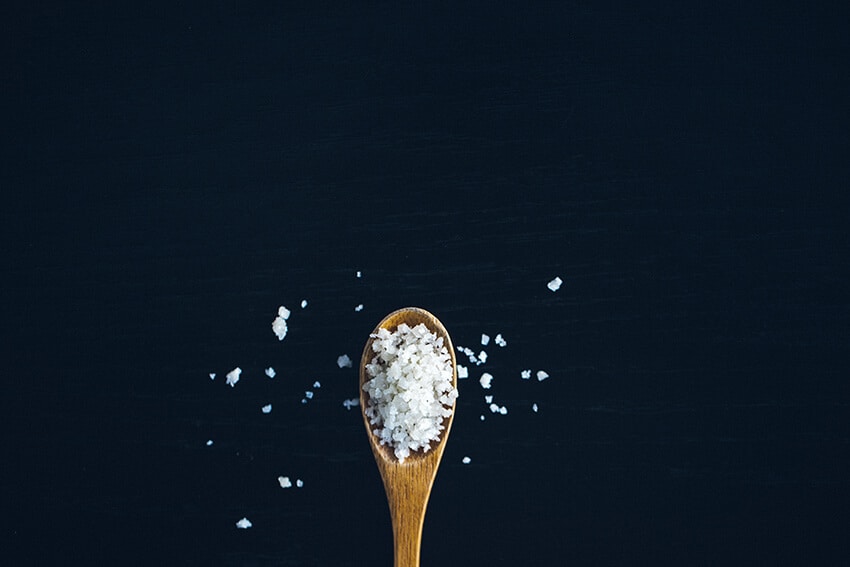 Maldon Sea Salt
If you like cooking competition shows like Masterchef, or if you've bought one of the books by Gwyneth Paltrow, you've probably already read about Maldon Sea salt. I mean… even Cameron Diaz carries a tin of Maldon Sea salt in her bag, it seems to be a must have!
This salt is still produced with the same traditional artisan methods since 1882, and it comes from the coastal town of Maldon (Essex).
It's different from regular salt because it comes in flakes. Each one has a pyramid shape and it's used as a finishing salt, because it's less bitter and less salty than regular salt.
You can consider it as one of the London souvenirs no one would think about, that comes handy if you're a foodie or if you are looking for a gift for someone who loves to cook.
Tesco and Sainsbury's sell Maldon Sea salt in their traditional packaging. It's way less expensive than what you'd think: 250gr usually sell for about 2£ or less. Which means it's one of the cheap London souvenirs ideas you can write down if you're on a budget!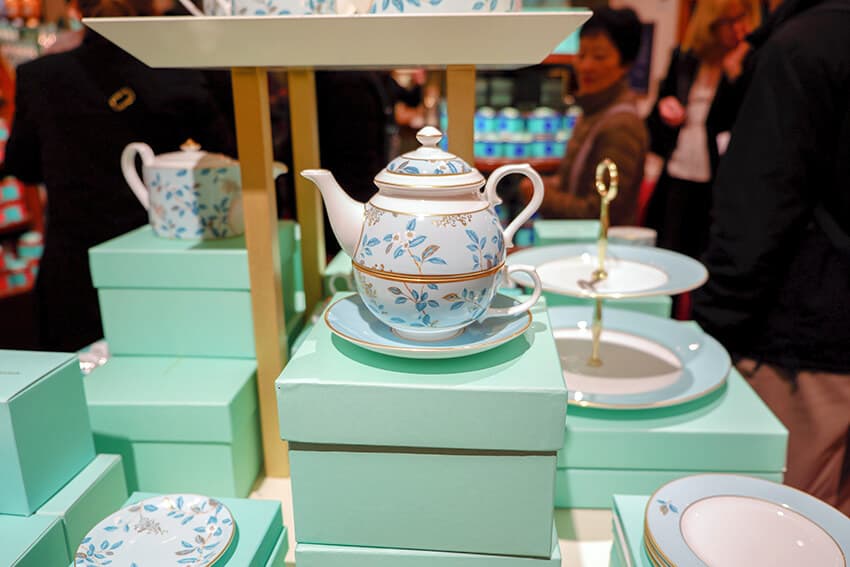 Wine gums
This kind of pastille-type sweets are like gumdrops and originated from the United Kingdom.
Every brand has a different recipes, but usually the gums come in five shapes: kidney, crown, rhombus, circle and oblong.
The name comes from the fact that these sweets are named after famous wines. So you'll have "port", "sherry", "merlot" and so on. Contrary to popular belief, they don't contain any kind of alcohol!
Wine gums are the best souvenirs from London for kids, friends with a sweet tooth and people who actually love to try gums and sweets from other Countries.
For example we always buy sweets and chocolates to one of Aldo's brothers, wherever we go. And have been doing it since when he was a kid! It's a fun way to let them experience travel even if they can't come with us!
These cheap London souvenirs can be found at every supermarket, and also at many kiosks in the biggest train or subway stations. Remember that they're usually cheaper when you buy them at a supermarket!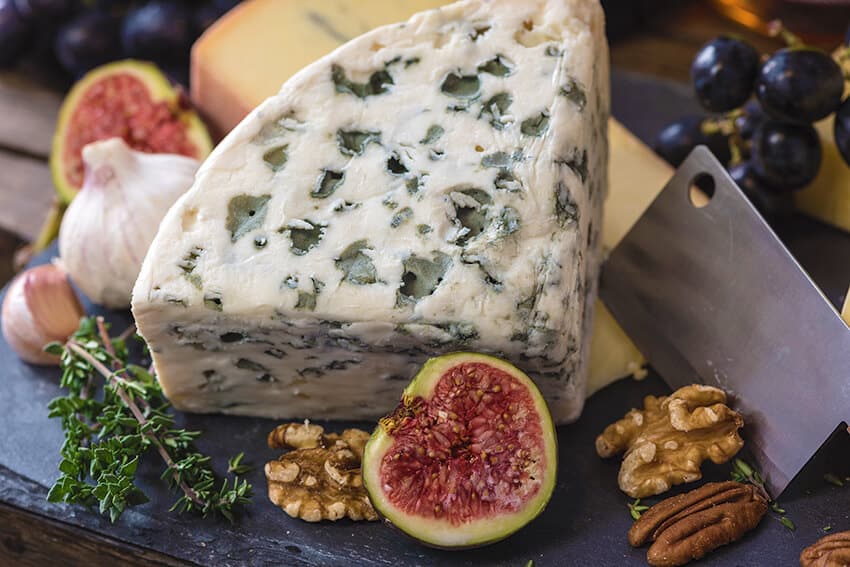 Stilton cheese and Cheddar
If you're a foodie and still don't have a clear idea of what to buy in London, by all means, give Stilton cheese a chance.
This British cheese is produced in two varieties: Blue, which is a bit like the Italian Gorgonzola cheese, and the lesser known White.
They have been granted the status of a protected designation of origin by the European Commission: Blue and White can thus only be produced in Derbyshire, Leicestershire and Nottinghamshire.
Blue Stilton is usually eaten with celery or pears, added as a flavouring to vegetable soups or spread on crackers. White Stilton is crumbly and creamy, mostly used as a dessert cheese. You can pair it with sweet fruit or chocolate.
Another one of the British souvenirs you might like is Cheddar cheese. Sadly we don't produce Cheddar in Italy, and here in the South it's difficult to find it at the supermarket (much to Aldo's dismay, since he's a Cheddar lover).
The main difference between British Cheddar and American Cheddar is that the British version isn't as dry as the American version (due to the fact that it's only aged for a year or two), and it's very savory.
If you want to buy the best Cheddar cheese, you should look for Cheddar Gorge Cheese Co. in the big supermarkets in London.
You can be lucky enough to taste some Cheddar or Stilton cheese for free at Fortnum and Mason or at Harrods Department Store.
If you're not sure that you'll like them, taste them and then you can decide!
We can never leave the UK without some Cheddar: what is Aldo supposed to add to his burgers?
Please, be aware that while Stilton Cheese and Cheddar are delicious London souvenirs, you might not be allowed to import them in your Country. Make sure you know the rules or you might be forced to leave your souvenirs at the airport!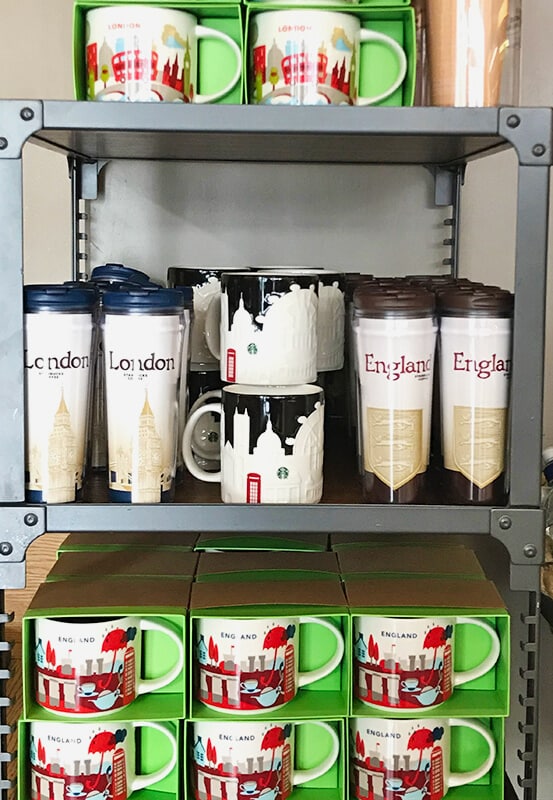 Best things to buy in London: mugs and teapots
I know, you're probably sick of hearing it by now, but I collect mugs. I buy one (or more) wherever I go, and if I'm unable to find a hand decorated ones, I go to Starbucks. They always have a mug collection about the city you're visiting.
If you're looking for London souvenirs and you like to collect things, just like me, you'll be pleased to know that every Starbucks in the City has a set of London themed mugs you'll love.
On my last trip to London I found a very cute one depicting England, with the inevitable rain, the red telephone box and tea cups: super cute. There were also quite a few London themed cups and reusable coffee cups.
But then again I also visited when Primark had just launched the Game of Thrones collection. They also had a lot of Harry Potter themed mugs. So… my bags were super full when I got back home. Let's leave it at that!
If you also like independent brands, To Home from London, with its quirky and colorful shop in Camden, should be on your must-visit list.
They sell hand-crafted souvenirs that go against the mass-produced niche market of cheap stuff for tourists.
The products we've seen come packed with humour, love for British culture and cuteness – you can buy online or you can ask them to have your stuff shipped at home. So you won't risk breaking your new mugs!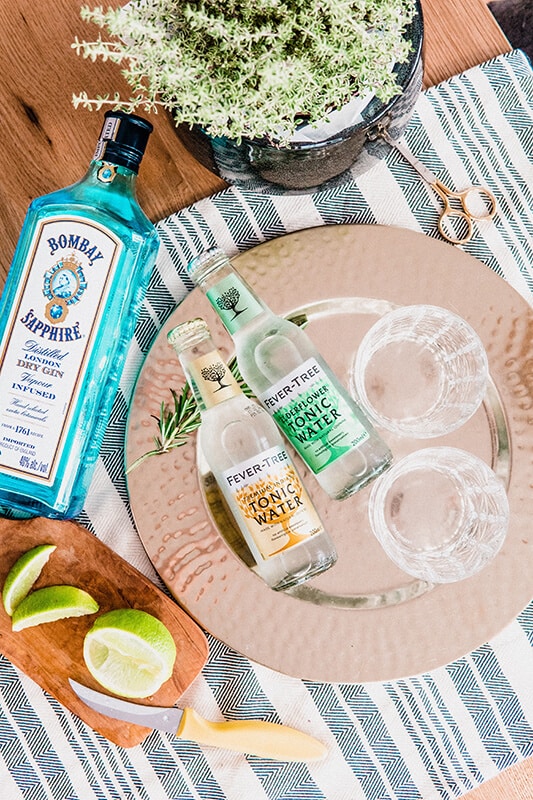 While mugs are easier to carry, teapots and tea cups can be a bit more difficult to deal with.
If you're out and about for a London shopping session, I swear it's almost impossible to resist the temptation. I've found pretty pastel colored cups, fine China, branded tea cups and those that looked straight out of Lewis Carroll's Alice in Wonderland.
Provided they're not the easiest gifts to bring back from London, they might be worth a try if you're looking for something special. You will have to be extra careful.
Usually if you say you're traveling, the shop will make sure to wrap your cup in paper or bubble wrap. Add a few shirts, and put them in your carry-on to make sure they won't break.
As a mug/cup fanatic I have to say that the cutest ones I found were at Fortnum & Mason! Of course they're a bit more expensive but there were quite a few sets and to be honest, the quality was amazing!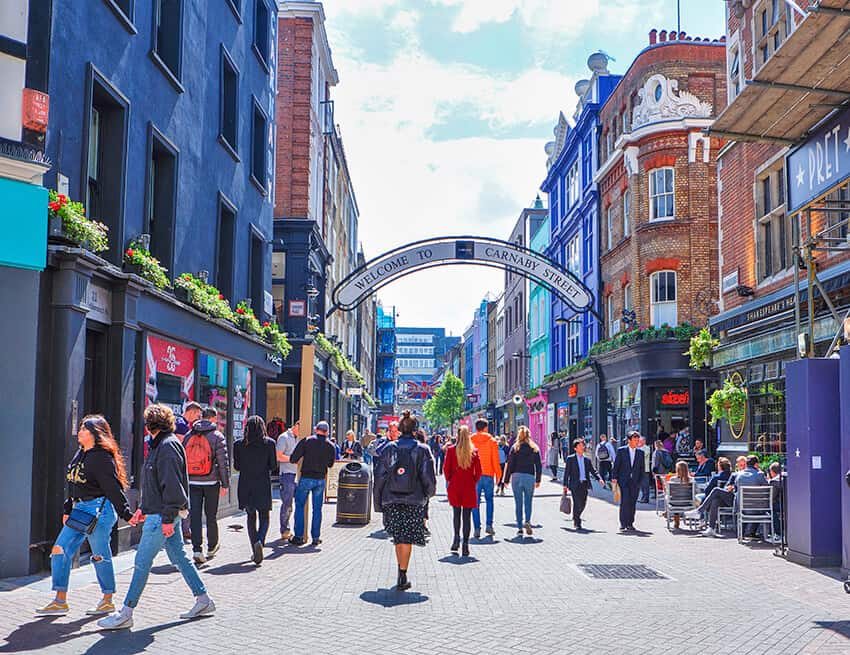 British Souvenirs: Royal Family, Harry Potter & more
While I pondered what should I buy from London, I realized that there are three things you just can't ignore when you go there. The Royal Family, Harry Potter and the Beatles.
Of course the music nerd in me would also love to add at least the Queen and David Bowie. But realistically speaking, from my personal experience, there's less to be found if you compare them to the main three "giants".
When Bohemian Rhapsody with the amazing Sam Raimi was released, even Carnaby Street honored Freddie Mercury with special decorations. Back then you would've found quite a few Queen-themed souvenirs.
Nowadays they aren't as easy to find, but of course, if you've had enough of London themed gifts, schedule a hunt for some Freddie Mercury stuff in your itinerary!
Many of the best shops in London sell Royal Family items one of them is Fortnum and Mason.
I'm sorry, I've been mentioning this store quite a lot, but it's just that I've found so many nice things over there! They also had a Royal Baby collection dedicated to Archie Harrison Mountbatten-Windsor, son of Harry and Meghan!
You can also find Royal souvenirs at the official Royal Shops. There are several locations in London.
All the info are on their official page.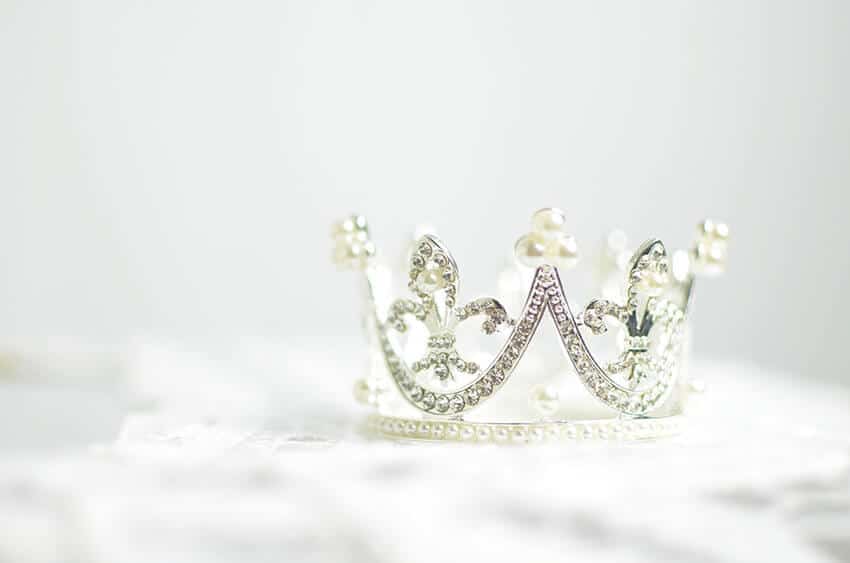 I've seen quite a lot of Beatles-themed items in London. If you like music, they can be the best souvenirs from London, and they're not absolutely expensive (they're cheaper than the Royal Family collection).
There's one Beatles Store in London, selling merchandise and memorabilia, and an Abbey Road Store, where you'll find t-shirts, vinyl and stationery.
Not far from the Beatles Store, in Baker Street, you'll also find the Sherlock Holmes Museum. Among the things to buy in London you can also add something Sherlock-themed, since you're there!
As you know already, me and Al are nerd and proud of it. Now, since we also explored the Harry Potter spots in Edinburgh, there was no way we couldn't enjoy some Potter-themed shopping in London! After all, Harry Potter in London is absolutely huge!
If you have the Harry Potter Studio tour in your itinerary, make sure you add a wand from Ollivander's on your list of London souvenirs you need to buy.
They are sold in lovely boxes and if you manage to get there early (it can be pretty crowded), the staff will help you to choose the perfect wand that fits your Hogwarts House!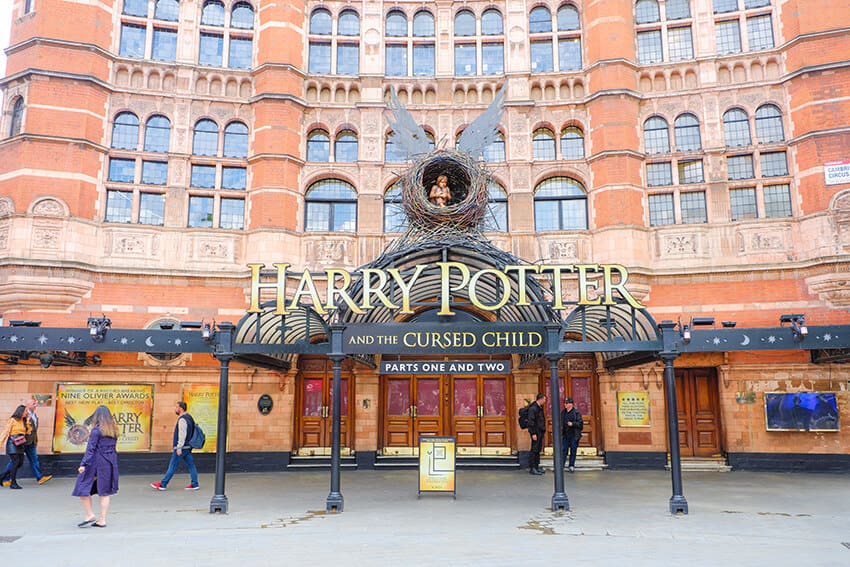 Of course I'm sure you also want to visit Platform 9 3/4 at Kings Cross Station!
Well, one of the biggest mistakes people do is to go to the subway station, then get lost because they can't find anything Potter-related. You need to go to the Kings Cross train station in stead!
Walk inside and keep walking: in front of you there will be a long line of people waiting to take a picture of the luggage trolley half embedded in the wall.
I will be very honest with you: while we are fans, we didn't pay to get our picture taken there. It's always very crowded and we chose to spend those £20 in butterbeer and sweets!
Right next to the photo-op there's the official Platform 9 3/4 store. I'm sure you already had Harry Potter themed gifts in your list of London souvenirs ideas. This is the place where you should go to buy them.
We found a lot of cute sweets, of course there's a wands section, then they have shirts, sweaters, scarves, pins and everything you ever dreamed about!
If you don't have a luggage tag, buy the official Platform 9 3/4 one! They're faux leather and very nice. Besides, they were less than £8 so it's another cheap souvenir you can add to your list!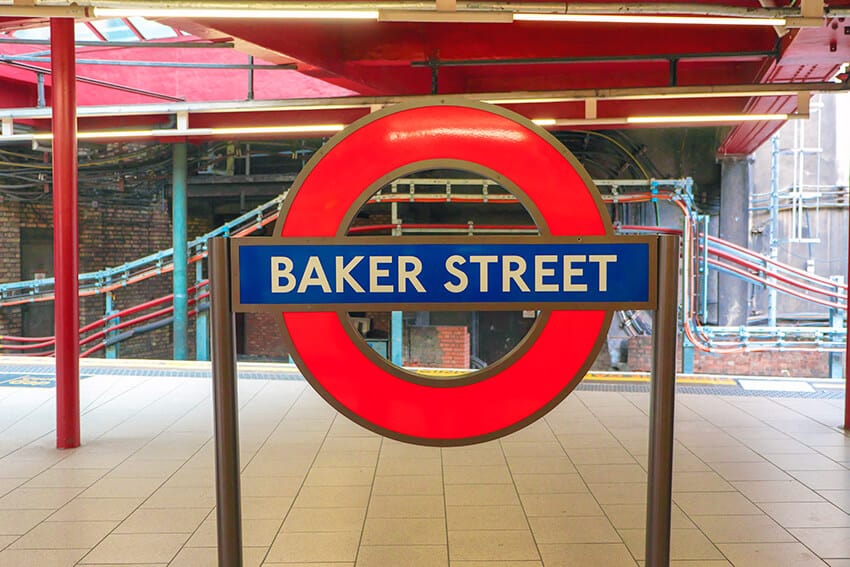 London souvenirs for the collectors (including cheap gifts)
Sherlock Holmes pub sign
As I already mentioned before, you will find quite a lot about Sherlock Holmes in London, especially in the Baker Street area.
One of the best souvenirs from London if you are in love with Arthur Conan Doyle's masterpieces, is a replica of the Sherlock Holmes pub sign.
In case you didn't know, in fact, there's actually a themed pub at Charing Cross. While from the outside it looks like any other pub in London, if you venture upstairs, you'll be in for quite the surprise.
In the dining room there's in fact a life-size copy of the apartment shared by Sherlock Holmes and Doctor Watson.
The owners of the Sherlock Holmes pub in fact were lucky enough to acquire an entire exhibit dedicated to the world's most famous detective, and decided to put it up so that their customers could feel like stepping into one of Arthur Conan Doyle's books.
You will find miniature Sherlock Holmes pub signs and other memorabilia at the Sherlock Holmes Museum gift shop. They're the kind of England souvenirs you don't want to miss!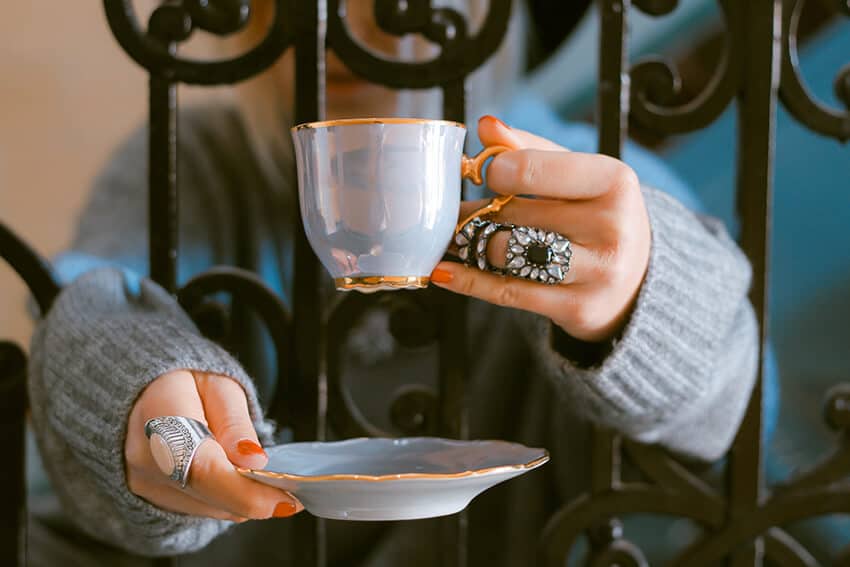 Commemorative pill box
I'm not sure if a thing like this has ever been seen on a list of London souvenir ideas, but after seeing quite a few intricate designs, I couldn't help myself.
The Royal Collection shop in fact sells tiny commemorative pillboxes for the Royal Family that you should check out if you are a fan (more info about the Royal Family souvenirs in London can be found in a previous chapter).
We saw one commissioned by Buckingham Palace to celebrate Her Majesty Queen Elizabeth II, who became England's longest reigning monarch in 2015.
It's entirely made by hand by artisans using the same methods for over 250 years, in fine bone china, and it's finished with 22 carat gold!
Then there was one commemorating The Queen's 90th birthday, another one commemorating the Coronation, and even a limited edition Commemorative Pillbox Clock!
Of course you will find a number of pill boxes dedicated to the Royal Babies, to William and Kate, or Harry and Meghan.
These aren't only London themed gifts, but collectibles: they will acquire value over time, hence they could become a family heirloom!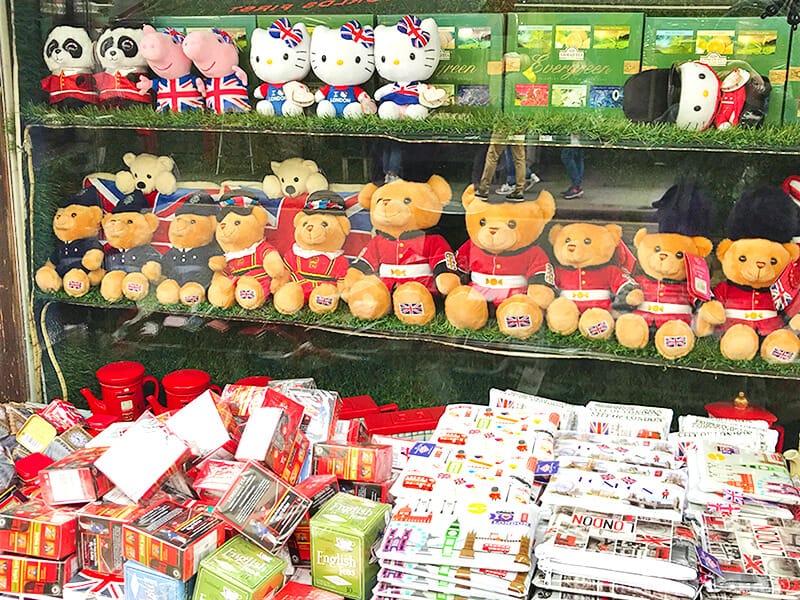 Very British Souvenirs (affordable options)
There's a number of cheap London souvenirs you can buy, contrary to popular belief.
If food is not your thing, you will find tons of shops or little kiosks selling something you can easily bring home. Even in the subway stations! So if you're shopping in London in a hurry, they've got you covered!
The first thing that comes to my mind is, of course, buying one of the lovely London keychains. They're perfect English souvenirs if you don't want to spend too much, and they can be also a nice gift for friends.
When I don't have any idea for someone I don't know very well, I always go for a keychain. They usually are well accepted and come in a wide range of prices, so they can be very cheap or very expensive. It's up to you!
Find the very best deals and book your room in London without breaking the bank. Click to research your dates!
According to my mom, some of the best things to buy in London are resin replicas of famous landmarks. I do agree to a point, because I'm guilty of buying some of those as well.
She is absolutely in love with London so she has a number of resin replicas of London attractions a bit everywhere at home. They are super cheap and easy to carry.
Some are very well made, with lots of details. Others are cheaper and it shows: choose wisely and don't buy them at the first shop you see. In case you have more time, look around. You're bound to find quite a number of cute ones in London!
Another very cheap option for London gifts is to buy magnets. In case you were wondering, our fridge at home is completely covered in magnets from all over the world.
I am aware that it sounds cheesy and clichè but in the family we all collect magnets. Mom and dad, aunts, cousins, and of course my sister.
Magnets are another one of the London themed gifts you can find everywhere. How much you spend is up to you. There are cheap plastic magnets, hand decorated ones, wood or iron magnets… and as you might have read in a previous chapter, you can buy music, movies or literature themed magnets in London!
Pub coasters are yet another cheap option for London souvenirs you should take into account. While you can buy a more expensive version in shops like Harrods department store, most of the times you can get yours for free at any pub.
When they bring over your pint of beer, ask the waiter if you can keep your coaster when you're done. Usually if they are using paper coasters they won't have a problem in letting you keep yours. So it might be the cheapest way to get unique British souvenirs!
Of course you could also slip them into your purse, but I find it terribly rude. Please, ask first!
One of the things I bought on my first trip to the United Kingdom was a London snowstorm globe. There was a time in my life when I used to collect them. I had a ton of snowstorm globes, in different sizes.
Then I got married and my mugs collection took over the house: I decided I could keep up with only one massive collection at a time!
London snowstorm globes are the best souvenirs from London if you are traveling with a checked baggage. If you only have a carry-on, be aware that there's liquid inside so of course the TSA liquid restrictions apply.
Snowstorm globes are perfect gifts for kids (I'm preparing to buy a lot of them to our nephew), collectors, and those who love cute, London themed gifts.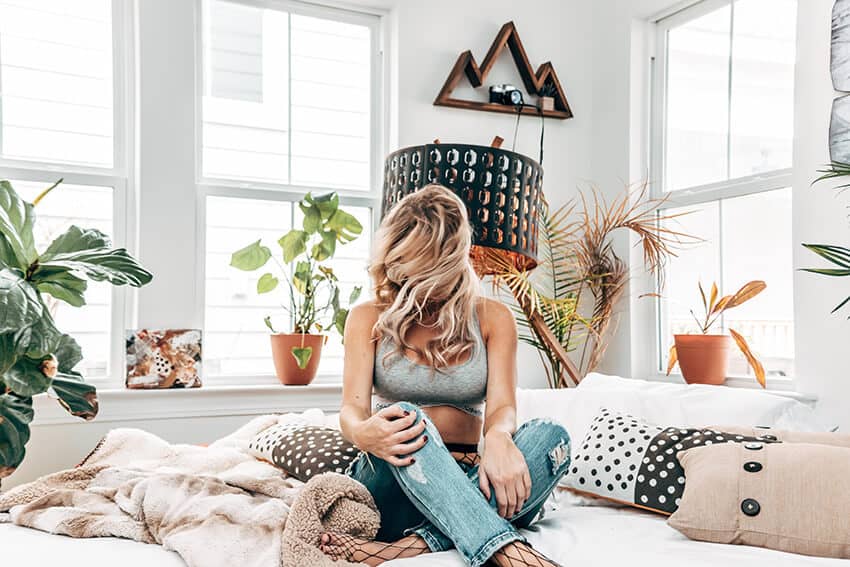 Are you shopping for a motorhead? Do you have to buy a gift for your son or for a kid? Are you in love with motors? Then how about you buy a DieCast Original Mini Cooper?
It doesn't have to be a super expensive souvenir, as you can just buy the toy version! Hence you will find one at every toy store.
Hamleys is one of the best shops in London for toys. The place where I always manage to spend too much money: don't ask!
Art inspired pillows are yet another great London souvenir idea. You can also find them online, if you don't have enough space in your carry-on, or if they're too expensive in London.
Whatever you decide, just know that they are awesome furnishing accessories for every home.
Those you should look for are the Banksy inspired pillows, among others. We've seen quite a lot in the Carnaby Street area, but as many other things in the popular spots in London, they were particularly expensive.
Keep looking, also at the London markets (keep reading for more info), and if all else fails, you can always have a look online! Even Amazon sells some very nice ones!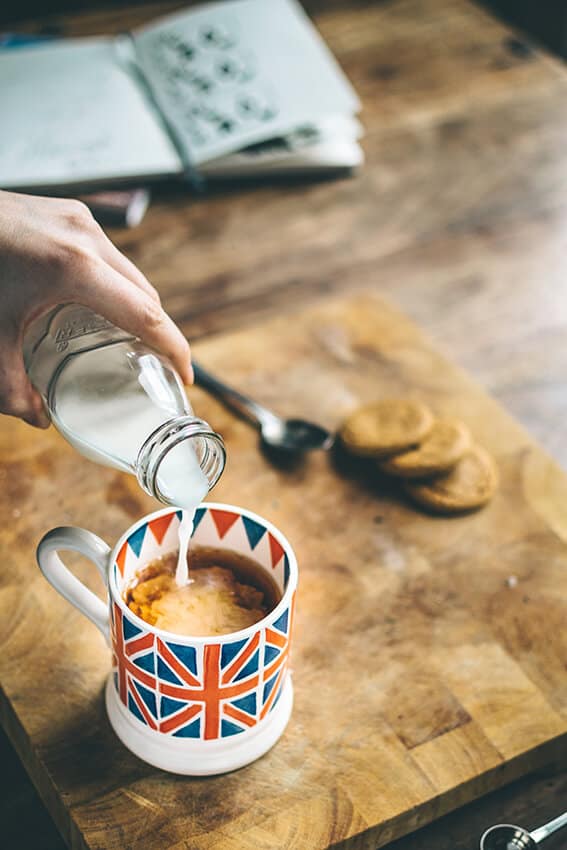 Union Jack Souvenirs
Among those that I define the "very British souvenirs" there are the Union Jack souvenirs. What do I mean?
When you'll visit London, you'll find all sorts of gadgets, items and even food with the British flag on it. These are the things you can buy in England if you already have everything London-themed, or if you like the Union Jack (we do!).
If you want to bring back home a foodie souvenir, you might want to look at Biscuiteers in Notting Hill. They make super cute, hand-decorated cookies, also with the Union Jack and your name on the top.
While they're absolutely instagrammable and yummy, they have two cons. The first one is that they might break in your carry-on unless you are extra careful. The second one is that… they're so cute that you might not want to eat them!
You might also like:
The most instagrammable spots in London
In Notting Hill and in several souvenir shops in London we have seen cute Hello Kitty dolls with Union Jack dresses. Yet another very cute gift from London that is perfect both for kids, and… for kids at heart! They can be collected, and prices are not very high.
If you are looking for a gift for a kid who isn't particularly fond of Hello Kitty, many gift shops sell teddy bears wearing a sweater with the Union Jack on the top.
There are a lot of London souvenir ideas for kids in this post, but let me add yet another one!
When in London, make sure you visit one of the three Lego Shops. They are absolutely amazing! Each sells London themed souvenirs, and has life-sized mascots and London scenes, completely made of Lego bricks.
The Lego Store in Leicester Square is the biggest one in the world, on two floors: is it enough to entice you to a visit? I'll tell you a secret… we didn't need any convincing!
Among the best souvenirs from London that girls who love to travel can buy there are the London Pandora charms. The London collection includes Love London pendant charms, and even a super-cool London Skyline pendant charm.
You can buy London-inspired jewellery and charms at every Pandora store in London: while they also sell online, some of their London charms are only available at the Pandora stores in the UK!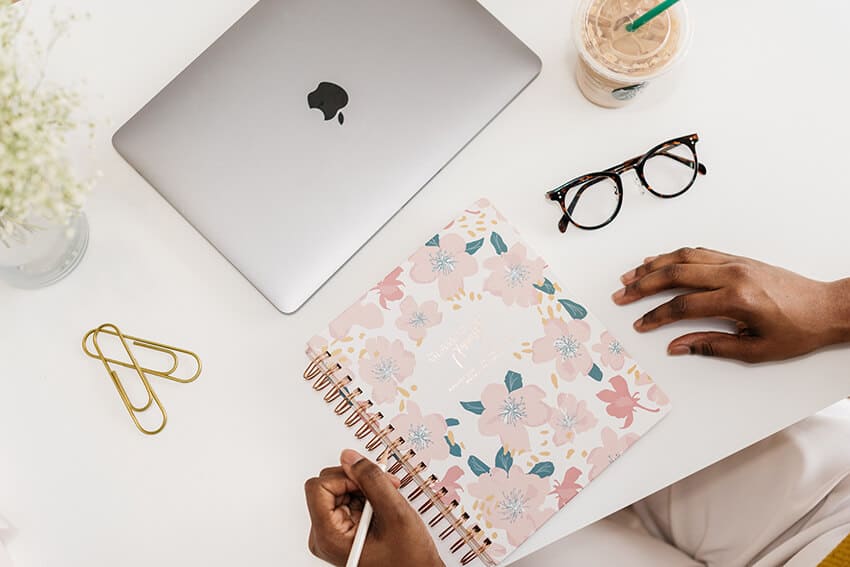 Cute stationery stores in London and what to buy
While I'm terrible at drawing, I still find that scrapbooking and bullet journaling are the things that help me to relax the most when I'm home.
Of course, like every other stationery-obsessed-person out there, I have an issue with buying cute things when I'm on the road. So since it's not always easy to find info online on what to buy and where, I thought I'd add a chapter to this list, because we can never have enough pens, notebooks and washi tapes.
Besides, if you're hunting for souvenirs in London, know that sometimes even gifting a cute London-themed pen to someone can be a great idea!
If you don't have space in your carry-on remember you can buy stationery online! Erin Condren sells some amazing things at great prices!
First of all, if you're going to visit The Houses of Parliament you should be aware of the fact that the gift shop sells a lot of things branded with the stamp of the UK government (they also sell online in case you don't have enough space in your carry-on).
You will find very nice House of Commons notebooks (also with recycled paper and recycled leather), pens, greeting cards, postcards, pencils and so much more.
My favorite souvenir from London that you can buy here, among other things, is the Votes for Women notebook. An A5 lined notepad, super pretty, exclusively designed for the Houses of Commons: it can be a great travel notebook!
From the Westminster tube station, turn around the corner and you'll find the gifts shop. It's on the opposite side from the Big Ben.
If you are in a hurry and can't add more stops for shopping in London, you can find cute stationery at Paperchase: there are many stores, also inside a few stations.
I have loved to check out those at Victoria Station and Waterloo Station while waiting for my train for a trip to Manchester!
The stores inside the stations aren't very big, but you can still find lots of cute things to buy and quite a few deals. For example I bought a few sticky notes sets at 20% off so it's worth having a look!
If you have more time and want to actually go looking for cool stationery in London, head over to the London Graphic Centre, at Covent Garden.
They have tons of pens, markers and fine liners! Actually there are more pens than notebooks, so you might want to add yet another shop to your trip, if you're actually looking for paper stuff.
Another one of the amazing stationery stores in London you should check out is Present & Correct. Especially if you love for your stationery to have a cute vintage look.
I found a lot of office objects in soft pinks or blues, and even a 1970s Airmail stamps set! According to them, they're the place where you can buy "Instagrammable stationery" in London. I do agree!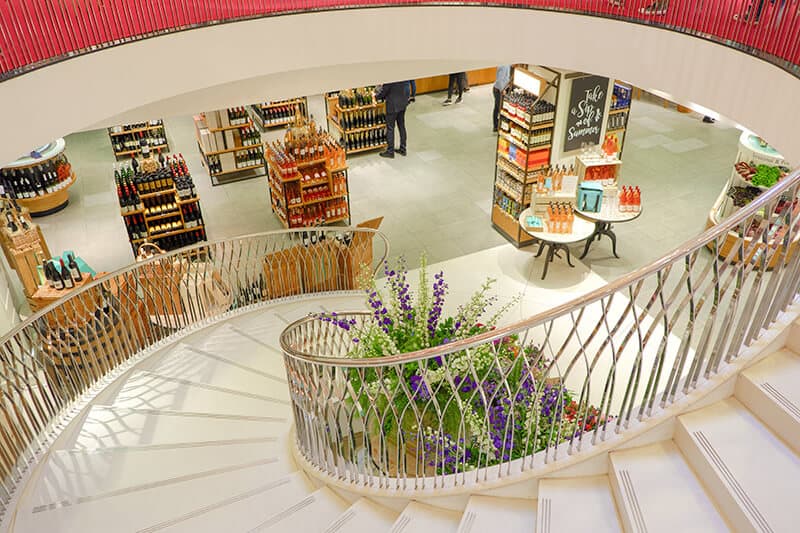 Harrods London: what to buy
Many people think that you can find the best souvenirs from London at Harrods.
While I do agree that Harrods is probably the most famous department store in London, you have to be aware of the fact that it's also very much expensive.
As I already mentioned in a previous chapter, there's the chance to be able to taste a few delicious British foods at the Harrods department store food hall. Yet prices, when I last checked, were a bit higher than Fortnum and Mason, so definitely be careful because you could end up burning the whole budget for your trip to London!
Going to London? Don't forget the amazing Rick Steves London guide: click to get it at a great price on Amazon!
Among the things you can buy in Harrods, if you want to bring home something with the Harrods logo, there's a lovely tin of Harrods coffee. I'm referring to the Heritage No. 20 Traditional Coffee, which comes in an exclusive green and golden tin.
Once you're finished the coffee inside, you can reuse it to store something else: this is one of the smart souvenirs in London! I love everything that can be recycled!
Full disclosure: I am used to Naples cafe so I didn't personally try the Harrods coffee. You can say I'm spoiled!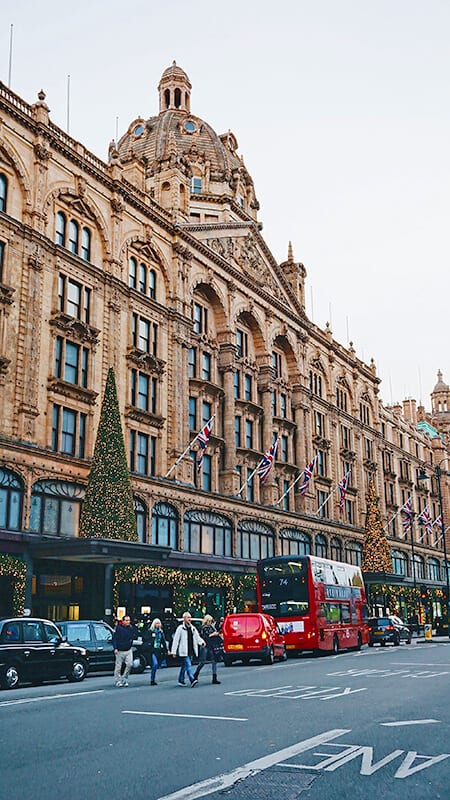 The Londoners also love to shop for Harrods handbags.
At first I got scared by the designer bags prices. They are definitely way too expensive. Yet once you find the Harrods section you'll notice that they actually have "human" prices. Especially if you're shopping when they're on sale.
Harrods handbags are very cute and come in different models. From the stylish two-tone barrel bags to the vintage totes and the floral backpacks, there's something for everyone.
I was there when the bags were on sale, and I was able to find even vintage Harrods wallets for about £8. The most expensive bags were in the lower £30s, but they could be much cheaper. From what I saw, the prices can double when they're not on sale.
They can't be considered cheap London souvenirs, yet always check out their handbags because if they're having sales, you could find amazing deals.
Now, since London is one of the best European cities for Christmas, in case you're planning to visit during the holidays, I need to add that Harrods has a great Christmas decorations section.
Me and my mom (we're both Christmas-bsessed) could spend hours at Harrods in December and always make sure to visit if we manage to go to London for Christmas.
Christmas decorations are some of the best gifts from London and perfect souvenirs for those of us who have a travel-themed Christmas tree!
So if you're looking for travel gifts for her, you could buy a London Christmas bauble, or even a snowglobe: they are way less expensive than what you might think!
You might also like:
The very best souvenirs from Italy (tips from a local)
What to buy in London – a complete guide
25 incredible souvenirs from Japan
30 Florida souvenirs for every pocket
Souvenirs from Ireland – 40 smart ideas
Scotland souvenirs and gifts you should buy
Shopping in London for vintage treasures: where to go
Are you looking for vintage treasures? Do you like everything with a history? Do you want to buy London souvenirs that have a distinctive feel?
You're in the right place!
London sure is one of those cities which can satisfy also the most demanding people. The reason is quite simple: there are quite a lot of flea markets where you can buy amazing things without breaking the bank.
The most famous market in London for antiques and collectibles is the Portobello Road Market. It is quite big, because it's like having several markets rolled into one.
Antiques, food, designer purses and so on. If you are interested in vintage clothes, head over to Ladbroke Grove on Friday: while the market is also open on Saturday, Friday is usually the least crowded day!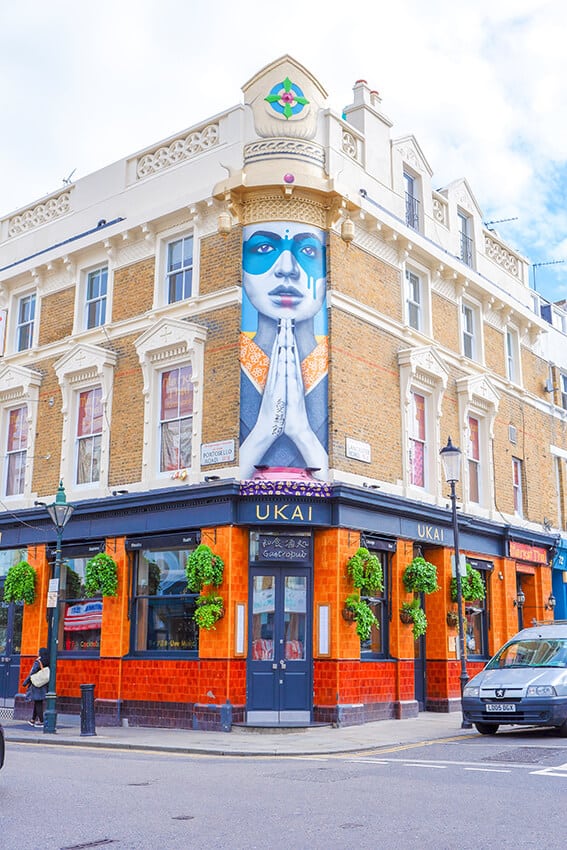 Is it raining and you don't know where to shop in London? Head over to the Old Spitalfields Market!
This covered market is open every day of the week and it's the perfect place to go on a rainy day in London.
On the first and third Fridays of the month, they have a very interesting Vinyl Market. You will be able to flick through thousands of vinyls, from the most obscure albums to the rare finds and the super popular ones. I'd add it to the list of places to go for very cool London souvenir ideas!
My parents are great fans of the Greenwich Market. Out of all the London markets we've seen, this one is always the less crowded: bonus points for that!
It's a treasure trove if you're looking for old photos, embroidery, arts and crafts. Some of the most amazing things we've seen there are ceramics dating back to the '60s.
Of course we had no way to bring these back without crushing them so we had to walk away (much to our disappointment).
If you do have an half-empty carry-on and you are looking for some of the best souvenirs from London, by all means, head over to the Greenwich Market because it's almost guaranteed that you won't leave it empty-handed!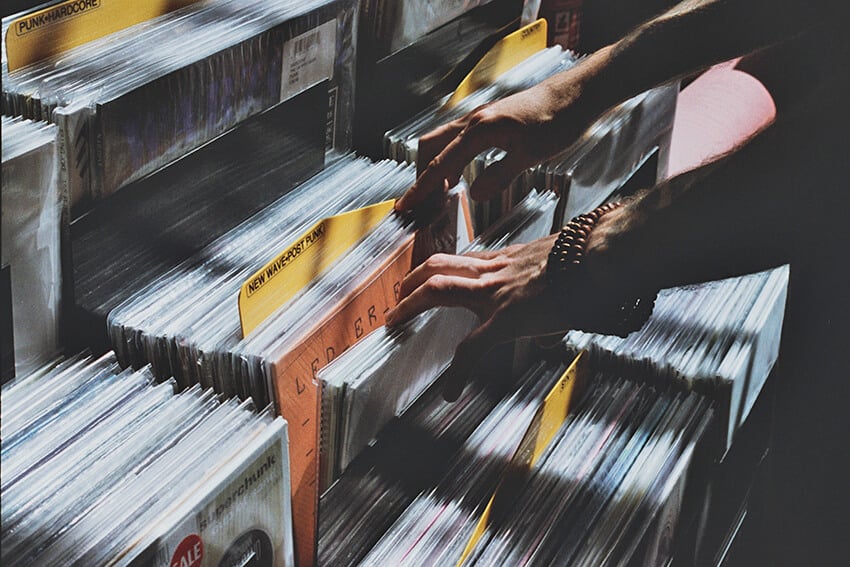 What to buy in London for a cool British style
While exploring Japan, we found a lot of shops and even entire malls almost completely dedicated to women's clothes. Much to Aldo's disappointment.
In London, on the contrary, we've found a many shops and souvenir ideas also for men. You have no idea how happy I was at finding some of those, since I never know what to buy for my dad!
During our trip to Scotland, we realized how important it is to always carry a "brolly" (umbrella in Scottish), as you never know when it starts raining.
London is more or less the same thing. A stylish and very British umbrella is super important.
You can buy one from James Smith & Sons. This shop, located a short walk away from Tottenham Court Road tube station, only sells umbrellas and walking sticks. It dates back to 1830 and the original Victorian shop front has been preserved as it once was (instagrammable spot alert!).
At James Smith & Sons they sell a wide range of umbrellas, so you should be able to find the perfect one for you: prices vary depending on the model.
Another one of the best shops in London is Lock & Co, the oldest hat shop in the whole world. The store first opened in 1786 and since then has served customers like Oscar Wilde, Charlie Chaplin and Winston Churchill.
Their hats can be a bit expensive, but they're pieces of history. You can buy them as a present for a special someone.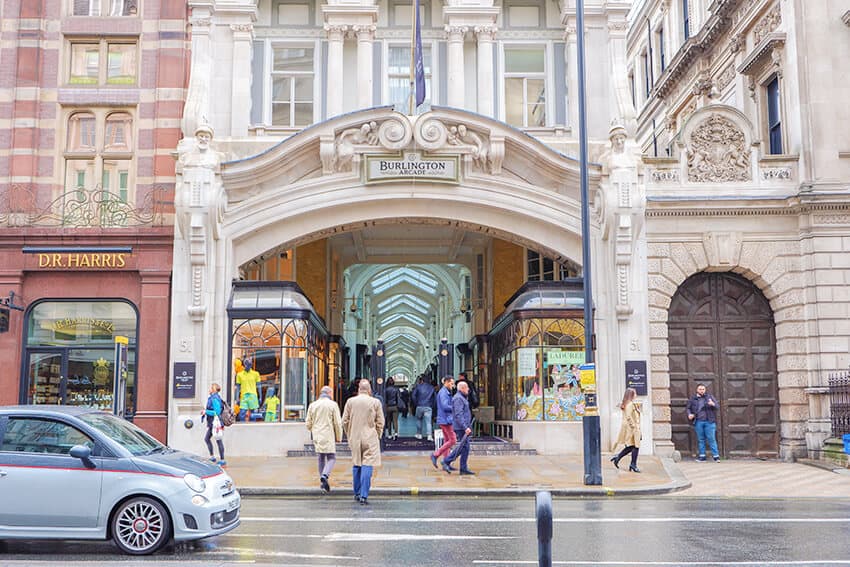 Among the gifts to bring back from London to a very special occasion there are Tower Bridge cufflinks or original cufflinks.
We found some original designs, pretty cool and unique, at Burlington Arcade. This arcade, dating back to 1819, is guarded by Beadles wearing Victorian-inspired uniforms and hosts 51 independent boutiques across 72 units.
It's also a super cool instagrammable spot, as it's absolutely like nothing else you'll see in London.
While you should be prepared to spend a bit more here, there's also quite a few interesting London souvenir ideas. One of the shops also sells custom made lipsticks, something we'd only seen in New York City so far!
A Burberry trench coat is definitely not cheap, but it's one of the best souvenirs from London that you should consider if you're looking for something stylish. While they'll never really be "affordable", there's a shop that sells them for less.
I'm talking about the Burberry Factory Shop in London, a shop where, if you're lucky enough, you will find amazing deals on anything Burberry, for men and women.
Shopping in London can be for a good cause. Not many tourists know about it, but the Notting Hill Shopping Bag is a cotton bag sold at shops at Notting Hill and Portobello Road Market.
It features images designed by children and celebrities who live in Notting Hill, to reduce the use of plastic and to support local charities. They even have an Instagram account where they publish pictures of this super-cool shopping bag sent by fans from every part of the world!
The Notting Hill Shopping Bag is one of the very cheap London souvenirs you should think about. They start at only £5 (some of the "most expensive" ones are £10) and are for a good cause: sounds perfect to me!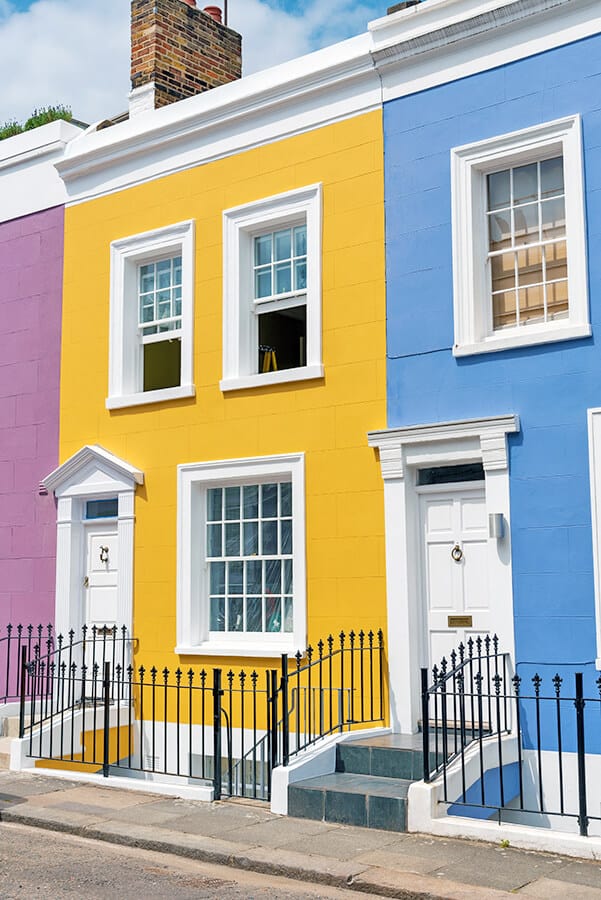 Bonus Ideas: Best London Souvenirs For Under $10 (8€)
If you are visiting on a budget and you're getting worried that you won't be able to buy any UK souvenirs, we've got you!
Here's a handy list of things to buy in London (UK) that will cost you less than $10 (or €8, or £7).
British shortbread cookies
Notting Hill Shopping Bag
Vintage clocks or hand mirrors
Harry Potter Fridge Magnets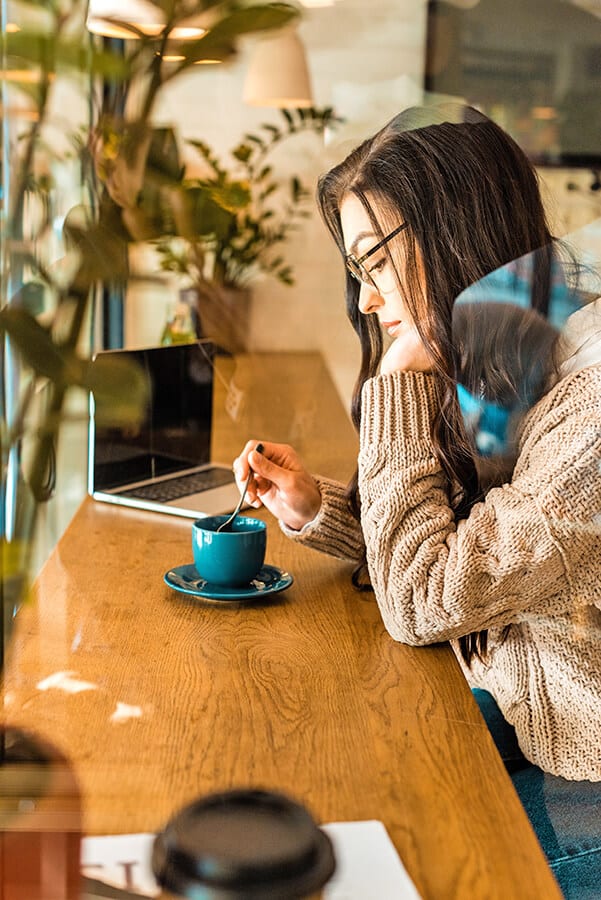 10 Tips To Choose The Perfect Souvenir From London
Do some research so you'll know the rules
Consider the person you're buying for
Avoid the touristy areas: shopping there won't be cheap!
Do not buy perishables
Make sure you know how much space you have in your suitcase
Think small, especially if you're shopping in London on a budget
Shop with the locals
Purchase a handicraft
Make something yourself (ex. a ticket scrapbook)
Opt for a local specialty (British tea is not perishable and is worldwide famous)
You might also like:
– Complete guide to souvenirs from Japan
– What to buy in Scotland: smart ideas
– Ultimate guide from a local on souvenirs from Italy
– How to spend 4 days in London
– 20 awesome fall European trips
– Plan the perfect weekend in London
– Find all the secret restaurants and bars in Soho
– London in spring – Wisteria and more
– Christmas in London – What to do & buy
Pin it for later!
Travelling Dany
Danila Caputo is a bilingual travel writer living in between Naples and the Amalfi Coast (Italy). She travels and works with her husband Aldo, photographer and videographer. Their blog chronicles their adventures around the world, Italian/European culture and tips on how to be responsible travelers. You can find out more about their latest trips and their life on Instagram and Facebook.