This post is also available in: Italiano (Italian)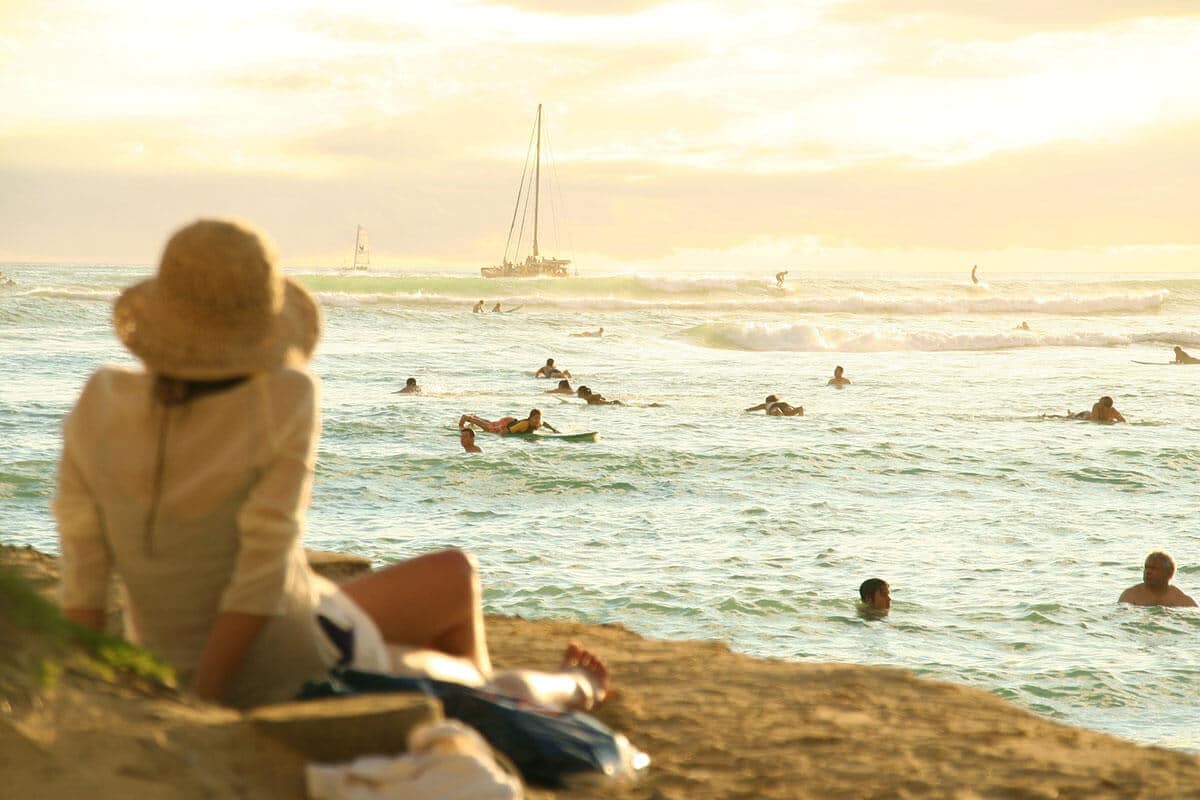 While planning our honeymoon we have read a lot that Waikiki is one of the most expensive areas on Oahu, Hawaii. Yet we found out that there are many things to do in Waikiki, and not all are as expensive as you might guess. Keep reading to discover how to have fun without spending a penny (mostly)!
In the popular imagination Waikiki has always been associated with fantastic beaches, amazing sunsets on the Pacific … and beautiful hula dancers. After coming out from the shadows of World War II, it has become the typical image of Oahu. However, although the stereotypes we would all expect are still there, this location is becoming more and more an exclusive paradise, full of boutique hotels, cocktail lounges and fusion restaurants.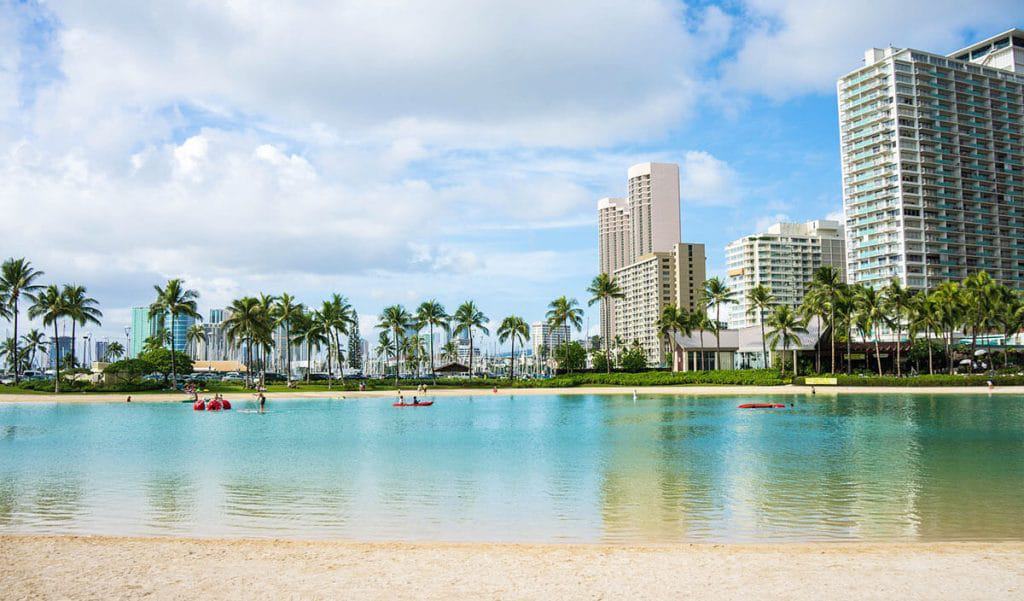 Waikiki beaches
The stretch of white sand of about 2 miles, commonly called "Waikiki Beach", goes from the Hilton Hawaiian Village to Kapi'olani Park. Because of the indiscriminate cementation and of the erosion, these beaches have almost disappeared. The sand we see today comes from Papohaku Beach, on the nearby island of Moloka'i. The first on the list of things to do in Waikiki we want to suggest you is to explore these beaches. They change names and features as you move towards one of the two extremes. You will be surprised to know that access to the beach is totally free!
The trick to enjoy these beaches at their best is to get there early in the morning: you will meet mostly joggers or people walking theis dog. From mid-morning onwards, the area begins to fill up with tourists and salesmen who try to sell you catamaran tours or massages, loud and messy music: well before lunchtime it will be almost impossible to walk without stumbling into someone. We wondered if it was really Waikiki … or Ibiza.
However, in the late afternoon, the beaches of Waikiki become more livable. It might be a good idea to decide to walk up there to enjoy a beautiful sunset by the sea.
The most beautiful beaches that we just couldn't live out of this list of things to do in Waikiki (for us) are:
Kahanamoku Beach – Located on the other side of the Hilton Hawaiian Village, it's protected by a breakwater and features a beautiful coral reef.

The area is very quiet, more suitable for snorkeling and swimming enthusiasts, than for surfers.

Central Waikiki Beach – This was our first impact with the posh Waikiki we had heard so much about.

As soon as we arrived in Waikiki, we crossed Kalakaua Avenue from our hotel, and then next to the Royal Hawaiian Hotel we went through a narrow alley full of surfboards.

As soon as we came out of the alley, we got an amazing postcard view.

White sand, catamarans, white leather sofas, gorgeous women sipping exotic cocktails, water so transparent that it looked like a natural pool.

This is the Waikiki that me and my husband will always remember!

However, since this marvelous stretch of beach is really over-crowded during the day, I suggest enjoying it at sunset, when tourists leave, for a nice barefoot walk on the warm sand.

Kapi'olani Beach Park – The largest part of this beach, much less crowded than Central Waikiki Beach, is Queen's Surf Beach.

You will find showers and toilets, and the beautiful view of Diamond's Head is just an added bonus.

Being close to the homonymous park, when we decided to sunbathe there, we always had a nice picnic on the grass in the park without having to drive around to find lunch.

Sans Souci Beach Park – Another one of our favorite beaches, next to the New Otani Kaimana Beach Hotel.

Here we have never found huge crowds: it is perhaps the beach the locals like more, probably also because it's away from the hordes of tourists.

This beach has a beautiful coral reef surrounded by shallow waters, perfect for snorkeling.

There are toilets, showers and a lifeguard station.

It is not wise to swim too far away from the coast, as strong currents could drag you too far.

If you want to swim beyond the coral reef, go ask the lifeguard station about the water conditions.
Waikiki Aquarium
Being in love with aquariums, among the things to do in Waikiki we had to mention a visit to the local aquarium. Tickets for this modern aquarium, also suitable for children, will cost you $12. Inside, a breathtaking gallery of sharks and dozens of nurseries recreating the different coral habitats of the Pacific Ocean. The areas that we liked most were the ones dedicated to jellyfishes, fascinating and colorful ballet dancers of the sea, and to sea turtles. I sadly read that the aquarium has now opted to close the turtles section, probably because, being one of the most crowded, they choose not to stress too much these very sensitive animals. However, this is the world's first aquarium to breed Nautilus from Palua Island, creatures at risk of extinction, with their colorful spiral shells. In the outdoor area, it is also possible to go to greet some Hawaiian monk seals, another species at risk of extinction. See the calendar on their official website for updates on exhibitions and scheduled events.
Kapi'olani Park and Queen Kapi'olani Garden
As I already mentioned, Kapi'olani Park is a public park adjacent to a beautiful beach. We often went there for long walks in the shade of the tall trees or for pic-nics. It is the largest (and one of the oldest) park in Hawaii, dedicated to Queen Kapi'olani, consort of King David Kalakaua. This area was in a state of evident neglect before the park was established. Since then, they added tennis and basketball courts, rugby and football fields, an archery area, the oldest cricket club around the Pacific and a zoo. We don't particularly like zoos, so we decided to focus mainly on the outdoor areas: this park is very popular amongst joggers and outdoor sports enthusiasts. There are often free concerts of traditional Hawaiian music such as those of the Royal Hawaiian Band at the Kapi'olani Bandstand on Sunday afternoons with classical songs dating back to the monarchical era.
The Queen Kapi'olani Garden also had a right to enter the list of things to do in Waikiki. Located right in the Kapi'olani Park, a free botanical garden open every day. We loved our walks in this park area. Among hibiscus and plumeria, the air here smells of flowers: you can also admire a very rare collection of roses Lokelani. These gardens are the perfect place to escape the chaos of Waikiki. Not many tourists come here, since so many of them are interested only in the beaches.
Kualoa Ranch
If you are a fan of movies and tv series like us, then you have to add a visit to the Kualoa Ranch in your list of things to do in Waikiki. As soon as you arrive, you'll notice that this area looks familiar. Here in fact have been filmed many scenes of iconic movies and tv series. A few examples? Hurley's golf course in Lost, the valley where Jurassic Park's kids were hiding, some Godzilla scenes (you'll see huge a Godzilla pawprint), lots of Hawaii-5-0 episodes, and so on. At Kualoa Ranch you can buy tickets for various types of tours, Jeep or horseback riding tours to see the sets, or to zipline (I was too scared to try), or to try a more quiet catamaran tour along the coast of Oahu.
Kualoa Ranch also has a "foodie tour", with transfers from Waikiki by private car, helicopter or buses to eat traditional Hawaiian foods cooked with local products. It is not uncommon to meet couples celebrating their wedding at Kualoa Ranch: of course if you are interested, you should contact the facility abundantly in advance to make sure that you can organize your special day to the best.
Tickets for the Kualoa Ranch are not particularly cheap, starting at $45 per person, and getting more and more pricey for the most special experiences. If you are on a tighter budget, I suggest you to go for the next step of this list of 10 things to do in Waikiki.
Diamond Head
The crater that is the backdrop to Waikiki and the wealthy neighborhood of Kahala is called Diamond Head and it's probably the most famous symbol of O'ahu. It is a tuff cone, topped by a crater, the result of a violent vapor explosion. The ancient Hawaiians called it Le'ahi and on its summit they built a temple dedicated to the God of War, Ku: human sacrifices were practiced here.
The name "Diamond Head" was came in 1825 when some British sailors mistook the calcium crystals shining in the sun for diamonds, thinking they had gotten rich. In the early 1900's, the US Army began building Fort Ruger on the edge of the crater, also creating a series of tunnels. However, the Fort, consolidated during World War II, has never had to shoot a cannon.
If you like long walks, you can climb the top of the crater for free. The climb is considered moderate in intensity and it's about a mile long. This route leads to a steep stairway of 99 steps, and then to a bunker dating back to World War II. From the top you can take beautiful panoramic photos of the Pacific and Waikiki with its white sandy beach.
It is advisable to wear a hat, lightweight clothing and comfortable shoes (if you do not have comfortable trekking boots, gym shows will be fine, but avoid sandals). Bring a bottle of water with you and plan to start climbing early in the morning, when it's not too hot.

Atlantis submarines
Have you ever dreamed of exploring the ocean on a submarine? Atlantis Adventures will realize your dream for just over $ 100 per person. The Waikiki submarine tour takes about an hour and can be booked through the official website of this company. Submarines accommodate up to 48 passengers and down to 100 feet, like a 10-story building. Cited as one of Waikiki's most fascinating activities also from National Geographic, this tour will allow you to see the depths of this area closely and study marine life. We couldn't keep it out of our list of things to do in Waikiki!
You will see colorful Hawaiian fishes, corals, breeds and sea turtles in their natural habitat, but not only. The Atlantis submarines will also approach some wrecked ships and airplanes, now home to so many marine species. On board there is air conditioning, portholes large enough to allow everyone to see well (although I recommend an early morning tours, like at 9am or 11am, as they are generally less crowded) and comfortable seats to allow you to enjoy the most out of this exciting experience out of the ordinary.
Check-in takes place at the Hilton Pier, located in front of the Hilton Hawaiian Village: even if you have purchased the ticket online, you must be at the Pier at least half an hour before the boardong time. Through the site you can also book a free shuttle service that will pick you up at the hotel and will re-enroll you when you finish the tour. Audio guides are available in English, Japanese, Spanish, Chinese, and Korean.
Waikiki Weekly fireworks
In the list of things to do in Waikiki we wanted to add another free thing: the weekly Waikiki fireworks. Every Friday evening at about 7:45PM you can watch a fireworks show put on by the Hilton Hawaiian Village at the Duke Kahanamoku Lagoon (did you notice the big building with a rainbow on the side in the Waikiki skyline? That's it!). This show lasts about 10 minutes and it is generally a very nice way to end your week. You can find a spot on the sand to watch it, or go for a catamaran evening ride, according to your budget. We decided to just walk over there a bit earlier to find a spot on the beach that wasn't too crowded. Another fun activity that won't cost you a penny!

The Spirit of Aloha Cocktail cruise
If you want to pamper yourself on a luxury cruise on a 52 feet catamaran, you can add a "Spirit of Aloha" to your list of things to do in Waikiki.
In some periods of the year, it's possible to book tours from the Atlantis website to see sea turtles and whales.
Passengers will sail along the Waikiki coast, enjoying, according to the package chosen, a lunch or dinner with all you can eat formula and a welcome cocktail.

From December to April, Atlantis sells cruise tickets that allow you to swim with turtles, for just over $ 100 per person, including an all you can eat lunch and all the equipment needed for it, from the mask to the fins
And the inflatable lifejacket.

As if it wasn't enough, every Friday in the late afternoon, they have cruises to enjoy the fireworks show from a catamaran, with a tapas dinner with a selection of Hawaiian, Asian, and Continental dishes.
Kalakaua Avenue
Known as the "Heart of Waikiki", this great artery deserves a place of honor in this list of things to do in Waikiki.
Dedicated to King David Kalakaua, it is a busy street full of shops and restaurants, by day.
But in the evening it turns into something out of a fairy tale.
They lit high torches to give the whole street a surreal atmosphere .
The smell of flowers in the air, typical of Hawaii, the nice shops, the smiles of tourists. We liked it so much so that from ourhe first day in Waikiki, we never missed the chance to have a long walk here as the sun went down.
In the evening it is better to walk. because there's a lot of traffic and finding parking is almost impossible.
This is a very quiet area, and stores along this artery close late so that you can shop even after dinner.
The road runs parallel to the beach and it's about one mile long.
In the evening you can always find some "luau", an often free show, from hula dancers to fire shows, from ukulele players (a traditional guitar-like Hawaiian instrument) to small shows celebrating Polynesian culture.

If you don't want to give up on something familiar, on Kalakaua Avenue you will find a busy Hard Rock Café that every night has live rockshows for its customers.
Visit old hotels
Another free activity in this list of things to do in Waikiki is to explore some of the most beautiful and "old" hotels in Waikiki.
Such as the Moana Surfrider, opened in 1901 under the name of Moana Hotel.
The beaux arts architecture gives it the style of a plantation residence.
The Moana is located in what was once a very exclusive neighborhood for the Hawaiian Royal House and the economy magnates of these islands. A
ristocrats, members of various real homes and Hollywood stars have slept here.
You try a guided tour or explore the interior museum featuring old photographs and hotel memorabilia.

Another unmissable historical building is the Royan Hawaiian, an Art Deco building with Moorish-style towers and arches dating back to 1927. It has been extensively restored and has been a true extension of the luxury cruise ships of Mason Navigation
when transatlantics were particularly popular.
Named "Pink Palace", it has seen members of the royal family, but also iconic celebrities such as Rockefeller, Charlie Chaplin, or Babe Ruth.
Guided tours are free and explore the magnificent gardens where Queen Ka'ahumanu's summer palace once stood.
Royal Hawaiian Shopping Center
If you like shopping like us, have a look at Waikiki's largest mall, which mainly has international chain brands, but also typically Hawaiian shops like Crazy Shirt and Honolua Surf Co, or Banan, which uses local bananas to make cakes, ice creams and milkshakes. The Little Hawaiian Craft Shop sells small traditional statues, koa wood bowls, and Ni'ihau shell necklaces.

If you want to buy some Waikiki souvenirs, do it here, as the quality is much better than the Waikiki International Market.


Visit the official site for information on sales and discounts.
So, what do you think of this list of things to do in Waikiki?
Do you want to add something?
Have you tried any of the suggested experiences?
Pin it for later!