Ultimate guide to the Waikiki nightlife: updated with the latest trends and full of interesting things to do at night in Waikiki. With fun ideas for every pocket!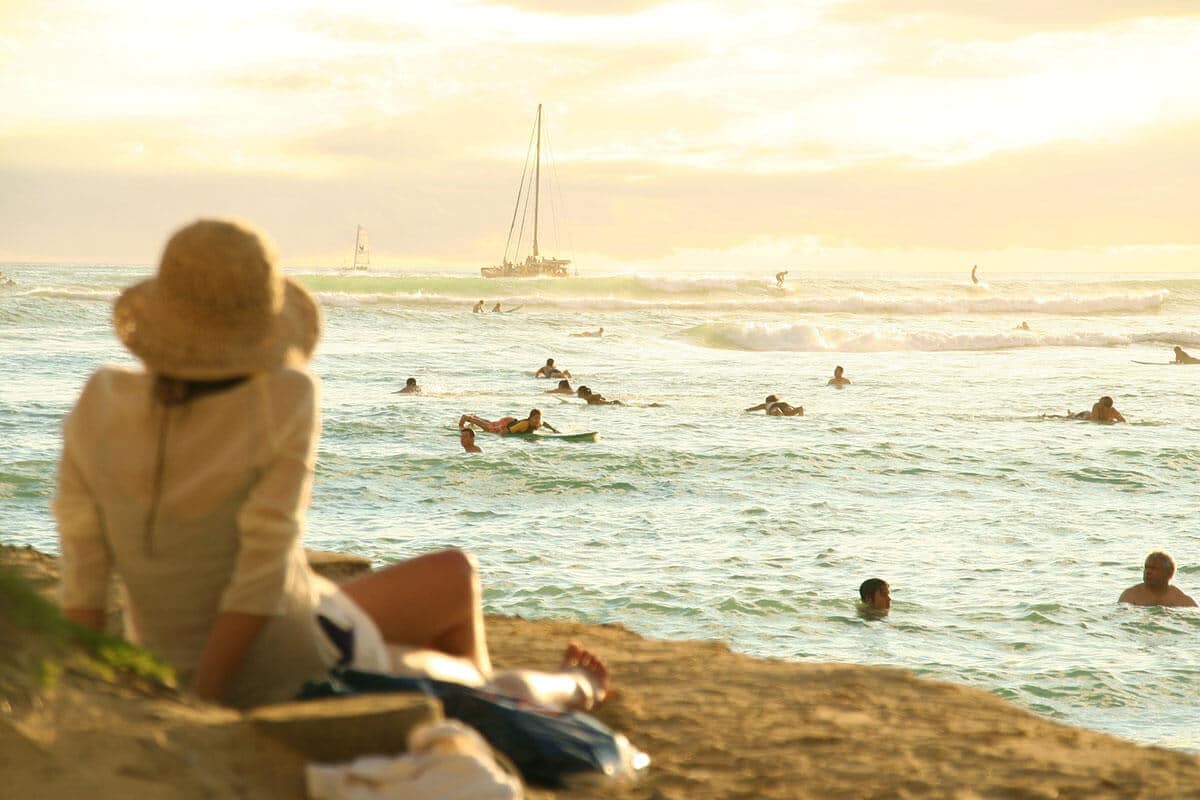 While planning our honeymoon we kept on reading that Waikiki Beach is one of the most expensive areas in Oahu. Of course I knew that during our vacation we could take advantage of a few tips to save money in Hawaii, but I needed to think of something we could do when the sun set. Possibly without breaking the bank! Since I think it will be useful to many of you, let me offer a comprehensive list of cool things to do in Waikiki at night. All of them have been tested and approved: there's something for every pocket! You will find romantic cruises, top notch restaurants as well as… pizza, karaoke and stargazing! Let's have a look at what to do in Waikiki at night!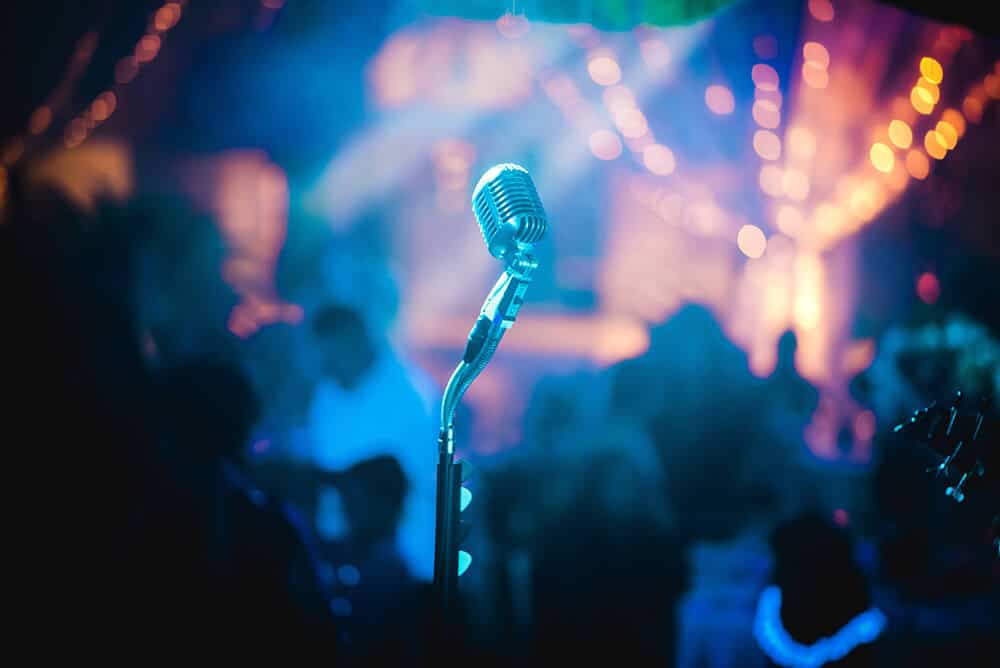 Dance at top clubs, bars and lounges
When the sun goes down, Waikiki starts singing and dancing. If you think luaus are the only thing that goes on in Oahu, you're in for a surprise! Waikiki Beach is the island's main party district. Trendy lounges and over-the-top clubs are everywhere. Let's see what are some of the best you can go to, and why we loved them!
Blue Note Hawaii: do you like Jazz music? Then add a visit to this iconic lounge to your list of things to do in Waikiki at night! Located in the Outrigger resorts, Blue Note Hawaii always has great live music, from local talents to international sensation… all in a stylish setting that we immediately fell in love with!
Rumfire: popular among the locals, it's one of the highlights of Waikiki nightlife. Everyone loves this posh beachside lounge, especially because of their creative cocktails and Asian fusion cuisine. While view from the bar is absolutely breathtaking, I suggest you get down to their dance floor: parties at Rumfire are known to be absolutely epic!
Duke's Waikiki: Duke's is a lively place to drink, eat, dance and just enjoy the aloha spirit. You can sit right on the beach, remove your shoes and relax with your feet in the warm sand, or run wild at one of their hot parties. The name of this old school tiki-bar pays homage to the surfing legend Duke Kahanamoku.
Mai Tai: this bar at The Royal Hawaiian Resort is known for making one of the 5 best Mai Tai in Waikiki! You can sit overlooking the beach (sunsets here are unforgettable) sipping your cocktail, or enjoy their delicious snacks before to go out clubbing. While prices are quite high, it is to be expected because Mai Tai is located in a luxury hotel. Yet the service is quick and everyone kept on smiling at us: we never felt more welcome!
Ginza Night Club: while when we read "Ginza" we can't help but think of our trip to Japan, this night club has nothing to do with the Land of the Rising sun. It is in fact one of the best dance spots in Honolulu, with 3 bars and 2 levels of vip table service options. Every Friday and Saturday the dance floor bursts with energy until the wee hours of the morning. You can find the Ginza Night Club at Ala Moana Hotel in Downtown Honolulu: drink lots of coffee and maybe an energy drink before you go there!
UPDATE: Sadly the Ginza Night Club has closed.
Bar 35: in case you're getting worried everything is too expensive in our list of things to do in Waikiki at night, we've got you! Bar 35 is the perfect hipster lounge with brick walls, home-brewed beer and great music. It's a place where you can have a tall mug of good beer and pizza without having to break the bank. A night out at Bar 35 can be one of the most fun things to do in Honolulu at night or a homely pizza-date. Up to you!
Maui Brewing Company: A great place to taste a pint (or two) of home-brewed beer. This place has the all-American feel of a beer bar: it's lively, funny, and they play great music. If you're on a Hawaii vacation with a group of friends, add it to your list of things to do in Waikiki at night. You won't be disappointed!
Romance your significant other on the best Waikiki beaches
The stretch of white sand of about 2 miles, commonly called "Waikiki Beach", goes from the Hilton Hawaiian Village to Kapi'olani Park.
Because of the indiscriminate cementation and of the erosion, these beaches have almost disappeared. The sand we see today comes from Papohaku Beach, on the nearby island of Molokai.
While lots of people crowd the beaches during the day, at night you will mostly have them all to yourself. A romantic date at the beach or a beach picnic can thus also be two amazing things to do in Waikiki at night. Stargazing… or watching the fireworks (keep reading for more info)!
If your significant other loves adventure, there are a few interesting activities you can consider to surprise them.
Looking at the Waikiki beaches at night from above is one of the things that make everyone go aww. You can book a sunset helicopter tour to enjoy the glorious view of Waikiki at night. The helicopter will fly over Diamond Head, Punchbowl Crater, and will end the tour in Pearl Harbor.
I know for a fact that many people have chosen this particular tour to propose: that's so unique!
The most beautiful beaches that we just fell in love with are:
Kahanamoku Beach – Located on the other side of the Hilton Hawaiian Village, it features a beautiful coral reef. The area is very quiet, and during the day it's the best place to go to for snorkeling and swimming.
Central Waikiki Beach – The first beach we've explored as soon as we arrived in Waikiki! Since we only had to cross the street from our hotel to get there, we loved to walk under the stars after dinner or after having a nice drink. During the day it's overcrowded, and at night it can be still a bit noisy because of all the restaurants and bars, but heck, we just loved to take off our shoes and walk on the warm sand!
Sans Souci Beach Park – Another one of our favorite beaches in Waikiki, next to the New Otani Kaimana Beach Hotel. It's one of the beaches that were never crowded when we visited, not even during the day! It's a bit off the beaten path, away from the crowds, so it can be perfect for a romantic date under the stars.
Another way to enjoy the Waikiki nightlife in a different way is to book a glass bottom sunset cruise from Honolulu.
This kind of tour will give you the chance to watch an amazing sunset over the Pacific Ocean, and to get close to the marine life of Hawaii, while cruising off the South shore.
It's the perfect way to end your day in Waikiki, if you ask me!
Book a segway tour up Diamond Head
The crater that is the backdrop to Waikiki and the wealthy neighborhood of Kahala is called Diamond Head and it's probably the most popular attraction in O'ahu. The ancient Hawaiians called it Le'ahi and on its summit they built a temple dedicated to the God of War, Ku: here they used to practice human sacrifices.
The name "Diamond Head" came in 1825 when a few British sailors mistook the Calcium crystals shining in the sun for diamonds.
During the day hiking Diamond Head means having to deal with crowds and heat waves. Yet if you visit at night, it can be definitely more fun! Segway of Hawaii is a tour operator that offers sunset tours of Diamond Head… on segways!
I don't know about you but I'm terribly clumsy. So I won't lie: I fell on my bum twice. If you are game, definitely try them because they were absolutely great. Otherwise you can hike Diamond head at sunset for free: be aware that Diamond Head Park closes at 6 pm!
Enjoy the Waikiki weekly fireworks
Among all the things to do in Waikiki at night you should definitely try to find some time on Friday evening for the Waikiki fireworks. Organized by the Hilton Hawaiian Village at the Duke Kahanamoku Lagoon (did you notice the big building with a rainbow on the side in the Waikiki skyline? That's it!), they start at about 7:45 pm.
This show lasts about 10 minutes and it is generally a very nice way to end your week. If you are stargazing on the beach (we have watched them from Central Waikiki Beach) you can watch the show for free.
Yet at Hilton Hawaiian Village (here you can find the best deals in case you decide to stay there), they have a special screening by the pool for the guests who are lodging at the hotel. It's very posh and romantic!

Treat yourself to a Cocktail cruise
If you want to pamper yourself on a luxury cruise on a 52 feet catamaran, you can add an evening cruise to your list of things to do in Waikiki at night.
A Oahu Cocktail cruise is a mix of music, great cocktails (of course!) and a dinner with an all-you-can-eat formula. If you're lucky enough to book a late afternoon cruise, you will be treated to a swoonworthy sunset.
On Friday nights you can watch the fireworks show from the catamaran! Which is one of the very cool things that usually make Instagram go crazy!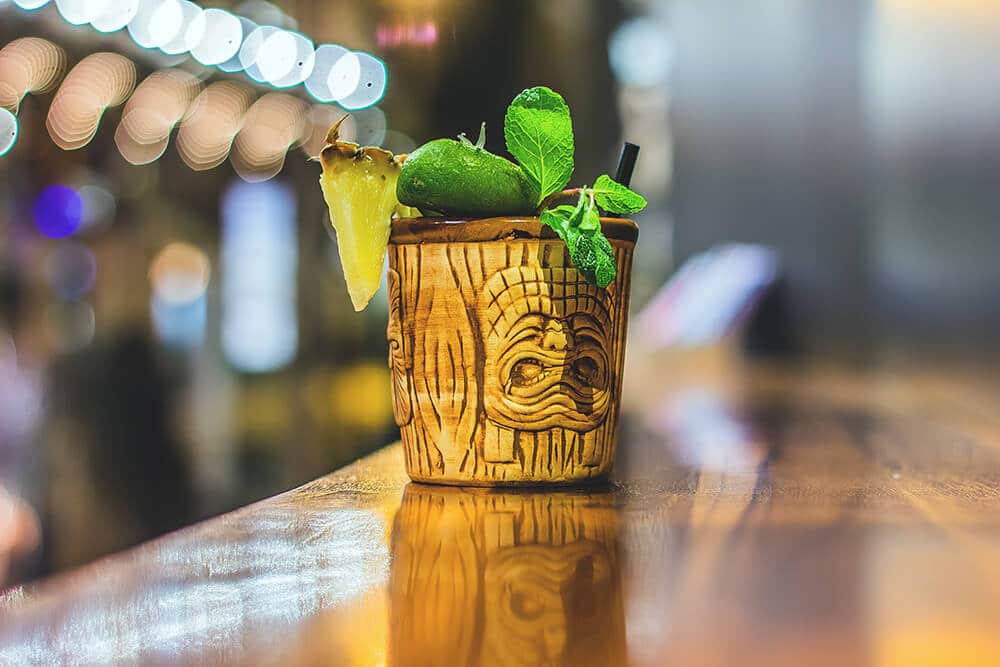 Stroll down Kalakaua Avenue
Known as the "Heart of Waikiki", Kalakaua Avenue is a touristy spot that you should go to at least once during your trip to Hawaii. At night they lit high torches that give the whole street a surreal feel.
You will be treated to the sweet scent of flowers in the air, the sound of original Hawaiian ukulele songs… and lots of tourists. That's because Kalakawa Avenue is full of restaurants and bars. But hey, feeling like a tourist for once won't hurt you, right?
We actually found it cool because it was our first time visiting Hawaii so it was a different experience for us!
Along Kalakawa Avenue there's also an often crowded Hard Rock Café that has live music events every day of the week.
Attend a Luau
Another one of the "touristy" things to do in Waikiki at night that you should experience is a traditional luau. I'm not saying it's touristy to offend the local culture, which in fact I love, but because whenever we've attended a luau… it was full of noisy tourists.
Please, if you want to enjoy this kind of event, be respectful of others and of the performers!
Luaus are shows with hula dancers, tasty food and fire dancers. Aha'aina Royal Luau at The Royal Hawaiian Hotel (here you can find the best deals for this hotel) is an upscale show that happens on Waikiki Beach on Mondays.
At Hilton Hawaiian Village you can get a more interactive experience with the Waikiki Starlight Luau (Sunday-Thursday). On Fridays they also host the Rockin' Hawaiian Rainbow Revue, a party with Hawaiian music a torch lighting ceremony and hula dancers.
Sing your heart out at Karaoke
As you probably already know, sometimes we love to share a laugh by singing at karaoke. While our karaoke experience in Tokyo was much more secluded, at Wang Chung's, located in the Stay Hotel Waikiki, they have a long list of fan favorites that you can scroll to see if you find a song you would like to sing.
There's usually a long queue, because the venue is quite popular, but it's far from boring. Wang Chung's is always buzzing with life and it's one of the most LGBTQ friendly places we've been to.
So I couldn't help myself: I had to add it to my list of things to do at Waikiki at night! I hope you get the chance to go because it was a cool and fun experience for us!
Experience a sunset photography tour
Taking great pictures of your Waikiki vacation is on the "to-do" list of each and every one (including us!).
Pictures have this power of bringing back great memories, so learning the ropes to get yourself a great photo album once you're back home is mandatory.
Among the most interesting things to do in Waikiki at night there's also a sunset photography tour with a professional photo guide.
The tour includes a very interesting sunset tour of the most beautiful and underrated spots in Waikiki. From a Buddhist temple to a colorful food market in Waimanalo, to the gorgeous Kawai channel.
Depending on the time of the year, you might also spot the Hawaiian-born humpback whales.
This kind of tour is always fun, and offers you the chance to use professional tripods (included), as well as to upload your pictures on the socials as soon as you take them, as free Wifi is provided.
You can click here to check out rates and availability.
You might also like:
– How to visit Hawaii on a budget
– What to do in Waikiki at night
– The best stops on the Road to Hana
– Top Hawaii souvenirs you can't forget!
– USA Babymoon Ideas on a Budget
– Why you should travel with your partner
– What to Pack for Hawaii
– 30 Most Instagrammable Places in Oahu
– 9 Jaw-Dropping Oahu Scenic Drives
– Discover 10 hidden gems in Oahu!
– Oahu Bucket List Destinations You Will Love
Pin it for later!
This post is also available in:

Italiano