Driving the Hana highway should absolutely be on your Maui bucket list. Let me show you why, with this list of the best Road to Hana stops, mile-by-mile. With lots of hidden spots, waterfalls and gorgeous beaches you will love! Are you ready to discover the most beautiful Maui scenic drive?
Useful info on the Road to Hana
Maui is the second largest island in the Hawaii archipelago, otherwise known as the "Aloha State", and like the other is a volcanic island. We added it to our itinerary at first only because of the road to Hana.
We arrived on the island from Italy after about twenty hours of flight, with a few layovers in between. And we were exhausted! Yet the first thing that I noticed as son as I got to the Kahului airport, was the beautiful scent of plumeria in the air. A real treat, after such a trip!
This is a road trip that offers the chance to see the real Maui, to hike to swim, even in close proximity to the road to Hana waterfalls you might have seen all the time on world famous travel guides.
If you are very lucky and the sky is clear, you will also see the top of the two largest volcanoes in the world, the Mauna Loa (13,680 ft) and Mauna Kea (13,802 ft) on Big Island.
Planning a road trip?
Click to download our FREE printable
ROAD TRIP CHECKLIST!
How long is the Road to Hana?
This popular Maui scenic drive is about 53 miles long.
The Hana Highway stretches between Kahului and Hana. You will drive over 617 curves and 56 one lane bridges: it is one unforgettable trip!
You might also like:
Proven tips to help you plan a trip to Hawaii on a budget
What kind of car should you drive?
We really didn't find the need to rent a Jeep or an expensive 4×4 vehicle for this road trip. Even if you want to hit the most remote road to Hana stops, you still wouldn't have any issue, whether you're driving a minivan or a sedan (or a motorbike, of course).
You should rent the smallest car if you're visiting on a budget or anything that you feel comfortable in driving for a long road trip.
Only in case you're interested in driving the back road from Haleakala you will need a 4×4 vehicle. The road isn't paved for large stretches and it's pretty bumpy.
Keep in mind that not every car rental agency allows offroading so you'll need to double-check your agreement if you want to try this adrenaline-filled diversion.
Click here to check out how much it'd cost you to rent a car in Maui.
Note: we have used this dealer for years with no issue!
What is the best way to explore all the best stops?
The best thing you can do is to write down a small road to Hana guide with all the stops you want to hit. Add a realistic estimate of how long it'd take you to drive them and eventually delete those that you won't be able to reach.
It is impossible to see all the sights in just one day, so you will be forced to pick only a few of them.
Do not feel bad: being honest is the biggest favour you can do for yourself! There's no point in adding 20 stops to your list if you can only visit 6 or 7, right?
In case you have more time, think about staying overnight in Hana. This part of Maui is packed with things to see and do, so you will be able to visit more.
Speeding on the road to Hana is super dangerous and you might also have to deal with slow vehicles: spend one night in Hana in stead than rushing your visit!
Whatever you decide, please drive safely and enjoy your trip.
Click here to find a hotel in Hana for the night.
Where to start the road to Hana trip
There is no better way to enjoy this scenic drive.
If your rental allows you to drive off road, and the backroad is open, you can make it a full circle and head back to where you started.
The one that people call the "traditional route" to Hana runs clockwise. That would allow you to pass through the most lush parts of the highway in the morning.
If you start early enough, the vegetation will be wrapped in the morning mist, making the whole trip unforgettable. Keep your camera at hand because you will need it often!
The rocky landscape past Hana is also spectacular in the late afternoon and there are quite a few nice viewpoints where you can stop to watch the sunset.
However you decide to actually drive (clockwise or counterclockwise), you will have to get to the Haleakala Highway, which will take you part of the way up the mountain. Going through Kahului is a must.
Twin Falls – Mile Marker #2
At mile marker #2 along the Hana Highway you will be able to access a trail to hike to the Twin Falls.
These quaint waterfalls dive into a natural pool where you can swim. We stopped at the lower falls, the first waterfall you will meet along the path.
According to our timetable, we wouldn't have had time to enjoy the rest of the road to Hana stops if we stayed too long.
This is an area where you will have to pay attention to flash flood warnings at all times.
The Twin Falls are generally very crowded, so I suggest you stop here early in the morning. If you don't like the crowds, just like us, here's a useful tip. Count the cars in the parking lot: if there are too many, maybe you'll want to go to the next stop.
Click here to watch our video on Maui for some ideas for your next trip!
While the Twin Falls are gorgeous, they can turn into a bit of a nightmare when they're too crowded. People talk too loud and you might have to stand in line just to take a few pictures.
Don't waste time if the parking lot is full – keep driving to the next stop so you won't find as many people!
While you decide if you want to hike to the waterfall or not, stop for a yummy break.
Inside the Twin Falls parking lot there is a small and colorful farm stand that sells fruit smoothies, fresh fruit and refreshing coconuts. It's always a good time to have a second breakfast!
Ho'okipa Lookout – Mile Marker #9
At mile marker #9, shortly after entering Highway 36, past the lovely town of Paia, you will find the Ho'okipa Beach Park.
The Ho'okipa reef breaks the great waves, making this area extremely popular among sports enthusiasts who love surfing, windsurfing and kite surfing. Although the name means "hospitality", however, it's not a suitable place for beginners or to enjoy some quiet snorkeling.
If you are visiting Maui with your kids, make sure they are supervised at all times.
At the Ho'okipa Beach park there are picnic tables and observation points, as well as a couple of food trucks selling local delicacies and fresh coconuts, that will provide a healthy drink on the go.
If you are very lucky, you might have a sea turtle encounter. The turtles visit the beach in the evening to rest, but some will stay longer – there are good chances you'll see them if you arrive at the Ho'okipa lookout early in the morning.
Please, be a respectful tourist and don't get too close. Touching the turtles will scare them and might hurt them as well.
Turtles are a protected species. At Ho'okipa Beach Park there are volunteers who take care of the preservation of Hawaiian turtles (Honu). Ask them if you have questions or if you are unsure about getting a little closer. They are always happy to answer questions!
Kaumahina State Wayside Park – Mile Marker #12
Approximately at mile marker #12, you will find the Kaumahina State Wayside.
This scenic area offers the opportunity to have a relaxing picnic lunch with a view.
Picnic tables are in fact available for free: they offer a great view on the picturesque North coast of Maui.
The tropical vibe is strong here, thanks to the scent of flowers in the air, the massive rock formations and the palm trees.
The Kaumahina State Wayside Park is also one of the useful road to Hana stops: take advantage of the restrooms! There won't be many along the way so make sure you go here in case you need to, or you might have to wait quite some time before you find another restroom!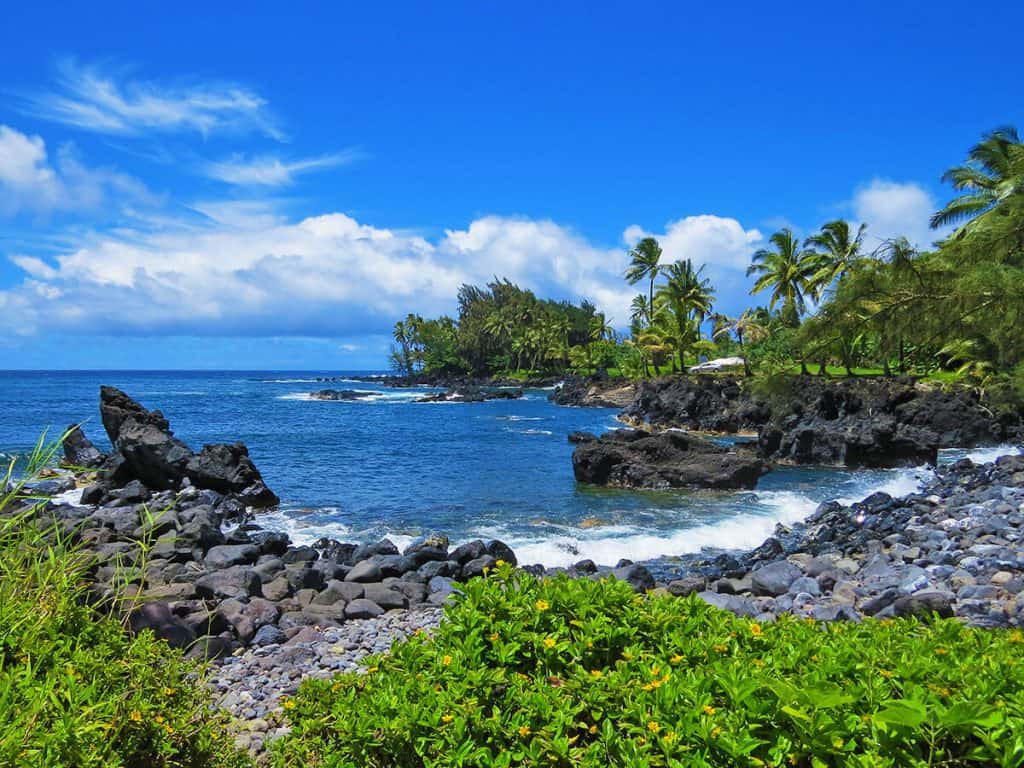 Keanae Peninsula – Mile Marker #16/17
In case the Twin Falls were already super crowded, you might get at the Keanae Peninsula earlier than expected. That means you'll have enough time to take a stroll along the rocky coast for some pictures.
A paved road will allow you to get pretty close to the ocean. The jagged cliffs lined with tropical palms, and the huge waves hitting them, will make you feel tiny.
Since it is easy to miss the turn, drive slowly. The entrance to the small parking lot is at the bend of a tight curve between mile markers 16 and 17.
Keanae Arboretum – Mile Marker #16.7
Not far from the Keanae Peninsula you will find a pretty large arboretum and botanical garden. According to how many stops you have on your "must see" list, decide how much time to allocate to this Arboretum.
If you love tropical plants and want to enjoy a short walk, go for it. The entrance is free!
The Keanae Arboretum is one of the very few places on the island where you can find the Rainbow Eucalyptus, the most colorful tree in the world. Its bark can take on various shades of green, yellow, orange and purple.
When we saw it for the first time, it was unreal. Our first thought was that someone had painted the trees, because of the bright streaks of colour. It's definitely not something we're used to see!
This is a natural phenomenon, determined by the fact that bark stripes fall down at different times. It's also the only species of eucalyptus that grows naturally in the Northern hemisphere, reaching over 229 feet in height, with a diameter of over 6 feet.
Because Rainbow Eucalyptus is an uncommon tree, I encourage you to stop at the Keanae Arboretum, even if you only have time for a few pictures.
We found the first colorful trees after a 10 minutes walk from the parking lot.
The Lava Tube – Mile Marker #31.1
At mile 31.1 you will find signs for the Kaeleku Caverns, possibly the most unexpected and uncommon of all the Road to Hana stops you're going to visit.
Here you will be able to visit the largest lava tunnel on Maui.
The entry ticket will cost you $12 (children under 5 can visit for free). This is an interesting place for those who enjoy visiting caves and taking pictures of weird rock formations.
Lava tunnels are formed when the lava solidifies on the surface, but continues to slide under this rigid crust. During the formation of Maui, they had the function of huge "veins", which carried lava under the ground even for miles, before depositing it in the ocean. That actually created a new piece of island.
Inside the portion you can visit there are stalactites, cracks, amazing baroque formations, and even a refuge dating back to the Cold War period.
As you exit the lava tube, you will find yourself in a fun maze, made of local red shrubs, called "ti". It's not exactly the same as a maze of hedges, but it's still fun to look for the exit, especially for kids!
Because the portion of the tunnel that you can visit is pretty wide, claustrophobic visitors shouldn't have any issue in visiting. The whole experience shouldn't feel "too much", but of course this is such a personal matter that I can't really know for sure if it's going to be okay.
In case you're worried that you might feel uncomfortable, don't risk it and keep driving to the next stop. There's so much to see on the road to Hana drive, it's not worth ruining your trip just for the lava tube!
You might also like:
– The best Arizona road trip itinerary
– Utah road trip: the Mighty 5
– Epic road trip from Miami to Key West (Florida)
– Amalfi Coast Road Trip info (Italy)
– Road to Hana stops for a Maui road trip (Hawaii)
– The Devil's Tower travel guide
– Upper vs Lower Antelope Canyon: how to choose
– Fun Joshua Tree Day Trip Itinerary (California)
– Guide to Sleeping In Your Car on a Road Trip
– How to visit the Grand Canyon in one day
Oheo Gulch – Mile Marker #42
One of the most famous areas along the Hana Highway is probably Oheo Gulch, a beautiful valley cut deeply over countless millennia by an equally idyllic rainforest stream.
The area is also known as "Seven Sacred Pools".
While it might seem strange, this is part of the Haleakala Park. The $30 entrance fee per vehicle will also allow you to access the Haleakala Summit. This ticket is valid for three days so make sure you keep your receipt!
Note: The Haleakala Park is included in the America The Beautiful pass, that you can also use for longer road trips in the USA. Because this pass is valid for 12 months, we also used to enjoy an unforgettable Utah road trip!
The Ohe'u Gulch has always been a very crowded area. Unfortunately, due to safety concerns, the pools of Ohe'o have been closed indefinitely.
One of the best road to Hana hikes, which is open and accessible from the Oheo Gulch, is the Pipiwai Trail. You will be able to walk through an incredible bamboo forest and explore the jungle in Maui.
The bamboo forest felt much like the Arashiyama Bamboo Grove near Kyoto, in Japan. It felt almost surreal to be able to walk through the tall bamboos even in the USA!
Hiking the whole Pipiwai trail should take you a minimum of 3 hours.
When you exit the bamboo grove, you'll find yourself in front of a spectacular rocky wall. That's where you'll find the tallest and most beautiful in Maui.
The Waimoku Fall is over 400ft tall. At least half a million visitors visit this area every year: it's one of the most popular stops on the road to Hana!
Wailua Falls – Mile Marker #44/45
Wailua Falls are defined by the lazy ones as the "perfect waterfalls".
They are so close to the Hana Highway, that you can see them even from the car!
Make sure to park safely on the roadside to take a few pictures. There isn't a proper parking lot, but of course you can't leave your car in the middle of the road!
The Wailua Falls, located between mile marker 44 and 45 (they're very easy to spot), are 80ft tall, on a rocky wall in the middle of lush patch of jungle.
Taking beautiful pictures for the 'gram is easy because you won't have to hike or walk on long trails to get the waterfall in the background. This is one of the road to Hana stops that only take a few minutes so you can fit it in every itinerary!
Near Wailua Falls there's usually a nice street market. You'll find local crafts, snacks and lovely souvenir from Hawaii.
Before you start your road trip to Hana
Last but not least, I have a very important tip for you.
Before you start this Maui road trip, make sure the tank is full. There's only one gas station on the road to Hana and that's in… Hana town!
That means that filling the tank in Hana will be much more expensive than doing so in any other touristy area in Maui. I'm sure you'll want to avoid that, whether you're visiting Hawaii on a budget or not!
You might also like:
– How to visit Hawaii on a budget
– What to do in Waikiki at night
– The best stops on the Road to Hana
– Top Hawaii souvenirs you can't forget!
– USA Babymoon Ideas on a Budget
– Why you should travel with your partner
– What to Pack for Hawaii
– 30 Most Instagrammable Places in Oahu
– 9 Jaw-Dropping Oahu Scenic Drives
– Discover 10 hidden gems in Oahu!
– Oahu Bucket List Destinations You Will Love
Pin it for later!
This post is also available in:

Italiano