This post is also available in: Italiano (Italian)
Maui is the second largest island in the Hawaii archipelago, otherwise known as the "Aloha State", and like the other is a volcanic island. We added it to our itinerary at first only because of the road to Hana.
We arrived on the island from Italy after about twenty hours of flight, with a few layovers in between. And we were exhausted! Yet the first thing that I noticed as son as I got to the Kahului airport, was the beautiful scent of plumeria in the air. A real treat, after such a trip!
Though in the days following our arrival we have often been hitting the beach, we had a specific goal in mind: the Hana Highway. We are bikers and therefore the idea of ​​enjoying the wild part of Maui for about 53 miles between Kahului and Hana, with 617 curves and 56 one lane bridges, enticed us a lot!
Whether you have rented a car or a bike (an even more exciting experience!), I can assure you that you will never forget this unique experience. We'd be ready to give it another go, despite the long flights to get there! In case you are worried about the costs, we have a few proven hacks to help you plan a trip to Hawaii on a budget: they really do work!

We actually prefer to rent a car because we're so much in love with road trips and this is one of the most amazing we've ever tried. This is the place where we always rent with no issues at all, and the price is the lowest you'll find online. Click here to check the price and you'll see it for yourself!
The road to Hana is a road trip that offers a fantastic view across the island, giving you the chance to kike and to swim in close proximity to the breathtaking waterfalls you will find along the way. If you are very lucky and the sky is clear, you will also see the top of the two largest volcanoes in the world, the Mauna Loa (13,680 ft) and Mauna Kea (13,802 ft) on Big Island.
I suggest you have a look at this useful packing list of things that you might want with you, before to go!

Road to Hana | Twin Falls
At mile marker #2 along the Hana Highway you will be able to access a trail to hike to the Twin Falls.
These quaint waterfalls dive into a natural pool where you can swim. We stopped at the lower falls, the first you will meet along the path, otherwise we wouldn't have had time to enjoy the rest of the road to Hana: don't forget that there is still so much to see and do! In this area you mustbe very careful to flash floods warnings.
The Twin Falls are generally very crowded, so I suggest you come here early in the morning. If you dn't like the crowds, count the cars in the parking lot: if there are too many, maybe you'll want to go to the next stop!
In the parking lot there is also a small and colorful farm stand that sells fruit smoothies, fresh fruit and refreshing coconuts.
Road to Hana | Ho'okipa Lookout
At mile marker #9, shortly after entering the Hana Highway, past the lovely town of Paia, you will find the Ho'okipa Beach Park. The Ho'okipa reef breaks the great waves, making this area extremely popular among sports enthusiasts who love surfing, windsurfing and kite surfing. Although the name means "hospitality", however, it's not a suitable place for beginners or those who think they can swim here.
You will find picnic tables and observation points, as well as a couple of food trucks selling local delicacies and fresh coconuts that will be delivered with a nice straw. If you are very, very lucky, you could meet the sea turtles that come here every evening to rest. But please don't get too close, it' a protected species! In this area, there are volunteers who take care of the preservation of Hawaiian turtles (Honu): they are always available to answer questions about these fantastic creatures!
Road to Hana | Kaumahina State Wayside park
Approximately at mile marker #12, you will find the Kaumahina State Wayside, a scenic area that offers the opportunity to relax by having lunch at a nice picnic table and watching the picturesque North coast of Maui, with its rock formations and exotic plants. In this area there are also bathrooms, a rarity along the Hana Highway, so I recommend you take advantage of it!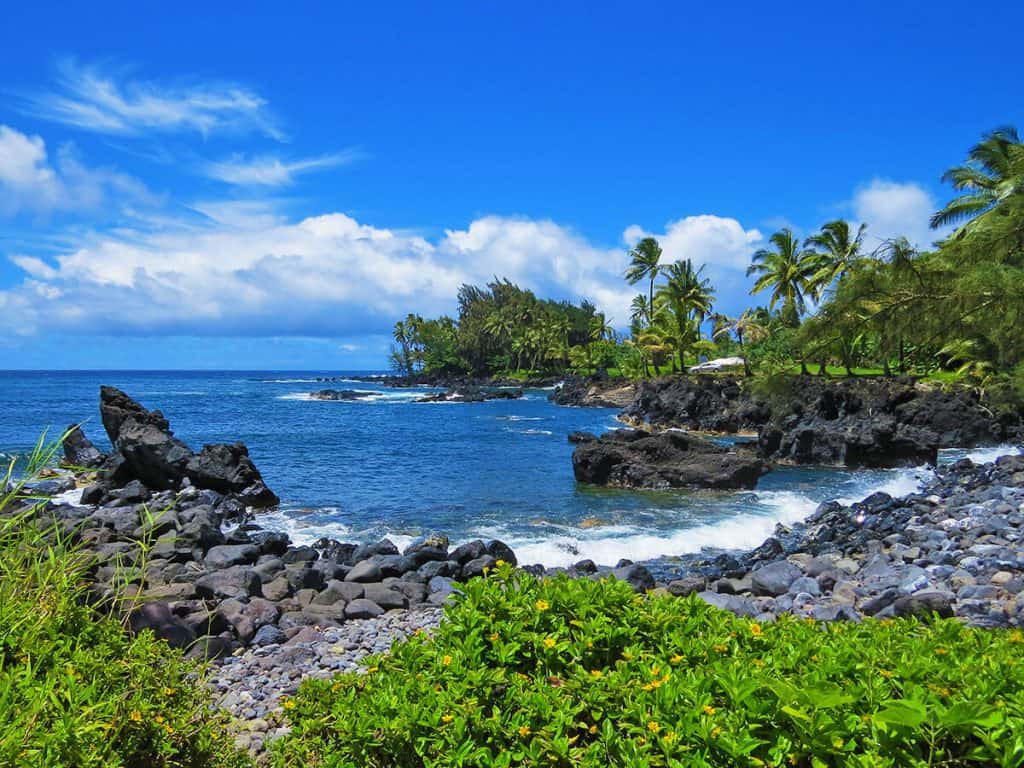 Road to Hana | Keanae Peninsula
If you haven't stopped at the Twin Falls because of the crowds, don't feel too bad. Along the Hana Highway you will find lots of waterfalls! But make sure to stop at the Keanae Peninsula: we loved it! A paved road will allow you to get pretty close to the ocean. The jagged cliffs, lined with tropical palms, and the huge waves hitting them, will fill you with wonder.
Since it is easy to miss the turn, drive slowly, you should find it in at the bend of a tight curve between mile markers 16 and 17.
Road to Hana | Keanae Arboretum
Not far from the Keanae Peninsula you will find an arboretum and botanical garden of about six acres. If you love tropical plants and want to pull off your legs, stop for a walk, the entrance is free!. It is one of the few places on the island where you can find the Rainbow Eucalyptus, the most colorful tree in the world, which can take on various shades of green, yellow, orange and purple.
When we saw it for the first time, it almost seemed to have been painted with paint and brush by an artist, because of the bright streaks, not something you'd expect to find on a tree!
The phenomenon is yet completely natural, and it's determined by the fact that bark stripes fall down at different times. It's also the only species of eucalyptus that grows naturally in the Northern hemisphere, reaching over 229 feet in height, with a diameter of over 6 feet.
Road to Hana | The Lava Tube
At mile 31 you will find signs for the Ka'eleku quarry, perhaps the place you would least expect to find along the Hana Highway. This is the largest lava tunnel on Maui, accessible for $12. If you like caves and rock formations, it's a place you can not miss.
Since it is a fairly wide tunnel, even children or claustrophobic visitors won't have problems to get inside.
Lava tunnels are formed when the lava solidifies on the surface, and continues to slide under this rigid crust. During the formation of Maui, they had the function of huge "veins", which carried lava under the ground even for miles, before depositing it in the ocean, creating a new piece of island.
Inside you will find stalactites, cracks, amazing baroque formations, and even a refuge from the Cold War period.
When you get out of the tunnel, you will find yourself in a fun maze, made of local red shrubs, called "ti". It's not exactly the same as a maze of hedges, but it's still fun to look for the exit, especially for kids!
Road to Hana | Ohe'o Gulch
One of the most famous areas along the Hana Highway is probably Ohe'o Gulch, a beautiful valley cut deeply over countless millennia by an equally idyllic rainforest stream. In fact, the area is also known as "Seven Sacred Pools". As it may seem strange, it's a piece of Haleakala Park, so the $ 15 ticket will also allow you to access the Haleakala Summit: it's worth it for three days! Do not miss the receipt!
The Ohe'u Gulch has always been a very crowded area. However, due to safety concerns with landslides, the pools of Ohe'o have been closed indefinitely.
One of the most spectacular activities in the park, which is still open, is the hike along the Pipiwai Trail, which crosses an incredible bamboo forest and part of the Maui jungle. There are way more than "just" seven pools, making it a great place to stop if you are into chasing waterfalls.

Getting to the bottom of the route will take you about three hours, but it is definitely worth it. Immediately after you cross the bamboo forest, you will find yourself in front of a spectacular rocky wall, the most dramatic waterfall in Maui, the Waimoku Falls, over 400ft tall. It's probably one of the most spectacular and most popular spots on Hana Highway. Since the route is simple and in good conditions, at least half a million visitors come here every year.
Road to Hana | Wailua Falls
Wailua Falls are defined by the lazy ones as the "perfect waterfalls". They are so close to the Hana Highway, that you can see them even from your car!
By parking along the road or in the small car park, you will be able to take pictures of these scenic waterfalls cascading from 80ft on a rocky wall in the middle of lush patch of jungle. And you won't even have to climb along jungle paths, unless you decide to swim in the underlying natural pool. Be careful, however, not to position yourself exactly under the jet of water, you might get hurt!
The area around the Wailua Falls is always crowded with a nice street market, where you can find local crafts, snacks and souvenirs of Maui.
My last suggestion, before to let you pack for this amazing trip, is to fill your tank before entering Hana Highway, as the only gas station you'll find along the way is at Hana: the prices are tremendously high!
You can have a look at an itinerary for all things cool in Maui too, if you're spending a few days there!
Move on to my list of things to do to Waikiki Beach for more Hawaii wanderlust!
Pin it for later!