Pompeii is a Roman city preserved in its entirety as if its inhabitants had just left fifteen minutes ago.
(Chateaubriand 1804)
The first thing I've heard when I was visiting Pompeii with the group of journalists who were with me on board the Norwegian Epic was "I had no idea that it was this big and well preserved." They asked me for a guide to Pompeii, because with an ancient city this big, you're likely bound to miss something, unless you know what the highlights are.

The archaeological site of Pompeii, a UNESCO heritage site since 1997, is a jewel of rare beauty in the South of Italy. For a long time it has been underestimated and almost completely neglected. Luckily enough, in the last few years, also thanks to a series of new discoveries immediately opened to visitors, and to a better preservation policy, the trend seems to have reversed.
Will you visit in the warmer months? Check out my guide to learn what to pack for Italy in summer: dragging a heavy suitcase is no fun!
The number of tourists is increasing exponentially, together with a series of initiatives aimed at enhancing their experience. One of the latest news, the "Night of Pliny", allowed visitors to enter the archaeological site at night with a 2€ ticket only. We were able to walk through strategically lit ruins, informative movies displayed directly on the ancient walls and an immersive experience of rare beauty. It was awesome. From gladiators fighting in the arena to flute players and shadows representing actors in the great Amphiteatre of Pompeii, it felt like the ancient city had been reborn. With the dark shadow of Mount Vesuvius overlooking the tourists and locals who decided to enjoy this uncommon experience, our politicians seemed to understand that there was still much to be done.

Today, on average, it has been estimated that more than 3 million visitors each year access the archaeological site. Every year more or less there are new discoveries… with the city growing bigger and bigger, maybe it's true: a guide to Pompeii could be quite handy!
Many people decide to stay for a longer period in Naples to see all the wonders of this city and also to explore both Pompeii, Herculaneum and Mount Vesuvius.

Worried you'll need a bit of help?
Download the FREE Italian Travel Phrasebook here! It includes the correct Italian pronunciation and lots of useful sentences that you'll be able to use on your trip to Italy!
There are a few ways to approach a visit to Pompeii. Either you can book one of the expensive Pompeii tours that travel agencies sell, with a private guide and everything else (if you are on a cruise then I'm sure your cruising company sells some too, straight from the port of Naples), or reach Pompeii yourself and then hire a guide there (in this case you need to apply the guidelines for tipping in Italy) … or you can follow this guide to Pompeii and plan everything yourself. Not only saving money, but also putting together a customized itinerary according to the time you have.
So if you are planning a trip to Naples, I strongly suggest you plan one full day in Pompeii (because you won't want to rush it, otherwise you can consider also 3/4 of the day there) and one day on the Amalfi Coast: there's so much to see and do (here's a guide on the towns you should stay at on the Amalfi Coast if you have more time)!
Some companies also offer Pompeii tours from the Amalfi Coast: here's my list with the reliable ones that will take care of everything!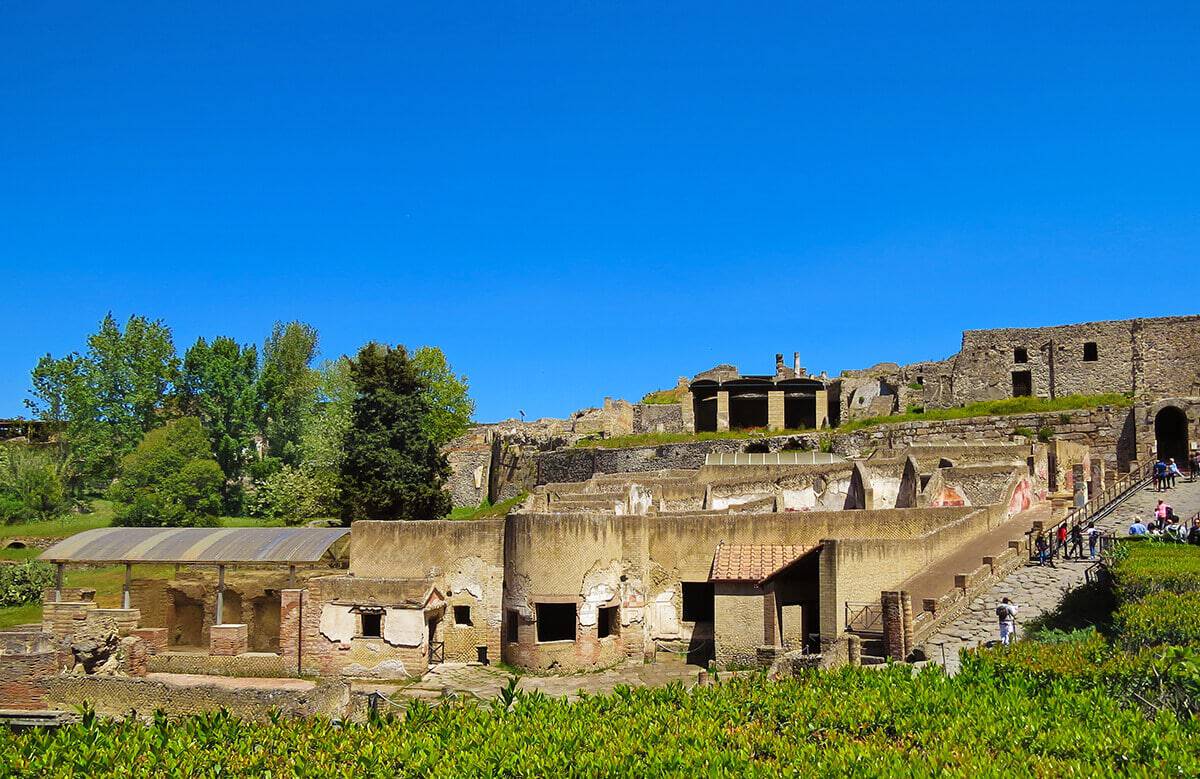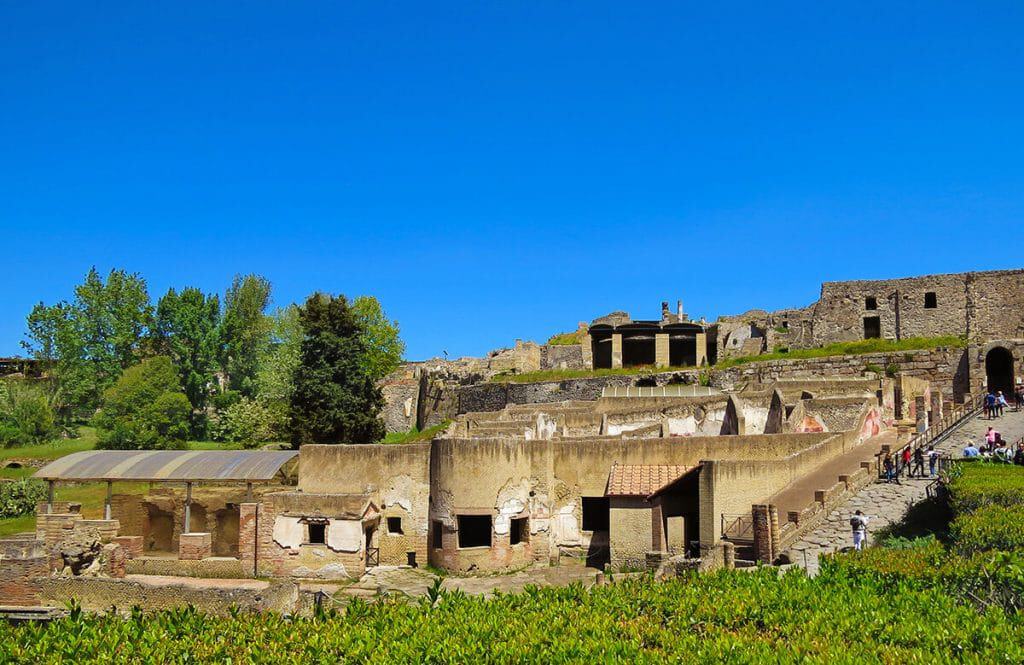 Guide to Pompeii: The History of Pompeii
The first testimonies about Pompeii date back to the end of the 9th century BC. The city grew with the Greeks, who used it as a military outpost to control the land and the harbor. Not many people know that until at least 89 BC Pompeii was hostile to Rome: the city fought with all its forces against the invaders. When it fell, however, Pompeii was given Roman citizenship and was included in the Gens Menenia, an ancient patrician family existing since Romulus.

The Roman senators were fascinated by the mild climate and the fertile land. Therefore they began to build magnificent villas in this area. Some only got there for short or longer vacation periods. Some others, however, began to produce wine, honey and breed mites and eels. Pompeii thus became a rich Roman city where the population lived in luxury. Think of it as a vacation place for the Romans, just like the Amalfi Coast is today for us who live in Naples.

On August 24, 79 BC, according to Pliny the Young in his letters to his friend Tacitus, the Vesuvius interrupted the eerie quiet of the cities that slept by his feet. Pompeii, Herculaneum, Stabia and other towns on the coast were destroyed in just one day.

The approximately 15,000 inhabitants of Pompeii had no idea that the Vesuvius was a volcano, and so they weren't overly concerned about the earthquakes that preceded the eruption. After a first, tremendous explosion, many people fled from Pompei, towards the safety of the coast. Thinking that the worst was over, however, they returned to their homes soon after. And that's what killed them: had they remained on the coast or left with the many boats, there wouldn't have been so many deaths.

Guide to Pompeii: The archaeological site of Pompeii
The eruption of Vesuvius froze Pompeii in time. Life in the ancient city of Pompeii crystallized to that fateful day. Many years later, those who were digging in the area still found bread in the ovens, sesserces (the Roman coin) in the shops, food in the pots in what we know today as the "food court" of the ancient Pompeii.
But then how come that no one found Pompeii for over 1600 years? How could it be? After all, Pompeii was a quite popular city, one of the wealthiest of the Roman Empire, back then. How come no one ever got there to look for their friends?
According to Giovanni, a tour guide to Pompeii, there weren't many survivors. And almost everyone chose to forget the horror. It was like no one even wanted to talk about Pompeii anymore. Nature took its course, covering the once opulent Roman villas with grass and trees. No one even knew where Pompeii was, exactly.

With Charles III of Bourbon, a team started to dig in the area, but for many years they had no luck. Once they found the first villas, yet, they realized that the grave robbers had already been there. For years, most probably, what today is one of the most important archaeological sites of the world had been well hidden by thieves that didn't want it to be found. According to the first researches, so much had been stolen.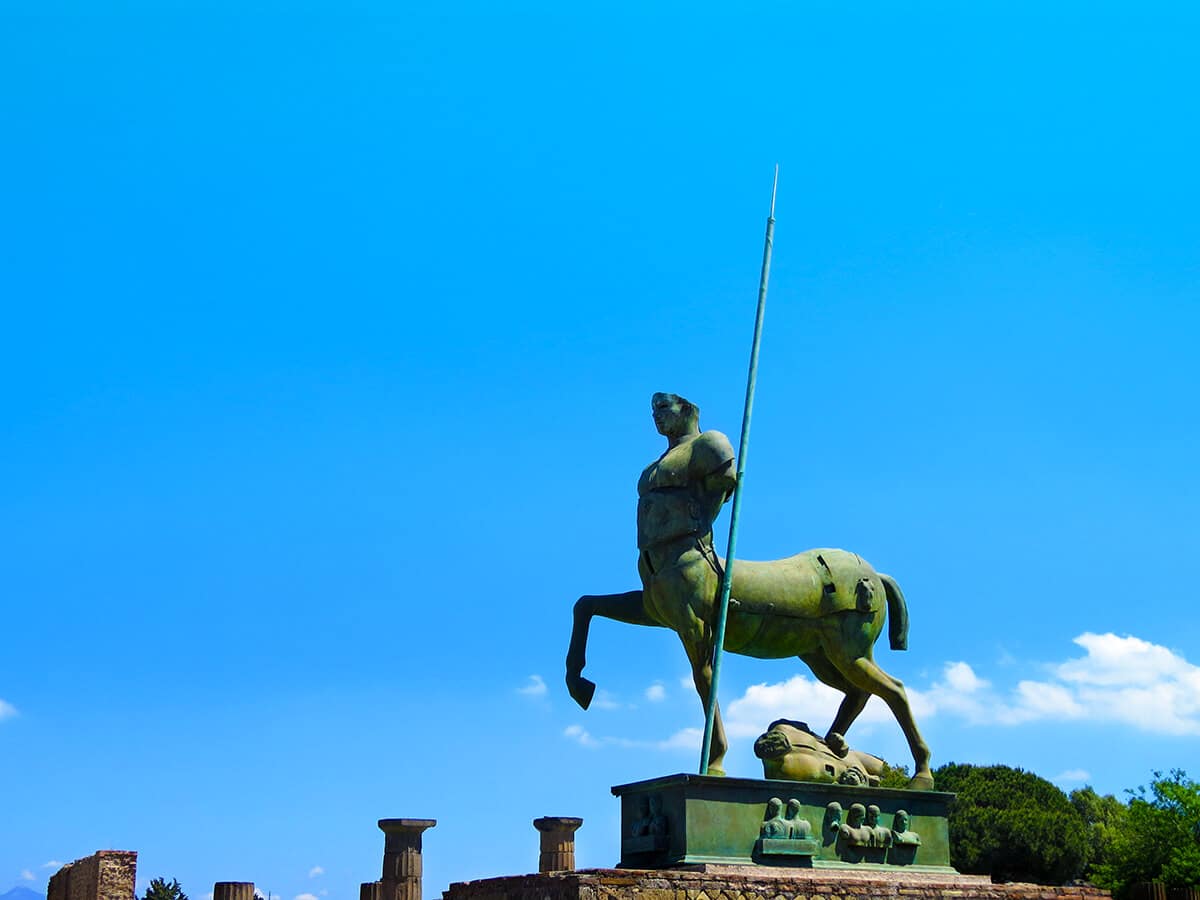 Guide to Pompeii: Tickets, prices and regulations
The ticket to visit Pompeii costs €13 (reduced €7.50). It is possible to purchase a cumulative ticket which guarantees access to five archaeological sites (Pompeii, Herculaneum, Oplonti, Stabia, Boscoreale) valid for three days, at €22 (reduced €12). On the first Sunday of every month the entrance to the archaeological site of Pompeii is free. Tickets can be purchased directly at the entrance to the excavations or online.
Entrance times: November 1 – March 31, from 8:30 AM to 6:30 PM (last entry at 5:00 PM), April 1 – October 31 from 8:30 AM to 7:30 PM (last entry to 6:00 AM). Pompeii is closed on January 1, May 1, and December 25.
For safety reasons, you can only bring inside Pompeii bags that measure 30x30x15 cm. If you have a bigger backpack you will be asked to leave it at one of the cloackrooms situated near each entrance. This service is free! So please in case someone asks you for money, warn the nearest officer: they are trying to scam you.
Guide to Pompeii: Map and suggested itineraries
As I promised you to the top of this guide to Pompeii there are at least two itineraries that you can enlarge or reduce according to how much time you have. Here you can download the map to the archaeological site of Pompeii, to be able to understand exactly where each building is.
The short itinerary lasts approximately two hours and you will see the main areas of the city life back then. Starting from the magnificent Amphitheatre of Pompeii, you can walk over to the Big and Small Theaters, the Spas at the Forum, the public administration buildings, the Basilica, the Temples of Isis, Jupiter and Apollo, the Public Liturgy, the Macellum, the Lupanare, the Casa del Fauno and the House of the Antique Hunting.
Cruise companies that stop in Naples generally offer this "short" tour in the paid excursions catalogue. Since you usually get back to the harbor in the afternoon, if you aren't too tired I would recommend a short walking tour, as suggested in the itinerary to see Naples from the port. Of course I know that you have walked all day long in Pompeii (hopefully not when the temperatures were too hot!) but it's definitely worth the walk, if only to take a few beautiful pictures and eat sfogliatella or Italian gelato.

The longer itinerary in Pompeii takes more or less six hours and starts at Porta Marina, following the Abundance Road, famous for its fountains. Through the main street you will see the Amphitheatres (including the big Amphiteatre of Pompeii), the Necropolis, the Garden of the Fugitives, the Garden House of Hercules, the Big and Small Theaters, the Stabiana Spas, the Eumachia Building, the Public Buildings, the Temples of Jupiter, Isis, Vespasian, the Triangular Forum, the Doric Temple, the Augusta Fort Temple, the Dioscuri House, the Meleagro House, the House of Europe Ship, the Larachi House of Achilles, the Small Fountain House House of Sallustio, Bakery and Villa of Mysteries.
I suggest you to plan the long tour only if you're visiting Pompeii in spring: summer is too hot and you'll feel faint after so many hours under the sun!
Yet because you are on a self guided tour, you won't have to necessarily stick to a specific route: download the above map, check it out and decide according to what you like. If it's one of our scorching hot summer days, I strongly advise you to take the shorter route, unless you are used to walking under the sun for many hours.
Guide to Pompeii: the highlights you can't miss
Amphitheatre of Pompeii: It's one of the oldest buildings in the world, dating back to the 80 BC.

Here's where the gladiators used to fight.

This building could welcome up to 20,000 people.

In 1971, Pink Floyd recorded a concert, Live at Pompeii, in this Amphiteatre – it was (still is) an important milestone in the history of rock.
Big and small theaters: The two theaters are connected.

In the big one, they used to play Plauto and Terenzio.

The smaller one was in stead mainly used for musical performances.

Lupanare: "Lupa", in Latin, indicated a prostitute.

Lupanare was therefore a brothel, a building made up of a corridor with tiny rooms on both sides.

On the walls, erotic art frescoes explicitly depicted the services offered, so the customer only had to indicate what he liked by pointing his finger at one of the paintings, before to be taken into one of the small rooms.

Villa dei Misteri: This villa is at a certain walking distance from the others and therefore I recommend that you visit it only if you have more than two hours, adding it to the short itinerary.

It consists of over 70 rooms, decorated and frescoed: it will take you some time to visit it!

Casa del Fauno: One of the largest villas in Pompeii, about 3000 square meters. It probably belonged to a Roman noble family. They named it after

the bronze statue of a Faun in the atrium, which welcomes the visitors.
Guide to Pompeii: The "bodies" and… how did the inhabitants of Pompeii die?
Most of the times while visiting Pompeii the most asked question is… how did the people who lived here die?
Many of you have heard of the "bodies" at Pompeii. Hopefully you won't be too disappointed in learning that it's actually only casts. In 1863, the researchers who were in the area stopped digging when they found a strange cavity with human bones inside. The director decided to use liquid plaster to fill this cavity. Once dry, they removed the debris and realized it had the shape of a human body.

The corpses of the inhabitants of Pompeii were covered during the eruption by ashes, pumice stones and debris, which formed a hard shell, preserving their shape. Over time, organic materials decomposed, leaving only the shell, by then covered by Mother Nature. It's only thanks to the genius who decided to fill the cavities with liquid plaster that we have been able to learn so much of what happened back then. Sometimes… even too much: the facial expressions of those who died in Pompeii have been crystallized in time and you can still see them clearly.
In the past, everyone used to believe that the inhabitants of Pompeii had died painfully by breathing hot ashes.
Recent studies have revealed that they were burned by exposure to high temperature, between 300°C and 600°C. The pyroclastic flow lifted up to about 30 km. It fell on the city, hot and deadly, in just over a minute. In some parts of the city, you can still see rows of columns all broken at the same height: it's the result of the violent impact with the pyroclastic flow. Like a huge axe that fell on the city and destroyed everything on its path.

Their death was thus immediate, it is likely that those men, women, children and animals haven't even realized what was happening. In Pompeii, among the various casts, there is one of a small child, who might have been seven or eight years old. The most famous one is probably that of a man seemingly praying, but there's also a dog. Like a photograph fixed in time, you can still se the chain collar that bound him, as he desperately tried to escape it.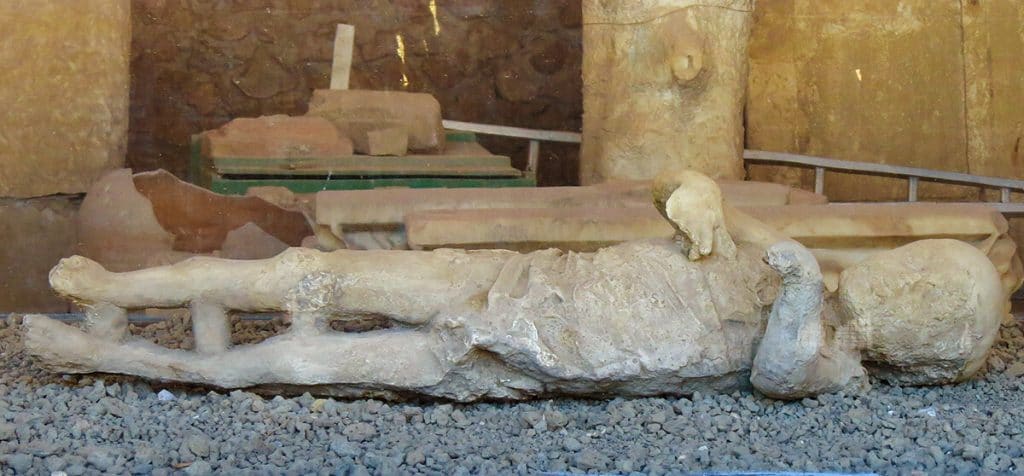 Guide to Pompeii: how to get there

Trains or buses are your best option to get to Pompeii (unless of course you have hired a private taxi or a shuttle bus). The Circumvesuviana train station is in fact very close to one of the entrances.
How to get to Pompeii from Naples
From the Central Station of Naples, or any other Circumvesuviana station in the area, you can get a train to Pompei. The station you're looking for is "Pompei – Scavi Villa Misteri" and you can buy a ticket TIC NA3, for 3,50€. The trip from Naples to Pompeii lasts about 35 minutes. Also make sure to check out the Art Stations in Naples because with the same ticket you'll be able to enjoy public transport and contemporary art museums.
How to get to Pompeii from Rome
If you are planning to spend at least 4 days in Rome, you can definitely plan Pompeii as a day trip. From Rome you can either get a bus to Naples, using a service like Flixbus (that you will have to book well in advance) for 17,90€, or a train. The bus ride will last 3.20 hours. As for the train, you have two options. Either a fast train to Naples, which costs about 35-40€ (check Italo or Trenitalia) but it will get you to the Central Station in 1 hour, or a regional train. With the latest option you will be able to buy online a ticket with Trenitalia at about 14,80€ that covers all the transfers from Rome to Pompeii. The whole trip will last 3.44h.
Guide to Pompeii: tips from a local
If you visit the archaeological site of Pompeii between June and August (included), I suggest you go for the short itinerary.

The Summer temperatures are indeed very high and it isn't pleasant to walk for so many hours under the sun!

Wear a hat

, especially in Summer.

You will have to walk outdoors and there's almost no shade at all.

It's also useful to bring at least one bottle of water for each person of the party: inside the archaeological site drinks are expensive and there's only one shop where you can buy some.

You could be tempted by the market just outside the archaeological site.

Or you might want to eat a hot pizza as soon as you get out.

But keep in mind that the prices here are unreasonably high.

To enjoy a good pizza margherita (paying no more than 5€!) it would be better to walk to the city center, or even just away from the archaeological site.

Sit in a nice pizzeria and enjoy a bit of a/c air.

Don't worry, you will still be able to shoot a video of the "pizzaiolo" making pizza and maybe also to eat a Neapolitan "cuoppo"!

Recently some "centurions" appeared at the entrance of the archaeological site of Pompeii.

These individuals earn money taking pictures with tourists and are in no way authorized, nor licensed.

Do you really need a photograph with a stranger wearing a cheap plastic armor?

Inside the archaeological area, the stones of the ancient streets of Pompeii are often disheveled or slippery.

You can still see the signs drawn from the wheels of the wagons.

I suggest you to wear a pair of comfortable sneakers or even trekking boots to avoid getting hurt: don't wear flip flops or high heels!

If you're looking for souvenirs from Italy you will find a lot of shops and kiosks right outside the entrance to Pompeii.
You might also like:
What to eat in Naples
Naples neighbourhood guide – where to book your hotel
The best 45 things to do in Naples
How to spend one day in Naples
Naples cafes and how to drink espresso
Is Naples really dangerous?
Pompeii travel guide from a local
Riding the art metro in Naples
Hiking Mount Vesuvius – how to get there
18 lip smacking street foods in Naples
How to visit Naples Christmas Alley
Procida island travel guide – Our hidden gem
20 best destinations in Europe for a fall trip
30 different types of pizza you should eat in Italy
22 Amazing Day Trips from Naples (Italy)
10 Completely Free Things To Do in Naples (Italy)
Do you need ETIAS Authorization or Visa to enter Europe?
Guide to the best time to visit Italy
Ultimate guide to the best movies set in Italy
Pin it for later!
This post is also available in:

Italiano