Beginner's Guide for Halloween at Disney World – 2023 Update!
This post includes affiliate links. As an Amazon Associate, I earn from qualifying purchases. Full disclosure.
An easy-to-use Halloween guide to make sure you're prepared to get the most out of the scariest time of the year! Let's see why you should visit Disney World at Halloween and all the things you just can't miss!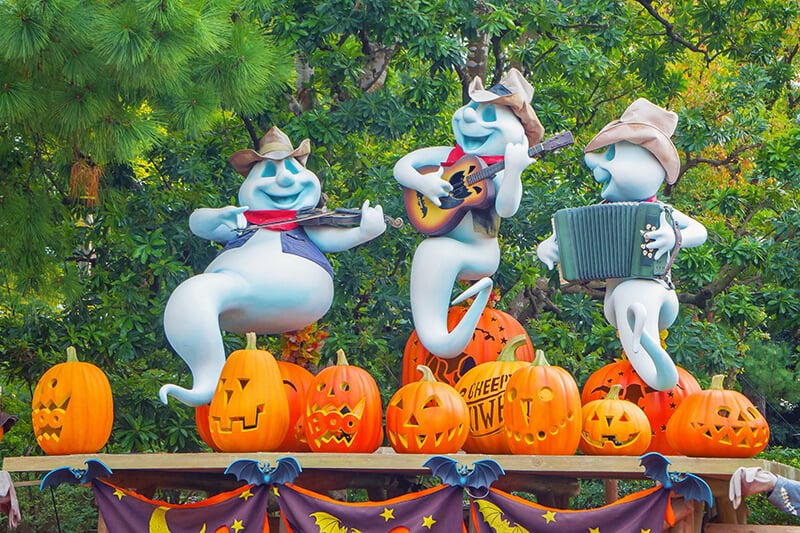 One of the greatest times of the year at Walt Disney World is usually Halloween. Halloween at Disney World means taking part in a great Food and Wine Festival line-up at Epcot. To begin with. Then at Magic Kingdom they have the wildly popular Mickey's Not So Scary Halloween Party. That party alone is an absolute blast!
If you're planning to visit Disney World for Halloween, this super easy guide is going to be perfect! Find out all there's to see and do this fall!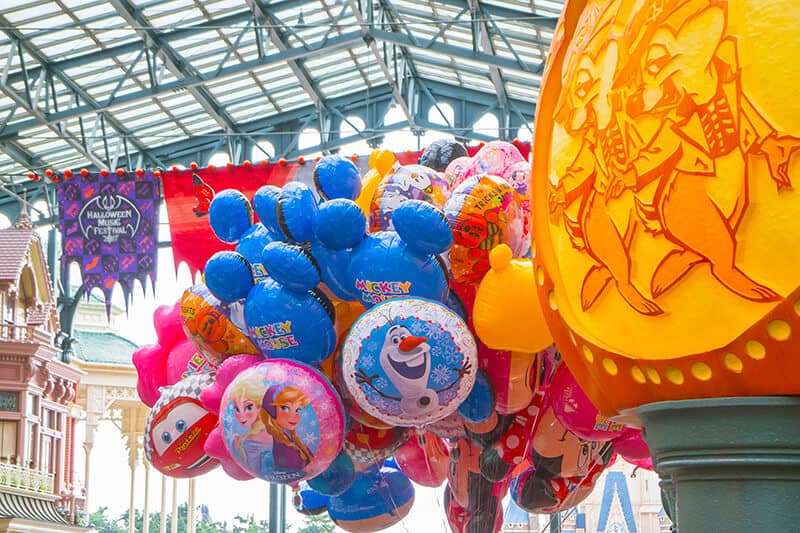 Quick Links to Post Content
When Does Disney Decorate for Halloween?
First things first: when should you book your trip to Disney World to really enjoy the gorgeous Halloween decorations and fall treats?
While Halloween itself is October 31st, celebrations at Disney start way earlier than that.
Some fall decorations will already be up by early August (usually the first week of the month!) . Yet the full Halloween in Disney World experience will start in October 1, 2023.
The Halloween decorations will stay until November 1st 2023, only to be replaced by Christmas trees, lights, wreaths, garlands and other Christmas-themed topiary.
I'm sure you already know but Christmas at Disney World is something out of a fairytale!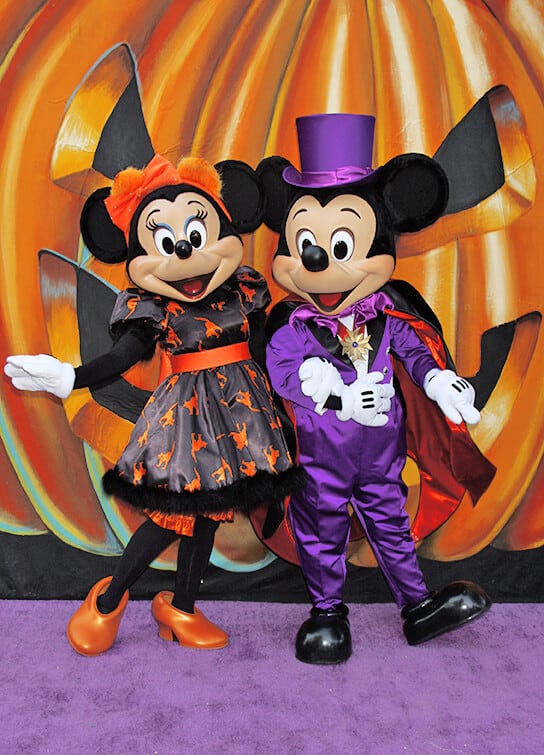 Is Disney World For Halloween in 2023 Worth The Trip?
Disney World during Halloween is always worth the trip in my opinion (totally biased)!
I'm not even alone in thinking this. Why?
Just think that many people are already booking their trip to enjoy the Halloween specials at Disney World in 2024!
While Halloween season is longer, we must also acknowledge that it pales if compared to Christmas at Walt Disney World.
So if you absolutely have to decide among the two, I'd say go for Christmas and rock your seasonal Disney World ears!
September is the least busy month of the year at Walt Disney World in Florida. Yet October is going to be crazy busy.
Expect long wait times at the most popular rides. And not only that.
There will be a lot of people also waiting in line to take pictures next to the Disney themed Halloween decorations!
You will still be treated to character cavalcades in seasonal disguises, limited-time treats and new merchandise. Yay!
The special Halloween cavalcades will pop up on the parade route. If you're lucky you could even come across Mickey Mouse and his pals, all dressed up for the occasion in special Halloween costumes.
Our beloved Disney Villains will make an appearance on select days, during nightmarish processions guided by Jack Skellington or creeping down the path.
Only the bravest ones will find the courage to get close enough for some pictures!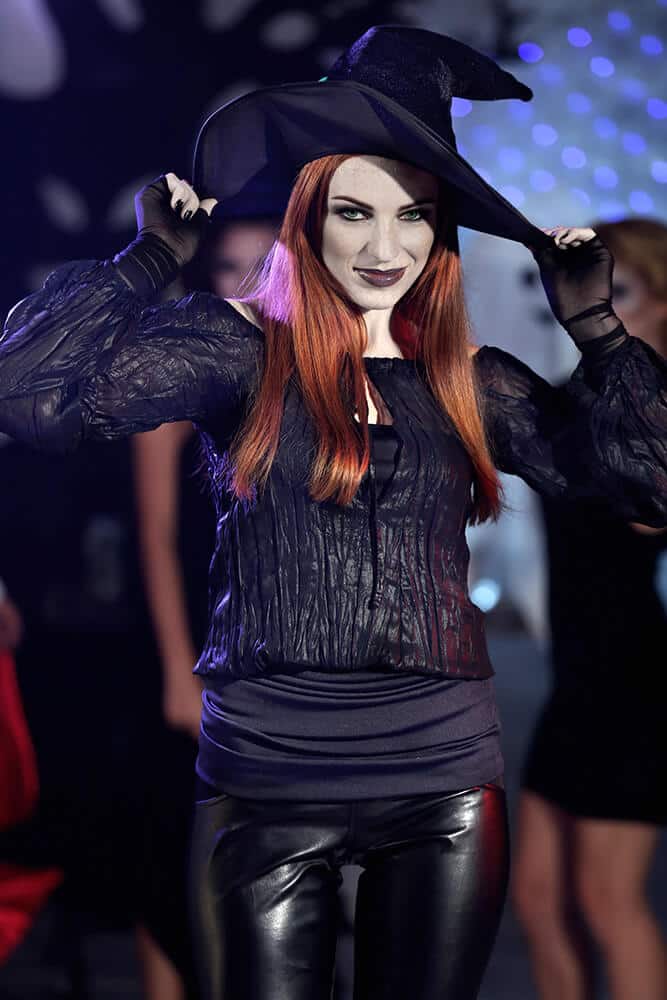 Can Adults Dress Up for Halloween at Disney World?
Guests ages 14 and older aren't usually allowed to visit Disney World in costume during the regular park hours.
The only time when you're going to be able to show your brand new Cruella costume is at special events like Mickey's Not-So-Scary Halloween Party.
Note: Disney may deny admission to anyone who is wearing costumes that are considered inappropriate.
Since 2020 and 2021 have been hard enough on everyone, Disney is now allowing adults to wear costumes for the first time ever!
So put on your Captain Jack Sparrow attire and take pictures in the most iconic spots at Disney World: you have until the end of October!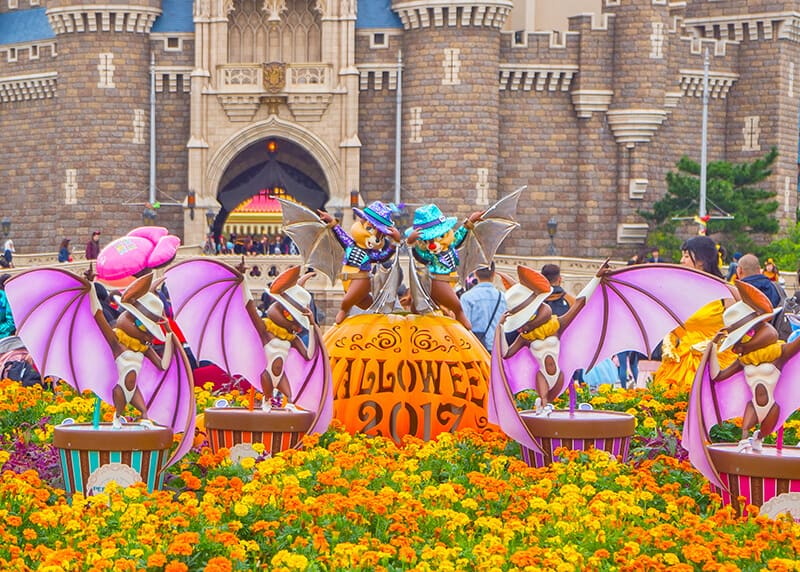 Will You Need an Extra Ticket for Halloween?
I've often been asked where to buy Disneyland Halloween tickets, by travelers who felt quite confused about all the seasonal events.
The good news is that you can thoroughly enjoy Halloween at Disney World without paying extra!
All the parks will be decorated and will feature seasonal treats, parties and parades.
Only a few events, like the Mickey's Not-So-Scary Party, require an extra ticket.
Trick or Treating at Magic Kingdom
What could be more magical or exciting than taking your kids out for trick or treating inside Magic Kingdom theme park?
Yet, little is mentioned about this part of Mickey's Not So Scary Halloween Party.
For us, it's the main event, but a lot of the people that cover this after-hours party don't have kids, so they think it's just plain boring.
The thing is, kids are the whole point! That's why it's "not so scary".
There are also fun dance party locations with Disney Junior characters for the kids to participate with. It's a lot of fun for little ones… and for big kids like us.
There are several tricks or treat trails throughout the Magic Kingdom, and these locations are peppered with character experiences, many of them rare.
You will also find a couple of fun places where you can pause from the action and enjoy a show.
I'm thinking of the Monster's Inc. Laugh Floor in Tomorrowland, and Mickey's Philharmagic Theater that plays the Adventures of Ichabod and Mr. Toad on a loop.
Beginning August 11, 2023, the Cadaver Dans Barbershop Quartet will emerge from their tombs.
They will also perform during Mickey's Not-So-Scary Halloween Party. But for that you will need a separate ticket.
Keep reading for more info!
The Cadaver Dans are a ghostly group of singers, who entertain guests with their razor-sharp wit and scary melodies.
There are usually five shows per night, at 7:00pm, 7:45pm, 8:30pm, 9:45pm and 10:30pm in Frontierland.
Special seasonal Disney PhotoPass features have been implemented to enhance your family shots.
Yet you can also hit all the beautifully decorated spots along Main Street, U.S.A. on your own, if you're visiting on a budget!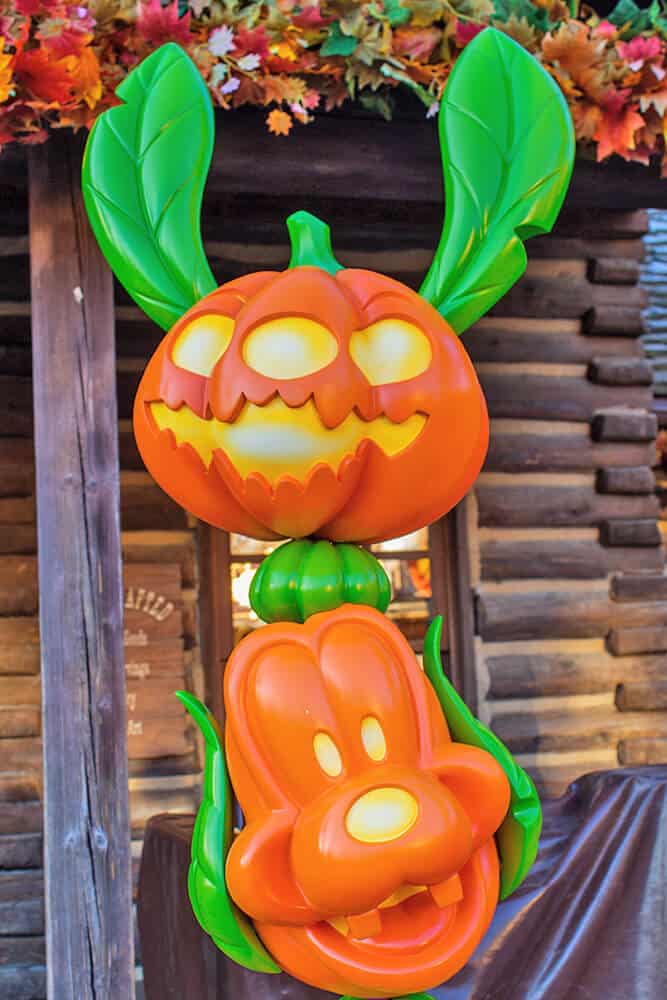 Disney World During Halloween: Meeting Characters
The characters at Mickey's Not So Scary Halloween Party are a big draw for all ages during Halloween at Disney World. If you want to see Jack and Sally, they are the most popular this time of year.
You have to plan ahead and be willing to wait in long lines if you want that character photo or autograph.
There are two more chances to see characters at the Halloween Party. The first one is the Boo to You parade and the second one is the Hocus Pocus stage show, in front of Cinderella's Castle.
You can get the best views without waiting too long in advance by skipping the first performance of each of these.
The first showings are always the most packed. Meanwhile, you can take advantage of the lowest wait times in the park.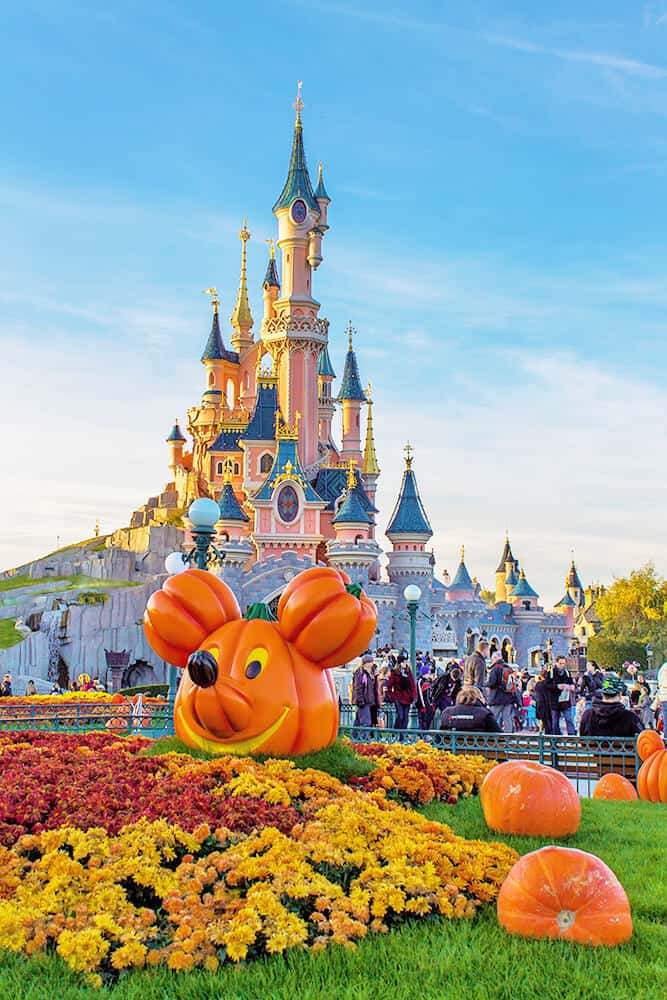 Mickey's Not-So-Scary Halloween Party 2023
Mickey's Not So Scary Halloween Party is a nighttime event that takes place after the park closes for the day. You have to pay separate admission.
Don't buy a daytime ticket in addition to a party pass. Instead, show up three hours early. Party guests are admitted as early as 4:00pm, despite the official start time at 7:00pm.
The amazing Mickey's Not-So-Scary Halloween Party takes place from 7:00pm until midnight on selected evenings.
Magic Kingdom will be open to regular guests from 8 am until 6 pm.
NOTE: please remember you will need an extra ticket to attend Mickey's Not-So-Scary Halloween Party. Keep reading for all the info!
Mickey's Not So Scary Halloween Party Dates
Here are the updated 2023 Mickey's Not So Scary Halloween Party event dates:
August 2023: 11, 15, 18, 22, 25, 29
September 2023: 1, 4, 8, 10, 12, 15, 17, 19, 22, 24, 26, 28, 29
October 2023: 1, 3, 5, 6, 9, 10, 12, 13, 15, 17, 19, 20, 22, 24, 26, 27, 29, 31
November 2023: 1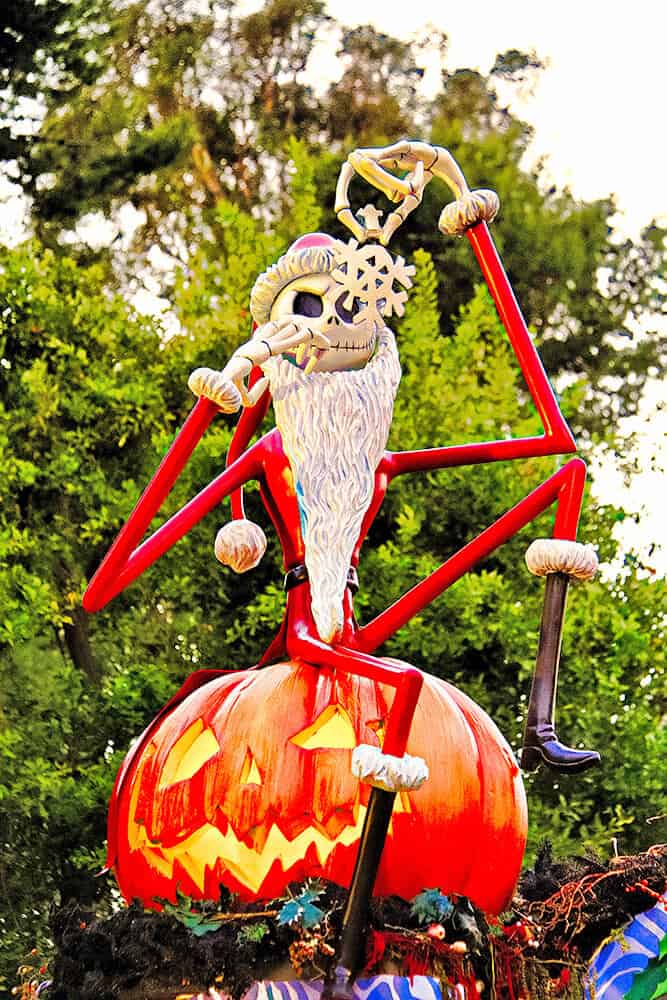 How much does it cost?
Ticket prices for Mickey's Not-So-Scary Halloween Party range from $149 to $199 if purchased directly from Walt Disney World.
Annual Passholders and Disney Vacation Club Members have the chance to save $10 per ticket on select event nights.
From mid-August through early October 2023.
2023 Update
The 2023 Mickey's Not-So-Scary Halloween Party is almost sold out as of mid-September.
Which means there are still available tickets for the end of September, October and November.
Hurry up!

Halloween at Disney Hollywood Studios
While many people (including us, you can watch our video on Youtube by clicking here) visit Disney's Hollywood Studios because of Star Wars: Galaxy's Edge, there's much more than that.
The Disney Hollywood Studios Halloween includes Minnie's Halloween Dine, set to return to Hollywood & Vine beginning August 11. They will keep you entertainted until November 7.
A monster feast will be served to your table, while Disney characters will make special appearances in the restaurant.
Fun, isn't it?
Make sure to bring your camera: your hostess, Minnie Mouse, will sport a special witch dress for this seasonal event!
If it's not enough to convince you to give this event a try, know that there are many more characters wearing new or special costumes this year.
Goofy will be a spooky cowboy, Mickey a funny vampire, and even Pluto will wear a lovely Halloween collar (our dogs want one too, by the way)!
Important note to save some $$
Annual Passholders receive 10% off at Hollywood & Vine!
While the discount applies to the price of food and nonalcoholic beverages, tax and gratuity are excluded.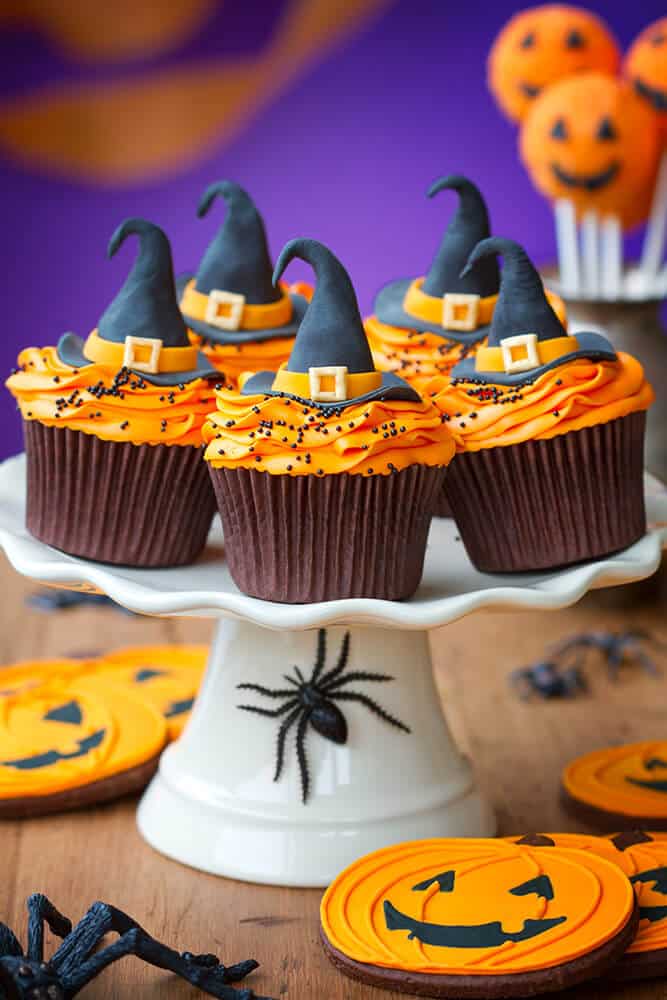 Foodie Guide to Disney Seasonal Sweets and Halloween Treats
Another fantastic element of this incredible Halloween at Disney World is the food. Many of the restaurants offer unique offerings made just for the holidays.
There is also a dessert party hosted by Cruella Devil at Tony's Town Square Restaurant.
If you want to get festive at Disney this October, you can also order a Pumpkin Spice Latte at Main Street Bakery, Red Trolley, or Creature Comforts (all Starbucks).
Marceline's Confectionery in Disneyland Resort's Downtown Disney District will treat you to classic Disney confections and lots of seasonal desserts.
Fall and Halloween mean Minnie Witch, Hades or Ursula Candy apples, and Magic Mirror or Minnie Witch Crispy treats. Make sure you also get one of our very favorites: the Cinnamon Marshmallow Wand.
They are marshmallows coated in caramel, covered in white chocolate, then dusted with cinnamon-sugar. We have nothing like this in Italy!
Sweet treats for Halloween are available throughout Downtown Disney, and pumpkin is of course one of the main ingredients.
I'm a big fan, while Aldo is more of a cinnamon kind of guy.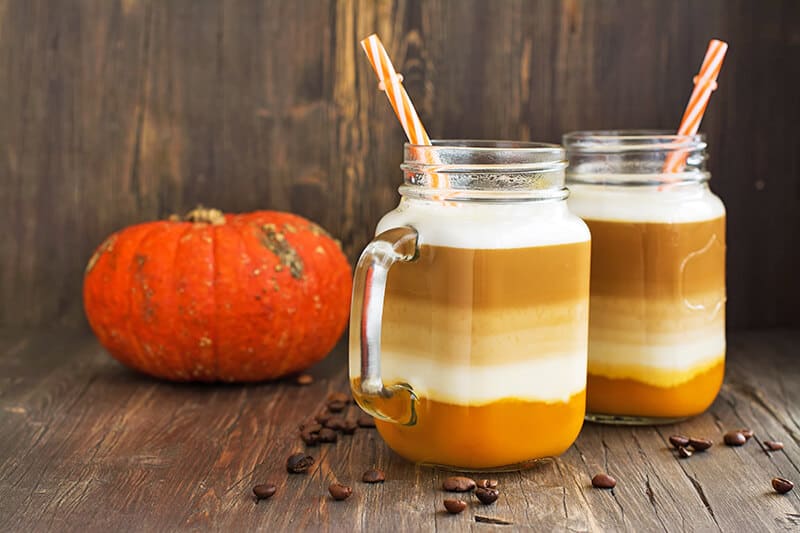 The popular Pumpkin Pie Classic Shake at Black Tap Craft Burger & Shakes, the Pumpkin Smash smoothie at Jamba, and the Pumpkin Spice Churros at California Churros are just some of the seasonal treats you should add to your to-eat list for Halloween.
Aldo never leaves without having the Cinnamon Bitz with Caramel Sauce at Wetzel's Pretzels: they're little pretzel bits coated with cinnamon sugar and a side of sauce.
But what about Magic Kingdom? Don't worry, you'll still be able to drink a Pumpkin Spice Latte! And if you feel like trying something different, hit Storybook Treats in Fantasyland, for a "The Poor Unfortunate Souls" float!
Cream cheese soft serve with black raspberry syrup and coke.
Instagram-worthy food alert!
Another must-try is the Constance's For Better or For Worse Cake at Liberty Square Market. It's a mini-wedding cake topped with a chocolate axe.
Disney's Animal Kingdom celebrates Halloween with a special beverage, the Rotten Apple Punch. You can order yours at Flame Tree Barbeque and Isle of Java.
There are two versions of this punch, one with alcohol and one without. Both are decorated with cute gummy worms, a rock candy apple straw and a Poison Apple Glow Cube.
Speaking of poison apples, the Trolley Car Café in Disney's Hollywood Studios has prepared a delicious themed treat!
The Poison Candied Apple is an apple and caramel mousse covered in red glaze, with a crunchy granola base. Instagram is already full of pictures of this lovely dessert!
Not Just Disney World Ears: The Best Halloween Merchandise
Those planning to visit Disney World Orlando for Halloween will find a lot of seasonal and themed merchandise.
All the shops in Disney Springs, those at the theme parks and hotels will have the new stuff ready for you by the end of August 2023.
Another staple of Halloween at Disney is the popcorn buckets.
Last year the sipper cups styled like Jack Skellington and Madame Leota were super popular!
By now you should be ready to celebrate Halloween at Disney World. And even more ready to leave for your big trip! Have a boo-reat time!
You might also like:
– 30 Unique Florida Souvenirs you'll love
– Disney World Tips for Beginners
– Best cheap eats at Disney World in Orlando
– Road Trip from Miami to Key West
– Fun things to do in Miami for Couples
– USA Babymoon Ideas on a Budget
– 56 Gorgeous Places to take Pictures in Miami
– Florida Packing List for Every Season
– Florida off the beaten path: 8 cute towns
– 12 Florida Bucket List Places to Visit
– Guide to the best time to visit Florida
– 17 Amazing Florida Road Trips
Pin it for later!
Travelling Dany – Danila Caputo
Danila Caputo is a bilingual travel writer living in between Naples and the Amalfi Coast (Italy), graduating from the University of Naples Suor Orsola Benincasa in Foreign Languages and Literature. She travels and works with her husband Aldo, photographer and videographer. Their blog chronicles their adventures around the world, their love for the USA (where they have family), Italian/European culture and tips on how to be responsible travelers. You can find out more about their latest trips and their life on Youtube, Instagram and Facebook.