Best Cheap Eats at Disney World – Under $10 and Under $20
This post includes affiliate links. As an Amazon Associate, I earn from qualifying purchases. Full disclosure.
Food at Walt Disney World is expensive. Yet planning ahead will help you to keep the meal costs under control. Let me show you all the cheap eats at Disney World you should note down for your next trip!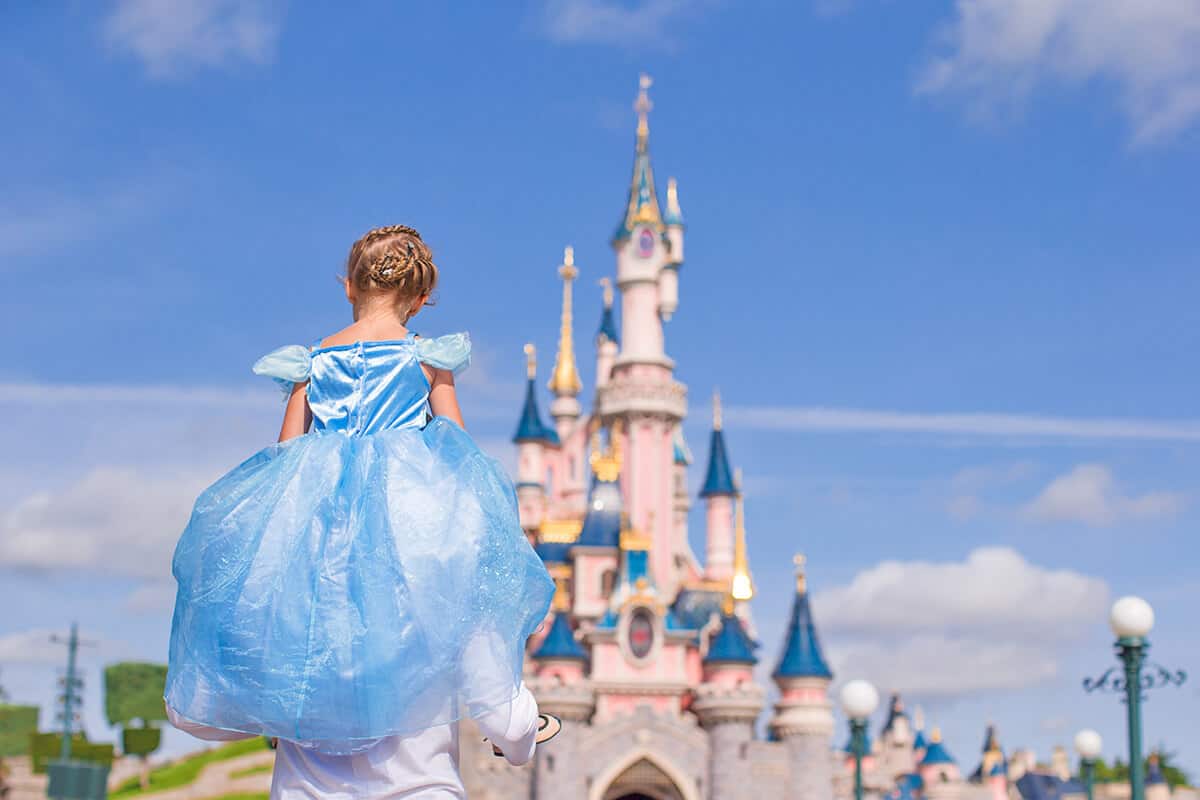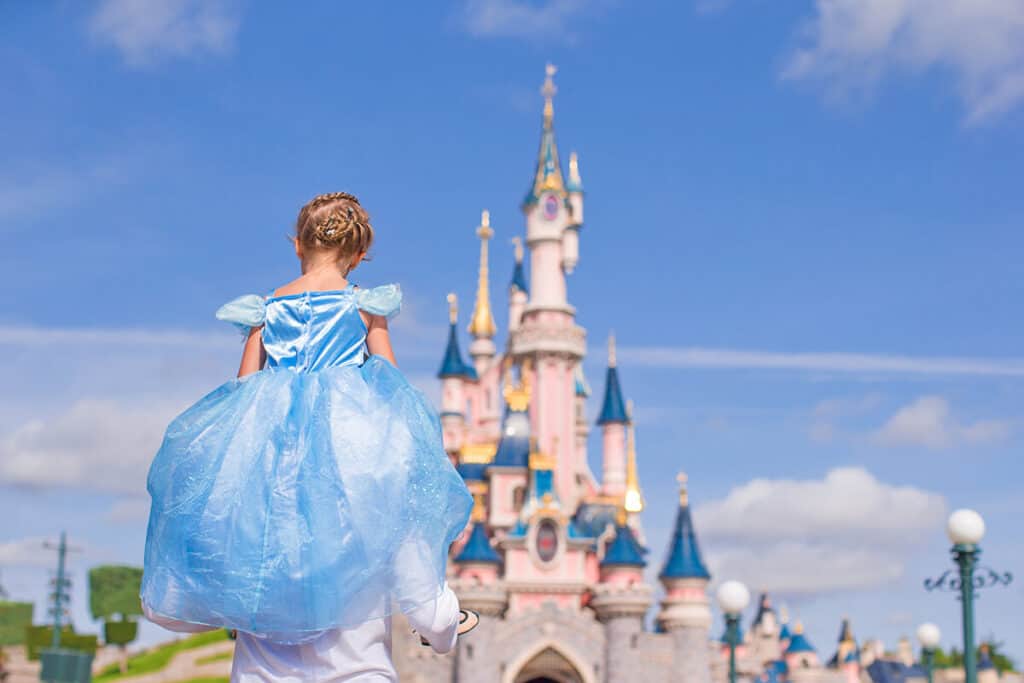 Walt Disney World has a reputation for being expensive, but it is possible to eat there without breaking the bank. I promise! Let's talk about the different ways you can save money, without having to compromise. We're going to go all over to find the best cheap eats at Disney World so grab a map!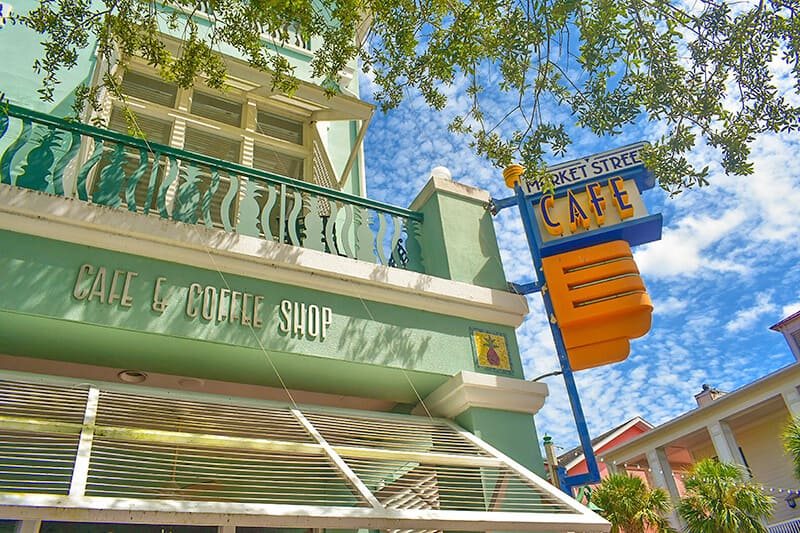 Quick Links to Post Content
Disney World on a Budget: is it doable?
Disney World is a magical place for kids and adults alike. Just think of all the gorgeous and fun events like Halloween at Disney or the Christmas specials.
Yet it comes with a pretty high price tag.
Our experience taught us that one of the things we can actively do to visit Disney World on a budget is to plan ahead. As in, we actually take notes and discuss where we're going to go. And what we're eating.
Dining on a budget at Walt Disney World in fact takes a fair amount of forethought and planning.
It isn't in fact cheap to dine, even at most counter service restaurants.
Budgeting for food is an important part of preparing for your Disney vacation.
Having meal costs under control will allow you to have a better time.
When a vacation costs thousands of dollars, every extra dollar counts toward saving money or exacerbating your credit card debt!
So the answer to your question is easy.
Yes, you can enjoy a day at this dream Disney park without spending too much. If you know how to allocate your budget.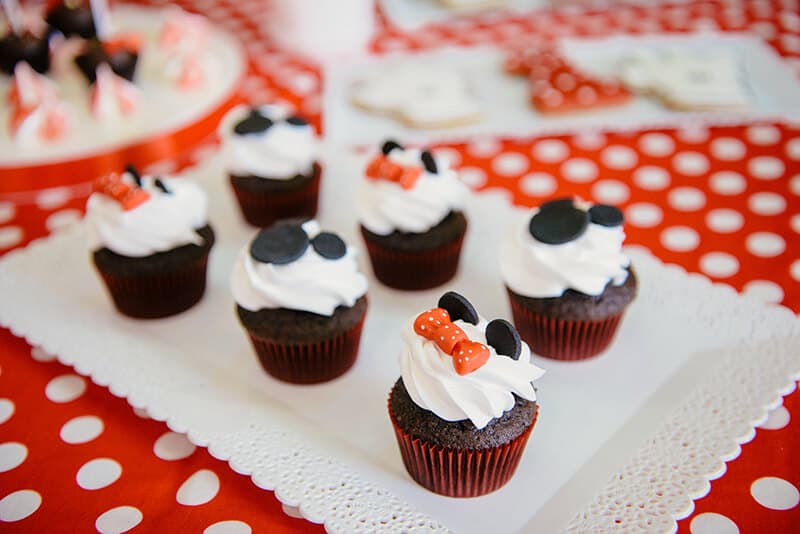 What to eat at Disney World for Under $20
A reasonable amount to budget for your meals is $20.
This should satisfy you, without going far overboard on spending.
Here is a quick list of what I think are some of the best food in Disney World under $20.
Artist's Palette
This quick-service restaurant in a remote corner of Walt Disney World is a new-ish addition to Saratoga Springs.
Artist's Palette is minutes away from Disney Springs by the Sassagoula River.
It's a great option to enjoy Disney meals on a budget.
You can choose between a variety of sandwiches and salads, all for under $20.
In fact, the prices are so low; you can even throw in a side and keep within budget.
We absolutely loved the fact that the menu is very clearly stating a lot of helpful info for those of us who have to deal with food allergies.
Each section explains the best dishes for allergies like gluten, eggs, fish/shellfish and more.
One of the best values here is the pepperoni thin crust pizza for $10.29.
It's an egg allergy-friendly dish, which is super filling.
Note: there's also a Margherita pizza option for $10.29!
Capt. Cooks
Way over in the Magic Kingdom resort area, take a monorail trip over to the Polynesian, when you have a chance.
Capt. Cooks is a great place to go for (obviously) Polynesian food.
While there's American food as well, you should give a chance at their cheap eats.
The flavorful Thai Coconut Meatballs and the Aloha Pork Sandwich are absolutely delicious and well under $20.
If you show up in time for breakfast, order the Tonga Toast.
The "Poly" is known as one of the best places to eat at Disney World on a budget and for a good reason!
Note: Capt. Cooks sells Halloween exclusives and souvenir specialties like the 50th Celebration Resorts Refillable Mug!
Docking Bay 7
Looking for something a little more exotic? How about something off-world?
As in… a galaxy far, far away!
When you're at Disney Hollywood Studios, the themed dining is so fun, but oh, so expensive.
Being Star Wars fans, we absolutely wanted to try it, but we didn't want to go over budget.
Imagine how happy we both were when we discovered that Star Wars Galaxy's Edge offers phenomenal theming. And some of the best cheap eats at Disney World!
While they are not priced as low as some of the resort counter service menus, there are still great entrees for under $20.
Docking Bay 7 was one of our favorite places to eat.
This quick-service restaurant is housed in a working hangar bay. And you also have the chance to meet Disney cast members dressed as iconic Star Wars characters.
The Batuuan Beef Pot Roast may be the best item on the menu.
Even though it's the most expensive, it still rings up within budget!
Flame Tree Barbecue
One beloved dining location at Disney World is a fan favorite for budgeting families.
Flame Tree Bbq is at Disney's Animal Kingdom.
Entrees range from $12-$17, and the barbecue makes it accessible to nearly everybody.
Even the pickiest eaters love Flame Tree in a park where exotic flavors prevail!
The portion sizes here are also very satisfying.
Flame Tree Barbeque really has some of the best cheap eats at Disney World.
Especially good for families who are planning a Disney trip with their little ones.
Try the Half Chicken with beans and coleslaw, or the famous Baked Macaroni and Cheese, loaded with pulled pork, onion rings, and coleslaw.
Katsura Grill
There are plenty of places at Epcot to grab a bite without paying too much out of pocket.
Which can be the case, especially if you're planning to go during Festivals.
However, one mainstay that I can't resist on every visit is Katsura Grill. First because I enjoy the hike to get there and the outdoor ambiance of the Bonsai garden.
Then because it kind of reminds me of our trip to Japan.
At Katsura Grill, the food is very tasty and affordable.
Among the traditional Asian selections (sushi, noodles, etc.), our favorite entree to get here is the Chicken Cutlet Curry.
It's served with steamed rice and mixed veggies. Which means it fills you without being too expensive.
Check out the cheapest car rentals in Orlando for your next Disney trip!
Cheap Eats at Disney World: Under $10
Because food at Disney World can be super expensive, some families prefer to bring stuff from their pantry. That helps to offset some of the enormous tabs at even the counter service places.
Thankfully, there are still some places where you can buy the cheapest food at Disney World!
As it turns out, the best place to go for an inexpensive meal is Disney Springs.
Let us show you our top picks, all under $10.
B.B. Wolf's Sausage Company
This counter service in the Disney Springs Town Square area has a cute name and concept.
Hot dogs and Disney World go hand in four-fingered-hand!
I know. You can get a hot dog entree or even combo at other places around the resort.
Yet this place doesn't require a park admission.
Which is good for when you want to hang out at a Disney place, without having to spend a ton of money on tickets.
Disney Springs at night is absolutely gorgeous, and one of our favorite places to go in Orlando!
B.B. Wolf's Sausage Co. used to offer two Disney meals on a budget, under $10.
Now prices are up, so the only cheap eat you can get under $10 is the All-Beef Quarter-Pound Plain Hot Dog, served with chips.
Servings are quite large, so this should be good enough to satisfy anyone, without having to spend too much!
Blaze Fast Fire'd Pizza
Blaze is the place to go for a made to order pizza at Disney Springs.
It's fast, and it's so good.
This is the place that shows you how dining at Disney World on a budget can be a thing.
Build your own pizza!
When you do that, you can get up to two toppings and still stay under $10.
Sure, it's not like eating Italian pizza, but we still liked it very much!
If you add a little bit more (as in $10.45 total), you can order a ton of other signature pizzas, including the gluten-free ones and a veggie option.
Daily Poutine
This cute kiosk is located at Disney Springs Town Square. It serves some of the top cheap eats at Disney World!
For those of you who don't know (we didn't, our bad!), Poutine is a traditional Canadian french fry dish.
The classic version features hot fries, topped with beef poutine gravy and cheddar cheese.
Poutine is thus a delicious dish, but at the Daily Poutine, it becomes much more than the Fries, curds, and gravy combo we all love.
There is a classic beef poutine, but also poutines inspired by Latin America, France, England, and more.
The best thing about it is wherever your tastes lead you. The menu is one of the best assortments of poutines at Disney World.
2022 Update
Sadly, the prices at the Daily Poutine went up.
All the entrees now are $10.49.
Earl of Sandwich
Famous for great portions and low prices, Earl of Sandwich does not disappoint in the value department.
This Marketplace quick service restaurant serves up hot and cold sandwiches, wraps, burritos and breakfast bowls.
Every entree is below $10.
Great also for the large families who are planning to visit Disney World on a budget!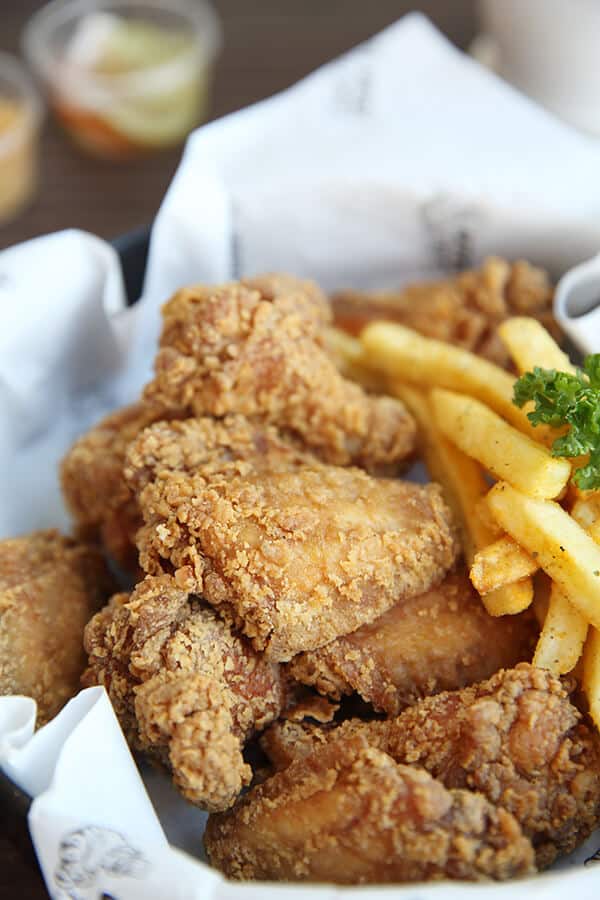 Chicken Guy!
One of our favorite places to get a cheap meal at Walt Disney World is Guy Fieri's Chicken Guy counter service.
This Disney Springs Chicken paradise has probably the best value anywhere on-property!
As you might have guessed already, it's hard to find Disney World entrees under $10.
The average price range for even the cheapest restaurants is $15+.
Yet at Chicken Guy, you can get much, much more for less.
Most of the entrees are $7 or $8. The sides are about $3.
They even have quite a few Kids' Combo Meals at $6.49. They include an entree, a Signature Sauce, drink, fries and fruit.
If you don't know what to eat at Disney World because you have a limited budget, by all means, head over to Chicken Guy! at Disney Springs.
You'll love it!
After all, whether you choose one of the Signature Sandwiches, Chicken Tenders, or the hearty Salad Bowls, you won't be disappointed.
The price tag is way below $10, for the whole meal!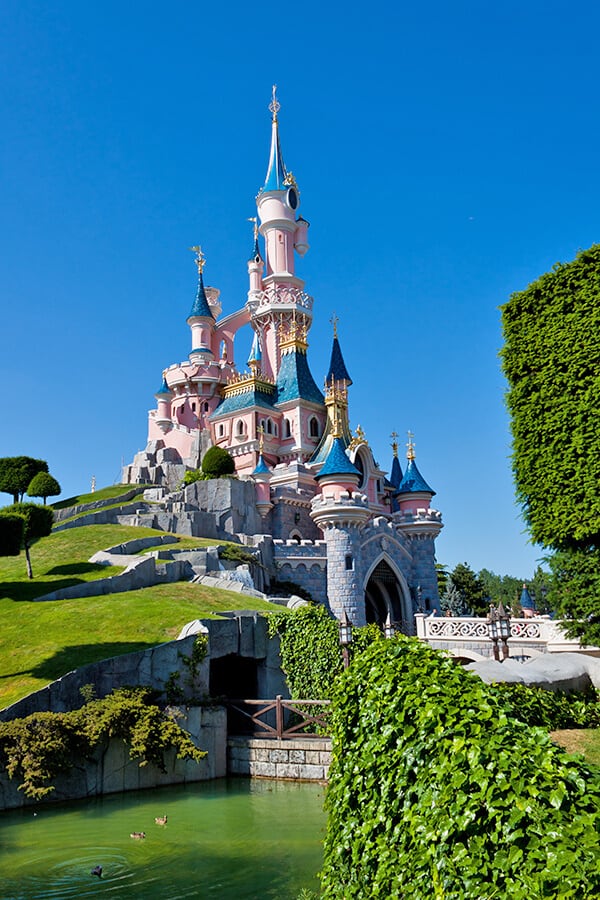 Click to check out the updated hotel rates for Orlando and book your stay!
How To Eat Cheap at Disney World: Quick Tips
There are a lot of budget dining options at Walt Disney World and it pays to plan ahead. For example, you can eat cheaply at most counter-service restaurants.
According to our experience, the best way to save money on food at Disney World is by eating in the parks or at Disney Springs. Instead of spending money on table service meals.
Packing your own snacks for the day is another great idea.
Between this and the cheap eats we mentioned in this post, you should be ok also on a low budget.
A reasonable amount to budget your meals is between $10 and $20.
This should satisfy you without going far overboard on spending.
We usually book hotels with free breakfast, so we don't have to spend extra money once we're at the Disney parks.
Some hotels also don't mind if you pack a few muffins or a sandwich you can have for lunch.
Keep that in mind if you are planning to hit Disney World on a tight budget.
You'll only have to spend for dinner and you can go to any of the cheap Disney eateries we mentioned here!
I know some people manage to skip lunch by having a super late breakfast at their hotel, so they can go straight for dinner.
While it can be an option, we don't find it doable.
One of the best things you can do to make the most out of this Disney World vacation is by being at the parks as soon as they open.
A late breakfast doesn't fit in.
Another thing you should consider is that you might get hungry during the day. Most of the snacks and candies sold at Disney World are overpriced.
You risk spending more than if you'd just grabbed a quick bite for lunch.
In a nutshell, one of the absolute best tips I can give you to eat cheap at Disney World is to plan well in advance.
We always do that for each and every trip.
In this case it's mandatory: you need to know the tricks of the trade!
You might also like:
– 30 Unique Florida Souvenirs you'll love
– Disney World Tips for Beginners
– Best cheap eats at Disney World in Orlando
– Road Trip from Miami to Key West
– Fun things to do in Miami for Couples
– USA Babymoon Ideas on a Budget
– 56 Gorgeous Places to take Pictures in Miami
– Florida Packing List for Every Season
– Florida off the beaten path: 8 cute towns
– 12 Florida Bucket List Places to Visit
– Guide to the best time to visit Florida
– 17 Amazing Florida Road Trips
Pin it for later!
Travelling Dany – Danila Caputo
Danila Caputo is a bilingual travel writer living in between Naples and the Amalfi Coast (Italy), graduating from the University of Naples Suor Orsola Benincasa in Foreign Languages and Literature. She travels and works with her husband Aldo, photographer and videographer. Their blog chronicles their adventures around the world, their love for the USA (where they have family), Italian/European culture and tips on how to be responsible travelers. You can find out more about their latest trips and their life on Youtube, Instagram and Facebook.