Discover the very best Italian honeymoon itinerary, with the help of a local! This easy-to-use guide is perfect for planning your honeymoon as it offers a lot of insider tips, including what to pack and how to explore Italy on your own.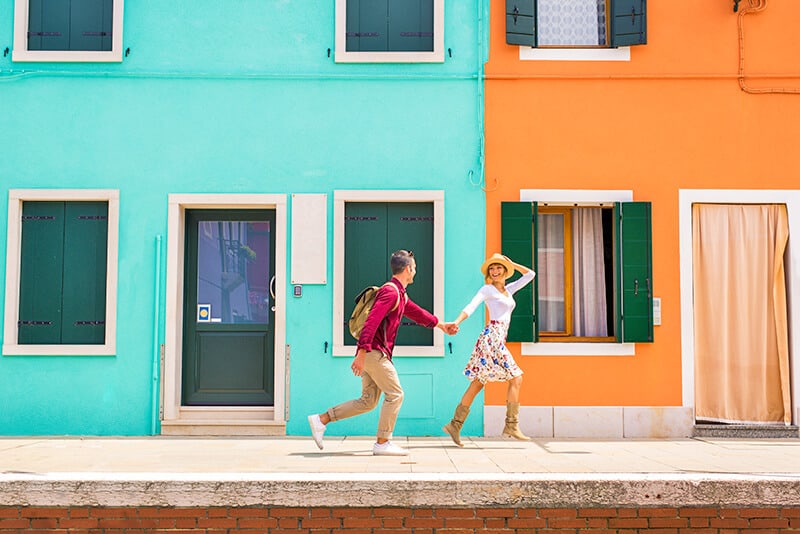 Every couple has a different destination in mind for their trip of a lifetime. I already wrote a useful guide to your first vacation as a married couple. Yet an Italian honeymoon is a completely different matter. Being from Italy, I know what people struggle with when they visit my Country. Allow me to offer some ideas and useful tips to make sure you'll have fun on your honeymoon. The land of gondolas, wine, art and fine dine is expecting you for a super romantic trip!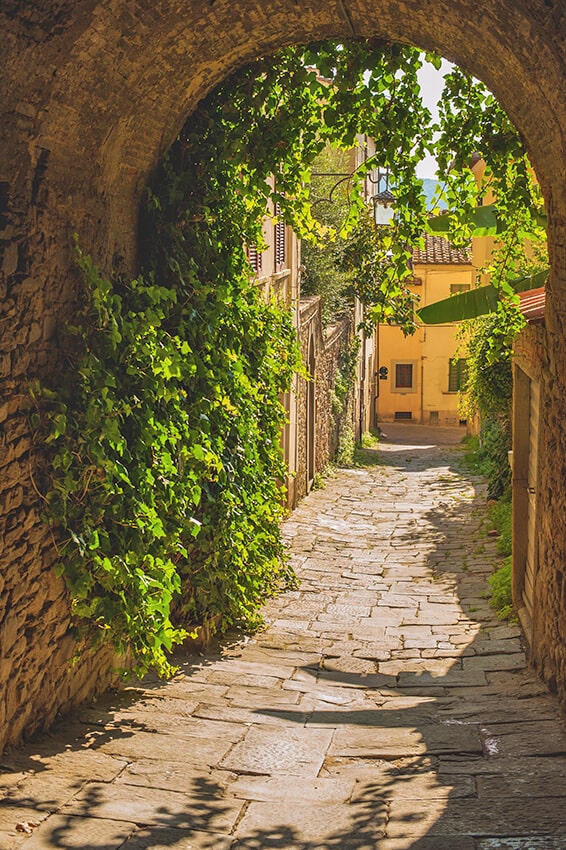 Click to watch our video guide to the top couple spots in Italy!
While marriages are said to be made in Heaven, celebration of a true testament of love, the honeymoon takes place entirely on planet Earth (for now!).
Having said that, no event falls in place by magic and careful planning is required to achieve the best results for an epic honeymoon… especially if you intend to visit Italy!
Travelling together can be great for your relationship. But the planning stage is vitally important to make sure this will truly be an unforgettable trip. As opposed to a very expensive nightmare.
Sit down with your partner and make sure you find some time to discuss your expectations. And don't forget to lay down your budget.
Contrary to popular belief, a honeymoon in Italy doesn't have to be super expensive. Planning well in advance will in fact allow you to find some very good deals. Especially if you know when is the best time to visit!
Worried you'll need a bit of help?
Download the FREE Italian Travel Phrasebook here! It includes the correct Italian pronunciation and lots of useful sentences that you'll be able to use on your trip to Italy!
When is the best time to travel to Italy?
Italy is a year round tourist destination, which makes it a big draw with honeymooners. Yet there are a few tips you might find useful, so let me show you how it is to visit my Country, through the eyes of a local, with a complete analysis of the best and worst seasons.
Visiting Italy in spring will allow you to avoid most of the crowds. The Southern regions are usually already pretty warm, yet not enough that you feel like an ice cream melting under the sun.
This is also the perfect season for an Amalfi Coast road trip, one of the top Italy honeymoon destinations.
Me and Al usually avoid going in the summertime because it's way too crowded (and expensive).
Don't worry tho – it'll be still warm enough to hit the Amalfi Coast beaches.
And hotels are also less expensive. Win-win!
Autumn is often considered a "shoulder season".
Italians have to go back to work and thus you might find less locals in the touristy destinations.
Prices drop from October to November, and then they pick up once again for the holiday season.
You'll thus get to find a fair share of romantic hotels offering great deals.
Italy in winter can be a bit expensive, especially if you intend to spend your romantic honeymoon skiing or visiting the lovely Christmas markets up in the North.
The Dolomites can be crowded and expensive, so book well in advance!
You might also like:
Yummy Italian Christmas dishes you need to try
A good idea to plan a less expensive Italian honeymoon in winter is to include the Southern regions in your itinerary.
Contrary to popular belief, we do have some snow here in the South (especially in Abruzzo region). This means you can rent a cosy chalet in a typical crowd-free atmosphere, for a fraction of what you'd pay in the busy Northern destinations.
If you follow us on Instagram you might have seen that we've had quite a few cold winters in recent years: Mount Vesuvius was completely covered with snow!
An Italian honeymoon in summer can be expensive and crowded.
Italians love to travel in July and August, so the popular tourist destinations will be quite noisy.
Just think that the tiny (and gorgeous) beaches in Sicily are filled to the brim and that's not much fun!
Hotels are usually fully booked well in advance, and prices are often 2x-3x of what you'd pay in Autumn or Spring.
It's definitely up to you of course, but if you can only visit from June to August, then you should opt for the off the beaten path routes, to avoid most of the crowds.
What to pack for your honeymoon in Italy
Packing for Italy really depends on when you're going to plan your trip. I have a pretty useful guide to what to wear in Italy in summer, that will help you to avoid overpacking or standing out like a sore thumb.
And another one with autumn packing tips for an Italian trip which explains what to pack for Northern Italy or Southern Italy (there are pretty big differences when it comes to the weather!).
Yet we won't have to forget that you are going to hit many romantic Italy honeymoon destinations. You might thus want to add a few cute outfits to your luggage!
Make sure you plan your itinerary in advance, and mix and match to avoid overpacking.
Planning a road trip?
Click to download our FREE printable
ROAD TRIP CHECKLIST!
The basic essentials that you will absolutely need on your Italian honeymoon are listed below.
Remember that you want to spend more time with your partner, rather than having to run around in unfamiliar surroundings to find a store!
Travel adaptor
An absolute must, as nothing will work if not designed for Italian outlets.
Here you can find a very good one, which is compatible also for several Countries. In stead than just using it for your honeymoon in Italy, you'll make the most out of your purchase for many other trips.
Reusable water bottle
Drinking water in restaurants in Italy is not free, not even if you are nice to the waiters and follow our Italian tipping guide.
Nope, telling them that you're on your honeymoon won't work.
Now, while bringing your own water bottle in any restaurant is obviously frowned upon, you will need one for each of you. Many of the best Italy honeymoon destinations can in fact be quite expensive.
A reusable water bottle is… duh. Reusable!
If you buy one like this, you will have fresh water for the whole day. This can be a lifesaver, especially if you're planning your romantic honeymoon in the warmer months.
Tap water in Italy is safe to drink. That means that another way to save and loads of money is to pack a reusable filtered water bottle. Keep it with you throughout the trip.
Poncho
Both me and Aldo always pack a poncho for our trips.
It's easy to carry, dries fast, folds easily, it's lightweight and provides more body cover than an umbrella in the event of a downpour.
A waterproof rain poncho can be super useful to avoid ruining your Italian honeymoon. It doesn't matter when you're going to visit: sometimes it rains even in the warmest summer. Better safe than sorry!
Power Bank
Mobile phones die out quickly on vacations, especially if you want to post photos and documents on social media.
When planning a honeymoon to Italy, do not forget to add a good power bank to the packing list.
A great idea is also to make sure your plan covers mobile data. Wifi isn't always great in Italy unless you're visiting Milan. And you will want to stay connected on the go to find train timetables, good restaurants and even maps to get to your hotel.
Walking shoes
Nobody wants to end a day of sightseeing with back pain or sore feet.
That's the best way to ruin your honeymoon.
In Italy you may have to cover long distances on foot every day, so do yourself and your feet a favor by investing in a pair of high quality walking shoes.
Once again, according to what you will do (romantic dinner, opera night, or even spa), you might want to also pack a pair of elegant shoes.
Clothing
I already covered this point at the beginning: clothes really depend on when you're visiting Italy and your honeymoon itinerary.
As a rule of thumb, you might want to pack several pairs of long pants and skirts. If you are planning to visit Churches or religious buildings, you will need to cover your shoulders (also in summer!).
A medium weight jacket for chilly nights and a few classy outfits to enjoy the candle-lit dinners at romantic Italian bistros are also a must.
Unless of course you're planning to just spend your time hiking Mount Vesuvius or horse riding in Tuscany!
To set your honeymoon apart from any other vacation, pack some sexy lingerie and don't forget your swimwear. While shopping can be fun, I wouldn't consider swimsuits like one of the traditional Italian souvenirs you want to buy!
Getting around Italy: is it difficult?
There are plenty of traveling options for your Italian honeymoon. Obviously it all boils down to your budget and how comfortable you are in driving in a foreign Country.
Let's have a look at each one of them.
Italian High Speed Trains
Italy has an excellent high speed train system and this method of public transport is largely popular.
They will get you to the best honeymoon destinations and they aren't necessarily expensive!
Round trip tickets on most of the sought after circuits cost under 50€, and come cheaper than a rail pass.
The two main companies you should look for are Trenitalia and Italo.
Both us and our families prefer Italo, for several reasons: their trains are rarely late, they're usually super clean and they often have budget-friendly deals.
We often buy round trip tickets from Naples to Milan to visit my sister for less than 30€, with assigned seats! It doesn't mean that Trenitalia isn't good: it's really down to personal preference.
Choose which ever has the best offer for your honeymoon!
To make sure you get the latest offers, I suggest subscribing to their newsletter.
Beware: the offers are so good that you have to buy your tickets as soon as possible when you get the email!
If you spend less on travel fares, you'll have a larger budget to book the best honeymoon hotels.
Car Rental
Should you wish to drive during your Italian honeymoon you can rent a car.
Yet you absolutely have to weigh in the pros and cons.
Tolls in Italy are costly (on our Autostrade) and parking is expensive and hard to come by.
Many cities like Florence have "ZTL – Zona a Traffico Limitato": areas where you can't drive your car. Fines are pretty high and because there are cameras everywhere, you should not even think of risking it.
While you might want to spend some time exploring your favorite romantic honeymoon destinations by foot… it's still something you need to consider.
The pros are that having a car will allow you to visit the offbeat Italy honeymoon destinations. Where everything is cheaper and you won't find hordes of tourists.
Having a car is also a great way to explore Italy without having to rely on buses and trains: strikes and delays wouldn't be your problem!
To find the best price, rent a car online well in advance.
Scooter Rental
If you have planned a summer Italy honeymoon, renting a scooter is an enjoyable and affordable transport option.
You would be surprised to discover how exciting your Italian vacation could be if you explore on 2 wheels. Especially while visiting the best honeymoon places.
Traffic and narrow lanes make scooter riding a good way not only to visit the hotspots, but also the hidden places. Which by itself offers a unique Italian honeymoon opportunity.
Just like the previous option, you'd have to consider the cons as well.
Scooters can be easily stolen and you'd have to get extra insurance as well. Another thing to keep in mind: in Italy people tend to speed and unless you're a very good driver, riding a scooter might be dangerous.
If this is an experience you want to try, I suggest you try renting a scooter only for a smaller chunk of your trip. Like for a road trip along the Amalfi Coast (which we often do, click here to watch our video).
It is after all the top romantic Italian honeymoon destination. Yet it can be expensive and "intense" if you're driving a car.
Boats and Ferries
Italy has a well developed network of boats and hydrofoils. They connect the smaller islands with the mainland.
You will need them to spend one day in Capri for example, or even to explore the beautiful Procida island.
Adding a small Italian honeymoon destination to your itinerary might thus require for you to hop on a ferry.
Fares are expensive, so it is advisable to book well in advance.
Italy honeymoon itinerary for 14 days
For first time visitors, two weeks in Italy provide the best chance to see the most classic hotspots and watch picture postcards come to life.
Though it might seem like a long vacation, you don't go on a honeymoon everyday, plus you get to see the big cities and visit the Cinque Terre and Amalfi Coast.
A bare minimum of fourteen days is necessary for an itinerary which covers at least some of the top Italy honeymoon destinations.
You can also have a look at five more 10 day itineraries for Italy. They could offer a few interesting ideas to plan your own trip and focus on unique areas.
Every couple seeks something special from their honeymoon. I sincerely hope that this dream itinerary caters to all your specific interests. Cheers to making lifetime memories in Italy!
Note: This is only a suggestion for an itinerary that covers the top romantic Italy honeymoon destinations.
Add or remove all the places you might like, but be aware that it will take time to go from Point A to Point B.
Even 14 days might be rushed. To make sure you have fun, I'd rather remove 1-2 destinations and stay a bit more in one place (like the Amalfi Coast or the islands).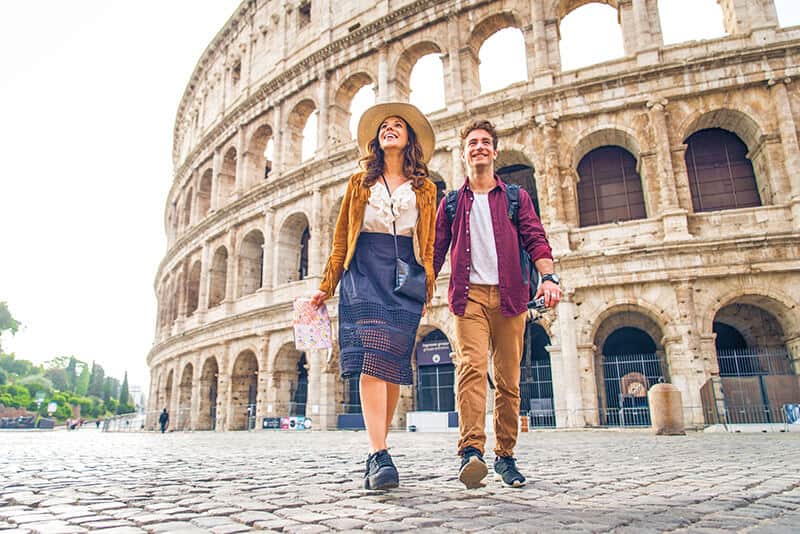 Day One – The best of Rome
The first day of your romantic Italian honeymoon could be challenging, especially if you have arrived bleary-eyed on a late night flight.
Don't make big plans. Just head over to your hotel to settle down and let the body clock adjust itself.
If you managed to sleep on your flight to Rome and are ready to go, I have an itinerary idea you might like.
It's the best way to start exploring our "Città Eterna".
Rome is an extremely walkable city, so you can spend the afternoon walking hand in hand through the heart of this ancient city. Make sure you bring your camera!
A perfect introduction to your14 day Italy honeymoon would be the Spanish Steps and then the colossal Trevi Fountain.
This spot is always very crowded, so do not expect any privacy.
The only way to find it way less crowded is by getting up at 5 am and be there by 6 am. I'm not sure this is how you want to begin your trip to Italy so it's up to you!
Continue to a 120AD establishment, the Pantheon, to visit centuries old government buildings.
Admission to this historical site is free.
The best way to end the day is by enjoying a romantic dinner. Aldo loves to order "Cacio e Pepe" pasta when we're in the Capital. Yet you can have a look at my list of traditional dishes in Italy to see what else you can order in Rome.
There's so much you can try.
Food in Italy is delicious, so don't even try to diet here!
Day Two – Rome and its historical buildings
One of Rome's most popular attractions is the Colosseum.
In order to avoid crowds, head there first thing in the morning, at the opening time (08:30 am).
Book your tickets in advance or opt for a skip-the-line tour, as soon as you come to know about your travel dates because they sell out fast.
The Colosseum is the largest amphitheatre, built almost 2000 years ago, and it's one of the new Seven Wonders of the World. You can explore this place in one hour on your own (if you manage to avoid the crowds).
It's a great place to take lovely pictures for your honeymoon album.
A four minutes walk on Via dei Cerchi will bring you to the Roman Forum and Palatine Hill. It is a complex of ancient government buildings dating back 2000 years or more.
Approximate time you will spend here is two hours.
Another idea is to book a high quality tour (with a small group) which bundles together Colosseum with skip the line tickets. There's also a bonus tour of Roman Forum and Palatine Hill.
You can click here to check out rates and availability.
Being a romantic Italian honeymoon, you might want to treat yourselves!|
There are a few highly rated Italian restaurants, just a short distance away from the Roman Forum. They serve excellent local delicacies. This is a good spot to have a romantic lunch, since you're already in the area!
Once you have had your fill, wander over to the Borghese Art Gallery, home to the best art collection in the world. Remember to book your two hour afternoon time slot in advance, else entry would not be permitted.
Reservations can be made three months in advance, starting 9am till 5pm.
Admire the works of Caravaggio, Bernini, Titian and the building itself. They all make great additions to a luxurious Italy honeymoon.
End your second day in Rome by enjoying a dinner in the super romantic Trastevere neighborhood!
You might also like:
How to spend 4 days in Rome: a detailed itinerary
Day Three – Vatican City
Vatican City may be the smallest Country in the world, but the lines to just get a glimpse of it are by far the largest. Keep at least three hours aside for the visit and consider booking a tour with skip-the-line tickets, since you only have one day to see everything.
The best tours start even before the opening hours. That will save you a lot of time and it'll also offer the best experience, since you won't have to battle against huge crowds.

Note: This is not necessarily an expensive option.
You can click one to check out a very good tour that covers Sistine Chapel, Vatican Museum and St. Peter's Basilica.
Thanks to the guided tour you'll have a lot of free time left in Rome.
Enjoy some shopping, take a foodie tour or enjoy a panoramic view of the city from Janiculum Terrace.
There's so much to see and do in Rome, which is why it's one of the best Italy honemoon destinations!
Day Four – Southern Italy: Pompeii and Sorrento
Catch a train from Rome that will take you to Naples (you can use Italo or Trenitalia) in about 1 hour.
The Southern regions can't be skipped for the perfect Italy honeymoon itinerary!
From Naples you will easily transfer to a Circumvesuviana train to Pompei Scavi.
You can follow my guide to visiting Pompeii on a self-guided tour, but it'll take you at least 2-3 hours to see everything and the lines might make you waste so much time.
In case you're short on time because you want to visit all the best honeymoon destinations, avoid the self-guided options.
Book a very nice tour which includes skip-the-line tickets, with a local English-speaking guide, that will last 3 hours. We personally took a test tour and they really do share lots of funny stories and interesting anecdotes, so they have our approval: it's definitely worth the price!
Click here to check out rates and availability.
After touring Pompeii, hop on the Circumvesuviana train to Sorrento.
You will get there by late afternoon. You will get there by late afternoon.
Sorrento has some of the most romantic honeymoon hotels! So check in and then spend the rest of the day enjoying a stroll on the marina.
Do not forget to order limoncello after dinner: it's our official liquor, made with Amalfi Coast lemons!
You might also like:
What to eat in Naples
Naples neighbourhood guide – where to book your hotel
The best 45 things to do in Naples
How to spend one day in Naples
Naples cafes and how to drink espresso
Is Naples really dangerous?
Pompeii travel guide from a local
Riding the art metro in Naples 
Hiking Mount Vesuvius – how to get there
18 lip smacking street foods in Naples
How to visit Naples Christmas Alley
Procida island travel guide – Our hidden gem
20 best destinations in Europe for a fall trip
30 different types of pizza you should eat in Italy
22 Amazing Day Trips from Naples (Italy)
Day Five – Capri Honeymoon Trip
Capri is located pretty close to the Italian coast and can be accessed by a fast ferry in twenty minutes from Sorrento.
There are few romantic destinations in Italy with a flair for fine food and delectable wines, than this beautiful island.
Grab your new spouse by the hand and climb Monte Solaro for awe-inspiring views. Take a walk back in history at Villa San Michele and through the Gardens of Augustus.
Last but not least, if you still have time, you can go see the surreal Blue Grotto.
On the food front, Capri has all kinds of eateries, from celebrity style to low budget before you decide to head back to Sorrento.
Day Six- Amalfi Coast or the islands
Sorrento is the perfect base for visiting the nearby Amalfi Coast, by bus or ferry.
However, since you are on a once in a lifetime trip, it is best to hire a car with a private driver.
You won't have to get stressed over traffic and parking. They will take care o everything so you can actually enjoy your honeymoon. Feeling pampered is not a bad thing, you deserve it!
The 30 mile stretch of pristine coastline is a UNESCO World Heritage site and has been a hit with honeymooners for decades.
Apart from Amalfi, the other romantic honeymoon towns you can visit are Positano, Ravello and the smaller pretty places like Praiano and Conca dei Marini.
If you have already been to the Amalfi Coast or you want to get back for a longer trip in future, I suggest you spend a day in Procida island.
This is the world-famous tiny island with the colorful houses, celebrated in many books and movies. It's just a ferry ride away and you can explore it on your own!
You might also like:
Where to find lodging on the Amalfi Coast
The best Amalfi Coast tours reviewed from the locals
Discover the best beaches on the Amalfi Coast
Plan a fantastic Amalfi Coast road trip
What to pack for Italy in Fall
Capri in a day – plan your day trip from the Amalfi Coast
Find the best souvenirs from Italy on the Amalfi Coast
Autumn in Europe – 20 ideas for smart trips
Delicious types of Italian pizza you should eat in Italy
22 Awesome Day Trips From Naples
Day Seven- Florence highlights
The best and easiest way to Florence from Sorrento is by train, via Naples.
Once at Napoli Centrale station, purchase a ticket for Florence. Your total journey will take about four hours.
The area you would want to stay in is the city centre, else the transit time will take away the romantic atmosphere, forcing you to run without having enough time to enjoy yourself.
It will be a bit more expensive, but this is your Italian honeymoon so hopefully you can splurge a bit!
Assuming you arrive late afternoon, check in and then head to the Duomo. There will be no queue at this time of the day.
Florence has many small and cosy restaurants where you can have dinner. After visiting the Duomo, enjoy the rest of the evening with your significant other, in front of a delicious Italian meal.
Day Eight – Florence historical buildings
The entire day will be devoted to seeing the attractions of Florence.
This gorgeous city is one of the Italian honeymoon destinations you shouldn't miss.
Once again, plan your day in advance, unless you want to waste many hours in line!
The most popular attractions, including the Uffizi Gallery and Accademia Museum, will always have long lines. Book a skip the line ticket directly at the museum.
Do not forget to also visit the Da Vinci museum!
If you want a crowd free atmosphere, walk a bit from Santa Croce towards Ponte Santa Trinita. Here' you'll get to take the perfect picture from your Italian honeymoon: a dreamy sunset over Ponte Vecchio.
Another way to enjoy one day in Florence, filled with all the best highlights and a local guide, is to book a tour which includes skip-the-line tickets to the Uffizi and the Accademia Gallery.
Click here to check rates and availability.
Day Nine – Day trip from Florence
While there is no lack of things to do in Florence, the city makes a good base to go on a day trip to Tuscany.
There are over 30 day trips from Florence you can plan on your own, and you won't even need a car!
Today will bring you to picturesque towns where romance reigns supreme. These are the dreamy Italy honeymoon destinations us Italians absolutely love.
The Tuscany countryside is dotted with plenty of quaint villages dating back to the Middle Ages.
Wandering aimlessly and enjoying a snack on a small side street are perfect ways to rekindle sparks of love in intimate settings.
Once the sightseeing is done, enjoy a slow meal with a honeymoon friendly dish (no dieting in Italy, remember?): bistecca alla fiorentina with red wine.
Do you want to feel pampered by having a private driver who will show you around for the whole day? Book a day trip from Florence to Chianti, Siena and Sam Gimignano!
The tour includes lunch and wine-tasting in Chianti.
Click here to check rates and availability.
You might also like:
– 23 romantic Tuscany villages you can visit on your own
– Abruzzo Food: The Secret Italian Dishes
Day Ten and Eleven – Short Cinqueterre tour
From Florence you can get to Cinque Terre in under two hours, either by train or car.
Cinque Terre is one of the favorite romantic honeymoon destinations in Italy. Famous for the hiking paths linking five colorful towns, which provide a panoramic view of the area.
This part of Italy is also an ideal getaway for couples seeking a luxurious Italy honeymoon.
The five traffic-free villages, seemingly stacked one on another, are a UNESCO World Heritage site.
Explore the nearby towns of Levanto and Portofino, before to go back to your hotel. Once there, indulge on a fancy dinner of delicious Ligurian cuisine. Linguine con il pesto is a must eat at Cinque Terre!
Another way to treat yourself on this trip is by splurging on a Poet's Gulf sunset tour. From La Spezia (Poet's Gulf), you will follow the steps of Lord Byron, Virginia Woolf and DH Lawrence along the coastline, with an expert guide.
You'll get to visit the islands of Palmaria, Tino and Tinetto, then the ancient fortified village of Portovenere.
Click here to check rates and availability.
Day Twelve – Welcome to Venice
The train from Italy's Cinque Terre to Venice is an experience in itself. There are several classes of travel and fine dining cars to taste local delicacies.
Since there are restrictions to vehicles, riding the train will save you a lot of time and trouble. Getting to Venice with a car can be a bit tricky due to traffic and parking.
The trip will take you about six hours, with one change on the way.
Spend your first evening wandering through the streets and canals of Venice. These stunning collections of islands on the Venetian Lagoon are straight out of a story book.
Which is perfect if you're planning to just walk around, hand in hand, in the most romantic city in the world!
Day Thirteen – The best of Venice
It is now time to have a grand finale to your penultimate day of this Italy honeymoon by being a bit touristy. It's not a crime, yet!
Take a tour of the Doge's Palace, the seat of the government for centuries. Book ahead a skip the line tour, which also includes St Mark's Basilica with Terrace access.
Click here to check rates and availability.
At this point you can let the Sala del Maggior Consiglio and the Bridge of Sighs dazzle you: they're absolutely gorgeous.
Take a lunch break just like an Italian, by ordering cicchetti. If you are familiar with Spanish tapas you'll absolutely love cicchetti in Venice!
They're a series of small appetizers, served on a slice of Italian bread, with a glass of wine.
If you're not too tired, you could experience a little local culture at the Teatro San Gallo, which portrays storytelling and history in seven different audio versions.
Another option to end the day is to wander off to the Campo del Ghetto, full of great restaurants and bars amidst a unique environment.
Those who want to splurge a bit can definitely fulfill every romantic's dream… relatively on a budget!
You can now book in advance a tour to visit the best of Venice in a day, with St. Mark's Basilica and Doge's Palace skip-the-line tickets.
Not enough?
Well this tour includes a gondola ride! You can't leave Venice without trying this unique experience. It's the perfect end to a beautiful Italy honeymoon!
Click here for rates and availability.
Day Fourteen – Gelato in Venice or day trip to Burano
Have a light breakfast this morning as you will need to walk a lot to see the sights on this last day of your epic honeymoon in Italy. Make sure you also shop for last minute souvenirs!
Spend the morning exploring St Mark's Square and the iconic Rialto Bridge.
For lunch try some of the best handmade gelato at Il Dodge Gelateria.
As sunset approaches, have your final meal of wood oven pizza at Due Colonne with delicious housewine.
An alternative to this can be a day trip to Murano, Burano and Torcello islands.
I'm sure you've seen a lot of pictures of the unique, colorful houses next to the canals in Burano.
Now it's the best time to visit these picturesque islands with your partner, in an unforgettable day spent exploring glass factories, seeing how lace is handmade and tasting the famous Burano's cakes.
You can book a semi-guided boat tour which will show you how glass is made in Murano and the inside of an embroidery factory in Burano. Afterwards, you'll have time to explore the islands on your own.
Which is the best way to experience them, if you ask me!
Click here to check rates and availability.
More Italy Travel Tips
Is Italy a good honeymoon destination?
Yes, Italy is stunning and super romantic (totally biased, I know!).
There are a lot of unique spots you can add to your honeymoon itinerary, also off the beaten path.
How expensive is it in Italy?
On average you can expect a trip to Italy to cost 55€-125€ (65$-149$) per day per person, including food, transportation, activities and accommodation.
These prices are usually heavily influenced by how you chose to spend your money. If you're going to book luxury honeymoon hotels, then expect to spend more.
When should one start planning an Italian honeymoon?
More or less 9-10 months in advance, if you ask me.
Take enough time to decide how much time you have, and discuss details with your partner. Then start looking into flight deals so you'll at least know the beginning and the end of your honeymoon.
Once you're done, the fun part begins!
Dream Italian Honeymoon – In a nutshell
It is virtually impossible to encompass all the romantic places in Italy on your first trip. However, that should not deter you from considering our beautiful Country for your honeymoon.
No matter how much you have read about Italy or watched it on TV.
There is nothing better than seeing things up close, tasting the real Italian food and allowing yourself to actually live the dream.
Benvenuti in Italia! (Welcome to Italy!)
Pin it for later!
This post is also available in:

Italiano