Whether you're planning a road trip in Italy or wanting to explore one of the most romantic Italian cities, the Hampton by Hilton Rome East hotel could be the perfect solution, offering a smart, friendly and young environment: Hilton quality for the right price.
Full disclosure: we have been invited a to participate to the inauguration night at Hampton by Hilton Rome East, to be able to offer our readers a true and honest review of the hotel as we've seen it.
Also full disclosure: when I heard Hilton I panicked. The usual, probably too girly… "I don't have anything to wear!". If you read our blog and follow our adventures on Instagram you'll know that I'm the kind of girl who loves to wear a good pair of hiking boots more than stilettos. Upon hearing where we were going I must confess that I felt more than a bit worried. I was sure I wouldn't fit in. Al, on the contrary, is one of those people who fits in wherever you put him. Gosh, I envy my husband so much for this!
While he was sporting this huge smile and shooting away, I felt a bit apprehensive. Sure, we love to explore Rome as we have dear friends there, but this was Hilton, you know!
It lasted until I spotted a warm smile on the other side of the open space Lobby. If you love to travel, you will also love Sebastian Siciliano, General manager at Hampton by Hilton Rome East. Aside from the fact that he's the most easy going, warm-hearted man ever, he's a wanderluster just like us. Within five minutes we were talking about his awesome trip to Patagonia, and how he used to work in Miami, so he loved to indulge in the breathtaking road trip to Key West we also fell in love with.
What can I say: I forgot all the nervousness and felt immediately at ease. The power of travel can achieve so much!
Sebastian told us about the new projects for the area where the new Hampton's by Hilton Rome East just opened (November 2017). Soon to come there will be a shopping center with an outlet and also a natural reserve pretty close to his hotel. Which means that this will be the only big hotel in the area, already established even if the next openings are scheduled from the next year on.
Comfy and colorful rooms
As we opened the door to our room we were welcomed with a nice surprise. Apple pie and a hand written welcome card from Maria Matera, Sales Manager at Hampton by Hilton Rome East. The little touch that doesn't make you feel yet another number in a huge hotel. Sometimes a kind gesture goes a long way. Needless to say we really appreciated the afternoon snack! Hats off!
This new hotel in Rome has 148 modern, colorful rooms. What we particularly enjoyed is that they also have adjoining rooms and sofa beds. It means that families won't have to be separated. Even larger groups can book together, they just have to make it known upon booking and/or at the lobby.
Another thing you wouldn't expect is that Hampton by Hilton Rome East is a pet friendly hotel. While there's a growing number of pet friendly hotels in Italy, sometimes you've got to pay additional fees for your pets, and other times they aren't as well situated, stylish and nice as this one. The only thing we can say is… at least someone realized that there are so many people who want to travel with their pets!
The room had a huge, luxurious bathroom with a particularly big shower. Being a hiker I know how important it is to have a clean, comfortable bathroom (and shower) to welcome you in the evening when your muscles ache and you absolutely need to wash away the dirt. It's a great feature also for all the people who stay here while working in the area: you will find everything you need to feel right at home.
One of the sore points for many hotels is the Wi-Fi connection. Sometimes you've got to pay, some other it won't reach your room, or maybe it's so slow that you'll grow old while trying to check your mailbox. At the Hampton by Hilton Rome East we tested it also with Amazon Prime Video (click for a 30 day free trial: I'm addicted by now) and it worked just fine. A good Wi-fi connection doesn't only mean that you can watch your favorite TV series but also that you'll be able to Skype home, or plan your trip in detail for the following day. We've been abroad and with our SIM cards not working we relied heavily on Wi-Fi in hotels to download maps or find the last details online. So the first thing we look for when reading a hotel review is their Wi-Fi connection.
Rest assured: at Hampton by Hilton Rome East it couldn't be better!
Ever-smiling and friendly staff
I swear Al tried the whole time to take a picture of the staff, only to have them running away with a shy smile. After a while it looked like Sylvester running after Tweety: he ultimately gave up.
While camera shy (and I can so relate, believe me), all the members of the staff were always smiling. It's something that makes a huge difference and that Hilton branded as Hamptonality. You know right away that any problem you might have will be dealt with. And it's always nice to walk into a room finding smiling faces, or getting a cheerful "Buongiorno" (good morning in Italian) when you waltz into the breakfast room to get your first dose of caffeine. This is one of the cases where you absolutely must apply the Italian tipping etiquette!
We're from Naples, in the South of Italy, and thus we're definitely used to a warm, friendly environment. We come from a sunny place full of good things to eat, where people smile no matter how hard life can be. So for us finding a positive environment is very important. Not only because we feel at home, but because we feel encouraged to ask questions, chat with the staff, heck, at some hotels you'll be met with a scowl even for just asking for a coffee!
At the Hampton by Hilton Rome East you're definitely in good hands. Ask away every question you might have, not only you won't be denied but they'll go out of their way to help you. Hospitality at its finest.
First to use Hilton Digital Key in Italy
Hampton by Hilton Rome East is the first hotel in Italy using the Hilton Digital Key service. It's a mobile technology that lets you open the door to your room or any other area in the hotel that needs a key, only using your smartphone. All you've got to do is downloading the Hilton Honors app, sign in and you're ready to go. You will be able to check in to your hotel 24 hours before your arrival. While in every other part of the world you'd just have to skip the lobby and get to the elevator, in Italy by law you're still required to show your ID to the Lobby upon your first arrival. Yet you'll already know where's your room and if you get back to the same hotel for a second stay, you won't have to show your ID again, so the check-in will be much faster.
Having a digital key also means that you won't have to deal with a magnetic card. You can just go out bringing only your phone with you and you still won't be locked out. The Digital Key also operates electricity in the room, it's very easy to use and much safer. In our video tour of the Hampton by Hilton Rome East you will see how it operates and how quick it is.
Bonus: with the Hilton Honors app you can also easily book your stay at any other Hilton hotels in the world and collect Hilton Honors points that you can use for free stays!
Eat positivity for breakfast
The breakfast room is very colorful and… happy. As you can see on the picture above, it's full of positive, motivational slogans that you won't be able to ignore. The whole feel is particularly relaxed: a great way to start the day!
Hampton by Hilton Rome East offers a huge hot breakfast. There seems to be a large number of everything. Different kinds of juices, lots of cereals, several kinds of bread, jam, delicious croissants and pain au chocolat. Families with kids also have a nice dedicated corner with a waffle machine, funfetti, chocolate syrup and many toppings. Being the big kid that I am, I absolutely had to try waffles with whipped cream and strawberries: I didn't regret it.
We also found an easy-to-operate, professional cappuccino/espresso/latte/hot cocoa machine. We got a cappuccino and it was just like the bar. Perfect, Italian style, with a creamy foam on the top. To make it short, you will find a lot of the best Italian foodie dishes for breakfast.
If you prefer an American breakfast you'll find that too. Eggs, sausages, bacon and beans, warm and inviting. Did I mention that there's a lot of everything?
Also, a personal note: the best macarons ever. And I mean ever. Oh my gosh they were delicious!
"Fast" and "Slow" food
The catering service at the Hampton by Hilton Rome East is top level, Italian foodie approved.
From Monday to Friday they have a "Fast" formula, a buffet lunch with a tiny price, for all the people who come here for work and also for those who are in a hurry or don't want to splurge too much.
If you want to relax and to taste a "Slow" dinner, you can eat at their restaurant, à la carte. On the menu you'll find traditional Italian dishes, but also enticing little snacks and tempting dishes from the world. The wine selection is particularly good too, which means that you can enjoy also a romantic Italian dinner without having to get your car, a luxury service we always appreciate.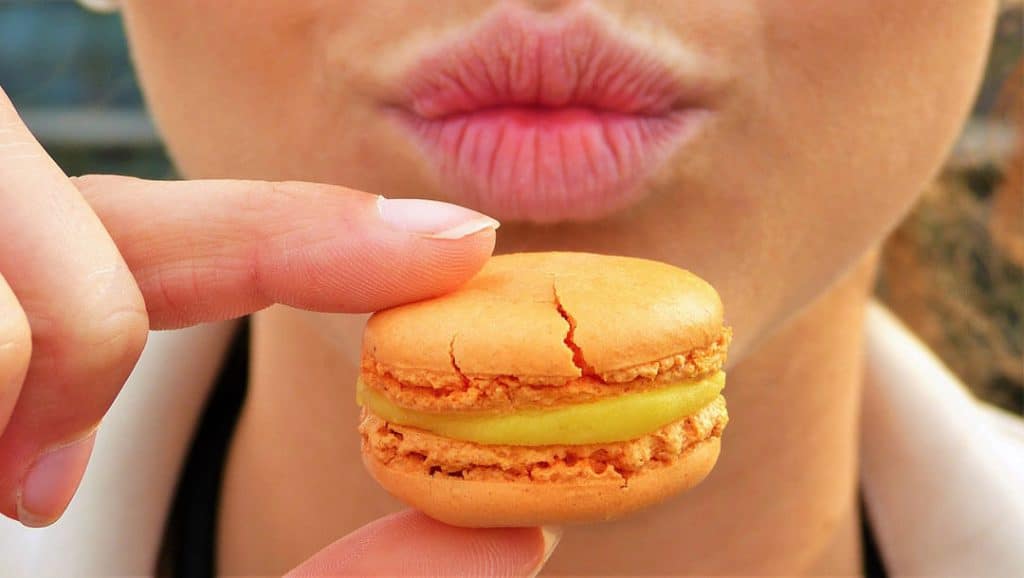 Highlights and our opinion
The highlights of the Hampton by Hilton Rome East are definitely enticing:
Great catering service
Free (working) Wi-Fi Connection
Digital Key
Fitness Centre
Open Space Lobby
Meeting room with the chance to use their computers
Incredibly helpful staff
The only downside in our opinion is that unless you have a car or are willing to use a taxi (in Rome they can be particularly expensive) it's a bit too far away from the city center and all the highlights in Rome. Hampton by Hilton Rome East is pretty close to the GRA (Grande Raccordo Anulare) an important toll-free, ring shaped motorway that encircles Rome so if you have rented a car, it'll be very easy to get into Rome, otherwise you will need a lift to the nearest train station. So it's the perfect hotel if you are roadtripping Italy and want to explore Rome, but it could be a bit of a problem if you are on a budget and without a car.
Things will definitely change once the new shopping area and the natural reserve will open, because this hotel will be one step away from a lot of fun and interesting activities.
Yet don't disregard it: they are offering awesome rates so make sure to check the best deals and offers for Hampton by Hilton Rome East. You could be in for a surprise!
Disclaimer: All opinions are our own and weren't influenced by the fact that we were guests at Hampton by Hilton Rome East.
This post may contain affiliate links.
Pin it for later!
This post is also available in:

Italiano