The Best Itinerary for 4 Days in Rome + Insider Tips!
This post includes affiliate links. As an Amazon Associate, I earn from qualifying purchases. Full disclosure.
Whether it's your first time visiting Italy or not, this itinerary for 4 days in Rome will surprise you. It includes all the romantic areas, the instagrammable spots and lots of info on how to avoid the tourist traps!
If you're visiting Italy to get a taste of "La Dolce Vita", you're in the right place. Being an Italian in love with her Country I prepared for you a Rome itinerary for 4 days of fun, culture, history… and of course good food! I think 4 days are enough to see a lot, without having to rush your visit. This itinerary will also include the chance to experience one or more day trips from Rome and of course a visit to Vatican City, the smallest Country in the world! Check out my list of the best Italy itineraries for more info on where to go from Rome, in case you're spending more time in my Country!
Quick Links to Post Content
Day 1 – Let's Begin your Rome Tour!
Welcome to your first day in Rome itinerary!
According to when you are arriving and to how tired you are, my first suggestion is to start by visiting the symbol of the Eternal City. You have 4 days in Rome and there's no need to rush your visit.
The Lupa Capitolina (Capitoline Wolf) is a sculpture depicting a scene from the legend of the founding of Rome. The Lupa (she-wolf) is suckling Romulus and Remus, the two founders of Rome.
According to the legend, when Numitor, grandfather of the twins, was overthrown by his own brother, he ordered for them to be cast into the Tiber river.
The she-wolf rescued the two babies and cared for them until they were found by a herdsman, Faustulus.
In Italy we consider the Lupa Capitolina as the traditional symbol of our Capital: it's a great way to start the perfect Rome itinerary!
While there's a bronze sculpture at the Capitoline Museum, you can see a smaller copy for free on the left side of the Campidoglio (Capitolium). It's located on a column with her back to the Fori Romani (Roman Forum).
You are in an area full of things to see. Piazza del Campidoglio is one of the most important squares in Rome, designed by Michelangelo. In case you got here quite early, you might be able to visit also the Capitoline Museum. Tickets cost 12,50€ and the museum is open every day, from 9:30 am to 7:30 pm.
While you can buy tickets for the Capitoline Museum also online, this museum is also included in the Rome City Pass.
This 48 or 72 hours city card offers free skip-the-line admission to 1 or 2 attractions, free use of the city's public transport system and lots of discounts. Rome City Pass is the best way to save money and it's perfect if you're visiting on a budget.
Worried you'll need a bit of help?
Download the FREE Italian Travel Phrasebook here! It includes the correct Italian pronunciation and lots of useful sentences that you'll be able to use on your trip to Italy!
Afterwards (or as an alternative itinerary), hop on a metro.
I always suggest using the subway to explore (especially Rome city center) because traffic can be a nightmare. The buses in Rome can be very late or they might not show up at all.
Your itinerary for 4 days in Rome will be way easier if you use the subway as much as possible!
Your next stop will be the Colosseum. You can visit this world-famous amphitheatre with a guide.
Tickets for a self guided visit cost 9€ (4,50€ for kids, free for all the Italian citizens under 18 years). You'll also have to add an extra 3€ to see the exhibit.
Visiting the Colosseum with a tour allows you to discover ancient Rome and legends about the gladiators.
The Rome All-Access Pass is a great way to visit Rome on a budget, because it includes skip-the-line entrance to Vatican Museums, Sistine Chapel, Colosseum, Roman Forum and Palatine Hill.
As an extra bonus there's also the chance to watch a 25-minute Ancient Rome Multimedia Video. That is how you can discover a lot of interesting things about the Roman ruins you'll visit.
Click here to check rates and availability.
Are you visiting in the warmer months? Find out what to wear in Italy in summer to make sure you pack right!
Since you're within walking distance from yet another very cool must see in Rome, let me introduce you to yet another legend. If you aren't too tired, you can easily add it to your first day in Rome itinerary.

The "Bocca della Verità" (Mouth of Truth) is a huge stone mask that represents a man with a beard and his mouth open. It became famous thanks to the movie "Roman Holiday" (1953) with Audrey Hepburn and Gregory Peck (the one where they ride a Vespa in Rome!).
According to the Italian legend, if you lie when you put your hand inside the mouth, the mask will "bite you".
Find this iconic stone mask in Rome city center, at Piazza della Bocca della Verità 18.
Beware: there's always a long line of tourists waiting to take a picture with their hand in the Mouth! In the colder months you can access from 9:30am to 4:50pm, in summer time it stays open until 5:50pm. You have 4 days in Rome so for your itinerary try to arrange to be there when it's less crowded!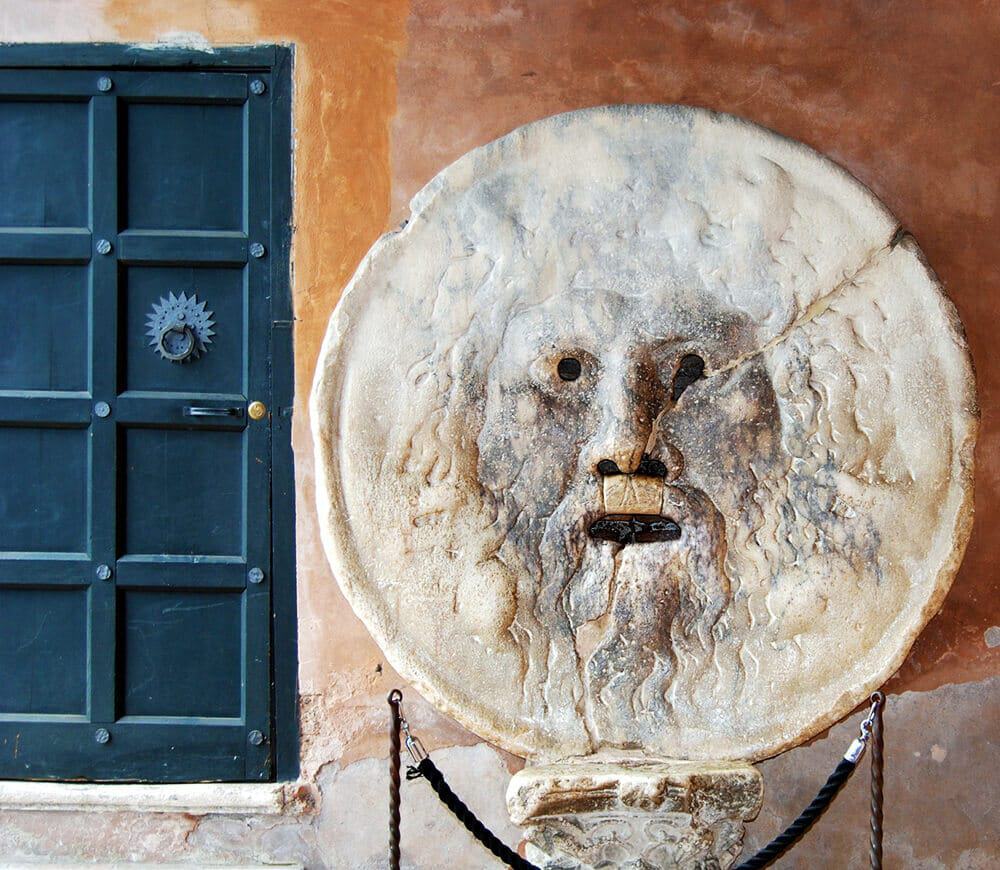 Museums are not your thing? No problem! Your Roman times have just begun!
At this point you're pretty close to yet another must see spot in Rome.
Take another metro to the Basilica di Santa Maria in Aracoeli (Basilica of St. Mary on the Altar of Heaven), near the Altare della Patria (Vittorio Emanuele II Monument).
The Basilica is truly beautiful and the entrance is free, so by all means, stop there to have a look!
Our Altare della Patria is a monument built in honor of Victor Emmanuel II, the first king of the unified Italy. It holds the Tomb of the Milite Ignoto (Unknown Soldier), where the eternal flame is always lit and guarded by two soldiers.
You can think of this place as one of the instagrammable spots in Rome, but there's so much more than that.
This is one of the most important monuments in the history of Italy. You can take pictures and visit the outside for free (please, be respectful).
Paying the 7€ ticket to access the terrace will reward you with one of the most beautiful sights in Rome. From there you can take amazing pictures of the city seen from above.
You've had a long day and I'm sure you're dead tired. So for your first night in Rome I suggest you find yourself a nice restaurant. Possibly within walking distance from your hotel.
Here you can find a handy guide to tipping in Italy, with Italian sentences which will be useful.
Enjoy the evening and relax. Tomorrow you'll discover the world-famous Rome piazzas!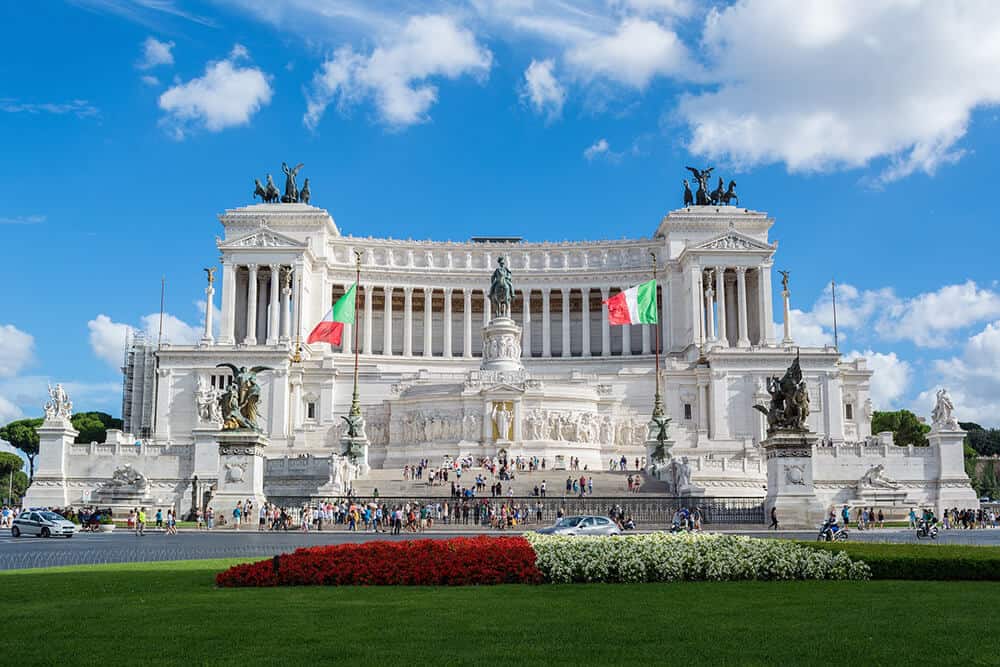 Day 2 – Rome Piazzas and the Italian Dolce Vita
La Dolce Vita is an Italian movie by the world famous director Federico Fellini. It is about Marcello, a journalist writing for gossip magazines, and his journey through the "sweet life" (in Italian it's "dolce vita") of Rome, looking for happiness. This movie became famous for the scene in the Trevi Fountain, when Anita Ekberg walked into the fountain, trying to tempt Marcello (Mastroianni) to follow her. Not many people know that the iconic scene at one of the top Rome attractions was shoot in winter. According to the actors, the water was freezing!
I'm assuming that jumping in the Trevi Fountain isn't something you'd add to your itinerary for 4 days in Rome. Especially because it's against the law. So the cold water shouldn't be a problem!
The Trevi Fountain is one of the top Rome attractions and it's usually pretty crowded.
Your best bet is to get there very early in the morning. And I mean… as early as 6 or 6:30 AM. That's how you can take pictures with a beautiful, natural light, without the crowds.
I've done the same thing while taking pictures of the instagrammable spots in London so I can tell you this. It works!
Some people prefer to visit the Fontana di Trevi late at night. It really depends on your Rome travel itinerary.
My insider tip is that it's not a good idea. This is a pretty touristy area, full of cafes and restaurants. There will be people out and about. Also… you get the best light at dawn!
If you already activated the multiple days ticket options, you can visit the Roman Forum or the Pantheon today.
Otherwise we'll visit some of the most iconic spots for an unforgettable self-guided Rome itinerary!
From the Trevi Fountain you can just walk toward sone of the most famous Rome piazzas: Piazza di Spagna.
As you stroll through Largo del Tritone and Largo del Nazareno (take a lot of pictures of the beautiful architecture in this area!), by all means, enjoy a delicious Italian gelato!
If you're hungry for a savory snack, see if you can find a slice of "Focaccia romana con mortadella" to get a taste of Italy! It's a delicious Italian snacksnack, soft bread with raw salt on the top and filled with a slice of mortadella. The same Italian sausage of cured pork you can also find in Bologna. The Focaccia romana is the perfect walking snack for your Rome day 2 itinerary. You'll need the extra carbs!
Please be aware that Focaccia can't survive super long trips so it might not be the best souvenir from Italy!
Piazza di Spagna is where the world-popular Spanish steps are located. Sadly it is not possible to sit on the steps at Scalinata di Trinità dei Monti. But you can find a bench in the area for a quick lunch with a view!
At this point you have two options to fill the gap in your itinerary for 4 days in Rome.
If you want to enjoy a nice day in the open, head over to Villa Borghese. You can consider this park as the Italian version of Central Park, only… smaller. And full of interesting monuments!
A budget, and very interesting alternative, is to keep up with your self-guided walking Rome itinerary.
From Piazza di Spagna walk to Via dei Condotti. You can find it easily. It's the narrow street you see on the other side of the piazza, seen from the Spanish steps.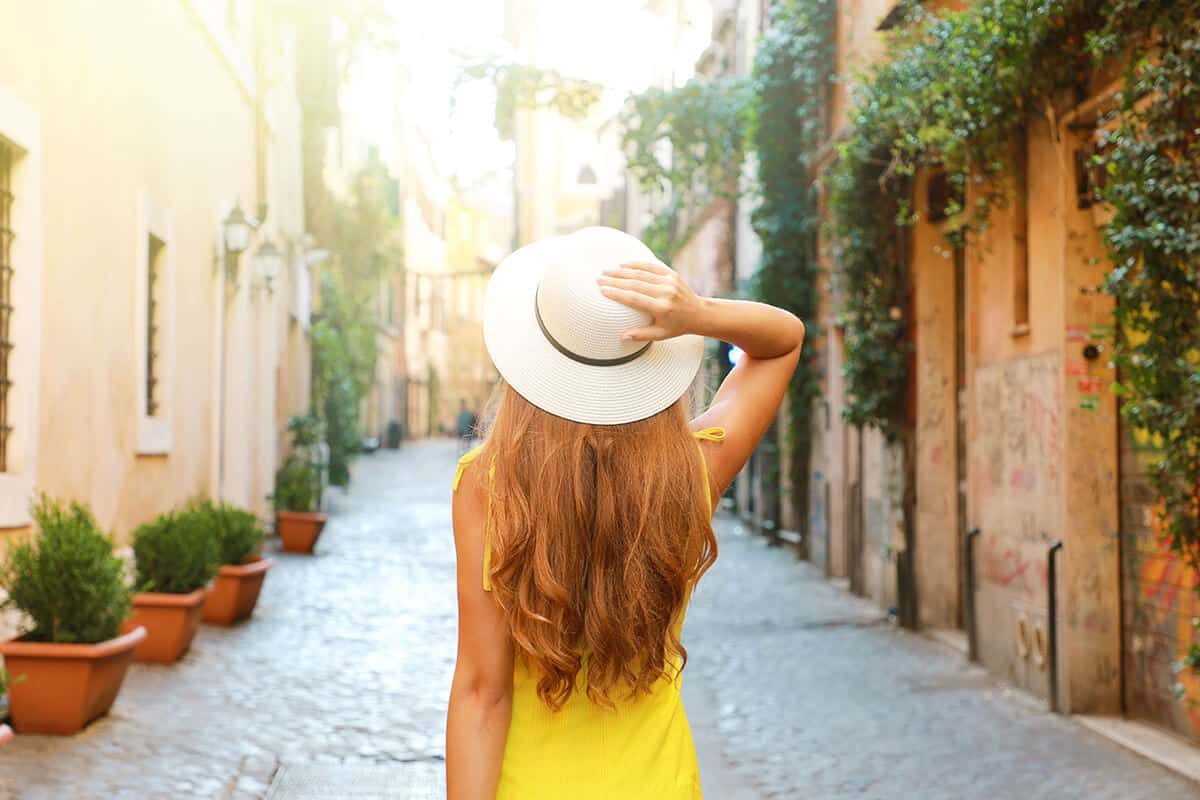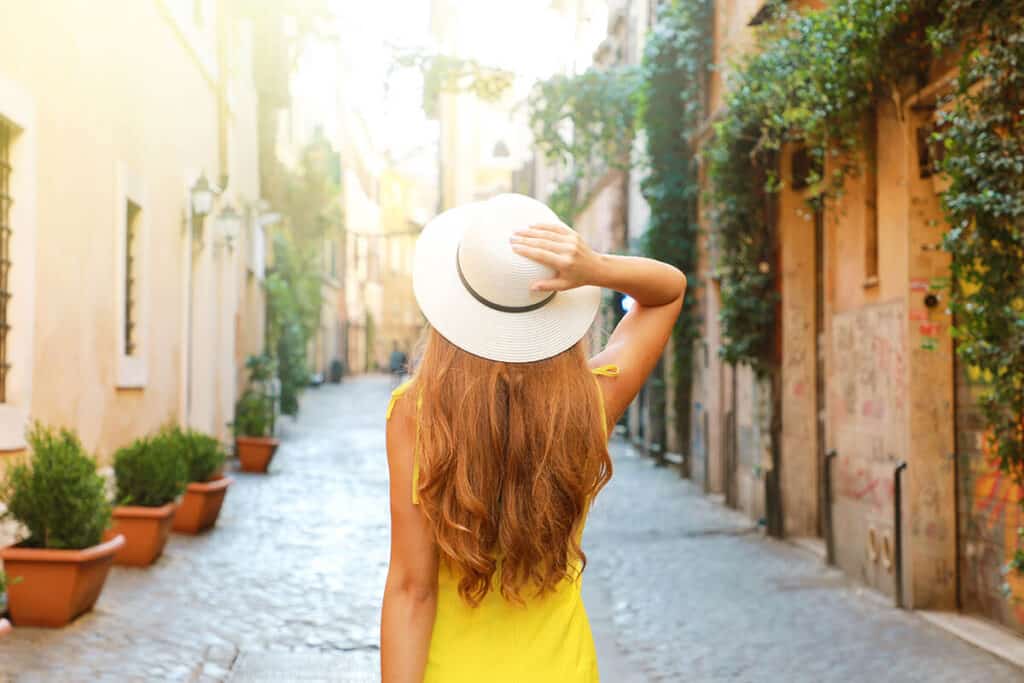 To all the shopaholics like me. Before you enter Via dei Condotti, it's best to hide your credit card. Even better: hand it to a trusted friend.
This is one of the top Rome attractions, and for a good reason!
La Dolce Vita in fact is here!
Via dei Condotti is the coolest shopping street in Rome. You will find all sorts of amazing brands, from Ferragamo to Max Mara, from Gucci to Burberry and Tiffany. Focus on taking pictures that will remind you of this day in Rome.
Otherwise you might feel tempted to buy something that will cost you the next two months of rent!
The walk is lovely, and yet because so many trips to Rome focus exclusively on the museums, many people don't even know about Via dei Condotti.
While preparing your itinerary for 4 days in Rome, you will have to decide what you want to do. If you want to visit the museums and enjoy the Dolce Vita, skip the day trip!
As you keep walking, you will find yourself at yet another top piazza in Rome, Piazza Navona.
Once there, you can also visit two beautiful churches, Sant'Agnese in Agone and Nostra Signora del Sacro Cuore. There are also two of the beautiful fountains that usually decorate Rome piazzas. Fontana del Moro and Fontana dei Fiumi are super instagrammable!
In case you wore comfortable shoes and your feet aren't screaming for vengeance, you can also walk to Fontana del Nettuno.
Early evenings is one of the best travel times ever. There are so many cool cafes and restaurants in Rome!
Decide if you want to treat yourself to a tasty Italian aperitivo, or start looking for a cute osteria for dinner!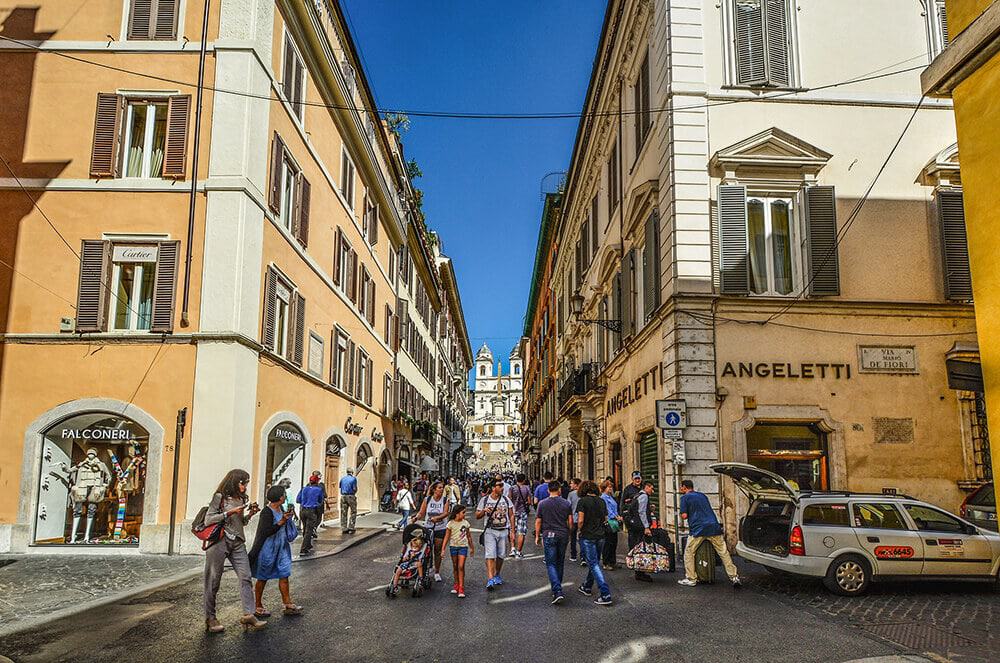 Day 3 – Rome day trips (optional)
In case you're planning a trip to Italy, you'll probably already know if you want to stay the full 4 days in Rome or if you also want to add a day trip in between exploring the Eternal City.
According to how you planned the previous 2 days in Rome, there are several options for today's itinerary.
Are you going to stay in Rome?
Then you can visit our Museo Nazionale di Castel Sant'Angelo, or the Galleria Borghese, the Pantheon or the amazing Basilica di Santa Maria Maggiore, one of the four Papal basilicas of Rome.
If your feet hurt, take a break and book a hop-on hop-off bus ticket for a tour of Rome.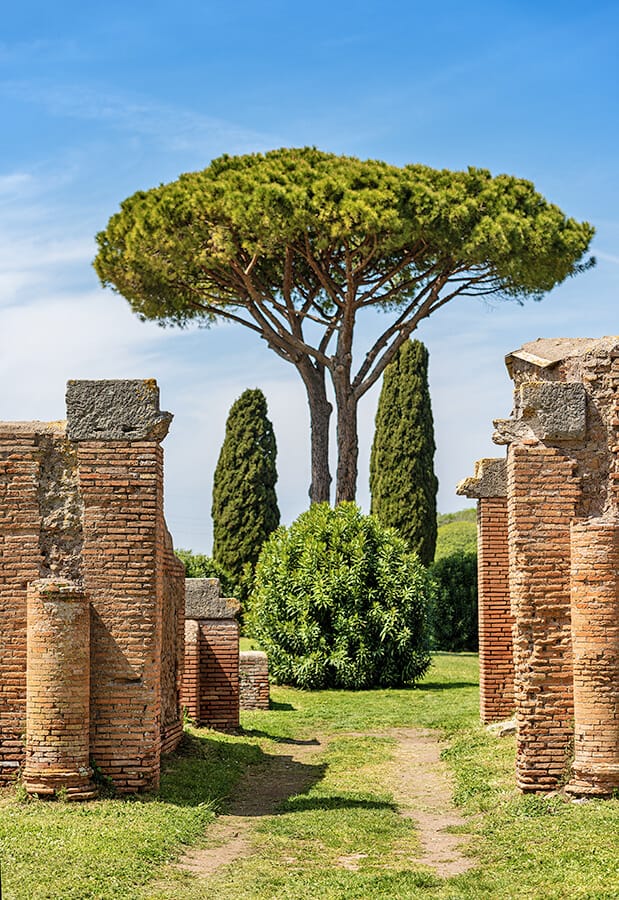 Ideas: the best day trips from Rome
There are also a lot of options for those who want to add a day trip to their Rome itinerary.
Here are a few ideas you might appreciate.
Even if you don't have a car you can plan a day trip to Capri or the Amalfi Coast from Rome.
Just make sure you pick a reliable company so you won't have to worry about anything! Check out my list of the best Amalfi Coast tours: you will be surprised at how many places you can go to also from Rome!
In the evening head over to Trastevere.
There are so many things to do in Rome at night and most of them… are in this romantic district.
Located on the other side of the Tiber river, Trastevere looks so different from the chaotic Rome city center! Trastevere lits up at night, becoming a romantic spot that always makes me think of La Dolce Vita. You don't even have to walk too much to find a cute restaurant: there are so many, hidden in the narrow streets of cobblestone!
One of the best restaurants you can go to if you're planning a romantic 4 day Rome itinerary is Zi Umberto.
Wooden beams ceiling, family owned, the scent of the good, traditional food. It's one of the Italian experiences you can't miss!
Do not worry if you are visiting on a budget. Check out Bir and Fud, which sells slices of pizza, beer and Italian supplì (deep fried rice balls). Another place to go to if you're after a delicious pint of beer is the Birrifugio in Trastevere: they sell lots of different beers, both locals and international.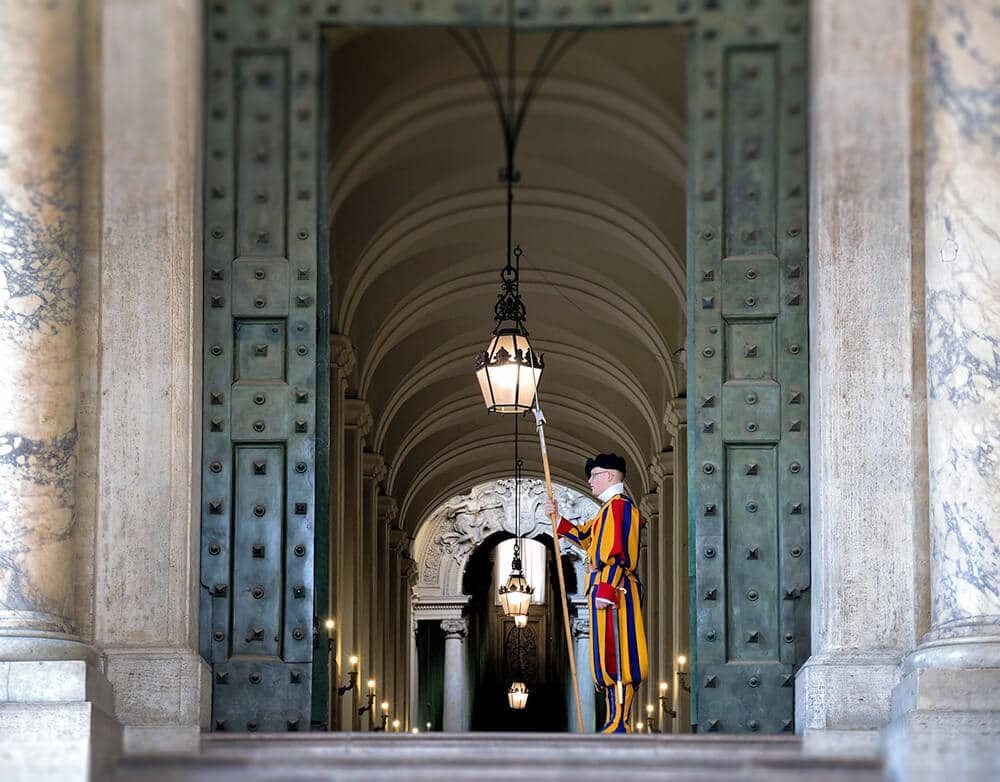 Day 4 – The seat of the Roman Catholic Church
Vatican City is an independent city-state within Rome and the seat of the Roman Catholic Church.
It's also the smallest country in the world and of course it deserves a full day visit. So much so that you should make a special note in you Rome itinerary.
Wake up early, as today there's a lot to see!
Vatican City entrance is free, and you won't need a specific visa to enter.
The only thing you have to be aware of is the crowds. Sadly there is usually a long line to enter Vatican City. Especially on Sundays, or for the Italian Christmas holidays.
The midnight mass in at Christmas is usually so very crowded!
Not many people know that only part of Vatican City is open to the public. There are quite a lot of "secret" districts that are reserved exclusively to those who live and work there!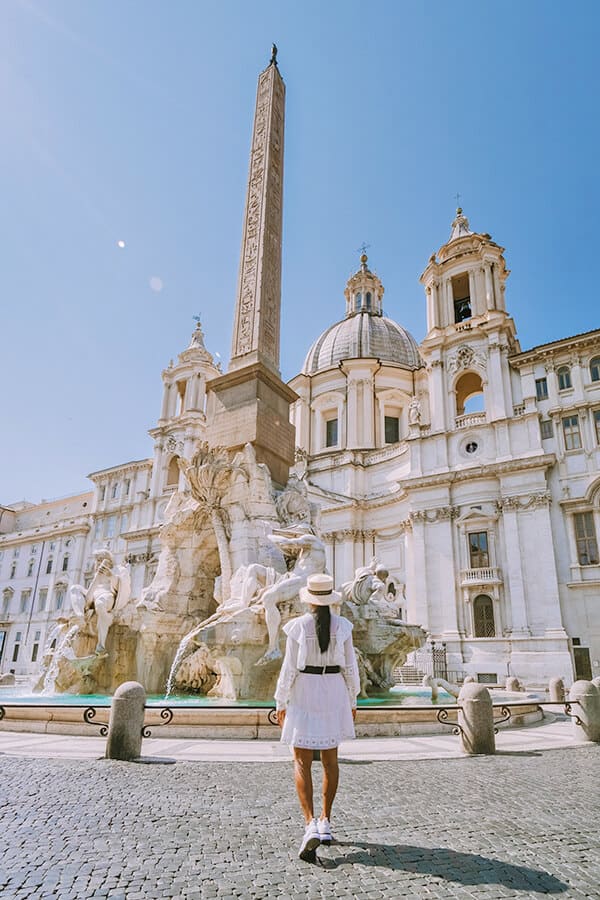 How to get to Vatican City
To access Vatican City there are two main entrances: one is located near Piazza San Pietro (St. Peter's Square), and another one not too far away from the Vatican Museums.
Italian Police and soldiers will check your bags and you might be asked to step under a metal detector.
If you're getting there using the metro, coming from Rome city centre, the closest station is on the red line (Linea A). Search for the "Battistini" stop.
If you want to go straight to St. Peter's Square, your station will be "Ottaviano-San Pietro". "Cipro-Musei Vaticani" is the best option if you want to visit the Vatican Museums first.
From the subway station you will need to walk for about 10 minutes to get to the security checks area.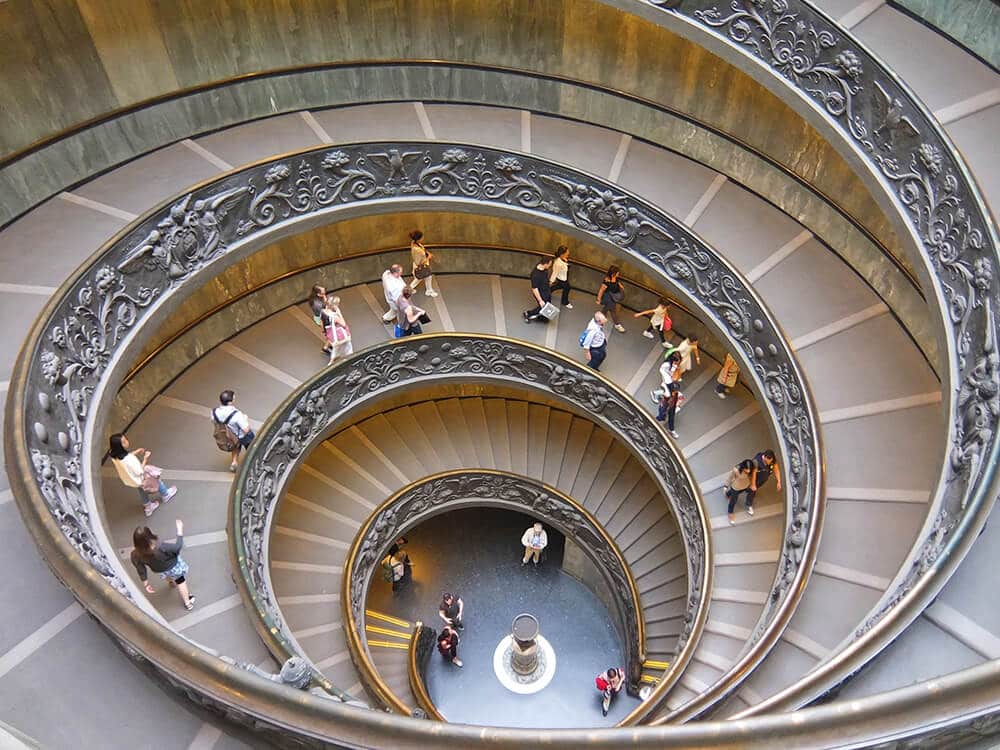 Vatican City: What to do if you have a little more time
Vatican City can be visited on a budget. There are quite a lot of things you can do for free!
One of our favorite things to do is visiting St. Peter's Basilica. It's one of the ancient roman splendor buildings that you just can't avoid when in Rome.
While visiting Rome main churches (as well as those in Vatican City), you should respect the Italian dress code. Be respectful at all time and cover your shoulders and legs.
Even if you're visiting on a warm summer day, you will be denied entrance if you're not properly dressed.
My tip is to carry a light cotton scarf in your backpack, so you can wrap it over your shoulders before to enter a religious building.
As I already mentioned, entrance to St. Peter's Basilica is free. Those who want to access the dome will have to buy an entrance ticket.
Pre-booking a tour is the best way to enjoy the day even if you don't have much time. Your itinerary for 4 days in Rome is already pretty full as it is!
There's a very good tour with an art historian guide that includes access to "Cupola di San Pietro" with an experienced tour guide and usage of the elevator.
If you buy a ticket at the local ticket office you will have to pay extra just to use the elevator.
Why is the elevator this important you ask?
Well, 551 steps is quite a lot, especially if you're planning to visit Italy in summer!
Check out rates and availability here.
Let me also add something else. One of the "Rome insider tips" you won't find anywhere else.
While the view from up there is amazing, this isn't an experience for everyone.
The last part to get to the dome is a very narrow staircase.
Being terrified by the heights, I almost got a panic attack up there. I knew it is safe and my husband was with me, but it still happened. While I managed to calm down, it might not be so easy for someone else.
If you think you might not be able to make it, avoid the tour. They won't return the money if you refuse to climb!
Don't even feel too guilty: your 4 day roman holiday has been a lot of fun anyway!
Of course St. Peter's square is another must see in Rome (well, technically in Vatican City): you can just walk around taking as many pictures you want.
What people commonly define as "Vatican Museum" are actually a group of museums located in Vatican City. There are over 54 galleries that you can visit, and the lines can be quite long.
Visiting should be a must. There are some of the most gorgeous paintings by the famous Italian artist Raphael that you can't miss!
Yet you will have to pre-book your entrance and you have to get there super early in the morning. Otherwise you risk spending hours in line!
Getting a Vatican Museums and Sistine Chapel skip-the-line ticket is a great way to save money and time. 4 days in Rome are enough to see a lot of things but you can't spend two of them only in Vatican City.
A skip-the-line ticket is perfect also if you're visiting on a budget because it's not as expensive as a guided tour. Yet it will allow you to avoid the long ticket lines, so you can enjoy the visit at your own pace.
Click here to check rates and availability.
Note: this Vatican Museums and Sistine Chapel offer also includes the chance to add a discounted tour to the Vatican Gardens and access to Papal Villas if you decide do add more to your day out.
Vatican Museums are open from Monday to Saturday from 9:00am to 6:00pm (last entry at 4:00pm), and every last Sunday of the month from 9:00am to 2:00pm (last entry at 12:30pm).
In case you planned your 4 days in Rome in spring or summer, I suggest you also add a visit to the Papal Villas.
You can visit Villa Barberini and its garden or the Apostolic Palace of Castel Gandolfo.
Those who have already been at the Vatican Museums should consider a half-day guided tour with lunch from Rome to Castel Gandolfo. The gardens are lovely in spring and summer!
Since visiting Vatican City will take one full day, you're probably going to get back to Rome city center in the evening. Right on time for an Italian aperitivo or maybe for a full dinner, according to how hungry you are.
So for your last night in Rome, by all means, go to Ponte Milvio (Milvian Bridge)! This bridge over the Tiber in the Northern part of Rome has become a popular spot for couples in love. And it's located in one of the best Rome neighbourhoods. Win-win!
For years, after the release of the popular book and movie Tre metri sopra al cielo, couples started to attach padlocks to a lamppost on the bridge. They then threw the key into the Tiber. The perfect ending after a romantic walk in Rome
Because of this practice, the lamppost partially collapsed in 2007 due to the added weight.
Now there's a fine for those who do it, because even if you're madly in love… ruining a National monument is not the way to show it!
You might still see a few padlocks here and there. Ah, young love!
If you're visiting on an Italian honeymoon, Ponte Milvio is a great way to end the perfect Rome itinerary.
The area is quite romantic and full of nice little restaurants and cafes, open until late at night.
One of the best is Gli Specialisti , which cooks all the best traditional Rome food.
If you want to dine on a budget, try the Trapizzino .
They have amazing street food, it's a mix between a sandwich and pizza. So you will be served this sandwich full of the best sauces, or even delicious meatballs!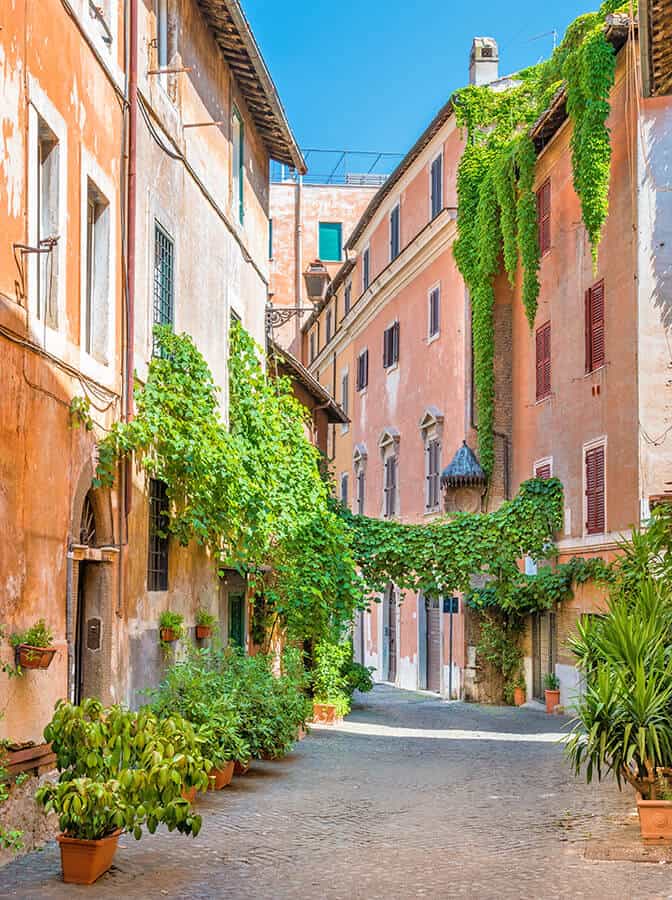 Frequently Asked Questions: Planning a Trip to Rome
Is 4 days in Rome too much?
4 days in Rome is the perfect amount of time to visit. There is so much to see and do! If it's your first time in Italy, you should consider spending the whole 4 days in Rome.
In case you already visited before, you can add one or two day trips to your itinerary.
Is Rome a walkable city?
You can absolutely plan a self guided Rome walking tour! While there is a lot to see and do, the subway will be perfect to explore on your own.
Renting a car won't be necessary!
When is the best time to visit Rome?
The best time to visit Rome is from September to April. Most of the tourists have already left and you'll be able to find lodging for less.
Where should a first-time tourist stay in Rome?
If sightseeing is your main goal, plan to stay in Piazza Navona and Pantheon area. The honeymooners on the contrary should find a nice place near the Spanish Steps: it's very romantic!
Click here to find the best lodging deals in Rome.
Where should I go to enjoy Rome nightlife?
Trastever and Campo de' Fiori are the two best neighbourhoods if you're looking for night clubs, restaurants and the likes!
Did you like my Rome itinerary for 4 days? Let me know in the comments if you've used it for one of your trips to Rome, or if you need more info. I'll be glad to help!
You might also like:
4 days in Rome – itinerary from a local
What to pack for Italy in Autumn
Italy tipping etiquette – how to avoid being rude
Hampton by Hilton's Rome East – Hotel Tour
20 amazing destinations in Europe – Fall trip ideas
Guide to Etias Europe and Schengen visa requirements
When is the best time to visit Italy?
Ultimate guide to the best movies filmed in Italy
Pin it for later!
Travelling Dany – Danila Caputo
Danila Caputo is a bilingual travel writer living in between Naples and the Amalfi Coast (Italy), graduating from the University of Naples Suor Orsola Benincasa in Foreign Languages and Literature. She travels and works with her husband Aldo, photographer and videographer. Their blog chronicles their adventures around the world, their love for the USA (where they have family), Italian/European culture and tips on how to be responsible travelers. You can find out more about their latest trips and their life on Youtube, Instagram and Facebook.