A taste of Italy | Famous Italian dishes by a local
This post includes affiliate links. As an Amazon Associate, I earn from qualifying purchases. Full disclosure.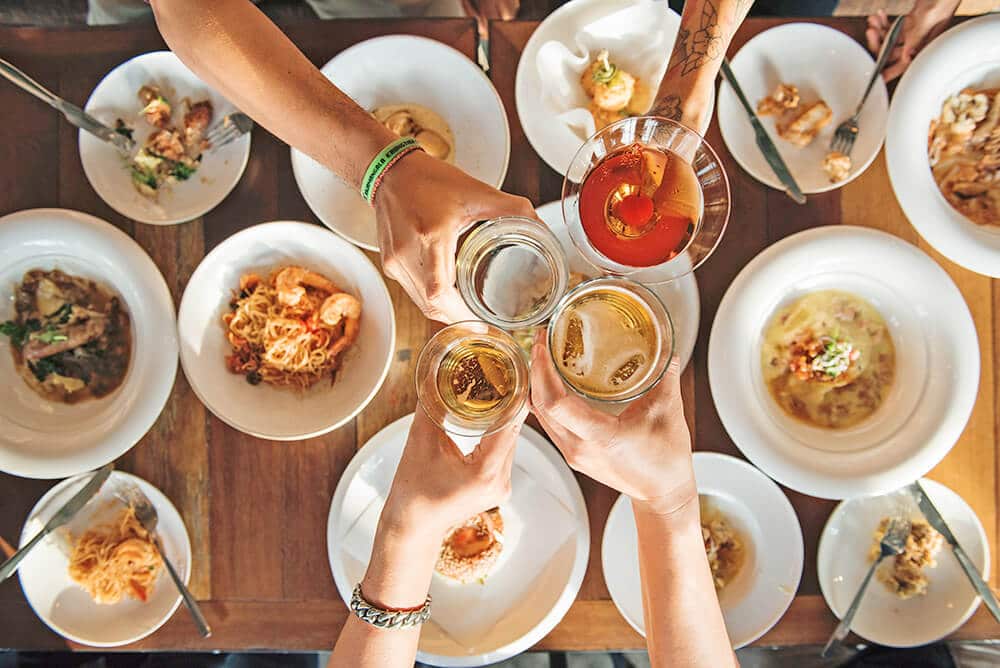 Italians are quite opinionated about their food. Eating well is important to us and with all the tv shows telling food facts in Italy, we definitely know a lot about choosing the right ingredients, knowing where to eat and what. Our Country has an incredible variety of regional recipes and local foods. Eating in Italy is one of the most amazing experience ever: if you've ever wanted to try a foodie trip, you should definitely start here. Let me offer you a taste of Italy, showing you not only the most famous Italian dishes, but also the specific regions of origin so you can plan the perfect trip to Italy. I even have a handy guide to tipping in Italy, with Italian sentences you can use. This knowledge will also help you to avoid the tourist traps that might spoil your foodie exploration of our Country.
Come on, let's get ready for an Italian food tour!
Excuse me but I really am biased. I couldn't start my tour of the best food in Italy if not with… my beloved pizza from Naples!
There's nothing better than walking down the narrow "vicoli" in Naples. Following your nose, the scent of flour, wood-fired oven and tomato sauce, you're probably going to find the best "pizza a portafoglio" ever.
It happens all the times in the old part of our city, so if you're going to visit via San Gregorio Armeno (Christmas Alley), be prepared. Over there you can still find delicious pizza used as street food, for as little as 1.50€, straight off the oven.
Quick Links to Post Content
Real Neapolitan pizza
The difference between our pizza and the one you can find in other parts of Italy lays all in the crust. A real Neapolitan pizza is soft and doughy. It has to have a beautiful, airy, 1 inch thick outer crust, full of tiny bubbles. Did you know that it takes less than 1 minute to cook it into a wood-fired oven?
In Rome they do have their own version of pizza. It's very thin and crunchy, and it's called "pizza alla romana" or "pizza alla pala". If you ask people in Naples they'll scrunch up their nose: pizza? That's not our pizza at all!
I must confess I'm not a huge fan myself, but how could I be? I still remember when dad brought me to the old fish market in Naples.
I was no more than a toddler and I explored this ancient part of a big city holding a pizza a portafoglio in my hands. You could buy one for just a few cents! Spend a few days in Naples and you'll understand why it can be addictive!
Worried you'll need a bit of help?
Download the FREE Italian Travel Phrasebook here! It includes the correct Italian pronunciation and lots of useful sentences that you'll be able to use on your trip to Italy!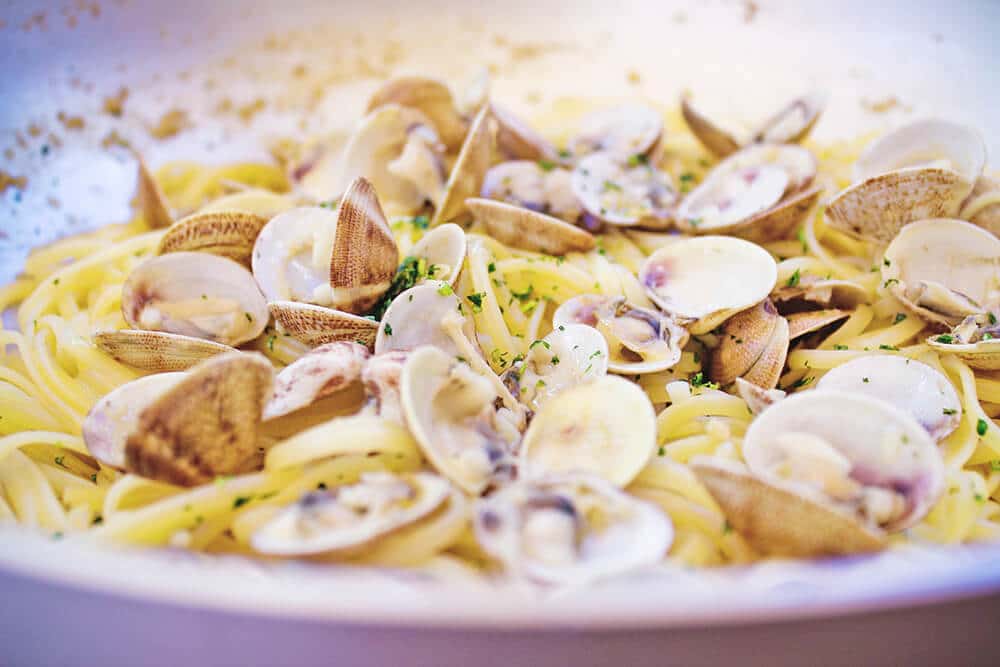 Most popular dishes in Naples
Spaghetti con le vongole: You know spaghetti, right? Well in Naples we make the best spaghetti with clams. They can be spicy or not. One version allows tomato (we usually eat that one during the Christmas festivities) and another one is much more simple: spaghetti, olive oil, clams, garlic and fresh parsley.
Spaghetti con le vongole is also my favorite dish when I visit Procida island in Southern Italy!
Ragù: Every nonna and mamma in Napoli spends half their Saturday night and a few hours on Sunday morning to prepare their ragù. Each one of them uses a specific recipe that runs in the family, but pasta al ragù is definitely a Sunday tradition in Naples. I never really ate a bad ragù in my life (yet). There are still places in Naples where you can eat the traditional, homemade, ragù. Read about where to go and learn about a few more of the traditional dishes in Naples here;
Mozzarella di bufala (buffalo mozzarella): Possibly the most popular fresh cheese in the world. So many places (also in Italy) try to copy the traditional recipe, but here in Campania region, we do have the best version ever. Mozzarella di bufala is made with fresh Mediterranean buffalo milk. It is still handmade, and also addressed as "white gold". Add it to your Italian food bucket list, especially if you're planning to visit Naples;
Caffè espresso: We could say that it's another signature "dish" in Naples. The fact is that here we're basically espresso-addicted and thus in the morning it's better if no one talks to us unless we've had a cup of coffee (in Neapolitan: 'na tazzulella e' cafè) first! Head into a bar in Napoli, order breakfast (usually it's a pastry and caffè or cappuccino) and start talking to the barman/barwoman. We're very friendly here!
You might also like:
– 30 different types of pizza you must try
– 38 Famous Italian Drinks You Should Try in Italy
– Guide to the best time to visit Italy
Tonnarelli cacio e pepe in Rome
While Neapolitans and Romans might not agree on the best pizza recipe, if you are planning to visit Rome you will still find some of the most popular food in Italy.
The dish I suggest you try is Spaghetti cacio e pepe. While the classic recipe uses tonnarelli pasta, nowadays it's much more common to find spaghetti. Cacio e pepe is a creamy sauce made with pecorino Romano cheese and black pepper, grinded fresh.
A few restaurants like to also add chopped walnuts on the top, but it's definitely a more "modern" version of the traditional recipe. You will find cacio e pepe on every menu in Rome.
The usual prices "for the locals" are never generally over 10€. The average price of tonnarelli cacio e pepe is about 8€, but of course it depends from the restaurant. If they cost more than 11-12€ , it's a tourist trap. Fly you fools!
Most popular dishes in Rome
Abbacchio scottadito: We ate some delicious abbacchio scottadito in during our history trip to the Tuscia Viterbese so we can safely say that this dish is delicious wherever you eat it, as long it's in Lazio region. It's savory, roasted lamb meat. "Scottadito" means "burning your fingers", and it's because it's popular to eat the lamb ribs with your fingers while they're still scorching hot! In Lazio region they often eat this dish at Easter;
Spaghetti alla carbonara: Aldo is a super-fan of carbonara, but he likes his own version which is with bucatini pasta. The traditional recipe (that you will find everywhere because it's a very popular Italian food) is prepared with spaghetti or rigatoni pasta. They are served with a delicious cream sauce made with fresh eggs, crunchy bacon bits, black pepper and Pecorino cheese. My husband would probably eat carbonara every day if he could!
Carciofi alla giudia: This is a vegan recipe as long as they don't sprinkle the artichokes with cheese (it's not in the traditional recipe anyway!). You will find Carciofi alla giudia only in Rome and you should definitely try them! The violet artichokes are washed and prepared so that they are as open as possible. Then they are deep fried, and the cook makes sure that they won't change their shape. After they're cold, they are once again pushed open without breaking them (they have to look like blooming flowers) and re-fried. The only other ingredient that it's allowed is salt! If you intend to visit Italy in spring you'll get to eat the freshest artichokes ever!
We found several nice restaurants that make delicious Carciofi alla giudia at Trastevere, find more info in our itinerary to visit Rome in 4 days.
Pasta al pesto at Cinque Terre
During our endless, romantic Italian getaways, we always try to eat the best types of food in Italy. When it comes to pesto, there's only one place you can go to: Genova.
It's even better if we can eat some delicious trofie al pesto (or linguine pasta) at Cinque Terre. Here in fact the hills are covered with basil bushes.
The right one to make pesto has small leaves and a strong scent. Eating pesto really is like having a taste of Italy: it's delicious and you should try it in its original version.
Many of us in Naples (me included) prepare homemade pesto, but it's not the traditional one because in Naples our basil has large leaves: this affects the flavour.
Italian pesto genovese is only made with basil leaves, olive oil, Parmigiano Reggiano DOP, Pecorino cheese DOP, garlic and pine nuts.
Pasta al pesto can be a bit more expensive at Cinque Terre because the area is very touristy and beautiful, but it shouldn't cost more than 10-15€.
Most popular dishes in Liguria region
Focaccia genovese (o con le cipolle): Focaccia looks a bit like pizza but it's not. The dough is different, and it's only cooked with a topping of olive oil, coarse salt and rosemary. It's cut in squares and generally sold warm. There's also a version that has onions on the top;
Focaccia di Recco: this traditional dish is another variation on focaccia, but it's very thin as they don't use yeast. You can also find a version with cheese, "Focaccia di Recco al formaggio": if you do, absolutely buy a slice because it's delicious!
Coniglio alla ligure: This rabbit stew is particularly good and it takes quite a long time to prepare it right. It's one of those very popular Italian foods that not many people from abroad know, so if you're visiting and want to eat real Italian food in Italy, please make sure you try this dish. The original recipe is ancient: they cook the rabbit with olives and pine nuts for hours and hours until the meat gets very tender. Yum!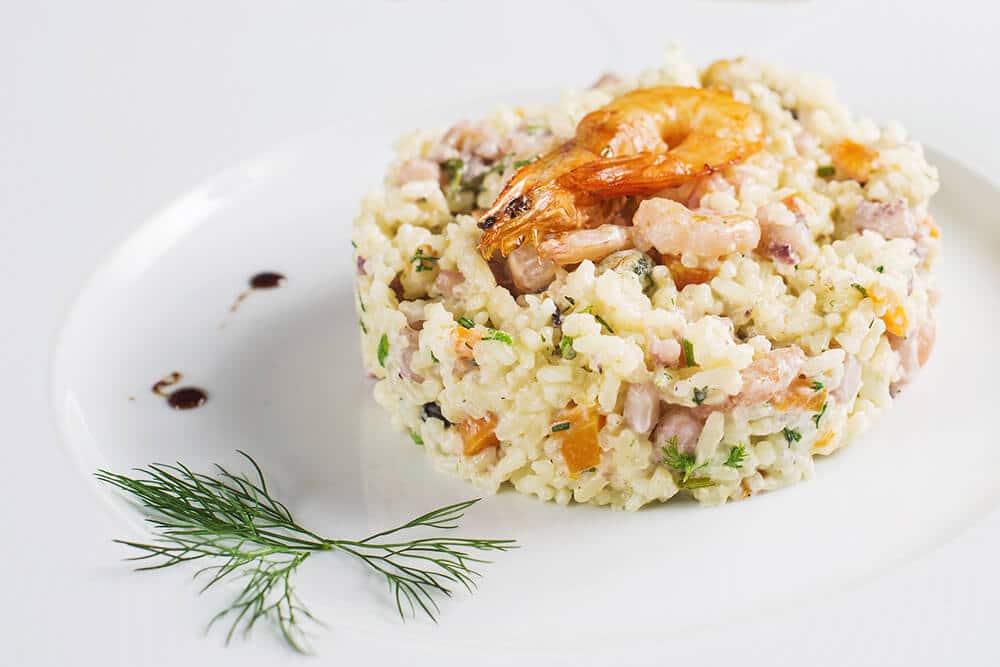 Risotto allo zafferano in Milan
We've come to appreciate the risotto allo zafferano that whenever we decide to spend some time in Milan I make sure to ask a few tips at every restaurant we go to. The result is that I've become a great risotto-cook, at least according to friends and family.
Even if our heart is in Naples, we can never say no to a great risotto alla milanese (another name for the same dish that you can find on the menu)! When you'll be dining in Italy, remember that a good risotto always have to be very creamy.
While other Countries make different kinds of risotto, here, unless it's a "insalata di riso" (rice salad), it has to be creamy, with the sauce melting in your mouth.
There's a long technique to do that, and they've mastered it in Milan. Their signature risotto is (of course) the milanese, with saffron, Parmigiano Reggiano DOP, butter and a bit of onion.
Most popular dishes in Lombardia region
Cotoletta alla milanese: one of the most famous Italian dishes in the world, especially because everyone likes it, in English it's "Veal Milanese". It's a veal cutlet breaded and fried in butter. The butter is poured over the cutlet and some people like to add a bit of fresh lemon on the top. Usually served with potatoes. According to where you are going to eat it in Milan, it can cost up to 27-30€. If you pay that much, make sure you're eating at a gourmet restaurant, otherwise… it's a scam!
Panettone: as you know, I love Milan Christmas markets. In case you're visiting for the festivities and are wondering what to eat in Italy that you can also bring back at home… buy a Panettone! This sweet bread-like cake is originally from Milan and it's pretty tall (at least 15 cm). Usually it contains candied fruit, raisins and lemon zest. You can buy the industrial ones that can cost even 3-7€, or the handmade ones, which are way more expensive. Of course the latter are the best!
Ossobuco con il risotto: a variation of Risotto alla milanese, this signature dish is the same risotto, served with a slow cooked osso buco (marrow bone) steak. It's they usually cook in Winter in Milan and the whole Lombardia region.
Bistecca alla Fiorentina in Tuscany
Me and Aldo used to only eat steak that had to be well done. Pink shade in the middle was already too much (I know!). Then during a trip to Florence with our friends from Tuscany, they convinced us to try the Fiorentina steak. Strangely, while this meat was basically raw in the middle… it was delicious.
You might also like:
All the best day trips from Florence – Fairytale villages & more
23 gorgeous Tuscany villages you must visit
The magic lays in the cut, and in the fact that Chianina cattle only eat grass: a good bistecca alla fiorentina also has to be left hanging for 15-21 days before you can eat it.
This gives a distinctive taste to the meat, and even if you don't like your steak very rare… you will change your mind when eating one of the main Italian dishes that you won't find anywhere else in the world.
Of course, while food prices in Italy change quite a lot from region to region, in Tuscany, bistecca alla fiorentina can be particularly expensive.
The meat has a price per weight so you need to ask how much you want before they bring it over. And because it's basically a T-bone, you have to calculate also the weight of the bone itself.
Most popular dishes in Tuscany
Pappa al pomodoro: A must eat in Tuscany that not many tourists know about. It's made with Tuscany bread (which doesn't have salt), tomatoes, olive oil, basil, garlic, salt and pepper. It was a dish originated from the farmers who didn't have much. Even today it's not overly expensive. You can usually pay from 5 to 11€ max;
Lampredotto: if you manage to eat Lampredotto, you're some kind of foodie god. We will be very honest with you, admitting that we never managed. Lampredotto in fact is a traditional dish from Florence, made with tripe and stomach of a cow. Our friends from Tuscany are head over heels about Lampredotto: in Florence it's pretty cheap (less than 4€ usually) and is served on a bread roll;
Cacciucco: This fish stew can be found both in Tuscany and Liguria, but it's especially associated with Livorno and Viareggio. It is made with at least 5 different types of fish and shellfish and cooked in a vegetable broth. Usually the servings are pretty large and come with two huge slices of bread. It can be pretty expensive, in a range that goes from 25€ to 35€. A taste of sea, more than a taste of Italy!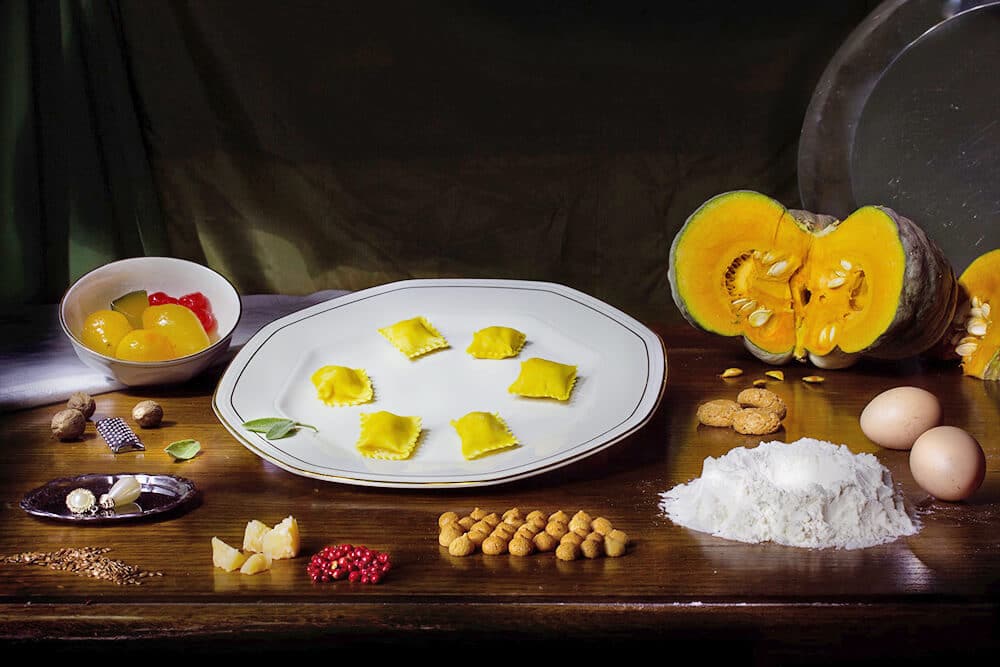 Ravioli alla zucca in Ferrara
Every Italian food tour usually lists Bologna, which is traditionally one of the best foodie spots in Italy. Yet in this case let me suggest you also a trip to Ferrara.
The signature dish over there is Ravioli alla zucca (Pumpkin ravioli). Hand-made pasta filled with sweet pumpkin, seasoned with grated Parmigiano Reggiano.
The whole Emilia Romagna region is famous because they make all kinds of filled pasta: tortelli, agnolotti, ravioli and much more. They can be filled with meat, vegetables or even fish, in some cases.
The price depends on the filling and to where you eat. Usually for a dish like Ravioli alla zucca you should pay 11€ on average per serving.
Most popular dishes in Emilia Romagna
Tortellini: As I already mentioned, Bologna, Ferrara and Emilia Romagna in general are the places where you can find the best filled pasta ever. Tortellini are smaller than tortelli and are usually served in a light broth. They are one of the most traditional Christmas dish in Emilia Romagna. And they also come dried! You will find them in every food store and also make great souvenirs from Italy that you can bring home! You can usually buy a box of tortellini (usually 250gr or 500 gr) for less than 4€;
Ragù alla bolognese (Bolognese sauce): this tomato sauce is pretty different form the one we prepare in Naples. It's also a meat-based sauce, but it uses grounded beef meat. In Italy we usually add it to flat shaped pasta like lasagne, tagliatelle, pappardelle or fettuccine. You'll most commonly find lasagne con ragù alla bolognese all over the place, for about 8€-12€ on average;
Salumi (cured meats): Emilia Romagna region has some of the best cured meats in Italy. Usually you find them on the menu as "tagliere di salumi" or a similar phrasing. It indicates a tray or a dish where they serve you several cured meats, from Italian prosciutto (ham) to salame (dried sausage), mortadella and so on. While mortadella con pistacchio (yes it really has pistachio inside!) originates in Emilia Romagna, in Rome you can also eat their delicious Focaccia romana con mortadella. It's a slice of fluffy focaccia bread filled with fresh, scented mortadella. A delicious lunch that comes for as low as 3€. If it costs you more than 5€ go somewhere else: it's yet another tourist trap!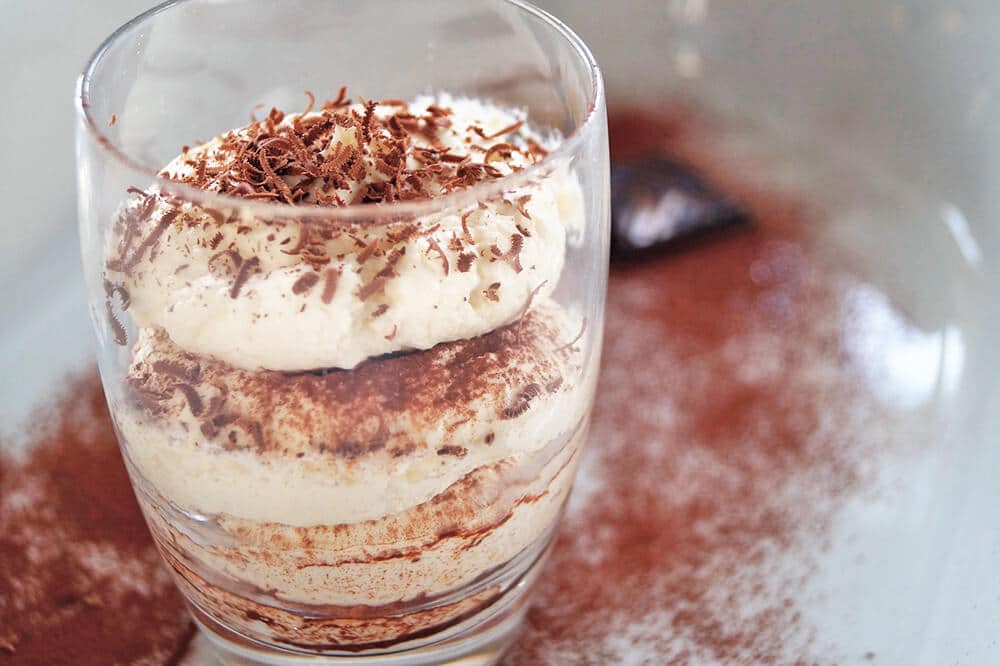 Tiramisù in Verona
Verona is one of the most romantic cities in Italy, because it's the home of Romeo and Juliet. Here it's popular also because it's the home place of one of the most famous Italian foods: tiramisù!
The original Italian recipe was born in Veneto region, and it's made with espresso coffee, mascarpone cheese, fresh eggs, Savoiardi (lady fingers) and some cocoa powder.
Nowadays you can get a good slice of Tiramisù in almost every restaurant in Italy. You can immediately notice if it's a quality Tiramisù because the cheap version uses whipped cream instead than mascarpone cheese (which is more expensive).
Now a couple of new versions are trending. Tiramisù alle fragole (strawberry Tiramisù), which is a summer treat, served pretty cold but not frozen.
And at Crete Gialle in Lazio region I also had the chance to eat a delicious Tiramisù al pistacchio (Pistachio Tiramisù). I never even knew it existed and gosh. It was so good! The average price for a serving of tiramisù is 4-5€ in Verona or Venice.
Most popular dishes in Veneto
Risi e bisi: This dish is traditionally prepared in Venice, Verona and vicenza. It's a mix of soup and risotto with green beans, with a sprinkle of Italian pancetta (bacon cubes). The very best risi e bisi is prepared with rice that comes from the whole Veneto region, so we could say that it's a farm-to-table kind of dish;
Polenta: the real Italian polenta is a dish made with boiled cornmeal. It is served as a hot porridge, usually with sausages, meat or lentils. But here in Italy it's also common to make it cool down into a loaf that is then baked, fried or grilled (in slices). When we do it at home it's usually instant polenta, that you cook just adding water and being very careful so you won't have to eat lumps. And if it's too much, we save it for the following day, then we bake it with cheese and eventually with salumi. It's called polenta pasticciata (literally "messed up polenta"!);
Sarde in saòr: This is not your typical food in Italy, because you can find it only in Venice. Sure, they cook this dish also in the surrounding areas, but it was born in Venice as a dish for the poor people and it's never really been cooked extensively out of the Veneto region. It's made with fried sardines, onions, vinegar, pine nuts and raisins.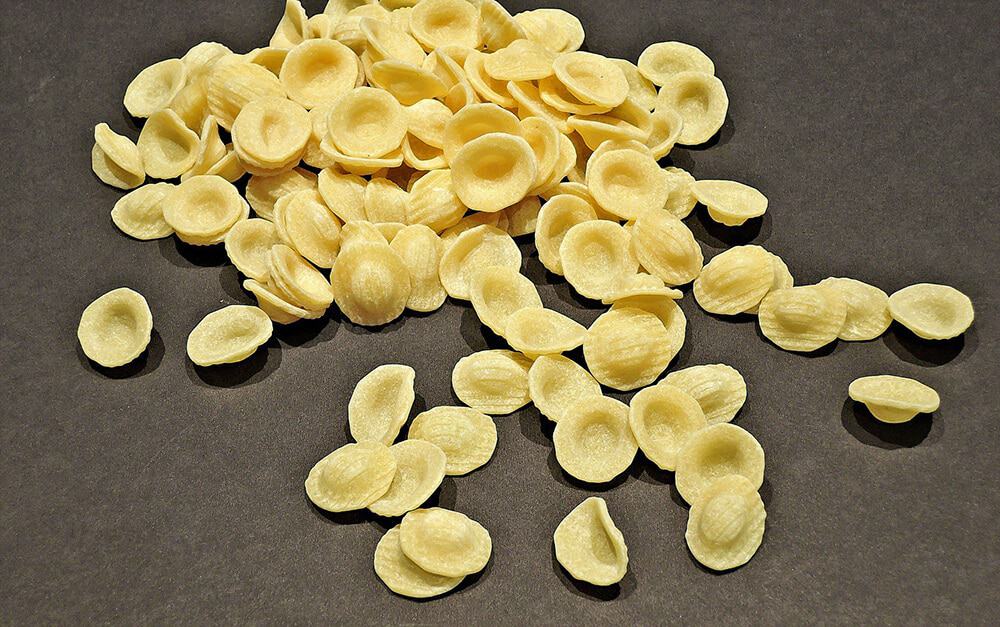 Orecchiette alle cime di rapa in Puglia
Orecchiette alle cime di rapa is a traditional food in Italy that you can eat in Puglia region.
During our summer trip to Salento, we had the chance to see how orecchiette pasta is made. Grandmas in that region still make them by hand, and while apparently it might look "easy", it's very complicated to make that perfect hat shape.
You wouldn't believe how quick they are! The traditional way to cook with turnip greens (using only the tops, which are more tender), a bit of pepper and anchovies in oil.
A dish like this in Puglia costs on 10€ average and it's delicious. You can buy dried orecchiette as a foodie souvenir from Italy in Puglia for even 2,50€. Of course you can find them also in every food shop in our Country but they're not as good!
Most popular dishes in Puglia
Pane di Altamura: this bread is traditionally produced in Altamura, near Bari. You'll see that eating in Italy means that bread is served almost with everything, except than pasta. One of the best way to eat this bread is bruschetta. Roasted slices of bread with olive oil, bits of red tomatoes and basil or garlic;
Burrata: This fresh cheese is one of the famous Italian foods that even Italians sometimes have never tasted. It looks like mozzarella cheese, but it has a different shape and… a surprise. When you cut it open, you'll see that inside it's filled with fresh cream with bits of fresh cheese. It spoils soon so it has to be eaten extra fresh. There's a version with butter on the inside;
Bombette pugliesi: Roasted morsels of beef, usually rolled with cured meat, Pecorino cheese, goat cheese and fresh parsley. This Italian street food can be very cheap. It's usually sold at festival on skewers.
Cannoli in Palermo
Cannoli are probably the most popular food in Italy, known in the whole world. While I have fond memories of family trips spent exploring the best beaches in Sicily, I didn't have time to miss the Sicilian pastries too much.
Not many know that we can get those in Napoli as well. They come with a boat every morning and are sold in two confectionery shops inside the port in Naples, at Molo Beverello.
They are usually over before midday tho, because… c'mon who doesn't love cannoli?
We have Neapolitan cannoli here but they're different from the ones you eat in Palermo. In Sicily in fact they fill the crunchy shells with sheep's milk ricotta, a bit of cinnamon and (not always) crushed bits of dark chocolate. They are to die for!
Unfortunately they spoil quite fast, as the shell get moldy, so make sure you eat them as soon as you buy them!
Most popular dishes in Sicily
Brioche con granita: my fondest memory of our many family summers spent in Sicily are all about Brioche con granita. It's the Sicilian snack, but most of all, the locals love it as the best morning breakfast during the warm season. The Sicilian granita (slushie) is different from anything else you've ever tried. It's in fact creamy with tiny bits of ice. In the morning they have a cold Granita al caffè (espresso slushie) topped with fresh whipped cream. And of course a very warm "brioche col tuppo", which is a soft, airy and delicious pastry. Because I'm a nerd also when it comes to food facts in Italy, let me tell you that yes, the recipe was french, but they twisted it a bit in Sicily and now they have made it one of their signature pastries;
Arancine: in Japan they have onigiri. In Sicily… we have Arancine. These rice balls are huge and delicious. They can be made of white rice, filled with meat, breaded and deep fried, or have rice with sauce and green peas. Also the tomato version is breaded and deep fried. It's a delicious street food that in Sicily is cheap but delicious. In case you're planning to visit, make sure you buy some!
Cassata siciliana: This is yet another delicious cake that comes from Sicily (we also get those at Molo Beverello in Naples, people love them even more than cannoli!). This iconic pastry is an elaborate dessert made with pan di Spagna (sponge cake), sweet ricotta cheese, marzipan and candied fruits. It's yet another one of those Sicilian cakes that you have to eat within a day. Fun fact: whenever we go to Sicily and we take a boat back to Napoli, family and friends don't ask us for souvenirs. They want us to buy cassata!
Spicy 'nduja in Calabria
Calabria is a region where… a taste of Italy literally means that you'll feel like eating lava. Why? Because people in Calabria absolutely love their food spicy. And I mean… really spicy!
The peperoncino calabrese (spicy red pepper from Calabria) is basically my mortal enemy: I'm absolutely unable to eat it. But our best friend and my husband absolutely love it.
When we go to Calabria we always make sure to buy 'Nduja. It's a particularly spicy, spreadable pork sausage that is made and sold in Calabria.
They add it to ragu sauce, put it on pizza, but the brave ones can also eat it on a thin slice of bread. Did I mention that you'll feel fire burning in your mouth? Let me know if you're brave enough to try it!
Most popular dishes in Calabria region
Maccheroni alla pastora: this popular italian food is traditional of Calabria region, even if now so many people from all over Italy make it at home. It's maccheroni pasta (you can also use paccheri or rigatoni) with bits of savory sausage, fresh ricotta cheese, Pecorino cheese and a bit of black pepper. The ingredients make this kind of cream that is used on the pasta: it has to be eaten very hot;
Peperoncini piccanti ripieni di tonno: literally… they are tiny, spicy red peppers filled with tuna, stuffed in mason jars and preserved in olive oil. The jars can be bought as souvenirs, but you will have to be extra careful to wrap them into several layers, as they will have to go in your checked baggage;
Cipolle e patate: All the famous chefs here state that one of the best ingredients for many Italian dishes is cipolla di Tropea. These red onions are cultivated in Calabria region and are sweet and delicious. Usually added to salads, they are often used as side dishes, mainly stir fried with slices of yellow potatoes.
Bonus: Italian gelato
Our Italian food tour couldn't end without adding gelato to our list of iconic foods. Italian gelato is different from the soft serve ice cream that you can buy everywhere else in the world.
It's in fact made with a base of milk and sugar, and it's generally lower in fat than other styles of ice cream. So yes, this means that when you visit Italy you won't have to feel guilty about eating tons of gelato!
You will find gelato everywhere you go in Italy. Make sure you prefer the artisanal ice cream, maybe topped with whipped cream. Did you know that in Italy you can buy gelato in a cup, on a cone, or even in a sweet brioche?
This last option is very popular here in the South, and especially in Sicily. In case you don't feel like having breakfast with an espresso slushie, you can treat yourself to a brioche con gelato: no one will ever know about your sin!
Read my guide to Christmas and winter dishes if you're visiting Italy in winter!
You might also like:
– How to plan a Romantic Italian Honeymoon
– How to plan the Perfect Honeymoon on your own
– Abruzzo Food: The Secret Italian Dishes
Pin it for later!
Travelling Dany – Danila Caputo
Danila Caputo is a bilingual travel writer living in between Naples and the Amalfi Coast (Italy), graduating from the University of Naples Suor Orsola Benincasa in Foreign Languages and Literature. She travels and works with her husband Aldo, photographer and videographer. Their blog chronicles their adventures around the world, their love for the USA (where they have family), Italian/European culture and tips on how to be responsible travelers. You can find out more about their latest trips and their life on Youtube, Instagram and Facebook.