Fun Joshua Tree Day Trip Itinerary (California)
This post includes affiliate links. As an Amazon Associate, I earn from qualifying purchases. Full disclosure.
Fun Joshua Tree day trip itinerary, perfect for nature lovers who prefer a less crowded National Park.
A Joshua Tree day trip can be a lot of fun and is packed with interesting activities. Being one of the most underrated US National Parks, it's rarely overcrowded and can be enjoyed in every season. Let's see what you can do on a one day itinerary and how to get there!
Quick Links to Post Content
Driving to Joshua Tree N. P.
Joshua Tree National Park gets its name from the unusual trees found on its northern side. This unique variety of agave plant (Yucca Brevifolia) is native to the area.
Mormon settlers gave them this name when they noticed that the twisted, curvy shape of their branches looked like the Old Testament figure Joshua as he lifted his hands in prayer.
Unfortunately, you can't just drive there and be treated to the sight of the iconic Joshua Trees. They mostly grow in the Mojave Desert and thus in the northern section of this gorgeous National park.
Planning a road trip?
Click to download our FREE printable
ROAD TRIP CHECKLIST!
The drive to Joshua Tree N. P. is going to be very interesting, no matter where you come from.
The changing landscape is in fact never boring. Our favorite part of this day trip was driving from the South, along Cottonwood Springs Road.
You actually enter the park, but you'll need to drive a few miles before reaching the first ranger station at the Cottonwood Visitor Center.
The South Entrance is the one located near the Cottonwood Springs area: you can start your Joshua Tree day trip itinerary, drive through the entire park and get out from the North Entrance.
This is the best way to avoid backtracking, so you can maximize your time inside the park.
Of course you can easily flip this itinerary around, traveling from one of the two North entrances, and leaving through the South entrance.
One day in Joshua Tree is just enough time to capture the beauty of this underrated park. You'll be amazed at the landscape and at the number of fun things to do in this National park!
What you can see in one day in Joshua Tree
The South Entrance is the one located near the Cottonwood Springs area: you can start your Joshua Tree day trip itinerary here.
The landscape changes gradually at first and then, all of a sudden, it turns into something completely different.
In case you have planned to make a Youtube video for this day trip, this is a good place to start filming as an intro to your itinerary.
Inside Joshua Tree National park there aren't park shuttles or public transportation. You will have to drive around on your own, so you can set your own pace.
Most of the roads we explored are super scenic, and sometimes it felt like we were the only ones on Earth.
After visiting the busy Los Angeles it was refreshing to just listen to the sounds of nature!
You can pull over almost anywhere to take your photos or stretch your legs.
Make sure it is safe for you and the other visitors, but then again, from our experience, aside from some of the "instagrammable spots" (keep reading for more!), Joshua Tree is rarely crowded!
Start the day with an easy hike
The first point of interest you'll find on the way to the Northern entrance is Mastodon Peak Loop Trail.
It's a moderately easy 2,5 mile (4 km) hike. Another option, which might be much better if you're visiting Joshua Tree in the summer, is the Moorten's Mill Trail.
This one is easier and shorter (1,2 mile – 1,9 km), which means you won't get overly exposed to the scorching heat.
Remember to bring sunscreen and apply it often!
Whether you decided to go for a hike or not, as you keep driving you'll find yourself immersed in what looks like a beautiful painting.
Spring in the desert means that the Joshua Tree landscape comes alive with blossoming flowers and cacti.
Stop often to take a lot of pictures, but I must warn you: there might be other people in the area, as spring is a particularly popular season for visiting Joshua Tree.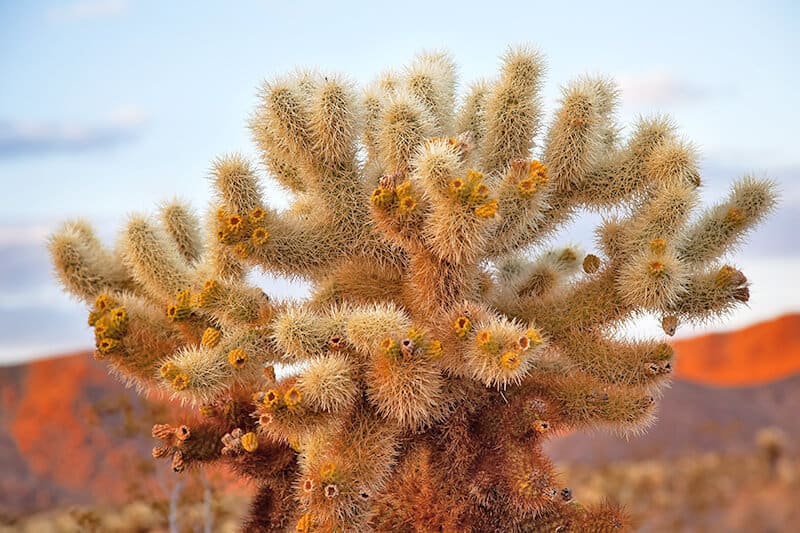 Visit Cholla Cactus Garden
The Cholla Cactus Garden is 10 acres of land filled to the brim with chollas.
The cacti will surround you at every turn: please be extra careful to stay on the path and watch your step!
These prickly plants can be dangerous and you don't want to end up colliding with one of them. They actually do sting.
You might have heard of them as "teddy bear chollas" or "jumping chollas".
According to some people, they have a mind of their own, and can jump on you, just because they "love to sting".
The chollas do not jump, but they do have loose joint attachments and they can get attached to your clothes or backpack as you walk by.
Even if you just brush them lightly.
While the "teddy bear chollas" can look fuzzy, soft and cuddly under the California sun, you want to keep your distance at all times!
There are a few short trails at Cholla Garden that you might want to explore to stretch your leg. All of them are pretty easy.
Yet if you want the full experience away from other travelers, the Golden Bee Mine Trail is the one you want to hike.
It's a 4,2 mile (6,7 km) trail, considered pretty difficult (do not attempt in summer unless you're used to this kind of hikes!), which offers spectacular views.
We only had one day at Joshua Tree, and as you might already know, I have asthma, so we didn't hike the Golden Bee Mine Trail.
It would have taken us a few hours minimum, and we had so much to see!
Besides… it was hot and I was terrified that the trail was going to be too difficult for me. There, I've said it!
If you love to hike and you haven't stopped at the previous trail, then of course enjoy this one!
My honest opinion is that you're already short on time, so you should opt for a shorter trail: they all offer good photography spots anyway.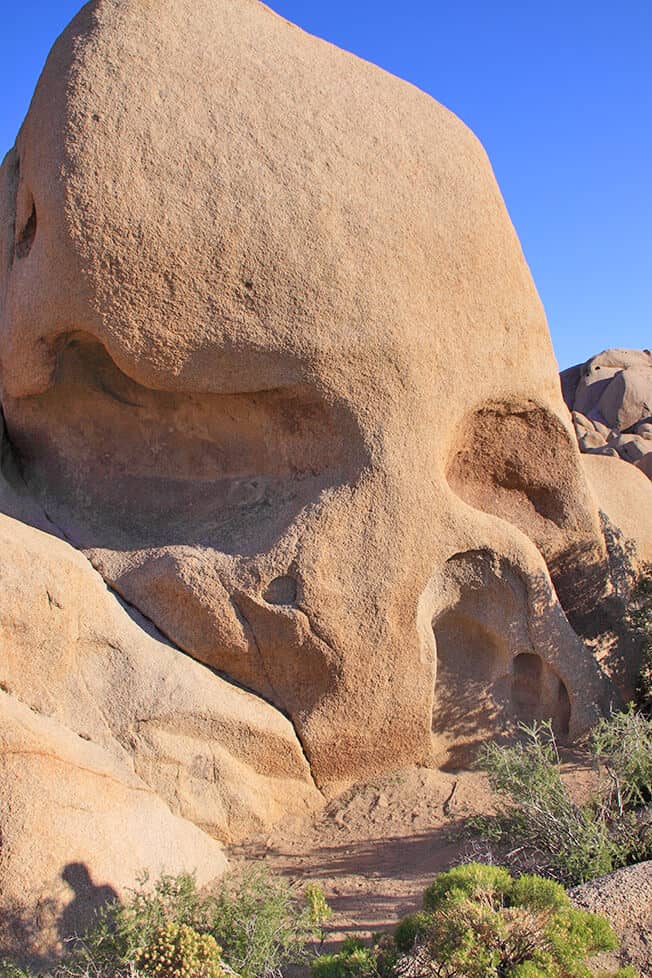 Drive to Skull Rock
At this point on your Joshua Tree itinerary you'll have to make a decision according to how much time you still have.
You can turn left to the town of Joshua Tree or you can carry on toward Twentynine Palms, so you can go back to your hotel.
Because there's much more to see if you drive towards Joshua Tree, we'd suggest you take the left to keep exploring. That is of course if you're not too tired from having been hiking the Golden Bee Mine Trail.
Your next stop, if you decide to stay, is Skull Rock.
This iconic rock looks just like a giant skull if seen from the right angle.
According to how much time you have, you can either stop for a few pictures, or hike along the popular Skull Rock Nature Trail loop.
Me and Al decided to go for a hike: the 1,7 mile (2,7 km) trail is fairly easy and we got to take some very nice pictures for our photo album.
The Skull Rock Nature trail will also bring you up close to many Jumbo Rocks, large boulders with interesting shapes that blend in perfectly with the desert landscape.
Do not worry if you don't feel like hiking!
Skull Rock is just off the side of the road, so you can just park, take a few pictures and hop back in the car.
Explore the Hidden Valley
Even if you visit Joshua Tree in one day, you should find some time to explore Hidden Valley.
The loop trail is short (about 1 mile – 1,6 km) but very interesting when it comes to the landscape. Especially if you're looking for a picture-worthy place.
According to a local legend, Hidden Valley was a hideout for cattle rustlers.
Because I'm a huge fan of western movies, I just couldn't help myself: I really wanted to see this place.
Once I got there I realized how easy it would've been to hide stolen cows. The valley is gorgeous, with so many crevices and rocks. It feels like being in one of the old western movies I love so much.
That's also why I consider it one of the most instagrammable places at Joshua Tree. But don't mind me, I'm biased!
Many people love to go climbing when they visit Hidden Valley on a day trip to Joshua Tree. That's because here there are quite a lot of famous rock formations, and climbing areas perfect for all levels.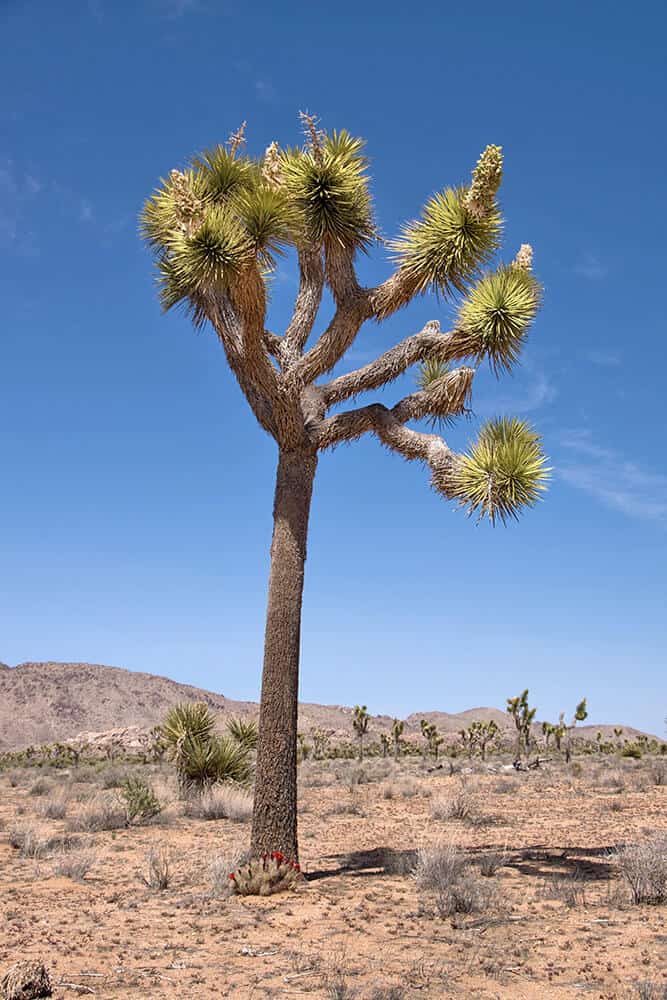 See the Joshua Trees
Driving towards the North or West entrances you'll see a lot of Joshua Trees everywhere you look.
The scenery along the way is spectacular, so this is another great place to go filming. You can use a GoPro as you drive or, provided that you're not the one who's driving and that it is safe to do so, stick your hand out.
I like to film also as Aldo drives, so we got a DJI Osmo Pocket and we absolutely love it.
Your day is almost over. Stop wherever you want to take lots of pictures.
Just make sure it's safe and that you're not a danger to other cars or travelers.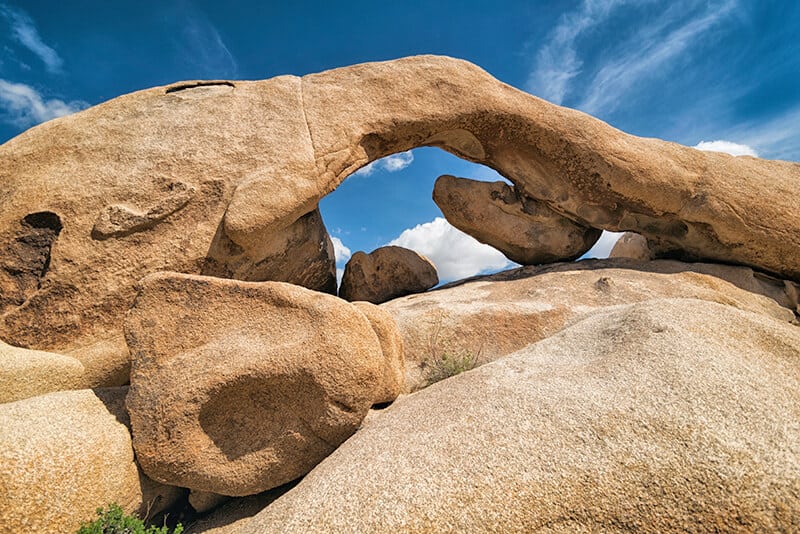 Bonus: Hike to Arch Rock or Visit the Hall of Horrors
Arch Rock is another one of the popular instagrammable spots at Joshua Tree National Park, that you can add to your one day itinerary.
This gorgeous natural rock formation is located on a short 0,5 mile (800 mt) trail which starts at White Tank Campground.
It seems to defy gravity and it's an absolute must-see.
Here we had a deja vu: it was just so similar to the rock arches we saw at Arches National Park as we were roadtripping Utah!
The terrain on this trail requires hiking boots. Attempting to reach the boulder where Arch Rock sits with flip-flops might be dangerous!
Another bonus stop that you can add to your Joshua Tree day trip itinerary is the Hall of Horrors.
This area takes its scary name from the alleyways formed by huge rocks sitting next to each other. There's a trail which lets you walk through these paths between the boulders.
Way to feel absolutely tiny in the presence of such greatness!
The Hall of Horrors is also a very romantic spot to watch sunset at Joshua Tree.
The only downside is that you should get there at least half an hour earlier than the actual sunset time, because the large boulders on the horizon start to block out the sun earlier than expected.
If you are already tapped out on time and need to make your exit from the park, the scenery along the way is still spectacular so do not feel too bad.
You now have the perfect excuse to return for a longer trip!
Instagrammable Spots at Joshua Tree You Can't Miss
The following photography spots can all be added to your one day Joshua Tree itinerary:
Heart Rock (not far from Arch Rock)
Arch Rock
Skull Rock
The Joshua Trees
Cholla Cactus Garden
The Main Road in Joshua Tree National Park
The Hidden Valley Trail
The Joshua Tree Town Welcome Sign
How to get to Joshua Tree National Park
Joshua Tree National Park is located between the Colorado and Mojave deserts in California, just a few hours' drive from many popular destinations in Southern California.
That makes it an easy day trip that you can plan on your own, whether you're a solo traveler or not.
The closest airport is located in Palm Springs. While the airport itself is lovely, it only operates on a seasonal basis, so there might not be flights available, especially during the slow summer months.
Another good option is Los Angeles International Airport (LAX), which is the one me and Aldo usually prefer.
The reason is quite simple: it has lots of cheap flights and you can fly there from mostly anywhere in the world.
LAX is also served by all major car rental agencies, which is something that is essential for travelers from abroad like us. If you're planning to drive through California, renting a car well in advance and picking it up at LAX is by far your best option.
The only drawback is that LAX is always super busy. Traffic can be insane, but that is something we quickly got accustomed to.
Whenever we are driving around Los Angeles we usually budget at least one extra hour to our timetable, because we always manage to get sucked into huge traffic jams.
Since you only have one day in Joshua Tree, make sure to get an early start, especially on any weekend. You might end up encountering plenty of traffic on the way to the park so the earlier you start your day, the better!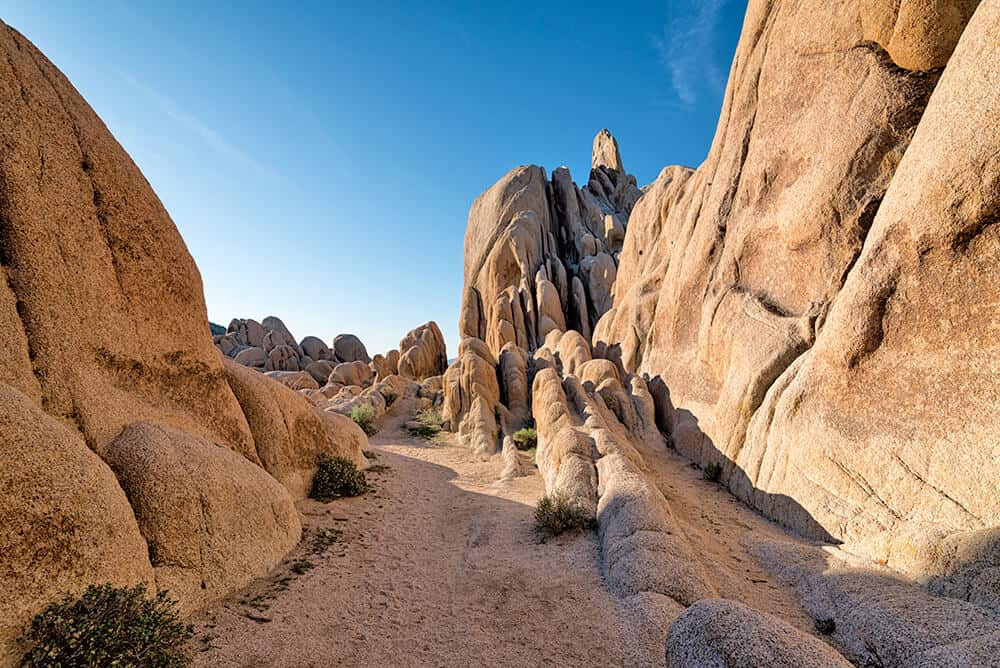 From Los Angeles
If you're planning a Joshua Tree day trip from Los Angeles, factor in the traffic. Whenever we visited, we spent hours in our car just to get out of the city… and to get back to our hotel by the end of the day.
The driving distance between Los Angeles and Joshua Tree is 131 miles (210 km), about 2:15 hours.
Take the I-10 East to Calif 62 (Twentynine Palms Highway) and Twentynine Palms. The National Park South entrance is located at Cottonwood Spring, 25 miles (40 km) east of Indio off I-10.
From San Diego
Getting to Joshua Tree National Park from San Diego is not difficult. The driving distance is 164 miles (263 km), about 2:45 hours.
Your best bet is to drive on the CA-163 North, then the I-15 North taking the exit for Riverside/San Bernardino.
Take the exit 117 to Calif 62 (Twentynine Palms Highway) to the Joshua Tree Visitor Center.
From Palm Springs
The Joshua Tree day trip from Palm Spring is possibly the easiest, as the Northern park entrances are located along Highway 62, at about 37 miles (59 km) from the city center.
You will only have to drive for about 1 hour to enter the park, following the CA-62 E into Whitewater and Yucca Trail.
How much will you pay for the tickets?
Entrance permits for vehicles will cost you $30 and they will allow you to visit the Joshua Tree National Park for 7 days.
You can buy them in person at every entrance or Visitors Center.
Another option is to buy a digital park entrance pass online at no additional cost. That will help you expedite your trip into the park: because you only have one day, we suggest you buy in advance!
Digital passes will have to be printed or saved on your mobile, so you can show them to the rangers once you're at the park.
Joshua Tree National Park is included in the list of over 2,000 federal recreation sites across the United States that you can visit by using an annual America The Beautiful pass.
This annual pass will cost you $80 (it's free for current U.S. Military, volunteers and U.S. students in fourth grade) and it's a great way to save a lot by exploring the best US parks.
As a side note, America The Beautiful is printed on a card that you can (and should) keep. It features a different US park every year.
Me and Al still have all of ours saved in a little collection and we absolutely love them!
The best season to plan a Joshua Tree day trip
At this point you might be wondering when you should plan this fun Joshua Tree day trip, right?
This is one of the US National parks that, at least in my opinion, are absolutely gorgeous in every season. Like a living painting, it changes, but never really disappoints.
Of course if you're visiting Joshua Tree National Park to get amazing pictures, you might want to be a bit more picky.
Spring is definitely considered high season.
As I already mentioned, many of the cacti and the wildflowers are in bloom.
The temperatures are just right (not too cold and not too warm), so it's absolutely pleasant to walk around, taking a lot of pictures.
Fall is also considered high season due to the fact that California is not as hot, and many people love to explore while the weather is still good.
This is when the park is crowded, accommodations are priced higher and campground reservations book up quickly.
If you want to visit Joshua Tree in one day in spring or fall, you can save a lot by booking well in advance (weeks or months).
You might also like:
– Easy Itinerary for a Weekend in Palm Springs
Because it won't be too cold, you might want to stay the night to go stargazing, without feeling pressured by the fact that you have to drive back to your place.
To avoid most of the crowds, make sure to get an early start.
Visiting early in the morning will help you to take amazing pictures without tourists in the background.
The main attractions at Joshua Tree National Park are magical at sunrise and at sunset!
Winter can be a bit cold. You might be surprised to know that it can snow in California, even in Joshua Tree, which is not a typical desert.
Temperatures in the park can fall below freezing, so it's not wise to camp there or to stay in the open after the sun sets.
As you surely know, summer in california can be absolutely hot. And I mean sweltering! Hiking might not be possible, even if you think you are prepared for that kind of heat.
There's very little shade in most of the trails, so if you plan to spend a few hours hiking, maybe you should avoid the warmer months.
Then again if you're planning just a quick Joshua Tree day trip, maybe from Palm Springs, and you want to drive around, know you might have the park all to yourself!
We love to visit Joshua Tree in spring and in fall.
Our last visit was in early fall and the last of the summer RV enthusiasts were just leaving.
The park was quiet and while it was a bit chilly at night, it was nothing we couldn't deal with.
Dress in layers and you won't have any issues with the weather!
The bright side is that we've been treated to a gorgeous, super romantic starry night: you can't easily forget that!
Is it safe to go stargazing at Joshua Tree?
One of the things Joshua Tree National Park is famous for is its stargazing opportunities.
We knew that it was going to be good because it's been certified as a Dark Sky Park by the International Dark-Sky Association, but we weren't prepared for that level of memorableness!
You can see the stars from anywhere in the park. The usual recommendations are that you should always park where it's allowed to. One of the pullouts off the roads will be perfect.
Some go stargazing from one of the rock formations such as Arch Rock, Skull Rock or Cap Rock. Provided that you should always stay on the designated trails, keep in mind that being popular spots, you might not be the only one there!
One of the most popular times of the year to go stargazing at Joshua Tree National Park is August, because this is an excellent place to watch the Perseid meteor shower.
We weren't around to see that but we can testify that the park at night offers an amazing view of the Milky Way: Joshua Tree never disappoints!
But is it safe to drive at night, after a Joshua Tree day trip?
The main routes to and from this National park (the 62 and the 10) are mostly unlit.
We do not live in the area but were warned by a few friends about the 62.
They told us that stretches of that road are considered quite unsafe. So driving at night might not be a good idea, especially if you're a solo traveler.
The question of whether it is safe or not comes mostly down to your tolerance for driving at night, also on rural roads, and how tired you are.
If you decide to stay after dark to watch the stars, I think it might be wise to find a hotel or a spot in one of the nice campgrounds.
Sleeping in your car at Joshua Tree National Park is not allowed. If found, you could be subject to a citation, so please don't do it!
Where to stay
Best hotels in Joshua Tree
Are you looking for a place to spend the night after an exciting Joshua Tree day tour?
Staying overnight would be perfect if you want to add stargazing to your one day itinerary.
As I just mentioned, sleeping in a vehicle is not allowed, so here are a few options you might like.
Unique Experience:
Castle House Estate – have you ever tried glamping? It's so much fun and a different experience than what you're used to. This place was featured also on HGTV and several magazines. It's considered "highly instagrammable" and offers a wide range of accommodations, from campsites to trailers, a container home and so on.
Compare prices at: Booking.com | Kayak
Feel like a Pioneer:
Pioneertown Motel – this hotel looks just like an Old Wild West town. Built originally as a waypost for movie stars of old westerns, it dates back to 1946 and it's absolutely gorgeous if you're a western movies fan just like me!
Compare prices at: Booking.com | Kayak
Budget option:
High Desert Motel – family-friendly hotel on a budget, perfect also for super late check-ins. Do not expect a luxury room, but it's cheap, clean and located just 5 minutes away from the Joshua Tree Park entrance.
Compare prices at: Booking.com | Kayak
Best value for money:
Holiday Inn Express & Suites – family-friendly hotel in Twentynine Palms. This place is super quiet, very clean and has spacious rooms. For us it was great because we were on a road trip and we didn't want to leave all our suitcases inside the car at night! It has a swimming pool, if you want to feel refreshed on one of those scorching hot summer days.
Compare prices at: Booking.com | Kayak
Useful info about Joshua Tree Campgrounds
Joshua Tree National Park has nine campgrounds and over 500 campsites within the park.
From May to September, campsites are on a first-come, first-serve basis. Camping reservations won't be accepted during these months.
A few campsites only accept reservations from October to April:
Black Rock
Cottonwood Springs
Indian Cove
Jumbo Rocks
You can book on the official Recreation.gov site.
Packing list for a day trip to Joshua Tree
Planning well in advance for a day trip is always a great idea.
There's so much to see and do in one day at Joshua Tree that being prepared is essential. Not only if you're visiting during the warmer months!
Here's our essentials, the things that you should never leave home when you visit the park.
Water
Carry plenty of water for your Joshua Tree day trip and remember to drink often!
We tend to lose a lot of liquids when we hike or just drive around under the sun. Make sure you're always hydrated and bring more water than you think you might need.
We never go anywhere without a reusable water bottle. This one keeps our water cold for the whole day. I personally couldn't hike without having some fresh water with me!
Sunglasses
You're going to spend the day in the desert, so you'll want a good pair of sunglasses to protect your eyes.
Sunscreen
There's limited shade inside Joshua Tree National Park. Even if you're not like me (aka: terribly pale), you should always bring some sunscreen with a high UV filter to protect your skin. Apply a 30+ or 50+ lotion on your exposed skin and re-apply it often throughout the day.
Hats for everyone in the party
You only have one day to explore Joshua Tree and I'm sure you don't want to spend it fainting because you didn't protect yourself.
Make sure you wear a hat. Here you can also find a good one which will be perfect for your insta-pictures.
Healthy snacks and a picnic lunch
You won't find food or shops inside Joshua Tree, so you'll want to pack plenty of healthy snacks to sustain you throughout the day, and a few sandwiches.
There are so many places you can stop for a picnic!
Granola bars or baby carrots are perfect snacks for the day. If you're planning to hike, bring a few protein bars as well!
First Aid Kit and Tweezers
We never go anywhere without a first aid kit. Every hiker will know that stuff happens, so you'll want to have all the essentials with you.
A good kit should include bandages, antibiotic ointment and every medicine you might need throughout the day.
If your first aid kit doesn't include tweezers, get them! There are plenty of spiky plants in the desert, and no one really wants to spend the day with a cactus spine embedded in their skin, right?
Good hiking shoes
I always say that a pair of good hiking shoes will make the difference, while saving your feet and ankles.
Usually I prefer hiking boots, while Aldo is all for hiking shoes. Whatever you decide to buy, make sure they have closed toes (to avoid getting hurt by cactus spines).
Your ideal hiking shoes should be lightweight, with plenty of grip and traction. This is what I usually wear, and this is the pair that Aldo prefers for himself.
A sturdy day pack
A good pack for a day trip in the desert should be sturdy enough to hold camera equipment, water bottles and snacks.
Osprey is always a good option and has never failed us.
Flashlight or Lantern
A flashlight or a lantern will be super important, especially if you plan to hike after sunset. Remember when I told you that you shouldn't walk too close to the cacti?
GoPro or DJI Osmo Pocket
If you love to record yourself as you go climbing, bouldering or hiking, then definitely bring a GoPro with you: they're perfect and we also use ours to go motorbiking (click to see our GoPro video as we were motorbiking on the Amalfi Coast).
In case you're a Youtuber who wants to film while driving, or if you need a good, easy-to-use device to record a stabilized vlog while walking around, you should look for a DJI Osmo Pocket.
We absolutely love ours and we're now filming most of our videos on Youtube with it!
Essential Tips for your 1 day Joshua Tree itinerary
Dress in layers
Even if the park is in the desert, the temperatures can be a bit cooler than that of nearby Palm Springs.
A jacket can be essential, as it can be a bit chilly in the mornings and evenings.
Breathable, hiking clothes are also very important, depending on your preference and the time of the year.
Gas
There are no gas stations inside the Joshua Tree in California. Fill up before you enter, or you'll get stuck if you run out of gas!
You will find a Chevron station on I-10 just east of the Cottonwood Springs Road entrance to the park, and a gas station in Twentynine Palms, 29 Palms Gas.
GPS
Cell phone coverage is pretty bad in the park. Download maps or music you might need throughout the day because you might not be able to access them.
You can also download Google Maps and use it offline, so you can navigate even without connection.
Food supplies
If you're driving to Joshua Tree from the South, the closest places to stock up on food are in Indio and Palm Springs.
There are smaller towns along the way, and also on the north, but you won't find anything inside the park.
Stop at Twentynine Palms, Joshua Tree or Yucca, or even better, consider shopping for food at your hometown!
Toilets
You will find flush toilets inside the park, especially at visitors centers and campgrounds. The further you go into the park, the fewer facilities are available.
If you see a bathroom, make use of it because you might not find another one later on!
You might also like:
– The best Arizona road trip itinerary
– Utah road trip: the Mighty 5
– Epic road trip from Miami to Key West (Florida)
– Amalfi Coast Road Trip info (Italy)
– Road to Hana stops for a Maui road trip (Hawaii)
– The Devil's Tower travel guide
– Upper vs Lower Antelope Canyon: how to choose
– Fun Joshua Tree Day Trip Itinerary (California)
– Guide to Sleeping In Your Car on a Road Trip
– How to visit the Grand Canyon in one day
Pin it for later!
Travelling Dany – Danila Caputo
Danila Caputo is a bilingual travel writer living in between Naples and the Amalfi Coast (Italy), graduating from the University of Naples Suor Orsola Benincasa in Foreign Languages and Literature. She travels and works with her husband Aldo, photographer and videographer. Their blog chronicles their adventures around the world, their love for the USA (where they have family), Italian/European culture and tips on how to be responsible travelers. You can find out more about their latest trips and their life on Youtube, Instagram and Facebook.