Epic Arizona Road Trip Itinerary: Route 66 & the Old West
This post includes affiliate links. As an Amazon Associate, I earn from qualifying purchases. Full disclosure.
Are you looking for an unforgettable road trip with your family or friends and unsure where to go? There is a place that ticks all the right boxes and is perfect for an easy, self-guided two weeks vacation. So get your playlist ready and jet off on a memorable adventure: we're going to plan an epic Arizona road trip itinerary!
Quick Links to Post Content
Why you need a trip to Arizona
Me and Aldo realized immediately that traveling from behind the steering of a car is the best way to explore the USA.
We absolutely love the chance to easily control our route, with itineraries that fit our personal preferences.
Road tripping is often underrated, because sometimes (we have caught ourselves doing the same thing!) people believe that they need to hop on a plane and fly over to remote destinations to see something beautiful.
Our trip to Arizona is one of those we loved the most in the USA. It gave us the chance to actually learn a lot about the American legends we kept on seeing on tv. I'm also a huge fan of American history, so I felt blessed: for the first time I was visiting the places I read so much about!
Arizona is perfect if you're looking for mind-blowing views, spectacular hikes, romantic sunsets and the chance to just enjoy driving.
The best part of the journey in this case is not even the destination itself, but the drive leading to it. It's never boring as the views keep on giving!
Planning a road trip?
Click to download our FREE printable
ROAD TRIP CHECKLIST!
How to plan this Arizona road trip itinerary
There are so many Arizona scenic drives that we have added to this itinerary, because, as I already mentioned before, even just driving from one destination to the other is absolutely memorable.
Yet you might find even more: I know for a fact that 15 days are not enough to see everything this amazing State has to offer.
The most important tip I can offer is not to rush your trip. There is so much to see and do that you will feel like you've missed out if you have to run all the time.
So please don't add too much to your Arizona itinerary!
Sure, some days will be busy. But that is only because Arizona is packed with wonderful places. Who says you can't get back for more on a second trip?
You might also like:
– The best Arizona road trip itinerary
– Utah road trip: the Mighty 5
– Epic road trip from Miami to Key West (Florida)
– Amalfi Coast Road Trip info (Italy)
– Road to Hana stops for a Maui road trip (Hawaii)
– The Devil's Tower travel guide
– Upper vs Lower Antelope Canyon: how to choose
– Fun Joshua Tree Day Trip Itinerary (California)
– Guide to Sleeping In Your Car on a Road Trip
– How to visit the Grand Canyon in one day
The best way to plan this road trip is to decide what you want to see in advance. If you think museums are boring, avoid them and just go for a nice hike. If you'd rather spend more time exploring the Grand Canyon, open Google Maps and see how far you'd have to drive if you remove one of the stops.
Remember: roadtripping can be done on a budget and is absolutely amazing. Don't feel nervous about trying, even if you're traveling on your own!
All it takes is a little more planning and… cutting the fuel costs by stopping where it's cheaper!
Day One – Let's begin with Tucson
Your road trip to Arizona should ideally begin at Tucson, which is well connected with multiple cities across the US.
Tucson is located on the edge of the Sonoran Desert and is surrounded by many mountains, like the Santa Catalinas. It reminded us a bit of Moab, a lovely city we discovered during our Utah road trip.
Home to the Arizona University, Tucson has a number of vintage outlets on Fourth Avenue to explore.
You have one day here, so according to how you're getting to Arizona, you might want to plan ahead.
If you're flying into Tucson International airport, rent a good car and spend the rest of the day exploring or shopping.
Tomorrow you'll have to get up early!
In case you're driving to Tucson, I suggest you try to make it there in the morning. Leave your stuff at the hotel and go for a hike: the Santa Catalina mountains have quite a few easy and interesting short trails with a view!
Full disclosure: I'd never heard about Tucson before. Then I read about the Old Tucson Studios, where The Young Riders (I've been a huge fan for the longest time) were filmed.
There were reenactments, original movie sets and more. Sadly the Old Tucson Studios have been closed indefinitely in September 2020. Hopefully Pima County will decide to reopen them one day!
Where to stay in Tucson: Country Inn & Suites Tucson
Day Two – Tombstone and Phoenix
Famous for its bandits and legendary lawmen,Tombstone was the hub of the American West, and even now it should still be a must-see place on any Arizona road trip itinerary.
Leave early in the morning for your 72 miles (115 km) drive off AZ highway 89 for Tombstone.
Once there, you'll immediately feel like stepping back in time. Today's Tombstone still looks like the old American frontier town where outlaws and gunmen used to gather.
You might know Tombstone as the "OK Corral Town".
The gunfight at the O.K. Corral was absolutely real, even if tons of movies have fictionalized it, to the point that many believe it was just another Hollywood story.
It lasted only 30 seconds, and it was between many famous gunmen. On one side there were the lawmen led by Virgil Earp, Wyatt Earp and Doc Holliday. On the other side, outlaws like the Clantons and the McLaurys.
The shoutout has come to represent a period of the American Old West when the frontier was a very dangerous place. Outlaws used to roam undisturbed, and a bunch of honest Marshals had to risk their lives to chase them out of their towns.
The McLaurys and Billy Clanton, killed in the O.K. Corral shootout, are buried at the Boothill Graveyard, together with other famous outlaws.
If you're a fan of the Old Wild West like us, you'll want to visit the Boothill Graveyard, the Bird Cage Theatre and the Tombstone Courthouse.
In case you have enough time, make sure you stop for the reenactment of the gunfight at the Ok Corral!
Once you're ready to go (it took a while for Aldo to convince me that we had to leave), drive towards Phoenix.
Looking for a unique experience for a special trip?
Click here to book a hot air balloon adventure from Phoenix!
The 183 miles (294 km) dividing Tombstone and Phoenix come with a view: you'll be able to see bits and pieces of the Saguaro National Park!
In case your trip to Tombstone was shorter, consider adding the Kartchner Caverns State Park to this part of the itinerary. The park is located about 43 miles (63 km) from Tucson.
Admission is $7 per vehicle. Tours are $23 (there are discounts for kids!).
Where to sleep in Phoenix: Hampton Inn & Suites Phoenix North
Day Three – Visiting Phoenix
Adding Phoenix to your Arizona road trip itinerary is a must. You'll need a break after driving so much yesterday and this is the perfect place to stop, because it offers so many things to see and do.
If you've already visited Phoenix before, you can just drive to Scottsdale to do some fancy shopping.
Those who are eager to hike and take great pictures can spend a few hours exploring some of the gorgeous desert views like the 2704 feet (824 m) Camelback Mountain. The local hikers absolutely love this place!
Other attractions you can enjoy while spending the day in Phoenix are the South Mountain Park and Reserve, and the exciting 6 mile (9 km) drive to Dobbins Lookout along Summit Road.
Those of you who want to make the most out of this road trip to learn more about the American history should visit the Heard Museum. It showcases the history of 22 regional American Indian Tribes.
Tickets will cost you $17 ($9 for children 6-17 years) and include 12 exhibition galleries, guided tours and entrance to the outdoor sculpture gardens.
Spend the night in Phoenix.
Day Four – Drive to Sedona
Our first trip to Sedona was quite bizarre.
Mind you, we are still huge fans of The X-Files, so when we saw the sign "Alien Crash Site" as in Sedona, we were baffled.
That was something Mulder and Scully would've loved for sure (well, at least Mulder would have)!
It turned out to be a quite unique alien-themed souvenir shop, but that memory will be forever tied to our first weekend in Sedona.
Believe me: it doesn't happen every day to find that kind of sign out of nowhere!
It will take you about two hours of driving (115 miles, 185 km) to reach Sedona from Phoenix. The locals say that by 3pm traffic is still decent. One hour later it could start to get worse.
We actually arrived in Sedona in the middle of a busy week day and while there was some traffic, it wasn't that bad.
Take into account that it might take you more than two hours to reach your hotel, just to be on the safe side.
Attention: There is only one exit point on the I-17 highway for Sedona so keep an eagle eye: it's very easy to miss it.
Leaving Phoenix early in the morning means you will have time to check out the impressive Montezuma Castle, Montezuma Well and Tuzigoot Monument.
They are all located 80 miles (128 km) out of Phoenix.
This is also where I have to confess we got lost on our first visit. We had no idea what to do and there was no cellphone signal.
Luckily enough a police patrol was super nice, they gave us info to reach Montezuma Castle. According to them, it's quite easy to get lost if you're not familiar with the area. But do not take that for granted: they might've said so just so we wouldn't feel super embarrassed!
The ancient homes of the Sinagua tribe stand on sheer cliffs of limestone, rising 100′ above the ground. We had seen a documentary before our U.S.A. road trip so we were quite curious. And they live up to the hype!
From Sedona there's the chance to book a 3 hours tour to Montezuma Castle. It includes a rugged Jeep ride into the desert, the chance to visit with an experienced guide, and has a free cancellation policy.
Click here to check rates and availability.
Sedona has some of the best hiking routes and red rock formations in the area. So it's an absolute must-see on this Arizona road trip itinerary. Spend a couple of days here if you love the great outdoors!
Surrounded by 1.8 million acres of forest within four wilderness areas and two state parks, the landscape seems to be tailor made for adventure.
There is a spiritual atmosphere to the place, and people who have been visiting Sedona find the energy there different than anywhere else in the Country.
It shouldn't surprise you then that they say the area hides some "vortex".
What is a vortex?
Some areas are thought to be swirling centers of energy that are conductive to healing, meditation and self-exploration. People say they feel inspired, recharged or uplifted after visiting a vortex.
One of the most popular ones is the vortex located to the top of Bell Rock. There's a nice hike to get there so if you feel like walking, it can be a lovely way to experience the local area.
Mind you: it's possible that you'll be unlucky like us. Once we got to the Bell Rock vortex we found it was occupied by half-drunk tourists. Due to all the loud laughters and screams we didn't feel particularly recharged!
The Verde Valley is also home to a handful of winemakers and offers an excellent wine tasting experience.
There are plenty of lodging options in Sedona, but if you want to camp in primitive style for free, I have some info you might find useful.
Five miles (8 km) out of the city, near Sirca, there is a sign saying Oak Creek Trailhead. Head into the dirt road and you will come across tents and other vehicles parked there.
Just pitch a tent anywhere and enjoy the starry sky. The perfect way to road trip on a budget!
Where to stay in Sedona: The Views Inn Sedona
Do you feel like living an adventure?
Click here to book a nighttime UFO and stargazing tour from Sedona!
Day Five – What to see in Sedona
If you have a 4WD vehicle, take a ride through the old Sedona-Flagstaff road to enjoy some spectacular views.
The first spot we fell in love with is Schnebly Hill, but if you keep driving for 20 more minutes you'll also get to see Mogollon Rim. Another one of our favorites!
In case you don't have a 4WD vehicle but you still want to experience a bumpy ride, you can book a Mogollon Rim offroad tour with an experienced guide.
Click here to check rates and availability.
Today you might want to try your hand at some meditation. If you haven't been there yesterday, how about you try to find a vortex?
The three best spots aside from Bell Rock are Airport Mesa, Boynton Rock and Cathedral Rock.
Bring your camera with you because there are a lot of instagrammable spots along the way!
Not fond of meditation? Another idea for this leg of your Arizona road trip could be the drive to the former copper mining town of Jerome.
Even now that it has become officially a Ghost Town, you should know that it's considered one of the most haunted places in Arizona!
Located on Cleopatra Hill, halfway to Mingus Mountain, it should take about 45 minutes to drive there.
Ghosts aside, Jerome is a lovely town which is now home to many art galleries, coffee houses, and even a museum devoted to mining history.
Spend the night in Sedona.
Day Six – Page and the Antelope Canyon
Page is located near the border with Utah. It takes around two hours and fifty minutes to reach this lovely little town from Sedona.
While Page is pretty small, it's also packed with incredible things to see and do.
Try to leave Sedona early in the morning, because you will need the whole 2-3 days in Page.
According to how much you like to hike and explore, this might be a slightly busy time on your Arizona road trip itinerary. From Page in face you can also reach nearby areas of interest so you will still be lodging in town while driving around.
After all… it's a road trip. Doh!
The very first thing you should do while planning this trip is to book an Antelope Canyon tour.
I have a very detailed article that will help you to decide if you should visit Lower Antelope Canyon or Upper Antelope Canyon.
It'll be useful to find the best time to visit (it's mandatory to do so because if the light isn't good you won't see the gorgeous pink and orange sand waves) and shoot the best pictures.
We actually rushed to the hotel, left our car there (they were so nice to keep our luggage even if the room wasn't ready just yet), and had a Navajo Guide pick us up to go to the Antelope Canyon.
Just a note to tell you that by far, this is the Canyon tour in the USA that I'll never, ever forget. While Aldo is a huge fan of the Grand Canyon (keep on reading, we'll get there too!), I think I have so many fond memories about our Antelope Canyon visit, especially thanks to our guide!
Once you're done, if you are still in the mood for more adventure, obtain a permit from the Upper Antelope Canyon entrance and the directions to the secretive Waterholes Canyon.
Waterholes Canyon is one of the best kept secret hiking spots in Arizona, that you will absolutely love. It's almost never crowded, and it's a great early-mid afternoon destination.
Where to stay in Page: Lake Powell Motel & Apartments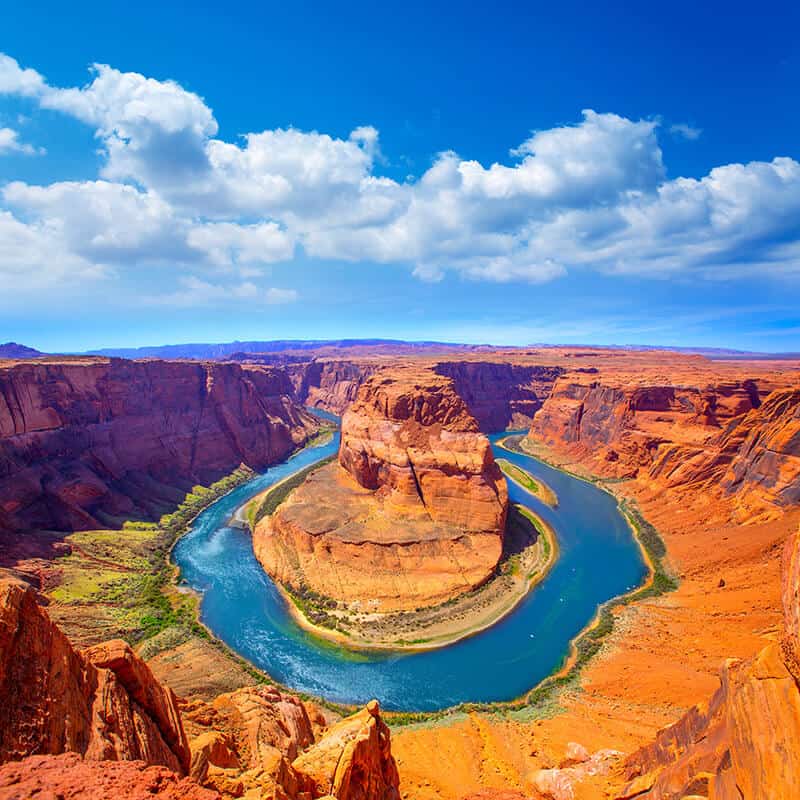 Day Seven – A busy day in Page
Your next destination is about five miles (8 km) away on Highway 89, and is considered to be the most popular spot on any Arizona road trip itinerary, Horseshoe Bend.
The place is always crowded, because of its popularity, and any chance of avoiding the masses is by coming early or just before sunset.
The bend is a good twenty minutes walk from the parking area, so be sure to carry water, especially during the warm summer months.
You may have seen pictures of Horseshoe Bend, but the true beauty of this place can only be appreciated in person!
When you visit, make sure to be extra careful.
When we visited the Horseshoe Bend, a French couple was taking pictures on the edge. The girl stepped back, and she almost fell off the cliff.
Only Aldo's presence saved her because he rushed to grab her right before she slipped. Together with her boyfriend, they were able to lift her to safety.
I saw it from a distance because I'm afraid of heights, but gosh, I was absolutely terrified for a moment. I was sure they were going to fall.
The edge might be slippery.
Do not get too close, especially if you're only wearing sandals or flip-flops!
No picture is worth your life.
Now that you have seen the two most iconic sights of Arizona and are looking for a place to chill, head to Lake Powell and rent a powerboat or kayak to enjoy the lake from a different perspective.
Spend the night in Page.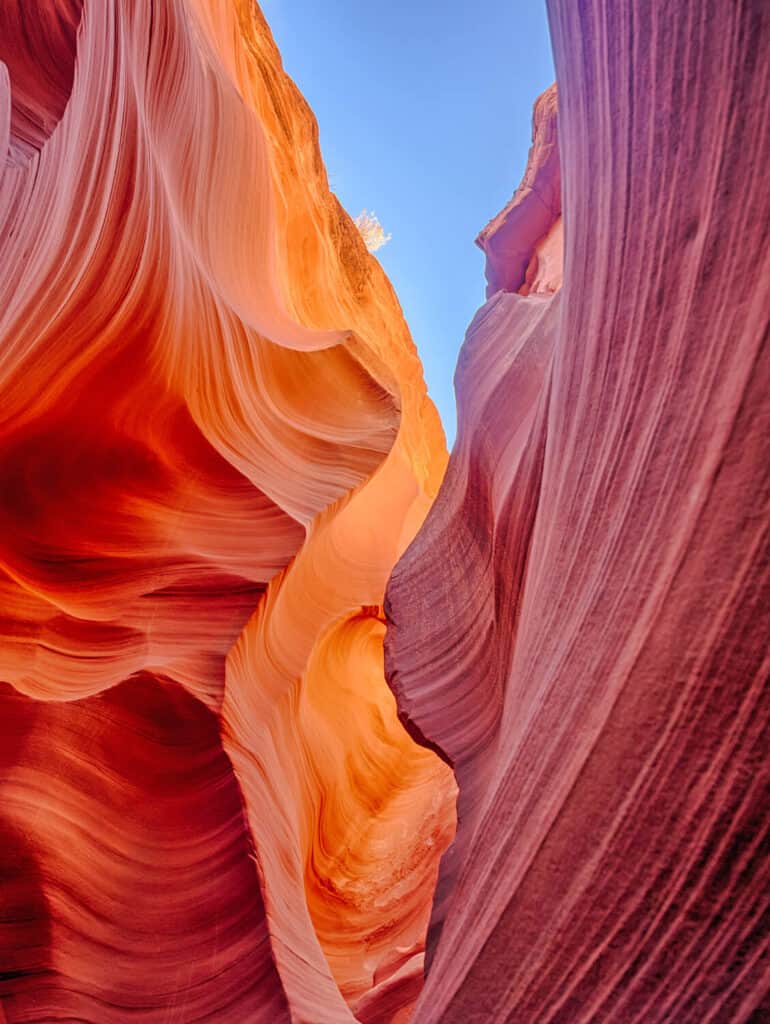 Day Eight – An early start to get to the Grand Canyon
The drive to the Grand Canyon National Park from Page (130 miles – 209 km) takes about two and half hours (unless there's traffic) and goes through some extremely scenic areas.
The easiest access to the Grand Canyon N.P. from Page is through the South Rim gate, via the town of Tusayan, from where a number of popular viewpoints can be easily reached.
Tusayan is also where you'll have the chance to enjoy the most watched IMAX movie ever: The Grand Canyon Secrets!
Book your ticket online to avoid having to stand in line (and getting the worst seats). Here you'll also find a National Geographic Store: there are only 5 in the world!
While I'm aware that it's not ideal, I have written an easy guide to visiting the Grand Canyon South Rim in one day.
You might not be able to hike a lot, but who says you can't visit again in future, to spend more time exploring this amazing National Park? That's what we did!
The best viewpoints include Grandview Point, Desert View Watchtower (for 360 degree views of the South Rim) and Hermit's Rest.
The Grand Canyon Village also lies on this route, so if you don't plan to camp, there are a number of accommodation outlets available here.
I'm terribly scared of heights, but Aldo told me that seeing the Grand Canyon from above is one of those experiences we should all do once in our lifetime.
In case you're braver than me, you can book a helicopter ride from Tusayan to see the South Rim just like eagles do!
Where to sleep at the Grand Canyon: Yavapai Lodge
Where to sleep in Tusayan: The Grand Hotel at the Grand Canyon
Day Nine – Driving to Flagstaff
My Arizona road trip guide wouldn't be complete if I didn't encourage you to drive along the Mother Road, right? Aldo, our designated driver, loves to ride by car on Route 66. He says he feels a sense of freedom.
So let's add some more awesomeness to this itinerary!
Flagstaff is about 80 miles (128 km) away from the South Rim of the Grand Canyon.
Being relatively close to the greatest Natural Wonder, Flagstaff is a popular destination in its own right.
Sitting at an elevation of 7000′ on 14 miles (22 km) of the historic Route 66, Flagstaff is a must-visit place for any Arizona road trip itinerary.
The chic downtown area is a good place to start exploring: head over to the Flagstaff Visitor Center for maps, tips and coupons.
As you stroll along the streets, you will see murals, mosaics and other displays of public art. There are even more art galleries than Sedona!
Last but not least, I have yet another good reason to stop here.
No town is as historically associated with Route 66 as Flagstaff. This is the place where you can tick off all the things on your Route 66 bucket list.
Those who are looking for a unique tour with a small group can try their hand at… ghost hunting!
There's a night tour which will show you the most haunted spots in Flagstaff, with a guide who will tell you all about the darkest side of Flagstaff. It will give you the chills!
Click here to check rates and availability.
Where to sleep in Flagstaff: Ski Lift Lodge
Day Ten – Day trip to the Monument Valley
No Western road trip itinerary would be complete unless you visit the Monument Valley.
The Monument Valley Navajo Tribal Park and Four Corners can be visited on a tour. Because yesterday you've had a long drive, I suggest you avoid getting too tired today.
Booking a Monument Valley guided tour from Flagstaff is the best way to enjoy your day and have fun, without having to worry about the drive back.
The Monument Valley is an iconic stop on many road trips. Located inside the Navajo Nation, it's famous because of the majestic buttes, red spiral rocks, the mesas and a landscape that you've surely seen thousands of times in world famous movies.
The guides love to share ancient legends about this area, and will also show you the most popular filming locations: you'll get to see where Transformers or Forrest Gump have been filmed!
Make sure you also visit John Ford's Point, dedicated to the director who shot 5 of his best movies.
On our first visit a native cowboy was riding his horse at John Ford's Point at sunset: it was such an evocative, and almost surreal, moment for us!
Click here to find the best Monument Valley tour from Flagstaff: it includes hotel pickup, lunch, all entry permits, taxes and the help of an experienced Navajo guide.
Spend the night in Flagstaff.
Day Eleven – Williams: a must see on Route 66
The drive to Williams from Flagstaff is approximately 31 miles (50 km) by route I-40, via the town of Parks, which then meets the famous Route 66 through downtown Williams.
This lovely city, surrounded by the Kaibab National Forest, is where both visitors and locals enjoy a host of outdoor activities here like fishing, biking, camping, birding and a beautiful golf course with stunning views.
In winter, Williams offers skiing and sledding as well.
For the rail enthusiasts, this is the starting point of the Grand Canyon Railway.
While there are numerous activities for outdoor adventure lovers, nature buffs can discover a new wild world by traversing the roads of the Bearizona Wildlife Park with windows up, doors locked and eyes wide open.
There are historic lodges for motorists to spend the night, on either side of the iconic Route 66, and of course plenty of memorabilia or souvenirs you can buy.
Whenever we pass through Williams, we always stop at Cruisers Cafe 66. It's a must-see on each and every Arizona road trip itinerary.
Stepping inside the Cruisers Cafe 66 feels like visiting a real life Radiator Springs, the iconic city in Cars (Disney).
It's full of Route 66 memorabilia, Elvis Presley music, Americana and the scent of delicious food.
Burgers are juicy and tasty, their servings are huge, so we always leave with a big smile on our face.
Even if we can't stop to eat, we always order a serving of chicken strips to go, that we can just eat on the road.
By all means, note it down because you can't just visit Williams without eating at the Cruisers Cafe 66!
Where to sleep in Williams: La Quinta Inn & Suites
Day Twelve – Road trip on the Mother Road: Ash Fork, Seligman and Kingman
Your final destination on this Arizona road trip itinerary for today will be Kingman.
Along the way there will be a few interesting stops.
Stay as long as you want, because you'll have one more day tomorrow to explore Kingman. Don't rush your trip today, take it slow and have fun!
Leaving Williams by cruising Route 66, the first point of interest you'll come across is Ash Fork. Here you can stop to visit the Ash Fork Route 66 Museum.
This town is also known as the "Flagstone Capital of the World", because of the presence of a large number of stone quarries and stone yards.
Because all the towns on this part of the Mother Road are super small, traffic in this area will never be a problem. Whenever we drove on Route 66 in Arizona, there was no one else around: everyone nowadays is using the I-40 so… enjoy the trip!
Your second stop for today is Seligman, said to be the birthplace of the "Historic Route 66".
Seligman is located about 50 miles (80 km) from Williams, and was originally known as Prescott Junction.
At one time it was the main rail station on the Santa Fe railroad mainline. The name was then changed because of Jesse Seligman, who had helped finance the rail network in this area.
Seligman is absolutely perfect for those like me who love history.
Pay a visit to the Angel & Delgadillo's Route 66 Gift Shop and Visitor Center, where you'll find a lot of interesting souvenirs and knick-knacks.
This gift shop, which moved in 1972 to the current location, started to get less and less customers when the I-40 bypassed Seligman. So to turn this ex-barber shop into a new attraction, Angel and his wife Vilma decided to put up a series of mannequins.
To be honest, at first it was even a bit creepy. We might have watched too many Alfred Hitchcock movies, but when you stop your car and you see dozens of mannequins looking at you it feels like you've stepped into Twilight Zone.
The mannequins are basically everywhere, from rooftops to benches, sitting on the hood of old cars and posing for different scenes. You are welcome to take pictures as long as you don't touch them.
Kingman is your last stop of today: as I mentioned before, this is a busy day on your itinerary but you'll be able to drive without having to deal with traffic.
Besides, there's no need to rush the previous stops, because you have tomorrow to visit Kingman!
Where to sleep in Kingman: Ramada By Wyndham
Day Thirteen – What to do in Kingman
One of our favourite segments of the Mother Road, stretching for about 87 miles (140 km), is the route westward to Kingman in Arizona.
This part of Route 66 served as a major road for those who migrated to the west. One this lovely section you pass through some quaint towns like Peach Springs, Yampai, Truxton, Valentine and Hackberry.
You might choose to visit them today if you have already been to Kingman or if you loved yesterday's part of the trip so you want to explore some more little towns.
In my opinion, there are so many things to do in Kingman Arizona that you definitely won't need to add even more attractions to this leg of your road trip!
Due to its geographic location on Route 66, Kingman is the access station to the gambling resorts of Las Vegas and Nevada, as well as the Lake Mead National Recreation Area and the lakes Mohave and Havasu.
You might also like:
26 Best day trips from Las Vegas (NV)
Today you can visit the Historic Route 66 Association of Arizona, the Kingman Railroad Museum and the Desert Diamond Distillery.
Yet don't hesitate to just walk around and explore: there are so many little things to discover in Kingman!
Make sure you stop by at Locomotive Park: there's one historical coal-burning locomotive in front of the museum. You won't need to buy a ticket to shoot some cool pictures: and you can also climb up into the cab of the old steam engine!
At about five minutes by car you'll find the Monolithic Garden Trail, which features iconic rock formations formed by volcanic activity.
Spend the night in Kingman.
Day Fourteen – Exploring the past: Cool Springs and Oatman
Your Arizona road trip itinerary is almost complete: let me show you two more places that deserve some time. I'm sure you'll love them just as much as we do!
A very interesting place, which also makes for one of the most interesting Arizona destinations, is Cool Springs, located between Kingman and Oatman.
Cool Springs is a restored gas station, also home to a gift shop and a museum. It's a must-see spot, primarily because of the extremely scenic landscape one passes through. You can easily say it's one of the best Arizona scenic drives.
Bring your camera because there are so many instagrammable spots here!
Another one of our favorite stops is an old mining town, Oatman. It's located 45 miles (72 km) off Kingman and the road to get there is usually lonely: we didn't cross paths with another car for the whole drive.
Shorn of all its past glory, Oatman has a very small population and can be considered a ghost town.
It has somehow managed to retain its old Wild West charm.
If there's a Wild West shootout when you're visiting, it's interesting to watch and also quite funny.
Yet people usually visit Oatman looking for the "cute donkeys".
The wild burros are the descendants of burros brought here by the miners in the late 1800s.
They roam the streets, walking to the city in the morning, looking for food, and going back to the wild at night.
When we visited, the burros were politely waiting in line outside one of the shops. One of the locals then got out bringing some snacks for each one of them: carrots and burro pellets are for sale almost everywhere.
If you want to feed them, pay attention to your fingers: they might hurt you even if they don't mean to. Put their food on the palm of your outstretched hand, it's the safest way to offer them a snack!
Fans of Hell on Wheels like us will love to know that Oatman was named in honor of Olive Oatman, the girl with the tattoo on her chin which was said to be kidnapped by an Apache tribe.
In the tv series her name was Eva Toole.
Clark Gable and Carol Lombard honeymoooned at the Oatman Hotel in 1939 and since then their suite has become a major attraction.
The Durlin Hotel is the only two storey building in Oatman and a must see for Route 66 travelers. The walls of the hotel are covered with one dollar bills, dated and signed. There are bills from all over the world!
Sleep in Kingman.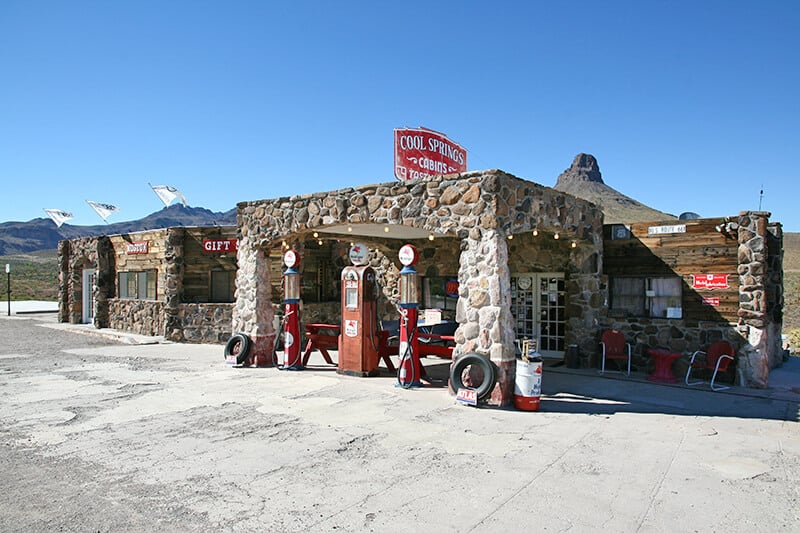 Day Fifteen – Drive to Las Vegas
This is your last day of your Arizona road trip.
Leave Kingman for Las Vegas.
While there are only 108 miles (173 km), you'll have to deal with quite a bit of traffic. The worst part of this drive for us was from around Boulder City to the Las Vegas Strip. The more we got close to Vegas, the more traffic we found!
There are so many things to do in Las Vegas beside gambling, so you might want to have an early breakfast to make sure you'll be in Sin City by lunch time.
Leave your luggage at your hotel and if you're not too tired, hit the swimming pool!
Click to find the best hotel deals in Las Vegas!
Bonus: About Roadtripping on Route 66
Without doubt the most iconic road trip in the world, driving across Arizona on Route 66 has to be the dream of every avid motorhead out there.
Even though the much faster interstate highway system is in place, the popularity of Route 66 remains intact even today, in spite of the switching of numbers and the unexpected diversions encountered on the way.
The best way to enjoy this kind of road trip is to abstain from packing too much stuff on the same day. That's how you can avoid to miss out on all the cultural offerings and attractions on offer.
Last but not least, be open-minded and explore at leisure, both the mega famous and the lesser known.
This should always apply to each and every one of your trips, not only to Arizona!
You might also like:
How to plan the perfect honeymoon
USA Babymoon Ideas on a Budget
What to do in Las Vegas during the day
26 Unique Souvenirs from Las Vegas for your collection
Pin it for later!
Travelling Dany
Danila Caputo is a bilingual travel writer living in between Naples and the Amalfi Coast (Italy). She travels and works with her husband Aldo, photographer and videographer. Their blog chronicles their adventures around the world, Italian/European culture and tips on how to be responsible travelers. You can find out more about their latest trips and their life on Instagram and Facebook.