Are you short on time and you're wondering what to see at the Grand Canyon in one day? Let me show you a quick itinerary, full of interesting things to do and see, with updated info and lots of insider tips!
Recognized as one of the seven natural wonders of the world, the Grand Canyon National Park is probably Arizona's most distinguishable landmark. 277 miles (124 km) long, up to 18 miles (29 km) wide and over a mile deep… it can be a bit overwhelming! Is it even possible to explore the Grand Canyon in one day? In this article I will show you a useful South Rim itinerary to make the most out of your Arizona road trip. Even one day at the Grand Canyon can be enough if you know how to plan it!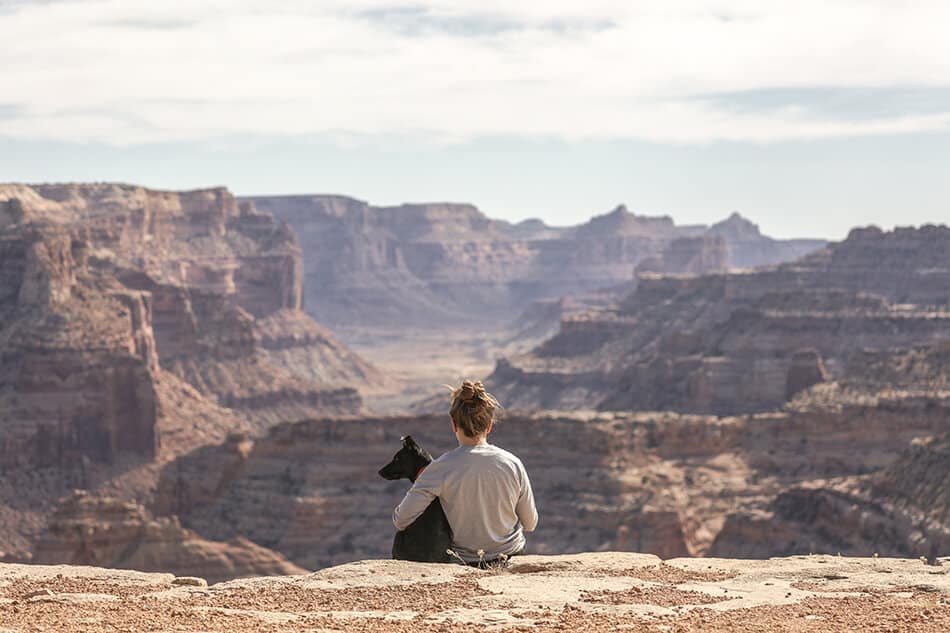 One day at the Grand Canyon: is it enough?
The Grand Canyon National Park is the one place where we always wanted to go.
We got there on our very first trip to the U.S.A…. we were quite young and inexperienced.
Because there was so much to see and do, we could only add a day trip to the Grand Canyon to our itinerary.
At night, that same day, we realized that we'd have to get back for more. Yet while we were there, all we could do was exploring.
Aldo even made sure to stop at all the best viewpoints to take tons of pictures of the Grand Canyon: we felt blessed. This is one of the seven natural wonders of the world and it looks even more impressive up close!
While there are many things to do at Grand Canyon South Rim, you just have one day. That means being super selective… and honest with yourself.
Hiking on long trails might not be an option, but you can sneak in a shorter hike if you get there early in the morning.
Planning a road trip?
Click to download our FREE printable
ROAD TRIP CHECKLIST!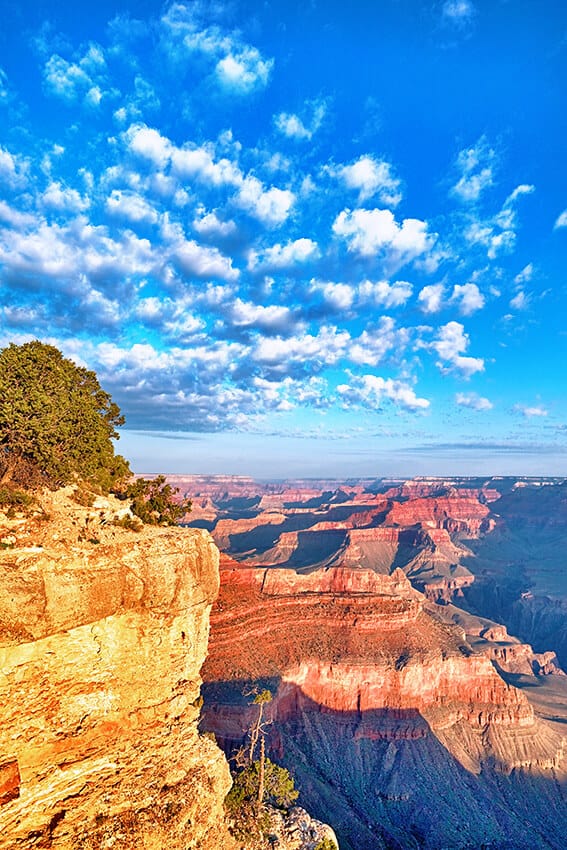 The one thing you definitely won't be able to visit is Havasu Falls. There's just not enough time.
To visit the Grand Canyon in 1 day you'll have to stick to the South Rim.
Note down all the things you absolutely want to do and make sure you add a realistic estimate of how long it'd take you.
Planning a day trip from Las Vegas is entirely possible, but there's an over 4 hours drive you'll have to deal with. That means having even less time to hike and hit all the best viewpoints.
On the contrary, a Sedona to Grand Canyon day trip is entirely possible, because you'll only have to drive for a couple of hours.
Some people (including us when we planned our honeymoon) make sure to add a few days at the Grand Canyon at the end of a longer Utah road trip. In this case, I suggest this guide to a Grand Canyon road trip for a complete itinerary.
You might also like:
– Top Things to do in Vegas During the Day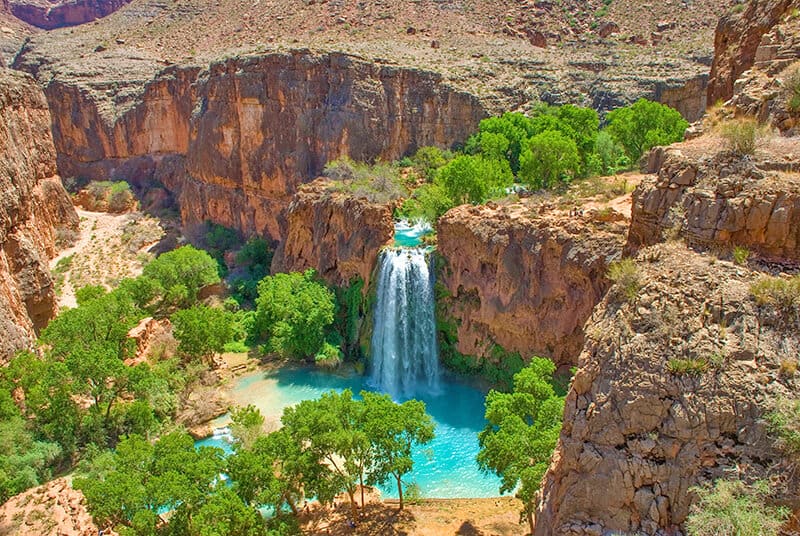 Grand Canyon tickets and passes 2021
To visit the park you need to buy a Grand Canyon National Park Vehicle Permit for 35$.
It is valid for one vehicle and its passengers for seven days, and includes both the North Rim and the South Rim.
If you are a biker, a Grand Canyon Motorcycle permit will cost you 30$. While if you are hitchhikking, using a shuttle bus, the train or your bycicle, you will be able to buy a Grand Canyon National Park Individual permit for 20$.
In case the Grand Canyon is part of a larger USA road trip, then there's an easy way to save some money.
Buying America the Beautiful, an annual pass that will cost you 80$, is the best way to visit many USA National and State parks for less.
Make a list of all the places you want to see and check if they have been included in this useful list.
Generally speaking if you're planning to visit more than 3 National Parks covered by the annual pass in one year, it's worth buying one.
You can buy your America the Beautiful pass at one of the park's entrance stations or online.
Renting an expensive 4×4 Jeep is not mandatory: the roads are paved and it's easy to drive inside the Grand Canyon National Park.
We have used this online dealer as the prices were way lower than all the others we checked out. Click here to see how much renting a car would cost you: the final price might surprise you!
You might also like:
– The best Arizona road trip itinerary
– Utah road trip: the Mighty 5
– Epic road trip from Miami to Key West (Florida)
– Amalfi Coast Road Trip info (Italy)
– Road to Hana stops for a Maui road trip (Hawaii)
– The Devil's Tower travel guide
– Upper vs Lower Antelope Canyon: how to choose
– Fun Joshua Tree Day Trip Itinerary (California)
– Guide to Sleeping In Your Car on a Road Trip
– How to visit the Grand Canyon in one day
Grand Canyon Park Pass – Free Entrance Days for 2021
There are 6 days in 2021 when all National Park Service sites will offer free admission to everyone!
It's the perfect excuse to plan an easy Grand Canyon itinerary on a budget!
Mark your calendar for the following entrance fee-free dates for 2021:
January 18: Martin Luther King, Jr. Day
April 17: National Park Week
August 4: Great American Outdoors Act
August 25: National Park Service Birthday
September 25: National Public Lands Day
November 11: Veterans Day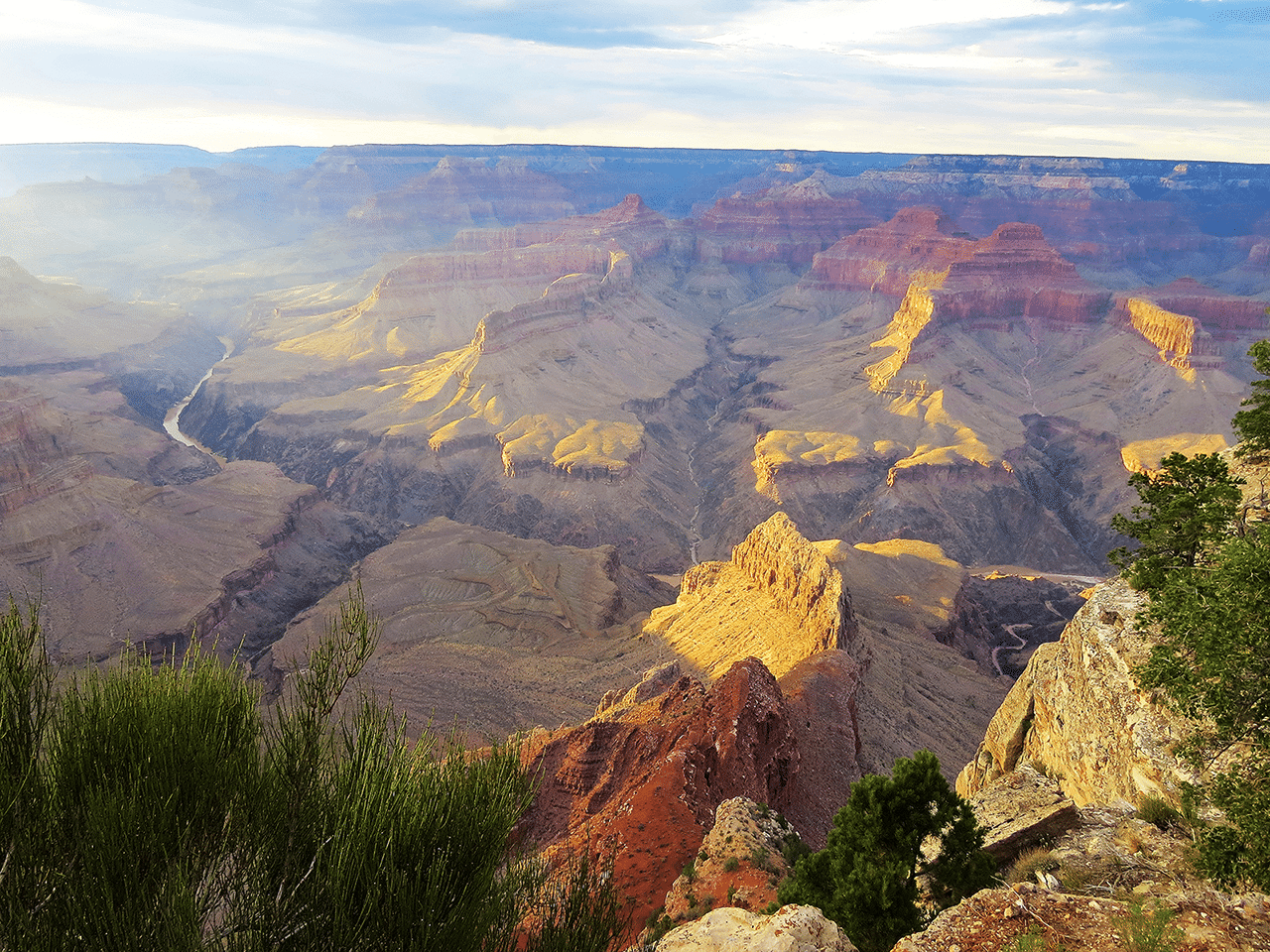 The best part of Grand Canyon South Rim: The Desert View Drive
Those planning a quick Grand Canyon South Rim Tour can't miss the Desert View Drive. There are some of the best
view points on this side of the canyon!
If you're looking for great instagrammable spots, head over to where Vermillion Cliffs, the San Francisco Peaks, the Painted Desert and the Colorado River come into view.
Yet there are several other great vista points you can explore!
This 25 miles (40,23 km) drive is accessible with private vehicles. You will find six developed viewpoints, five unmarked pullouts, camping areas and four picnic points.
Everything you need for your Grand Canyon day trip!
Yaki Point – Unforgettable Grand Canyon Sunset!
You can reach the area also using the free Kaibab Rim Route shuttle bus (Orange line), departing from the Grand Canyon Visitor Center.
The only point that isn't accessible with a private vehicle is Yaki Point, that can be reached only using the Orange shuttle bus.
Yaki Point is a particularly quiet viewpoint during the day, yet it gets pretty crowded at sunset, because it's popular among the photography enthusiasts.
Unfortunately this also means that you might have to wait in line for quite some time when it's time to get back! The free Grand Canyon shuttle bus is usually full to the brim!
That's yet another thing you should consider when planning a Grand Canyon day trip: avoid the crowded viewpoints!
We have visited the Grand Canyon often and we believe Yaki Point is definitely worth the trip. It's one of the best views of the Grand Canyon on the Desert View Drive, and in fact it is also known as the Zabriskie Point of the Grand Canyon.
That's why you should either go there before sunset or right after, when everyone else is leaving.
Moran Point – Best Grand Canyon Rocks Viewpoint
Keep driving on the Desert View Road to get to Moran Point. It's one of the areas where you can clearly see the three main rock groups in the Grand Canyon.
The first group is the Layered Paleozoic Rocks, sedimentary rocks that make most of the canyon's depth.
The second one is the Grand Canyon Supergroup, the most significant geologic record, visible only in a few spots along the rim. This group of rocks is like an history book on the Grand Canyon: the scientists gathered so much information by studying it!
The third group is the Vishnu Basement Rocks, the oldest rock formations in the canyon.
Moran Point is due south of Cape Royal on the North Rim, just 8 miles (12,87 km) away in a straight line, but a whopping 215 miles (346 km) if you're planning to drive there.
It is named after the painter Thomas Moran, who got there in 1873 and spread the word about the Grand Canyon, helping it to become a National Park (in 1919).
Would've you ever guessed that there was an influencer even before Instagram?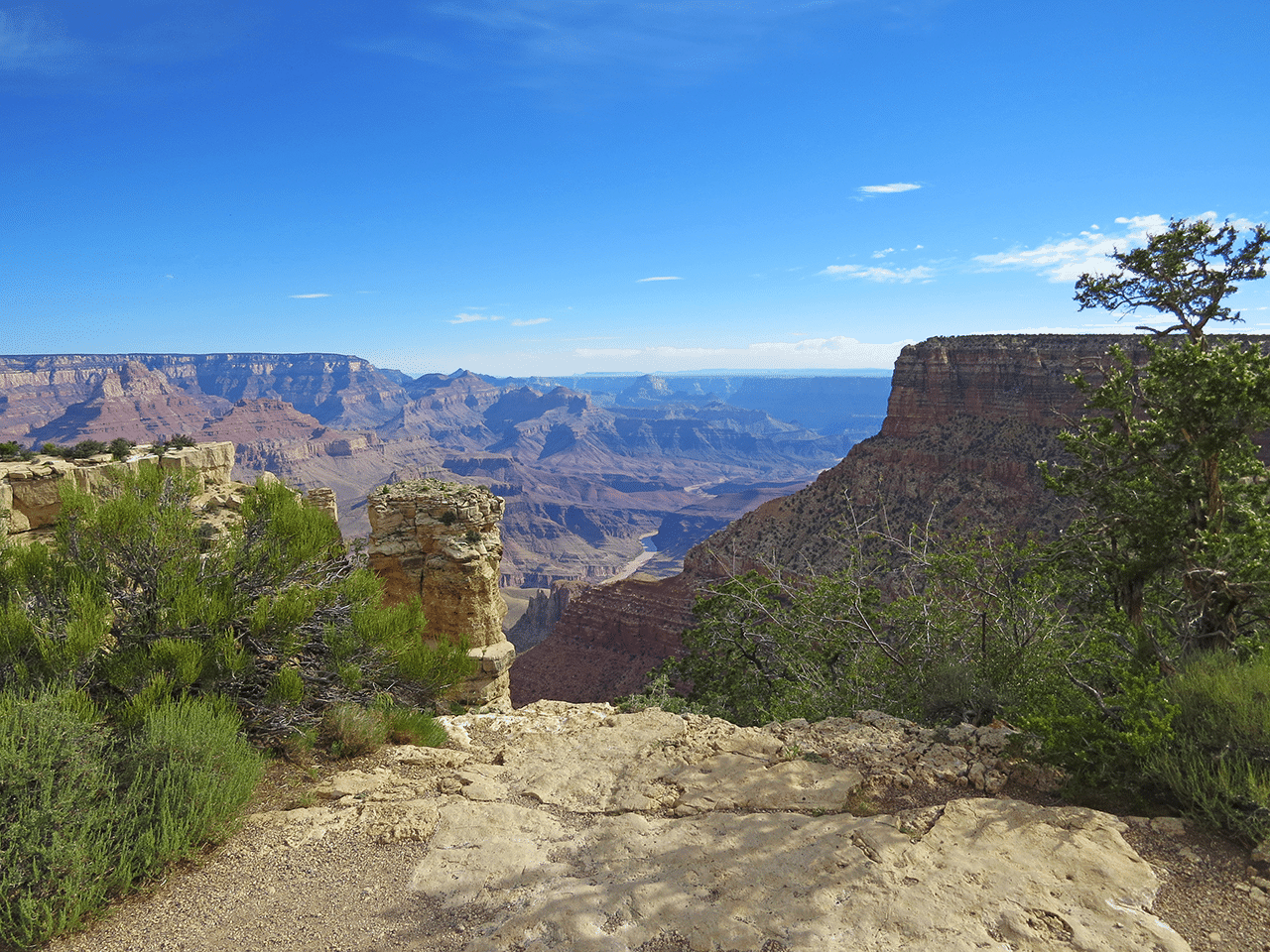 Lipan Point – Awesome South Rim Hiking Area
Lipan Point is another beautiful viewpoint you can enjoy if you're planning to explore the Grand Canyon in one day.
Located half a mile North on the main scenic drive, it's the starting point of a few very interesting hikes.
A few steps away from the parking lot you'll find the entrance to the Tanner Trail.
This mile long trail is a great Grand Canyon hike. It overlooks the Seventyfive Mile Creek and the Escalante butte!
As you hike South of the Seventyfive Mile Creek, you'll be surprised by an amazing postcard-view of the cliffs below Pinal Point. At the end of Unkar Creek you will reach the Unkar Delta.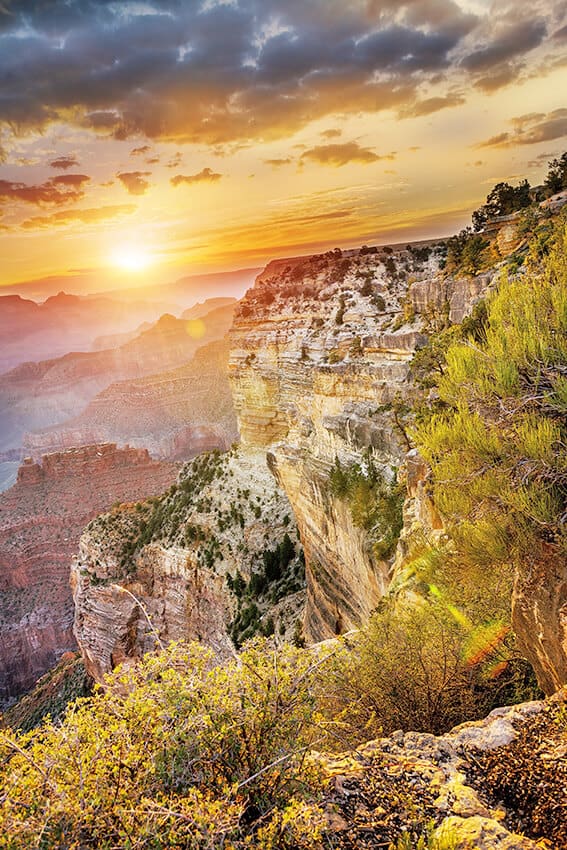 The Tanner Trail hike will take a minimum of 5 hours. Maybe more, if you're planning to spend one day at the Grand Canyon in the summertime.
Of course, you'll have to focus on the Tanner Trail hike, avoiding most of the things you've read in this article, if you really want to go.
The whole area is quite different from the Grand Canyon landscape you've come to expect. That's because the sandstone erosion turned the landscape into rounded hills. You'll find amazing photo spots everywhere!
As I mentioned at the very beginning, some things just don't fit in a one day itinerary.
If you've never visited the Grand Canyon, I'd encourage you to make the most out of this day trip by hitting the best viewpoints.
On the contrary if you've been there before, you can avoid most of the photo opportunities on the main roads and spend the day hiking. It's up to you!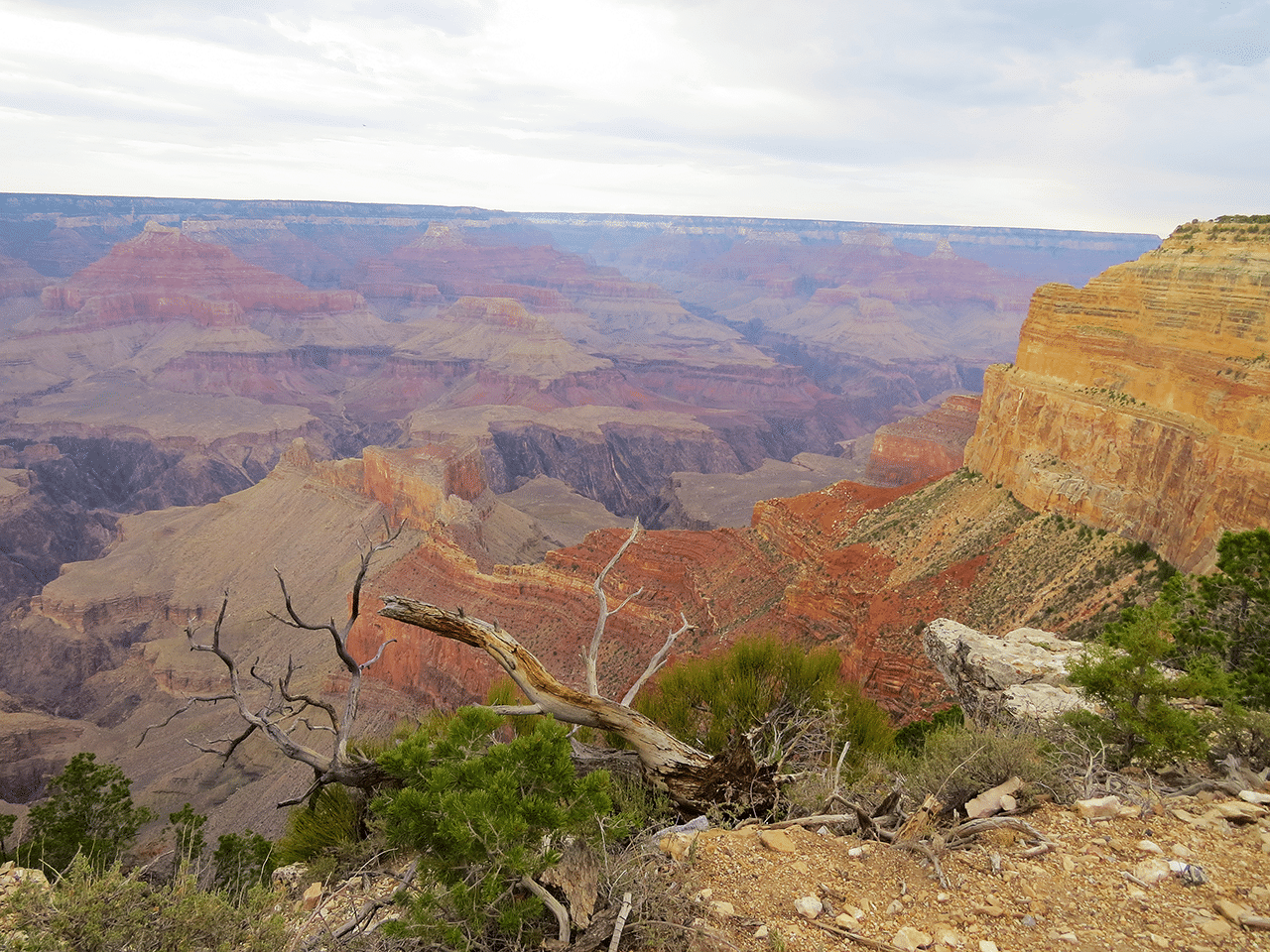 Hermit Road: Use the Shuttle Bus to Make the Most Out of Your Day Trip
Between March 1st and November 30, Hermit Road can only be accessed by the free Grand Canyon shuttle bus (Red). The one that provides transportation between the Village Route Transfer Station and Hermits Rest.
The bus ride is 7 miles (11,26 km) long with 9 stops on panoramic viewpoints.
The round trip lasts 75 minutes and you can still take decent pictures from the bus.
One of the Grand Canyon itinerary ideas for those who just don't feel like hiking, or who are visiting with younger kids, is to just enjoy the ride.
It won't be the best thing ever, yet you'll get to see a lot also without having to walk around!
Hopi Point – Get the Grand Canyon Perspective
The fourth stop on Hermit Road deserves attention. It's the first viewpoint offering a better perspective of the Grand Canyon.
According to Aldo, it looks like some god has split the Earth in two with a huge axe. That's exactly how he usually describes the Grand Canyon!
From Hopi Point you can see all the way to Havasupai Point and the Great Scenic Divide. Even the Grand Canyon classic tour always includes this place!
This viewpoint in fact has a fenced viewing area that overlooks the Dana Butte, a flat mesa 2000 feet below the overlook.
While planning your Grand Canyon day trip itinerary, add a note at this point.
If Yaki Point is too crowded at sunset, you have a great alternative! Head over at Hopi Point: it's usually way more quiet, so you will be able to just sit down and enjoy the view!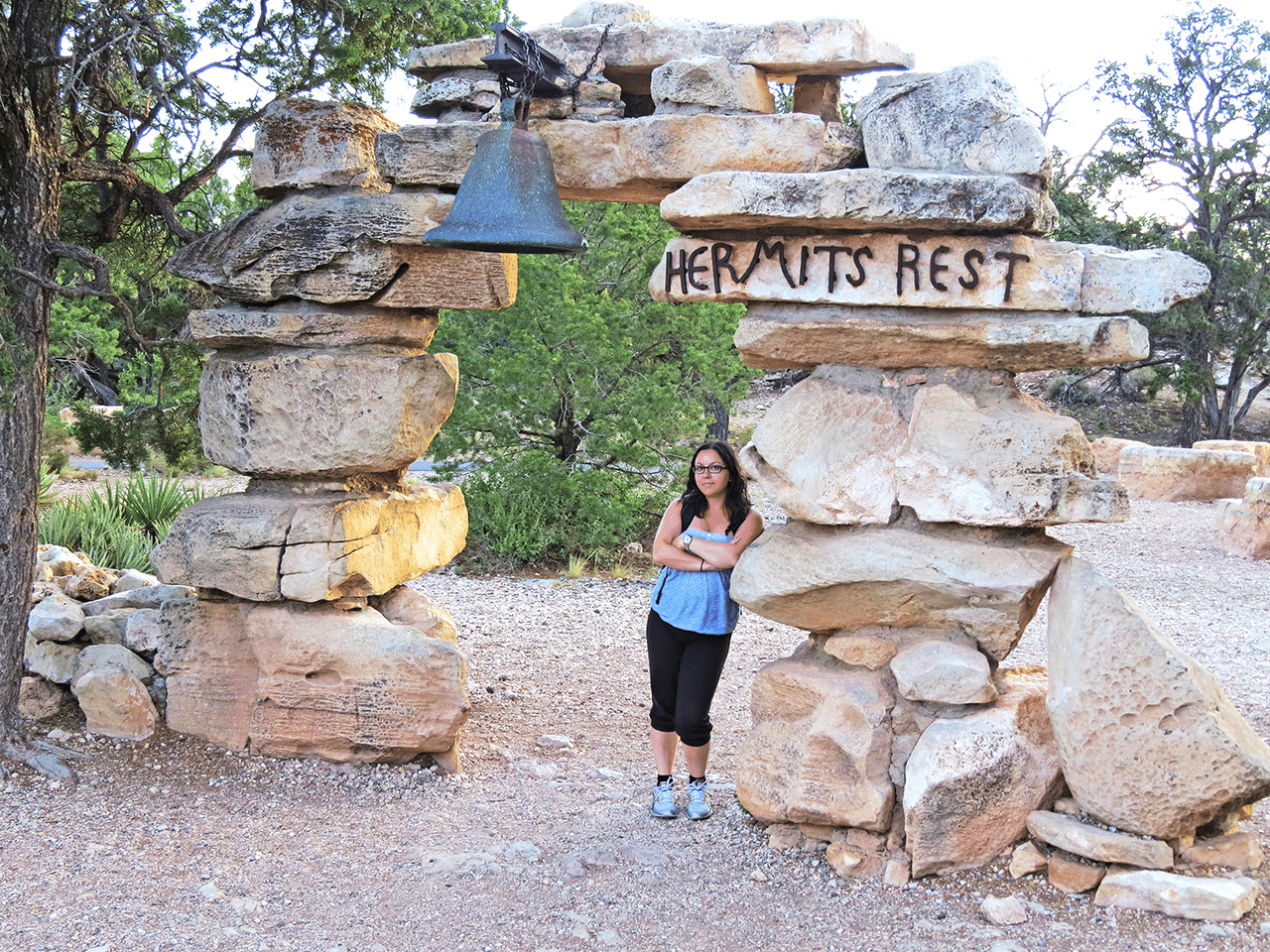 Canyon Rim Trail – One of the Best Grand Canyon Hikes
On Hermit Road you will find the entrance point to the Canyon Rim Trail, one of the best Grand Canyon hikes.
It follows the canyon rim for about 8 miles. Expect a mix of paved and dirt trail that you can hike in a few hours.
If you decide to hike the Canyon Rim Trail, make sure you have a good pair of hiking boots to protect your ankles. In this area there's also a nice paved greenway that is one of the best Grand Canyon trails for those who want to explore by using their mountain bike.
Note: Hiking the Canyon Rim Trail means entering the park very early in the morning and giving up most of the viewpoints. Remember that visiting everything at the Grand Canyon in one day isn't possible!
Hermits Rest – Relax After a Busy 1 Day Grand Canyon Itinerary
Hermits Rest is located a few stops after Hopi Point, right before the road turns back to the Village Route Transfer.
(Note that on the return trip the Red Shuttle Bus stops only at Pima Point, Mohave Point and Powell Point!).
You can add this stop at the end of your Grand Canyon South Rim itinerary.
Kids and adults will love the small stone structure nestled into a mound of earth that opens onto the canyon.
While it looks like an old miner's cabin, this structure has been built by Mary Colter, one of the Grand Canyon' most famous architects, in 1914.
The details are perfect, you will find a huge fireplace and a front porch. Inside there's a gift shop and a small snack bar.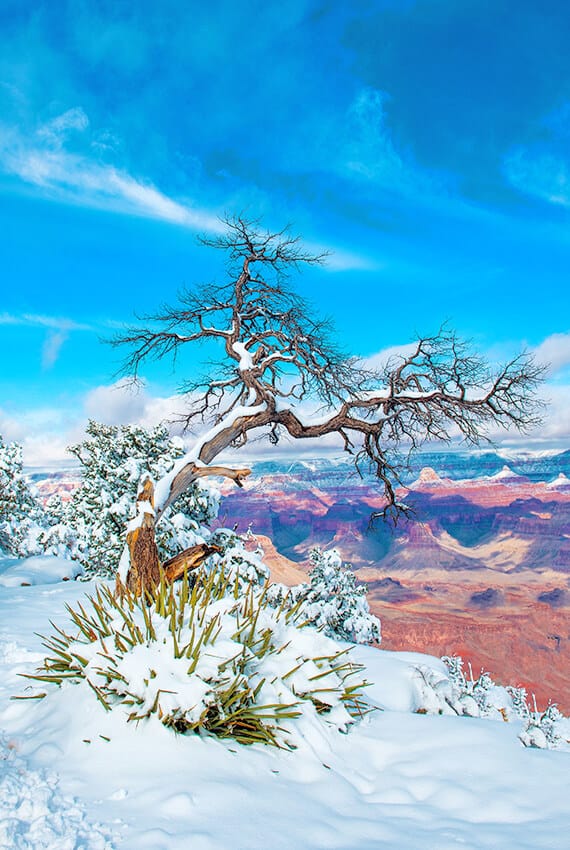 The rangers told us that in winter the weary hikers sit down beside the huge fireplace to warm up. Almost like modern pioneers. Not sure about you, but visiting the Grand Canyon in winter sound super romantic!
If you are dessert girls like me, you'll also appreciate their cookies. They're freshly baked and delicious. You can buy some here and bring them along with you ask you keep exploring the Grand Canyon!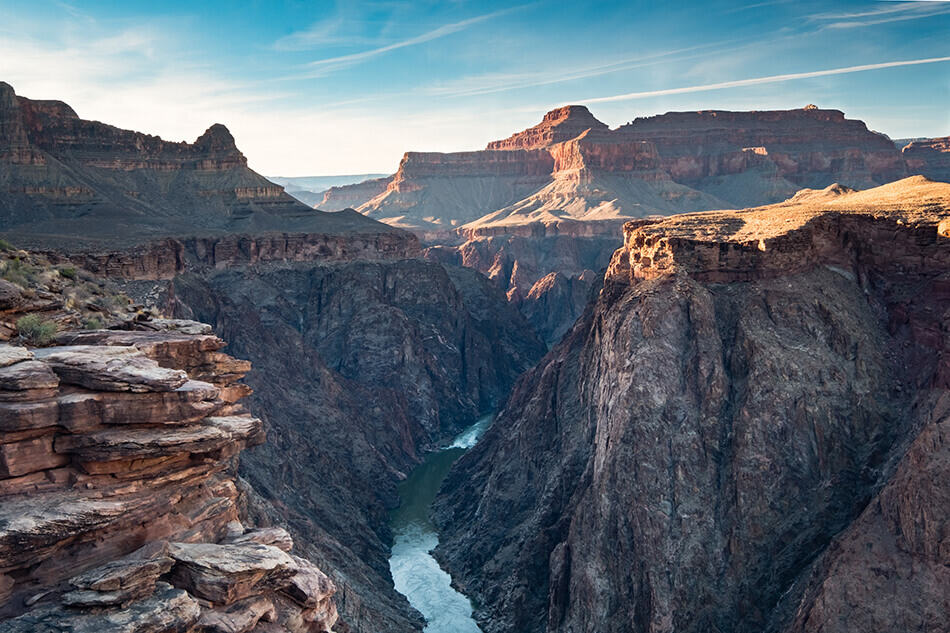 Grand Canyon South Rim Itinerary Ideas
See the sun rise at Mather Point
Explore the main Visitor Center
Ride the free Grand Canyon shuttle bus along the rim
Take a short hike
Attend a ranger-led program
Enjoy a romantic sunset
Plan photo sessions at the most instagrammable spots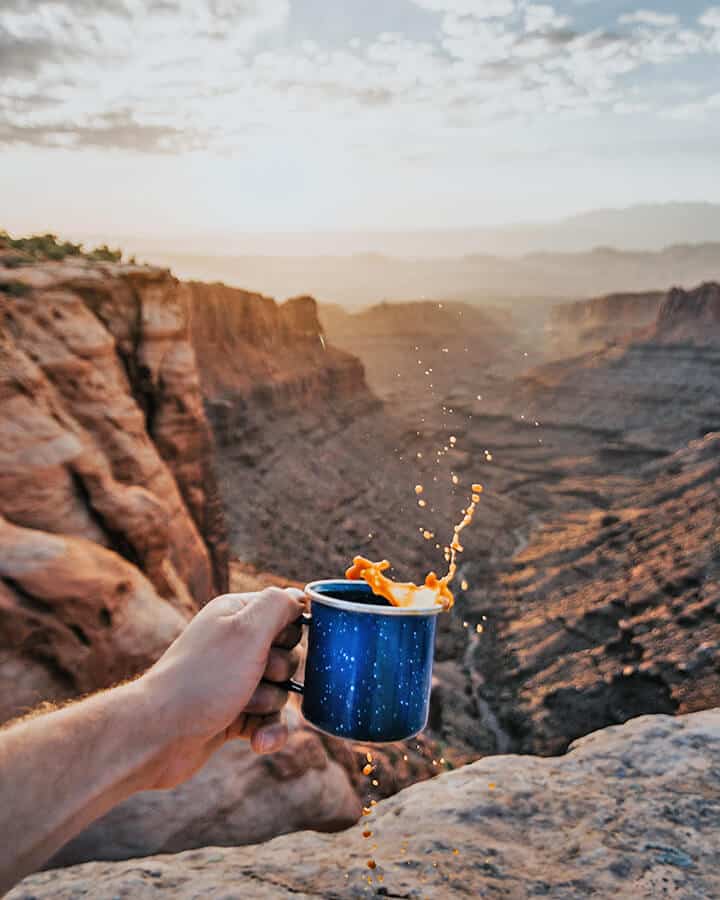 Grand Canyon: North Rim Vs. South Rim
Many wonder which side of the Grand Canyon is best to visit.
The Grand Canyon South Rim is most frequently chosen by first-time visitors. It is in fact popular thanks to the abundance of visitor services, family-oriented activities and great views.
Another thing you should consider is that the South Rim is open year-round.
The Grand Canyon North Rim is only open mid-May through mid-October. This side of the canyon is thus closed on some of the best seasons: fall, winter and spring!
The North Rim also has a much more remote feel to it, if compared to the South Rim. It's rarely crowded and "less touristy" if you want to put it that way. There are a lot of great viewpoints, yet almost all of the iconic postcard views can be found along the South Rim.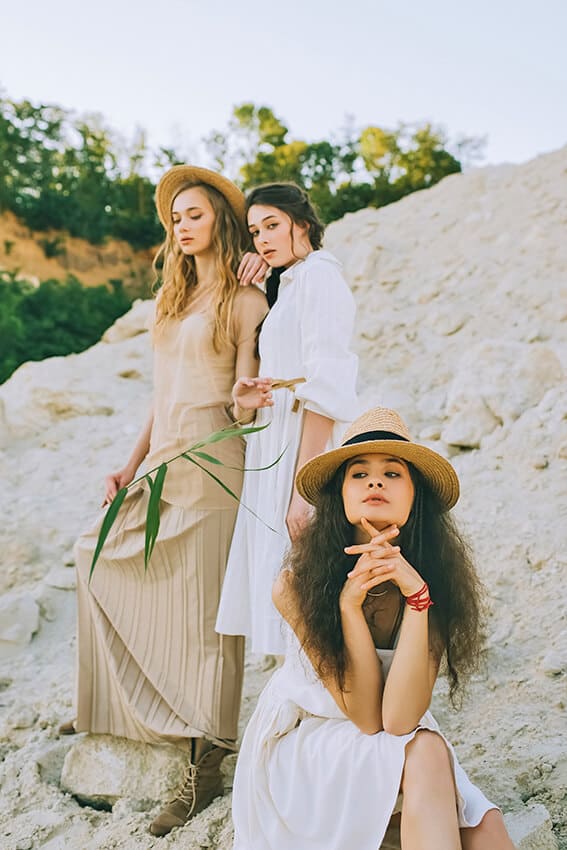 When is the best time to visit the Grand Canyon?
While the Grand Canyon National Park is absolutely wonderful in every season, I'm sure you want to avoid the huge crowds and the overwhelming heat, right?
In our experience the best time to visit the Grand Canyon is spring, followed right after by autumn.
While the North Rim is open only from mid-May to mid-October, the Grand Canyon South Rim is open year round!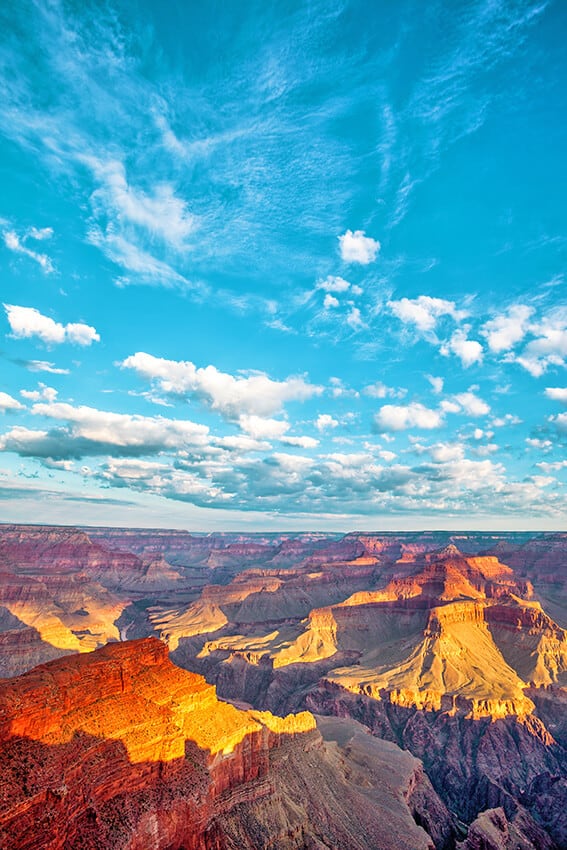 Some locals claim that Winter is an awesome time to visit the Grand Canyon because when it snows, this National park is stunning.
We have visited in mid September and actually liked it very much. It was still pretty warm but not crowded so even in future, we'd definitely try another a Fall trip.
Our one and only visit in July was way too hot, crowded and overall… a bit of a disaster. We weren't exactly disappointed but we Grand Canyon is never at its best when it's full of tourists!
If you can't avoid the warmer months, try to plan your day trip in the middle of the week.
It's also very important to stay hydrated, wear a hat and apply lots of sunscreen. Summer in Arizona can be brutal!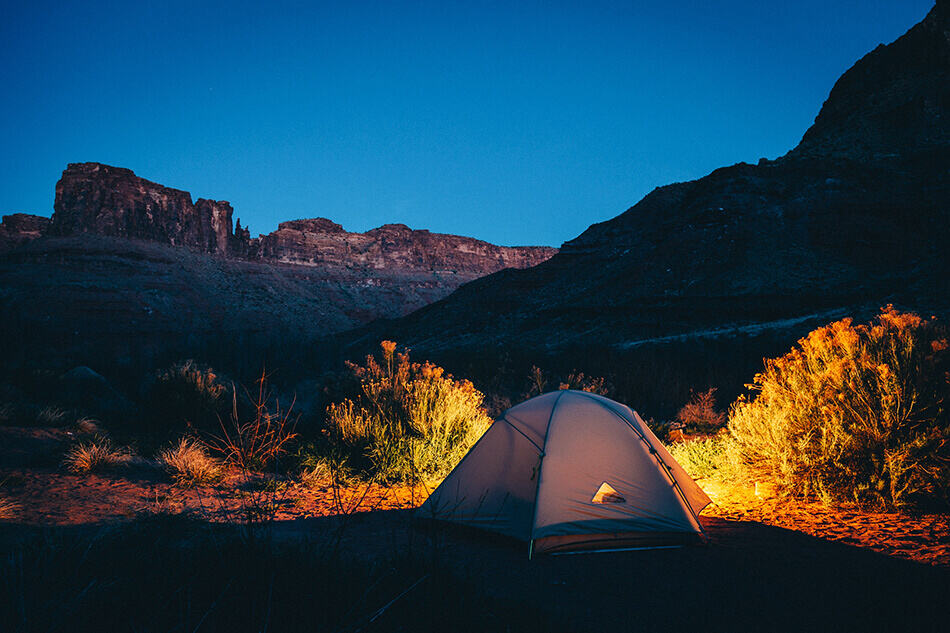 The Best Grand Canyon Hotels: When You're Too Tired
In case you decided visit the Grand Canyon in one day but you feel too tired to drive back to Las Vegas, book a hotel inside the Grand Canyon National Park.
Why? Well because the next morning you might have some more time to explore, especially early in the morning!
Some prefer to find a cheaper hotel in Williams, and you might definitely do so if you are traveling on a tight budget. As for us, when we are too tired we just want to park the car, walk to the nearest restaurant, take a shower and crash in a comfy bed.
Besides, lodging inside the National Park allows you to enjoy romantic sunsets and a gorgeous Grand Canyon sunrise!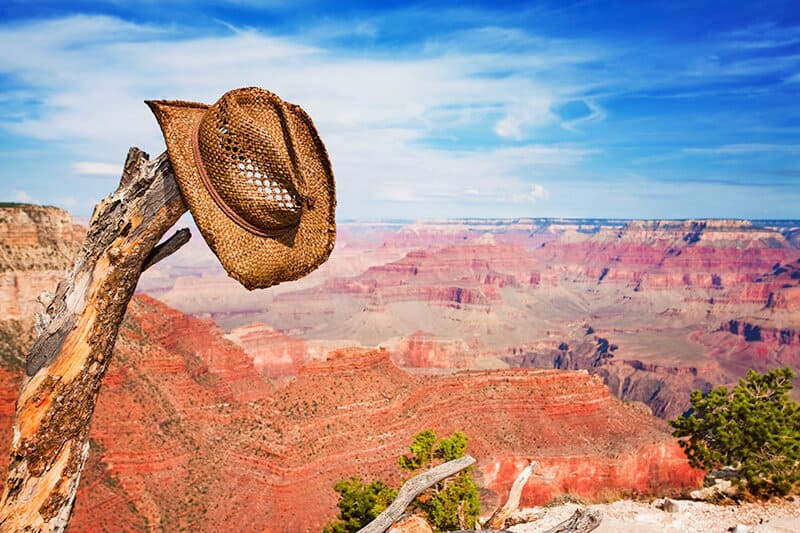 One of our favorite hotels at the Grand Canyon National Park is Yavapai Lodge. The lodge is located in the pinyon and juniper woodlands between Yavapai Point and El Tovar, only minutes away from the canyon rim.
Click here to find the best Yavapai Lodge rates!
Not far from the Yavapai Lodge you will find a general store. Here found the delicious Desert Tea, organic, low sugar and caffeine free: the perfect drink if you're planning to hike!
There are also a bank and a post office.
The main lodge has been recently refurbished, so you will find cozy seating areas and a lovely outdoor patio.
Staying at Yavapai Lodge is also great for those who are too tired to drive around in search of something to eat. Forget about your car and just rest. You can dine at the Yavapai Lodge Restaurant, inside the Grand Canyon National Park. They serve hearty Southwestern dishes!
To make sure you find a table, book one as soon as you check in!
Planning a longer USA road trip? Then consider visiting the Antelope Canyon or even the Devil's Tower!
You might also like:
Plan the perfect Utah road rip – Itinerary & tips
How to visit the Grand Canyon in one day
Upper vs Lower Antelope Canyon (which one is better?)
Things to do in Las Vegas which aren't gambling
Road trip from Miami to Key West – dream big!
USA Babymoon Ideas on a Budget
Arizona Road Trip Itinerary: The Bucket List Spots!
Pin it for later!
This post is also available in:

Italiano