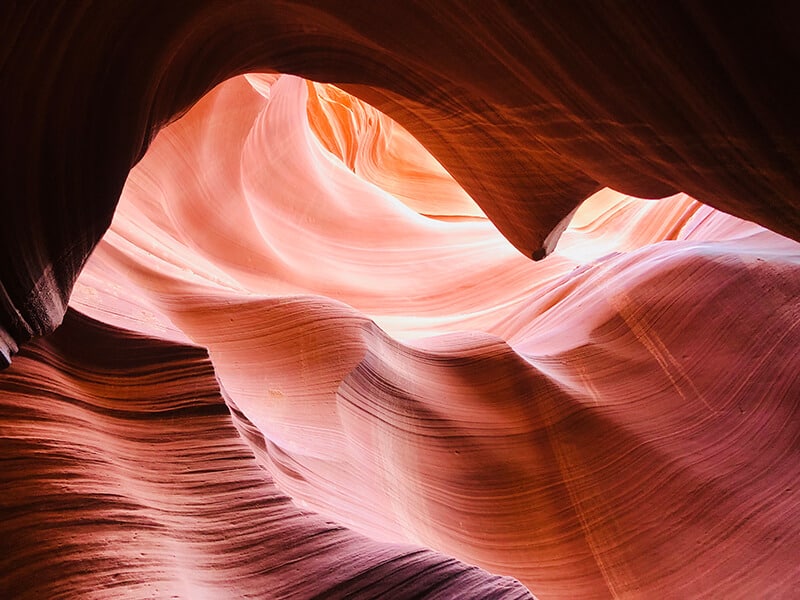 Upper vs Lower Antelope Canyon: this is the biggest challenge for those who are planning an American Southwest road trip. Especially if they don't have enough time to visit both sections of this gorgeous slot canyon in Arizona. Let's shed some light on Upper Antelope Canyon and Lower Antelope Canyon, so you can decide which one you want to visit or, if you have enough time, add the both of them to your Arizona bucket list!
"Rain comes into this canyon like a whirlpool. Think about it like sandpaper. The sand mixes with water whirling through the canyon and sculpts the walls."
(Leonard Nez, Navajo tour guide)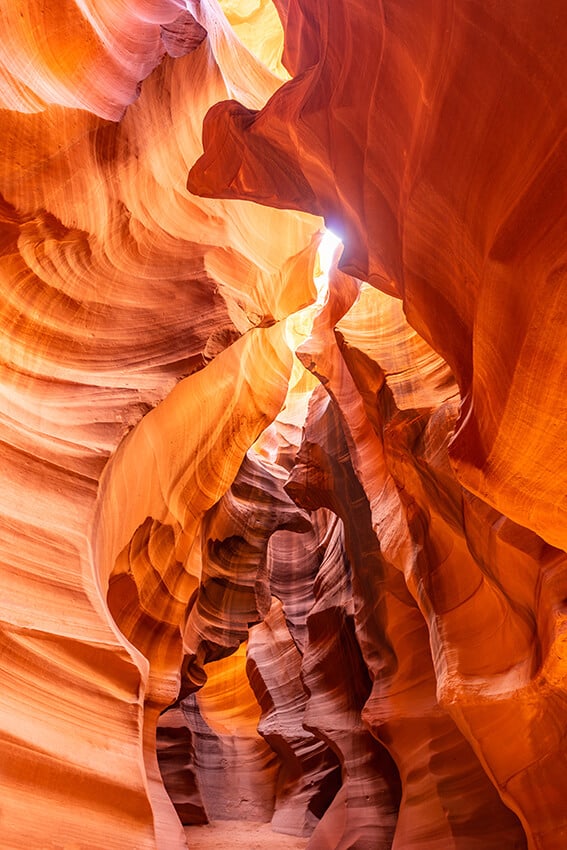 How to get to Antelope Canyon
The Antelope Canyon is located East of Page, Arizona, on AZ 89.
Unless you're planning a longer road trip, the best way to get to Page is to fly to Las Vegas, rent a car and enjoy the view until you get to Page.
The drive from Las Vegas to Antelope Canyon will last about 5 hours, so I usually recommend to allocate a minimum of 2 days to this trip, if you want to visit only one section of Antelope Canyon.
Click here to rent a car in Las Vegas!
There's also a small airport in Page, and a bigger one in Flagstaff. Both only deal with limited domestic flights so your best chance is still to land in Vegas. How about you stop for a Grand Canyon tour before you get to Page?
The drive from the Grand Canyon to Antelope Canyon comes with a view: it also only lasts about 2:30 hours so it's easy and short!
Adding the Grand Canyon and Antelope Canyon to a Utah road trip is also a good idea if you can plan a 2-3 weeks vacation.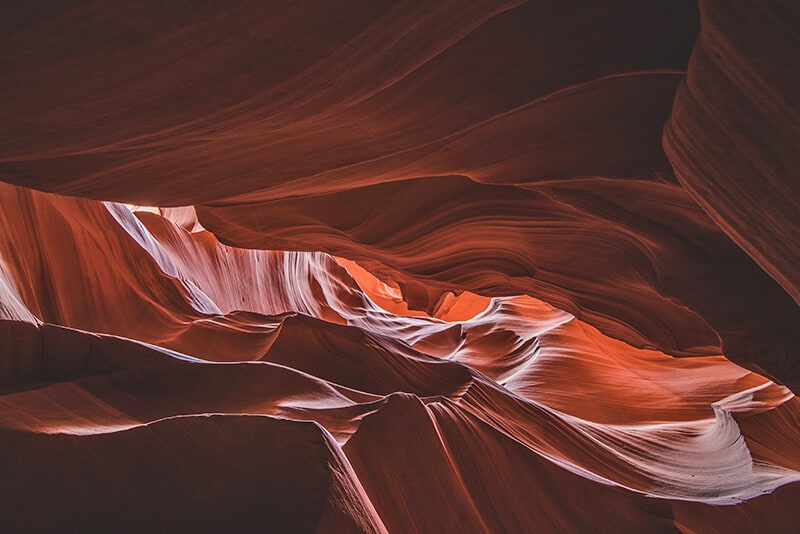 Planning a road trip?
Click to download our FREE printable
ROAD TRIP CHECKLIST!
Where to stay to visit Antelope Canyon
I've been asked quite often if there are Antelope Canyon hotels, just like you can find some at the Grand Canyon.
Yet the Antelope is located on Navajo land. This is a Navajo Nation Tribal Park and a sacred place, blessed every four years to give thanks to the natural elements that led to its formation.
There are no "hotels with a view" on the canyon.
Your best option is to find lodging in Page, which is a few minutes away from the main canyon entrance, by car.
The tours for both Lower and Upper Antelope Canyon start on opposite sides of the main road, so it's basically the same distance from the city and the same directions for both.
Budget: Lake Powell Canyon Inn. Check and compare rates: Booking.com | HotelsCombined
Average: La Quinta Inn & Suites by Wyndham Page at Lake Powell. Check and compare rates: Booking.com | HotelsCombined
Fancy: Hyatt Place Page/Lake Powell. Check and compare rates: Booking.com | HotelsCombined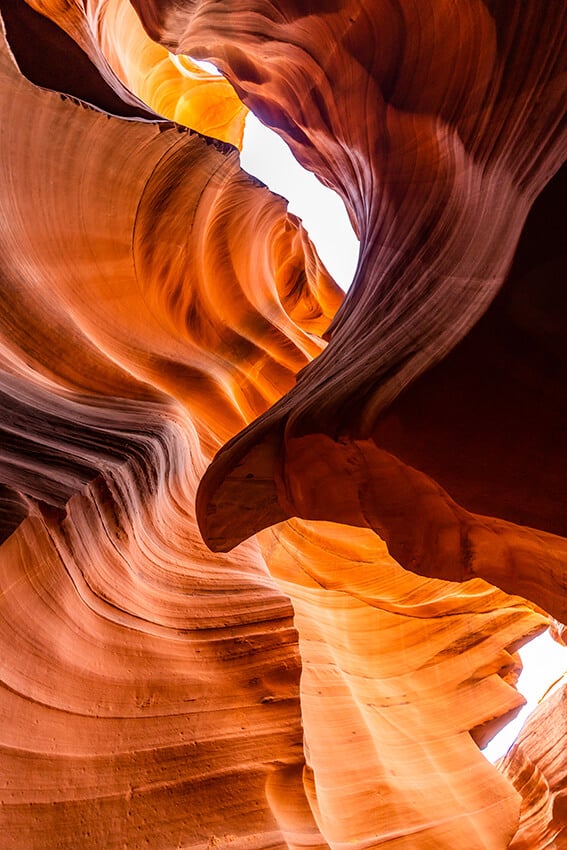 The best time to visit Antelope Canyon
The best time to visit Antelope Canyon is between the end of March and early October. It's when the light beams enter the Upper Antelope Canyon, creating the light effects we all love.
But planning the best month is only half of the equation: you've got to visit at the right time!
The midday tours are the best to visit Antelope Canyon because the light is just about perfect. Yet you should also be aware of the fact that it's the most crowded time of the day, so that is one of the drawbacks you should consider, especially if you're visiting in high season.
Our favorite time to visit is between 10:30 am and 12:30 am.
Both sections of the Antelope Canyon are super popular so you'll want to book your tours well in advance, to make sure you can get in at the best time!
You might also like:
– The best Arizona road trip itinerary
– Utah road trip: the Mighty 5
– Epic road trip from Miami to Key West (Florida)
– Amalfi Coast Road Trip info (Italy)
– Road to Hana stops for a Maui road trip (Hawaii)
– The Devil's Tower travel guide
– Upper vs Lower Antelope Canyon: how to choose
– Fun Joshua Tree Day Trip Itinerary (California)
– Guide to Sleeping In Your Car on a Road Trip
– How to visit the Grand Canyon in one day
Upper Antelope Canyon
The Navajo name for Upper Antelope Canyon means "The place where water runs through rocks".
When people talk about Antelope Canyon, they are usually referring to Upper Antelope Canyon. This is the more popular of the two Arizona slot canyons. With its light beams, falling sands, and very high canyon walls, Upper Antelope Canyon is in fact the more photogenic of the two.
This section is shaped like an upside-down "V", narrow at the top and wide at the base.
The tour starts in a parking lot, where you'll have to climb on a 4×4 truck to get to the canyon entrance.
Me and Aldo had so much fun because the ride was bumpy, fast and full of sand: that's why your Navajo guide will usually suggest you cover your mouth and nostrils with a napkin.
It took us two long showers to wash the red sand away but gosh, it was such a thrill ride!
Pro Tip: If you want to be extra careful with your photography equipment, bring a plastic bag for your camera. A ziplock one will be perfect to keep it safe from the dust and it can also be used for the extra pair of lenses in case you're bringing it with you.
Perks
Upper Antelope Canyon is very famous for its "beams of light" phenomenon. If you visit at the right time, you'll see beams of light slicing through the roof of the canyon.
The guides usually throw up dust into these light beams to make it even more magical, and they're always willing to take pictures for you. We found it great both for couples and for solo travelers.
One of the most famous pictures of the Upper Antelope Canyon, shot by Peter Lik, "Phantom", has been sold for $6.5 million. But pictures don't really do it justice. Visiting this section of the Antelope Canyon is a surreal experience.
You are absolutely allowed to bring your camera when you visit (tours usually last about 1 hour), but not large tripods or backpacks, because the inside can get crowded in high season.
If you don't feel comfortable in climbing a lot of stairs in a very narrow canyon, then you'll want to visit Upper Antelope.
This is the easy, flat and short walk through the canyon, so even if you're not super fit or suffer with asthma like me, you'll still be able to enjoy the visit.
Usually tour groups with elderly or physically limited travellers go to Upper Antelope.
The inside of Upper Antelope can be damp and cool. The high, narrow walls also make the canyon feel darker: it's better for the light beams and absolutely wonderful if you're visiting in the summer time, when Arizona is so very hot!
Drawbacks
Upper Antelope Canyon is the most crowded section of the two. Because it's already quite narrow, when it's crowded it also feels pretty claustrophobic.
Visiting is more expensive than the Lower Antelope Canyon: Upper Antelope tickets will cost you more than double what you'll pay for Lower Antelope.
Lower Antelope Canyon
The Navajo name for Lower Antelope Canyon is "spiral rock arches".
This section of the canyon is shaped like a "V" which means that it's very narrow at the bottom, but wide open at the top: it does feel brighter and warmer if compared to the Upper Antelope, but it's super narrow inside.
Lower Antelope is the "thrill Antelope Canyon hike". It is surely more fun, and has some narrow passageways where you actually have to squeeze through. The iron stairs you need to climb also add some adrenaline into the mix.
From the parking lot, you will need to walk about a quarter of a mile before to descend the narrow staircase to get inside the canyon. The tour begins when you reach the floor of the canyon, and the Navajo guide will walk you through native legends and interesting information.
The light is always more or less even throughout the day, but if you get inside with one of the first groups, or at around 10 am, it should be less crowded and more enjoyable.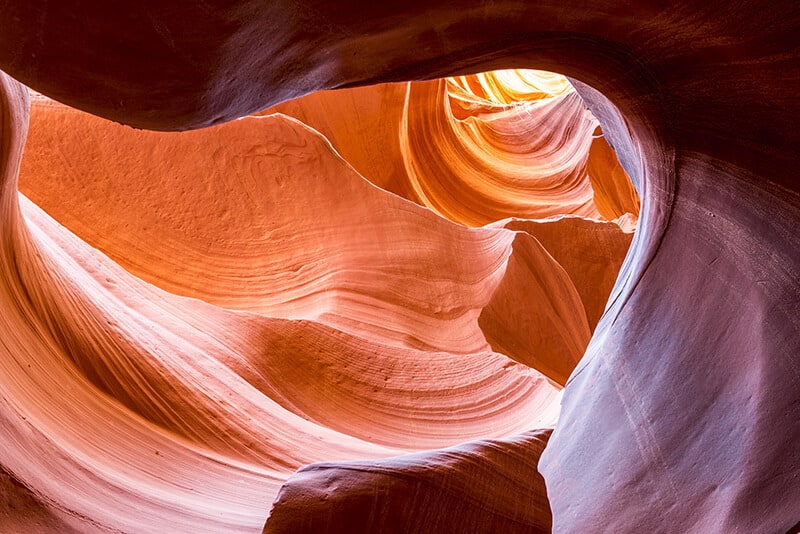 Perks
The adventurous travellers will absolutely love to climb the narrow stairs and to squeeze, or sometimes slide, through the narrow passageways.
Less people visit the Lower Antelope Canyon, but that doesn't mean that it's never crowded as some claim.
There are tours running every 30 minutes between 8am and 4pm, so there are more spots available, and even during the busy summer months, the groups are a bit more "scattered" making you feel like it's "less crowded".
The groups here don't have to walk back, as the traffic is one way. This means that taking pictures is easier as you won't have people walking in front of you while you're shooting (true story).
Another perk of the Lower Antelope Canyon is that because it's slightly less crowded, there's a shorter wait time. Yet always remember that if you want to make sure you get in at the best time, you'll have to book well in advance!
Drawbacks
Because it's very narrow, it can trigger claustrophobia, especially when there are many people visiting all at once.
The plus sized travelers might also find it difficult to squeeze through some of the passageways.
Lower Antelope is a lot longer than Upper Antelope so you will need to hike for quite a while to find the exit.
Consider also that climbing and descending the narrow stairs is not super easy (I will admit I got a bit scared, also because I'm very clumsy): you can't explore this section of the slot canyon unless you actually deal with such stairs. No chance to escape them!
The guides at Lower Antelope Canyon didn't offer to take our pictures, so the visitors asked one another: I'm not sure if we were just unlucky or if it happens all the time. The Upper Antelope experience was definitely better – solo travellers will need to ask to the other members of their group if they can help them.
Sadly, it's very rare to spot light beams in Lower Antelope Canyon. While some walls "glow" due to the light, the ceiling is wide open so the light doesn't filter as it happens at the Upper Antelope.
Differences between Upper and Lower Antelope Canyon in a nutshell
Upper Antelope Canyon:
Light Beams
No stairs
Expensive tickets
More accessible to elderly and physically limited travellers
Easier to explore
Shaded
Best for photographers
Lower Antelope Canyon:
Slightly less crowded
Narrow
More bright
Stairs
Less expensive
Adrenaline hike
Upper vs Lower Antelope Canyon: our choice
Both canyons are beautiful, but I have asthma and I'm definitely not a small girl. That's mostly why I prefer visiting the Upper Antelope Canyon.
For me it was easier. Besides, I got to see the gorgeous light beams.
Aldo is definitely more fit, but he still loved the Upper Antelope more because as a photographer, he couldn't stop taking pictures. Again, light beams and sand sliding off the rocks played a huge role in his choice.
That is not to say that the Lower Antelope doesn't deserve some love! You'll be happy with either choice, so consider all the pros and cons before you decide!
Antelope Canyon tickets: useful info
The ticket prices can vary quite a bit. If you are trying to decide between Upper vs Lower Antelope Canyon and you're on a tight budget, then go for the latter.
The price range goes from 80$ for the Upper Antelope Canyon tours to 40$ for the Lower Antelope Canyon. Let's see in detail what you can book!
Upper Antelope Canyon Guided Sightseer's tour:
Tours are $80/adult & $60/child (0-12 years old). Cameras and water bottles are welcome but you won't be able to bring tripods, monopods, selfie sticks and backpacks.
The premium tour times (10:30am and 1:00pm) will cost you $88/adult and $78/child.
Click here for more info.
Upper Antelope Canyon photography tour:
The 3 hours tour is $222 while the 5 hours tour is $271. You can also book a night tour with an experienced guide for $263.
The night tour usually lasts 2 hours.
Click here for more info.
Lower Antelope Canyon Ken's tours:
General tours are $40 plus taxes and a small Navajo fee.
Deluxe tours are $80 plus taxes and the Navajo fees. It's a "premium" experience because you'll hike with a tiny group of max 4 people.
Both tours last 1 hour.
Click here for more info.
Dixie Ellis Lower Antelope tours:
General tours are $40/adult and $20/child (4-12 years old).
Click here for more info.
Best Antelope slot canyon tours from Las Vegas
Upper Antelope Canyon and Horseshoe Bend tour from Las Vegas
Includes:
Small group (max 14 people)
Hotel pick-up and drop off
Snacks
Driver and Navajo guide
Bottled water
Lunch in Page
Stop at Mesquite (NV)
Entrance ticket to Upper Antelope Canyon
Lower Antelope Canyon and Horseshoe bend tour from Las Vegas
Includes:
Small group
Virgin River Gorge views
Stop at Kanab
Driver and Navajo guide
Picnic lunch at Horseshoe Bend
Lake Powell views
Continental breakfast
Lower Antelope Canyon ticket
Bottled water and drinks
Snacks
Wi-fi
All taxes and fees
Antelope Canyon and Grand Canyon South rim tour (2 days)
Includes:
Stop at "Welcome to Las Vegas" sign
Stop at Hoover Dam
Route 66 views with 3 stops
Lunch in Williams (AZ)
Grand Canyon National Park entrance fee
Driver/Guide
Arizona Hotel stay
Stop at Horseshoe Bend
Navajo guide
Upper Antelope Canyon tour
Food and drinks
Wi-fi
Note: Antelope Canyon entrance ticket is not included, you will need to pay an extra $55!
Antelope Canyon pictures: useful photography tips
Whether you'll visit Upper or Lower Antelope Canyon, make sure you work on your exposure and ISO to take great photos!
A zoom lens will guarantee some great shots, but even if you bring an ultra-wide or a moderate-to-long telephoto zoom, remember that you should stick to that for the whole one hour tour.
Changing lenses will in fact get dust on your camera and your sensor, and that is never a good thing.
Pro tip: Buy a can of compressed air at Page and use it to clean the dust and sand off your camera when you get back to your hotel.
While everyone is busy taking photos of the sunlight shafts, look up to the ceiling.
The light filters into the canyon through narrow gaps and offers dramatic views of curves and limestone waves.
Upper Antelope Canyon will treat you with a few surprises now and then. Many don't know that the ceiling also hides a few "secrets", like the corkscrew heart or the outline of Abraham Lincoln's head.
Usually your Navajo guide will gladly show them to you: if you can't see them or you're not sure you're aiming right, ask them to take a picture with your camera!
You might also like:
Plan the perfect Utah road rip – Itinerary & tips
How to visit the Grand Canyon in one day
Upper vs Lower Antelope Canyon (which one is better?)
Things to do in Las Vegas which aren't gambling
Road trip from Miami to Key West – dream big!
USA Babymoon Ideas on a Budget
Arizona Road Trip Itinerary: The Bucket List Spots!
Pin it for later!
This post is also available in:

Italiano