This post is also available in: Italiano (Italian)
Everyone knows that Arizona is the Grand Canyon State, often forgetting about another natural wonder not too far away from there. Yet the Antelope Canyon will be forever embedded in our memory as one of the most incredible places we've ever visited. It's definitely a must see in Arizona. What you might find confusing is that actually there are… two of them!
Upper vs Lower Antelope Canyon: which one should you visit and why?
"Rain comes into this canyon like a whirlpool. Think about it like sandpaper. The sand mixes with water whirling through the canyon and sculpts the walls."
(Leonard Nez, Navajo tour guide)
Your Arizona tour wouldn't be complete without visiting the
Antelope Canyon
. This slot canyon has gained major popularity thanks to the social media and to some amazing images that have gone viral. One of the most famous, shot by
Peter Lik
, "
Phantom
", has been sold for $6.5 million: unbelievable, right? You might have also seen the Antelope on
Planet Earth II
, the BBC series, that featured it in Episode 4.
How to get to Antelope Canyon
The Antelope Canyon is located East of Page, Arizona. When we visited, we decided to book a hotel in Page for a few nights to explore the area. The reason is quite simple: each part of the canyon is best seen at a specific time of the day to get the best out of it. You will need to book for at least two nights to be able to see Upper Antelope Canyon and Lower Antelope Canyon, in case you decide to do both.
Page is a great location for a longer trip that includes Horseshoe Bend, Lake Powell, the Glen Canyon Dam, or the Grand Staircase Escalante National Monument which is absolutely full of scenic viewpoints (it's a 20 minutes drive from Page).
The Antelope Canyon is just a few miles East of Page on AZ 89. The tours for both Lower and Upper Antelope Canyon start on opposite sides of the main road, so it's basically the same distance from the city and the same directions for both.
In case you want to fly there, know that there's a small airport in Page, and a bigger one in Flagstaff. Both have limited domestic flights and only on smaller airlines so your best chance would be to land in Phoenix or Las Vegas, rent a car and drive to Page. It will take you about 5 hours to get there.
It's always better to stay a few days in Page. We have had friends who booked a tour and only planned to stay in Page for just two days (transfer included). Well, they ended up not being able to visit the Antelope Canyon.
Slot canyons are significantly deeper than they are wide. In this specific case, it was water that dig the Antelope Canyon. The same water than, in the form of flash floods, can be very dangerous.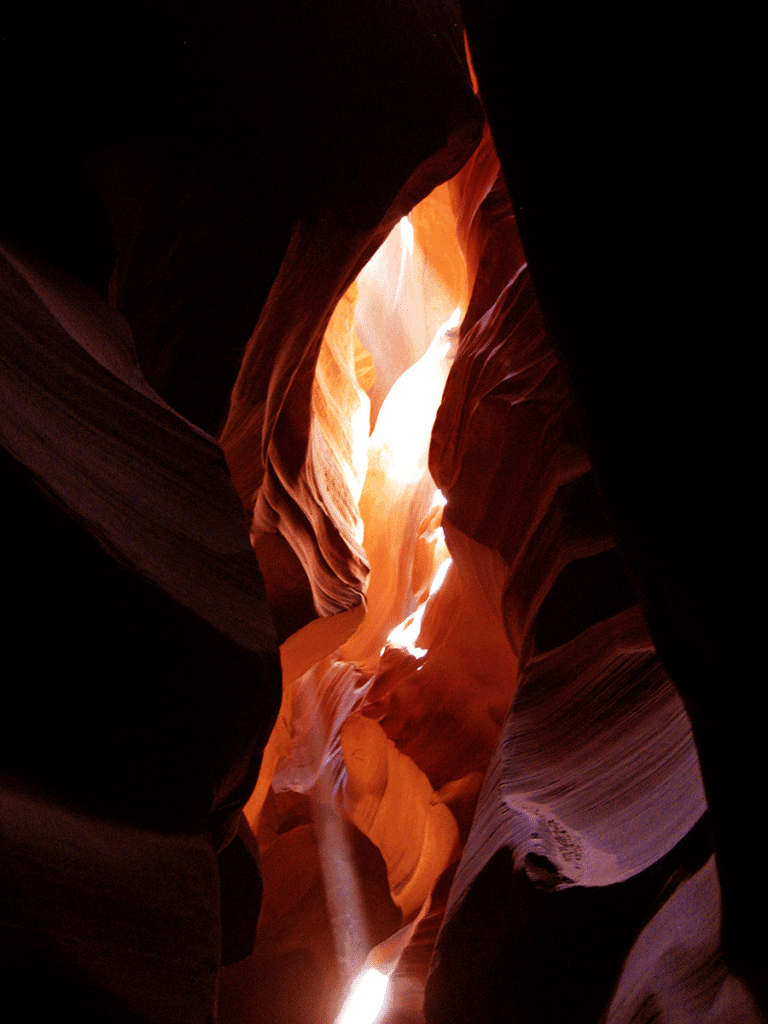 In 1997 twelve hikers died here because of a flash flood: the limestone walls became a trap as the slot canyon quickly filled with a wall of water 11 feet high. While their guide came out injured but alive, only one body was recovered. The others were swept away from the force of the water.
Flash flood warnings here are taken very seriously and even if it rains miles away, you won't be able to visit the Antelope Canyon because it will be closed. Consider that in 2006 a flooding in the canyon lasted more than 36 hours.
Having a few days with a flexible schedule, you'll be able to visit the other highlights in the area, just in case the Antelope Canyon is closed.
Upper or Lower Antelope Canyon?
The Antelope Canyon is divided in two sections. The Navajo name for Upper Antelope Canyon means "The place where water runs through rocks", while the one for Lower Antelope Canyon is "spiral rock arches". The two are a bit different. While the Upper Antelope offers more chances to catch the shafting sunlight beams, it's also sometimes pretty crowded, even if the guides always make sure to let every group enjoy their tour. The Lower Antelope is narrower, steeper and less crowded. It has a wilder side to it and it's definitely more quiet, but you won't be able to shot the impressive photos you can get at the Upper canyon.
Let's see the both of them in detail.
Upper Antelope Canyon
To visit the Upper Antelope Canyon, you will have to book a tour and climb on a 4 x 4 truck to be brought to the entrance. The ride to the canyon was awesome. Before to start the engine, our guide told us to cover our mouth and nostrils with a napkin: we soon discovered why. The run was bumpy, fast, full of sand (it took us two showers to wash it all away)…. and SO much fun! We definitely didn't complain!
The best time to visit the Upper Antelope Canyon is from 10:30 amto 12:30 pm, which is why the photography tours are always scheduled around the same time. You will have the chance to see and photograph the iconic light beams that you have seen in hundreds of pictures. To make them more impressive, often the guides throw up dust into the light to give your picture an eerie feel. You don't even have to be an amazing photographer to take good pictures. In case you still feel unsure, ask your guide. They're always very willing to take pictures for you or with you!
The light beams are actually the main feature of the Upper Antelope canyon. Also the Peter Lik picture I told you about was shot here. Because the canyon is particularly narrow, to see them you need to plan the timing because the sun has to be directly overhead. It's always better to book in advance, to make sure you get in for one of the central tours.
If you love photography and are after the amazing shots you have seen everywhere online, then by all means Upper Antelope Canyon is the section you should be visiting.
The downsides are that the Upper Antelope Canyon is definitely more crowded, and more expensive than the Lower Antelope Canyon. Yet it must be said that the guides always make sure everyone is happy about the pictures they have taken and are absolutely helpful.
Pro Tip: If you want to be extra careful, you might want to bring a plastic bag for your camera. A ziplock one will be perfect to keep it safe from the dust and it can also be used for the extra pair of lenses in case you're bringing it with you.
Useful note: Don't bring a large backpack with you. The Upper Antelope Canyon is very narrow and can be crowded. If you want to bring a tripod, choose one that is lightweight, easy to carry and foldable.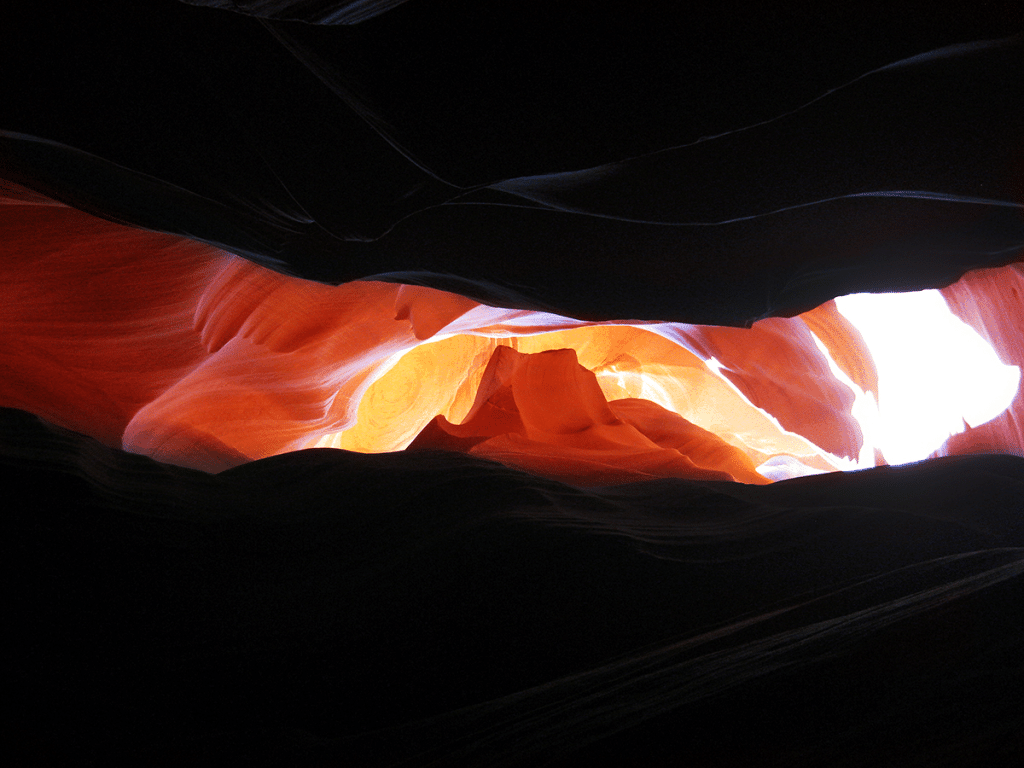 Lower Antelope Canyon
The Lower Antelope Canyon hike is much longer than the Upper Antelope Canyon, and way less crowded. Which also means that the experience can be a bit dizzying, also if you aren't usually bothered by the small and enclosed spaces.
This time you won't have to use a truck to get there. The entrance is fairly close to the parking lot so you'll be able to just walk there.
Inside you will have to climb several metallic stairs to get in the underground. Because it's pretty narrow, many people feel discouraged or scared and decide to skip the visit to the Lower Antelope Canyon.
I won't lie, I'm a clumsy girl and I'm scared by heights, so at times I felt a bit worried that I could fall down. It never happened tho, and once inside, I realized it wasn't a big deal. My husband didn't have any problem. The stairs are absolutely doable if you don't have mobility problems and if you aren't claustrophobic. Kids and the elderly might have to be more careful, but that is all.
I mentioned claustrophobia because some parts of this slot canyon are very, very narrow. So much so that between the rocks you will only be able to walk with one foot in front of the other because there isn't enough space.
Don't expect the famous light beams inside the Lower Antelope Canyon because that won't happen here. You will feel completely buried under a series of pink/orange waves, with a tiny slit of blue sky above you.
Even during the scorching hot summer in Arizona, inside the canyon it's always cool, so the visit is much more pleasant.
The light is always more or less even throughout the day, but if you get inside with one of the first groups, or around 10 am, it won't be crowded and you will be able to shoot all the pictures you want.
Antelope Canyon tickets
You might have heard about the Antelope Canyon Navajo Tours. Which wouldn't surprise me, since the canyon lays on Navajo land. You will in fact have to pay a small Navajo fee at the entrance. We booked with them and had an incredible experience.
The ticket prices can vary quite a bit. If you are trying to decide between Upper vs Lower Antelope Canyon and you're on a tight budget, then go for the latter.
Tickets for the Upper Antelope Canyon cost two times the price of the ticket to the Lower Antelope Canyon. And photography tours are way more expensive. Unless you are going specifically to take professional pictures, I suggest you to just buy a ticket for the regular tours. You will still be able to take good pictures with the help of a guide, there is really no need to pay extra!
The price range goes from about 60$ to 80$ for the Upper Antelope Canyon tours and from 30$ to 50$ for the Lower Antelope Canyon.
In Page you will find many companies selling tickets for a visit to the Antelope Canyon, and more often than not hotels also offer discounted tickets, so check there first.
If you want to save on your ticket, just drive to Tribal Park and buy a ticket for the next available tour directly from the Navajo agency there!
Tips to shoot beautiful photos inside the Antelope Canyon
While bringing a small tripod with you is a great idea, using your flash… well you might want to avoid that. Work on your exposure and ISO to take better photos! Also try not to walk in front of someone who's still shooting, I know you probably don't mean it but it can be pretty rude and annoying.
A zoom lens will guarantee some great shots, but even if you bring an ultra-wide or a moderate-to-long telephoto zoom, remember that you should stick to that for the whole one hour tour. Changing lenses will in fact get dust on your camera and your sensor, and that is never a good thing.
Plan in advance and make sure to get out if you really need to change your lenses.
Pro tip: Buy a can of compressed air at Page and use it to clean the dust and sand off your camera when you get back to your hotel.
While everyone is busy taking photos of the sunlight shafts, look up to the ceiling.
The light filters into the canyon through narrow gaps and offers dramatic views of curves and limestone waves. The canyon will treat you with a pleasant surprise at every turn.
The ceiling also hides a few "secrets", like the
corkscrew heart
or the
outline of
Abraham Lincoln
's head
. Of course it will take a bit of imagination and a guide who will point those out to you (it took me a few tries before I recognized Abe Lincoln's "chin") but it's yet another fun experience offered by one of the most beautiful canyons I've ever seen.
What about you? Have you been to the Antelope Canyon? Do you have tips you want to share with the others? Do tell!
Pin it for later!