Weekend in Palm Springs: Itinerary for 2 days of fun & romance
This post includes affiliate links. As an Amazon Associate, I earn from qualifying purchases. Full disclosure.
A comprehensive itinerary to spend a weekend in Palm Springs and see everything it has to offer. It includes a lot of fun and chill ideas – for every pocket!
Are you planning your next trip and you need ideas? Let me offer the best possible head start on how to spend two days in Palm Springs! We'll try to squeeze as much as possible out of your vacation, without having to rush things. Believe me: it's a walk in the park!
Quick Links to Post Content
Why should you visit Palm Springs?
Palm Springs is the perfect place to spend a weekend. The city has so much to offer, from historical sites, museums and art galleries, to cool bars and restaurants. And the best part is that it is just a 2-hour drive from Los Angeles!
Palm Springs has been attracting visitors for decades, with its breathtaking landscape and desert climate. Nowadays, people – not just V.I.P.s – visit Palm Springs for various reasons. Think of outdoor adventures, shopping or a relaxing weekend in the sun.
It's not surprising that it has been rated one of the most popular tourist destinations in California by TripAdvisor.
Even here in Italy, Palm Springs as a destination means luxury pools, relaxing days at the spa and gorgeous desert views.
You can also plan this Palm Springs itinerary around yet another must-see place.
This gorgeous desert city in Southern California is in fact the perfect base for a Joshua Tree day trip!
A top bonus to visiting Palm Springs is how instagrammable the location is.
Palm Springs is no longer a sleepy "retirement town", but a destination for the instagram generation and modern millennials, who want to capture the perfect photo in the desert.
Many travelers list the architecture, desert location and the Coachella Music Festival being held here as the reasons why they love it so much.
Me? All of it! That's such a unique destination, after all!
Oh, and in case you're planning a Palm Springs girls weekend, know you definitely won't get bored!
Now what is the best way to enjoy Palm Springs?
Absolutely by renting a car! You'll get the freedom to explore on your own terms, by setting the perfect pace.
Click here to search for the best rental car deals.
Planning a road trip?
Click to download our FREE printable
ROAD TRIP CHECKLIST!
Day One of Your Palm Springs Itinerary
Drive through the windmill farm
If you've been on Instagram, then you'll know that the windmill farm is an iconic Palm Springs location.
Think of something like 2100 windmills on the mountainside: it is the perfect place to stop for a photo or two. Did I mention how Palm Springs is the perfect instagrammable location?
You can also take part in a self-drive tour of the farm, curated with an audio app.
It's great to explore from the comfort of your own vehicle!
A great bonus is that you can cancel up to 24 in advance to receive a full refund. Just in case you have to quickly change your itinerary!
Click here to check out the self-driving windmill tour.
Visit Moorten Botanical Garden
I love visiting botanical gardens in any city I visit! So Moorten Botanical Garden was on our Palm Springs must-see list.
This gorgeous botanical garden is also home to a self proclaimed "World's First Cactarium".
A place where you can explore a collection of rare plants. Or even purchase one to take home, if you don't have to fly back.
Check the opening times before you go: spaces are limited!
Going in the morning is also a good idea, due to the fact that it can get super hot.
Sweaty is not a good insta-look!
Note: in case you're planning to buy a plant, make sure you visit Moorten Botanical Garden on the last day of your weekend in Palm Springs.
Grab lunch where the locals go
Palm Springs has lots of great options for eating out and no weekend break is complete without a stop for a fab meal.
While Instagram can be a great source to find dining options, we are Italians. We don't expect Italian dishes of course, but we love to eat good stuff that isn't predictable or touristy.
Rooster and the Pig is a good place to have lunch in Palm Springs. This Vietnamese-American spot usually draws a crowd, but the food is worth the wait.
The locals dine here and that's one of the bonus points.
We got some shareables and had a great time.
Many of their dishes rotate to keep things fresh and seasonal. How could we not love it?
One of the local ingredients that is truly celebrated is the date. Grown locally and blended deliciously into many dishes.
So on your Palm Springs weekend trip, make sure you at least try one of the super famous "date shakes"!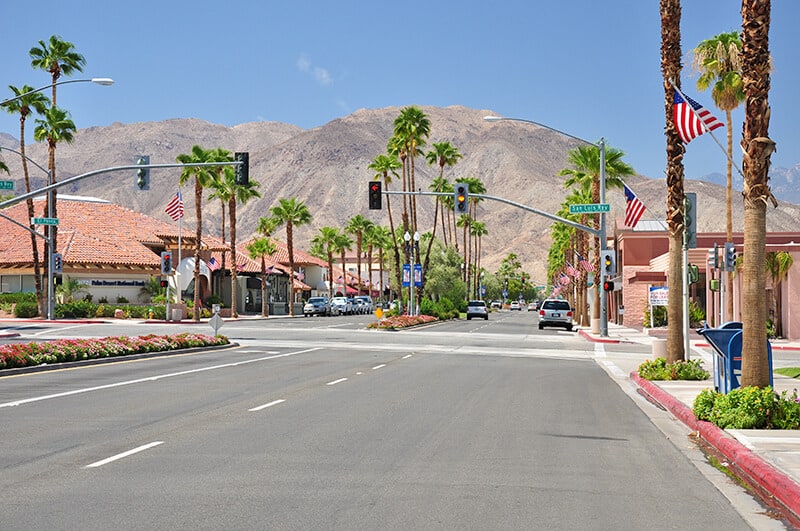 Shop at Canyon Drive
Palm Canyon Drive is home to the Palm Springs Walk of Stars, as well as being the historical heart of Palm Springs.
This is officially the best shopping street in Palm Springs.
At Canyon Drive you will also find a plethora of art galleries, restaurants and pubs. As well as lovely historical buildings. The perfect background for an instagram photo session!
Chill out at the pool
I know what you're going to say now.
I just have 2 days in Palm Springs so I need to do as much as possible. There's no time to relax by the pool!
Yet taking a break can be just as important.
Especially after a long day in the sun, chilling by the pool will be the heavenly "activity" you didn't know you needed.
Book a hotel that has a pool and just relax.
Chilling by the pool will in fact also give you the chance to appreciate your surroundings.
More often than not, it's also where me and Al decide what we want to do next.
So take some time for yourself: it'll help you to enjoy the rest of the activities in Palm Springs!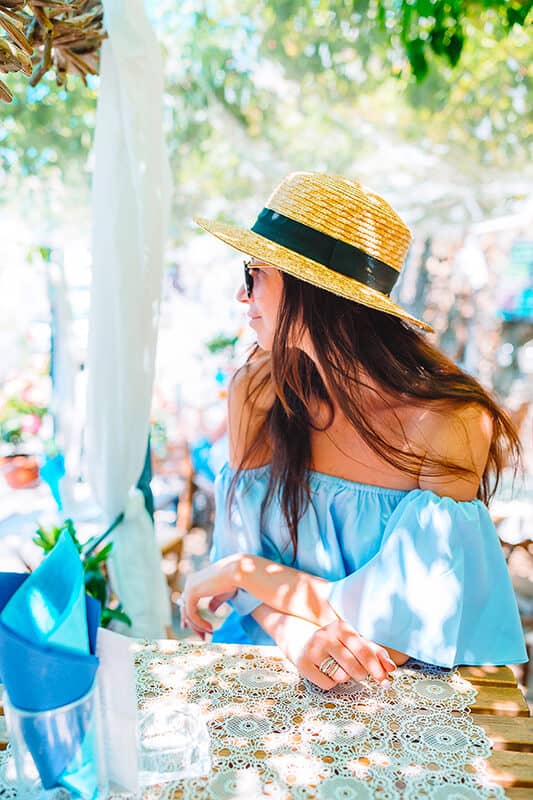 Day Two of your Palm Springs Weekend
Breakfast at Koffi
After a busy day one, start day two of your Palm Springs break with breakfast at Koffi.
This boutique coffee shop in downtown Palm Springs has been voted one of Coachella Valley's best coffee shops, and for a few good reasons!
First things first, it's super instagrammable.
Which is great, especially if you're planning a Palm Springs girls weekend with your besties.
But then we also were quite surprised at how great Koffi's signature organic coffee is.
Coffee in Naples is an art so we're picky, yet Koffi didn't disappoint.
The coffee bar serves fresh breakfast and sandwiches you can grab as a quick to-go lunch, as well as bagels, pastries and parfaits.
If you're going all in, I suggest you try their strawberry-mango smoothie, topped with fresh whipped cream. Absolutely delicious!
There are four Koffi locations in Palm Springs, which is also great.
If one is crowded, there are 3 more, so you won't have to waste too much time.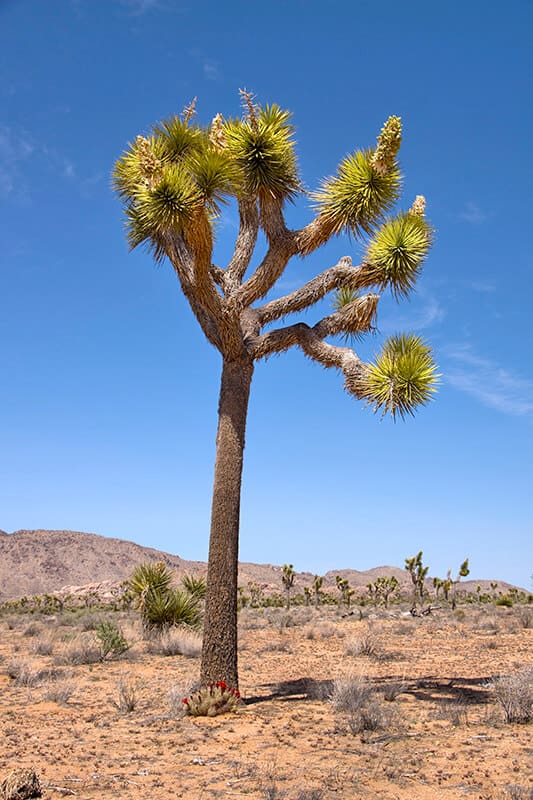 Explore Joshua Tree National Park
Joshua Tree is an hour's drive from Palm Springs and well worth the visit.
We planned an easy Joshua Tree day trip itinerary on the go. It was super fun, cheap and full of adventure. There's also the chance to book a self-driving audio tour.
Well, if you're like us, you might also want to listen to the U2 "The Joshua Tree" album while you're road tripping!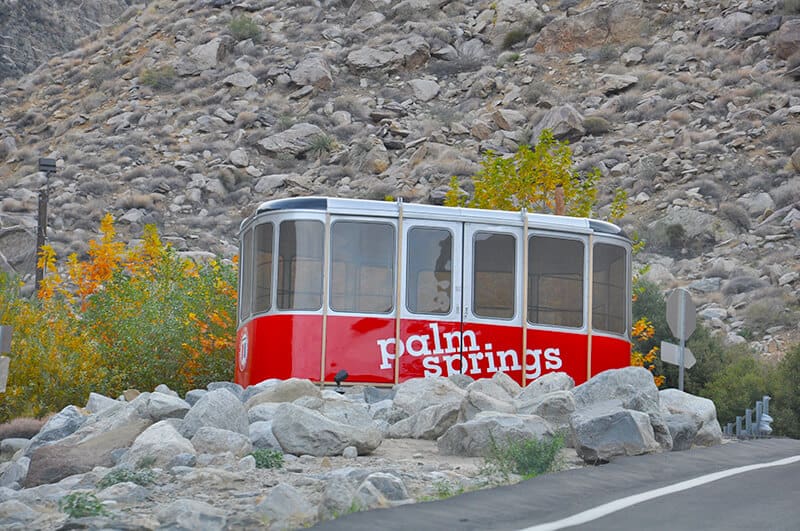 Take the aerial tramway
If you're after picturesque views of Palm Springs, then this is the way to get them.
The Palm Springs Aerial Tramway travels over the Sonoran Desert, through five life zones and up the Mountain Station. It is the largest rotating aerial tramway in the world.
The twelve-and-a-half minute ride begins at the Valley Station.
It will be like taking a ride from Mexico to Alaska in a matter of minutes and it's one of the top activities in Palm Springs. The unforgettable one, if you ask me.
Beware: it can be chilly at the Mountain Station (Mount San Jacinto State Park) so make sure you carry a light jacket or a cardigan to cover your shoulders!
Book your tickets online to avoid the long lines.
Go for dinner at Bar Cecil
Your weekend in Palm Spring is almost over. How about ending it with a bang?
Bar Cecil is a relatively new place (opened in 2021), but it has soon become the hardest table to get in town.
Here's the trick: sit at the bar area (walk-in only).
The entire menu is offered there and you won't have to book a table weeks or months in advance!
The thing we liked the most is that we got to chat with one of the friendly bartenders. Quite surprised to see two Italians sitting at the bar without a care in the world.
Let me tell you: it was a super fun night!
Bar Cecil is also one of the most instagrammable spots in Palm Springs.
Think of a Tuscan Villa, mixed with the unique Palm Springs vibe. There are a lot of places you can use as a backdrop for a wonderful Instagram photo session!
How to get to Palm Springs
You can easily plan a fun Palm Springs weekend getaway by driving or flying.
If you're wondering what are the best airports near Palm Springs, let me stop you right there. Just use the newly renovated Palm Springs International Airport!
It's located minutes from downtown Palm Springs and you can easily pick up a rental car to explore.
In case you're getting there with your own ride, know that Palm Springs is 107 miles (172 km) from Los Angeles.
Just a couple of hours, in case there's traffic.
Where to stay in Palm Springs
Whether you're spending just a couple of days in the desert or more, I have a few hotel ideas you might like.
For every pocket and every kind of traveler!
Romantic Weekend In The Desert
Expect gorgeous views of the Coachella Valley. Perfect to relax with your partner.
Lots of onsite facilities and nearby places to explore.
Fun Palm Springs Girls Trip
Multi-coloured walls, amazing pool bar and restaurant.
This hotel has been described as an instagrammer's dream!
The highlight of The Saguaro Palm Springs is the design: great for an all girls trip and perfect for every photographer.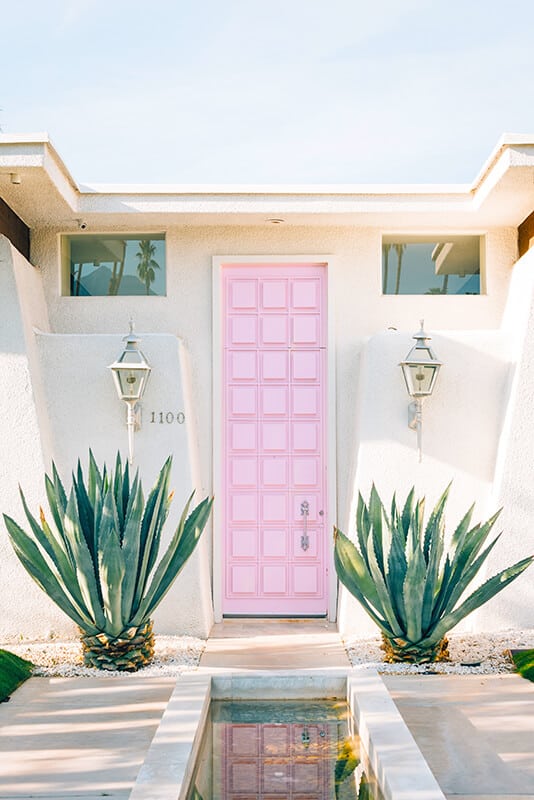 The Family Option
The apartments and condos at The Oasis Resort sleep 4 to 6 people, making them ideal for families visiting Palm Springs.
They also have well equipped kitchenettes – some even BBQs, which all add up to easy dining when there are kids involved!
Palm Springs: Budget Option
Minutes from the heart of downtown Palm Springs and feeling like you're in a tropical paradise. It must be expensive for sure, right?
Wrong!
The Caliente Tropics Hotel is a budget orientated hotel. Yet you'd never guess from the pool and decor.
There's also a huge bonus: it's another good place for an Instagram photo shooting!
Romantic Getaway in Palm Springs: 3 Activity Ideas
If it's a romantic getaway that you're after, then there are some things you should add to your Palm Springs itinerary.
Discover my top 3 activity ideas to make sure your romantic trip will be unforgettable!
Plan a Spa Day / Morning
Palm Springs is home to lots of spas.
Even if you only have a weekend in the desert all for yourselves, you can still go!
Mornings in Palm Springs are usually very hot.
Book a couples massage, followed by a swim and maybe a short session to the steam room or to the sauna.
It's the perfect way to pamper yourselves even if you don't have a lot of extra time!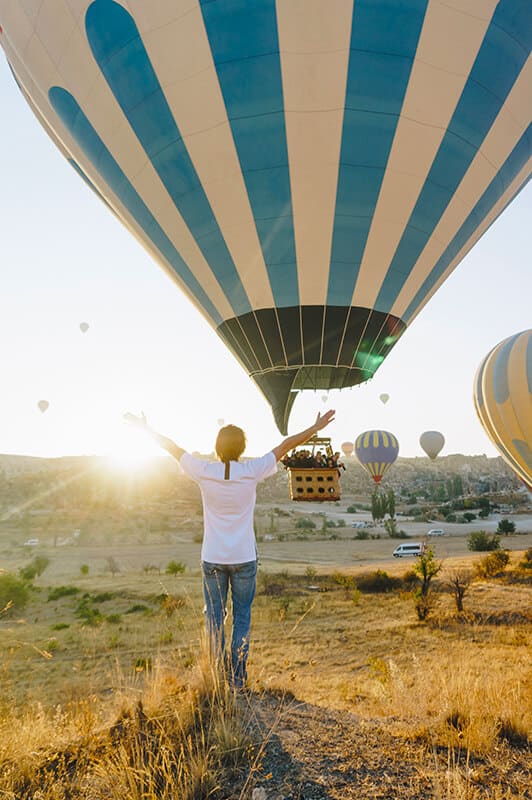 Book a Guided Tour
Instead of doing all the planning yourself, why not make it easier on yourselves and go for a guided tour of the area?
You'd be surprised to know that even me and Al sometimes feel the need to just… relax. Let someone else do the driving and just enjoy yourselves. It can be super refreshing!
From adventurous 4×4 rides to romantic sunset tours. It seems there's something for every kind of couple!
Click to have a look at the best tour options.
Enjoy a Hot Air Balloon Ride
Nothing says romance like a hot air balloon ride over the Coachella Valley. Or is it just us?
Many companies also offer a pick up and drop off service from the popular resorts in Palm Springs, as well as in-flight champagne.
In case it's your anniversary or honeymoon, you can also arrange for in-flight photos and commemorative flight certificates!
You might also like:
– Guide to sleeping in your car on a road trip
Bonus: 20 Free Things To do in Palm Springs
Are you planning to visit Palm Springs on a budget and you desperately need good ideas?
You're in luck: contrary to popular belief there are a lot of free things you can do!
Here are 20 activities you can – and should – add to your itinerary.
Whether you're on a tight budget or not!
Visit the Palm Springs Art Museum on Thursday Nights (free admission)
Visit the Cabazon Cultural Museum
Feel like a V.I.P. at Cascade Lounge at Agua Caliente Casino Palm Springs
Explore the palm oasis at the Coachella Valley Preserve
Stargaze (it can be super romantic!)
Discover the Shields Date Garden
Take a scenic road trip along Highway 74 (Palms to Pines Highway)
Listen to good music at Rock Yard Concerts (free at Fantasy Springs Resort Casino in Indio)
Search for all the secret murals in Palm Springs
Plan a self-guided mid century modern architecture tour
Go for a date at Downtown Palm Springs
Play tennis at one of the free tennis courts
Take a lot of instagrammable pics
Do some window shopping at all the lovely vintage shops
Enjoy unique views at Sunnylands Center & Gardens
Take pictures of the iconic windmills in front of the San Jacinto Mountains
Drive to the Salton Sea and fall in love with the desert
You might also like:
– The best Arizona road trip itinerary
– Utah road trip: the Mighty 5
– Epic road trip from Miami to Key West (Florida)
– Amalfi Coast Road Trip info (Italy)
– Road to Hana stops for a Maui road trip (Hawaii)
– The Devil's Tower travel guide
– Upper vs Lower Antelope Canyon: how to choose
– Fun Joshua Tree Day Trip Itinerary (California)
– Guide to Sleeping In Your Car on a Road Trip
– How to visit the Grand Canyon in one day
Pin it for later!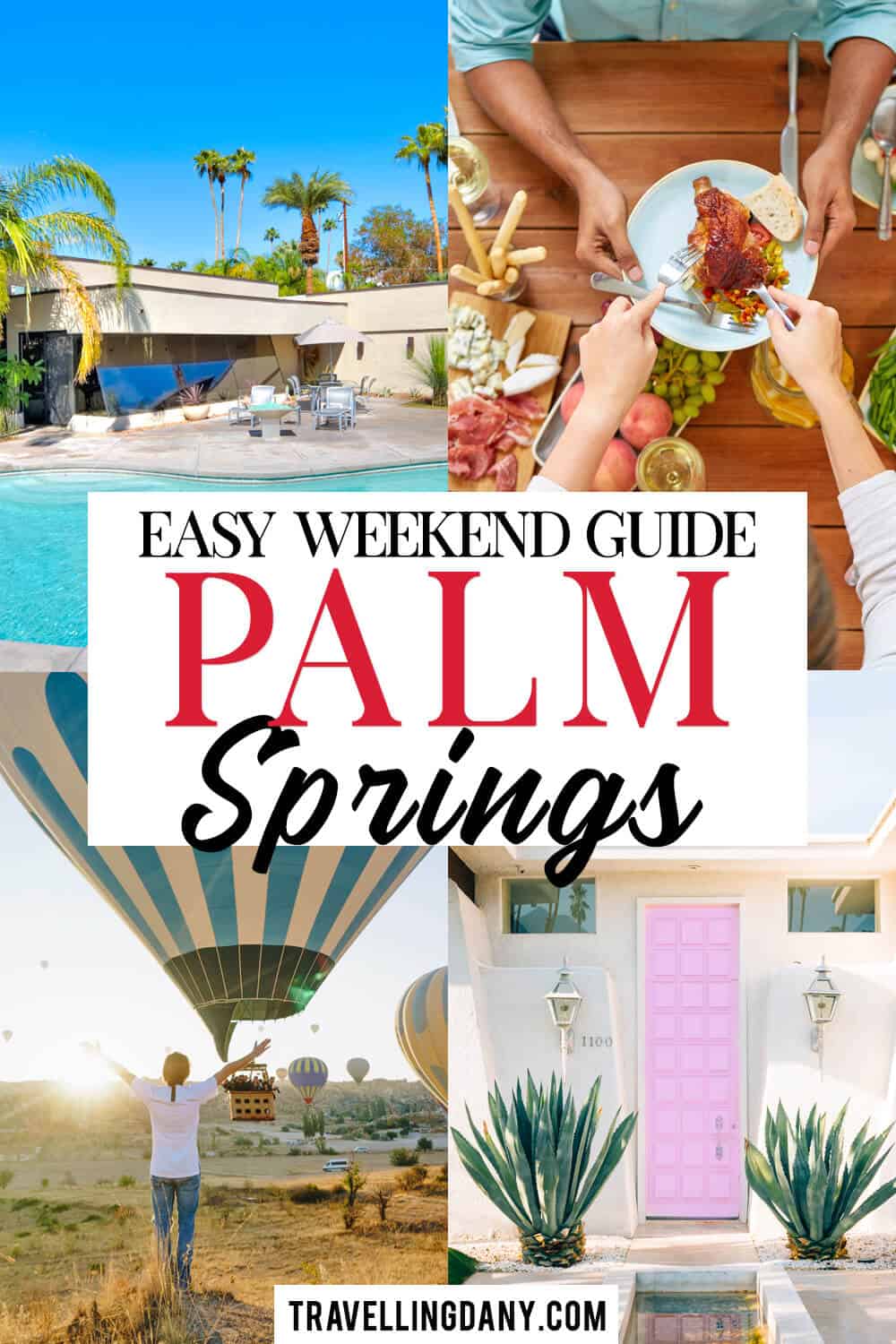 Travelling Dany
Danila Caputo is a bilingual travel writer living in between Naples and the Amalfi Coast (Italy). She travels and works with her husband Aldo, photographer and videographer. Their blog chronicles their adventures around the world, Italian/European culture and tips on how to be responsible travelers. You can find out more about their latest trips and their life on Instagram and Facebook.