Discover the best day trips from Naples (Italy) you can plan absolutely on your own and on a budget! With lots of insider tips from a local and the one hidden gem in Southern Italy no one else knows about!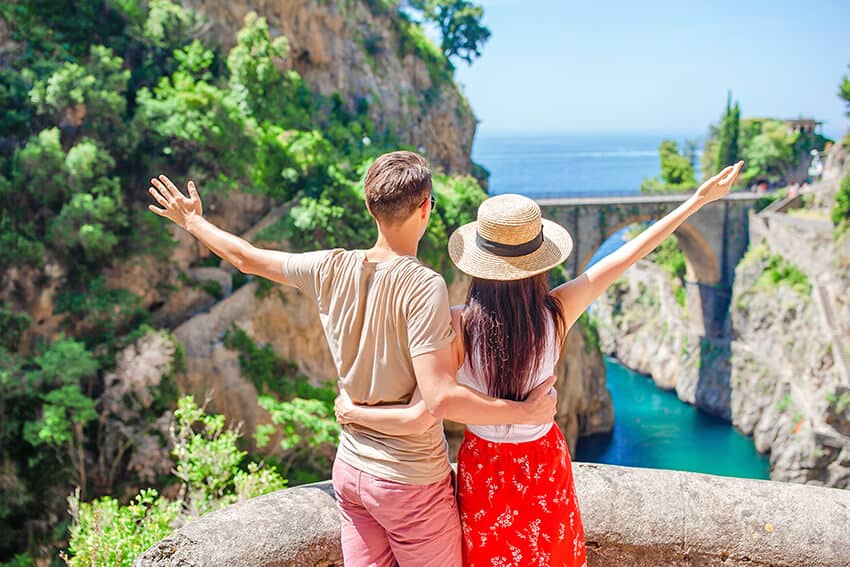 Southern Italy, our "Mezzogiorno" has a lot to offer. Yet to be able to pack as many things as possible in your Italy itinerary, you will need to pick a good homebase. That's why I want to show you all the best day trips from Naples. As a local I might be biased, but Naples is an absolute jewel. You'll be surprised at how many places you can easily visit from here, and how easy it is to plan everything on your own!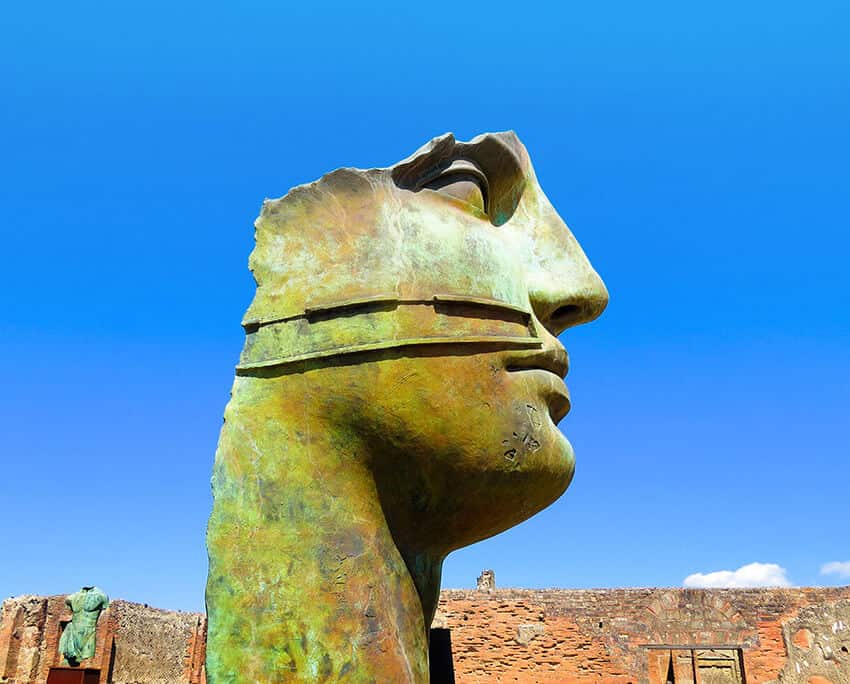 Visiting Pompeii Archaeological Park from Naples
The Pompeii Archaeological Park is one of the worldwide famous "attractions" near Naples that tourists love to visit.
Many wrongly assume that they need to book a private (and expensive) tour to get the full experience. As a local, I'd love to clarify that.
Planning a Naples to Pompeii day trip is absolutely easy and it can also be done on a budget!
All you need is a train ticket for our Circumvesuviana and of course the Archaeological Park ticket.
At Napoli Centrale train station, ask for two Unico Campania NA3 tickets (one for every ride, per person).
You can do so in Italian:
"Posso avere due biglietti Unico Campania Fascia 3?".
In Naples they sell them both at the ticket offices and at our "Tabaccheria", tiny shops inside the station (they have magazines, cigarettes, candies etc).
The price for a single ride is 3,50€, for NA3 tickets.
Worried you'll need a bit of help?
Download the FREE Italian Travel Phrasebook here! It includes the correct Italian pronunciation and lots of useful sentences that you'll be able to use on your trip to Italy!
It is absolutely easier to plan a day trip to Pompeii from Naples using the Circumvesuviana train, rather than driving a rented car: parking in Pompeii is messy and pretty expensive.
Once you have your ticket, hop on a train to "Pompei Scavi": the entrance to the Pompeii Archaeological Park is basically on the other side of the street when you exit the train station.
Buying a ticket in advance is absolutely mandatory.
You can do so online. The ticket office at Pompeii Archaeological Park tends to get overcrowded and you'll get to waste precious time standing in line under the sun.
Whenever we visited, we always opted to buy online.
You might also like:
– Guide to visiting Pompeii: 2 itineraries from a local
Visiting Pompeii requires a bare minimum of 2-3 hours. With that I mean that if you rush through your visit, you might see a bit of everything, but you won't get to live the full experience.
Many private companies pack a trip to Mount Vesuvius and to Pompeii (or Herculaneum) on the same day.
It really is up to you, according to my personal experience, in 3 hours you'll barely scrape up the surface.
Pompeii is absolutely huge and every year they open up new houses and new parts of the buried city as they uncover them.
Important discoveries have been made throughout 2020 so hopefully they will open those areas in 2021.
Plan at least 4 hours if you want to see everything and actually enjoy the visit!
I suggest you bring a reusable water bottle, sunscreen, hat and some snacks on your visit. Inside Pompeii Archaeological Park there's no shade and our sunny days can be brutal.
Also there are just a couple of shops inside and their food, Neapolitan coffee and snacks are quite expensive. It's way better to bring your own food and water: just do not litter!
Important note: the shops and pizzerias right outside Pompeii Archaeological Park are absolutely overpriced. I've been there to check and they sell ridiculously tiny pizzas for like 10€, when everywhere else you'll get a huge Pizza Margherita for 4-5€.
If you want to have pizza, avoid the touristy area in Pompeii. You can also buy nice Italian souvenirs in Naples. They'll be cheaper!
Would you prefer a local guide to visit Pompeii?
Click here to find one!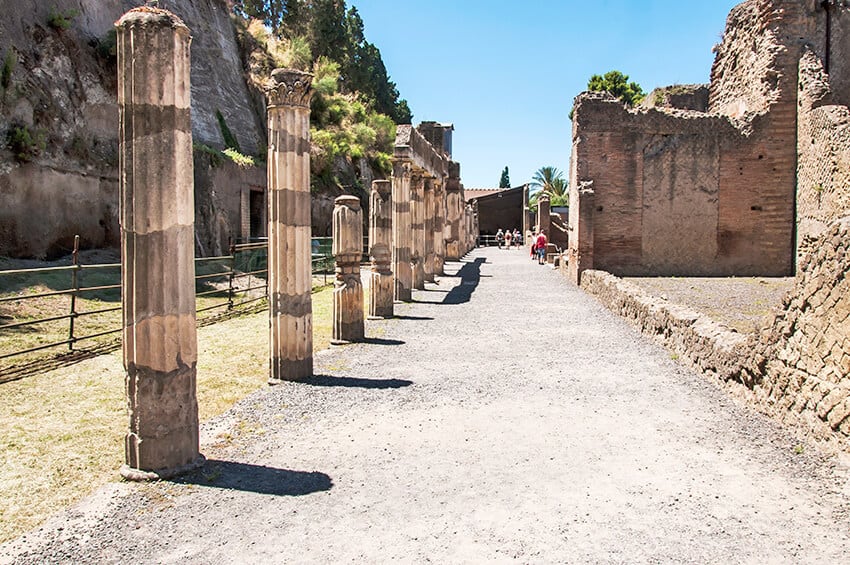 Visiting Herculaneum: half day tour
Visiting Herculaneum requires less time if you compare it to Pompeii.
Herculaneum is in fact smaller and our archaeologists are still working on uncovering all the buildings which are still hidden to the view.
You can easily plan a half-day self guided tour from Naples to Herculaneum, because the whole visit will take 2-3 hours.
Tickets to visit Herculaneum Archaeological Park are sold exclusively online and they will cost you 13€.
At the moment there isn't the chance to buy them on site, so you'll have to pay an extra 1.50€ for the online service.
Once you get to the entrance, show your tickets (also on your smartphone/tablet) and start your visit: at least you'll get to avoid the queue!
If you're going to drive to the park, you can leave your car in one of the many private parkings in the area. Unfortunately they are just as expensive as parking near Pompei Scavi.
In case you feel lucky, there's a public parking in Viale dei Papiri Ercolanesi, where you'll get to pay a daily fee. The only problem is that it's almost always full to the brim, as that's where the locals park their cars.
Getting to Herculaneum from Naples is just as easy as it is for Pompeii.
Buy a Unico Campania NA 2 ticket (2,70€) at Napoli Centrale station for each ride, and hop off at Ercolano Scavi.
Leave the Circumvesuviana station behind you and walk until you get to a pretty big roundabout. Once there, walk in Via IV Novembre.
At the end of the street you'll get to the main entrance to Herculaneum Archaeological Park.
Ercolano Scavi is the closest Circumvesuviana station to the entrance, but if you've already been to Herculaneum before or if you're short on time, there's a second entrance which is closer to the mighty Roman domus. It's Ercolano-Miglio D'Oro.
You'll thus get straight to the most interesting part of the park.
The downside to this second option is that you'll have to walk for about 20 minutes from the train station to get to the entrance.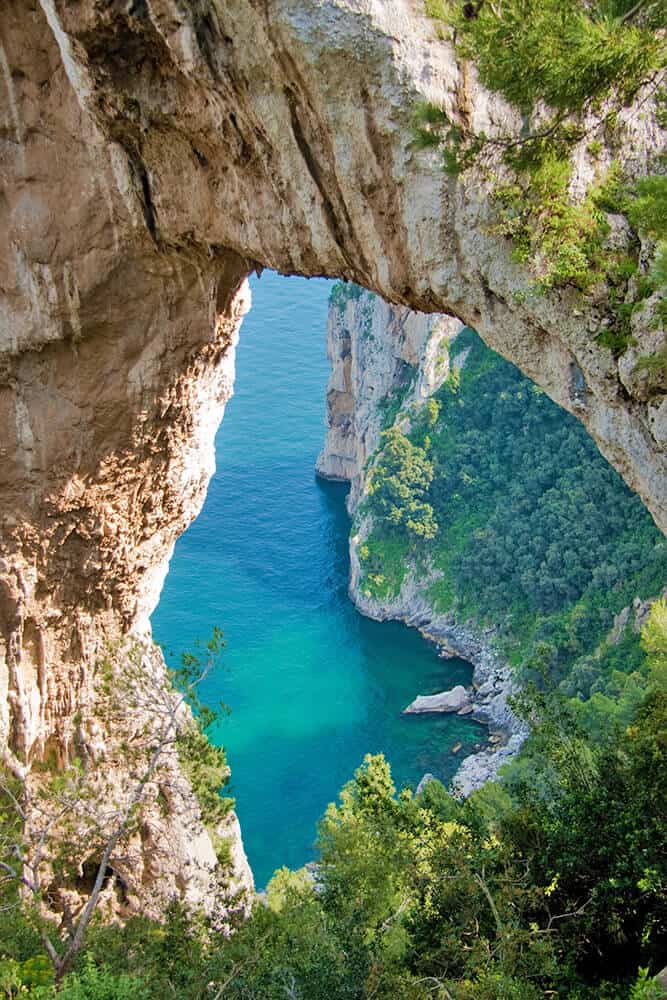 Dreamy Capri in one day
Capri is one of the easiest day trips from Naples that you can plan on your own.
Just go to Molo Beverello in Naples, our tourist port, buy a ticket for Aliscafo (hydrofoil) or Traghetto (ferry) to Capri and you're done!
While Capri is one of the most popular islands in Italy, it's definitely not a budget destination.
Tickets for Aliscafo or Traghetto tend to be expensive. Consider a bare minimum of 40€ per person on low season, then you'll need a bus ride from the Capri port to the city center.
To cut on the costs, you can visit Capri just by walking around, without booking any extra tour.
Bring a sandwich for lunch that you can buy at a "salumeria" in Naples (as I keep repeating, eating in Naples can be super cheap if you know where to go) and eat it overlooking the Faraglioni.
It'll definitely be cheaper than having lunch at an expensive restaurant!
One last note.
Visiting the Blue Grotto can be tricky. Book a tour exclusively if they have a free cancellation policy: sometimes the sea conditions won't allow for the boats to get through. There's no way to know this in advance and you don't want to lose your money!
You might also like:
– Capri Day Trip – Itinerary and Useful Info
Fun day trip to Ischia
Ischia is another one of the Naples day trips that people tend to overlook. Everyone wants to go to the Amalfi Coast or Capri, but there's so much more than that!
An Ischia day trip from Naples is definitely cheaper than visiting Capri.
Aliscafo or Traghetto are the biggest item in the budget for this kind of trip, and still you should expect to pay more or less 20-40€ per person for a round trip from Molo Beverello in Naples.
Consider about 1:30 hours to get to Ischia from Naples using a regular ferry, and about 50 minutes if you're going by hydrofoil (which is more expensive by the way).
Visiting Ischia in a day is impossible on your own and without a car, because this island is much bigger than Capri.
But still there are a few things you should absolutely add to your itinerary.
The Aragonese Castle (Castello Aragonese) is a medieval castle, located on a tiny island next to Ischia. You can get there by walking on a scenic bridge where you should take as many pictures as possible.
You might remember the Aragonese Castle because of widely popular movies like Cleopatra with Liz Taylor and Richard Burton, or The Talented Mr. Ripley, among others.
Another very beautiful place you should visit in Ischia is Torrione di Forio, a mighty tower which offers spectacular views.
Next to Torrione di Forio you can see a lovely white Church that looks a bit like the buildings in the Greek islands. It's our Chiesa del Soccorso di Forio and you can visit it for free.
Please remember that to enter any Church in Italy you will have to cover your legs and shoulders: also if it's a super hot summer!
If you still have some time left before you return to Naples, I suggest you walk around at Borgo di Sant'Angelo, to see its colorful houses.
At Borgo di Sant'Angelo you can shop for traditional Italian souvenirs and maybe eat gelato or one of the local pastries.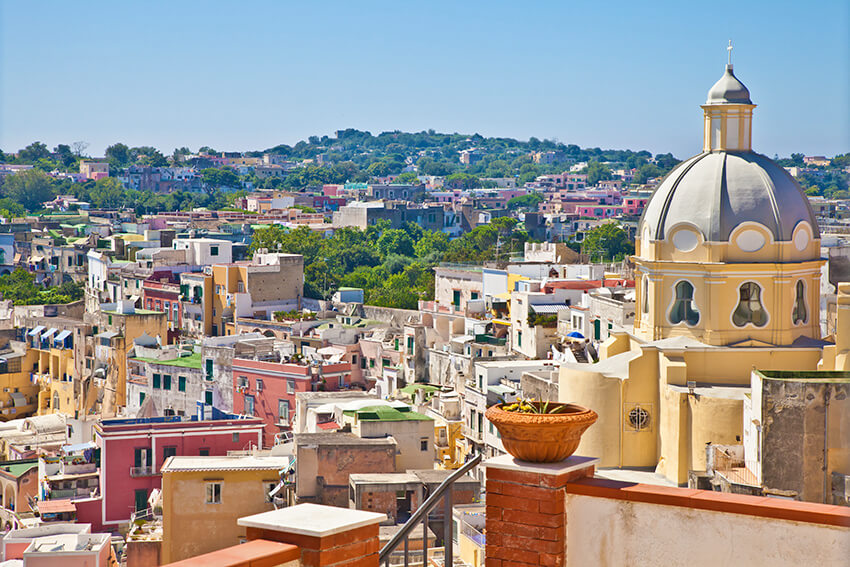 Colorful Procida Island
Procida is the Italian Capital of Culture 2022 and one of the most beautiful islands in Italy. As well as the most underestimated.
While you could say it's a budget version of Capri, way less expensive and just as beautiful, it'd still be a disservice.
This tiny island is absolutely gorgeous and mostly unspoiled by mass tourism.
We're kind of hoping it stays like this!
For a Procida day trip you should consider more or less the same budget you estimated for Ischia.
Tickets will always be more expensive in summer and the island is pretty much overcrowded because Italians love to visit.
Spring and Autumn are the two best seasons to visit Procida.
You'll get to explore the narrow vicoli, take pictures of the little colorful houses and eat mozzarella di bufala without having to push through the crowds.
With "crowds" I intend local tourists: Neapolitans love to go to Procida so they always plan family day trips to spend one day on the island!
You might also like:
– Procida Island Travel Guide + Itinerary
Caserta Royal Palace and Star Wars
Star Wars fans like us might already know about the Royal Palace of Caserta.
Quite a few scenes from Episode I – The Phantom Menace and Episode II – Attack of the Clones were filmed in this gorgeous palace in Caserta!!
You might recognize its buildings as the Royal Palace of Naboo: one of the most beautiful scenes shows the senators, escorted by drones, descending from the marble staircase of honour inside the Royal Palace of Caserta.
Later on, Disney has also included a few locations from this amazing Royal Palace in the videogame Battlefront II, based on the Star Wars saga.
Once again, it poised as the government building of Naboo.
Known locally as "Little Versailles", the Caserta Royal Palace was designed by Luigi Vanvitelli and it's a miniature "copy" of the Palace of Versailles in France.
Us locals love to go there mostly for family day trips or pic-nics.
The Caserta Royal Palace in fact has one of the last great European gardens, with a chain of fountains and basins stretching out for over 1 mile (about 3 km) from the palace to a waterfall deep in the forest.
Visiting the Royal Palace and the gardens will take one full day: there is so much see!
Make sure you wear comfortable shoes because you will definitely walk for miles.
A day trip from Naples to the Royal Palace of Caserta is also pretty easy to plan on your own. While you can definitely book a private tour if you prefer to have the support of an experienced guide, it's not absolutely necessary.
In this case, instead of Circumvesuviana, you'll use a regular Trenitalia train from Napoli Centrale.
Buy two Unico Campania NA 4 tickets for each person in your group and hop down at Caserta central station.
Once you get to Caserta, you'll find lots of signs pointing you to the right direction.
The entrance to the Royal Palace is less than 5 minutes from the train station.
To get the most out of this day trip to Caserta you should buy your tickets in advance.
Visiting both the Royal Palace and the gardens (including the gorgeous English Garden) will cost you 14€.
You can also buy a ticket just for the park (so you won't get to visit the Royal Palace) at 9€.
Since the cost is not prohibitive, I suggest you buy a cumulative ticket!
European citizens from 18 to 24 years old will only pay 2€ to visit both the Royal Palace and the gardens.
Make sure you get to the Royal Palace early in the morning and on a week day to avoid the crowds. As I already mentioned, the locals often plan family trips to the royal gardens on Sundays so the weekends are the busiest days of the week!
Because the gardens are way bigger than the Royal Palace (since you can only visit a few rooms there), you should bring water, snacks and sunscreen.
You can have a nice picnic in the designated areas, on the grass. Just be careful not to litter!
Beware: there are no shops nor toilets inside the gardens.
When should you visit the Royal Palace of Caserta?
We always avoid the warm summer days: Campania summers can be scorching hot for real!
The Park is best seen in spring, because there are so many flowers blooming. Autumn is yet another good season because there will be less tourists and it won't be too warm to visit.
You might also like:
– What to Pack for a Trip to Italy in Autumn
Spend one day in Rome
A Rome day trip from Naples is not only absolutely easy to do, but also cheap, if you plan everything well in advance.
We have quite a few friends who live in Rome, and we tend to visit often. Or they just come visit us in Naples.
It has become super easy to do so thanks to the fast trains.
Driving from Naples to Rome can be hellish due to the usual traffic jams on the Grande Raccordo Anulare, a highway which runs all around Rome.
Parking would be yet another nightmare and you'd have spent a few hours just wishing you'd never visited.
Thanks to the fast Trenitalia and Italo trains, getting to Rome from Naples will take you just about 1 hour. Once you get there, use the metro and you'll be able to explore our Capital on your own!
While Trenitalia is just as good, by preference we use Italo trains, for two main reasons.
The first one is that we get to buy Naples to Rome tickets for 9,99€ when they offer their online discounts (regular fares start at 29,90€). The second is that usually Italo trains are very clean and on time.
Yet if you find a better deal with Trenitalia, go for it!
Getting from Naples to Rome to buy vinyls at the Porta Portese street market on Sundays has never been easier!
You can use our itinerary for 4 days in Rome to find ideas on what to see on this day trip from Naples.
What I suggest, since you just have one day, is walking around without booking anything.
You might want to plan a second trip to Rome to visit the Colosseum or the Vatican Museums, because that alone will take time and rushing through these two iconic attractions wouldn't feel right. Trust me!
On your day trip to Rome just walk to the Trevi Fountain, take pictures at the Altare della Patria, eat gelato in Piazza di Spagna or Focaccia Romana con Mortadella on the go while you window shop at Via dei Condotti.
It will be cheap, fun and it can be done with no stress!
Amalfi Coast day trip from Naples
Visiting the Amalfi Coast on a trip to Italy is on every traveller's bucket list.
As a local I'm well aware that finding a hotel on the Amalfi Coast is not cheap and it can be difficult, especially during high season.
Whenever I've had to look for friends visiting from abroad, it took me ages!
If you want to visit on a budget, you can do so by planning a day trip from Naples.
It'll cut the costs in half, but there are a lot of pros and cons you should consider.
Driving a rental car can be good as you're going to be independent, but parking won't be easy. Nor cheap, especially if you're planning to visit Positano.
Getting to Amalfi from Naples is relatively easy, but you will have to rely on the local buses to go from one town to the other. Do not even think of walking on the highway!
At Napoli Centrale station buy two Unico Campania NA 7 tickets from Naples to Amalfi. Once there, use a bus according to your itinerary and where you want to go first.
Buses, as locals know quite well, tend to be late as traffic jams are the norm, especially from June to early September.
Me and Aldo road trip along the Amalfi Coast on our Moto Guzzi, so we get to avoid the traffic. Yet we tend to stay away throughout the summer because it is insanely crowded.
Another option to visit the Amalfi Coast on a day trip from Naples is to use the ferry.
Tra Vel Mar ferries usually start to run from April to September and they can be used as water taxis.
In this case you can take the train to Salerno from Napoli Centrale and once there, get on a ferry to Amalfi, Positano, Minori, Maiori or Cetara.
According to how you're getting to the Amalfi Coast, you can plan a mini-itinerary for the day.
Positano, Amalfi, Minori and Maiori can be visited on the same day for example, unless you plan to spend hours taking insta-perfect pictures in each town.
Visiting Ravello as well on the same day, or Vietri sul Mare, would be impossible. They're essentially too far away from the rest of the little towns and you wouldn't have enough time.
You might also like:
– The Best Amalfi Coast Tours – Tips from the Locals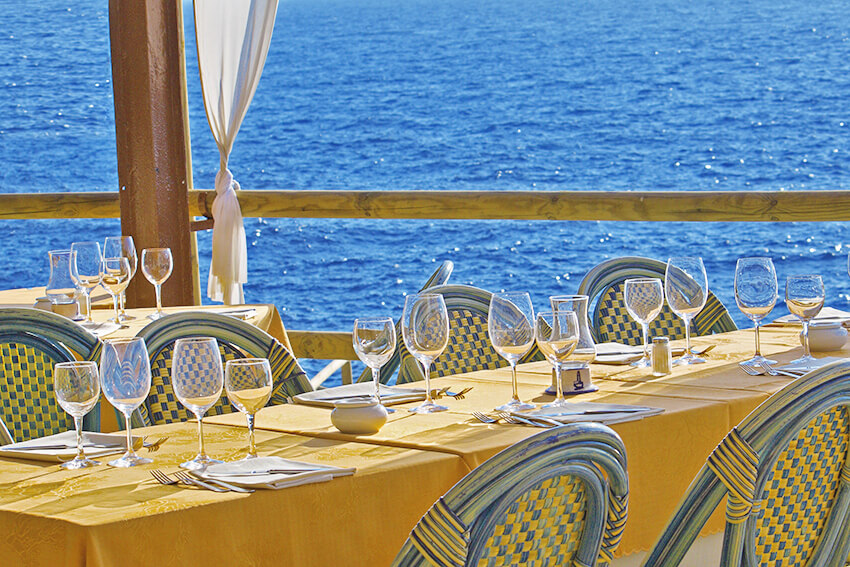 Visiting Bacoli and Capo Miseno
Capo Miseno, that you might know as "Cape Miseno" used to be an important harbor for the Romans.
Gaius Plinius Secundus, the first person who understood what was happening during the Vesuvius eruption in 79 a. C., left with his boat from Capo Miseno to try to reach Stabia. He hoped to help the survivors, but died like everyone else due to the poisonous gas.
Capo Miseno and Bacoli are two places that tourists usually avoid (mostly because they don't know that they're missing out).
Locals like me, my family and Al on the contrary love to visit.
Aldo's brother visits the area every summer as he prefers the beaches there to the Amalfi Coast.
My parents often enjoy romantic candlelit dinners on the beach in Bacoli, while me and Al road trip there on our Moto Guzzi, with our friends, whenever the Amalfi Coast is too crowded.
Click to watch how Pizza Margherita is done in Naples!
You can consider Bacoli and Capo Miseno as a day trip from Naples off the beaten path.
Driving there would be easier because you won't have to rely on the local buses to explore, but you really don't have to rent a car just for this trip.
The city of Bacoli is one train trip away from Napoli Centrale!
Buy two Unico Campania NA 3 tickets for each person in your group from Naples to Bacoli station. There you go!
This is a very interesting day trip because there are a lot of Roman ruins of the ancient Misenum that you can visit, as well as ruins dating back to World War II.
Bacoli is full of very nice beaches, restaurants by the sea, great views and spas.
You can just go there and enjoy the day: we do it all the time!
I also have two suggestions for places where you can eat or just enjoy a nice Neapolitan coffee.
We have been going there for over 10 years so… rest assured that you'll eat well!
The first one is Roof & Sky in Bacoli, which is actually located… on Lago Miseno.
On this floating bar they serve a yummy Italian aperitivo, or you can just drink an espresso while enjoying the view. At night it turns into a super romantic restaurant!
Another place we go to quite often is Capo Blu, a tiny restaurant opened by Chef Pasquale Di Fraia with his wife Regina.
Booking in advance is absolutely mandatory: they can only seat something like 20-30 people in there.
Yet the food is divine. Pasquale only buys from local fishermen so the menu changes every day according to the fish he's found at the market.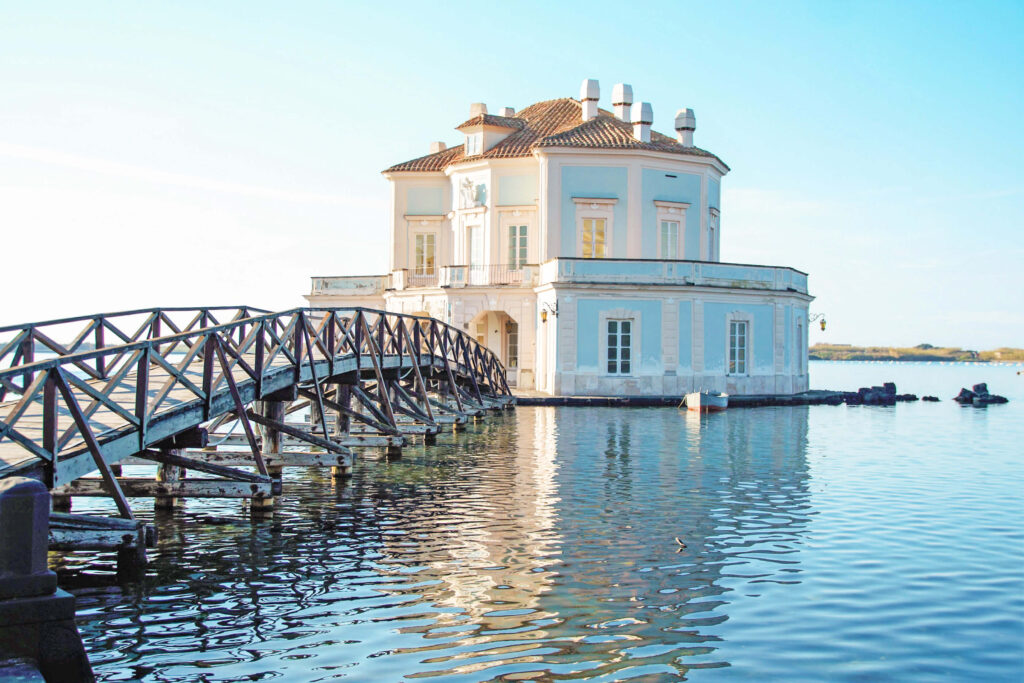 Casina Vanvitelliana: our hidden jewel
The Casina Vanvitelliana is one of those places that basically tourists know nothing about and that us locals cherish like a beautiful jewel.
You can consider this as one of the day trips from Naples off the beaten path and on a budget.
As you will see from the last part of this article, you can pair a visit to the Casina Vanvitelliana to other things to see in the area.
Located not too far away from Bacoli, but definitely not on the "touristy" path, this gorgeous Baroque building used to be a hunting and fishing house.
Built by Carlo Vanvitelli for King Ferdinand IV of Bourbon on a very tiny island on Lake Fusaro, it's bright and beautiful, just like a shiny jewel.
I'm not sure why some of the magazines abroad keep on saying that "us locals" call this place "Pinocchio's House" but I can assure you that I've lived here all of my life and nope.
No one that I know ever used that nickname!
Once you get to Lake Fusaro, you might not realize that there's a lovely little Baroque house in the middle of it. The Casina Vanvitelliana is well hidden from the street by the buildings surrounding the lake.
Be prepared to fall madly in love.
The first time I saw Casina Vanvitelliana I was with Aldo and our best friends.
I can just say that the four of us were absolutely dumbfounded.
In the middle of a busy city you just find yourself facing this fairytale little building, painted in white and a lovely pastel blue.
The wooden bridge leading you to the Casina Vanvitelliana is super romantic and a great place for you to take lovely pictures.
If you're visiting Italy on honeymoon, this is where you should take a few photos for your album.
Casina Vanvitelliana has been used for years also to celebrate weddings of a few lucky couples. They've gotten married in a place that used to host illustrious guests like Mozart, Rossini, the King of Italy Vittorio Emanuele III and even the Czar of Russia.
Once you've seen everything, you can hop a bus to Bacoli or Capo Miseno.
Click to watch our video for a great day trip from Naples: Baia, Bacoli, Casina Vanvitelliana and Castello Aragonese!
Hiking Mount Vesuvius on a day trip
If you've been reading my blog for a while you might already know that I often get very upset about the level of inaccuracy I find on many popular travel guides, magazines or blogs about my area.
One of the most "dangerous" things I keep on reading is that hiking to reach the crater on Mount Vesuvius is absolutely easy, to the point that you can do it "just wearing flip-flops".
Having been there countless times also as a guide, I must say that this is one of the worst pieces of misinformation you could ever find.
Mount Vesuvius National Park is quite big and it includes several towns as well. There are a lot of trails to explore the great outdoors and a few of them are truly easy.
Yet there's only one trail that leads to the crater and it's trail number 5.
You absolutely have to be aware that to get there you will need hiking shoes (boots would be better to protect your ankles) and water. Also be prepared to climb uphill with no shade at all.
This trail can be dangerous if you don't take it seriously.
I would know something about it: I had an asthma attack when I was almost at the crater and I got so scared that for years I haven't even attempted to hike there again!
If you do need meds, you should have them in your purse at all times.
Climb slowly and don't overdo it.
The fact is that in case you end up feeling unwell up there, it'd be very difficult to find help.
I understand that many bloggers, writers and journalists probably take the easy route and stop on the side of Mount Vesuvius. Yet 90% of the tours you book will bring you to the walking track n. 5.
Not saying it's absolutely impossible to do it but it's a hard trail, and it gets way harder on the warmer months. Just be prepared and absolutely do not attempt it wearing flip-flops!
You might also like:
– Hiking Mount Vesuvius in Italy: Tips from a local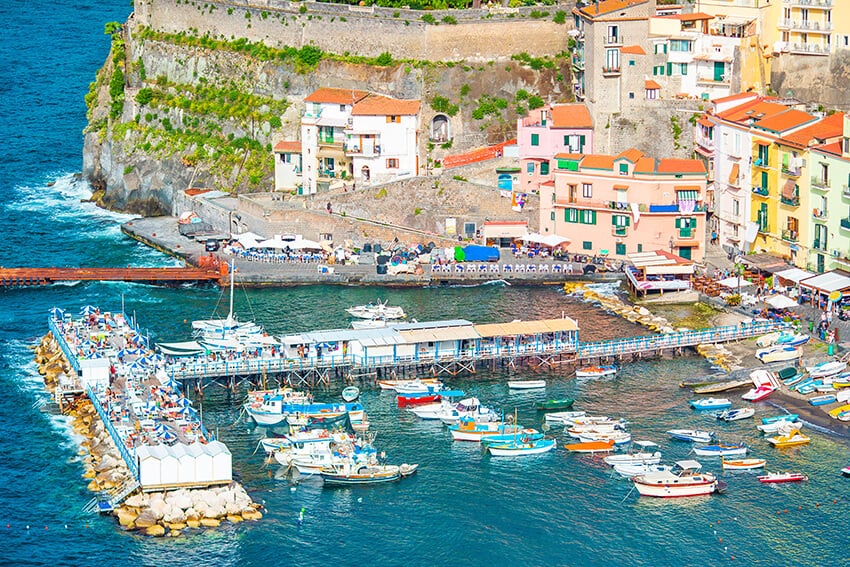 Sorrento Coast and Punta Campanella off the beaten path
Lots of friends visiting from abroad ask me about the Amalfi Coast. Very few actually want to visit something that is just as beautiful, but less touristy.
The Sorrento Coast can be a very interesting day trip from Naples, best enjoyed if you rent a car.
While you can definitely reach Sorrento easily also with our usual Unico Campania ticket (keep reading for more), you'll find it's much easier to reach the off the beaten path spots with a car.
Sorrento is the most popular city on the Sorrento Coast, that we know also as "Penisola Sorrentina".
Here you should absolutely walk around and hit the beaches. While the beaches on the Amalfi Coast are all tiny and sometimes difficult to reach, in Sorrento they are pretty wide (for our Italian standards).
Sorrento is also famous for its lemons, just like Amalfi. So try some limoncello, a local liquor made with lemon peels, and one of our favorite pastries ever: delizia al limone.
The whipped cream exterior hides a sponge cake, filled with lemon cream and brushed with Limoncello.
In case you're worried that you'll feel the liquor too much, do not: it's an explosion of flavours and the main one is the Sorrento lemon.
Not too far from Sorrento you'll find Baia di Ieranto, a protected area where you can hit the beach. Expect turquoise water and an amazing view!
Click to watch our One day In Naples video guide!
The Penisola Sorrentina also hides another great place where you can go for a hike: the Natural Marine Reserve of Punta Campanella.
Bring along a camera, sunscreen, hat, water and your hiking boots. The place is wild and with a view, like nothing else you'll ever see in Campania Region.
The expert divers can enjoy a diving experience with a local company to see what's hidden from view.
Yet it's better to book well in advance, as the touring company will need to gather all your documents to submit them to the local authorities and get you a permit.
If you don't have a car, you can get to the entrance of the National Reserve Punta Campanella by hopping on a train at Napoli Centrale using a Unico Campania NA 5 to Sorrento.
Once there, you can explore the city center or get a "SITA" bus to Massa Lubrense. Hop down at Viale Filangieri. Once at your stop, walk to your right towards Via Palma, and then turn on your right again on Via Roma. That's where you'll find the Punta Campanella entrance.
Important note: Punta Campanella is to be visited as a "standalone" day trip because there's so much to see. If you also want to visit Sorrento, you should do so on a separate trip.
Baia and Baia Archaeological Park
Another day trip off the beaten path from Naples, that very few tourists know about, is Baia.
While it's not too far away from Casina Vanvitelliana, Baia should be visited on its own day trip if you have enough time: there's so much to do!
Baia is famous among us Neapolitans mostly because of the lovely beaches, the spas, an underwater park and the Roman ruins.
Let's start with the spa.
The Terme Stufe di Nerone are much like the natural spas you'd find on Ischia and they're also open in winter.
The mineral water heals the skin and the lungs. Yet we love to visit also to just feel pampered.
You can plan a half day at Terme Stufe di Nerone to get a massage, or spend some time at the spa, also with your significant other!
Not too far from the "modern spa" there's an "ancient spa" that you can visit: the Terme di Baia, also known as "piccola Roma".
The Archaeological Park Terme di Baia preserves an ancient Roman spa that you can visit, not too far away from an underwater park.
We know it as "Baia Sommersa" but many here have nicknamed it "Atlantide Romana" (Roman Atlantis).
This unique underwater park is very close to Baia and at about 15m under the sea.
It hides two Roman villas that you can clearly see and many statues.
The Baia Archaeological Park can be visited by booking a boat tour well in advance.
Since you're in Baia, you should also fit in a short visit to the Castello Aragonese di Baia.
Located at the western end of the gulf, pretty close to Capo Miseno by car, it's perched on a steep cliff and was thought to be the summer residence of Julius Caesar.
Recent studies yet seem to prove that it once belonged to the Roman Emperor Nero (known for having burned down the city of Rome).
The castle is very romantic at night and if you visit by car you can stop along the coast to take gorgeous pictures, with the castle overlooking the gulf.
Travel Video Guide: Romantic Trip to Italy
Getting to Baia Archaeological Park from Naples using the public transport will take between 40 and 60 minutes.
From Napoli Centrale you should take the metro Line 2 for Pozzuoli. Hop down at Fermata Montesanto and then walk to the entrance of the Ferrovia Cumana.
Take the Cumana train for Torregaveta to Fusaro.
Once you're there, take the underpass towards Viale Carlo Vanvitelli.
Turn on your right and walk for about 800m until you reach the crossing. Turn again on your right on Via Terme Romane.
After 100m on your right there will be Villa Sella di Baia with the entrance to the Park.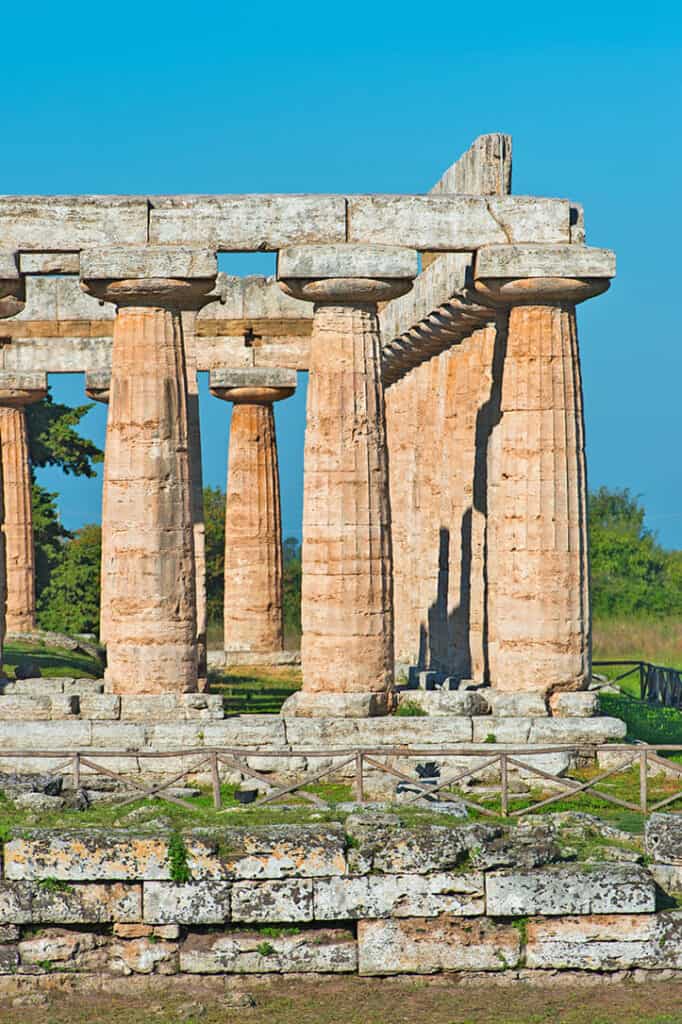 An interesting Naples to Paestum day trip
Usually Italians (mostly those living in Campania) experience at least one Paestum day trip in their life, thanks to school.
Paestum was in fact a major ancient Greek City and the majestic temple ruins they left behind are absolutely impressive.
Just like everyone else, I first visited the Archaeological Site of Paestum on a school trip, and then I returned quite often with the family as one of my uncles has moved not far from the temple area.
Growing up I visited the temples in Athens and finally realized that they look just like the ones that had been under my nose for my whole life. I mean… better late than ever, right?
As you step into the UNESCO Heritage Site of Paestum you'll feel tiny. The well preserved city walls of almost 5 km surround the urban core and were once 7m tall.
There are 4 main gates all around the city walls that allow you to access the archaeological site.
Since you have only one day, I suggest you walk along the Via Sacra, as you will be able to see ruins dating back to almost 3000 years ago, the Italicum Temple and the three other temples in Greek Doric order.
Two of them were devoted to Hera and one to Athena.
These 3 temples are the most photographed in Paestum as they are incredibly well preserved and majestic.
If you still have time, there's also a small museum as well that you can visit.
The Paestum Archaeological Area is open 7 days a week, from 8:30 am to 7:30 pm (last ticket will be issued at 6:30pm).
There's the chance to buy a cumulative ticket, which includes the Museum and the Archaeological area, at 9€. If you want to visit the Museum only (not ideal, as you're going to miss out big time) you'll pay 4€, while the temples area ticket will cost you 7€.
Getting to Paestum by car is easy, thanks to the Autostrada A3 Salerno-Reggio Calabria and a GPS.
If you haven't rented one, from Napoli Centrale train Station you should buy a Trenitalia ticket to Paestum (direction: Reggio Calabria).
Once you get to Paestum station, walk to the bus area and wait for bus n. 36 for Vallo della Lucania. Hop off at Paestum Templi.
The closest ticket office is located about 500m from the bus station.
Our Lady of Montevergine Sanctuary
I'm not sure how to explain my relationship with the Santuario di Montevergine, widely unknown to people visiting from abroad and very much loved by Italians.
I guess it's not rational, but since when I was a little girl, the Santuario di Montevergine has always been the one place where I feel absolutely at peace.
We visit whenever we can, especially during the week, when there are way less churchgoers. It's more quiet and intimate.
On Sunday mornings there's a small market in front of the Church, selling mostly chestnuts, local cheese and cured meats.
The Madonna di Montevergine (Our Lady of Montevergine) is represented in a very ancient painting, dating back to the VIII century, that seems to have been brought in Italy from Constantinople.
It is located in the "Basilica antica", dating back to 1126, which has been integrated into the main Sanctuary building.
As soon as you enter the Sanctuary from the parking lot, you'll find yourself in a small courtyard.
Walking on your right, you'll find a terrace overlooking the valley underneath and a small shop which sells herb remedies prepared at the Sanctuary.
Climb up the stairs (beware if you're visiting in winter: there will be lots of ice!) to visit the main building.
Once there, on your immediate left you'll see the entrance to the Basilica antica with the Madonna di Montevergine painting.
On your right, the newer area, where the Basilica Cattedrale is located.
In case you notice a life-sized replica of the Holy Shroud (now in Turin), you're not mistaken!
During World War II the Holy Shroud was hidden in Montevergine to save it from Adolf Hitler, who wanted it at all costs.
The Santuario di Montevergine is so well hidden in the mountains that the nazis thought it wasn't such an important religious center: who would ever go up there anyway?
To remember that time, there's a life-sized replica of the Holy Shroud inside the new Cathedral, with a panel detailing the whole story.
If you have enough time (I absolutely suggest you find it!), make sure to visit the "Mostra dei Presepi".
This exhibit is open throughout the year and it shows nativity scenes dating back to the XVIII century.
Some of them were made in Christmas Alley, Via San Gregorio Armeno in Naples. Others have been donated from many Countries like Argentina, Peru, Brazil and more.
You can visit the whole Sanctuary and the Mostra dei Presepi for free.
Us locals like to leave a small offering to the Sanctuary. Then we take a holy card with the image of Our Lady of Montevergine. We usually keep it in our purse or wallet.
If you're driving to Montevergine, be super careful as the road bends upwards in weird ways the more you ascend.
The Sanctuary dominates the city of Avellino and the valley underneath.
To get to Montevergine you'll have to drive through the small town of Ospedaletto. Here you can stop at some sort of permanent street market where they sell chestnuts cooked in a wooden-fired oven, cookies, chocolate and wooden souvenirs.
From Napoli Centrale Station, take the Trenitalia train to Avellino.
Once there, you should use the Filovia train to Mercogliano and in Mercogliano find the funicular train to Montevergine.
Cerreto Sannita and Ponte di Annibale
If you have rented a car, there's one of the hidden gems in Southern Italy that you should visit.
Cerreto Sannita is an easy day trip from Naples which no one else will ever tell you about.
Why?
Well, only the locals know about this idyllic village near Benevento! Even my dad wondered "how did you even find out about this place???".
Cerreto Sannita is this cute little Italian village at 1:17 hours from Naples city center. You do need a car because getting there using public transport would be a nightmare!
The drive is super easy and relaxing, as you can see from our Cerreto Sannita video itinerary on Youtube.
The landscape is gorgeous and there's rarely someone else around, unless you count a bunch of the locals drinking Neapolitan espresso!
Traffic is never a thing: we saw just a couple of cars here and there but even parking was easy… and free!
At Cerreto Sannita you can have a lovely family trip, a romantic day out, or you can go hiking.
After a nice walk in town, drive towards the "Ponte di Annibale" (Hannibal's Bridge).
According to the legend, the Carthaginian general Hannibal crossed this stone bridge with his elephants during the Second Punic War. He was going to hide a huge treasure on the other side of the Titerno river. While no one has ever found his treasure, the valley itself is a secret gem you can't miss!
Hiking to the stone bridge is easy: you won't even need a pair of hiking boots to get there. Just make sure you aren't wearing flip-flops!
There's an iron statue that marks the (tiny) parking area at the beginning of the hidden hiking trail. Leave your car and just hike down towards the river: bring your camera because there are so many instagrammable spots!
Planning your day Trips From Naples – Itinerary Ideas
There's often a bit of confusion on how many things you can do in one day, so I decided to jot down a few itinerary tips.
Please take them as a rough draft.
As a local I know how much there's to see in each one of the places I mentioned, but I'm well aware that everyone has a different pace.
Make sure to always consider things like traffic and delays, whether you're using your own car or public transport!
Each point indicates what you can do in one day.
1. Ischia
2. Capri
3. Procida
4. Caserta Royal Palace and Gardens
5. Rome
6. Amalfi Coast (esp. Amalfi, Positano, Minori, Maiori)
7. Bacoli + Casina Vanvitelliana + Capo Miseno + romantic lunch/dinner by the sea or Castello di Baia
8. Mount Vesuvius
9. Pompeii
10. Herculaneum + Naples or short hike to Mount Vesuvius
11. Baia Archaeological Park + Baia Sommersa + Castello di Baia
12. Paestum (Temples + Museum)
13. Punta Campanella
14. Sorrento + Foodie Experience + Sorrento Coast
15. Our Lady of Montevergine Sanctuary + Ospedaletto or Mercogliano + Local lunch
16. Bacoli beaches + Capo Miseno
17. Casina Vanvitelliana + Bacoli Beaches
18. Paestum temples + short trip to the local beaches
19. Amalfi Coast Beaches
20. Baia + Casina Vanvitelliana + Castello di Baia
21. Baia + Terme Stufe di Nerone
22. Baia di Ieranto and Sorrento
23. Cerreto Sannita and Hannibal's Bridge
You might also like:
– The best street food in Naples (Italy)
– Where to stay in Naples
– Top things to do in Naples
– Is Naples a safe destination?
– How to spend one day in Naples
– Naples Art Metro Stations Guide
Pin it for later!
This post is also available in:

Italiano