Palazzuolo Sul Senio is a small town in Italy, located about 45 km North of Florence, Tuscany, and one of the most romantic little towns in Italy. Aside from a few photos and videos found online, there is not much information about it and I had no idea what to expect (since then I've added it to my must-see list even for a 10 day Italy itinerary).
If on one hand the idea of ​​crossing the Appennine on horseback was tempting, on the other… I was terribly scared. I hadn't been riding for almost a year, because I never had enough time, and starting again with seven hours on the first day and just about the same on the following one, was quite extreme.
You might also like:
30 gorgeous places to see in Tuscany from Florence
23 romantic Tuscany villages you can't miss
Discovering the best time to visit Italy
However, my husband Al's presence and a lot of messages sharing experiences on a Whatsapp group dedicated to this trip did the trick. We were going to be adventurers for a weekend… even if it meant learning to pack light. And I mean… light. Everything had to fit in a small backpack: that included our photo equipment. Can I be brutally honest with you? It was a packing nightmare! Yet the chance to explore yet another one of the small towns in Italy won me over!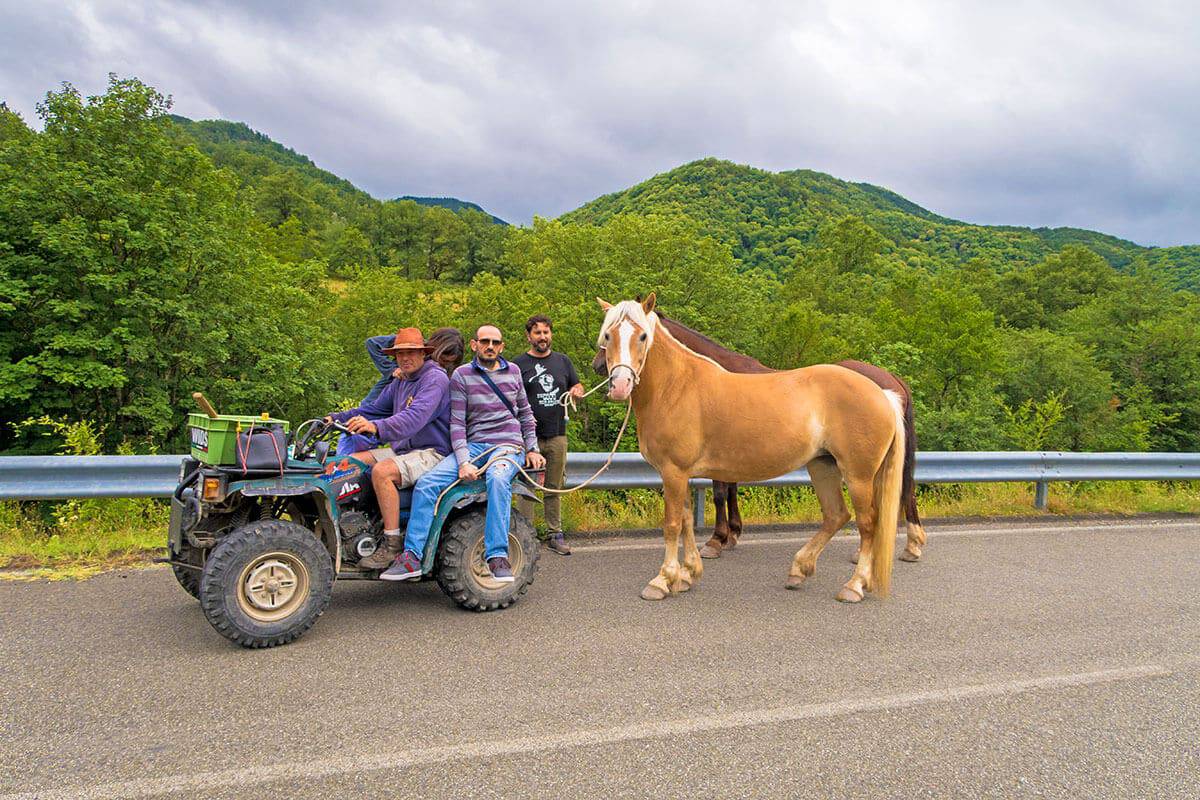 Small towns in Italy: stables and abbeys
A train ride and a lift later, we arrive in San Lorenzo, Tuscany. We would spend the night at Badia di Moscheta, an ancient abbey dating back to the 1000 aC, restored without forsaking the memory of the Benedictine monks who built it. There are two large equestrian centers in the area: Badia di Moscheta and Maneggio Casetta, which is located in Marradi. One on the West and one on the South of Palazzuolo Sul Senio. The first one is known for its delicious steaks "alla fiorentina", the second for the hikes in a nearby chestnut tree field, for an environmental program to learn to recognize the birds that live in the area.
Worried you'll need a bit of help?
Download the FREE Italian Travel Phrasebook here! It includes the correct Italian pronunciation and lots of useful sentences that you'll be able to use on your trip to Italy!

When we arrived at the meeting point, we met Giovanni, mountain man and horse whisperer of Badia di Moscheta. Cowboy hat always on his head (I've never seen him without it) and an initially rough attitude, he looked skeptically at our backpacks. Did we really want to bring "all that stuff" with us? One by one he checked all the luggage, ours, and of the girls traveling with us. This is ok, this one you have to leave in your car, this other one won't fit in saddle bags. When he got to our backpacks I was breaking into a cold sweat, wondering if I should've left that spare t-shirt at home. But he just solemnly nodded. Good job, he tells us. Your backpacks are fine. In short, it seems that I have finally learned the fine art of packing light! We were ready to add another name to the list of the small towns in Italy we've visited!

As the pickup truck ran along the winding uphill slopes that would take us to Firenzuola, Giovanni told us a bit of local history and anecdotes. When we arrived in the middle of a series of fields – and we did not even see a house in the distance – he said with some pride "we arrived, these are my horses." With a whistle from the pickup truck he called for a group of horses in one of the many pastures all around us, but it stilt took us several minutes to get to Badia di Moscheta. Situated in the hills, almost hidden from the coniferous woods that reminded us of the American Black Hills, the Badia is so far away from civilization that not even your cellphone will work. All we could see were teams of horses that rode freely, protected from the road by simple fences. It was one hell of a nice meeting with the real small towns in Italy.

Small towns in Italy: Haflinger
Haflingers are Austrian horses, also known as "Avelignesi" in Italy. In the South of Italy where we live, as well as at the stables in Crete Gialle the place in Lazio I already told you about, there are American breeds as Quarter Horses, Paint Horses and Appaloosa. It was the first time that I saw entire hills full of these horses that looked all the same: honey colored mantle, with clear tail and mane. When I asked some of the cowboys in Badia of Moscheta what kind of horses I'd have to ride, they replied, with absolute conviction "Haflingers are machines." These horses are very close to their team, so they defend each other or neigh to call for their companions if they are too far away. Extremely quiet, robust animals, they walk safely even on the tiniest mountain trail. A bit stubborn up to six years old, when they reach maturity, the Haflingers become the most reliable both for leisure and sporting activities.
In my naivety I asked Giovanni if they were going to them back to the stables at night and at what time we would saddle them in the morning. The mountain man looked at me as if he couldn't believe what I just said. I found out that, unlike what I was used to, in this part of Tuscany horses live in freedom. Night predators prefer to eat deer, an easy prey, rather than having to fight with a team of horses. I had never seen anything like that, but I was definitely going to wake up at six the next morning, to make sure I was there when the herd returned to Badia di Moscheta to eat some delicious Bistecca alla Fiorentina.
Meanwhile, one of the new cowboy friendst, upon seeing me so concerned, invited us to accompany him to see his beautiful horses. It was already dark night and along the trail on its 4×4 we could only see fireflies and the trees around us. After hopping on the seats for some off road (and it was pitch black!), we found them.
Do you want to know why he was looking for them? Not only because he wanted to introduce us to his "family members", but because he'd bought them carrots and wanted to give them as a snack. You can see in the video at the beginning of this article the way his eyes shone and how the horses reacted to his presence. There is no doubt that man and horses have a strong bond: he is also part of their family.
Maybe this is the secret of the small towns in Italy we've visited: they all have a deep love for nature and animals.
Small towns in Italy: Crossing the Apennine
The next morning, Badia di Moscheta began to fill up with cowboys and cowgirls. Despite it being really early, everyone had a nice smile on their lips and was ready to go. Our smile basically was due to the delicious pie with cream and pine nuts we got at breakfast, but not even that was enough to help me get over the initial nervousness.
That's how I am, I can get extremely anxious! Before I got on the saddle, I started to doubt myself. Just like usual. The crossing would be difficult, and what if I as good with horses as I thought? The others told me of rough and sloppy trails while I was asking Al if it wasn't too late to go home. What if I got seriously hurt?
Do you want the truth? I got on the saddle because I found, aside to my husband, a friendly face in the crowd. Cristina is a cowgirl who attends the riding school of Badia di Moscheta. Bubbly and cheerful, she always has a huge smile for everyone. She helped me to get on Zagabria, a beautiful Haflinger with a calm and gentle character, as I found out later. She immediately realized that I was nervous and instead of forcing me, she managed to calmed me with a couple of kind words and an encouragement. I must say that us women are always more perspicacious than men!
We didn't have to choose anything: the horses decided what place they wanted in the long column. We were twenty-two and behind me I only had Luciano, a friendly guy from Puglia, Aldo who was riding Buriana and Cristina, whose cheerful chatter accompanied us for a good part of the journey.
In fact, seven hours are long and can become quite boring … unless you chat with your travel companions.
Riding through the woods, I realized that my ability to travel lightly did not take into account the cold and humidity of the forests of Northern Tuscany. The cold, because I was wearing a t-shirt and and a button up shirt, was too much. I wore two more t-shirts from my tiny backpack, and I looked like the Michelin man, but at least I wasn't so cold anymore! People who live in the small towns in Italy, because more often than not these small villages are on the mountains, are already used to this strange weather, so only us "foreigners" felt the cold.


Along the path, on the silent Appennine, we met only a couple of groups of brave mountain bike enthusiasts. In this area Mother Nature is the only inhabitant. There are no cars, your cellphone won't work and you won't hear the city noises you're used to. There is only the movement of the saddle, the heart that goes up your throat in the hardest parts of the path, the lapping of water in the streams that you will cross on horseback and the cheerful chatter of your companions. Once you get to the top, after climbing the mountain side, the view is that of the photo you find at the top of this paragraph. We didn't even feel like it was the Tuscany we knew, but rather one of the Hawaiian green islands. The still pungent cold reminded us that until a few days before the entire crossing might've been cancelled: the weather forecast said that it might have rained.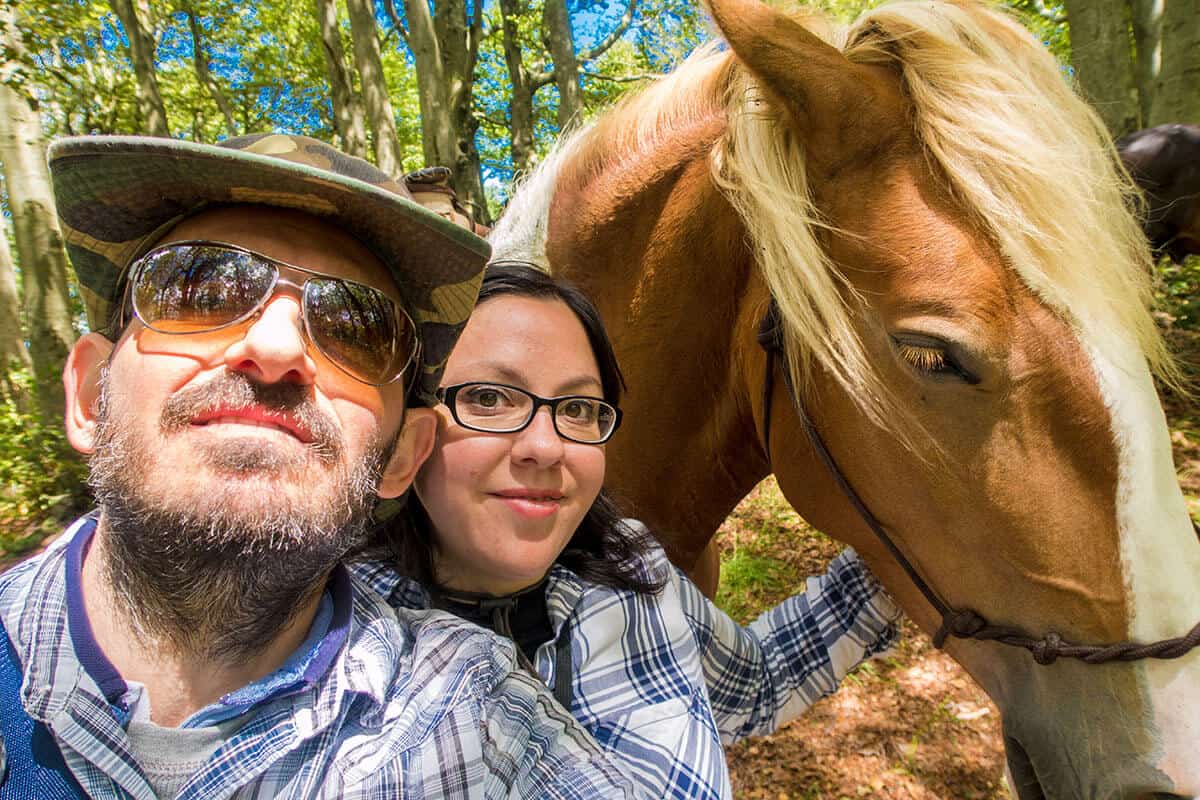 After an hour of lunch break in the woods, as you can see in the video, we got on the saddle to begin the descent on the other side. Another dozen of riders joined us, stretching the column coming from Badia of Moscheta to over 30 horses. Only an hour later, however, Giovanni warned us that it was better to climb down the horses once again. The path was too dangerous to attempt it on a horse. Meanwhile, leaving behind the damp cold of the forest, the sun started to brutally hit us, making us sweat a lot. We shared the little water we had left with Cristina, and then we started to walk, with our horses on a long leash. A few days before leaving, Giovanni advised us to wear mountain boots instead of riding boots. I understood the reason only while climbing down. If not for the grip of my boots, I would've probably hurt myself quite badly. The trail has no railing, and the pebbles below us made us slip more often than not. Full disclosure: I held my breath all the way down. Unlike me, Zagabria did never slip. I can confirm that the Haflinger have no problem on rough and slippery grounds. My new four-legged friend never hesitated. Smart girl!
After passing the rough path without any damage, we got back on the saddle with our knees still shaking.
The last part of the journey to reach Palazzuolo Sul Senio was perhaps the most boring one. Or perhaps simply the exhaustion had drained all the words. My abdominal muscle ached and my legs felt like two chunks of wood. I felt very happy when, at the end of the path we found the Carabinieri patrol ready to escort us into the city. Like in many other small towns in Italy, Carabinieri (less frequently the Italian Polizia) represent the law.

Small towns in Italy: arriving in Palazzuolo Sul Senio
Despite our tiredness, I couldn't help but notice the efficiency that welcomed us. The traffic was blocked to let us pass and many photographers waited for the long column of incoming riders. The smiles of the old ladies who got out to greet us was priceless. A great introduction to Palazzuolo. But as I approached the town, I couldn't believe my eyes. Flowers everywhere, a small, quiet river where the fishermen were pulling up the catch of the day, wonderful weeping willows and red shrubs. Looking around, in arriving at Palazzuolo Sul Senio, all that you see is nature. Mountains covered in green give you the impression of being in a world forgotten by modernity. It can be partly true since mass tourism hasn't arrived to soil this small village between Tuscany and Emilia Romagna. The few tourists who come here are Mugello motorcyclists, who are left baffled… just like us. This is what often happens when you visit a lot of the small towns in Italy: people don't even know they exist.

The small clock tower seemed to be straight out of a children's fairy tale, just as the church bell tower that stood against a completely green and lush mountain wall. The town hosts about 800 people all year round, a number that increases just slightly in Summer (the weather here can be slightly different from the rest of Italy. Read about in my article on what to wear in Italy in summer!). Famous for a Medieval fair that the town is slowly trying to bring back to the beauty of the past editions, it organizes many Summer events and festivals.
Meanwhile, we crossed the whole village, joining the others who had already arrived. After removing the saddle and giving water to the horses, we left them to the pastures and we met the second part of the group, which came instead from the Maneggio Casetta of Marradi.

The cowboy tradition here is to enjoy cold beer … at all the bars in the town, as soon as you climb down your horse. After the first one, however, we decided to go to Ca 'Scheta, a cute b&b located on the mountains around Palazzuolo Sul Senio. Mrs. Paola welcomed us with a smile, showing us this delightful little place. After a refreshing shower, we returned to town for the evening party. Tuscan wine and food ifor everyone, dances and music all night long: these people get tired!
Actually, we would have had to get on the saddle next morning to explore the Apennines from Palazzuolo Sul Senio to Marradi, with our guide Vincenzo, horse whisperer and expert of these mountains. However, the many months of inactivity have brought so much pain that we just gave up to explore the area. As many of the small towns in Italy, Palazzuolo organizes many local events. We had a "Tortello Festival" to attend, with homemade pasta: we wouldn't have missed it for the world!
After a delicious breakfast consisting of tarts with jam, biscuits and delicacies cooked by Mrs. Paola, we met Phil, the guru of this area, the one who seems to know everything about everyone. Passionate about these mountains, in fact, he knows them as his pockets: when he talks about Palazzuolo Sul Senio his eyes glow. He helped us to explore this cute little village, highly appreciated by Austrian and British motorcyclists. Like the Gustav Line, there has been a lot of fighting here and there are so many monuments dedicated to the World War II victims, especially British soldiers.
Between flower gardens worthy of the best fairies and small hidden courtyards, we spent a pleasant morning, meeting a 82-year-old motorcyclist, still riding his Moto Guzzi Airone, a very old model, who chatted about his adventurous life. This is probably what we'll always remember of Palazzuolo Sul Senio, more than many other small towns in Italy: people always welcome you with a smile, as if you were a family member.
After a good plate of tortelli (that you can also buy as souvenir from Italy) – strictly handmade by the women of the country – with wild boar sauce, and another one with nettles, fried with sage and butter, we explored the Museo delle Genti di Montagna. This Archaeological Museum organizes interesting courses and lessons for children and adults: forging, archery, terracotta processing. Despite the small size, it is really rich in history. I suggest a visit also for the presence of a curator always available to provide information and tell anecdotes about each piece of the collection.
When our trip ended, we felt sad in having to say goodbye to our new friends and to these magnificent newly discovered places. So much so that on the train, as we returned home, we asked candidly to each other… hey, why don't we come back next year? After all, we're always ready to explore these small towns in Italy!

Have you read our historical trip on horseback to discover the Gustav Line in Italy?
Pin it for later!
This post is also available in:

Italiano