20 Fun Things To Do In Vegas During The Day in 2023
This post includes affiliate links. As an Amazon Associate, I earn from qualifying purchases. Full disclosure.
Vegas during the day can be much more fun than when the sun goes down. Discover 20 ways to entertain yourself in Sin City in 2023, whether you're visiting solo, with your family or with your significant other.
When most people envision a trip to Las Vegas, USA, they imagine a bustling party scene of casinos, shows, clubs, entertainment and drinks. Nonetheless, there is so much more to Sin City than you might guess. In fact, there are arguably more things to do in Vegas during the day than when the neon lights go on.
Are you planning your trip to Vegas last minute?

I can help you!
Here are the top tours, hotels and more: everything you need to make sure it'll be unforgettable!

Top Experiences and Tours in Las Vegas:
1. Grand Canyon West & Hoover Dam Tour
2. Las Vegas Panoramic Night Tour + Guide
3. High Roller at the LINQ: Discounted Ticket
4. Red Rock Canyon Guided Tour
5. Helicopter Ride Over the Strip

Our Favorite Hotels in Vegas:
1. Bellagio
2. The Venetian
3. The Flamingo

Click to check out the updated rates for renting a car!
Let us show you 20 of the best daytime activities that are sure to make your first trip to Las Vegas a memorable one. Most of these are not only fun, but also budget-friendly and educational!
Quick Links to Post Content
Plan a Day Trip from Las Vegas to the Grand Canyon
A trip to the Grand Canyon is high on most travelers' bucket lists.
It is just a four-hour drive from Las Vegas and is the best place to kick off any tour. You should encounter thrilling sights such as the 900-year-old Joshua Tree Forest, Hoover Dam, and Lake Mead along the way to the canyon.
To get the best out of your Grand Canyon day trip, you can sign up for a full-day guided bus tour.
This should allow you to enjoy transportation, quality amenities, and expert narration on the various sights that make up the Nevada outdoors.
Click here to check rates and availability.
The fun doesn't have to stop at the canyon, either. You can roam the Grand Canyon Village and enjoy the viewpoints, wilderness, and shops before you make your way back.
Because a visit to the Grand Canyon is a full day commitment, you can plan to stay at the nearby Zion's Backyard B&B, which will pamper you with a delicious breakfast the following morning. So you'll be ready to drive back to Las Vegas.
Do not forget to take photos of the natural scenery and views!
You might also like:
26 best day trips from Las Vegas you can plan on your own
You might also like:
Epic Arizona Road Trip Itinerary – Route 66 & Old West
Ride the High Roller Observation Wheel
What is a trip to Las Vegas without a ride on the world's tallest observation wheel?
The 30-minute experience will provide you with a mind-blowing 360-degree view of the Vegas Strip, the nearby valley, the most popular landmarks, and of course Downtown Las Vegas. From 500 feet in the air!
As for many other fun things to do in Las Vegas during the day, it might get quite hot.
We loved the fact that you can bring along drinks on the High Roller pods.
There's also a Happy Half Hour experience: an "all you can drink" ride, once the first drink is down, everything else is free!
Important Note: You can bring individual outside beverages on the High Roller, but glass, coolers and cases won't be allowed inside the pods.
While at the High Roller Observation Wheel, you can visit the Brooklyn Bowl for a game or the nearby shops. There are quite a lot of souvenirs you can buy on a budget!
Another additional thing you can add to your list of things to do in Vegas during the day is The LINQ.
Go there right after riding the High Roller for some great shopping, dining or zip-lining.
Although the wheel is operational round the clock, you will likely experience shorter wait times and an overall better time during the day.
That is why me and Al always prefer to hit the High Roller in the morning rather than at night.
Click here to get a discounted ticket for the High Roller Wheel in Las Vegas!
Go see the Hoover Dam
Another thing to see, that you can add to your itinerary if you are worried of getting bored in Vegas during the day, is the Hoover Dam.
The Hoover Dam is a fascinating human-made wonder that is situated alongside lake Mead. It is littered with historical plaques, exhibit halls, a power plant, a visitation center, and an observation deck on its Arizona side.
For the best views of the dam and the Colorado River, you should walk the Mike O'Callaghan – Pat Tillman Memorial Bridge.
This is a pretty instagrammable spot in Arizona, where you can take quite a few pictures for your travel journal!
In case you don't have a car or if you do not feel like driving all the way there, you can book a mini tour for small groups.
The tour includes hotel pickup from Las Vegas, experienced guide, the Hoover Dam ticket and the chance to also visit Lake Mead.
Click here for rates and availability.
A day's trip from the Strip, this journey to an attraction that has been dubbed the "greatest dam ever built" should be worth every minute.
February 2023 Tour Update
According to the USBR, there Hoover Dam Tours are once again available.
Yet from May 3 to May 5 there will be no tours at all.
Also the Hoover Dam Parking Garage will be closed from May 9 to May 11.
You can buy your ticket (exclusively for the Visitor Center Exhibits) inside the Visitor Center.
Because tickets are sold in-person on a first-come first-served basis, you should aim to get there early in the morning.
Visit The Mob Museum
Part of Las Vegas's history revolves around organized crime and notorious mobsters like Lucky Luciano, Bugsy Siegel, Frank Costello, and Meyer Lansky.
To get a better insight into the fascinating origin story, take 2 to 3 hours to visit the amazing Mob Museum in Downtown Vegas during the day.
The National Museum of Organized Crime & Law Enforcement opens at 9 am and usually is way less crowded in the morning.
This means that you will be able to visit and enjoy the interactive experiences with no hurry!
The exhibits at the Mob Museum include a very interesting display of USA's history with crime and Hollywood's portrayal of the same.
With so many secrets to discover, you may be stuck in this fascinating museum for hours.
You can complement your visit with an authentic meal from old-school eateries in the vicinity, such as the famous Hugo's Cellar and Vic & Anthony's Steakhouse.
Important Note: the nature of the Mob Museum could be too disturbing for children. Research on the exhibits and use your discretion to decide if you want to bring them along or not.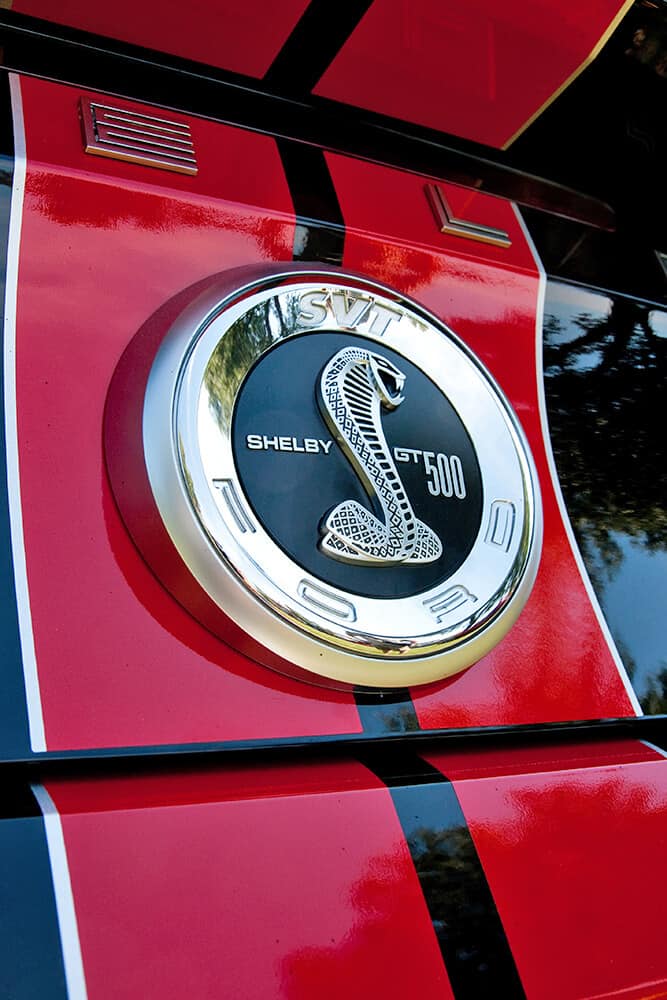 Marvel at the Carroll Shelby Museum
Opened in 2012 in honor of one of the most accomplished automotive designers in America, the Carroll Shelby Museum is a haven for sports car lovers.
Add it to your list of fun things to do in Vegas during the day also if you are visiting with children!
This automobile museum, located south of the Strip, showcases a fantastic display of iconic cars, including the popular Mustang and Classic Cobra models.
The Shelby Museum can be visited for free, doesn't require reservation and is open 7 days a week.
You can book a VIP Tour Experience online, which includes a behind-the-scenes experience at the Shelby American Modification Shop, the chance to sign the Carroll Shelby Signature Wall and a bag full of official merchandise (min. value 60$).
Click here to book the tour at a discounted rate.
Me and Al went for the free tour and we got face to face with notable models like the GT 500 and my beloved Shelby Cobra Super Snake. We took a heap of great pictures and decided to shop for a few souvenirs at the official store.
Easy-peasy!
If you're lucky, you can also watch Shelby American employees through a big window as they work on cars!
The on-site store at the Carroll Shelby Museum sells Shelby-themed apparel and accessories, often on sale.
We did find quite a few lovely t-shirts that we bought as souvenirs!
On your way out, the lucky Shelby owners can also pick up some exclusive auto parts for your vintage model car.
Enjoy the view at The Stratosphere Observation Deck
It is virtually impossible to be anywhere in Las Vegas and miss the Stratosphere (now known as "The Strat").
It towers 1,149 feet above the ground!
The iconic Stratosphere Observation Deck, which has been renamed "Skypod", is the tallest freestanding observation tower in the U.S. It provides a 360-degree view of downtown, the Strip, and other areas beyond them.
If you love the thrill and are looking for fun things to do in Las Vegas during the day, you can go on many rides on the deck. For the extra rush!
Choose between the Big Shot, X-Scream, SkyJump Las Vegas and Insanity the Ride.
Click to get a discounted package for the Stratosphere Observation Deck and the best rides.
However, if you'd rather stay still, you can view the sights while enjoying the cuisine at the Stratosphere Observation Deck's award-winning bars and restaurants.
Arrange a Red Rock Canyon Day Trip
If you're not interested in the most popular Las Vegas daytime activities, then treat yourself to an adventurous day trip instead!
Unlike the Grand Canyon, which is a full-day commitment, the Red Rock Canyon is a 45-minute drive from the Las Vegas Strip.
It features a 13-mile (20 km) drive loop with numerous viewpoints that allow you access to various hiking trails and geological sites.
This amazing canyon is a great place to take photographs of your trip to Vegas.
Since it's a daytime trip, you will likely capture all the red and orange hues of the sun and vegetation in the area.
The adventurous ones like us should definitely look into an off-road adventure at Red Rock Canyon.
You can now book a 4×4 tour on an open air Jeep Wrangler for a fun alternative to the usual road trip.
Click to check out rates and availability!
Note: Leaving early means that you can get back in time to enjoy one of the Las Vegas afternoon shows!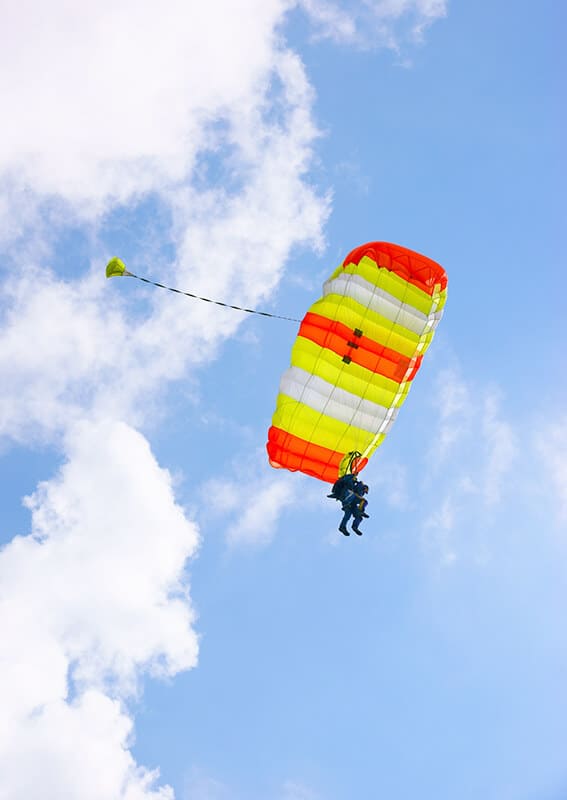 Treat Yourself to a Skydiving Experience
Are you a thrill-seeker?
Try the Vegas Indoor Skydiving experience for a chance at free falling!
The indoor skydiving in Vegas provides you with the same thrill of skydiving, minus the use of a parachute or the risk of face planting.
You can even choose to go solo or join a group flight formation.
Many people choose the Vegas Indoor Skydiving not just as a skydiving center, but as a great opportunity to learn how to perform their first skydive.
They use a vertical wind tunnel to introduce guests to this thrilling sport.
Skydiving is the perfect Vegas daytime activity, because in the morning the center is rarely crowded.
The indoor version is ideal for kids, but you should always check first, as there are some weight and height restrictions.
Try a real jump if the indoor experience isn't enough
If you're an experienced skydiver, or if you think that you can add a more thrilling ride to your bucket list for Vegas during the day, try the real thing!
SkyDive Las Vegas offers the chance to jump from an airplane with an experienced tandem instructor.
You will get to see Lake Mead, Hoover Dam, Valley of Fire, Lake Las Vegas, Colorado River, Lake Mohave, Red Rock Canyon, Mt. Charleston and the Las Vegas Strip from above!
SkyDive Las Vegas also offers a free shuttle ride from the Las Vegas Strip, for those who haven't rented a car.
Test yourself at the Richard Petty Driving Experience
NASCAR fans will have a hoot at the Richard Petty Driving Experience.
At the Las Vegas Motor Speedway, you can race around at speeds of 165 miles (265 km) per hour for up to three laps in a 600 horsepower NASCAR race car.
Not sure about you but me and Al have had this on our bucket list of things to do in Vegas during the day for a while!
Might be that we do not have (sadly) NASCAR tracks in Italy?
You can either take to the wheels yourself or sit on the passenger seat and let an expert professional driver speed you around the track. Whatever floats your boat!
Important Note: Remember to carry a valid driver's license.
Road Trip to the Springs Preserve
Among the things to do in Vegas during the day, road trips are what we love the most. There's just something about the Nevada desert and all the secrets it hides!
The Springs Preserve is a hidden gem in Las Vegas, located to the city's limits.
It features expansive acres of trails, botanic gardens, and attractions.
This place also houses several museums of Vegas modern history like the Origen Museum and the Nevada State Museum.
The natural landmark hosts the water source that supported an indigenous population centuries ago.
Those planning to visit Las Vegas with kids should absolutely add the Springs Preserve to their bucket list.
The younger travellers will in fact love the Butterfly Habitat, the playground with a Splash Pad, and all the interesting events that are focussed on the little ones.
Consider spending most of the day at the Springs Preserve. Getting there early in the morning would be perfect.
You'll be able to get back in time to enjoy the Las Vegas nightlife!
Important note: If you want to make the most out of your day trip, buy a skip-the-line ticket online before you go.
Click here to get a super cheap Springs Preserve ticket and avoid the queue!
Go to see "Titanic: The Artifact Exhibition"
History fans and Titanic lovers can take a tour of the Titanic: The Artifact Exhibition at The Luxor Hotel.
This interesting exhibit includes an insightful and informative presentation of artifacts, luggage, and recreated areas from the actual Titanic.
You can view floor tiles from the wreckage and even a piece of the Titanic's hull, as well as recreations of the outer promenade deck and the grand staircase.
The Titanic exhibit should take you about 2 hours, more or less. You can consider it also to spend some free time in between different things to do in Vegas during the day.
Click here to get the discounted tickets online.
Explore the Las Vegas Natural History Museum
The Las Vegas Natural History Museum is another one of the fun things to do in Vegas that both kids and adults love.
Many tourists pop into this museum to cool off from the hot Las Vegas weather and end up liking it so much that they spend hours in there!
We consider it one of the must-see things in Sin City, because it's home to absolutely amazing exhibits like the Wild Nevada Gallery, the Geology Gallery and a fascinating gallery of prehistoric fossils. Including dinosaurs!
Your kids can also enjoy exploring Ancient Egypt's natural and cultural history through the precious gemstones and real-life marine life displayed at the museum.
It is recommended to spend at least one hour inside the museum to see everything. Depending on personal preference, it can take more time.
Me and Al spent about two hours at the Las Vegas Natural History Museum because we found it super interesting and we didn't want to miss anything!
Take Lots of Pictures at 7 Magic Mountains
One of the things to do in Vegas during the day on a budget is visiting 7 Magic Mountains.
I'm sure you've all seen the pictures with piles of colorful boulders in the middle of the Mojave desert. They're everywhere, from Instagram to the popular art channels.
The large-scale desert artwork known as Seven Magic Mountains was created by Swiss artist Ugo Rondinone.
It's located near Jean Dry Lake and Interstate 15, about 10 miles (16 km) south of Las Vegas.
This is a very popular instagrammable spot in Vegas, which can be visited for free. Yay!
Because it's so popular, it can be a bit crowded.
I suggest you go there early in the morning, so you can take lots of pictures of the tall 7 towers of stacked boulders.
The light at dawn is absolutely amazing and there's no one else around!
Getting there this early means that you can get back on the Las Vegas Strip in time for a second breakfast (Lord of the rings style) and to lounge by the pool before the sun becomes too much.
In case you haven't rented a car, you can book a guided tour that combines Red Rock Canyon and 7 Magic Mountains on the same day.
Click here for rates and availability.
Stand in Awe In Front of the Bellagio Fountains
The Fountains of Bellagio are a free, family-friendly, and exhilarating attraction in Las Vegas.
The scenery is made up of jets of water shooting hundreds of feet into the air from lake Bellagio and dancing around in graceful patterns.
The enchanting water movement is perfectly choreographed to popular music, including romantic and classical tunes.
Our favorite song? Time to say goodbye (Con te partirò) sung feat. Andrea Bocelli and Sarah Brightman.
It was the first Bellagio Fountains song that was playing on our very first Las Vegas trip, so it has a special place in our heart!
While at the Bellagio, you can also enjoy the Botanical Gardens, the Chihuly's sculptures and the Conservatory.
Sing with Elvis at the Welcome to Las Vegas Sign
Your trip to Las Vegas wouldn't be complete without a visit to the iconic "Welcome to Las Vegas" sign.
Designed in 1959 by Betty Willis, this landmark is synonymous with everything in Las Vegas. You can see it featured in numerous artworks and souvenirs in the city and beyond.
Add it to your bucket list of Las Vegas daytime activities: that's when Elvis is around!
We do have some iconic pictures that we framed at home with an Elvis impersonator. It's not only the photos, but the fact that the guy was so much fun and had a great voice.
So we didn't mind the scorching hot Las Vegas sun and we stuck around for a while!
The Las Vegas sign, which was officially recorded in the National Register of Historic Places on May 1, 2009, has its own parking lot.
It can be visited for free, which means it's another budget-friendly activity in Vegas!
Where is the Welcome to Las Vegas Sign?
You will find the "Welcome to Las Vegas" sign at 5200 Las Vegas Blvd S, in Las Vegas.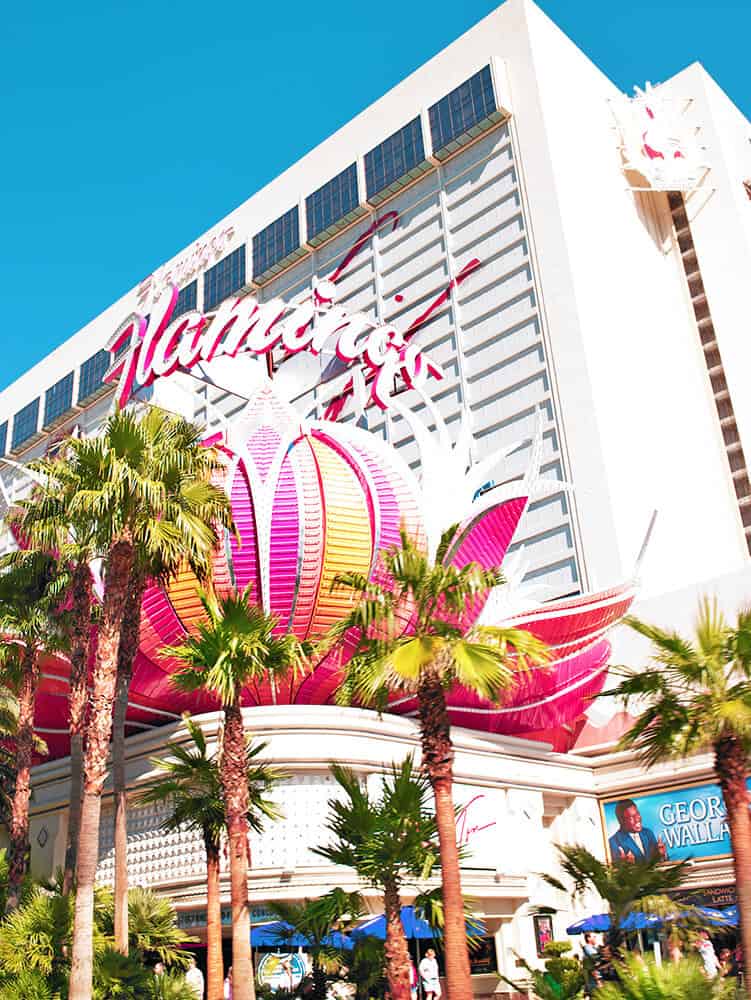 Stretch Your Legs at The Flamingo Wildlife Habitat
The Flamingo Wildlife Habitat hosts a wide array of birds, including flamingos, ducks, swans, koi, and pelicans.
You can also enjoy the turtles, lush greenery, amazing waterfalls and palm trees.
This small piece of heaven is tucked in the middle of the Strip and is a great break from the rush of Vegas life.
The oasis inside the Flamingo Hotel & Casino is also an excellent place to stop by with your kids during your tour of the High Roller Observation Wheel as it sits just opposite it.
Have Fun with the Best Daytime Shows in Las Vegas – The Adventuredome
The Adventuredome at the Circus Circus resort is considered one of the most exciting daytime activities in Sin City.
This indoor theme park caters to kids and adults alike and features everything from extreme rides to interactive arcade games.
You can ride a massive roller coaster or have fun in their laser tag arena.
If you are bringing your kids along, check the ride restrictions before you buy tickets.
Plan a Visit at The Neon Museum
One of the iconic things to do in Las Vegas during the day if you're after great pictures is visiting the Neon Museum.
This famous Las Vegas museum will let you experience the magic of the city's vintage signage that has been preserved.
While there are also night shows, I suggest you visit during the day.
Due to broken glass and rusty metal in fact, daytime visits are best enjoyed also by those interested in spending time there with kids.
At night this museum can be pretty crowded and loud.
But the morning tours are much more quiet, so you will be able to ask questions and discover Sin City through its vintage signs.
Arrange a Fremont Street Walking Tour
The Fremont street experience isn't generally one of the recommended things to do in Vegas during the day.
Why?
Because many people prefer to visit at night, so they can see the Viva Vision light show.
Yet at night Fremont street is usually very crowded and social distancing is virtually impossible.
While it is a pretty cool show, it can be a bit too much, especially if you are visiting with young children.
To get the most out of this iconic spot in Las Vegas, and to learn the history of Sin City, the best way to go is planning a daytime visit.
If you prefer a much more customized and intimate experience, you can sign up for a tour of Fremont Street with a professional guide.
The tour lasts 2 hours and includes small bits of info on legendary performers and reality TV stars.
Those who do not feel like walking can opt for a super fun Fremont street segway tour.
You do not need to be an experienced rider: this tour includes a short training session!
Ride the Hop-On Hop-Off Big Bus
The best way to see Sin City, especially if it's your first visit, is to catch the Hop-On Hop-Off Big bus.
This means that a professional guide will tell you all about Vegas while you enjoy the sights and sounds. At your own pace, without having to walk around under the scorching hot sun.
The classic ticket allows you to hop off at any one of the over 15 stops to shop, eat or visit. And you can rejoin when you're done. It lasts for 24 hours. Not bad, right?
One day is enough to visit the best of the Las Vegas Strip and the downtown iconic sights, including Miracle Mile, Fremont Street and the Golden Nugget hotel.
Since energy wasting is not an issue, at night you'll be able to hit the dance floor or to have fun at a casino. Win-win!
Click here to get a discounted Hop-on Hop-Off Bus ticket.
You might also like:
– 26 amazing day trips from Las Vegas
– What to do in Vegas during the day
– 35 Things to do in Las Vegas that aren't gambling
– 26 Best Las Vegas Souvenirs for your collection
Hot Air Baloon Ride From Las Vegas
Are you planning a romantic weekend in Las Vegas with your significant other? Do you want to celebrate your anniversary in a unique way? Or maybe you want to propose, but it has to be unforgettable?
Take the chance to fly in a hot air baloon over the Mojave Desert! It's a a once-in-a-lifetime opportunity that will make your trip to Las Vegas absolutely memorable!
Book with a reliable company and spend 1 hour in the air on a hot air baloon at sunset.
You'll fly over the Spring and Nopah Mountain Ranges, as well as the Death Valley.
This tour also incudes bubbles, as in, you'll get a champagne toast.
The perfect way to surprise your partner!
Click here to check out rates and availability.
Why Should You Explore Las Vegas During The Day?
The fun in Las Vegas doesn't stop when the sun comes up.
If nightlife is not your scene or if you want to travel with your kids, you can make a whole vacation out of daytime activities in Las Vegas.
A Vegas trip can be as educational, romantic, or adventurous as you wish it to be.
Do not think you're going to get bored: boredom in Sin City isn't even a thing!
There's also something else you should consider.
At night Las Vegas can be loud and crowded.
On the contrary, during the day you will have the chance to avoid the long lines, and to experience different attractions without having to push through a number of tourists.
Enjoy your daytime Las Vegas experience!
You might also like:
– Utah Road Trip Itinerary
– Easy Joshua Tree Day Trip
– Yosemite Itinerary for 2 days
– Guide to Sleeping in your car on a road trip
Pin it for later!
Travelling Dany
Danila Caputo is a bilingual travel writer living in between Naples and the Amalfi Coast (Italy). She travels and works with her husband Aldo, photographer and videographer. Their blog chronicles their adventures around the world, Italian/European culture and tips on how to be responsible travelers. You can find out more about their latest trips and their life on Instagram and Facebook.