Complete Abruzzo Food Guide: Eating in Abruzzo (Italy)
This post includes affiliate links. As an Amazon Associate, I earn from qualifying purchases. Full disclosure.
Abruzzo food is full of different flavors, most of them unique to this gorgeous Italian region. They are all based on simple ingredients, more often than not fresh and locally sourced.
Abruzzo is one of the most underrated regions in Italy. I have spent many summers there with my family, and now that I'm older, I've been enjoying the area and its food even more.
Abruzzo cuisine makes it a point to use only farm-to-table products. What's the difference from the other traditional dishes in Italy? Abruzzo's are super cheap and still delicious!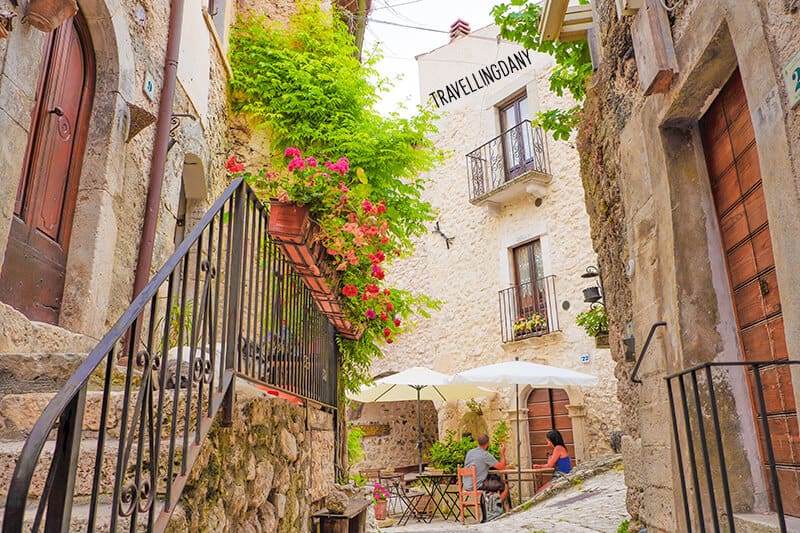 Note: To explore Abruzzo in Italy you will need to rent a car. Do so at Aeroporto internazionale d'Abruzzo in Pescara! No need for an SUV: a medium sized or small car will be more than enough.
Click here to check out rates and availability.
While Abruzzo wine is quite popular in Italy and abroad, I can assure you that this region also has a lot of delicious dishes worth trying.
When I told my best friend we were planning to visit the Abruzzo region – again – she was quite surprised. Heck, this year alone we've been there almost every other weekend!
It is, after all, one of our favorite day trips from Naples!
After a moment, she looked at me curiously. I was always showing her pictures and videos of the area. All cool, but… what about the Abruzzese dishes? I was never talking about them! Doh!
Hopefully this Abruzzo food guide is enough to make you want to visit. It did work with her!
Abruzzo is one of the most underrated regions in Italy but it has so much to offer, I promise!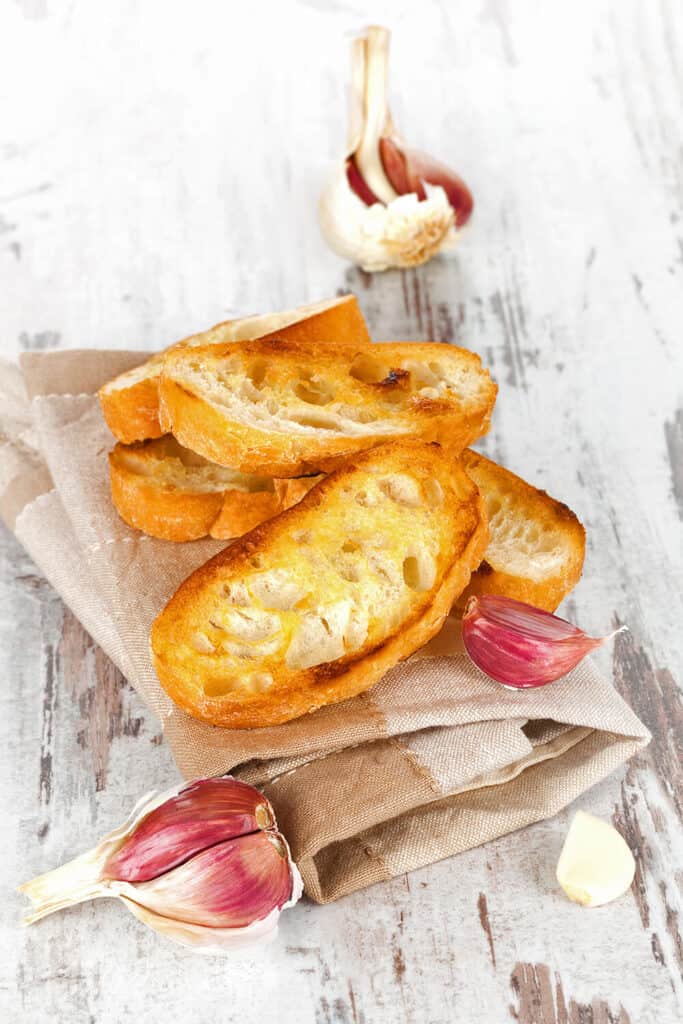 Quick Links to Post Content
Abruzzese Food: The Main Ingredients
The following goods are a staple of the Abruzzese cuisine. They are all specific to this gorgeous Italian region, and can be great souvenirs from Italy.
Now, while Abruzzo food products make great gifts that you won't find anywhere else, it's important to see if you can import them.
Before you buy anything, check the TSA rules!
Worried you'll need a bit of help?
Download the FREE Italian Travel Phrasebook here! It includes the correct Italian pronunciation and lots of useful sentences that you'll be able to use on your trip to Italy!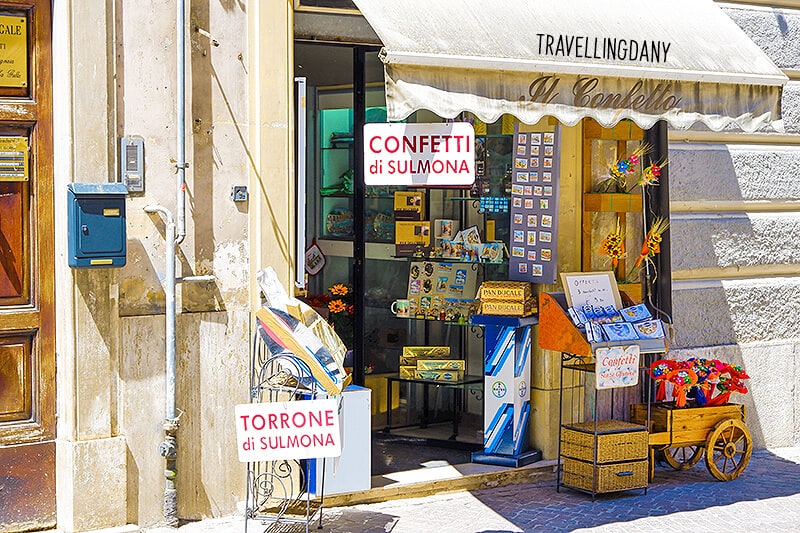 Confetto di Sulmona – Abruzzese Sugared Almond Candy
Italian confetti are super famous in the whole world. They are mostly made in Abruzzo and Campania regions.
The confetti produced in Sulmona (Abruzzo) are made with Avola almonds, with a traditional recipe. And… ancient techniques which are specific to the Abruzzo region!
The Confetto di Sulmona is a hard candy. A whole almond is covered in sugar, often colored.
The most popular brand is Pelino (Confetti Pelino Sulmona) which has been making confetti since 1783!
A great alternative, if you can't eat almonds, is Cannellino di Sulmona.
This confetto from Abruzzo region is filled with cinnamon. Even the Italian poet Giacomo Leopardi loved them!
Click to watch our Abruzzo Food Video Guide and see the dishes we tried!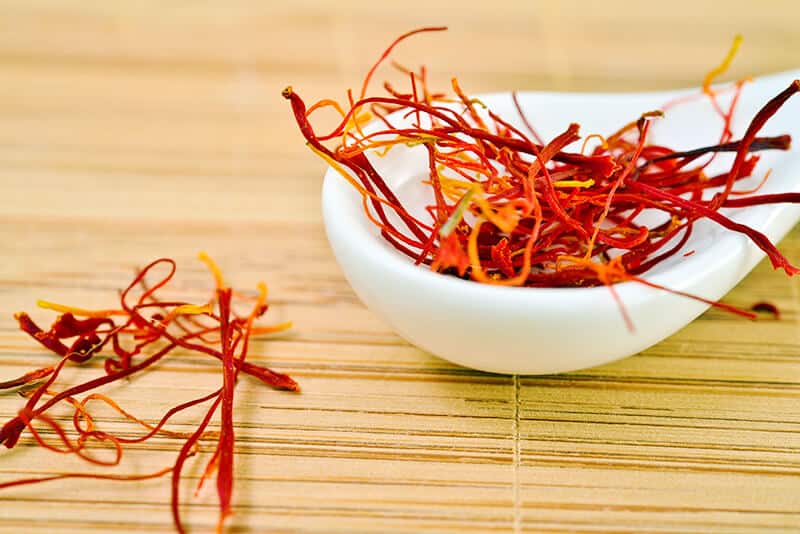 Zafferano di Navelli – Navelli Saffron
Saffron is quite popular in the Abruzzese dishes. It's another farm-to-table product of this gorgeous Italian region.
In the Navelli area, not too far from L'Aquila, there are large saffron plantations. The saffron cultivated here is considered one of the most exquisite varieties in the world.
We also know it as "oro rosso" (red gold in Italian).
I believe the gnocchi allo zafferano (saffron gnocchi in Italian) is one of the most famous abruzzese dishes!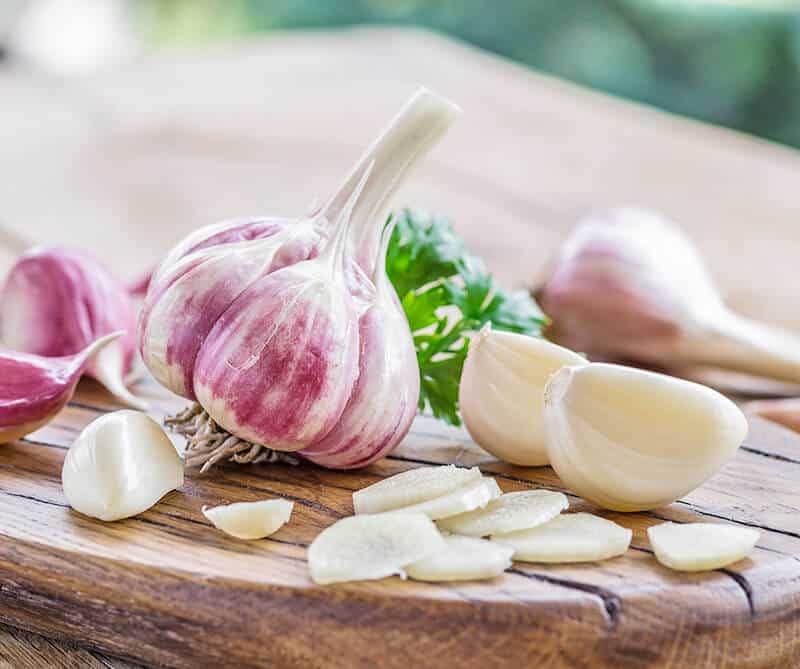 Aglio rosso di Sulmona – "Red" Garlic from Abruzzo
Traditional Abruzzo cuisine uses local garlic in most of the best recipes. By using garlic, in fact, they can cut back on salt. Which is a great thing!
The "red" garlic grows exclusively in the area surrounding Sulmona, in Abruzzo region.
It is considered as one of the rarest and most delicious varieties of garlic.
If you're planning an Abruzzo trip in spring or summer, you'll find it's sold almost everywhere.
The Aglio rosso di Sulmona is bigger than the white Italian garlic, and its taste is less intense.
This kind of Abruzzo food is mostly used raw (a bit like pesto). Whether it's for sauce or for the Italian bruschetta.
Some fish and meat recipes from Abruzzo prefer to cook it. According to the Abruzzese people, it adds a lot of taste to even the blandest dish!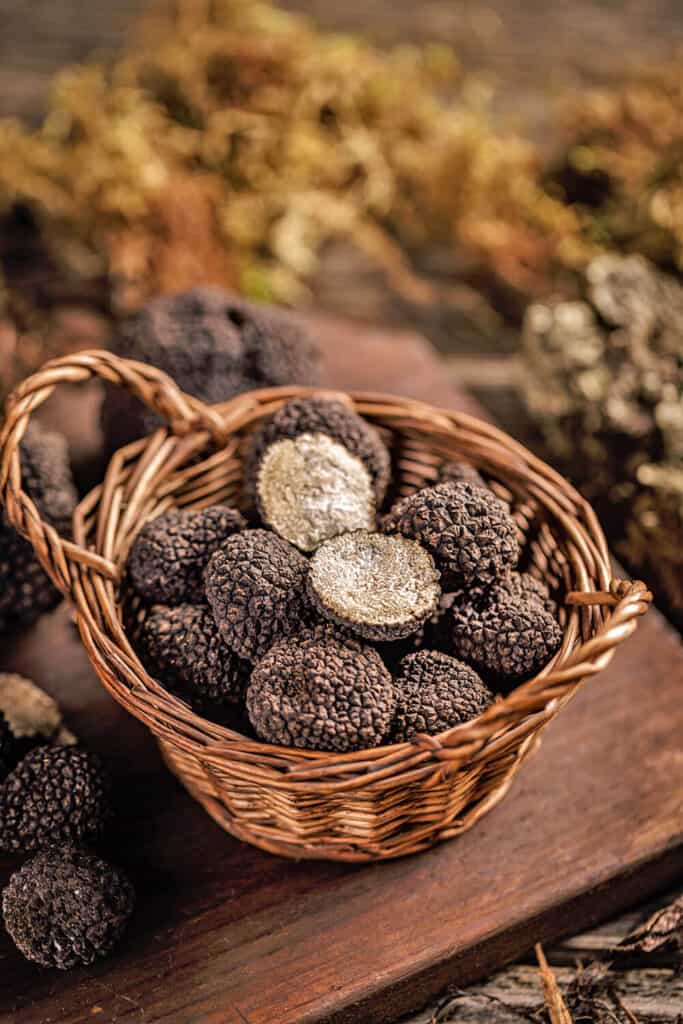 Tartufo Abruzzese – Abruzzese Truffle
Abruzzo food can be cheap, but it doesn't cut back on taste.
The Abruzzese cuisine often adds local truffles to its most traditional recipes.
You might be surprised to know that there are 28 different kinds of truffle native to Abruzzo!
Abruzzese people love truffles so much that sometimes they also use it on Italian pizza. Have you ever had truffle pizza? Nope? Then you're missing out big time!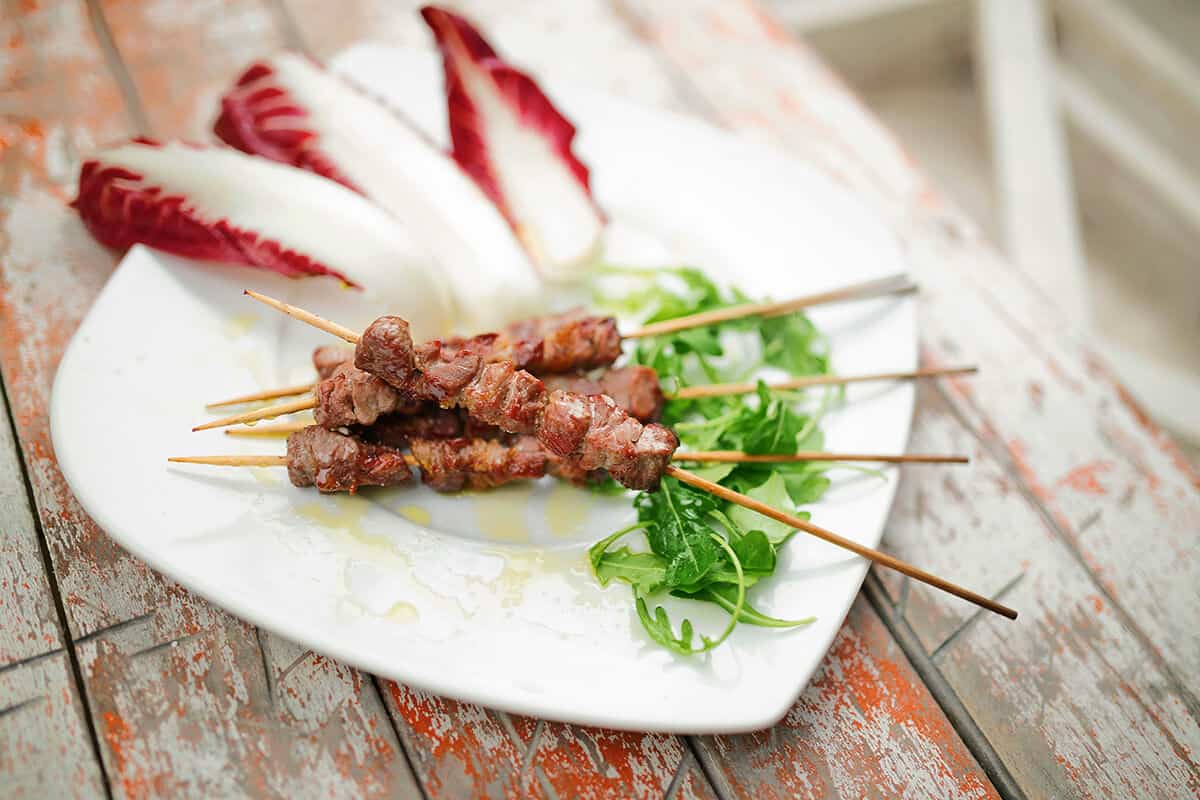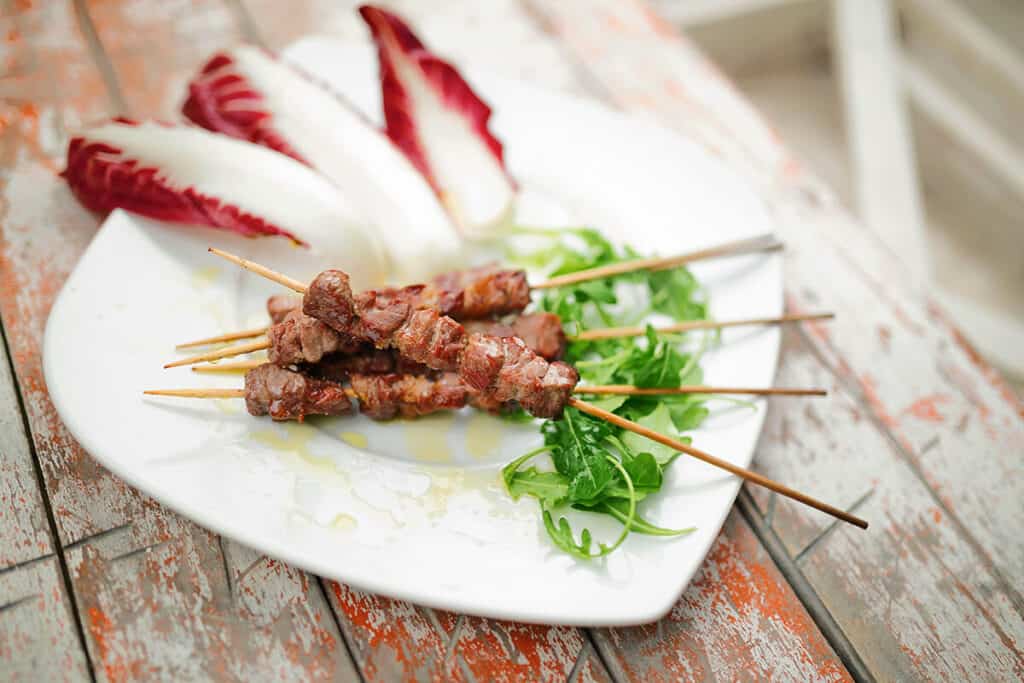 Arrosticini Abruzzesi – Lamb Skewers
One of the dishes you'll find in every Abruzzo food guide is Arrosticini Abruzzesi.
I still haven't found a place in Abruzzo that doesn't make arrosticini. You will find them everywhere!
Arrosticini are traditionally from Abruzzo. Tiny morsels of lamb meat that are also known as "Rustelle" (Abruzzese dialect). They are grilled and served hot, often in a large bunch.
Arrosticini in Abruzzo are also considered a popular street food. They are cheap but pack in a lot of taste!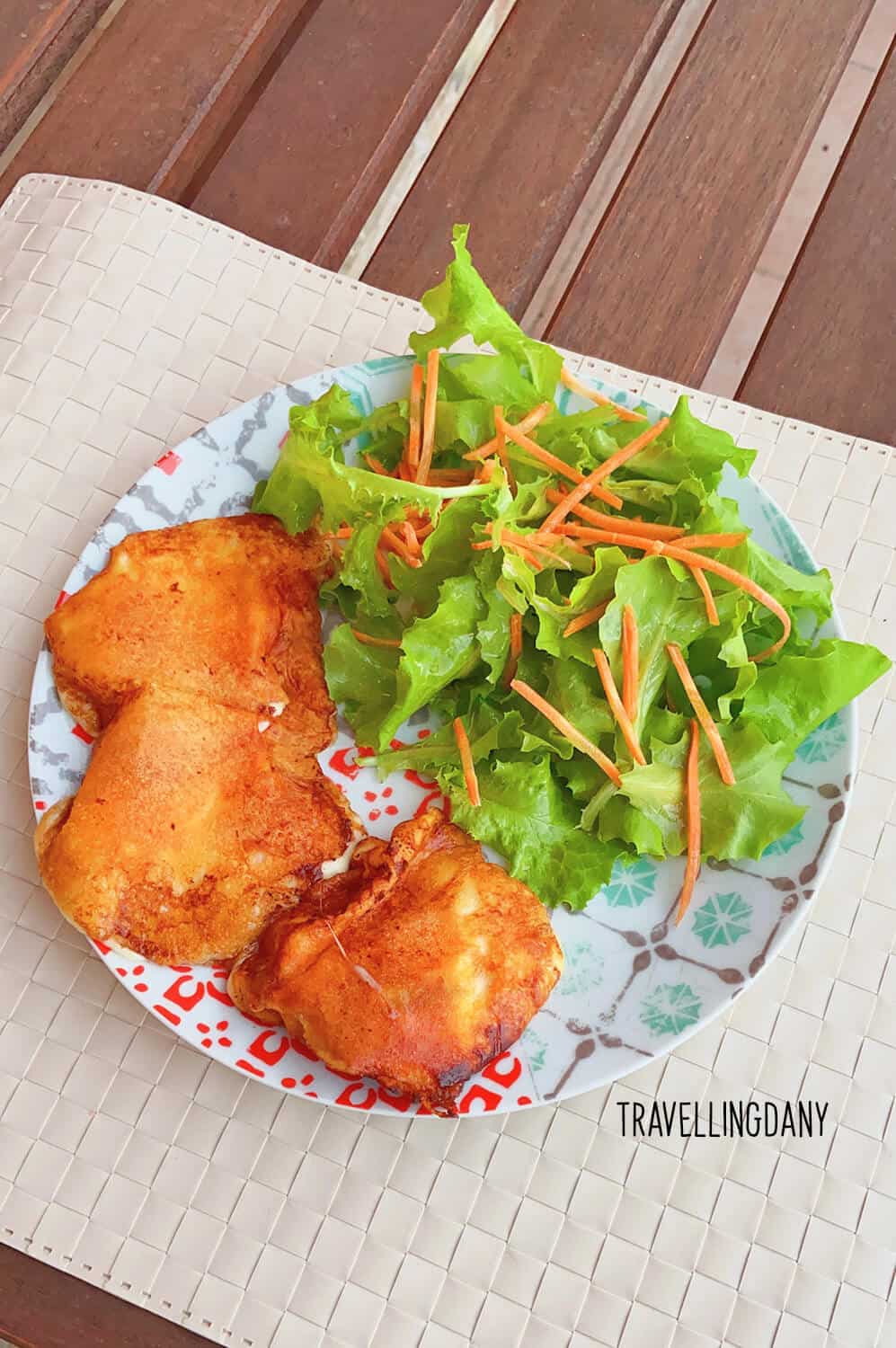 Abruzzo Cheese: Pecorino and Scamorza
Cheese in Abruzzo region is mostly produced in the mountainous areas.
There are quite a lot of cheeses you can choose from. In fact often you will be served "tagliere di formaggi" among the Abruzzese main courses.
Cheese is considered a renowned Abruzzo food. Two types are especially delicious: pecorino abruzzese and scamorza abruzzese.
Pecorino abruzzese is made with sheep milk. Its taste and scent are intense and distinctive.
It's not the same Italian pecorino that is traditional of the gorgeous Tuscany villages we all love!
Scamorza Abruzzese is made with cow milk. It can be fresh (soft and quite delicate) or aged (dry and full of flavour).
Both can be grilled, to be served melted and hot. Grilled cheese is in fact a quite popular Abruzzo dish!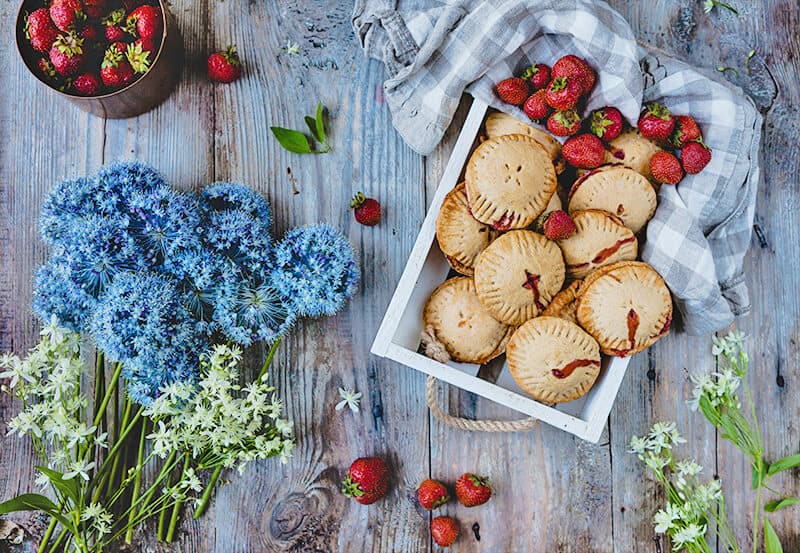 Bocconotti – Abruzzo traditional Pastry
Bocconotti Abruzzesi are the main pastry of Abruzzo cuisine. Of course, there are lot more, but bocconotti are sold everywhere.
They can be a great kind of sweet street food, as you can easily eat one while you walk around the lovely Abruzzo villages.
Think of bocconotti as small Italian pastries made by nonnas in Abruzzo.
The shortcrust pastry hides delicious fillings. Dark chocolate custard, almonds and cinnamon, lemon custard, homemade berries jam and even nutella.
Bocconotti Abruzzesi don't need to be hot, but they should always be fresh (so you need to feel the "crunch" when you bite into them) and covered in a thin layer of powdered sugar.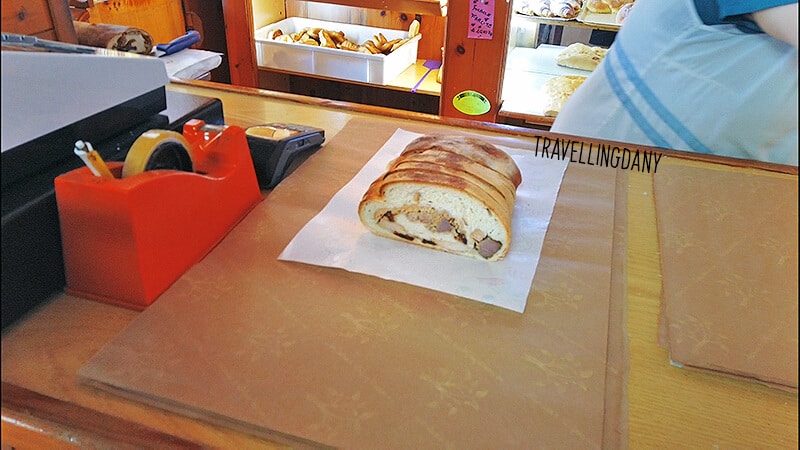 Pane Porchettato – Brand new Abruzzo Recipe
Italian nonne can be very creative when they're cooking.
Like turning one of the most popular traditional foods, Abruzzo bread, into something more.
Nonna Anna, who owns a traditional Italian bakery in Roccascalegna, a lovely village in Abruzzo, has invented "Pane Porchettato". A brand new Abruzzo food.
Porchetta is the authentic Italian pork roast. Stuffed boneless and butterflied pork shoulder that is wrapped and roasted in pork belly.
Nonna Anna has added porchetta into the bread. So you basically have the whole package: meat and bread in the same slice.
You will only find Pane Porchettato at her bakery, Panificio Il Barone, in Roccascalegna, within walking distance from the gorgeous Rocca.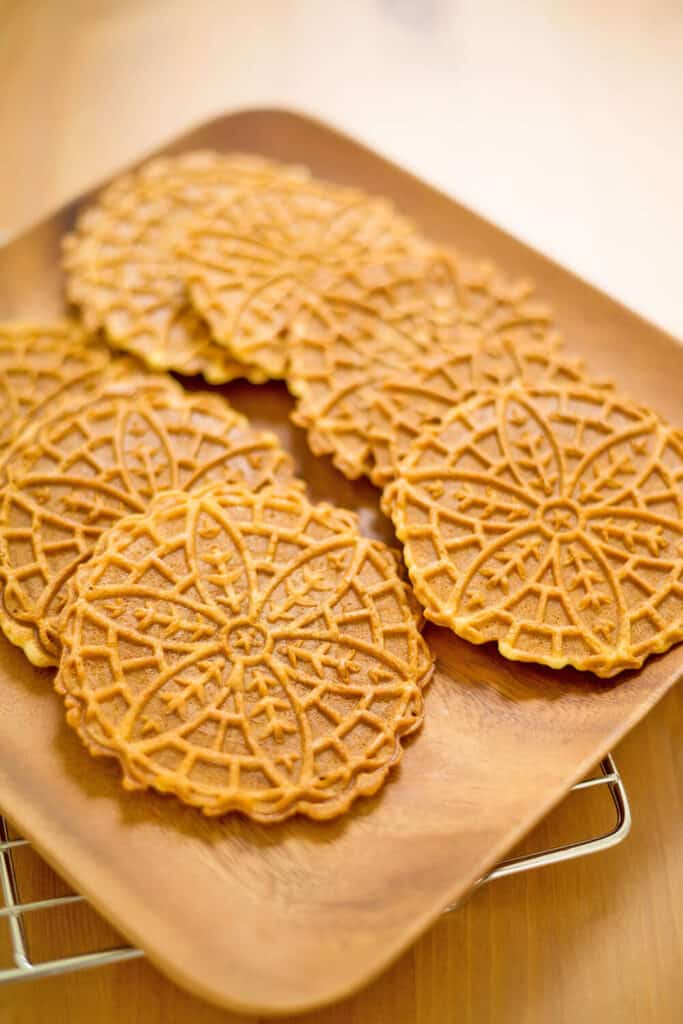 Ferratelle – Traditional Abruzzo Region Waffles
Ferratelle, also known as Pizzelle, are traditional sweet pastries from Abruzzo region.
These thin waffles are made – one by one – with a traditional iron tool that has to be warmed on fire.
Sometimes ferratelle can be rolled as cannoli and filled with homemade jam, custard or nutella.
You will find ferratelle at bakery shops and sometimes also in the small, traditional grocery stores.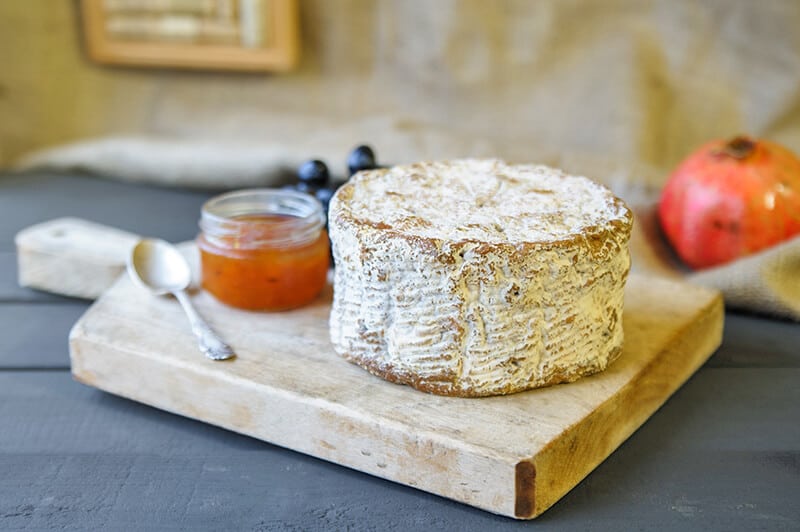 Cuisine of Abruzzo: Top 10 Most Popular Dishes
Adding all the traditional dishes to this Abruzzo food guide would be impossible, so I chose the top 10.
Mind you, there are so many more and they're all delicious!
While the coastal area is all about fish, the mountainous region prepares its traditional Abruzzese dishes using lamb, pork meat, handmade pasta, mountain greens and cheese.
Eating in Abruzzo is an unforgettable experience.
The servings are usually pretty large and you can eat a main dish with a goblet of local wine for about 15€ (about 18$) per person.
Not bad, don't you think?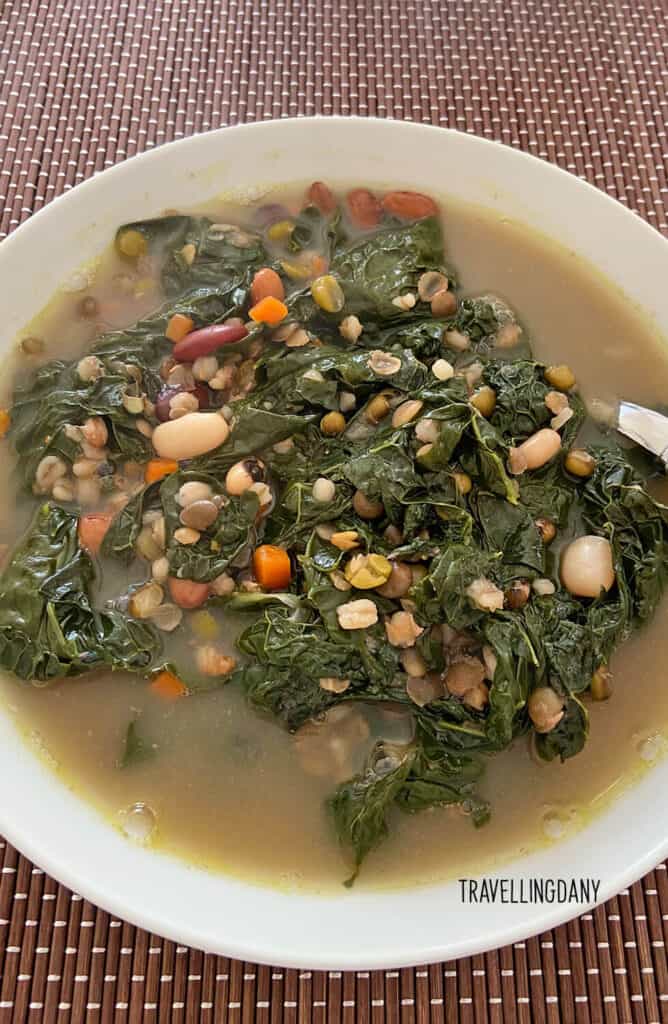 Virtù Teramane
Virtù Teramane is a traditional Abruzzo dish which refers to the Teramo area.
The recipe for this soup is ancient, some say it dates back to the Roman Empire.
Traditionally cooked on May 1st in Teramo, they're now served in most of the best restaurants in Abruzzo.
The soup is cooked for hours with something like 17 different vegetables and legumes. Because to make it savory they also add bits of pork belly, it can't be considered a vegetarian recipe.
The traditional recipe for this Abruzzo soup includes 49 ingredients!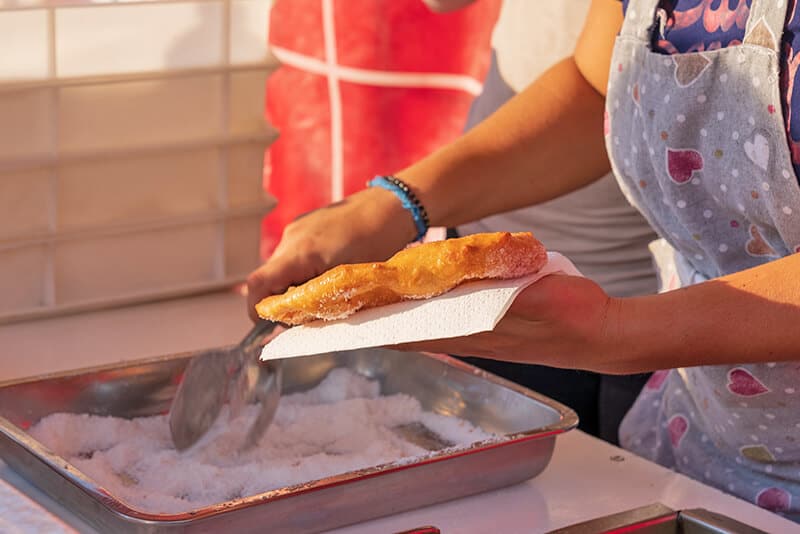 Pizz'onte or Pizzonte – Abruzzese street food
Pizz'onte is a word from the Abruzzese dialect which means "greasy pizza". While the translated name might not inspire a lot of good things, I promise they're delicious!
Pizzonte are a bit like the Neapolitan Pizza Fritta, a staple of the street food in Naples, Italy.
The fried pizza dough can be eaten with just a pinch of salt, or topped with a lot of ingredients, including the yummy Abruzzo cheese.
The Abruzzese people love to eat pizz'onte on the beach or while walking around. They are to be piping hot, so the warmth will enhance the flavor of the toppings.
Me and Aldo tried Pizzonte with mortadella, while walking around exploring the tiny village of Palena, in Abruzzo. They were delicious and also pretty cheap.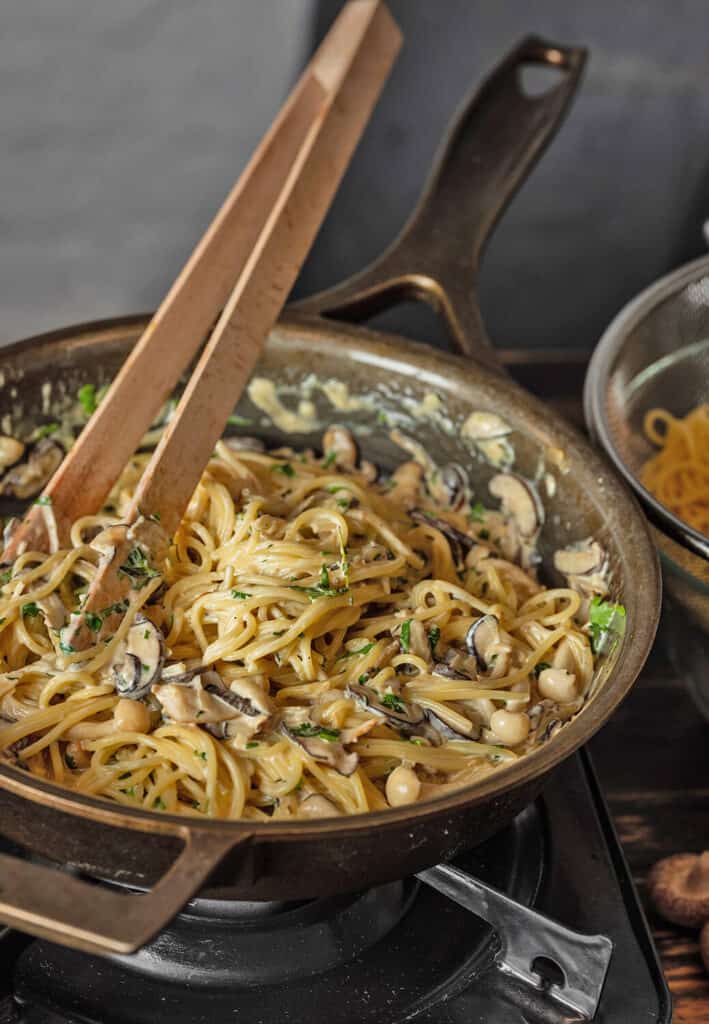 Maccheroni alla chitarra or Pappardelle ai funghi porcini
Handmade pasta is the must-eat Abruzzo food. You'll find it everywhere, and it's not even as expensive as you might think.
Maccheroni alla chitarra are like… square spaghetti, made in Abruzzo region using a special tool.
We've seen them often served with porcini mushrooms, or with "Sugo all'Abruzzese". A mouth-watering tomato sauce with tiny meatballs in it.
Everyone who knows me is aware of the fact that I absolutely love porcini mushrooms. I eat them everywhere I go, especially if I'm visiting Parco Nazionale d'Abruzzo or Parco Nazionale della Majella in Abruzzo.
Because I'm an expert I want to suggest you try porcini in the Abruzzo region. They are absolutely divine!
Usually they're served with homemade pasta, the most popular ones being maccheroni alla chitarra or pappardelle.
You'll thank me later!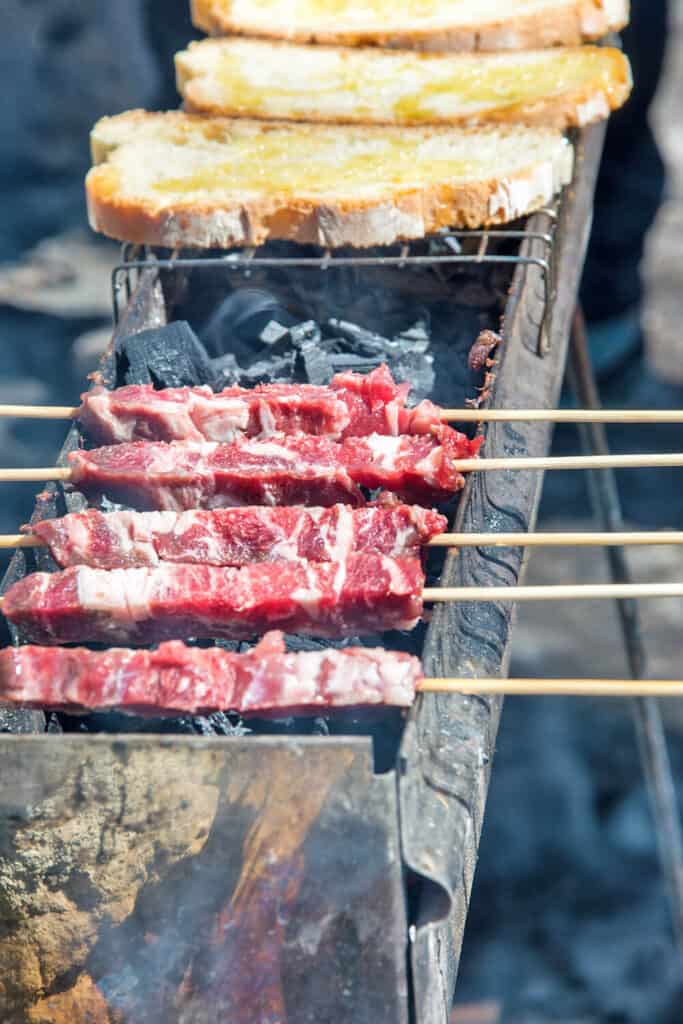 Arrosticini Abruzzesi
You can scroll up to find more about Arrosticini Abruzzesi.
These delicious skewers are a staple in the traditional Abruzzese cuisine. You will find them everywhere and since they're so good, they should be added to your must-eat list of Abruzzo foods!
Expect to pay about 1€ (about 1$) for each skewer if you order them at the restaurant. Each serving has usually 8 arrosticini, but it'll always be written down on the menu. Sometimes you can order larger servings or 10 or 12 arrosticini.
Raw arrosticini are much cheaper.
If you're great at bbq cooking, they're the perfect pic-nic food that you can grill at a pic-nic area.
Beware: only buy them raw if you're extra good at grilling! They tend to burn quite easily on the outside while staying raw on the inside!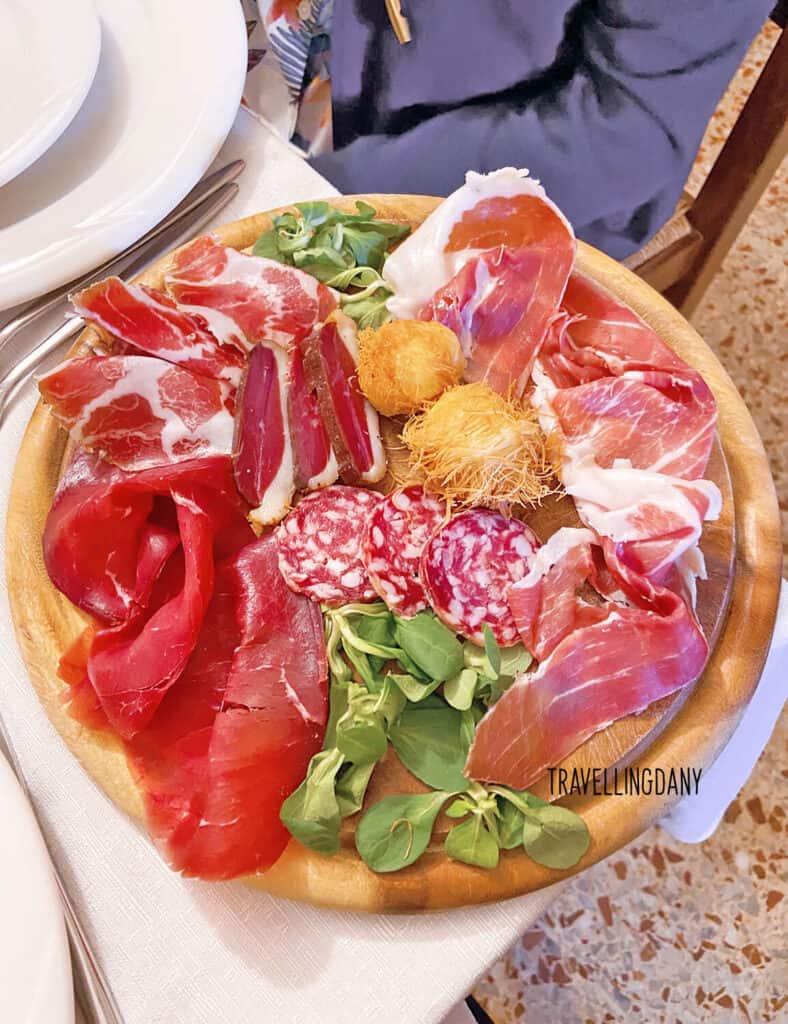 Taglieri di affettati e formaggi – Abruzzo Cheese and Cured Meats
In Italy, when you see "tagliere" on the menu it means you will be served a cutting board with a spread of cheese and cured meats.
Each and every restaurant in Abruzzo we've been to has taglieri on the menu.
Usually you'll find "Tagliere di Selvaggina" or "Tagliere di Affettati" which refer to cured meats.
"Tagliere di formaggi" on the contrary refers to Abruzzo cheese. You'll thus be served yummy slices of cheese with a few different jars of homemade jam and honey.
Add honey and/or jam on the cheese and eat away, with a slice of Abruzzo bread. Divine!
Sometimes you can find a "Tagliere misto di salumi e formaggi" on the menu. The serving is generally quite large, because they will bring both cured meats and several types of Abruzzo cheese.
While it's an "Antipasto" in Italy, you can also have a tagliere as a main course.
Abruzzo food is addictive and the Abruzzese know it. They won't judge!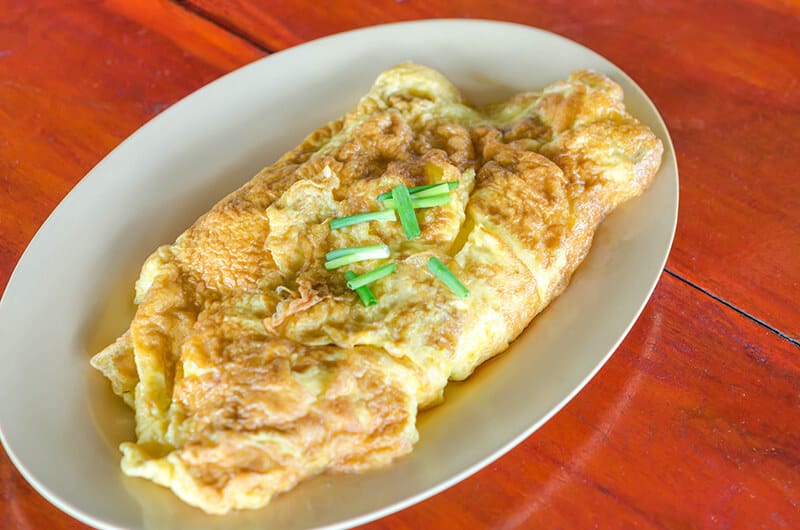 Scrippelle 'mbusse
Scrippelle are super thin omelettes from Abruzzo, made with flour, eggs and water.
In this traditional Abruzzese dish they are rolled up and then covered in a savory meat stock.
You should add a lot of Parmigiano grattugiato (Grated parmesan in Italian) on the top when they're warm!
Scrippelle 'mbusse are usually cooked in the Teramo area. Each family has its own recipe!
Servings are large and can be pretty filling. So if you're not too hungry, this might not be the right dish for you. Choose another one from our Abruzzo food bucket list!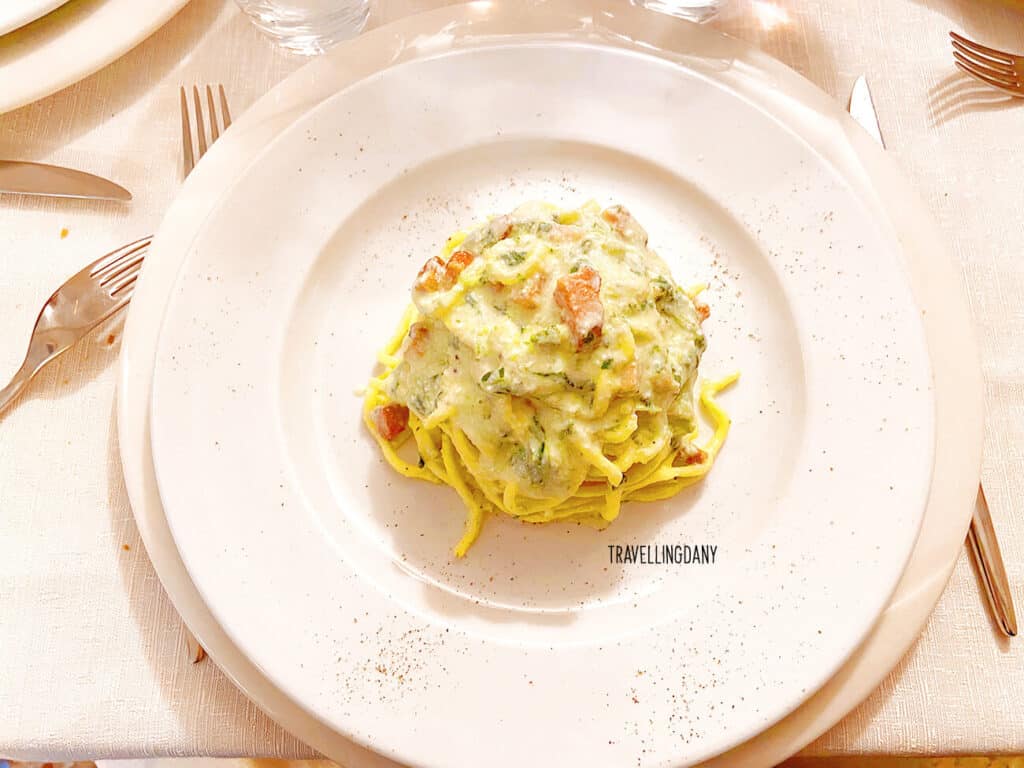 Pasta con gli Orapi – Pasta del Pastore
Me and Al found this Abruzzo pasta with different names, in different parts of this Italian region.
In most of the Parco Nazionale d'Abruzzo they're often served as "Pasta del Pastore". On the contrary in the Barrea area, not far from the Lago di Barrea, they're known as Pasta con gli orapi.
This pasta can be gnocchi, spaghetti or even ravioli.
What matters is the orapi.
These are greens that taste a bit like wild spinach and are generally found up in the mountains.
Orapi were usually loved by the Italian shepherds ("Pastore") who harvested them while taking care of their sheeps.
Hence why this dish is also known as "Pasta del Pastore".
Pasta con gli orapi is generally topped with grated pecorino cheese made in Abruzzo. So you can consider this to be a healthy and delicious farm-to-table Italian dish!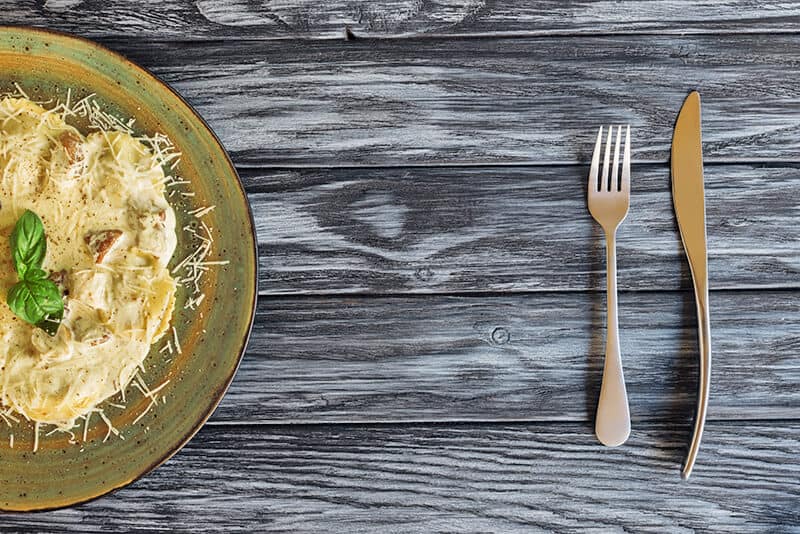 Gnocchi allo zafferano di Navelli
Sometimes trying to decide what to eat in Abruzzo is difficult. Some dishes seem to have different ingredients even if they actually do have the same name.
That is especially true of the Gnocchi allo Zafferano di Navelli. We ordered them at several restaurants in Abruzzo and each time they were a bit different.
The main ingredients are, of course, gnocchi pasta (Italian dumplings), and zafferano di Navelli from Abruzzo region.
At times they added ricotta cheese and local greens. Some other times they only added parmesan, butter and eggs.
While both versions include the best of Abruzzo food, I must admit my favorite was the gnocchi with saffron, ricotta cheese and greens. Tasty!
Sagne e fagioli
Sagne e Fagioli is a staple of the Abruzzo cuisine.
You will be served some kind of tagliatelle pasta, which are shorter, cut into pieces. Usually the pasta is handmade.
They cook it with fagioli (beans in Italian), fresh Abruzzo tomatoes, onions and Italian pancetta (it's like our version of bacon).
Sagne e Fagioli is a pretty old recipe, the kind of Abruzzo pasta that the "poor" peasants used to cook back in the day. It's in fact a particularly filling dish.
Pallotte cace e ove
Another delicious recipe that uses fresh Abruzzo tomatoes is Pallotte Cace e Ove. Translated from the Abruzzese dialect, this means "meatballs with cheese and eggs". Sounds good, doesn't it?
This is also one of the most popular dishes in Abruzzo, cooked especially in winter.
While to make meatballs you'd use… doh, meat, the Abruzzese pallotte only add cheese to the mix.
There's just Abruzzo cheese, parmigiano, bread, milk, eggs and ground pepper.
The Abruzzese pallotte are deep fried and then added to a tomato sauce with fresh basil. The scent alone is mouthwatering!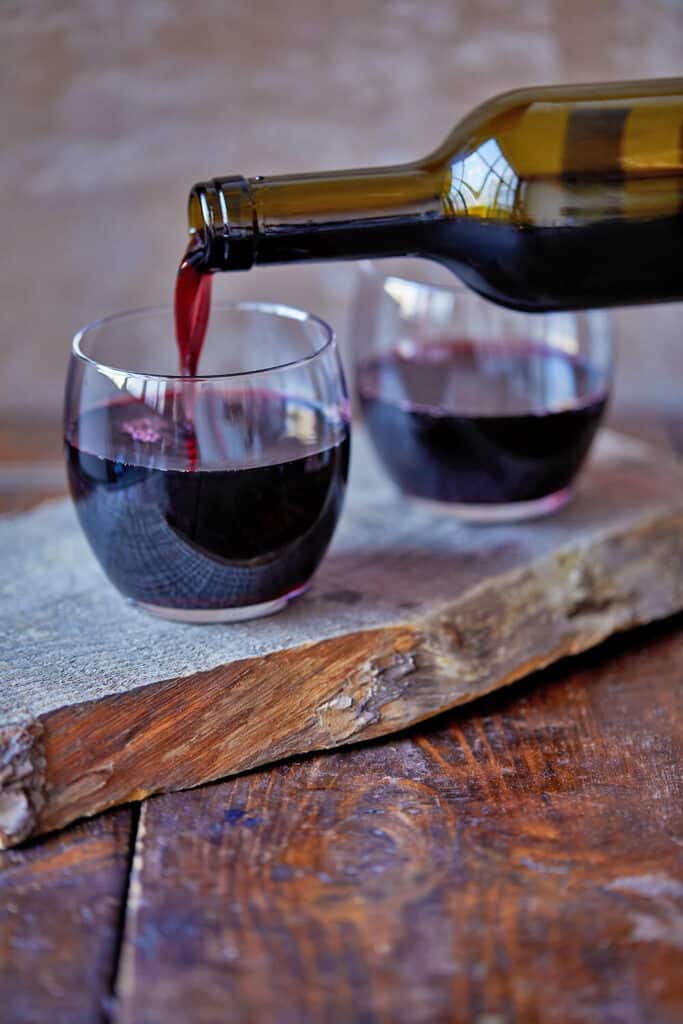 Abruzzo Wine: What To Drink in Abruzzo
Abruzzo wine is quite popular in Italy. So much so that in a few of the bigger towns in this region you can find wineries which serve glasses of wine with taglieri.
The very best wines in Abruzzo are:
Trebbiano d'Abruzzo DOC (white wine), perfect with fish, Abruzzo pasta and white meat;
Divus Montepulciano d'Abruzzo IGT (red wine), you should order it with red meat and Abruzzo cheese;
Passerina d'Abruzzo DOC (white wine), which has a soft almond aftertaste and should be ordered with fish and Abruzzo pasta;
Cerasuolo d'Abruzzo DOC (rosé wine), my dad's favorite Abruzzo wine! It's made in Montepulciano d'Abruzzo. Expect a fruity and fresh taste, which goes well with fish, simple pasta dishes and Italian aperitivo.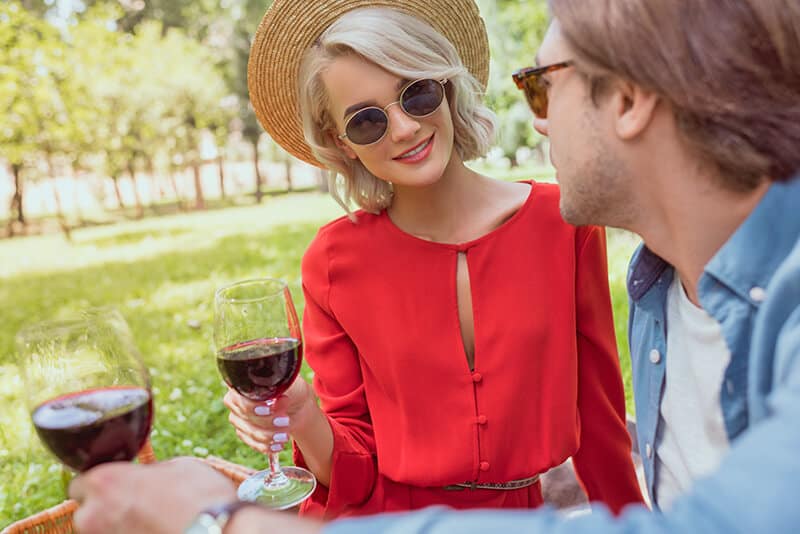 Frequently Asked Questions: Abruzzo – Italy
Do they speak English in Abruzzo?
I'll be super honest here: there aren't many English-speaking tourists in Abruzzo region.
Yet we've met several Americans who have retired and decided to live in Abruzzo. So yes, someone will speak English, but don't take it for granted.
Is Abruzzo a cheap Italian region?
Abruzzo is definitely one of the cheapest regions in Italy.
The coastal zone is more developed than the countryside, and even there, the prices along the Abruzzo coast are still cheaper than in other Italian regions.
In Abruzzo you can sleep and eat for less!
Is there a reliable Abruzzo food tour I can book?
Absolutely yes!
You can book a super cheap, delicious and interesting historic cellar wine tour with tasting, at Roseto degli Abruzzi (Teramo).
The tour has an English-speaking guide and includes wine and oil tasting. You'll get to try five Abruzzo wines, then bruschetta with locally produced oil, a tagliere with salumi e formaggi, and as a dessert, Abruzzo Cantucci (cookies with almonds) paired to Vino Cotto (some sort of mulled wine).
Click here to check rates and availability.
What is Abruzzese pizza?
Abruzzese pizza is the deep fried Pizzonte, which we already discussed above.
That's another case of "two names for the same dish". That usually confuses even Italian tourists!
As you might already know, there are a lot of different types of Italian pizza. This is one of the many yummy recipes!
You might also like:
The best Christmas markets in Italy from a local
Italian Christmas food – regional traditions and must eats
Christmas Alley in Naples – 365 days of Christmas
Guide to Europe Visa Requirements and ETIAS Authorization
When is the best time to visit Italy?
37 Movies filmed in Italy you should watch now!
Pin it for later!
Travelling Dany – Danila Caputo
Danila Caputo is a bilingual travel writer living in between Naples and the Amalfi Coast (Italy), graduating from the University of Naples Suor Orsola Benincasa in Foreign Languages and Literature. She travels and works with her husband Aldo, photographer and videographer. Their blog chronicles their adventures around the world, their love for the USA (where they have family), Italian/European culture and tips on how to be responsible travelers. You can find out more about their latest trips and their life on Youtube, Instagram and Facebook.