Have you ever wondered what's the original Italian pizza like? You're in the right place! Discover all the different types of Italian pizza toppings you can find in Italy, with the help of a local!
I also included all the original Italian names, so you'll be able to recognize each type of pizza on the menu.
Did you know that there are many different types of Italian pizza? I'm not only talking of toppings: Neapolitan pizza is very different from Sicilian pizza or Roman pizza! Italian culinary culture is in fact all about regional and local recipes, deeply rooted in the territory. Let me show you all the different types of Italian pizza you can find on the menu in Italy and get to know the authentic pizza flavor! It'll be super easy if you know what to order and where. That's why I also added Italian pizza names and main ingredients so you can immediately recognize them even at restaurants that don't have an English menu!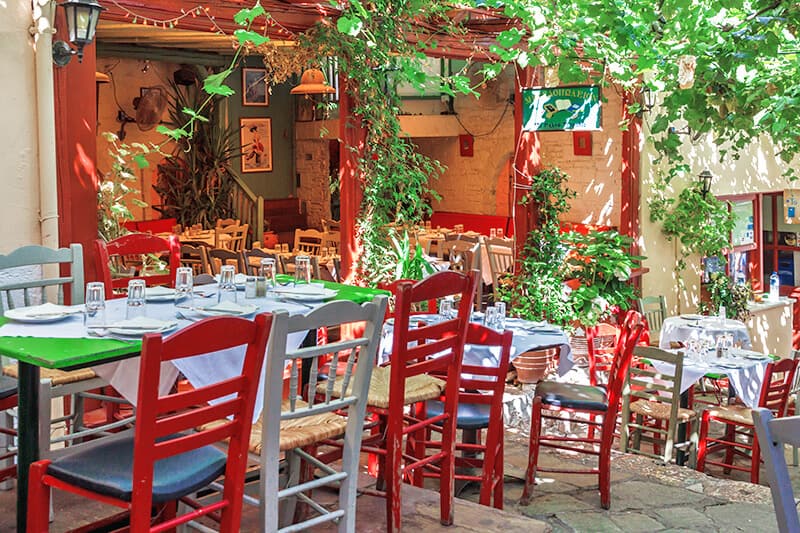 Italian pizza vs American pizza: what's the difference?
Before we start making ourselves hungry with all the flavors of the traditional Italian pizzas, I wanted to point out the main differences between American pizza and Italian pizza.
While American pizza is actually derived from Italian pizza, and while there are so many Neapolitan pizza makers (or better "pizzaioli" in Italian) in the USA which make sure Americans eat delicious goodies… American pizza and Italian pizza still aren't the same thing.
As I already mentioned, the authentic Italian pizza is deeply rooted in our territory, so we like to use local ingredients for the different toppings.
Ask about pineapple pizza in Naples and a traditional pizzaiolo will pop a vein!
The biggest difference between Italian pizza and American pizza lays thus in the toppings. Americans use many ingredients, often with contrasting flavors. In Italy we prefer to use less ingredients on the top, and more often than not, we try to make the toppings light and digestible.
Many people who don't know pizza like us (because pizza in Naples is an art!) will tell you that the crust is also very different. But as you'll discover by reading this article, also a few types of Italian pizza can be thick and soft. We have pizza with floppy slices or the thin and crunchy type.
Neapolitan pizza is not the only pizza you can find in Italy!
Do you want to learn how to make a genuine Italian pizza? Click here to check out this pizza-making course in Sorrento that will teach you all the secrets to make a delicious Pizza Margherita!
Classic types of Italian pizza: pizze classiche
Traditional Italian pizzas, especially those I'm telling you about in this chapter, can usually be found in every pizzeria.
If you're planning to visit Naples in the summertime, be aware of the fact that Gorgonzola cheese might not be available. Our summers are usually very warm and because fresh cheese will spoil, not every pizzeria uses it.
You might also like:
What to wear in Italy in summer – Pack like a pro!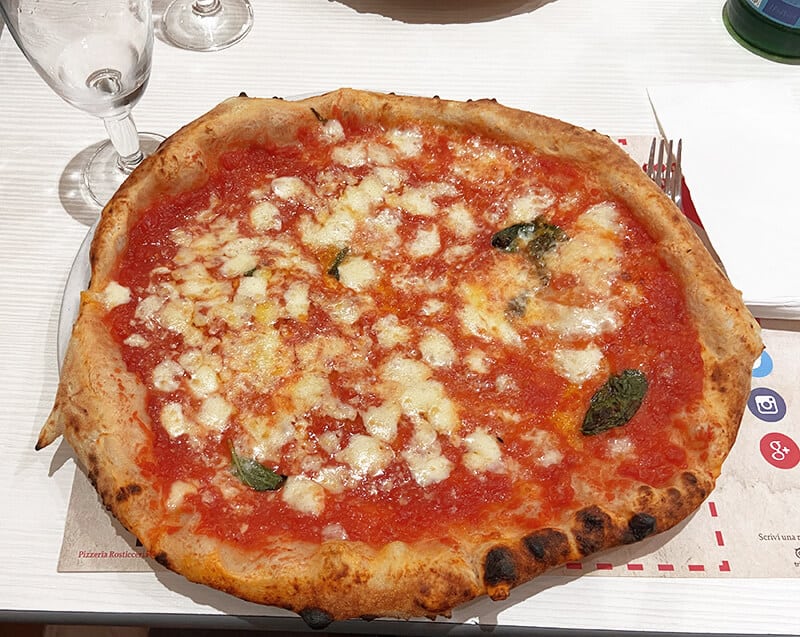 Pizza Margherita – Queen of Italy!
Pizza Margherita is possibly the most famous and genuine pizza out there. To many people, it truly represents Italy: keep reading to know why this is very true.
This pizza is prepared with tomato sauce, Italian olive oil, fresh basil and mozzarella cheese.
Pizza Margherita is also one of the pizzas that can be prepared in every variety: Neapolitan pizza, Roman pizza, pizza al taglio and so on.
In Naples there's another version on the menu: Pizza Margherita con mozzarella di bufala. Which means they will add buffalo mozzarella instead than regular mozzarella.
I know that some pizzerias in other parts of Italy also claim they have buffalo mozzarella, but we produce it in the South. Mozzarella di bufala spoils easily: you can be sure it's super fresh in Napoli but I can't swear for it if you decide to order it somewhere else.
Worried you'll need a bit of help?
Download the FREE Italian Travel Phrasebook here! It includes the correct Italian pronunciation and lots of useful sentences that you'll be able to use on your trip to Italy!
You might be wondering what's the difference between mozzarella and mozzarella di bufala on Neapolitan pizza margherita.
Mozzarella is delicious and a regular margherita is the "traditional Italian pizza". Mozzarella di bufala adds a bit of saltiness and a slightly sour taste to pizza margherita.
The taste is delicious, and in fact this type of pizza is Aldo's favorite. Yet I must add that Mozzarella di bufala releases more milk when it's cooked if compared to regular mozzarella. I'm a fan of Mozzarella di bufala as a solo dish, but on pizza I find it adds "too much liquid" that sometimes makes the crust too soft/chewy.
Bonus: now you'll have to try the both of them to see which one you like the most!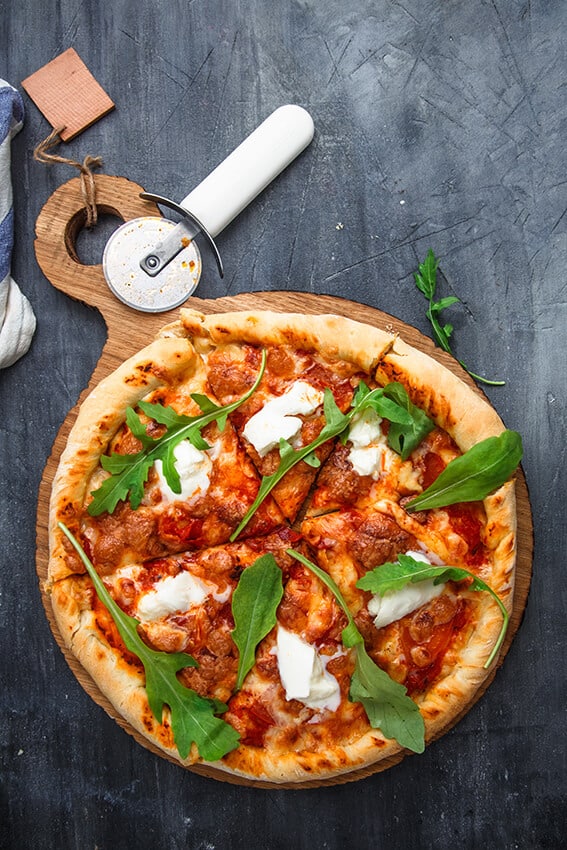 Margherita – The history behind the original Italian pizza
The Margherita pizza history is deeply rooted in my hometown, Napoli.
In 1889, Queen Margherita of Savoy visited Naples. So chef Raffaele Esposito, working at Pizzeria Brandi, together with his wife, decided to create a pizza "fit for a queen".
The pizza had to resemble the colors of the Italian flag. So they used tomatoes, mozzarella and fresh basil: red, white and green. They named it after their beloved Queen and since then it has grown into one of the most recognisable symbols of Italian food culture in the world.
Us neapolitans are super proud that it was invented here!
Pizza Capricciosa – Many ingredients for a rich flavor
This one can be considered another classic pizza type, usually available in every pizzeria, and in different variations.
Pizza Capricciosa main ingredients are mozzarella cheese, tomato sauce, olive oil, Italian baked ham, mushrooms, artichokes and black olives.
In Naples we have also another variation of Pizza Capricciosa, that we know as "Pizza Capricciosa bianca". Same ingredients, without tomato sauce. It's perfect for those like my mother who can't really digest our tomato sauce.
I've read in several English articles that eggs are one of the main ingredients. The original Italian pizza capricciosa has no such thing. Eggs were never one of the ingredients, and if someone is serving this kind of pizza in the Northern regions, know that it's wrong!
Discover the 5 Italian pizzas that Italians love to eat!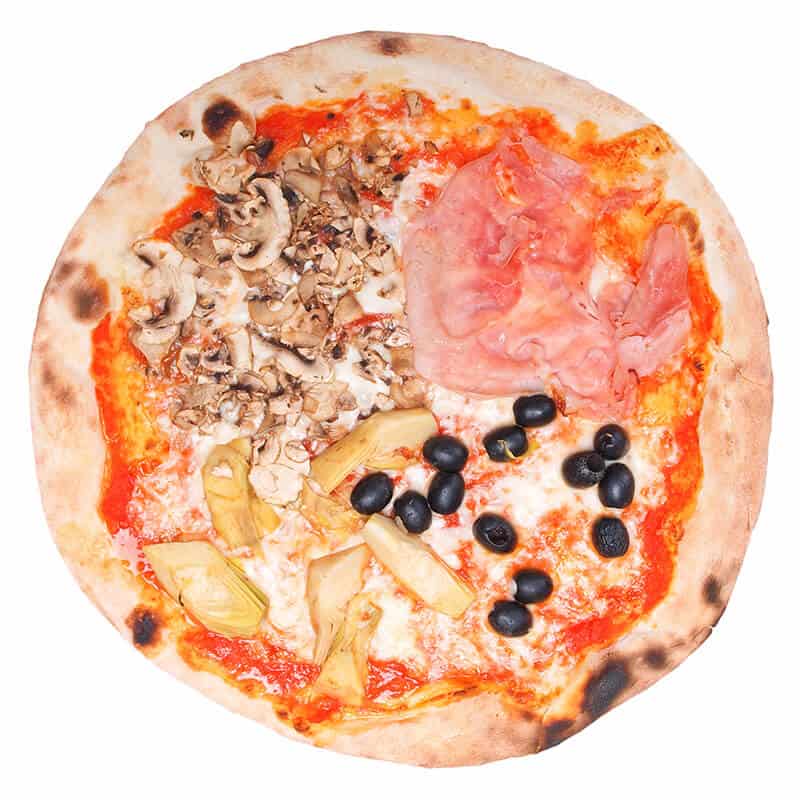 Pizza Quattro Stagioni – 4 different types of pizza in one go
Pizza Quattro Stagioni is, translated in English, "Four seasons pizza". This type of pizza topping can usually be found as Neapolitan pizza, and Roman pizza (the thin, crunchy one).
The main pizza crust is actually divided in four different sections, each with its own ingredients. So it's like tasting 4 different toppings on one pizza!
Each slice represents a different season. The base is the usual tomato sauce with bits of mozzarella cheese (mozzarella di bufala is not used for this pizza). Then we have one slice with artichokes, representing spring. One with mushrooms, representing autumn. One with tomatoes and basil, representing summer, and one with ham and black olives, representing winter.
Just as usual, many pizzerias in Naples serve Pizza Quattro Stagioni with a few variations. Winter is also represented with ricotta cheese, black pepper and slices of Italian salami, or summer can be represented using fresh Neapolitan cherry tomatoes, which we know as "Pomodorini del piennolo".
Pomodorini del piennolo or Pomodorini Vesuviani (Mount Vesuvius tomatoes) are grape tomatoes grown in Naples, which have a protected status.
"Piennolo" is a word from the Neapolitan dialect: grape tomatoes usually have to hang outside to stay fresh and they shouldn't be kept in the fridge.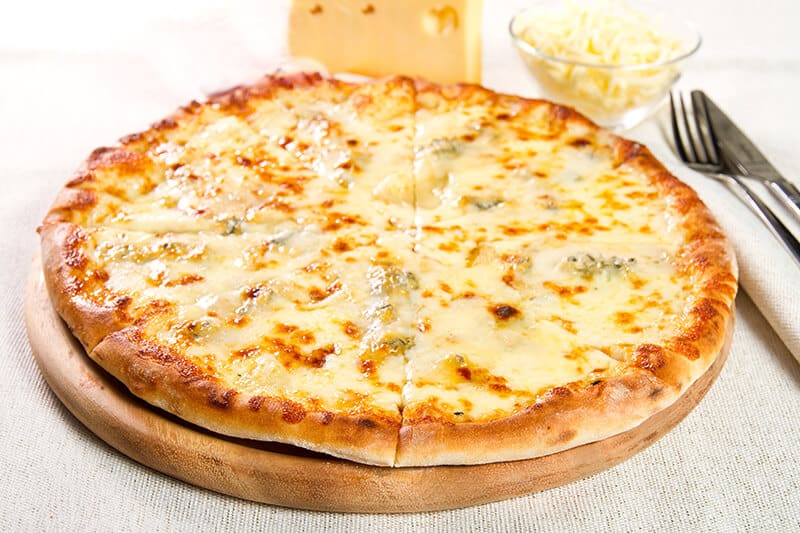 Pizza ai Quattro Formaggi – With the best Italian cheese
Pizza ai Quattro Formaggi is one of the types of Italian pizza topping you can find in many different varieties of pizza (Neapolitan, Roman, al taglio, alla pala, etc). While the topping stays the same, the base can change, because it's particularly versatile.
While it's a bit "heavy" if compared to other pizzas, Pizza ai Quattro Formaggi is absolutely delicious. You can order this pizza if you can't digest the tomato sauce used for the other toppings or if you want to try another one of the "pizze bianche" (white pizzas in Italian).
The four main ingredients are mozzarella cheese, gorgonzola cheese, parmesan and gruyère.
Some variations have different kinds of cheese (min. 4), like Fontina, or Neapolitan Provolone, or Italian Auricchio.
The one that usually shouldn't be forgotten is Gorgonzola, as the main highlight of Pizza ai Quattro Formaggi is a tangy taste, mixed with the sweetness of the other cheeses.
Note: as mentioned above, sometimes Quattro Formaggi is not served in Naples during the summertime. Our summers are pretty warm and fresh cheese spoils. While mozzarella is used for every pizza, Gorgonzola is generally only used for Quattro Formaggi, so pizzerias don't stock on it because they're worried they'll have to throw it away when it spoils.
You might also like:
The best Italian dishes you should eat in Italy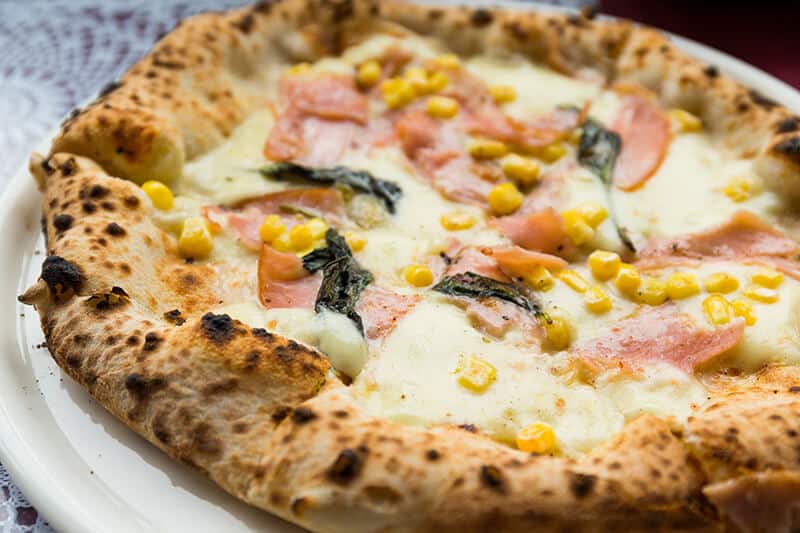 Genuine pizza delicacies: le pizze sfiziose
"Pizze sfiziose" are the types of Italian pizza that you can find only in some areas, or the seasonal ones.
I also added some pizzas to this chapter that can be found throughout Italy. Yet they can be very different from the pizza with a thin, pliable crust.
Because I'm a proud Neapolitan girl, in the next chapter you'll find lots and lots of pizzas that you can only eat in Napoli! They were too many so they deserved their own box!
Note: Pizze sfiziose are sometimes added to the menu under "Pizze gourmet" or "Specialità". That means they are a bit more expensive than a regular Pizza Classica.
You might also like:
Italy tipping etiquette – Should you tip in Italy?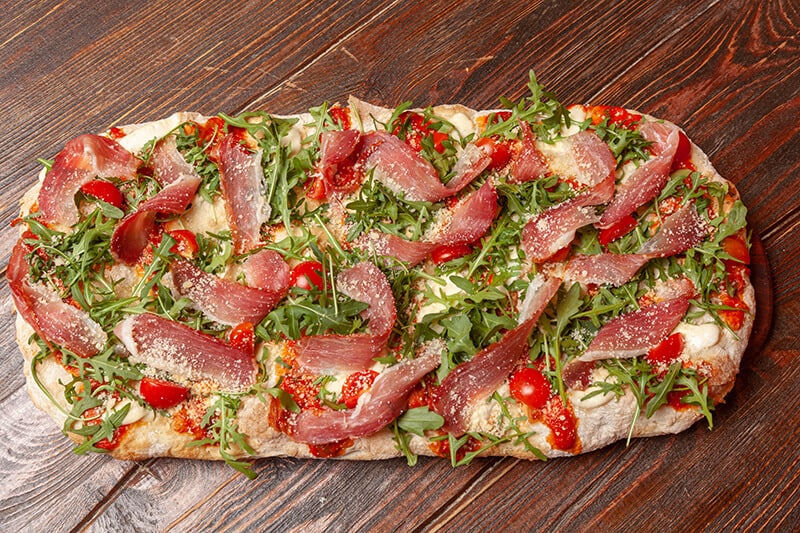 Pizza alla pala – different things in different regions
Pizza alla pala is another one of the different types of Italian pizza that can be a bit confusing.
Created in Rome, this long, oval pizza is served on a wooden "pala", the paddle you see using also for the wood fire oven.
The high-hydration dough is cooked in an electric oven, then the pizza alla pala is moved on a wooden paddle and topped with fresh ingredients.
The result is a thick, crunchy crust with a soft interior.
You might also like:
How to spend 4 days in Rome like a local!
Why did I say it's "confusing"?
In the last few years, several pizzerias in Naples have started to add "pizza alla pala" on the menu. The fun fact is that it's nothing like the one you'd eat in Rome! On the menu in Naples, this version of pizza alla pala can also be indicated as "Giropizza".
Neapolitan pizza alla pala has the same shape, so it's longer than the usual Neapolitan pizza, even if it uses the same dough. The difference is that there are different toppings on the same pizza.
It is meant to be shared with someone else, so you get to taste several flavors by ordering just one (big) pizza!
Note: the Neapolitan pizza alla pala has the same crust as a regular Neapolitan pizza. We don't do crunchy pizza in Naples!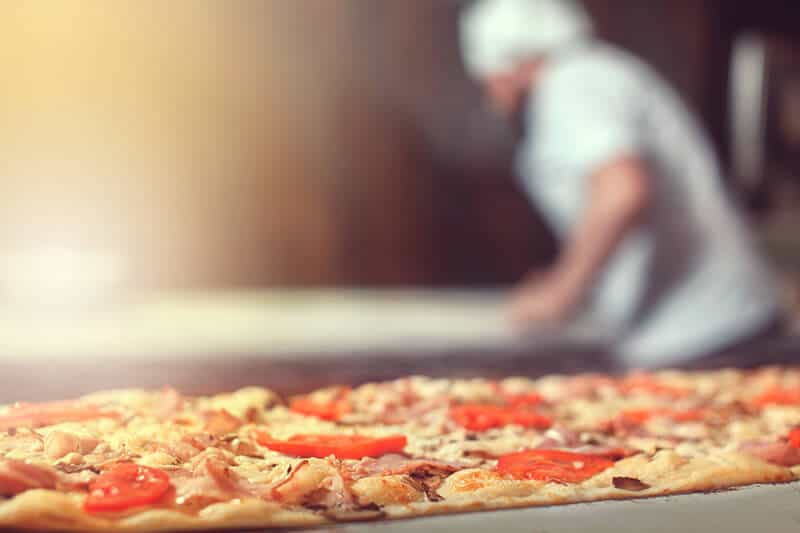 Pizza tonda romana – The crunchy "scrocchiarella"
One of the main types of Italian pizza that have been invented in Rome and then exported to many Northern regions is Pizza Tonda Romana.
The local name for it, that you will find on the menu in Rome, is "Scrocchiarella", which means "crunchy pizza".
The ultra-thin, ultra-crisp crust doesn't have the fluffy border ("cornicione" in Italian) you'd find in Neapolitan pizza, and can't be folded because… it will crack.
The toppings for Roman pizza are just the same you'd find for every other pizza.
Click here to book an amazing, local-approved Pizza Making Experience in Rome, with lots of tastings and fresh Italian gelato!
Note: In Naples no pizzeria will ever make crunchy pizza (unless it's deep-fried, but for that you'll need to keep reading) and if you ask you'll soon discover that people wrinkle their nose. "I'm not eating crackers pretending it's pizza", that's what I've been told in most pizzerias. These two types of Italian pizza couldn't be more different, so just eat scrocchiarella in Rome and Neapolitan pizza in Napoli!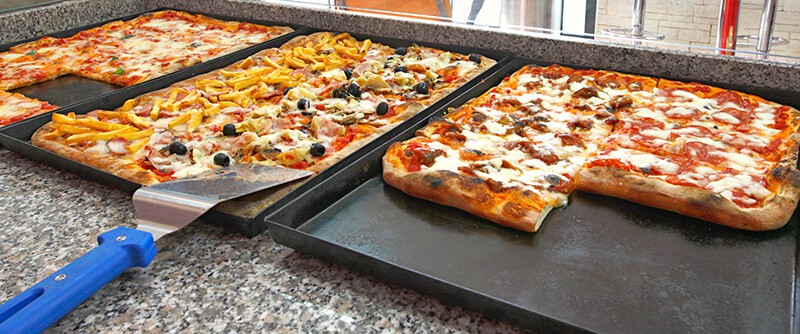 Pizza al taglio – also known as "Pizza al trancio"
This kind of Italian pizza has been also invented in Rome, and has then spread throughout the Italian peninsula.
Pizza al taglio, sometimes found as "Pizza al trancio", is baked in large, rectangular trays and sold in medium-sized square slices.
The crust is puffy and soft, pretty thick if compared to a regular Neapolitan pizza.
Pizza al taglio is prepared with all kinds of Italian pizza toppings, from margherita to capricciosa, and even delicious variations like baked ham, mozzarella and sweet canned corn.
While in Rome you often get to pay pizza al trancio by weight, in Naples it usually has a fixed price per slice.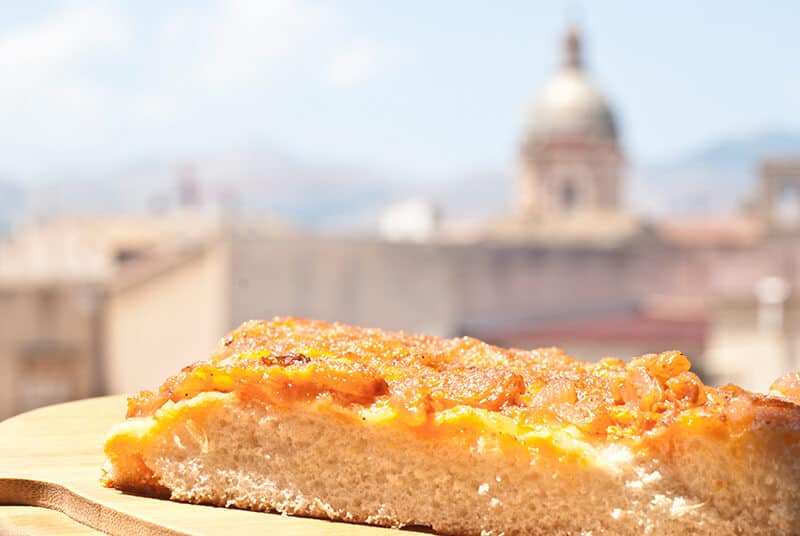 Pizza Siciliana – Sicily's goodies
Sicilian pizza was obviously created in Sicily, in the deep South of Italy. Also known as Sfincione or Focaccia (but a different one from those you'll find at the bottom of this article), it can also be found in the "Little Italy" districts in the USA, where it's prepared by the descendants of the original Italian immigrants.
You can say that Sfincione is also like Pizza al taglio: it's a thick crust pizza, served in square slices.
The most traditional topping for Pizza siciliana is tomato sauce, onions, anchovies, herbs and strong cheese like caciocavallo.
You might also like:
60 smart souvenirs from Italy you should add to your list!
Be aware that Sicily has different types of Italian pizza: all of them are delicious!
If you're visiting the Siracusa area, look for "Pizzòlu", a particular kind of round pizza, stuffed with Italian prosciutto, cheese, arugula or other fresh ingredients.
Pizzerias in Catania make "Schiacciata": one layer of simple pizza dough, covered by local cheese and anchovies, or potatoes, sausages, broccoli. Then everything is topped by yet another layer of dough, brushed with eggs.
Look out also for fried calzone if you're visiting Sicily! It's a mix between Italian Calzone and Neapolitan Pizza Fritta (keep reading for more info). Only in Sicily it's stuffed with anchovies and cheese!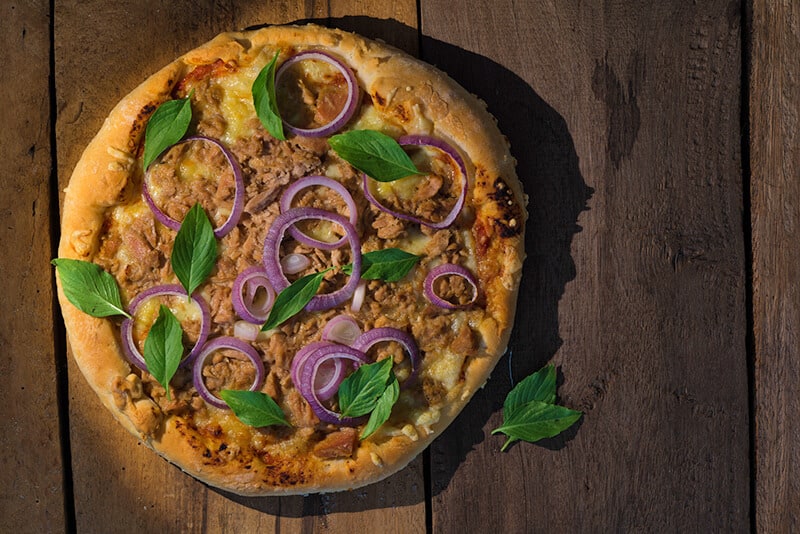 Pizza tonno e cipolle – Uncommon but yummy flavors
Growing up I spent many summers in Sicily. All of my friends there used to order Pizza tonno e cipolle whenever we went to a pizzeria. It was insane, because back then it wasn't very much loved in Naples (that has changed now!)!
This kind of pizza uses canned tuna and slices of Italian onions as the main toppings, usually paired with olive oil, some mozzarella and fresh oregano. I've seen a couple of versions with black olives or without mozzarella, so nothing is really set in stone, aside from the main ingredients.
Pizza tonno e cipolle is one of the Italian style pizzas that has gradually been spreading throughout Italy. While this topping can be used on many different types of Italian pizzas (including Pizza al taglio), I've seen it often on Neapolitan style pizza.
In Napoli's pizzerias you'll still see mainly the big classics and the traditional Neapolitan toppings, but more and more people are appreciating tuna and onions so give it a chance if you've never had it before!
You might also like:
15 dreamy Sicily beaches you should hit on your next trip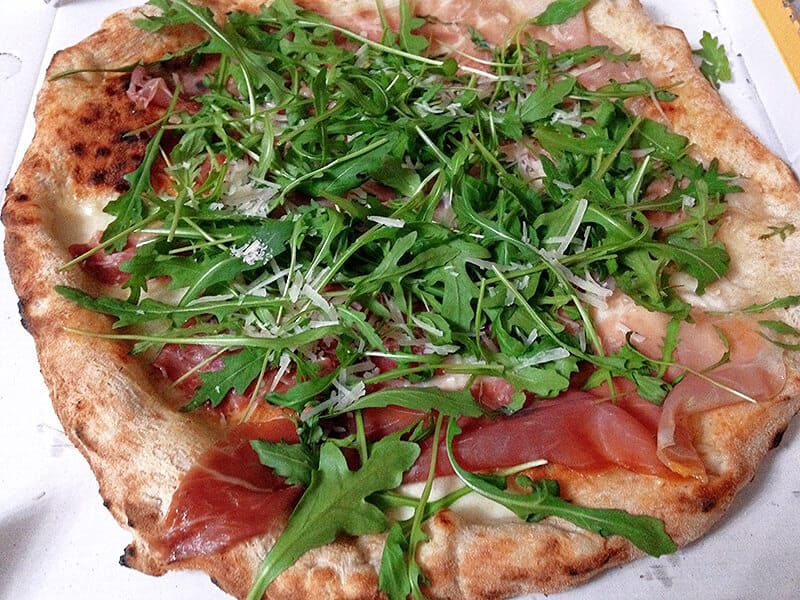 Pizza prosciutto, rucola e parmigiano – Gourmet pizza!
Whether you're not particularly keen on the rich tomato sauce used for the traditional Neapolitan pizzas or if you just want to change your game, this pizza is a great option.
It's one of the must-eat pizzas in Naples for sure, but it's also cooked in other parts of Italy, like Milan, Florence or Rome.
The main ingredients of this original Italian pizza are Italian dry-cured ham ("prosciutto"), mozzarella, arugula and thin slices of parmesan on the top.
Usually prepared as a Neapolitan pizza or as a Scrocchiarella, this is a fresh pizza, perfect for the summertime, when Italy is super hot and you don't feel like eating something too rich.
The flavors mix well together, turning into a light, fresh and digestible pizza.
Most of the toppings are added after the pizza has come out of the oven, so it's also deliciously crunchy thanks to the fresh arugula.
Some pizzerias add fresh prosciutto on the top, shaped as small roses, with bits of parmesan and fresh arugula: it looks like a beautiful pizza-garden!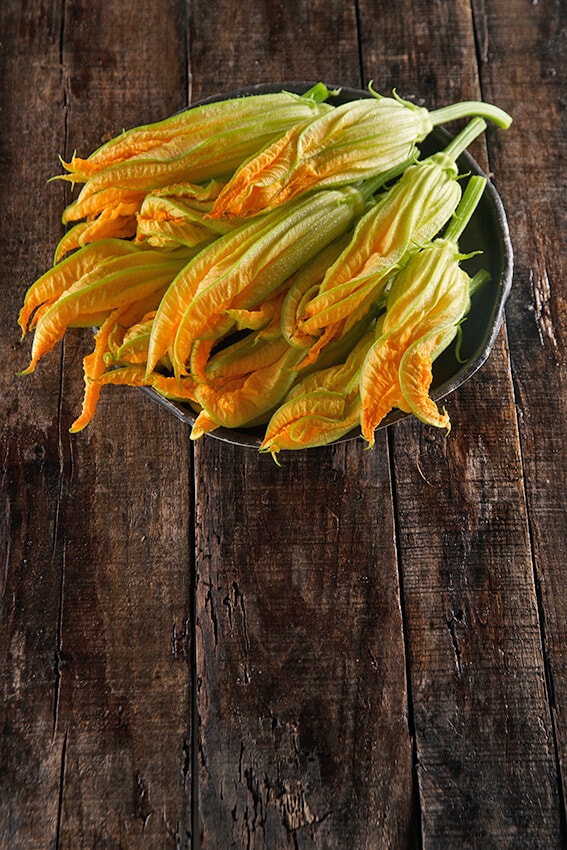 Pizza con fiori di zucca – The seasonal choice
This is one of the types of Italian pizza you should eat if you're visiting Italy between spring and summer.
The main ingredient in fact is the pumpkin flower, which is only found for a few months. While this pizza might still be on the menu, the waiter will let you know that it's not available unless they have fresh pumpkin flowers.
Served usually on Neapolitan pizza, this topping is delicious and very delicate. In Naples we only use the best mozzarella (not mozzarella di bufala, because there would be too much milk), ground pepper, super fresh pumpkin flowers, olive oil and a bit of parmesan.
A popular variation of this topping adds also anchovies or ricotta cheese, but in Naples it's absolutely not common. You might find it on the Amalfi Coast, especially in Cetara, which is a cute village by the sea where anchovies are cooked in so many different recipes!
You might also like:
Italy in spring – What to eat, what to do and what to pack
Guide to the best time to visit Italy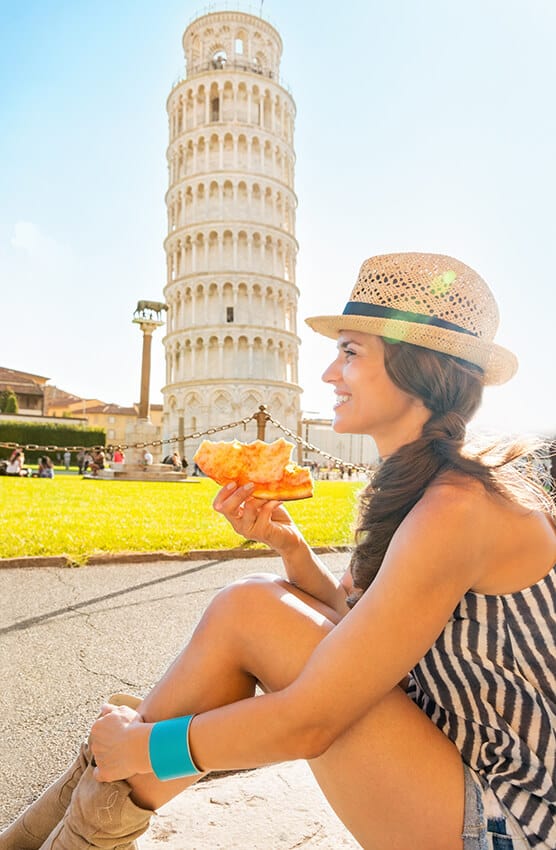 Neapolitan pizza you should eat in Naples: The Original Pizza Napoletana
Neapolitan pizza, or better, Pizza Napoletana, is the kind of pizza everyone in the world associates with Italy.
I know I'm absolutely biased because I'm a Neapolitan girl, but there's nowhere else you can eat a Pizza Napoletana as good as the one you get in Naples. Here we are used to think it's because of the water, or the air, or possibly because our "pizzaioli" (pizza makers in Italian) are absolutely great. But it is true: even if you move to the Amalfi Coast, the pizza won't be the same!
The original Italian pizza from Naples is soft, thin and pliable.
The "Cornicione" should always be high and puffy, not too burned and never crisp (but not even soggy, of course).
You might like:
Is Naples safe? Learn the truth from a local
Pizza Napoletana is baked in a wood-fired pizza oven at 485°C for only 90 seconds, while the pizzaiolo keeps on turning it to make sure it doesn't burn only on one side.
It should always be eaten hot and delicious!
While Pizza Margherita is of course the symbol of Naples, there are many kinds of pizza you can and should eat if you're planning to visit Napoli.
As a local, I'm glad to show you all the things you should add to your foodie bucket list… and I must offer a friendly reminder.
Don't even think about dieting in Naples, like… ever!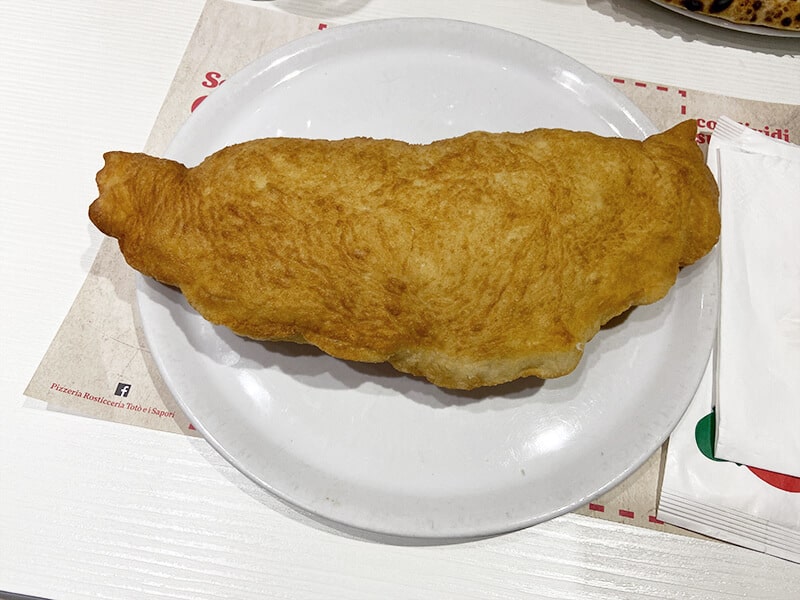 Pizza fritta – Deep fried Neapolitan pizza
I just mentioned that you can't diet in Naples, so don't be too surprised if I'm talking about… deep fried pizza.
Pizza fritta is a staple of the Neapolitan cuisine, and it's very much loved by the locals also as a to-go meal (you can consider pizza fritta some kind of street food). While it's huge and filling, it's cheap and absolutely delicious.
The dough is the same you'd use for your regular pizza napoletana, but it is has a hearty, delicious filling. The most traditional one is filled with fresh ricotta cheese and "cicoli" ("pork rinds" in Neapolitan dialect), but you can also eat it with mozzarella and tomato sauce, or with ricotta cheese and Italian salami.
Once the filling is added, the dough is closed, forming a half moon. It is then deep fried for a few minutes, and served scorching hot.
Pizza fritta is good if when you cut it, the filling is hot and melting (it's mandatory to eat it when it's still very hot!).
Some pizzerias also add some tomato sauce, grated parmesan and fresh basil on the top, but that is what we know as "Montanara".
Montanara is another deep fried pizza, only without the filling you'd find in Pizza Fritta: it can also be served in smaller sizes, that you can finish in a few bites.
Another lovely Italian region has a different version of pizza fritta. There's no filling, it's a scrap of dough deep fried and served with different toppings. We know it as Pizzonta and it's one of the most delicious Abruzzo foods!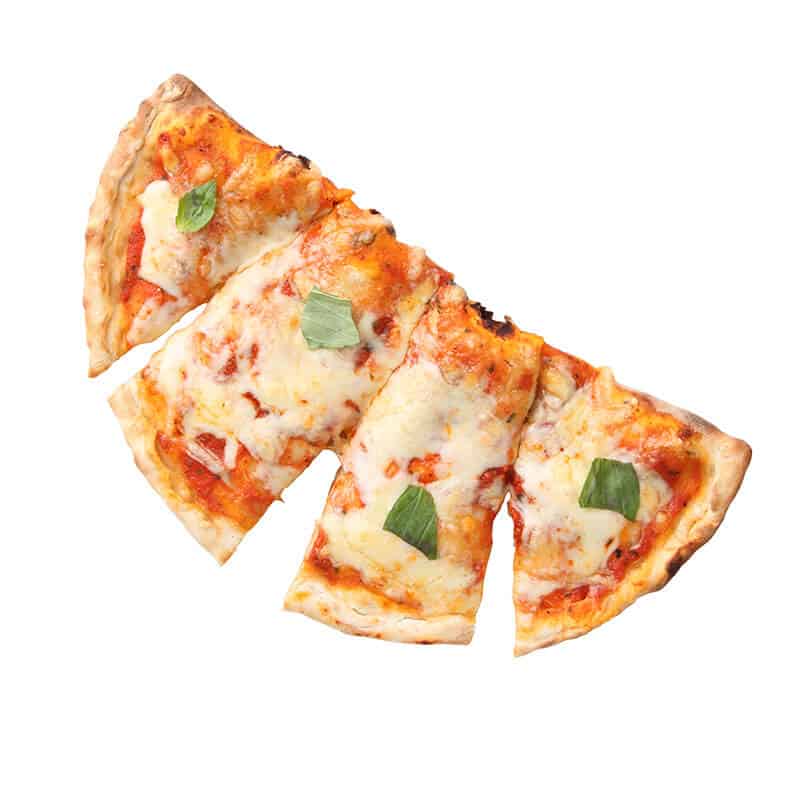 Calzone napoletano – Classic Neapolitan goodie
Calzone is very similar to Pizza Fritta, but it's cooked in the wood-fired oven. The Neapolitan version of Calzone has the same shape as the deep-fried pizza, but to make it even more delicious, the pizzaiolo adds some tomato sauce and fresh basil on the top.
The original filling is ricotta cheese, ground pepper and Italian salami. Another version, just as delicious, uses fior di latte (a lighter kind of mozzarella) and baked Italian ham.
Many pizzerias decide to add their own touch to the classic recipe, like tomato sauce also in the filling or vegetables, but these are the main two original fillings.
Note: usually Calzone is pretty big so make sure you're very hungry when you order one in Naples!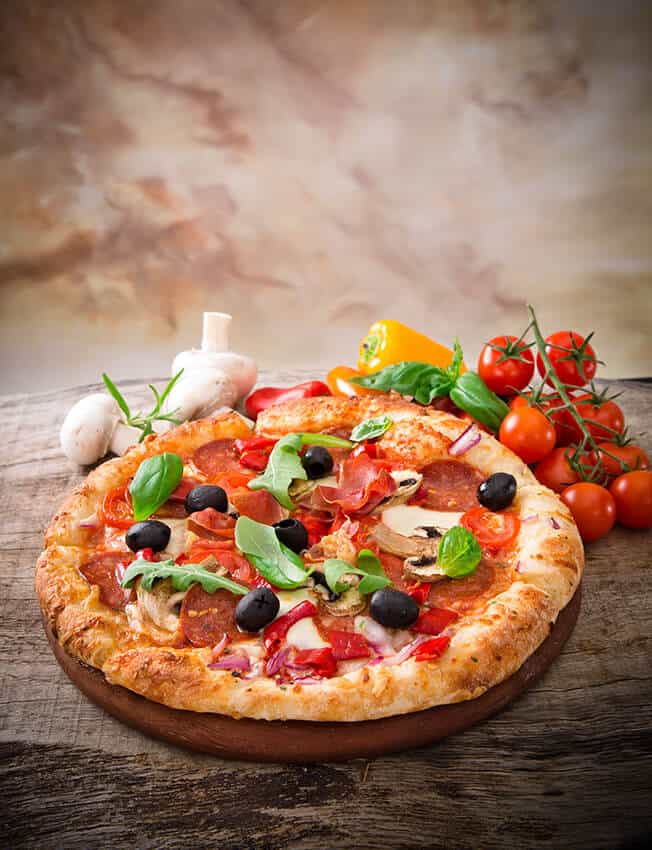 Pizza con cornicione ripieno – Neapolitan innovation
More and more pizzerias have started to prepare this delicious type of Italian pizza, usually only on the menu in Naples and in its province.
You read that right in the title: the cornicione in this pizza is stuffed with ricotta cheese!
The center of this pizza usually is Margherita (tomato sauce, olive oil, mozzarella and basil), but the cornicione, which is fluffy and tall, is filled with some soft ricotta and ground pepper. This means that you get to eat it all, adding a particularly delicious bonus to an already spectacular pizza!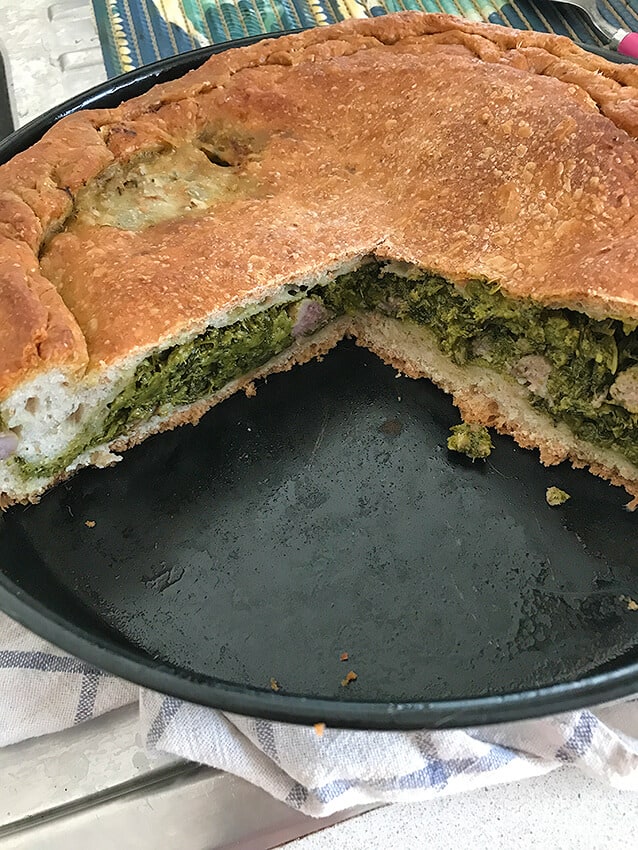 Pizza nel ruoto – A Naples' exclusive
"Ruoto" indicates a round-shaped baking pan, in Neapolitan dialect.
This is a kind of pizza that seems "new", but actually just brings back to light the traditional way of baking pizza.
Our grandmoms in fact used to make pizza with the leftover dough from when they were making bread. It was baked, tall and puffy, into the "ruoto", and topped with homemade tomato sauce, fresh olive oil, cheese, if they had some.
Often this kind of pizza was baked at a lower temperature in an oven that people living in the same courtyard used to share.
You might also like:
Naples Cafe – The art of drinking coffee in Naples
Not every pizzeria makes pizza nel ruoto, because it can't be cooked at the same high temperature as the traditional Neapolitan pizza that we all know and love.
It takes more time, so they need a separate oven at a lower temperature (usually an electric one).
Pizza nel ruoto is one of the few types of Italian pizza that taste good even when it slightly burned on the edges. It has to be extra soft and it's very fluffy. The main topping is super simple: sweet tomato sauce, olive oil, a pinch of salt and some oregano.
Homemade pizza nel ruoto can also be stuffed with sausages and Neapolitan Friarielli.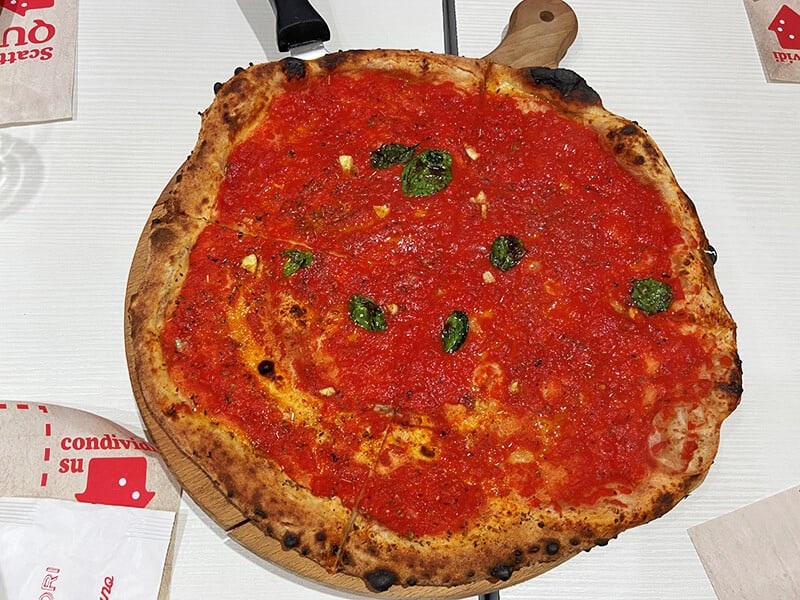 Pizza Marinara – a timeless classic
Pizza Marinara is one of the simple types of Italian pizza that you'd never stop eating.
The base is the usual Neapolitan pizza, but there's only one topping and it's tomato sauce, oregan, olive oil… and a lot of garlic! That makes it the perfect vegan pizza!
Marinara is the second most popular pizza in Naples after Margherita: all the locals love it!
The name comes from the fact that fishermen used to bring all the ingredients with them when they went fishing, so they could eat pizza even when they were away for longer fishing expeditions. Garlic gives pizza a strong scent that makes up for the fact that there's no cheese and no fresh basil.
It is believed that pizza marinara dates back to 1866!
You can find Pizza Marinara on every menu in every pizzeria in Campania region!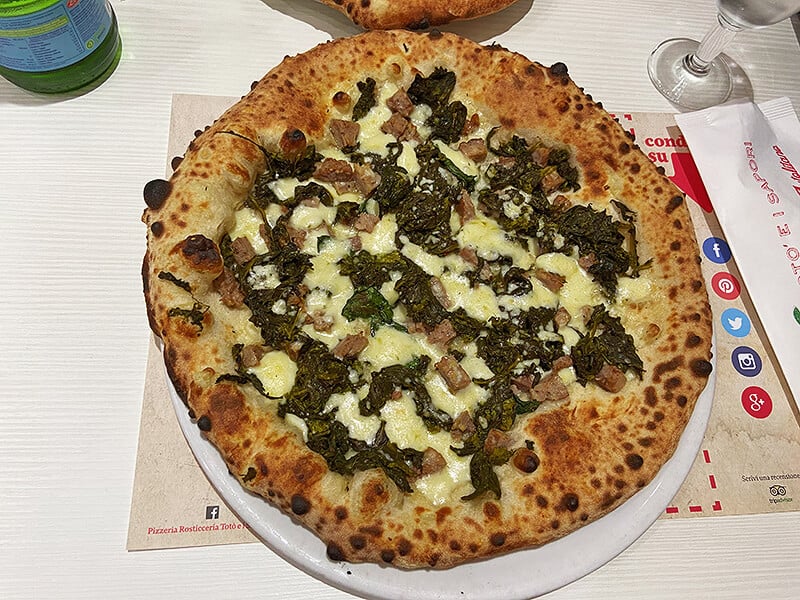 Pizza Salsiccia e Friarielli – The real taste of Naples
While people visit Naples to eat Pizza Margherita, the locals know of another treat which is probably one of the most genuine pizzas you'll eat in the Naples area: Pizza Salsiccia e Friarielli!
Friarielli, the Neapolitan dialect name for turnip greens, is often confused with other vegetables because in Lazio region is has a different meaning. And, even more confusing, this kind of veggie is known as "cime di rapa" in Puglia and as "broccoletti" in Lazio.
You can be sure they will understand you in my region, but in other parts of Italy… not so much!
This is one of the regional types of Italian pizza which have more or less spread throughout the peninsula, but in Naples and its province it's much more delicious.
You might also like:
Where to stay in Naples – The most convenient areas
"Friarielli" in our area grow from September, sometimes until the end of spring. That's why they will always be super fresh and delicious. When there are no fresh friarielli, Neapolitan pizzerias will use pickled Friarielli (often handmade) with olive oil or frozen ones. More often than not they will also be upfront about it, because in Naples Friarielli have to be fresh: I know a few pizzerias who will just suggest you eat something else because "This is not the right season for Friarielli".
Just like friarielli, our "Salsiccia", a kind of pork sausage, is traditional of Naples. We make a pretty different Salsiccia from what you can eat in other regions. Ours uses fresh pork meat and a sprinkle of ground pepper, sometimes with also some white Italian wine to give it a richer taste.
If you prefer your Pizza Salsiccia e Friarielli with some kick, ask your server! Together with some mozzarella (used as a base for the rest of the toppings) he'll either bring over spicy flakes of red peppers to your table or add them before they cook your pizza.
Note: Friarielli in Naples can be a bit bitter. We prefer to eat them bitter, actually, because it gives a better taste to the overall pizza, toning down the possibly overwhelming taste of the salsiccia.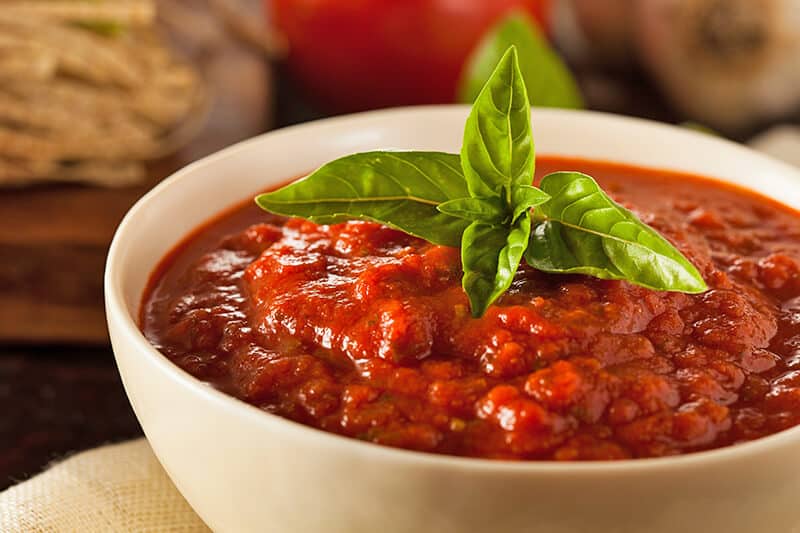 Pizza al ragù – A Naples' exclusive
I already told you about Neapolitan ragù ("ragù napoletano" in Italian), a sauce that has to simmer on low for hours, only prepared in Campania region, which always reminds us of our Nonnas cooking the whole Saturday to make a delicious Sunday meal with the family.
What would you say if I'd confess that a few pizzerias in Naples have started to use it? Pizza con ragù is one of the types of Italian pizza you can only find in Napoli, and not even in every pizzeria!
You might also like:
What to eat in Naples and where to eat traditional ragù!
This delicious treat doesn't use the traditional tomato sauce (the same you'd find on Margherita), but the same ragu sauce used for pasta.
The rich sauce is then paired with mozzarella di bufala, olive oil, fresh basil and sometimes even with small bits of soft ricotta cheese.
Note: While the traditional tomato sauce for Margherita is a vegan recipe (we only add olive oil, tomatoes and salt), to make ragu we use several cuts of meat.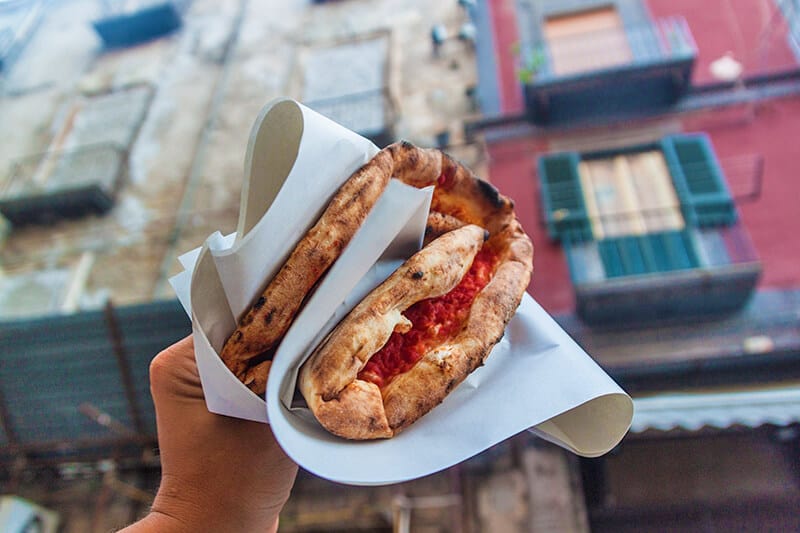 Pizza a Portafoglio – The most delicious street food ever!
If you're planning to explore San Gregorio Armeno ("Christmas Alley") in Naples, then you should absolutely eat Pizza a Portafoglio.
It's one of the cheapest types of Italian pizza, that you can eat on the go, as you walk through the narrow vicoli of Naples Old Town.
Of course you can eat it in many other places but usually the oldest part of Naples is where Pizza a Portafoglio is cheaper. How cheap? You can buy one (medium sized, slightly smaller than a regular Pizza Margherita) for 1,50€. Unbelievable!
You might also like:
Naples Christmas Alley – A walk in the oldest part of Naples
You can only eat Pizza a Portafoglio in Naples. It's not much of an "innovation" or a special pizza, but more of our way to eat pizza… wherever we go.
While we love eating gelato as we do some window shopping, having pizza is even better so… why not!
Pizza a Portafoglio is thus a slightly smaller Pizza Margherita, Neapolitan style, that is folded in a way that you can eat it as street food, without messing up.
The pizza is soft and pliable so there should be no risk of getting tomato sauce all over you, but that's not the only "danger".
Pizza a Portafoglio is served scorching hot, right off the oven, so try your best not to wolf it down unless you want to burn your tongue!
As a local foodie, I've got to say it: holding a deliciously scented Pizza a Portafoglio and trying not to eat it straight away is quite the challenge!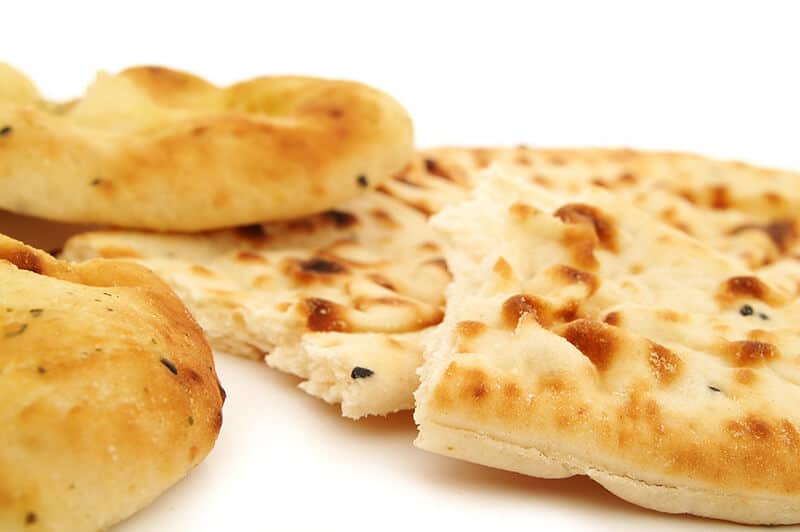 Saltimbocca Napoletano – A mix between pizza and panini
While I added Saltimbocca to this article about the different types of Italian pizza, if you ask for "Saltimbocca" in Rome and in many other Italian regions, you'll be presented with a meat dish.
In Naples, Saltimbocca is a mix between pizza and panini that the pizzaiolo prepares with the Neapolitan pizza dough. The translation of this name means "jumps in your mouth", as in, it's so delicious you just can't help yourself!
A long stripe of dough (more or less 1 foot) is cooked in the wood fired pizza oven, until it gets all puffy and tall. Just like one big "Cornicione" without any filling. Only it's softer than your regular cornicione. As soon as the pizzaiolo cuts it in half, the Saltimbocca deflates, and turns into your regular long panini. Only it's a… pizza-panini!
There are so many fillings you can choose for Saltimbocca, but our favorites are Italian Prosciutto (dry-cured ham) with fresh arugula and parmesan/mozzarella, or baked ham and mozzarella.
Locals also like very much Saltimbocca con Salsicce e Friarielli (just like pizza!) and Saltimbocca con Wurstel e Patatine (wurstels and fries).
Are you looking for a guide for a private tour of the best eateries in Naples? Click here to book a great private foodie tour in Naples with 10 yummy tastings!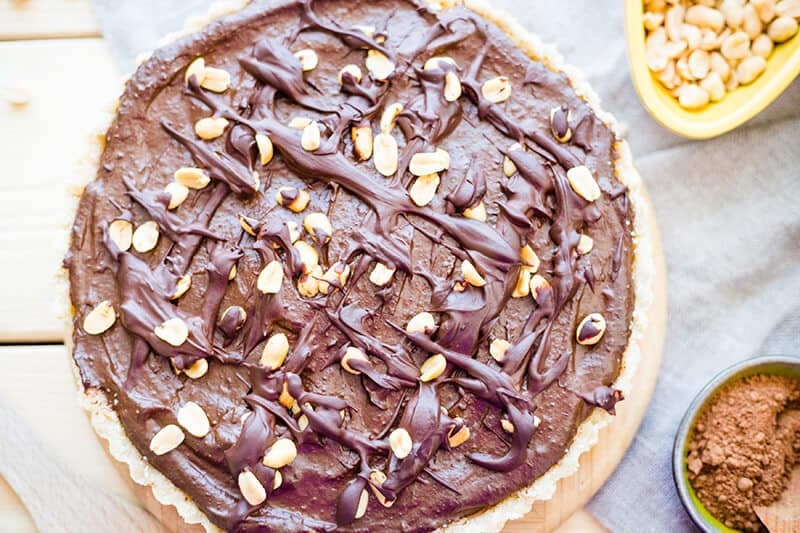 Pizza alla Nutella – Wait… what???
I remember clearly that one time when a traveller from abroad told me "there's no one that does food porn like you Italians do". So I'm supposed we're very much guilty, especially in the South. I don't even feel sorry for that!
Two of the most delicious things in Italy are pizza cooked in the wood fired oven and Nutella. So Neapolitan pizzaioli thought it was time to start experimenting. That's how pizza became a delicious dessert, our own version of… crepes?
Almost every pizzeria in Naples will serve you Pizza alla Nutella as dessert. And it's not just a "fake" name: it really is pizza.
You might also like:
How to spend one day in Naples – Secret tips from a local
A regular pizza, made with Neapolitan pizza dough, is cooked in the oven without anything on the top. When it comes out of the oven, Nutella is added, and sometimes even some chopped hazelnuts, to make it even more delicious.
Pizza alla Nutella is usually pre-cut and served to the table scorching hot.
In Naples we like to share it at the end of a meal with our family and friends, so each one can have 1-2 slices. You should always eat it when it's very hot: Nutella will turn into a soft, delicious cream and you'll also taste the slightly charred pizza flavor. Yum!
Different styles of "pizza" you didn't know about
As I mentioned in the first part of this article, there are so many different types of Italian pizza you should try, even because it's entirely possible you never heard of them before!
Let's check out the lesser known ones!
Italian Focaccia
Italian Focaccia is often mistaken for pizza, but the only thing they have in common is that they're both flat!
Italy loves focaccia. Almost every region has different kinds of recipes, each one of them is delicious and represents the local culinary tradition, as well as the local ingredients.
Here are the main Focaccia you should add to your Italian food bucket list:
Focaccia Genovese (Fugassa) – slightly crunchy, with olive oil and sometimes topped with onions or olives.
Focaccia di Recco – super crunchy and filled with fresh cheese that has to melt in your mouth.
Schiacciata Toscana – it looks like a flat kind of bread, usually served with a filling of finocchiona or Italian prosciutto.
Focaccia Barese – soft and puffy, covered with cherry tomatoes, olives and oregano.
Focaccia Romana – also known as "Pizza bianca", very puffy and soft. It's traditionally filled with Italian mortadella and it's a cheap-but-delicious meal that you can find almost everywhere in Rome.
Trapizzino and gourmet pizza are only two of the main types of Italian pizza you can eat during this tour in Rome! Click here to check it out and book it as soon as possible!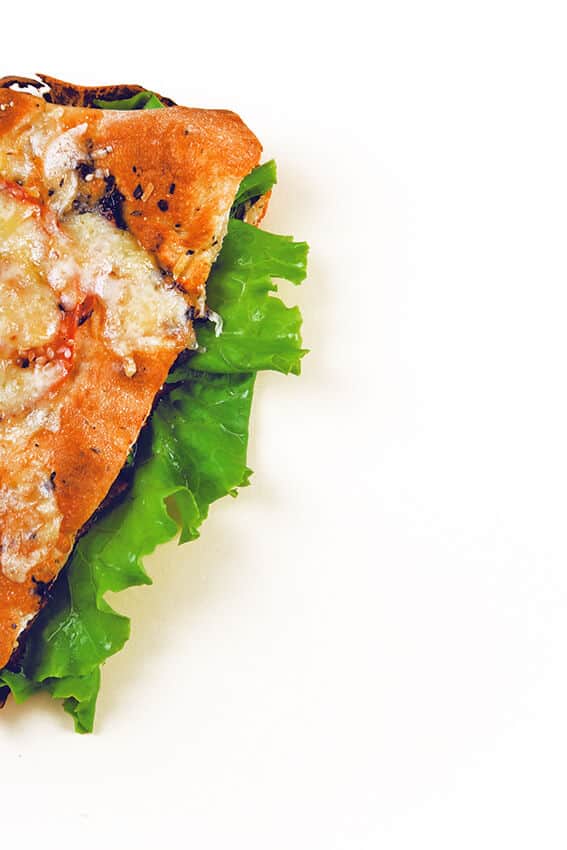 Trapizzino – Rome's hidden street food
Trapizzino is one of the "modern" types of Italian pizza that you can eat in Rome. This street food goodie is a triangle of pizza, filled with delicious ingredients, straight from the oldest culinary tradition of Lazio region.
Trapizzino has to be crunchy on the outside, like a "pocket" that you can carry around, with an open side on the top where the filling is added.
According to how hungry you are, you can order it with veggies, or with the heavy stuff like Pollo alla Cacciatora (Italian Chicken Cacciatore), but also Porchetta, cheese and tomato sauce, and so much more!
You might also like:
10 days in Italy – 5 itineraries you can plan on your own
Italian Pizza: The Frequently Asked Questions
What is Italian pizza style called?
Usually when people from abroad talk about traditional Italian pizzas, they mean the Neapolitan pizza (Pizza Napoletana, in Italian).
It's probably the most iconic Italian pizza ever!
Neapolitan pizza style is a round pizza cooked in a wood-burning oven. The crust has to be thin and chewy, while the edge has to be puffy and lightweight.
What is the most popular pizza topping in Italy?
Pizza Margherita. Yes, I'm totally biased!
The Margherita topping can be used for Neapolitan pizza, Sicilian pizza, paddle pizza, pizza al trancio, pizza romana and so much more!
The original Margherita pizza topping is made of tomato sauce, olive oil, a pinch of salt, fiordilatte cheese and fresh basil.
Here in Naples we also use "mozzarella di bufala" (Buffalo mozzarella cheese), and it's indicated on the menu as "Bufalina".
It's as delicious as it sounds!
Does Italy have deep dish pizza?
Chicago deep-dish pizza is not like the traditional Italian pizza, so you won't find it here.
Yet we do have something similar that you might like just as much!
It is known as "pan pizza": soft, chewy and usually delicious. In between the usual Margherita pizza and the Italian focaccia.
Pan pizza in Naples is known as "Pizza in teglia" or "Pizza nel ruoto".
Another kind of pizza that can be compared to deep-dish is the Roman pizza (Pizza bianca romana). Generally cut in the middle so we can add Mortadella… or, as the Romans say, "Mortazza"!
How do Italians eat pizza?
Everyone eats Italian pizza as they prefer. Some cut small pieces using knife and fork, others prefer to just make triangular slices and eat them with their hands.
There's just one thing that you should keep in mind: the authentic Italian pizza has to be eaten piping hot!
Is the original Italian pizza thick or thin?
We do have both in Italy!
The authentic Neapolitan pizza is thin, but we do have focaccia, pan pizza, paddle pizza or pizza al trancio that are thick.
What can I say… we really do love pizza in Italy!
Pin it for later!
This post is also available in:

Italiano