38 Famous Italian Drinks You Must Try in Italy (Alcoholic + Non Alcoholic)
This post includes affiliate links. As an Amazon Associate, I earn from qualifying purchases. Full disclosure.
There are so many Italian drinks in Italy that are never mentioned in travel guides. The best way to get to know them is… with the help of an Italian!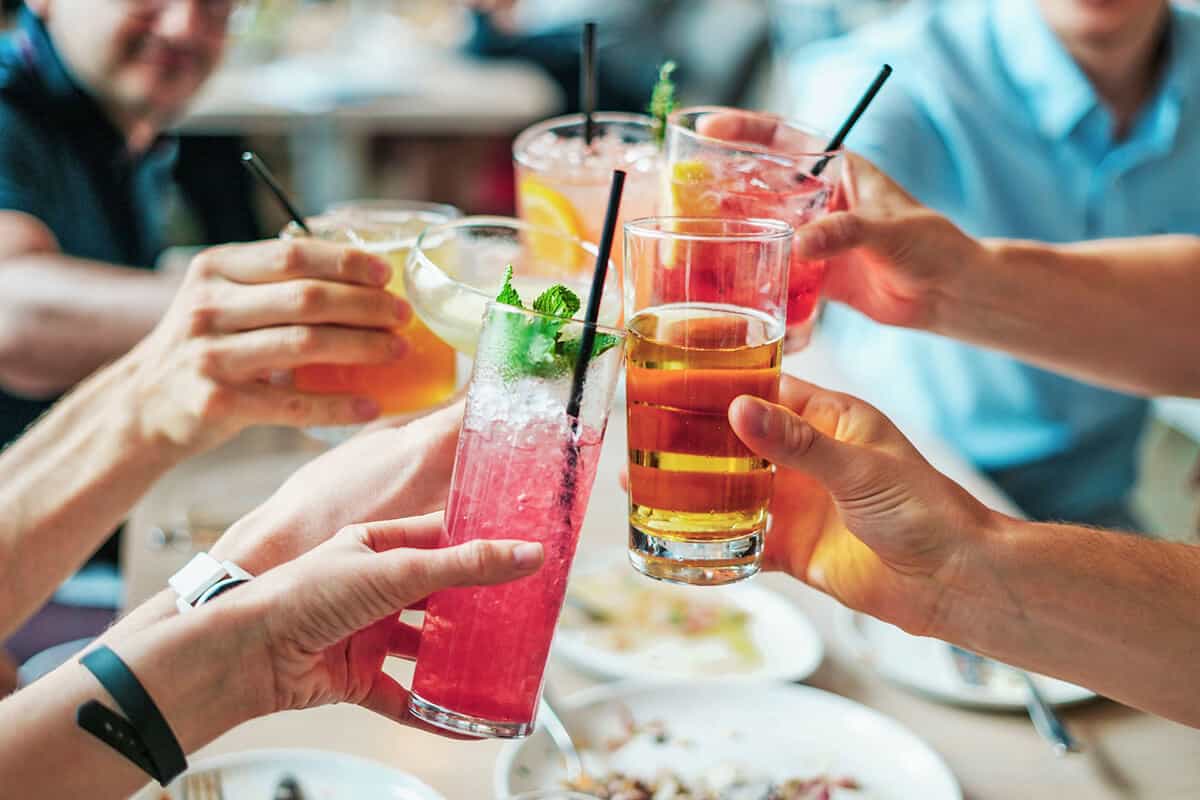 Discover the very best Italian drinks you should try in Italy: both alcoholic and non-alcoholic! Our list includes popular wines, as well as famous cocktails. Yes, also the ones you've recently seen so often in movies and tv series. Let me show you the authentic stuff, and the best food pairings!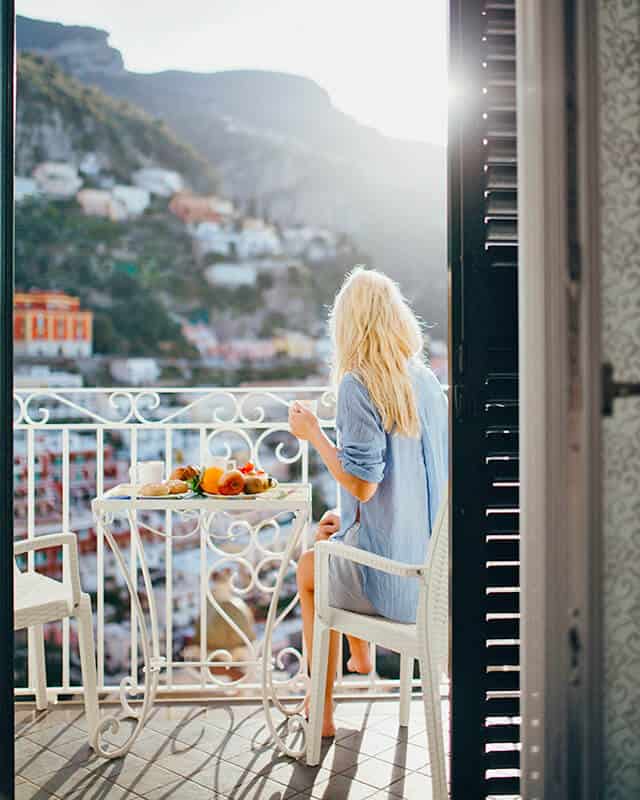 Quick Links to Post Content
Drinks in Italy: The truth from an Italian
Italy is famous for its wines and coffee.
But there's so much more than that!
There are a ton of Italian alcoholic drinks that are now being mentioned in popular tv-series and movies.
Yet probably the closest thing to the truth comes from Stanley Tucci's Searching for Italy.
He has finally uncovered the secrets and delights of Italian drinks: also the non-alcoholic ones!
Italian drinks and cocktails are often especially popular in certain areas.
Heck, my friends who live in Florence never order anything that isn't Negroni!
Here in Southern Italy on the contrary, we do love to end a delicious meal with Amaro or Limoncello from Amalfi.
The truth is that as Italians we absolutely love to drink, especially if we're in good company.
While travel guides always mention the same kind of wines and drinks, I wanted to offer something more authentic.
Check out my list and order one of the drinks I mentioned here on your next trip to Italy.
Then let me know how you liked it!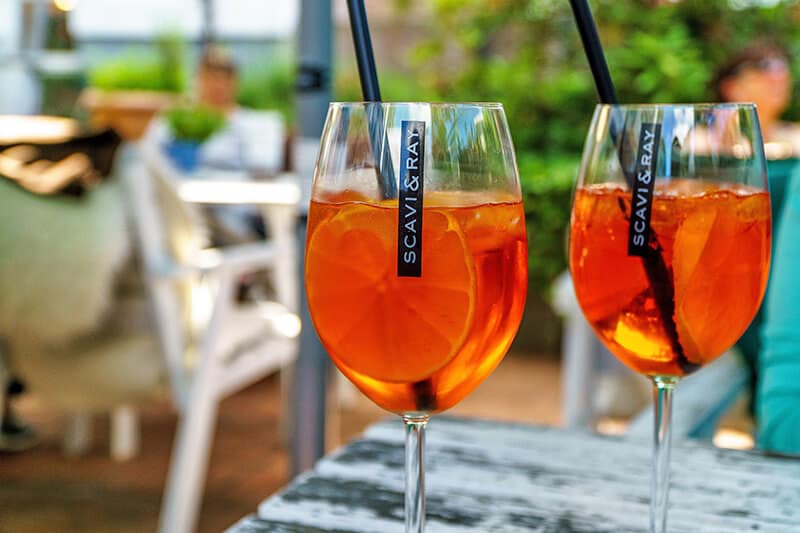 Italian Alcoholic Drinks
Famous Italian Cocktails
Aperol Spritz
Aperol spritz is one of the main Italian alcoholic drinks that are usually served with aperitivo.
While tourists basically drink it whenever they want, us Italians have an unwritten rule. It's better to order Aperol spritz with an evening aperitivo.
Aperitivo (aperitif) is an Italian tradition, much like the American happy hour. While it's meant to "open" the stomach so it's ready for dinner, in Italy it's much more than that!
Aperol Spritz is made with 3 parts of prosecco, ice cubes, a splash of sparkling water and 2 parts of Aperol liquor.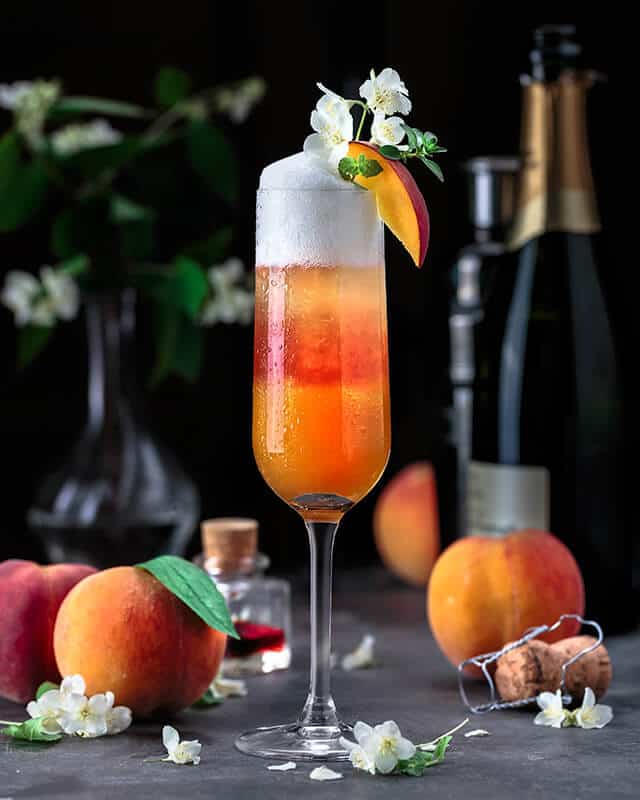 Bellini
Bellini is the traditional Italian long drink. Also one of the official cocktails of the International Bartenders Association.
Which means every Italian bartender will know how to make it.
Invented in 1948 by Giuseppe Cipriani at the famous Harry's Bar in Venice, it was dedicated to Giovanni Bellini, the Venetian painter.
We like to drink Bellini during the hot summer days, because it's fresh, sparkling and fruity.
The authentic Bellini recipe?
2 ounces of peach puree and 4 ounces of chilled prosecco. That's it!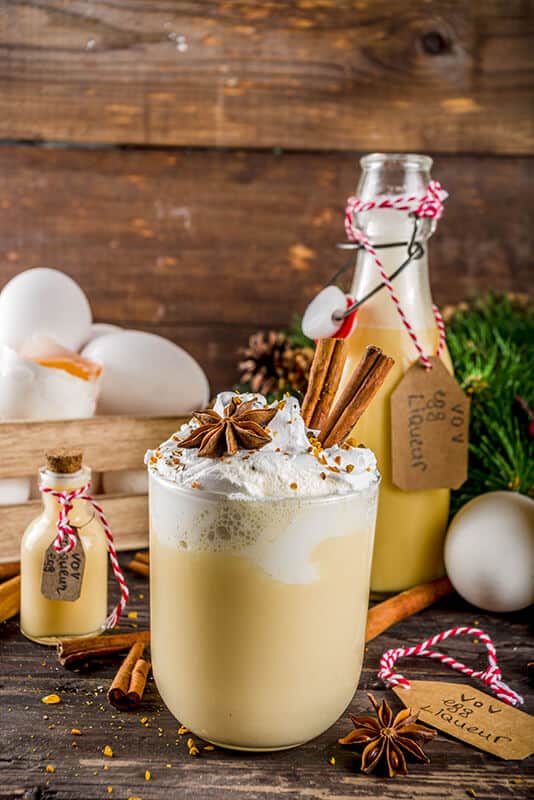 Bombardino
If you have a sweet tooth and you're planning to taste the sweetest Italian drinks, you have to order a Bombardino.
It's known as "the bomb" because it's sweet, warm and rich.
You can consider it the Italian eggnog!
Bombardino is prepared with 3 parts of Zabaione or Vov (Advocaat can also be good), 1 part of brandy or rum, whipped cream and a bit of cocoa powder on the top.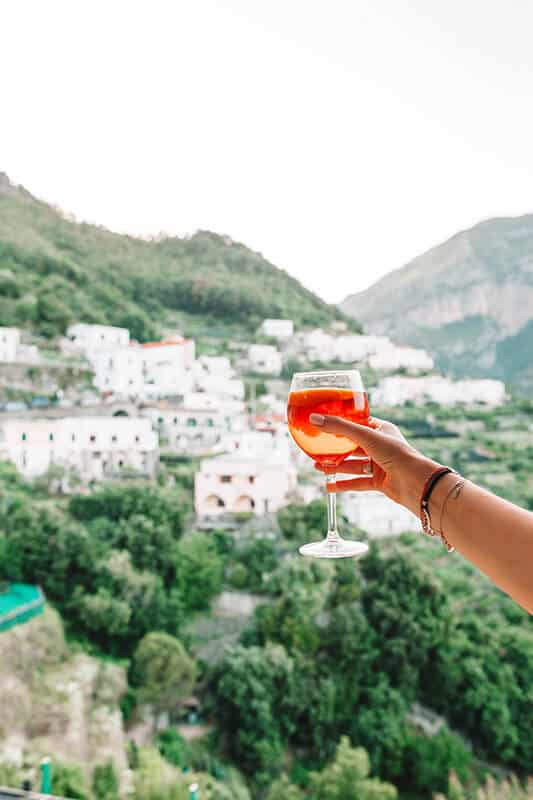 Campari Soda & Campari Spritz
Another one of the aperitivo drinks is Campari Soda, not to be confused with Spritz or Campari Spritz.
Campari Soda is a popular drink in Italy that you can also buy in small red bottles. We use it often at our home so we have a ready-to-go aperitivo, just by adding some delicious cured meats!
If you add spritz to Campari Soda, you'll have a Campari Spritz, which is one of the famous Italian mixed drinks.
Basically an Aperol Spritz, where you just change Aperol liquor with a single-dose Campari soda bottle.
Hugo Spritz
Hugo, also known in Italy as Hugo Spritz, is a super refreshing aperitivo drink, which is very easy to prepare.
This is one of the traditional Italian drinks that have history. It was in fact created as a fresh and seasonal alternative to Spritz.
Hugo was inspired by the Elder trees that grow in the Alps. Its creator combined elderflower syrup, prosecco, fresh mint leaves and sparkling water.
There isn't too much alcohol, even if it's still an alcoholic drink.
According to my sister, Hugo is one of the most ordered Italian drinks at "apericena" in Milano.
What's apericena?
It's Milan, baby! A mix of aperitif and dinner.
Filling enough that you can actually skip dinner, if you know where to get it!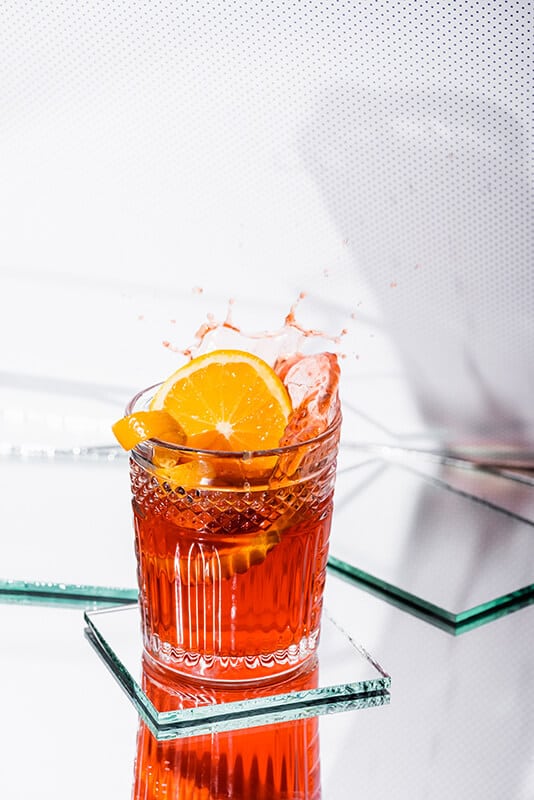 Negroni
Negroni is possibly one of the most popular Italian drinks in the whole world. And also here, in Italy!
Some of my friends who live in Tuscany refuse to drink anything else, it's just Negroni, whether it's for an aperitivo or not!
If you're planning a trip to Italy, this is the one drink you absolutely have to try.
Or you'd miss out big time.
Negroni is made with ice, 3 parts of gin, Campari and sweet red Vermouth.
Here in Italy we like to decorate our Negronis with a slice of fresh orange.
While not everyone knows it, Negroni is one of the Italian alcoholic drinks that have quite a bit of alcohol. So make sure you don't order it on an empty stomach! Get an aperitivo as well, it'll be perfect!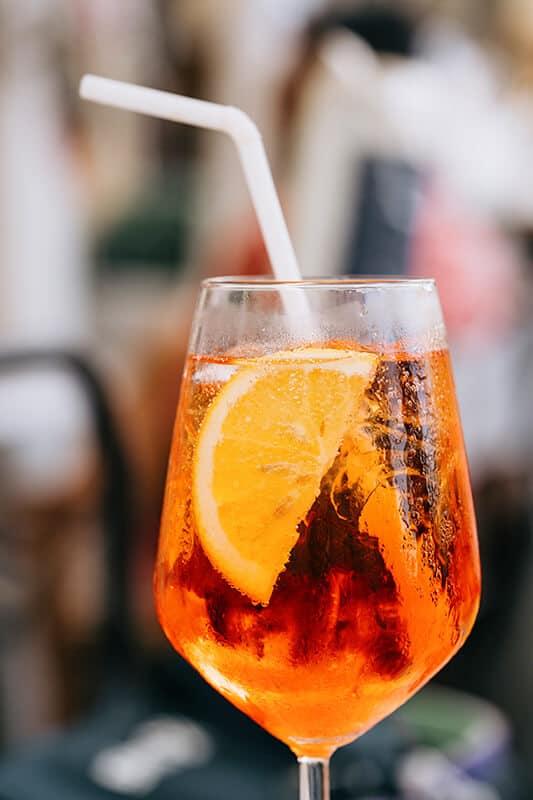 Negroni Sbagliato
For a while the viral video with Olivia Cooke and Emma D'Arcy from House of the Dragon had a lot of people guessing.
Sure, Negroni is one of the popular Italian drinks. But… what is Negroni sbagliato?
First things first, hats off to Emma D'Arcy: not many people know of this Negroni variant.
She must be an expert!
Negroni Sbagliato was created in the '70s by a bartender in Milan. According to the story, he didn't remember the original recipe for Negroni. So he used prosecco, instead.
Many bartenders here in Italy don't use prosecco for Negroni Sbagliato.
They seem to prefer Italian Spumante Brut. Which is a dry version of the original Spumante.
While Spumante Brut is considered one of the best Italian sparkling wines, it's… very dry. I personally prefer Negroni Sbagliato with prosecco!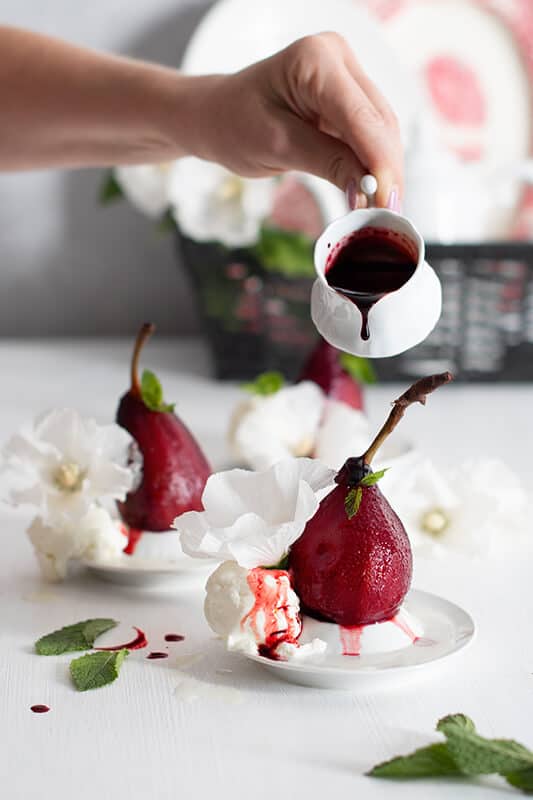 Most Popular Italian Wines
Barolo
Barolo is one of the popular Italian wines that so many people in the world know about.
In Europe it has a D.O.C.G. certification, which means every bottle has to have specific traits. Especially when it comes to taste, scent and color.
Produced in Northern Italy, in the Piedmont region, it is often considered the "king of Italian wines".
This red wine is pretty complex. We prefer to drink it at dinner, because we tend to pair it with meat dishes, mushrooms (Italian porcini are delicious!) or aromatic cheeses.
There are quite a lot of regional Italian dishes you can order with Barolo.
Start with pastas with meat sauce, or risotto. Stracotto, boar stews, or Italian polenta (great if you're visiting Italy in winter!) are also perfect food pairings!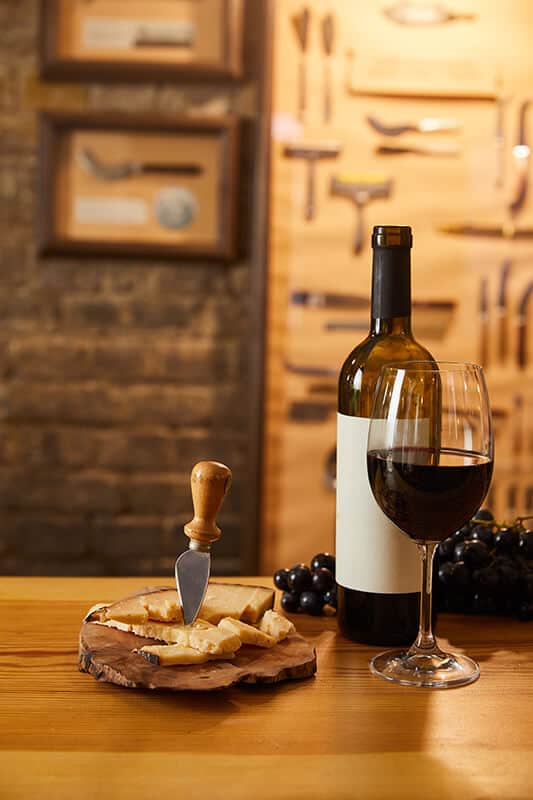 Brunello di Montalcino
If you're still in the planning stage, you should definitely add a few day trips from Florence to your itinerary.
Why?
Well because you should absolutely visit Montalcino, which is home to the wonderful red wine Brunello di Montalcino!
Brunello is definitely one of the popular wines from Tuscany and yet another Italian DOCG product.
One of the very best Brunello is produced at Biondi Santi Tenuta Greppo. Also known as the pioneer of Brunello di Montalcino.
This red Italian wine is brilliant and has an intense perfume, which is very persistent.
The best food pairing for Brunello di Montalcino is strong, aged cheese. Hence why in Tuscany it's usually served with delicious taglieri di formaggi.
Try Brunello with pecorino toscano, parmigiano reggiano or gorgonzola cheese.
It's divine!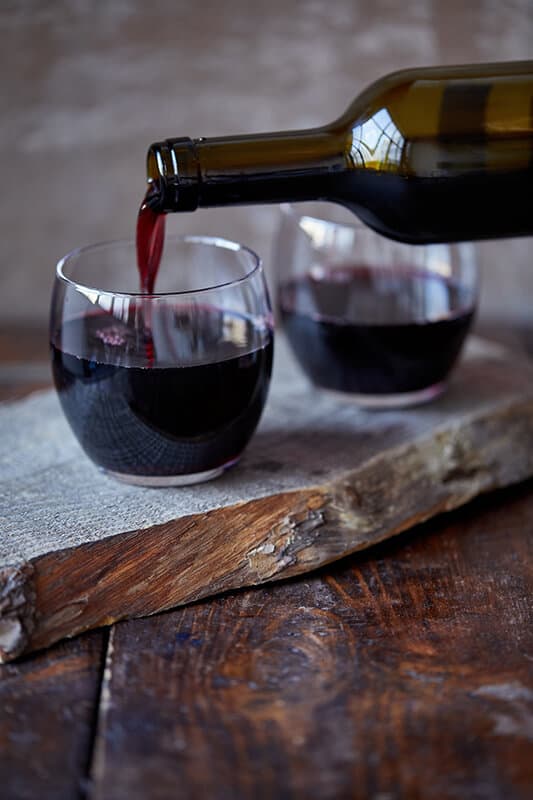 Montepulciano
Adding Florence to your Italy itinerary is a great idea for yet another reason. You can – and should – visit Montepulciano and Montalcino on the same day.
For your very own Italian wine tour!
Montepulciano is another one of the popular Italian wines you have to try here in Italy.
This DOCG red wine is produced in Tuscany and specifically in Montepulciano, pretty close to Siena.
The best food pairings for Montepulciano are lamb, Italian aged cheeses, as well as grilled meat.
Click to discover the cheapest car rental for Florence!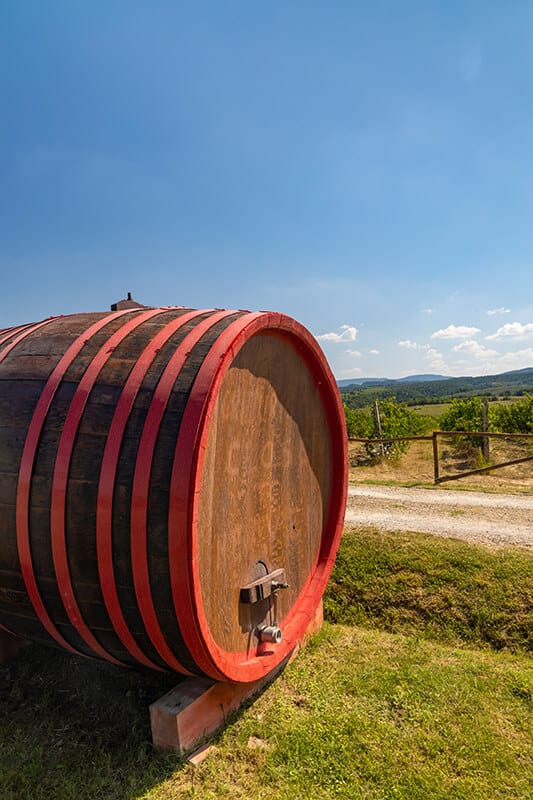 Chianti
Chianti is Aldo's favorite Italian wine from Tuscany. The one he loves to drink more often.
Chianti is a particularly beautiful area located between Florence, Siena, Arezzo and Pisa.
Have you ever seen those gorgeous pictures of the Tuscany hills? Sting's "Fields of Gold"?
That's Chianti for you!
Chianti wine is made with Sangiovese red grape variety. It's brilliant and has a powerful scent.
According to Al, its taste is a bit dry, and it stays on your tongue for a while.
The best food pairing for Classic Chianti wine is grilled meat, especially beef, pork or chicken.
Here in Italy it can be served also with rabbit stew or Italian aged cheese.
Do you prefer a guided tour?
Book the authentic Chianti Wine Tasting Tour from Florence and enjoy your day out with no hassle!
Cannonau Wine
Cannonau is the most famous red wine from Sardinia.
This is a DOC wine. Its grapes grow throughout the island but the best ones come from the central areas.
This traditional Italian wine dates back to 1200 b.C., as it was discovered in 2002 while studying an archaeological site in Borore.
Cannonau is a bit of a liquor, because it has to sit for at least 6 months in oak barrels before it can be bottled.
The best Cannonau reserve is about 3 years old.
Among the best food pairings for Cannonau there's pecorino sardo stagionato, another delicious aged cheese made in Sardinia.
As well as grilled pork, lamb, wild rabbit stew or maccheroni al ragù (maccheroni pasta with tomato sauce).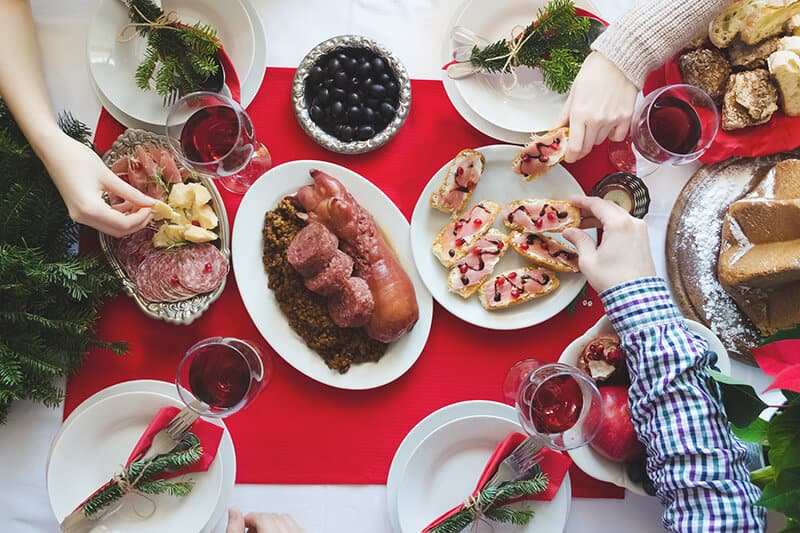 Lambrusco
While lots of tourists know Emilia Romagna especially for all the delicious Italian Christmas food, there's more.
Lambrusco is an Italian red wine that is produced in the Emilia Romagna region. The best vineyards are in fact located between Parma, Reggio Emilia, Mantova and Modena.
This sparkling wine is to be drunk young, and comes in various levels of dryness. From Secco (dry) to Amabile (sweet) and Dolce (very sweet).
The main food pairings depend on the dryness.
In the Emilia Romagna region it's often served with stews, boiled pork meats (especially cotechino and zampone).
Yet you can also drink Lambrusco amabile with salads or fish dishes.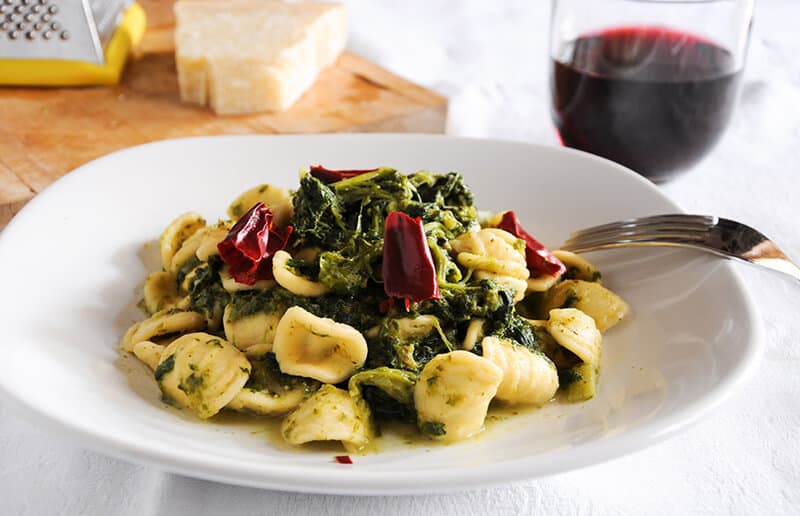 Primitivo di Manduria
If you're planning to visit the Puglia region (you might know it as "Apulia"), there's an Italian red wine you absolutely have to try.
Primitivo di Manduria DOC.
This amazing Italian red wine also has a sweet version, Primitivo di Manduria Dolce Naturale DOCG.
The Primitivo di Manduria Riserva DOC is possibly the one that requires a bit more aging. After about 24 months – 9 of them spent in oak barrels – it turns into a strongly scented Italian liquor.
Because Primitivo di Manduria is a quite strong wine, it should be paired with red meat, Italian aged cheese or some of Apulia's traditional dishes.
I'm thinking of orecchiette con le cime di rapa or meat bombette.
Check out our Apulia videos!
– The best of Apulia: Sea, Food & Wine
– Best Beaches in Salento (Apulia)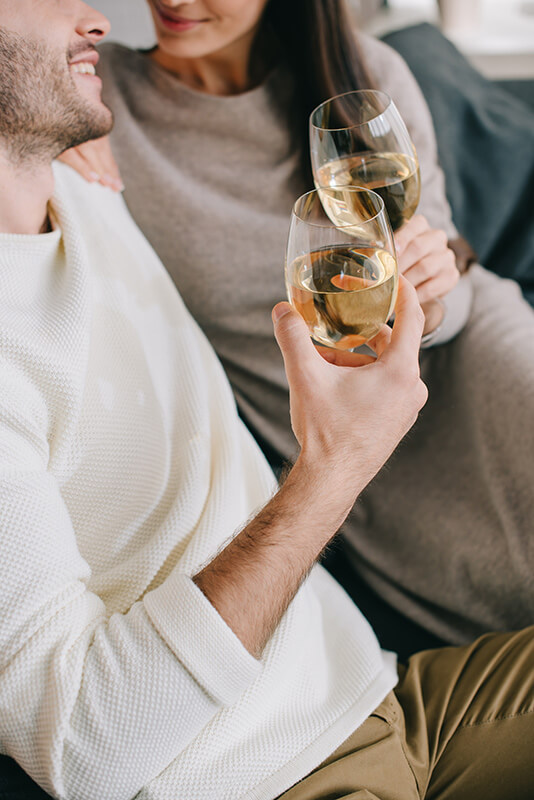 Prosecco
King of the Italian sparkling wines, in Italy and abroad, Prosecco is the one drink you just can't miss on your next trip!
Some tend to think that Prosecco and Spumante are the same kind of white sparkling wine. But they're not.
Prosecco can be added to a ton of Italian drinks, but it's also delicious if you drink it by itself.
It's young, and it can be Brut (dry), Demi-sec or Dolce (sweet).
Here in Italy Prosecco is one of the best aperitivo wines. Especially the Brut version.
That's because it's particularly dry, so it "cleans" your mouth when you eat deep fried goodies or cured meats. The stuff usually served with aperitivo.
One of the very best Prosecco is Prosecco di Valdobbiadene DOCG.
That's also Aldo's favorite: we usually drink it here when we want a special aperitivo or we need to celebrate something!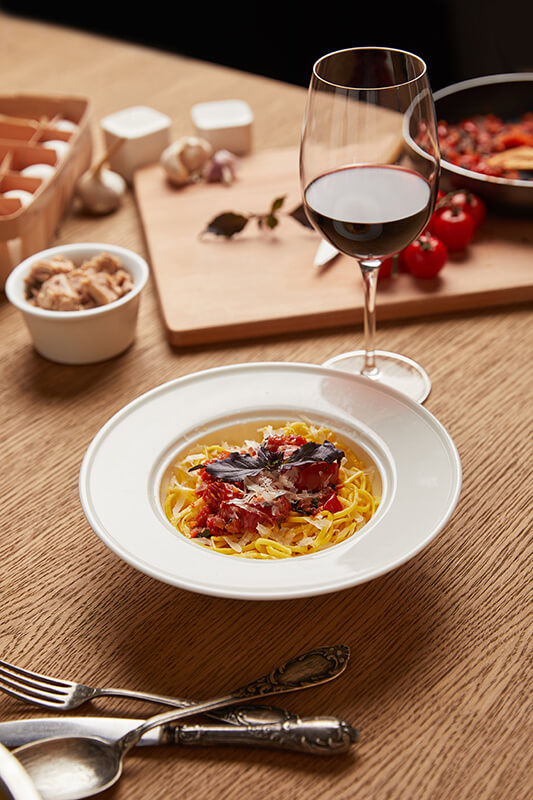 Aglianico
As you might already know, we live in Naples.
Campania region produces delicious red wine, one of the best in Southern Italy. Aglianico.
It dates back to 1970!
Some Aglianico bottles also come from Basilicata, Puglia and Molise regions.
Here we know it as "il Barolo del Sud" (Barolo from Southern Italy).
You can find 3 main types of Aglianico.
Aglianico di Taurasi, also known as Taurasi DOCG, is exclusively produced in Irpinia, Campania Region.
Aglianico del Vulture comes from Basilicata region. Its vineyards grow on an inactive volcano, Monte Vulture.
Aglianico del Taburno is exclusively produced near Benevento and Monte Taburno, in Campania Region.
Worried you'll need a bit of help?
Download the FREE Italian Travel Phrasebook here! It includes the correct Italian pronunciation and lots of useful sentences that you'll be able to use on your trip to Italy!
The best food pairings for Aglianico are heavy meat dishes like stews or pork.
In case you're planning to visit Naples, know that Aglianico is usually suggested as the best wine for one of the most authentic Neapolitan dishes.
O' Ragù (Ragù meat sauce).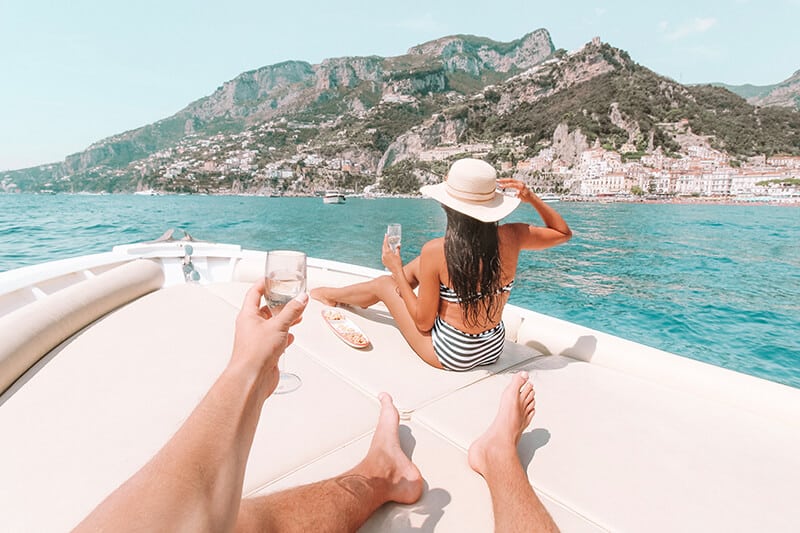 Pinot Grigio
While Pinot grigio is a French wine, mainly from Burgundy, it has become one of the most popular in Italy as well.
Trentino-Alto Adige, one of the popular regions for Christmas markets in Italy, has the highest number of vineyards producing Pinot grigio.
This white wine is considered an elegant drink. It's particularly fresh and fruity, so it's usually paired with antipasto, fish, fresh cheese or vegetables.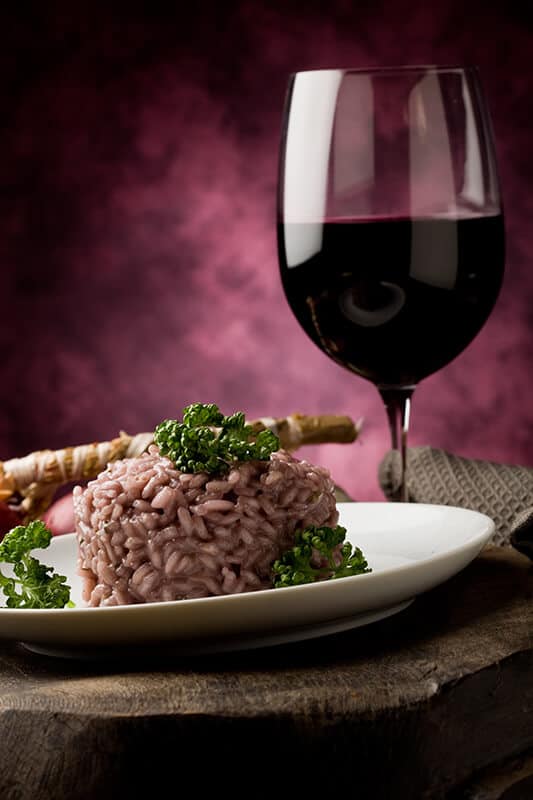 Amarone
The first time I tried Amarone della Valpolicella was with risotto. We were visiting Aldo's family in Verona for a romantic weekend in Italy.
And Aldo's cousin told us we were missing out.
We had never tried risotto all'Amarone!
Amarone della Valpolicella is an amazing Italian red wine. The main vineyards are all located in Valpolicella, near Verona, in Italy.
Italian Amarone is rich, dry and unique.
Together with Barolo and Brunello di Montalcino, it is one of the most popular Italian DOCG red wines.
By all means, if you're visiting Verona, order risotto all'Amarone. It's absolutely divine!
Other great food pairings are Italian brasato (pot roast), lasagne pasta, stews, gnocchi al formaggio (cheese dumplings), and bigoli con il ragù di anatra (bigoli pasta with duck sauce). Some of the most popular dishes in Veneto region.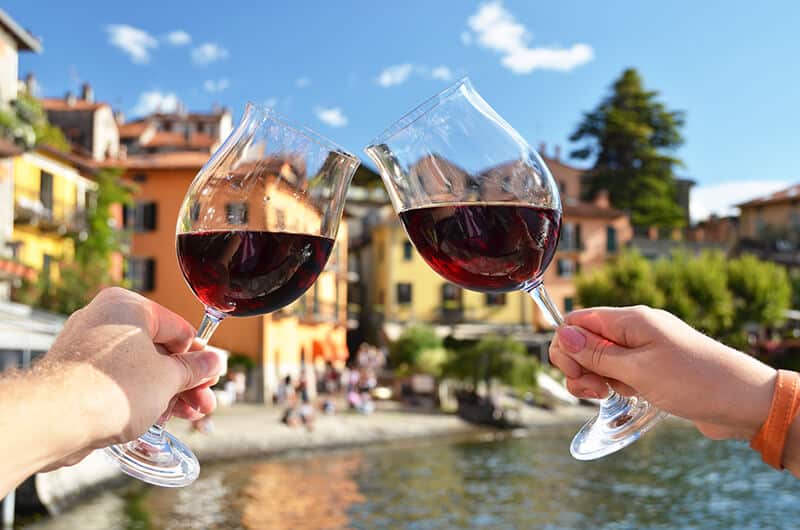 Valpolicella
Valpolicella Classico is a ruby red wine, mostly produced in Valpolicella. Which is very similar to Amarone.
The main difference is the color. Amarone is definitely darker.
Unlike Amarone, Valpolicella DOC is a young wine. It smells like almonds, flowers, spices and black cherry.
The best food pairings for Valpolicella wine are Italian aged cheeses, cured meats, hence why it's generally served with antipasto.
In Italy we also like to drink Valpolicella with pork roast, truffle dishes and veal.
Dolcetto d'Asti
Dolcetto d'Asti DOC is one of the famous Italian wines from the Piedmont region.
It's the perfect drink for those who prefer a sweet red wine.
Dolcetto is very young and not very alcoholic. When you pour it into a glass it makes a purple foam on the top.
The very first scent that hits your nostrils is fresh fruit.
The best food pairings for Dolcetto?
Cured meats, soups and main pasta dishes like agnolotti or tagliatelle al ragù.
Nero d'Avola
Last but not least, Nero d'Avola, one of the popular wines from Southern Italy.
Produced mainly in Sicily and Calabria, it comes from grapes that are almost black. Hence why it's known as "nero" (black in Italian).
Nero d'Avola is dry, but it smells like fruit. The main ones you can immediately recognize are cherries, plums and berries.
You can easily consider Nero d'Avola as the most famous Sicilian wine in the world!
The best ones are Brumale, Sicilia DOC and Corte Ibla.
Pair Nero d'Avola with grilled meats, Italian aged cheese or mushrooms.
Aldo loves to drink it with grilled beef and porcini mushrooms!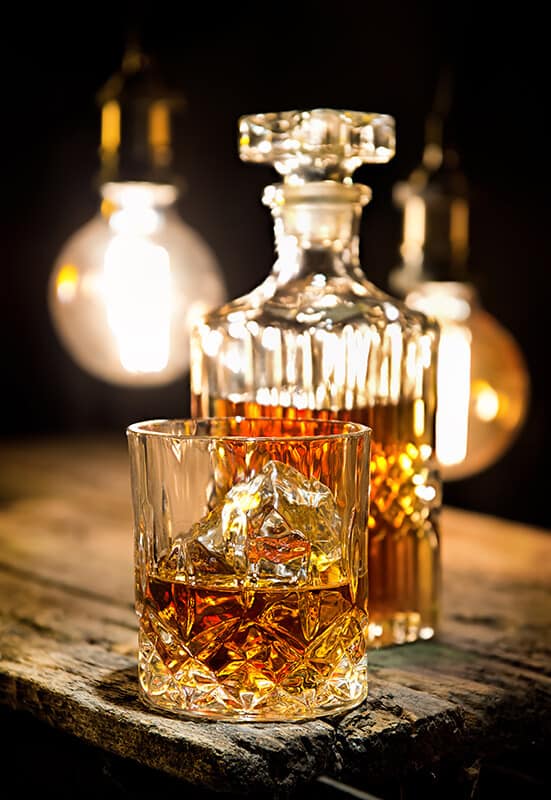 Traditional Italian Liqueurs
Amaretto
Amaretto Disaronno is possibly one of the most famous Italian liqueurs in the whole world.
Often known only as "Amaretto" or "Disaronno".
Amaretto is a sweet liqueur produced in Saronno (Lombardy region) with apricot kernels, bitter almonds and peach stones.
While you can also drink it by itself, it's most often used in a ton of Italian mixed drinks.
The most notable ones are Disaronno Godfather, Disaronno Sour, Disaronno Fizz and Disaronno Mule.
Amaretto derives from the world Amaro, which means "bitter" in Italian.
Yet it's not to be confused with Amaro liqueur (keep reading for more!).
Amaretto liquor is also used to make delicious cookies, Amaretti di Saronno.
Amaretti can be moist or dry.
The dry ones are crispy and can be a great souvenir from Italy!
This Italian liquor is often added to desserts, including gelato. Yet in Lombardy it's also used in a few savory recipes.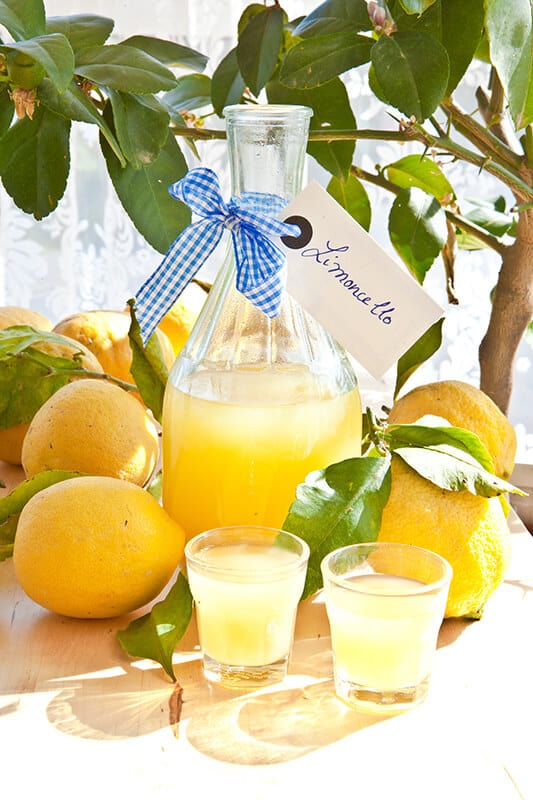 Limoncello
Limoncello is possibly the most popular Italian liquor from the Amalfi Coast, in the Campania region.
The hills surrounding Amalfi are covered in lemon trees. Hence why you'll often hear about Limoncello d'Amalfi.
Truth is that most of us in Campania make our own limoncello, each with a different family recipe.
The authentic limoncello tastes like lemons. It's like drinking an alcoholic lemonade. That's the easiest way to recognize if it's a factory-made liquor.
In case it tastes like sugar and alcohol, it's not the authentic stuff!
If you're planning to visit the Amalfi Coast you'll also find an iced version of Limoncello, which is served frozen like gelato.
Traditional limoncello is also used to prepare cakes and pastries. The most famous one is Delizia al Limone, which is a sponge cake with limoncello, filled with lemon custard and covered with lemon-flavored whipped cream.
Click here to check out a great boat tour from Sorrento which includes a yummy limoncello tasting!
Mirto
Liquore di mirto is a popular liquor from Sardinia. Hence why it's also known as Mirto di Sardegna.
Prepared with myrtle berries and a very ancient recipe, Mirto is often homemade. Just like Limoncello in our region, Campania.
You can consider Mirto as a digestif that you can drink after your meal.
Some people also like Mirto con ghiaccio, or frozen mirto, as an aperitif.
The lucky ones planning a trip to Sardinia will also find out how Mirto is used in a ton of delicious pastries. We even found cioccolatini al mirto, chocolates with a delicious mirto cream filling, slightly alcoholic.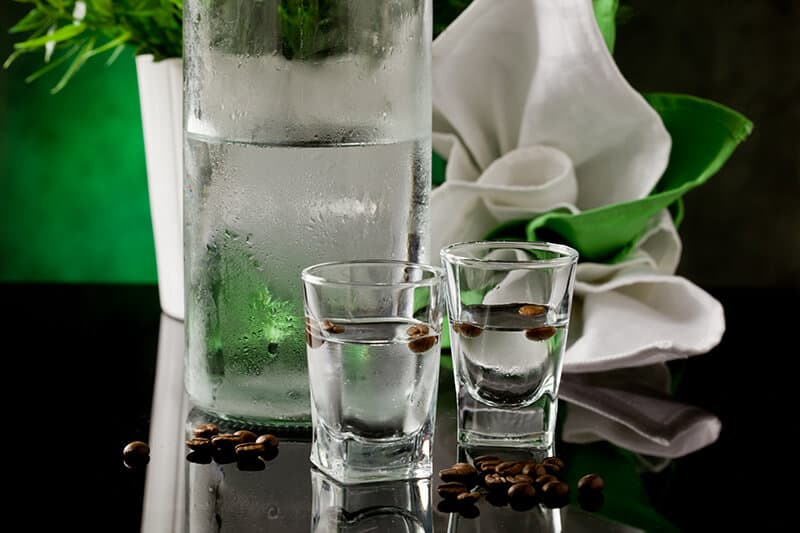 Sambuca
Sambuca is a sweet Italian liqueur prepared with water, sugar and star anise.
In Italy the most popular one is Sambuca Molinari.
Traditionally Sambuca has a specific way it has to be drunk in Italy.
We know it as "Sambuca con la mosca".
According to the legend, while filming La Dolce Vita by Federico Fellini, the actors threw coffee beans to annoy each other. They needed a break in between the iconic scenes filmed in our beloved Rome!
When one of those fell into a glass of Sambuca, it looked like a fly (in Italian "Mosca").
Now Sambuca con la mosca has to have three coffee beans on the bottom of the glass. You have to drink Sambuca and then you can eat the crunchy coffee beans.
Quite a few people in Italy like to start their day drinking espresso with a splash of Sambuca!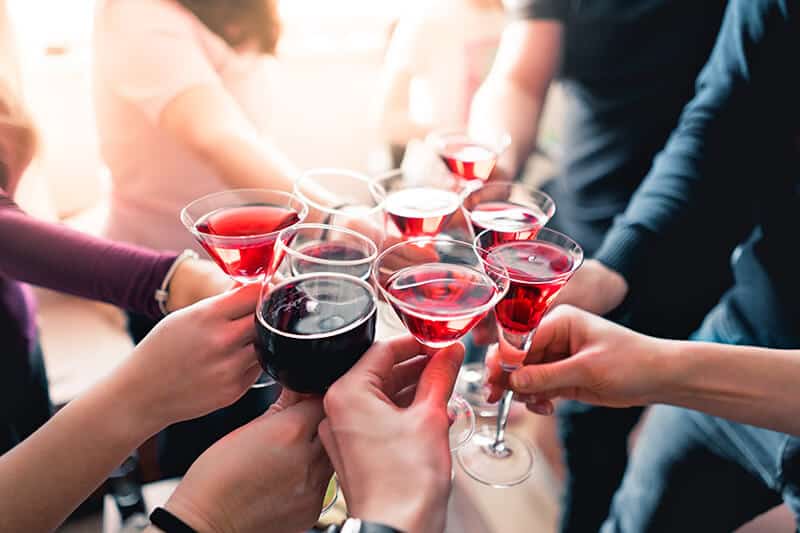 Campari
Campari is one of the most popular Italian alcoholic liqueur, that we love to drink while having aperitivo. Negroni anyone?
Also known as Campari bitter, it shouldn't be confused with "Sanbittèr" or "Bitter", a non alcoholic drink.
Characterised by its dark red colour, it's often used in iconic Italian drinks. Think of Negroni, Spritz Campari, Americano, Negroni sbagliato, Boulevardier or Campari shakerato.
Amaro
Italian Amaro liquor is, as the Italian name suggests, quite bitter.
In Italy it's drunk after meals, very rarely with aperitivo.
Contrary to popular belief, there are hundreds of amaros in Italy! Every region, sometimes every small town has a different recipe.
Whether it's known as "digestivo" (digestif in Italian), "centerbe" (a hundred herbs in Italian) or amaro, it's always the same kind of liquor!
Herbs, spices and alcohol are the main ingredients for amaro.
Often, especially here in Southern Italy, you'll find "Amaro della casa" on the menu. It indicates homemade amaro, or one produced locally for that specific restaurant.
Trust me when I tell you that it's one hundred percent better than the factory-made amaro. Give it a try when you can!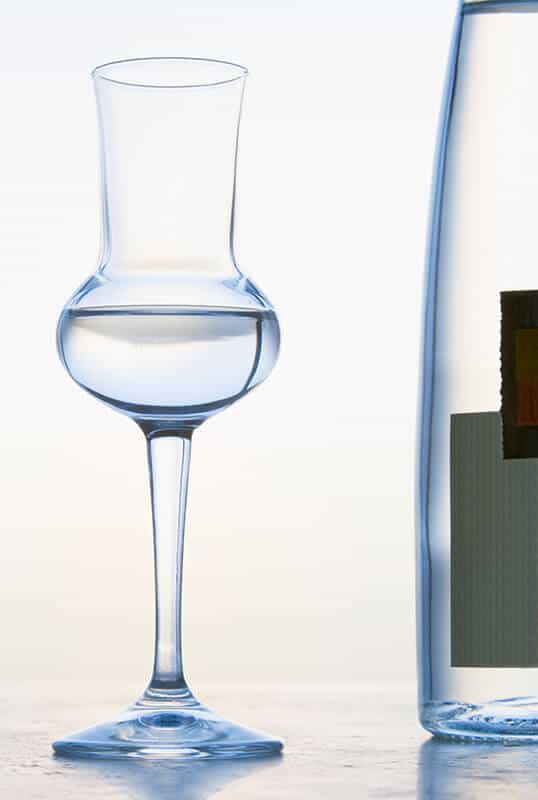 Grappa
Grappa is a very popular Italian liquor.
To be more specific, it's a grape-based distillate that contains 35 to 60 percent alcohol by volume.
While a lot of tourists visiting Italy just order "grappa", there are two different types of grappa that you can – and should – try!
Grappa bianca is aged for at least one year in barrels. Hence why sometimes it's known as "Grappa invecchiata".
There are no specifics for the barrels when it comes to wood and size.
Grappa barricata, on the contrary, refers to barrique aging. It's golden or light brown in color. It ages for at least one year in smaller oak barrels. The scent and color make the difference.
Grappa can be a great Italian drink we like to order after a large meal.
If you're visiting Italy in winter you might discover that in the Northern regions some people start the day with espresso and a splash of grappa.
To fight the cold, they say!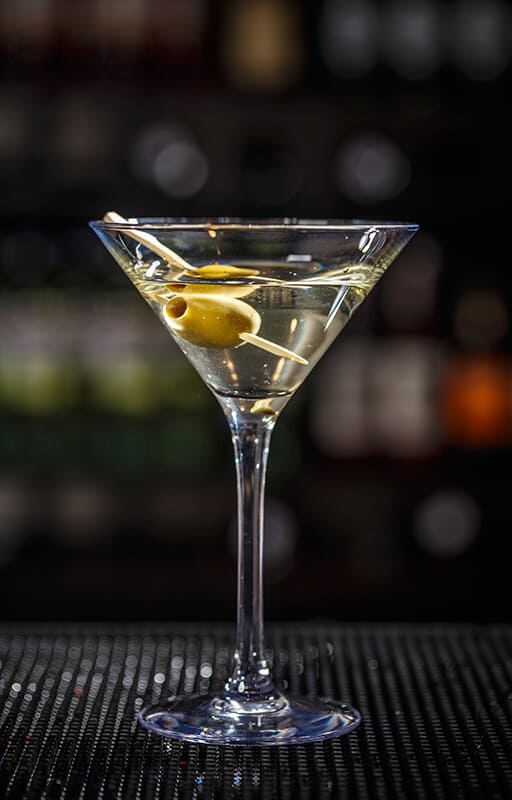 Martini
In Italy, Martini is forever linked to a specific commercial.
A young Charlize Theron sipping Martini in Portofino.
The blonde bombshell, a mix between Marilyn Monroe and La Dolce Vita, is the very first thing us Italians think about.
The nerdy ones – me included – actually like to think of Vodka Martini, the iconic James Bond cocktail.
Shaken, not stirred!
Martini can be drunk by itself or added to a ton of Italian drinks.
There are two types, Martini and Martini Dry.
Both are usually drunk before dinner. Or as a cocktail you get late at a nightclub, if you want.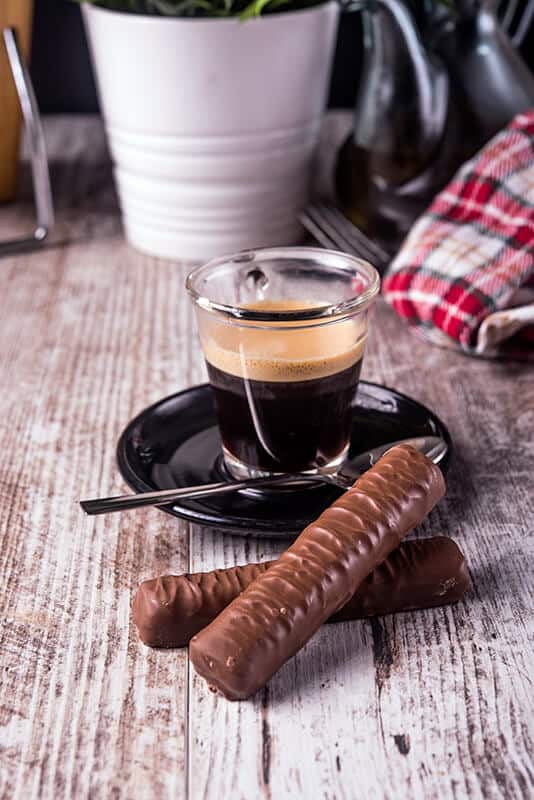 Non Alcoholic Italian Drinks
Espresso
The one and only king of non alcoholic Italian drinks is caffè espresso.
Known in the world as just "espresso".
While somewhere it's just a fancy drink, cafè in Naples is an art. And a way of life.
Napoli is in fact the Italian capital of coffee.
If you're visiting Naples, there are two things you just can't escape.
Italian pizza and espresso. 'na tazzulell e' cafè (a cup of coffee in Neapolitan dialect).
Espresso is very strong compared to American coffee. It is easier to drink if you pair it with a Neapolitan sfogliatella.
In case you're planning to spend one day in Naples, my itinerary is perfect for this.
So many cafes selling espresso and freshly baked sfogliatella, no need for a paid tour!
Bicerin
Bicerin is yet another traditional Italian drink that was created in Turin, Piedmont.
The name means "bicchierino" (small cup in Italian) in the local dialect.
Some people tend to think Bicerin is an alcoholic drink. But it's not!
What they might be thinking about is "Caffè Borghetti", which is a coffee liquor.
The traditional Bicerin recipe dates back to 1763. It uses espresso coffee, hot cocoa and milk foam. That's it!
Much like Coca Cola, there's a super secret "original recipe" that no one really knows.
You can drink the "super secret Bicerin" in Turin at the "Al Bicerin" Caffè.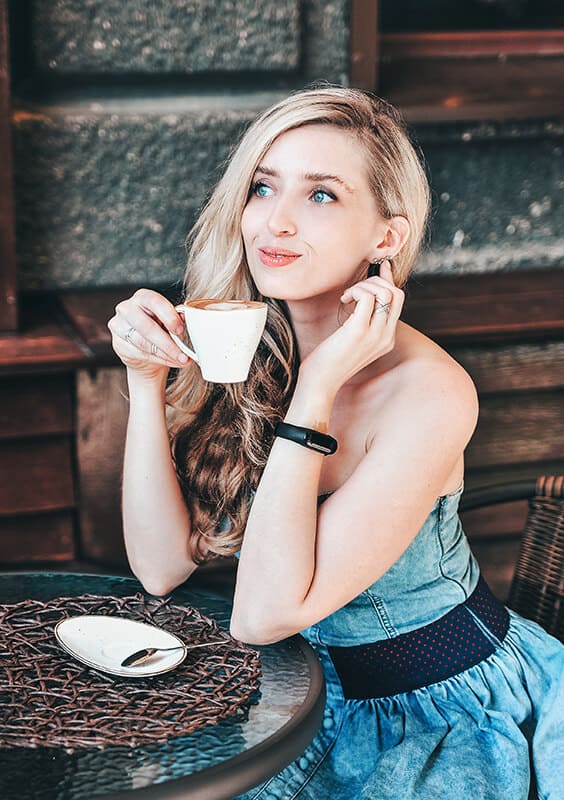 Cappuccino
Cappuccino is yet another must-drink in Italy.
We love to drink it in the morning, especially when we have breakfast at a cafè.
This traditional Italian drink is made with coffee, a splash of milk and milk foam.
Unless you have a special coffee maker at home, it's difficult to make the original cappuccino.
So we make the next best thing. Caffellatte. Which is just warm milk with coffee.
Do you know how Italians spot a tourist even a mile away?
Nope, it's not about our tipping etiquette.
It's because they tend to order Cappuccino for lunch or dinner!
Cedrata Tassoni
The one Italian drink I never see in any guide about traveling to Italy is Cedrata.
Because that's our super secret summer drink. You could say only Italians know about it!
In Italy whether you order "Cedrata" or just say "Tassoni", they'll still serve you the same drink.
Modern Cedrata was born in 1956, created by Tassoni, a small company from Salò, near Garda Lake.
Cedrata is a bright yellow, sparkling drink. Even now that it's so popular, the small glass bottles have stayed as they once were: bare.
You can think of it as a vintage non-alcoholic drink.
Tassoni is exclusively made with Italian ingredients, like Italian cedars. The ones cultivated in Calabria region, known as "Diamante".
It's a sparkling, slightly spiced citrus drink.
In Italy it's quite common to drink it in the hot summer days, on the rocks.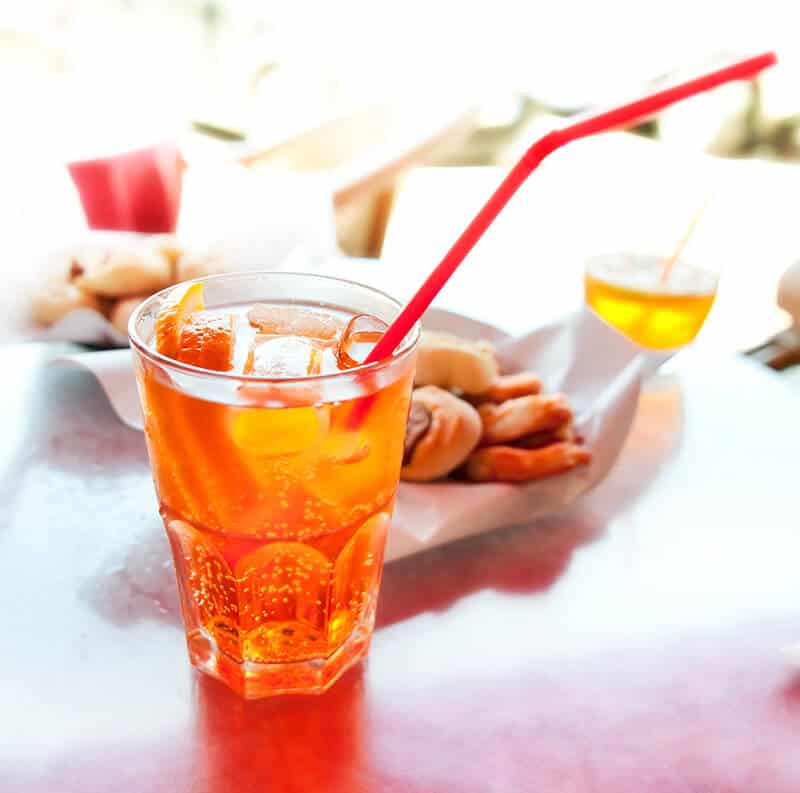 Crodino + Sanbitter
Crodino is the perfect Italian non-alcoholic aperitivo drink.
A citrus, sparkling "soda" that comes in small bottles. Famous for its dark gold color.
Crodino is slightly bitter, and also comes in red.
That's the orange-based version!
Created in 1964 by the Campari group, among its ingredients has spices and herbs, as well as lemon and orange.
If you don't want to get yourself an alcoholic drink with your aperitivo, just order Crodino.
What not many people know is that there's a similar drink, which was created 3 years before Crodino.
Born as Bitter San Pellegrino, it now is Sanbittèr, since 1985.
Both Crodino and Sanbittèr are great for aperitivo, drunk by themselves, or used in cocktails.
Chinotto
For the longest time, Chinotto was thought to be the Italian Coca-Cola.
But it's much more than that.
This non-alcoholic sparkling drink is made with Citrus Myrtifolia, which is a bit like sour orange.
The original recipe might date back to 1932, but it's not yet sure who invented it first.
Chinotto can be drunk as Coca-Cola, so whenever you want. Possibly cold or with ice.
There are a lot of brands making Chinotto and they're all good.
Just make sure they are Italian brands to get the authentic drink!
Aranciata
Fanta might be the most popular orange soda in the world.
Yet the original "aranciata" soda is Italian!
Think of a soft drink with orange and sugar.
In Italy there's a law establishing that, to be named "aranciata", they have to have 12% min of orange juice.
Most of the traditional Italian aranciata soda have between 12% and 16% orange juice.
The best ones have a higher number of natural ingredients.
Just like the original recipe, dating back to 1932.
A popular Italian Aranciata is produced by Lurisia. A Company based in Puglia region.
You might also like:
– A taste of Italy – The best regional food in Italy
– Italian Christmas food you should eat on your next trip to Italy
– 30 types of Italian Pizza you should absolutely eat
– 23 romantic Tuscany villages you'll fall in love with
– Abruzzo Food Guide: How do the Abruzzese eat?
– 38 Authentic Italian Cocktails & Wines You Should Try
– Guide to ETIAS Authorisation and Schengen Visa Requirements
– Discover the best time to travel to Italy
– 37 Movies about Italy to watch before your trip
Pin it for later!
Travelling Dany – Danila Caputo
Danila Caputo is a bilingual travel writer living in between Naples and the Amalfi Coast (Italy), graduating from the University of Naples Suor Orsola Benincasa in Foreign Languages and Literature. She travels and works with her husband Aldo, photographer and videographer. Their blog chronicles their adventures around the world, their love for the USA (where they have family), Italian/European culture and tips on how to be responsible travelers. You can find out more about their latest trips and their life on Youtube, Instagram and Facebook.