Top Things to do on the Amalfi Coast Just Like a Local!
This post includes affiliate links. As an Amazon Associate, I earn from qualifying purchases. Full disclosure.
While there are a lot of fun things to do on the Amalfi Coast, many are super expensive. And crowded with tourists. What to do then? Let me show you the what, how and where: get the authentic Amalfi Coast experience at half the cost!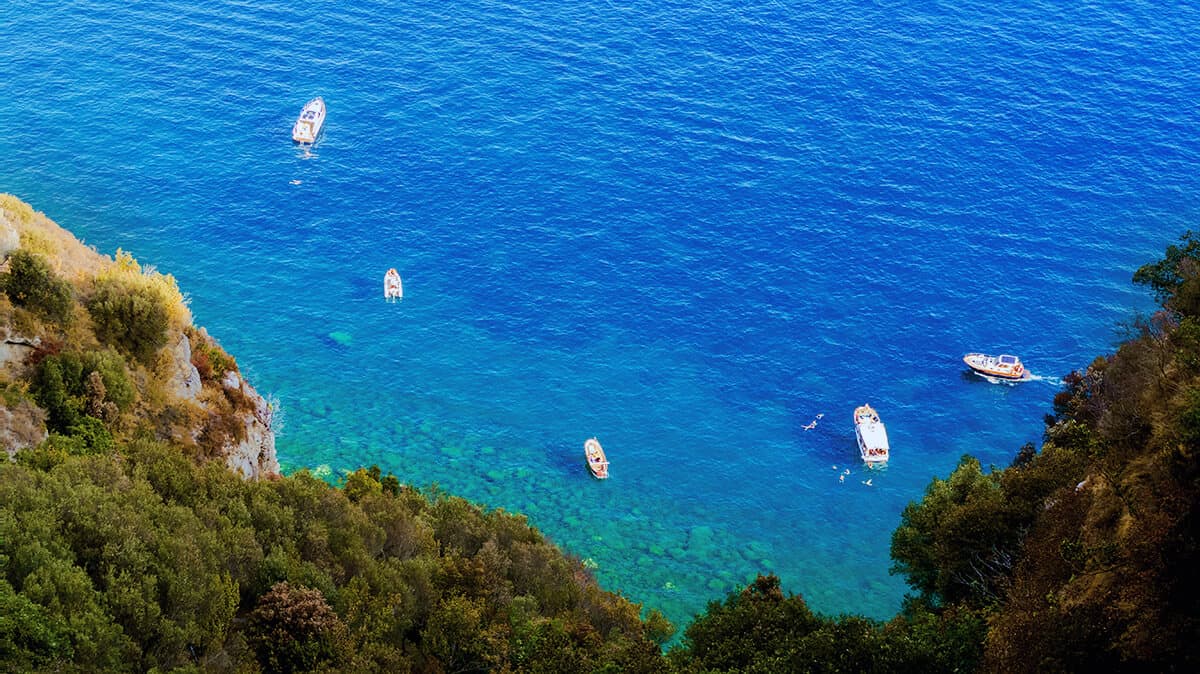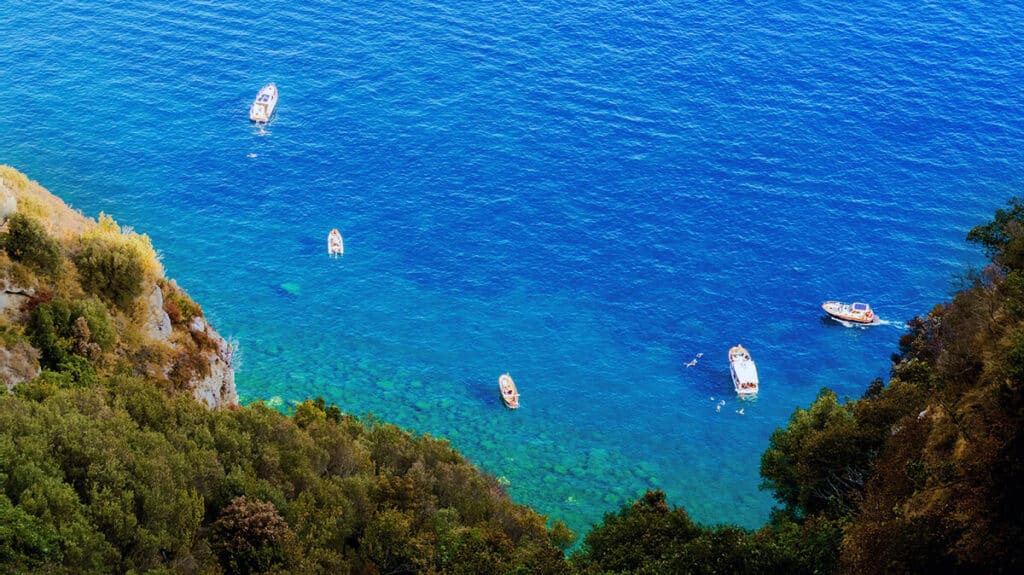 Many people who are planning to visit Southern Italy already have a long list of places to visit and things to do on the Amalfi Coast. Yet the best attractions can be pretty crowded and very expensive. Let me show you how to have fun like a local, with the very best activities. For every pocket!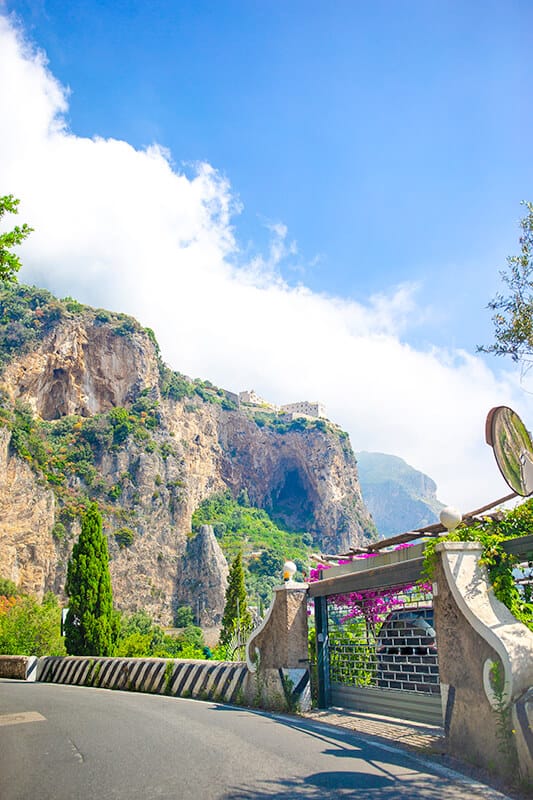 Quick Links to Post Content
When is the best time to visit the Amalfi Coast?
This is by far one of the questions people ask me the most.
Is there a good time to visit?
When should I book my trip to avoid the crowds?
Will it be too hot?
As a local I can of course only offer a few tips that come from my personal experience.
As opposed to the glam tourist guides and those who visit once and feel like they know everything!
You can visit the Amalfi Coast tourist attractions whenever you want.
The coast is always going to be gorgeous and there are things to do even when it rains!
Yet us locals tend to avoid the Amalfi Coast beaches in the summertime.
They get definitely too crowded and they lose most of their magic.
Also finding a good hotel on the coast becomes difficult. Prices go up and the best rooms are booked even months in advance!
July and August are by far the worst months to visit the Amalfi Coast.
This is when Italians love to take their summer vacations, so there's a lot of domestic tourists. As well as, of course, travelers coming from abroad.
You might also like:
What to Pack For a Summer Trip to Italy
Amalfi Coast road trips are absolutely amazing, but not when there's so much traffic that it takes you hours to reach Positano!
So when should you plan your trip?
Spring in Italy is gorgeous. That's a good time for sure!
The best piece of advice I can offer is to hit all the best places on the Amalfi Coast in the "odd months".
October is great and the weather is still mostly perfect.
Then April or May, early June, maybe.
If you're not planning to hit the beach, then February is also a good month.
You could plan a romantic honeymoon in Italy and spend Valentine's day in Amalfi.
Sounds great, doesn't it?
You might also like:
Autumn in Italy – What to Pack
Things to do on the Amalfi Coast – As a Local!
Take pictures of the coastal towers.
Here we know them as "Torri Normanne" or "Torri Saracene".
One of the Amalfi Coast attractions hidden in plain sight.
I am referring to about 30 defensive towers, dating back to the XVI th century.
They are scattered all along the Amalfi Coast.
Most of them can be photographed from a boat tour or for free, from the SS163. The main road that links together all the tiny towns along the coast.
You should be able to take quite a few good pictures even on a bus ride: no need to book a specific tour or anything.
The best preserved towers are in Vietri sul Mare, Cetara, Maiori, Minori, Ravello, Atrani, Amalfi, Praiano and Positano.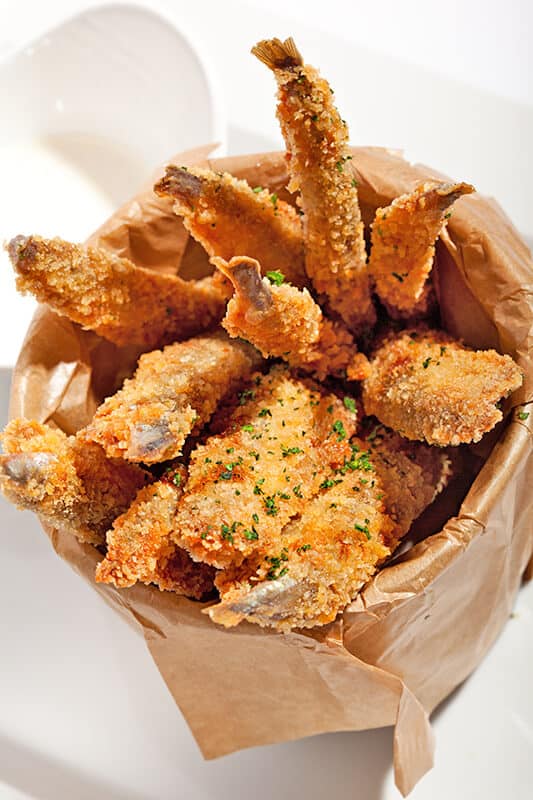 Eat traditional anchovies in a monastery
Cetara is a tiny town on the Amalfi Coast which is known in Italy as creating the highest number of recipes using anchovies.
Fished locally in abundance, anchovies are Cetara's most famous ingredient. They use it for everything and cook it in every possible way.
If you're planning to visit the Amalfi Coast on a budget, then absolutely eat a cuoppo.
Cuoppo is a popular way of serving Neapolitan street food and the cheapest way to eat deep fried anchovies.
Another option, which is a bit more expensive, is to eat at Al Convento.
A family-owned restaurant which is over 40 years old.
At Al Convento you will eat sitting in what looks like an ancient monastery, between tall columns and medieval paintings.
You might have heard of this place because it was featured in an episode of No Reservations. The late Anthony Bourdain loved to eat there!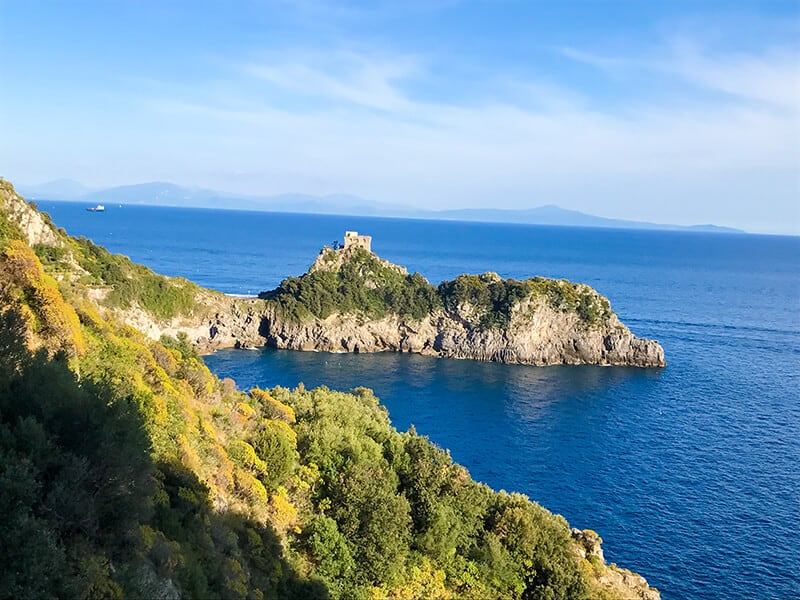 Have a romantic dinner inside an ancient tower
Whether you're planning your honeymoon or an anniversary, there's only one place you should reserve a table.
Torre Normanna.
I just told you that one of the best things to do on the Amalfi Coast is to take pictures of our torri normanne, right?
Well, this is one of them!
The ancient building has a gorgeous terrace overlooking the coast and it's super romantic.
To get there you need to cross a tiny stone bridge. A bit like visiting Castel dell'Ovo in Naples!
Torre Normanna is the oldest defensive tower along the Amalfi Coast and it dates back to 1300!
While there's no official dress code to dine at this restaurant, a long dress or something a bit more formal would be much appreciated.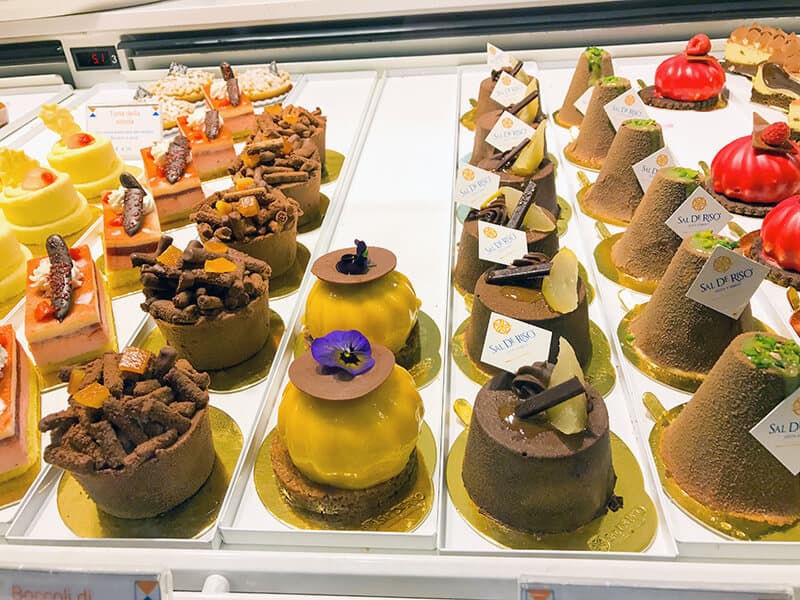 Try eggplants with chocolate!
Sal De Riso is one of the most famous pastry chefs in Italy.
He invented the Ricotta e pera (ricotta cheese and pears) cake. And he still uses his grandma's recipes and lemons from his own lemon grove.
Visiting his bakery in Minori is one of the things to do on the Amalfi Coast that you can do on a budget.
While you'd expect his pastries to be expensive, they're really not.
Well, not all of them anyway!
One thing you should absolutely eat if you're interested in eating your way through Italy is Melanzane al Cioccolato.
Eggplants with chocolate.
While it might sound the weirdest food pairing ever to you, it really isn't.
Sal uses his nonna's recipe.
Deep fries a specific type of eggplant and then adds delicious dark chocolate, nuts, candied orange peels and more.
Eggplants with chocolate is a traditional recipe from the Amalfi Coast that not many tourists know about.
Eat like a local and try it!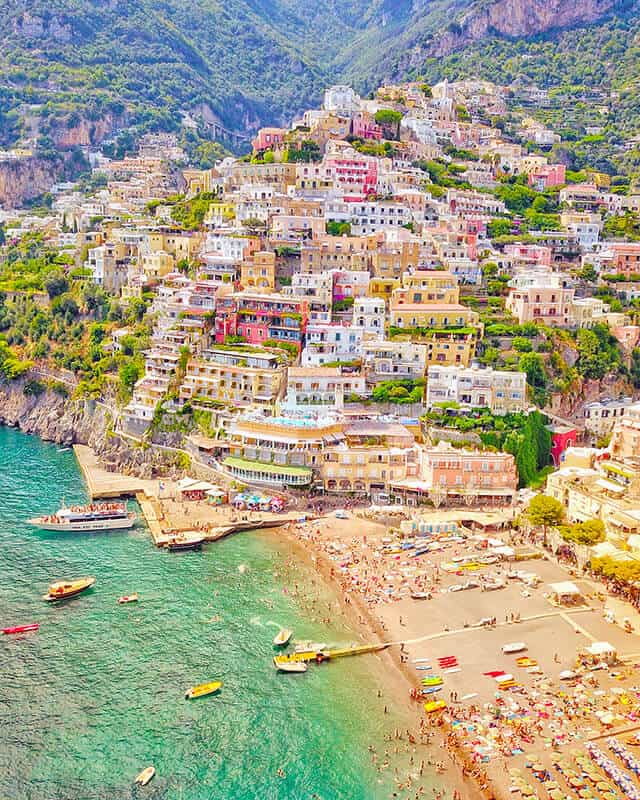 Get a tan at a hidden beach
Beaches are by far the best places to visit on the Amalfi Coast.
Most people go to Marina Grande in Positano, which can be quite expensive and also quite busy. Especially if you're planning to visit Italy in the summertime.
Yet there's a smaller, and way more quiet little beach that us locals love.
It's Fornillo Beach, in Positano.
To get there you'll have to walk on a narrow trail where you'll have a rocky wall on one side, and turquoise sea on the other side.
It's perfect to film Instagram reels or to take pictures for your travel photo album!
As if it wasn't enough, tanning is only one of the many things you can do in Positano!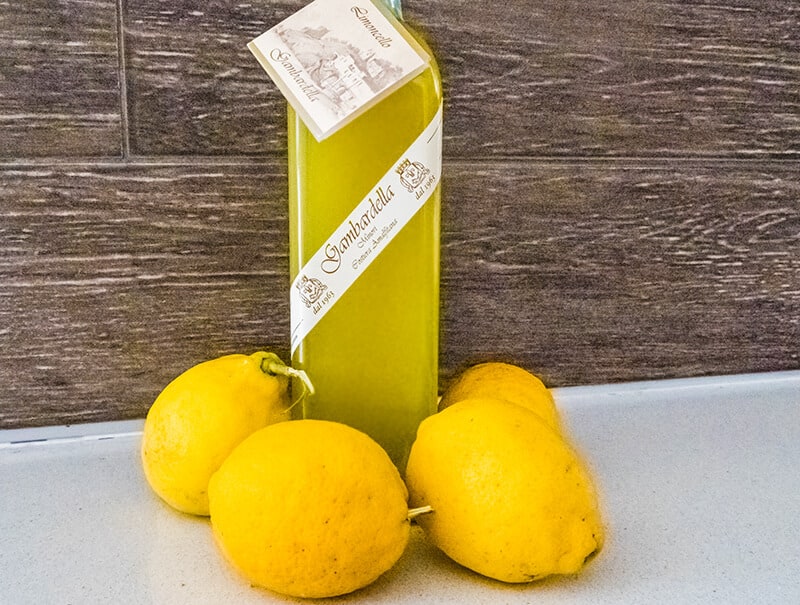 Sip Limoncello – Amalfi's "Yellow Gold"
Limoncello is also known as Amalfi's "Yellow Gold". Our Oro Giallo.
This liquor is prepared with lemons from the Amalfi Coast. There are a ton of lemon groves that you can easily visit.
Most of us (including my mom!) still make Limoncello at home, with home-grown lemons!
Visiting Ravello isn't just one of the best things to do on the Amalfi Coast. It can be your chance to sip traditional Limoncello.
Giardini di Ravello is a company that still makes Limoncello using the traditional recipe. With hand peeled lemons grown in their own lemon garden.
You can find them in Ravello!
Note: they also make liquors, pastries like babà al limoncello and lots more. The perfect place to buy some souvenirs from Italy!
Watch the sunset at Marina di Praia
Marina di Praia is a tiny beach in Praiano, on the Amalfi Coast.
It's located at the bottom of a super instagrammable cliff.
Us locals love this place for two main reasons.
One is that from this beach you can take great pictures. You'll also get a great shot of one of the defense towers.
The second one is that when most people leave, Marina di Praia becomes a particularly romantic place.
A quintessential sunset location, away from the crowds, that you can also be free to access.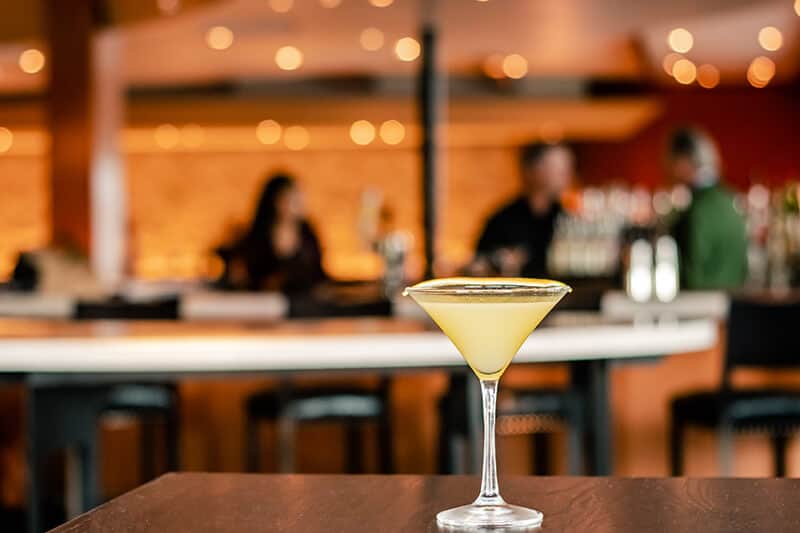 Get wild at Africana Famous Club
While thinking about what to do on the Amalfi Coast, not many people actually imagine they can dance in a cave.
That's exactly why you should hit the Africana Famous Club in Praiano!
This music club became very popular in Italy in 1962. The then famous dancer Margot Fonteyn planned her own wild party there.
It was scandalous enough that every newspaper had the Africana name printed on the front page.
To this day, Africana Famous Club is still one of the most charming and picturesque night clubs in Italy.
After all, it's located inside a natural cave, 10 meters above sea level.
While the club hosts all sorts of events – especially in July and August – the locals go there whenever they want.
Dancing doesn't have a special season, really!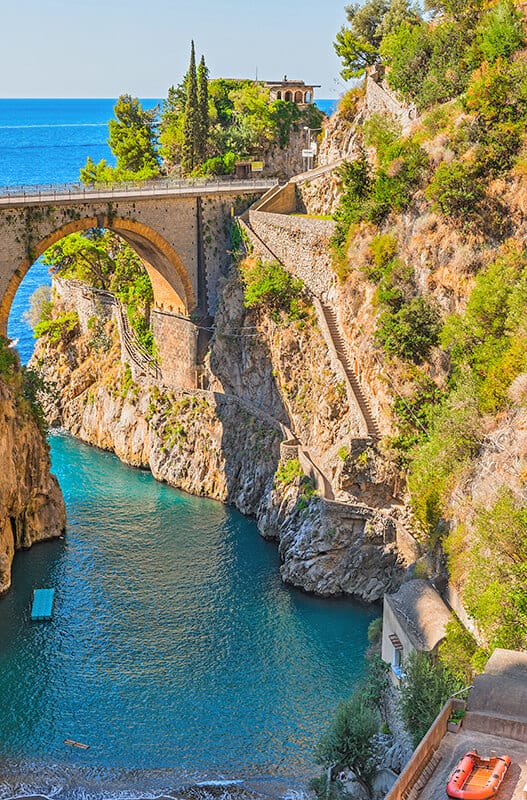 Visit the only fjord in Italy
Furore is a majestic fjord located right outside of Praiano.
You will immediately spot it from afar because there's always a small crowd of curious people taking pictures.
Is it just another one of the many Amalfi Coast tourist attractions?
Yes and no.
Us locals absolutely love to go see the Fiordo di Furore, so it's not a touristy thing.
The view is absolutely spectacular.
The deep split in the rock wall creates a nearly dolomitic landscape. There's also a tiny beach you can hit for free!
Next to the beach there's also a very small fishermen's village (another thing you can visit at no cost).Here Roberto Rossellini filmed a few scenes of his movie "Amore".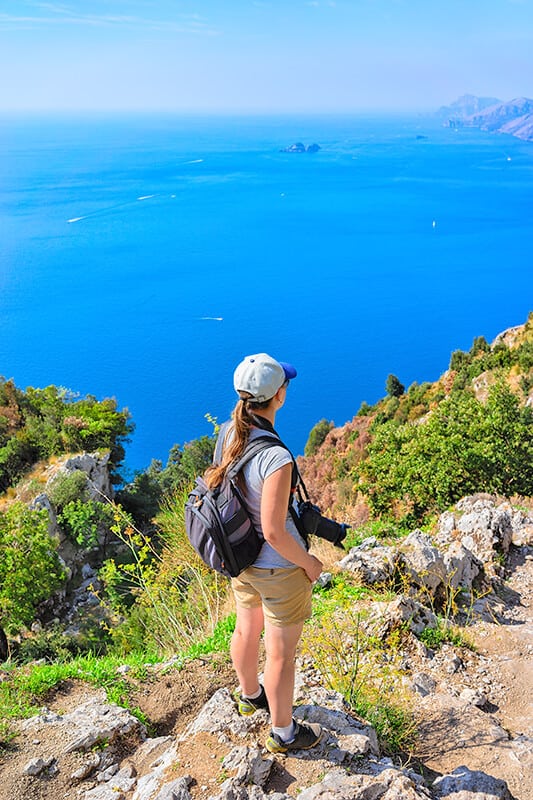 Hike the Path of the Gods
The Amalfi Coast Path of the Gods is possibly one of the most popular in Italy.
But it's never, ever crowded.
The trail starts in Agerola, in Piazza di Bomerano, and ends in Positano.
While it's considered an easy trail, it's in fact pretty long.
Add it to your list of things to do on the Amalfi Coast exclusively in spring or autumn. While it's gorgeous in summertime, us locals avoid it like the plague.
Sometimes the heat is almost unbearable along the trail. There's almost no shade either, so you'll get roasted!
Reaching the starting point in Piazza di Bomerano is relatively easy.
You can do so by using the local buses, or you can book a tour with a local guide.
Consider a bit more than 3 hours to get to Positano from Agerola. Then you'll have to get back to your hotel.
If you're hiking without a tour, just get a regular bus from Positano.
It might be crowded (or late!) but it's the cheapest option!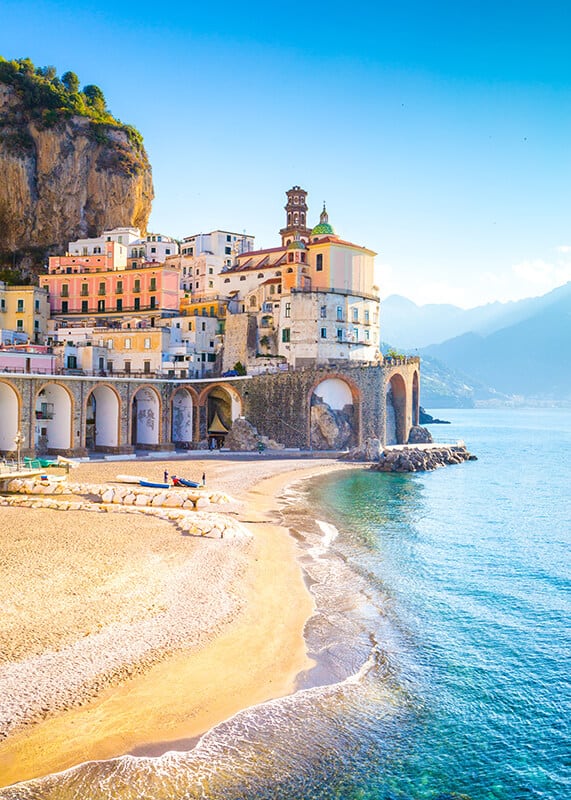 Taste the traditional "Sarchiapone"
Not many people know what a Sarchiapone is.
The name is local Neapolitan dialect, and this dish is mostly cooked exclusively on the Amalfi Coast.
Sarchiapone is zucchini stuffed with mozzarella cheese, ground beef and fresh herbs.
It's deep fried and then added to a pot of boiling tomato sauce.
Try it at Atrani, which is officially the second smaller city in Italy after Moncalvo (Asti).
Ristorante Savò is the place where the locals eat in Atrani.
Very well known here due to the quality of the ingredients they use. Most of them are farm-to-table or homegrown.
You might also like:
38 Famous Italian drinks and wines you should try in Italy
Enjoy the view from ancient gardens
The gardens in Ravello might look familiar to you.
They were in fact extensively used as a filming location for Wonder Woman, the Hollywood blockbuster.
The ancient Villa Cimbrone was built to host the British lords who visited Ravello for the Grand Tour.
Visiting this gorgeous estate was one of the best things to do on the Amalfi Coast even in the past. Ernest William Beckett, Gore Vidal and Tennessee Williams used to hang here!
Gore Vidal, in particular, lived for a long time in Ravello. The house he fell in love with, La Rondinaia, is now a boutique hotel.
Villa Cimbrone offers possibly the most beautiful views ever.
The Infinity Terrace is a super instagrammable glam spot. One of those that you should add to your Amalfi Coast itinerary.
Spot the Dolphins!
The Amalfi Coast is home to a gorgeous marine reserve, which is usually snubbed by tourists. Beaches are much better, right?
Yet according to us locals, the Area Marina Protetta Punta Campanella is one of the best places to visit on the Amalfi Coast!
This isn't just a place we go to hike. It's the only area surrounding the Sorrento peninsula where we can spot large schools of dolphins.
We've personally counted about 20 dolphins following small boats from afar.
Because this is not a super common sight in Italy, we consider ourselves very lucky to live so close-by!
But how can you explore Punta Campanella?
The easiest way – if you like to hike – is to book a hiking tour to Mount San Costanzo.
Those who prefer to relax can book a sightseeing cruise from Sorrento.
There is one that also includes limoncello tasting, so you can cross two things off your list of things to do!
Click here to check out rates and availability.
Are you planning to visit the Amalfi Coast on a budget?Get to Punta Campanella using public transport (train + buses) and sit on the beach.
You might be lucky enough to see the dolphins anyway!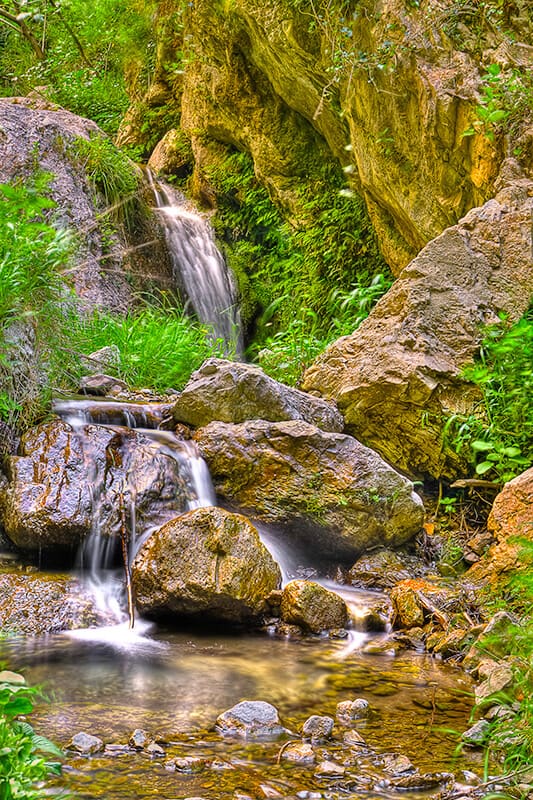 Plan a day trip at Valle delle Ferriere
The Valle delle Ferriere is one of the most beautiful woodlands in Italy.
Because tourists hike the Path of the Gods (if even), the Valle delle Ferriere is where you'll find a lot of local hikers.
You can get there from a tiny village, Pontone. Which is a short bus ride from Amalfi.
The trail follows Rio Canneto, and it's absolutely gorgeous.
The best part of the hike?
After you've been walking for about 3 hours, you'll reach an abandoned farmer's house.
Which looks a bit spooky, if you ask me.
Nowadays only a group of scarecrows lives there.
That's where you'll find a perfectly preserved nativity set.
As soon as you get there, the very first thing that comes to mind is a scene from The Village, by M. Night Shyamalan.
If you want the truth… it gave me the creeps!
Hiking at least a little bit of the trail will allow you to spend a day in the great outdoors. Exploring a part of the Campania region that not many people know about (unless they live here).
Consider it one of the hidden spots on the Amalfi Coast!
You can also book a private tour with a professional guide to hike the Valle delle Ferriere. It starts and ends in central Amalfi, which is much easier to reach.
Click here to check rates and availability.
Enjoy a cup of Neapolitan coffee in Amalfi
Espresso in Naples is an art.
When someone visits us, we don't ask if they want coffee. We just put on your Bialetti moka pot. Because we already know they'll want some caffè.
'Na tazzulell e' cafè, as per our Neapolitan dialect.
Piazza Duomo in Amalfi is super instagrammable and full of history.
The Duomo Cathedral is probably one of the highlights of the Amalfi Coast, with its striped facade, the mosaics and the wide staircase.
Sit down at one of the many cafes, order caffè e sfogliatella or caffè e babà, and just relax.
It's a great way to enjoy the highlights of the Amalfi Coast on a budget and without having to walk too much.
Good coffee, great pastries and charming views.
You might also like:
Where to find lodging on the Amalfi Coast
The best Amalfi Coast tours reviewed from the locals
Discover the best beaches on the Amalfi Coast
Plan a fantastic Amalfi Coast road trip
What to pack for Italy in Fall
Capri in a day – plan your day trip from the Amalfi Coast
Find the best souvenirs from Italy on the Amalfi Coast
Autumn in Europe – 20 ideas for smart trips
Delicious types of Italian pizza you should eat in Italy
22 Awesome Day Trips From Naples
Top Things To Do On The Amalfi Coast On A Budget
Updated Europe entry requirements and ETIAS waiver
Guide to the best time to visit Italy
Must-watch movies set in Italy
23 Best things to do in Positano
Pin it for later!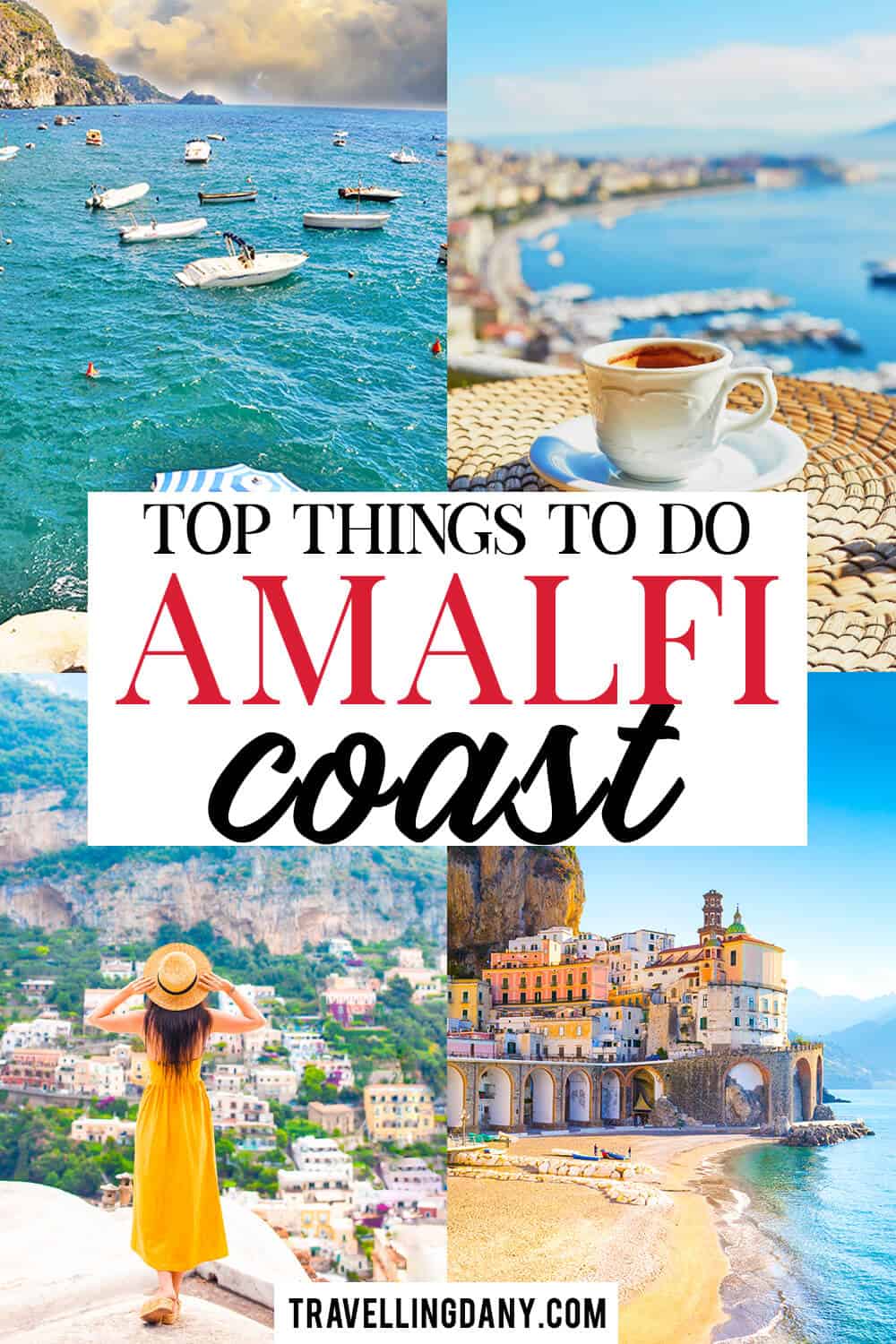 Travelling Dany
Danila Caputo is a bilingual travel writer living in between Naples and the Amalfi Coast (Italy). She travels and works with her husband Aldo, photographer and videographer. Their blog chronicles their adventures around the world, Italian/European culture and tips on how to be responsible travelers. You can find out more about their latest trips and their life on Instagram and Facebook.