Are you planning a trip to the capital of the Czech Republic and wondering where you should book a room? Let us help you with a quick and easy guide to find where to stay in Prague. We will explore the coolest neighbourhoods and the quirkiest hotels (did you know they even have a beer spa in Prague?), but also the family-oriented areas!
Trying to figure out where to stay in Prague can be a bit confusing. The city has been divided into 10 districts from 1960 to 1990 and if you look at them on a map, you won't find it hard to understand why Prague has been labeled as the "Paris of the East".
Areas from Prague 1 to Prague 10 (there are more, but on the outskirts and definitely not a good option if you want to explore the city: there are a lot of things to do in Prague at night and you definitely don't want to miss the fun) are usually considered to be more or less convenient by the locals.
The districts are pretty large, but the public transport in Prague is absolutely amazing so you won't need a car to explore the city. In fact, it'd be more of a hindrance than a help!
The very first thing you have to take into account while considering where to stay in Prague is that you want to find lodging near a metro station or a tram stop, even if you're packing light. Here you can find our super-useful packing list for Europe in winter to learn a few useful tips and hacks!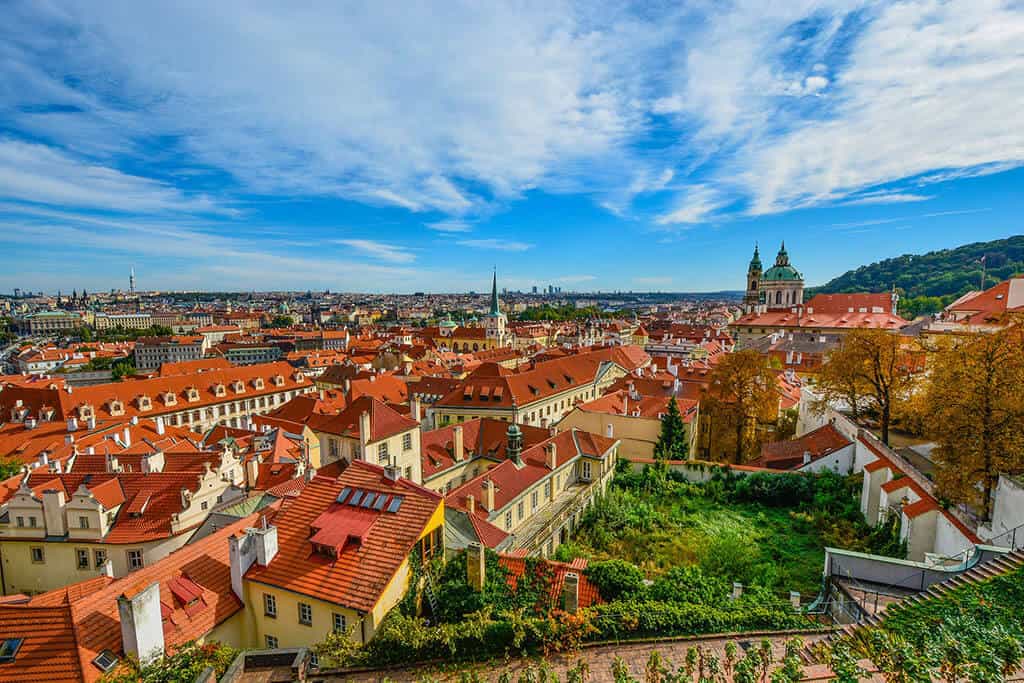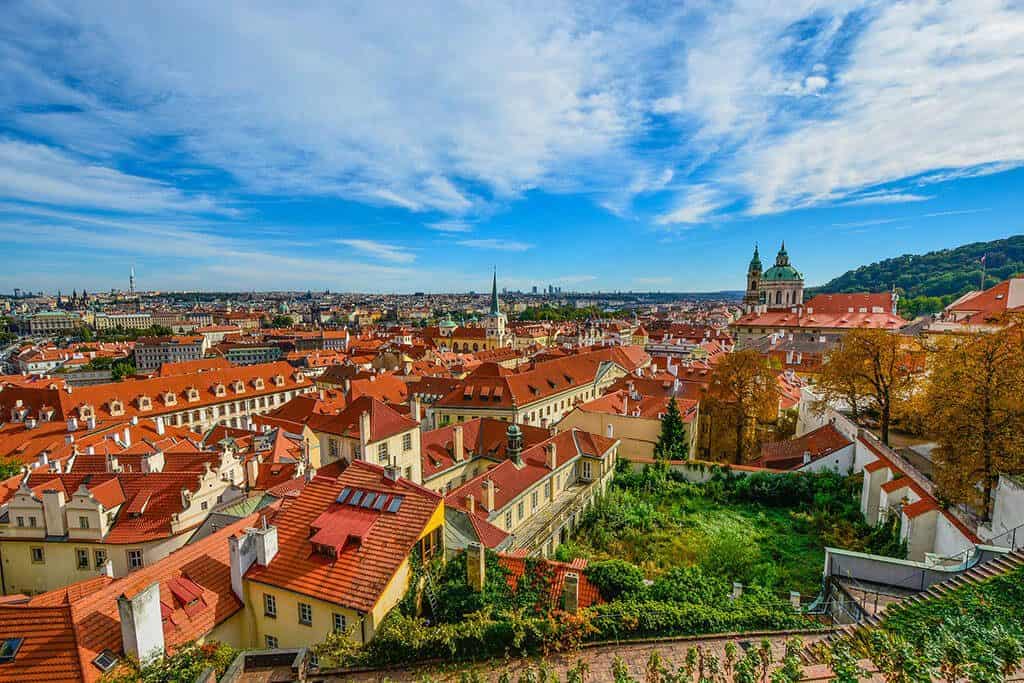 Prague Metro: how to narrow it down
In terms of convenience, you don't want to get too far out on the metro lines on either end. It might save you some money but as I already mentioned, there's a lot you can do in Prague at night and if you have to ride the metro for twenty minutes to go from the city center to your hotel, you're just going to waste precious time: definitely not worth it. Lodging near the metro lines is also very important if you're planning to visit Prague during the coldest months of the year!
Here I have listed the most interesting metro stops. If you're looking for a hotel online and you're wondering if it's in a good area or not, check on Google Maps if it's close to one of the following stops.
Line A (Green): Dejvická, Hradcanská, Malostranská, Staromestská, Mustek, Muzeum, Námestí Míru, Jirího z Podebrad, Flora.
Line B (Yellow): Križíkova, Florenc, Námestí Republiky, Mustek, Národní Trída, Karlovo Námestí, Andel.
Line C (Red): Vyšehrad, I. P. Pavlova, Muzeum, Hlavní Nádraží, Florenc,Vltavská, Nádraží Holešovice
Prague 1
Tourists love to stay here and it's easy to understand why. It's perfect for walking tours of Prague, to the point that, according to your itinerary, you might not even need to use the public transport.
Mala Strana (in English it means "Little Quarter", you can also see it in our video on Youtube) and Stare Mesto (Old Town Prague) are definitely two of the best places to stay in Prague. I must confess we lean heavily towards Stare mesto, but Mala Strana, on the other side of Charle's Bridge, is also particularly colorful. One of the cool neighbourhoods we're looking for.
Take into account that Prague 1 is particularly touristy so of course it's more expensive. Also… we were baffled to see so many Starbucks stores in just one district!
Because we can't exactly say that caramel macchiato is a traditional Praguese recipe, if you want to eat some good, cheap food with the locals we wrote an in-depth guide to the best Czech food in Prague that we hope you'll find useful!
In Spring and Summer Prague 1 is also particularly crowded and noisy.
If you plan to spend 2 days in Prague and it's your first visit, then I'll definitely suggest Prague 1, because that way you'll be close to the most famous highlights and you won't waste any precious time.
You might also like:
Insider tips for visiting Italy in winter
Why Prague in winter is absolutely amazing
Winter Packing List for Europe
Italian Christmas food you never knew existed
How to visit Vienna Christmas markets
The best of Bratislava Christmas market
15 awesome trip ideas to visit Europe in winter
Where to find the most amazing Christmas markets in Europe
Incredible travel gift ideas for women – have a smart Christmas!
20 awesome Christmas markets in Italy
Christmas in London – Everything you need to know
Why you should travel with your partner
Mala Strana
Perfect for couples or families with kids who want to spend a quiet weekend in Prague. If your main goal is sightseeing, learning about the historical side of the city, eating in pubs and drinking delicious Czech beer, this is where you should stay.
Vintage Design Hotel Sax (Affordable luxury): This quirky design hotel is a lot of fun and is one of the most instagrammable in Prague. Decor is inspired to the 50s and 70s so it's very colorful and creative. Within walking distance to the main highlights in Mala Strana. Check availability and rates.
Hotel Mala Strana (Budget): Located in an historical building, this is one of the favorite choices for families with kids. Affordable, nice and very quiet, it's close to many restaurants and just a few steps away from a tram stop, in case you want to go to the other side of the Vltava without having to walk.
Old Town Prague
While Mala Strana is quiet and provides the perfect environment for romantic couples and families with kids, Old Town Prague is colorful, a bit loud and definitely the heart of Prague.
You will find many shops, cocktail bars, tourist spots and yummy street food… in peak season it might be very, very crowded, but here you will experience the best of Prague at night.
Hotel Kings Court (Luxury): deluxe 5 star hotel located in a neo-Renaissance building, with 138 rooms and taxi service to and from Prague airport. Very famous in this area for its restaurant. From the terrace you will enjoy amazing views of Republic Square. The Vodka Lobby Bar has an exclusive selection of the world's finest vodkas and their spa is the perfect place to relax after a day spent exploring Prague. Check out the latest deals here.
Salvator Boutique Hotel (Affordable luxury): Located pretty close to the National Museum and Wenceslas Square, this nice hotel offers affordable prices for a luxury environment. It also has a shuttle bus service to and from Prague airport, and it's pretty close to a metro station you can use to get to every part of Prague.
Ibis Praha Old Town (Budget): This hotel is located next to a bus stop and also pretty close to a metro station. You will be able to enjoy the Ibis quality at a nice price, considering that you're in one of the most expensive areas of Prague!
Prague 2, 3, 8 & 10
The three main areas in the abovementioned districts are Vinohrady, Žižkov and Karlín. The first one is where expats and young Czechs look for a house. Stretched between 2 metro stations, Námestí Míru and Jirího z Podebrad, on Line A, it also has lots of trams.
Wenceslas Square is within walking distance, which is not a bad thing at all. In this area you will find lots of cafés, restaurants, and pubs. Riegrovy Sady park also has an awesome beer garden that you definitely have to check out.
Žižkov is mostly located in Prague 3. It's a bit further out but the main highlights are still within reach. Flora and JZP metro stations are the closest ones, but of course you will also have a wide selection of tram stops. A bit less refined than Vinohrady.
Karlín suffered a big flood back in the past, and has been pretty much rebuilt. It's quiet and while there are a lot of cafés and restaurants, in the evening… there isn't much to do. Located on the yellow Metro Line B at Križíkova, it's only 3 or 4 stops away from the city center.
Deminka Palace (Affordable Luxury): A beautiful hotel located in an historical building, in Prague 2. Very close to Wenceslas Square. The Italians who lodge here find it a pretty good option because here you can find a luxury suite at the same price as a 3-star hotel in Italy. Also pretty close to the metro. Find out if they have available rooms.
Prague 7
Holešovice (Prague 7) is slowly letting go of its working class, meatpacking past with galleries, restaurants and a lot of cute cafés. It's very close to Stromovka park (Prague's largest park) and Letná Park, which offers a wide range of instagrammable spots and a great beer garden with a view. The downside to Holešovice is transit: there are a few trams, but the you will need to walk a lot to get to the closest metro (probably Nádraží Holešovice – Line C).
There aren't many hotel options in this area aside from the Art Hotel, but you will find a lot of houses for rent on Airbnb or HomeAway.
Art Hotel Prague (Luxury): Tucked at about 10 minutes walk from the beer garden in Letna Park, this 4 star boutique hotel offers affordable rates for luxury rooms, because it's a bit farther away from the city center. Highly suggested if you are on a tight budget or if you are roadtripping in the Czech Republic (so you have a car with you).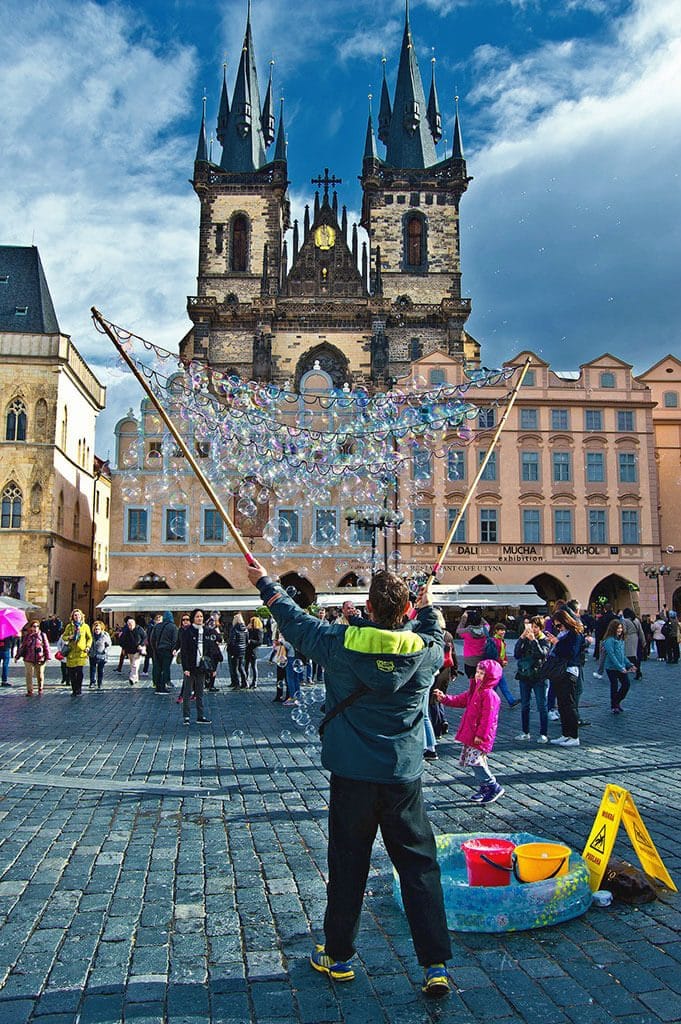 Prague 5
Andel (Metro Line B) is a particularly cheap district in Prague. There are restaurants, pubs, a few new cafés and even a mall. In this area you will find a lot of tram connections and while maybe you might not find the absolute best places to stay in Prague, it surely provides good accommodation options if you are on a budget.
The area is close to the river, and you can get to Mala Strana in a 20 minutes walk. The National Theatre is about 15 minutes away. As I mentioned in my Prague itinerary, it's always good to check out the tickets to the Theatre before to get to Prague. They sometimes have amazing shows for tiny prices so it's definitely worth checking them out!
Red and Blue Design Hotel (Luxury): Located into a lovely building, this hotel is at walking distance from Charle's Bridge. On the other side of the street you will find the Petrin gardens and while the location is good, you'll have a bit of a walk to get to the metro station. In case you're looking for a quiet hotel, this is the best place to stay in Prague 5.
Vienna House Andel's Prague (Affordable luxury): This hotel has a good value for its price, because it's very modern, pretty new and has fantastic reviews. It's a bit off the beaten path but it's close to the Andel metro station so you'll be able to reach the city center in no time. In the area there's a TESCO, the ever present Starbucks and several restaurants. Here you can find the best deals for this hotel.
Ibis Praha Mala Strana (Budget): The prices are very low and you will find Ibis quality. This hotel is located next to the big Novy Smichov shopping centre, where you will find a lot of options for lunch and dinner as the food court is pretty good. Public transport is nearby.
Bonus – If you really want to splurge
The bonus option is a pretty expensive one. But definitely worth the price if you are looking for a unique hotel with a view. It's called the One Room Hotel and it's located in Prague 3. Actually inside the iconic Zizkov Television Tower. As the name suggests, it's just one luxury suite with an incredible view on the city.
You will have a private elevator and all the luxury gadgets you can think of. In the Tower you will also find a café and a restaurant. They offer a private shuttle bus to and from the airport and is one of the best place to stay in Prague if you want a very intimate and cozy alcove to celebrate a special event or to propose.
Beer Spa – The unique spa you wouldn't expect
I promised we'd talk about the Beer spa Prague, and you probably thought I was joking. Actually, in Prague 1 you really have a Beer Spa, a few steps away from Old Town Square.
At the Beer Spa you can relax in huge oak tubs (filled with beer, of course), rest in wheat straw beds, but especially draw and drink an unlimited amount of light and dark beer, while you eat some home made beer bread.
Did I mention the beer?
This place is absolutely amazing and a lot of fun, especially if you are looking for something different, to relax and leave behind the crowds. During peak season it's better if you book in advance, but the good thing is that at the Beer Spa Prague you won't have to bring anything with you.
They provide cotton towels, linen blankets and slippers. Most of the treatments last 1 hour so you can easily fit them into your trip to Prague, even if you only have a weekend. Because… why not?
You might also like:
Where and what to eat in Prague
Prague districts – where to find lodging
How to spend 2 days in Prague
Why Prague in Winter is awesome
Visiting Europe in October: 20 awesome fall trip ideas
The best destinations in Europe for a Fall trip
Pin this for later!
This post is also available in:

Italiano