Italians celebrate Christmas Day on December 25th. It is a celebration of the birth of Jesus Christ, that we know of as "Natale".
But what do Italians eat for Christmas? Let's discover all the regional traditions and the best Italian Christmas food you should add to your menu!
A traditional Christmas eve dinner in Italy is made of great food, family and friends.
Let me introduce you to the best Italian Christmas food for the holidays. So you can add lots of flavorful dishes to your foodie bucket list. For your next trip to Italy or a themed Christmas menu!
As a local foodie – and someone who loves Christmas – I have a number of useful tips for you.
I added Italian names and translated them in English to this list. To make sure you can easily recognize the dishes on the menu.
Not every restaurant in Italy has an English menu, but with this guide it won't be an issue at all!
How Do We Celebrate a Traditional Italian Christmas in Italy?
One of the things Italians love the most is sitting at a table with their family to enjoy a scrumptious meal.
Homemade food helps people to bond. So many of us – me included – grew up learning how to cook with their cousins and grandmas.
Family recipes are kept like a treasure here!
Many Italians attend the midnight mass.
It is one of the Italian Christmas Eve traditions.
The traditional Italian Christmas dinner menu is different for every region. Yet everyone has more or less the same family beliefs!
If you are spending a few days in Rome, be aware that Vatican City will be very crowded.
Yet you can attend mass at every Church. Even the smallest one in the tiniest town will in fact have a midnight mass.
You might also like:
4 days in Rome – itinerary from a local
What to pack for Italy in Autumn
Italy tipping etiquette – how to avoid being rude
Hampton by Hilton's Rome East – Hotel Tour
20 amazing destinations in Europe – Fall trip ideas
Guide to Etias Europe and Schengen visa requirements
When is the best time to visit Italy?
The following day, among the Italian family traditions, there's a Christmas lunch. Italian families exchange gifts and eat together.
Some of us, especially in the Southern Italian regions, spend the time between the Christmas eve dinner and the midnight mass exchanging gifts.
It's a family tradition, not really a fixed rule.
Since the Christmas lunch menu in Italy is usually huge, we tend to skip dinner (yet some restaurants might still be open).
You might also like:
– A taste of Italy – The best regional food in Italy
– Italian Christmas food you should eat on your next trip to Italy
– 30 types of Italian Pizza you should absolutely eat
– 23 romantic Tuscany villages you'll fall in love with
– Abruzzo Food Guide: How do the Abruzzese eat?
– 38 Authentic Italian Cocktails & Wines You Should Try
– Guide to ETIAS Authorisation and Schengen Visa Requirements
– Discover the best time to travel to Italy
On Boxing Day (December 26), we have yet another family lunch.
It includes again scrumptious Christmas dishes.
On the same evening – and for quite a few days – Italians eat leftovers from the holidays.
We always cook too much (you know how Italian nonne and mamme can be) and we hate for our food to go to waste.
You can consider it part of the traditions for Christmas in Italy.
Food has to be eaten, and that's it!
Another thing you should know is that a good part of the classic Italian food mentioned in this article is exclusively prepared for the Christmas holidays.
Which means that you won't find it if you visit Italy on any other occasion.
While a lot of shops and restaurants will be closed, some will stay open.
Big supermarkets and malls are usually always open, in case you need to buy something.
Be aware that reserving a table at any restaurant is mandatory: many are fully booked weeks in advance!
Traditional Italian Christmas Food – Main Dishes
It's no surprise that pasta in Italy is always on the table, no matter what.
Whether it's homemade pasta or not, every region has its own recipes.
They usually entail seafood or meat sauce. There's just one rule: all the ingredients have to be fresh!
In Piedmont Agnolotti con sugo d'arrosto are served on Christmas eve.
A traditional type of pasta filled with roasted meat and served with veal sauce.
Christmas pasta filled with meat is cooked especially in the Northern regions.
In Liguria you can order Ravioli alla genovese.
They are similar to Agnolotti con sugo d'arrosto, if only for the fact that the sauce in Liguria uses a mix of different meats.
You might also like:
Insider tips for visiting Italy in winter
Why Prague in winter is absolutely amazing
Winter Packing List for Europe
Italian Christmas food you never knew existed
How to visit Vienna Christmas markets
The best of Bratislava Christmas market
15 awesome trip ideas to visit Europe in winter
Where to find the most amazing Christmas markets in Europe
Incredible travel gift ideas for women – have a smart Christmas!
20 awesome Christmas markets in Italy
Christmas in London – Everything you need to know
Why you should travel with your partner
Visiting Europe: Schengen visa or ETIAS Visa Waiver?
Discover the best time to visit Italy
Not every type of Italian filled pasta has to be served with a super rich sauce.
Cappelletti in brodo are similar to tortellini but smaller.
They are served with a light broth in Tuscany, Emilia Romagna and Lazio.
The vegetarian friends eating in Italy at Christmas can order delicious Tortelli di zucca (tortelli pasta filled with pumpkin) in Lombardia and Emilia Romagna.
Beware of the fact that there are eggs in the traditional Italian recipe so vegans will not be able to enjoy traditional tortelli.
Filled pasta in Italy comes also in the form of Lasagne, which are served during the Christmas holidays in Emilia Romagna (we eat them in Naples as well, but not at Christmas).
Click here to check out the very best 3-hour secret food tour in Bologna. It's "Italian-approved" – a local guide will walk you through secret alleys, markets and Italian trattorias to discover the best food in Bologna and Emilia Romagna.
The Central and Southern regions have different Christmas traditionss, which revolve around pasta served with a rich (and delicious) sauce.
In Marche you can find Vincisgrassi.
They look like lasagna but are served with a rich sauce made with chicken, Italian pancetta, ground pork and beef.
If you're visiting Calabria you should absolutely try Scilatelle con ragù. It's homemade pasta which is prepared with a long iron skewer.
Grandmas make this kind of pasta for days so their large families can eat as much as they want!
Lazio serves Lasagna or Cannelloni (a cylindrical type of lasagna, filled with meat and covered with tomato sauce) for Christmas. While Sardegna has Culurgiones, which are ravioli served with a savory tomato sauce.
Even Sicily has Timballo di anelletti, which looks like some sort of "pasta cake" with a savory meat sauce.
Gnocchi, that you might recognize as Italian dumplings, are served in Friuli.
Make sure you try Gnocchi di susine (filled with plums). In Marche region (central Italy), one of the most loved Christmas dishes is Gnocchi ripieni alla marchigiana (filled with meat).
In Sardegna, they also prepare "Malloreddus", a type of gnocchi with a longer shape.
Worried you'll need a bit of help?
Download the FREE Italian Travel Phrasebook here! It includes the correct Italian pronunciation and lots of useful sentences that you'll be able to use on your trip to Italy!
The coastal regions usually serve Christmas seafood dishes.
In my region, Campania, we eat Spaghetti con le vongole (spaghetti with clams). It is one of the staples of our traditional Christmas dinner menu.
In Lazio you will find Pasta e broccoli in brodo di arzilla. It is is pasta served with Romanesco broccoli and thornback ray meat.
In Calabria (and also on the Amalfi Coast) you should order Spaghetti con alici and mollica, served with anchovies and breadcrumbs.
While in Sicily, make sure you eat a dish my parents absolutely love: Pasta con le sarde, made with sardines.
If you love Italian risotto, make sure you do not miss Risotto al radicchio in Veneto, made with fresh chicory.
One of our favorite dishes in Veneto is also Risotto all'Amarone (which is served throughout the year). They make it with Amarone della Valpolicella wine, produced in Valpolicella, not far from Verona.
Italy Christmas food can be particularly different from what you're used to.
If you don't feel like eating pasta, your main dish could be something like Canederli in brodo, either with burro fuso or with Ragù di carne.
Canederli are cooked in Trentino Alto Adige.
Consider them the Italian version of Knodel, bread dumplings also found in Friuli Venezia Giulia and part of Veneto.
Beware: they are incredibly filling!
Having a deep fried main dish at Christmas is definitely a thing in Puglia.
In case you're visiting you should absolutely try the famous Pettole (deep fried pasta fritters filled with tomatoes, capers, oregano and anchovies).
Another delicious dish from Puglia that you can also find throughout the year is Panzerotti fritti.
Cheap and delicious, they look like a small calzone but are filled with different ingredients. The most popular filling is tomatoes, oregano, parmesan and scamorza or mozzarella cheese.
They are usually very cheap and have to be eaten scorching hot!
Check out the Bari Pasta Experience – an awesome walking tour with a local guide that will teach you how to make pasta, how to enjoy a good glass of Primitivo wine and how is life in the South of Italy, away from the crowds!
As you might have noticed, the traditional Italian Christmas is made of… lots of food. You will eat too much!
Yet ordering a soup isn't always a good idea.
Not all of them are light and easy on the stomach, even if they are absolutely exquisite!
Abruzzo brings Brodo di cardi e volarelle on the table for Christmas.
It's made with chicken stock, chicken meat, eggs, ground beef, pecorino cheese and thistles.
Valle d'Aosta (Aosta Valley) also has a delicious, delicious soup which is very filling.
The original Minestra di Natale (Christmas Soup in Italian) recipe reflects perfectly this Northern region.
It's made with cauliflower, savoy cabbage, fontina cheese, beef stock, cinnamon and nutmeg.
All the flavours and scents mix together in a truly unique dish, usually only served during the holidays.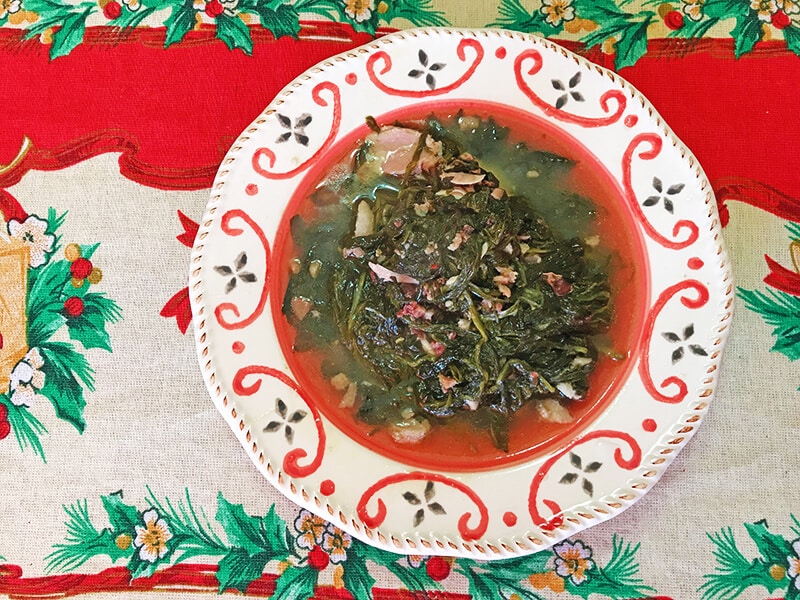 Campania has Minestra maritata, which is very filling and difficult to prepare.
My mother cooks for days to make sure all the ingredients are perfectly combined together!
Minestra maritata is made of five different herbs and vegetables. Chicory, endive, savoy cabbage, borage and bitter chicory.
The vegetables "marry" (as in "maritata") the meat. Chicken, beef, sausages (also the spicy ones) and different parts of pork, simmering for hours on low.
As I mentioned, it's a very traditional dish that not many restaurants serve anymore because it takes so long to make.
If you see it on the menu, by all means, try it!
Minestra Maritata is in fact a traditional food for Christmas we are very fond of, here in Naples.
You might also like:
What to eat in Naples
Naples neighbourhood guide – where to book your hotel
The best 45 things to do in Naples
How to spend one day in Naples
Naples cafes and how to drink espresso
Is Naples really dangerous?
Pompeii travel guide from a local
Riding the art metro in Naples 
Hiking Mount Vesuvius – how to get there
18 lip smacking street foods in Naples
How to visit Naples Christmas Alley
Procida island travel guide – Our hidden gem
20 best destinations in Europe for a fall trip
30 different types of pizza you should eat in Italy
22 Amazing Day Trips from Naples (Italy)
10 Completely Free Things To Do in Naples (Italy)
Do you need ETIAS Authorization or Visa to enter Europe?
Guide to the best time to visit Italy
Note: Minestra maritata (or "Menesta maritata" in Neapolitan dialect) is very filling. We eat it as a main dish at home because we consume also all the meat… for quite a few days.
Did I mention our grandmas cook a lot of food?
In Basilicata you should try Minestra di scarole e verza. It is a soup made with endive and savoy cabbage, cooked in beef stock and served with cheese.
Italian Meat Dishes for The Holidays
The meat lovers who are visiting Italy for the Christmas holidays have quite a lot of traditional Italian dishes they should try.
The Northern regions love to eat Carbonade (which can be prepared in different ways).
A delicious stew cooked with Italian red wine, that has to simmer on low for hours. That makes it so the meat is tender and savory.
Carbonade is considered possibly the main dish for the Christmas meal if you're traveling anywhere in northern Italy.
Piedmont loves Bollito misto con polenta.
It's a dish that can't be avoided on the Christas table. The recipe has been preserved for hundreds of years.
Usually it is prepared for at least twelve people. In the past it was meant to be shared with friends and relatives.
Bollito misto has to be prepared with seven different cuts of beef, and it's boiled for hours with spices and vegetables.
To that, seven more cuts will be added.
The fourteen cuts will be served with seven different sauces, Italian polenta and a strong wine like Barbera or Dolcetto.
If you're interested in trying a selection of Piedmont's wine, click here! Check out the best Barolo Wine Tour and Tasting from Turin, with private car transfer and local guide included!
Those who are visiting Friuli Venezia Giulia should try Brovada e muset.
A particularly rich Italian Christmas dish made with turnips, polenta and Italian cotechino.
The traditional recipe is protected by DOP (Protected Designation of origin) certification and is part of the Italian family traditions in Friuli.
Restaurants in Friuli will also serve Trippa con sugo e formaggio (tripe with tomato sauce and cheese) and Cappone (capon) during the Christmas holidays.
If you're planning to spend Christmas in Trentino or the Dolomites, you will find Capriolo al forno everywhere.
The marinated roe deer meat is usually cooked in the oven for hours and then served with seasonal vegetables and of course polenta.
Capriolo dishes are very popular in the mountain retreats and the Northern regions. So you will probably find them on the menu throughout the year.
The Italian Christmas dinner in Liguria has Faraona al forno con carciofi on the table.
The savory guinea fowl meat is perfect with the artichokes.
Usually it's one of the main dishes of the night because it has to be well decorated (and particularly rich) to impress the family.
Note: while it's very filling, this is a very healthy recipe because it's usually cooked without a drop of salt and with just the right amount of olive oil!
The lucky ones who will spend the Christmas holidays in Tuscany should add Bardiccio to their foodie bucket list.
Some also know this dish thanks to a funny nickname "Salsiccia matta" ("crazy sausage" in Italian).
It's a dark sausage prepared with pork meat, using "unusual" cuts like the heart. It's a "Presidio Slow Food", and one of the most traditional holiday dishes in Tuscany.
Bardiccio is generally charbroiled and served with Tuscany bread and Chianti Rufina wine.
You might also like:
– 23 gorgeous villages in Tuscany you should visit
Bologna and the whole Emilia Romagna region is where you should eat lots and lots of Italian cured meats.
Like prosciutto, mortadella, salame and more.
These are generally served every day of the year, often as an antipasto.
Find them on the menu as "Tagliere di affettati" or ask your server about them!
During the Christmas holidays Emilia Romagna likes to eat two of their traditional dishes: Cotechino di Modena or Zampone.
Cotechino is an Italian large pork sausage which has to be simmered at low heat for hours.
Zampone derives from the trotter of a pig and a mix of boiled lean meats, with belly and neck fat.
Both are served with lentils.
Note: we do serve cotechino or zampone with lentils for good luck also in Naples. It's one of the famous Italian traditions to celebrate the New Year.
Lentils in fact represent abundance and are believed to bring good luck and money.
Abbacchio al forno con patate is a traditional dish in Lazio which is prepared at Christmas and Easter.
It's lamb meat, which is very lean and white-ish, cooked in the oven for hours and usually served with roasted potatoes.
Agnello ("lamb" in Italian) is a quite popular dish which is usually always on the table during the Italian celebrations, whether it's Christmas or Easter.
Usually at Christmas it's a traditional dish in Abruzzo (you should order "Agnello arrosto" to have it charbroiled), and Puglia.
In this second region you will find "Agnello al forno con lampascioni", which is lamb roasted in the oven and served with tiny wild onions (known as "lampascioni pugliesi"), traditionally cooked in Puglia.
You can also buy mason jars full of lampascioni and olive oil as a delicious souvenir from Italy.
Make sure you put them in your checked baggage and that you can import them in your Country!
You might also like:
The best souvenirs from Italy you should add to your bucket list
Capretto al forno is a similar dish you can eat in Calabria.
One of the traditional Italian Christmas foods people can't live without. It's goat meat roasted in the oven, usually served with potatoes, sweet peas and onions.
I'm sure you've already read a lot about this dish, but Sardegna is super famous in the whole world for the "Porcetto con il mirto".
While you can find this traditional dish throughout the year, in Sardegna it's usually part of those Italian family traditions that people love to revive for Christmas.
Porcetto is a piglet roasted on a fire pit.
The meat inside is very tender and seasoned with spices and myrtle leaves (the scent is mouthwatering), while the outside is crunchy and fatty: divine!
Traditional Italian Christmas Dinner Ideas – Fish Dishes
Many wonder how is Christmas celebrated in Italy, especially in the Southern regions.
Some even believe we have pizza on the table for the holidays!
Actually, every Christmas in Naples has a lot of fish and seafood on the table.
Fish on Christmas eve and on December 25 is mandatory. No matter what!
Fresh, local ingredients are mandatory. Many of our fish dishes are only prepared for the Italian holiday time.
A popular antipasto (Italian appetizer) in Naples is Pizzelle di pasta cresciuta con baccalà.
Throughout the year you can find the pizzelle with algae or with vegetables.
Mainly in our Neapolitan Cuoppi.
At Christmas we add codfish bites to a puff pastry which is chewy and soft. Some think it's the same dough we use to make pizza, but it's not!
Deep fried codfish is another staple in the Neapolitan cuisine during the Christmas holidays (my family adds it to the Christmas eve dinner menu). Followed by deep fried eel, squids and shrimps.
Eel in particular is a type of fish that has been used in the Neapolitan cuisine for centuries.
In the ancient city of Pompeii in fact there were a lot of hatcheries.
Eels were considered a delicacy for the rich Roman families living their best life here in the South.
You might also like:
Guide to visiting Pompeii – what to see and how to get there
Another one of the traditional Italian Christmas dishes we love in Naples is Sautè di vongole (sautéed clams, sometimes with mussels, which is indicated on the menu as "cozze").
It's delicious and you can find it throughout the year in the best restaurants in Naples.
Puglia is another region which loves to eat fish at Christmas.
They also cook eels, but they prefer to have them charbroiled: Anguilla arrostita.
Codfish is also widely used in Puglia during the Christmas holidays. But they prefer to eat it boiled and paired it with bell peppers.
It's Baccalà lesso con peperoni cruschi.
The recipe to make peperoni cruschi is peculiar. The bell peppers are sun dried and then deep fried for just a few seconds in a pan full of boiling olive oil. They're then served with some marine salt on the top.
You might also like:
What to see in Puglia – Salento Tour
I must say that eel is not only appreciated in the Southern regions.
In Lombardia you can eat Anguilla al cartoccio. The eel is cooked in the foil in the oven, with onions, lemon juice and spices.
The only thing you should be always aware of is that eel is a very fatty kind of fish.
Not everyone likes it!
Yet the Anguilla al cartoccio recipe is possibly the less fatty way to cook eels, because they remove the fatty skin.
Lazio and Veneto share the same love for Baccalà (codfish), served in different ways. In Lazio you might also be lucky enough to find eel on the menu (only in selected restaurants).
Stoccafisso (dried cod) is a different way to preserve codfish. In Calabria for Christmas they prepare Stoccafisso con patate, which is served with creamy potatoes.
Emilia Romagna, and in particularly Modena, prepares a traditional Italian Christmas dinner with Spaghetti con tonno, sgombro, acciughe e pomodoro.
Spaghetti are cooked with a sauce made with sweet tomatoes, fresh tuna, mackerel bites and anchovies.
It's a savory, healthy and pretty rich sauce that you should enjoy with an Italian white wine.
You might also like:
5 itineraries to spend 10 amazing days in Italy!
Guide to the best time to visit Italy
If you're planning a trip to Molise for the Christmas holidays, you will find Brodetto alla termolese on the menu.
It's a kind of fish soup prepared with clams, mussels and over two kilos of fishes like squids, shrimps, cod and much more.
The Brodetto alla termolese is served with Italian bruschetta or toasted bread.
Last but not least, our beloved Sicily loves to eat Sarde a beccafico for Christmas.
Sardines are marinated with bread crumbs, raisins, garlic, sugar, salt, parsley and pine nuts.
It's a unique mix of sweet and savory that you should absolutely add to your bucket list if you've never tried it before!
Another staple of the Sicily cuisine for the holidays is Insalata di arance con aringa e cipolla, which is an orange salad with sardines and onions. This dish represents a bit of everything that grows or is fished in Sicily!
Italian Christmas Desserts For Your Food Bucket List
Now, the chapter that everyone was waiting for: sweets, pastries and Christmas delicacies!
Pastries and the likes are very much part of the Italian Christmas food. Most of them are traditional and only prepared during the Christmas holidays.
This means that if you've planned to spend the Christmas holidays in Italy, you should not only eat as much as you can. My suggestion is also to buy what you can. Family at home will love that!
Piedmont for example has Torrone d'Alba. Italian torrone is a confection made with honey, sugar, egg white and toasted almonds.
You can buy it in every supermarket (torrone is also very traditional in Naples and other Southern regions), and it's a perfect Italian souvenir.
Another dessert you should try in Piedmont is Torta di nocciole e zabaione. With hazelnuts (those in Piedmont are absolutely delicious) and eggnog.
Very Christmassy!
In Friuli Venezia-Giulia one of the most loved cakes on the Christmas table is Gubana. It is sometimes also baked at Easter. This puff pastry cake is filled with nuts, raisins, pine nuts, sugar, Italian grappa and lemon.
Trentino Alto-Adige and Tirol on the contrary love Strudel (which is the same strudel you can eat in Prague. And Zelten, a cake made with raisins, almonds, nuts, candied fruit, honey, oranges, rhum, white wine, spices and dried figs.
Because it's very complicated to bake Zelten, not many families make it at home anymore. They prefer to buy it for Christmas.
You might also like:
Where and what to eat in Prague
Prague districts – where to find lodging
How to spend 2 days in Prague
Why Prague in Winter is awesome
Visiting Europe in October: 20 awesome fall trip ideas
The best destinations in Europe for a Fall trip
New Europe entry requirements and ETIAS authorization
If you're going to spend Christmas or the New Year in Valle d'Aosta, there are a couple of options for you. Both delicious. One is Pere cotte, which are baked pears covered in a syrup made with sugar, vanilla, cloves and Italian red wine.
The other one is the delicious Tegole valdostane, thin cookies that you usually have to eat with Caffè alla grappa (Italian espresso with grappa).
Many Italian regions eat chewy desserts.
In Liguria you will find Pandolce con Rossese di Dolceacqua. A chewy cake that you should eat while drinking the Rossese di Dolceacqua wine.
In Emilia Romagna there's a similar cake, Panone Bolognese. Made with quince, honey, dark chocolate chunks and dried figs.
Umbria and Tuscany share the unique Panpepato, only baked for Christmas. It's a chewy dessert with chocolate, dried fruit, cinnamon, nuts and nutmeg.
Actually in Tuscany Panpepato usually goes with Panforte, which is very much like Panpepato. Only with mostly white ingredients.
Ricciarelli are also part of the Italian Christmas food we all love. Pastries with almonds and sugar that will melt in your mouth.
Panpepato, Panforte and Ricciarelli are sold in every supermarket in Italy, but only during the Christmas holidays.
While they aren't as good as the handmade ones you can find in Tuscany, they're still delicious so give them a try!
My personal favorites are Ricciarelli. Yum!
Those of you who have been reading about the authentic Italian desserts surely know about Panettone and Pandoro.
This yummy dessert was born in Lombardia and is a type of sweet bread, with raisins and candied fruit.
The traditional panettone was first baked in Milan.
While you can find panettone in every supermarket in Italy, nothing compares to a slice of artisanal panettone in Milan.
I encourage you to find panettone even if you're only spending one day in Milan during the holidays.
It will be worth the trip.
A tip for those of you who don't like candied fruit and raisins.
You can ask for Panettone senza canditi to eat the original panettone without candied fruit (only with raisins).
Panettone can be considered the traditional holiday dessert in Italy. You're bound to try it, no matter what!
You might also like:
How to spend one day in Milan – tips & tricks
Pandoro on the contrary is a tall and sweet yeast bread It is shaped like an eight-pointed star and covered in powdered sugar.
The original recipe is from Verona, but nowadays you can find Pandoro in many Italian cities (even families in the Southern regions now bake Pandoro at home) and in every supermarket.
There are many different types. Pandoro with chocolate chips, Pandoro with custard or with pistachio… beware, it can be addictive!
Marche has its own version of Panettone, which is known as Pizza de Natà (as in "Christmas pizza", even if it isn't a real pizza).
The original recipe was created in the countryside. The peasants used to bake this cake with ingredients what they could grow themselves.
Are you interested in trying all the best cakes and pastries in Milan? Click to check out the Milan Patisserie Tour! It included tastings of Panettone and other traditional pastries in Milan, hot drinks and an experienced local guide!
Pizza de Natà is a type of sweet bread made with olive oil, nuts, hazelnuts, almonds, raisins, dried figs, lemon and orange. While the traditional recipe is not very sweet, the modern version includes chocolate chips or cocoa powder.
Fried pastries are also popular Italian Christmas dishes.
Abruzzo has Caggionetti. They look like cookies filled with almonds, cinnamon, chocolate and chestnuts.
Only in stead than being baked, they are deep fried and served with powdered sugar on the top.
Sardinia prepares Seadas, deep fried pastries filled with cheese, lemon and honey.
We have relatives in Puglia who always bring us Cartellate, a type of pastry that every mother and grandmother has to deep fry during the Christmas holidays.
Even if it takes forever to prepare the thin pastry, and then to give it the shape of a rose, they still make hundreds of them.
It's traditional to gift Cartellate to friends and relatives for Christmas.
The traditional toppings are honey and must.
Note: The original Cartellate are difficult to find, as they are usually handmade as a family tradition. Some restaurants might sell them, but they spoil after a few days, losing their crunchiness. That is why they aren't a good souvenir.
Eat them while in Italy!
Another traditional Christmas food in Puglia is Porcedduzzi. They're like Italian Christmas cookies.
Tiny puff pastries made with white wine or liquor, deep fried and covered with honey, nuts, cinnamon and almonds.
The traditional Italian Christmas eve dinner in Basilicata wouldn't be the same without Calzoncelli.
Two dishes of puff pastry filled with chestnuts custard and deep fried. Not overly sweet and yet absolutely delicious.
They infact only use local chestnutss.
Christmas is the best time to eat chestnuts in Italy!
My region, Campania, has Struffoli.
Believe me, if you're visiting Naples or the Amalfi Coast for Christmas, you really don't want to miss Struffoli.
These tiny dumplings are deep fried, then covered with honey and sprinkles.
They have to be crunchy and stick to your fingers, or they're not the traditional ones!
In Naples it's not Christmas without struffoli. They are prepared in every house and only for the Christmas holidays!
Campania is also where you can eat Dolci in pasta di mandorle (pastries made with almonds and sugar), Roccocò (crunchy donut-shaped pastries with cinnamon, spices and almonds) and Mostaccioli (soft and chewy cookies made with spices, cinnamon and cocoa powder, then covered in chocolate frosting).
As you might be aware, Christmas food in Italy is always delicious.
Yet Sicily definitely goes overboard when it comes to desserts, just like Campania.
In Sicily you should eat the traditional Cannolo (which can be found throughout the year). Or the Buccellati di Enna (pastries filled with dried figs), the super popular Cassata Siciliana (also found throughout the year and often shipped to Naples as well).
Two other Sicilian classic holday desserts are Mustazzoli (similar to Neapolitan Mostaccioli) and Cubbaita, which is like Torrone d'Alba.
Can Vegetarians and Vegans eat in Italy During the Holidays?
Now that you've read all about what do Italians eat for Christmas, you might be worried sick.
Will you find vegetarian or vegan dishes during the holidays?
The honest truth, by a local, is that you might not be able to eat many traditional Italian Christmas dishes.
While there are a few vegetarian options, some of them include eggs or other animal products so if you're vegan they're not good for you.
The positive thing is that in Italy we often cook using olive oil in stead than butter.
You might also like:
How and when to tip in Italy – the truth from a local
30 different types of Italian pizza you must try!
Yet whenever you're in doubt, always ask your server!
In case you're worried you might not find much to eat, contact your hotel or a restaurant in advance. So you can check with them if there are vegan options.

Pin it for later!
This post is also available in:

Italiano