What to Do in Prague in Winter (Also On a Budget)
This post includes affiliate links. As an Amazon Associate, I earn from qualifying purchases. Full disclosure.
Prague is a beautiful, historical city that is always worth visiting, no matter what time of year. The classic old town with its baroque architecture, the historic bridges and the famous astronomical clock make it one of Europe's most romantic destinations.
Come see some of the best things to do in Prague in winter and what to pack!
The Czech capital offers plenty of things to do in the colder months. While this historical city is always worth visiting, we must say that Prague in winter is particularly beautiful. And it can be a budget European destination, which is great if you ask us!
Let's see what to do in Prague in the winter (including the Prague Christmas Markets 2021).
You'll also discover what to pack, what to eat and where!
Quick Links to Post Content
Winter Weather in Prague – What To Expect
Weather in Prague in Winter can be pretty cold.
Temperatures often dip below freezing, and snow is a very common occurrence.
Prague in December is chilly, with a chance of snow.
If it rains in the evening, it's very likely that the following morning you might have to be very careful because patches of ice will form on the sidewalks.
Prague in January gets colder and there will be more snow.
We visited Prague in February and we actually explored while it was snowing pretty hard.
Luckily enough we were well prepared, even if winter in Italy is not so cold.
We didn't want to stay in our hotel the whole time. After all we intended to enjoy our romantic weekend in Prague as much as we could!
The temperature was as low as -13°C in the evening and only slightly higher during the day.
During our stay we were rewarded with a couple of mornings of a pale sun.
While it didn't really warm up the day, we still welcomed the change of weather!
What To Pack For Prague in Winter
Layering is the best way to go to visit Prague in the colder months.
Packing light in Winter is not as difficult as you might imagine.
If you prepare a packing list whih includes thermal underclothes, you'll get to have many different outfits. Without having to pay an extra fee for your luggage.
You can also wear a thermal shirt under your regular jumper, and a pair of thermal leggings under your jeans.
The latter are very important, because denim tends to get very cold in winter and it's definitely not the best fabric for the snowy days.
This will allow you to pack lighter jumpers that you can use for layering. Actually reducing the volume of your clothes in your luggage. Without having to sacrifice your personal style!
Another great thing you should use is compression cubes.
They are perfect also if you're only traveling with a carry-on.
These packing cubes have an extra zipper to compress your clothes. And they also make sure not to wrinkle your clothes.
By using them you'll reduce your stuff to about half their height. Not bad, right?
We visited Prague in February and because of the ice and snow, we brought with us our winter boots.
Whether you prefer winter hiking boots or regular winter boots, make sure they provide extra grip. It can be slippery and you don't want to fall!
I never really bring a second pair of boots because I tend to pack light. But if you do, fill them with smaller items like socks. It's a good way to save space!
Packing List for Prague – Winter Essentials
You might also like:
Insider tips for visiting Italy in winter
Why Prague in winter is absolutely amazing
Winter Packing List for Europe
Italian Christmas food you never knew existed
How to visit Vienna Christmas markets
The best of Bratislava Christmas market
15 awesome trip ideas to visit Europe in winter
Where to find the most amazing Christmas markets in Europe
Incredible travel gift ideas for women – have a smart Christmas!
20 awesome Christmas markets in Italy
Christmas in London – Everything you need to know
Why you should travel with your partner
Visiting Europe: Schengen visa or ETIAS Visa Waiver?
Discover the best time to visit Italy
How to protect your camera and phone in Winter
An important thing you should always remember is that, because of the low temperature, phone and camera batteries will last less.
As I already mentioned in the past, finding out that your phone battery is fully drained when you're somewhere new can be pretty scary.
Bring with you a reliable power bank.
It's also a cheap but super useful Christmas gift for the wonder women in your life who love to travel solo!
If you want to make sure you won't damage your camera, always carry a plastic bag in your pocket (or even better, reuse a plastic bag you already have, because we don't want to pollute even more).
Put your camera inside the bag before to enter a warm room like the hotel lobby, a cafe or a restaurant.
That way you can avoid causing a thermal shock and you will prevent condensation (it works also for your phone!).
Top 15 Things to do in Prague in Winter
1. Visit Prague Christmas Markets
Spending your Christmas holidays in Prague might not be cheap, but it's definitely worth the time and money.
Prague Christmas markets are fact is some of the best in Europe.
The whole city is beautifully decorated, all lit up like a fairytale winter wonderland.
While going through your schedule for Prague sightseeing, the scent of cinnamon and clove will keep you warm and happy.
Wherever you go you will find mulled wine, hot mead, trdlo and the world famous Prague ham.
Prague in December is gorgeous. Make sure you visit the Christmas market in the Old Town Square.
The area becomes one huge Christmas village and it stays the main point of interest throughout the city's Christmas celebrations.
The Christmas tree you see in this square is different every year, because it's always selected from a different region of the Czech Republic.
If you're planning to spend the holidays in Prague with your kids, know that there are many family activities you can enjoy.
From the traditional arts and crafts (sword making included!) to baby goats, sheeps and donkeys you can pet at the animal stable.
There's something for everyone.
Prague Christmas Markets – 2021 Update
The official 2021 dates have just been confirmed!
You will be able to visit Prague Christmas Markets from November 27, 2021, to January 6, 2022.
This year they will stay open also on Christmas Eve, Christmas Day and New Year's Day!
2. Go a Walk in the Snow
Visiting in winter has its perks.
You'll get to see some of the best places in Prague without the huge crowds. It will be absolutely amazing!
Spots like Charles Bridge will be almost empty if you visit early in the morning.
While during high season you'll find tourists there even at 6 am, the Prague winter usually scares them away.
Old Town Prague looks gorgeus when it's covered in snow. Just walking by will make you feel like you've stepped back in time.
Many of Prague's top attractions are within walking distance from each other.
Walking is thus the best option to explore the city in winter, at your own pace.
Just remember to bring a pair of comfy boots that are waterproof.
You'll want to keep your feet warm and safe throughout the day!
3. Drink a Pint of Czech Beer
Prague is famous for its beer.
According to the locals, if a place is selling a pint of Czech beer for more than (the equivalent of) 3$/2€, then it's a "touristy place".
They avoid them like the plague!
Head to a pub and spend some time enjoying the company of the locals. They tend to be pretty friendly, even if you do not speak the language!
Pilsner Urquell is the best-known beer in Prague. You'll find it basically everywhere.
Make sure to also try the locally brewed beers. They might surprise you!
If you have more time, you should consider a brewery tour of Prague, or visiting the Czech Beer Museum.
These are great ideas for the rainy days in Prague!
4. Enjoy The Day at the Beer Spa
As I already mentioned, Czech Republic is famous for its beer.
But did you know that Prague brings it to a whole new level?
If you are looking for unique things to do in Prague in winter, then know you have to add beer spa to your list.
There's a number of beer spas in Prague, where you can soak in a beer bath.
The best ones have a personal keg of beer you can drink, or even an unlimited beer option.
It is believed that soaking in a beer bath will promote increased circulation and soften hair and skin.
Choose a spa that treats you to a massage as well, for extra relaxation!
5. Catch The Three Kings Parade on January 6th
The Procession of the Three Kings is a Prague winter tradition that celebrates the arrival of the Three Kings.
It takes place on January 6, 2022, in the Church of St Thomas in Prague, at 2:30 pm.
After the blessing, a procession with three kings on camels will set out on a journey through the centre of Prague.
In case you have enough time, you can also visit the holiday exhibition in the Bethlem Chapel.
6. Eat Some Traditional Czech Food
Eating in Prague is super cheap.
Which is something we honestly weren't expecting. Not that we complained, of course!
Stuff your face with dumplings, fried cheese, stews or the absolutely delicious street food in Prague.
It's the best way to keep yourself warm when you're visiting in winter!
Scroll down for a list of the must-eat dishes you should try in Prague!
7. Take Stunning Pictures of Prague for the 'Gram
As you might have already guessed, we absolutely love to take a ton of pictures of the places we visit.
One of the best things to do in Prague in winter is absolutely walking around and taking pictures for Instagram.
A good viewpoint where you can take nice pictures of the bridges in Prague is Letna Park, on the other side of Charles Bridge.
There's a place which is absolutely the perfect photography spot.
In winter you can enjoy it on your own most of the times.
At Letna Park you can also go to the cool Letna Beer Garden. Even if there's no outdoor beer drinking in winter, you can still access the area to take pictures of the Vltava River.
Another great point from where you can take amazing photos of Prague in Winter is the the Petřín Lookout Tower.
Prague Castle is another must do, whether you're visiting in winter or not. It is in fact the largest castle complex in Europe, and during the holidays there's yet another (smaller) Christmas market right in front of the main gates.
Aside from the world famous Astronomical Clock in the Old Town Square, a lesser known photography spot in Prague is the Prague Dancing House.
It's also known as "Fred and Ginger", because the twin buildings have been designed so that they resemble the way Fred Astaire and Ginger Rogers used to dance!
Of course you should also hit Charles Bridge when it's covered in snow and Old Town Prague with its lovely, colorful houses.
But if you're looking to add a splash of color to your feed, make sure you visit one of the most instagrammable spots in Prague.
The Golden Lane inside Prague Castle. It's a must-see!
8. Go Ice Skating
Ice skating is like a must-do winter activity.
It can be romantic, if you're ice skating with your significant other. But it's also a lot of fun.
The ice rink in Prague's Old Town is free, but you will have to rent ice skates.
Because… it's not something you usually bring along on vacation. Doh!
Find the most popular ice rink in Prague at the Fruit Market (Ovocný trh), next to Estates Theatre.
9. Visit Prague's Churches and Museums
Are you wondering what to do in Prague on a rainy day?
How about visiting the amazing museums and churches in town?
Prague is an old city and there are super interesting museums, as well as gorgeous churches you can – and should – visit.
The National Museum of Prague is possibly the most popular, where you will be able to discover Prague's history.
If you like modern art as much as us, hit the Museum Kampa. We absolutely loved it!
The Prague Jewish Museum is also a must see.
While it will be a sad visit, it's super important that you go, to keep the memory alive.
There is a lot to see and to learn, including chronicles from survivors of the Holocaust.
Prague also has a lot of "weird" and unique museums you won't find anywhere else.
Like the Sex Machines Museum, the LEGO Museum or the Apple Museum. There's even a Torture Museum, if you have a sense of the macabre!
Aldo particularly loved The Museum of Communism in the Czech Republic: he's an history nerd and found it super fascinating!
Whether you're visiting Prague for Christmas or not, you should add a few of its Churches to your bucket list.
The Churches in Prague are absolutely stunning.
Our favorite ones are The Church of Our Lady Victorious (Mala Strana), St Vitus Cathedral (Prague Castle) and of course the iconic Church of Our Lady Before Tyn (Old Town Square).
10. Plan a Day Trip to Český Krumlov
Český Krumlov is a fairytale medieval town and UNESCO World Heritage site in Bohemia, dating back to 1200.
Built at the foot of a giant castle, it's a super instagrammable spot and it makes for an amazing day trip from Prague.
If you're visiting Czech Republic on a budget, use public transport and get to Český Krumlov by bus.
The trip should take you about 2.5 hours and shouldn't cost more than 300 CZK (11€ – 14$).
The easiest way to get to Český Krumlov from Prague is to book a day tour.
Check this one out. It also includes a tasty lunch in a tratitional Bohemian tavern.
11. Explore Prague Castle
Visiting Prague Castle in winter is a great idea.
Why?
Well for once you won't have to stand in line for hours (as it happens in high season) and you'll get to take great pictures of the Golden Lane.
Prague Castle is the glorious complex you see from everywhere in Prague, perched on a hill, overlooking the city.
While the entrance is magnificent, you should also take a few pictures of the castle from Charles Bridge. It's the best insta-spot ever!
Prague Castle looks great in winter, as it'll be covered in snow.
Consider spending 2-3 hours there, as there's so much to see and do!
Purchase your ticket in advance to skip the line. Buying this one online will also add a very interesting introductory overview.
12. Get Lost at the Gorgeous Klementinum
One of the things to do in Prague in winter, especially on a rainy day, is to visit the Clementinum (or Klementinum).
This is one of the most amazing libraries in the world.
As you might know, we also visited the "Real life Hogwarts" in Manchester. So we absolutely had to see this one. It's in fact one of the largest in Europe!
This Baroque Library once was a Jesuit dormitory. It now houses over 20,000 books, spanning hundreds of years, from the 17th century.
When you'll visit, make sure you look up.
The stunning ceiling frescoes are one of the highlights of this unique place in Prague!
13. Sit at a Cafe in Prague
Winter in Prague can be cold and snowy.
So the locals love to hang out in Prague's beautiful cafes.
After all, Prague has a long history of cafe culture, dating back centuries.
One of the best ones, Cafe Louvre, used to be the favorite hangout for people like Franz Kafka and Albert Einstein!
You'll find all kinds of cafes in Prague, from the historical ones, to modern hipster cafes.
They're the perfect places to escape the cold winter days in Prague… and to taste the very best pastries. Yum!
The top 3 cafes in Prague are:
Cafe Savoy – neo-Renaissance interior, it also has one Michelin star
Cafe Louvre – Prague's most iconic cafe, which also became a jazz club
Cafe Imperial – Art Nouveau interior, dating back to 1914
14. Relax on a River Cruise
While there are also bus tours in Prague, the best way to experience this Czech city is by boat.
River cruises on the Vltava River are very popular, in every season.
They're great to rest your feet after a long day of walking, and to escape the cold while visiting Prague in winter.
Taking a river cruise in Prague doesn't take away too much time, so it's also perfect if you only have a couple of days.
For about 1 hour you'll sit in a warm, glass-enclosed boat, while taking in stunning panoramic views of Prague.
Coffee, light drinks and snacks are offered for free on the upper deck.
Sipping hot cocoa while enjoying the view is definitely my way of spending the day!
Those visiting Prague in February for Valentine's day should also consider adding a sightseeing evening cruise to their itinerary.
It was super romantic!
15. Visit Bratislava on a Day Trip From Prague
Did you know that going from Prague to Bratislava in Slovakia is easy and cheap?
And the best thing is that you can plan this day trip on your own, without having to book an expensive tour!
The train trip from Prague to Bratislava lasts about 2 hours and you can just buy the tickets at the Prague train station.
If you're planning to visit Prague in December, then Bratislava would be a great idea.
The Bratislava Christmas Market is easy to explore by foot and it's also pretty cute!
Must-try Winter Food in Prague and Where To Eat It
Winter is also the perfect time to try Czech food.
Many of the local dishes are rich and filling, so you can treat yourself to an incredible culinary experience while sightseeing.
Spending the holidays in Prague means that you will be there while the families bake the traditional gingerbread, which is part of the local culture (they use gingerbread as a digestive).
Some families bake them for weeks because it's mandatory that they always have some they can offer to their guests in case of a surprise visit!
The shop The gingerbread man's dream makes some delicious cookies and also sells everything you might need for baking your own!
Another place you can go to, especially if you're going to visit Prague in February with your significant other, is Restaurant Zvonice.
Located in an old bell tower, it's the most romantic restaurant in Prague!
Chances are that you won't even need to book in advance if you're visiting in winter because it's low season.
Of course Valentine's Day might be fully booked well in advance, so it'd be better to send them an e-mail to see if they still have a table for you!
Their speciality is the Old Bohemian sauerkraut soup (the one I'm eating in the video linked below).
It is rich, filled with wild mushrooms, sour cream and potatoes. Perfect to warm you up even in the coldest days.
Another must-try is the Czech Goulash with Sauerkreaut and dumplings!
Click to watch our video guide on where to eat in Prague!
At Styl & Interier they have a secret garden, hidden behind an interior design showroom.
Even if outside it's cold, if you want to brave it, they will let you sit in a warmed up tent.
Winter in Prague isn't that scary when they offer a blanket and a cup of mulled wine or hot apple juice.
A local's favorite is the warm apple strudel, covered with powdered sugar, whipped cream and a side of light caramel.
A great winter dish you should try in Prague is Svíčková.
Sirloin beef served on a creamy vegetable sauce, with Czech dumplings and cranberries.
It was enough to put us back together, enough to brave the cold weather once again!
Street food in Prague is cheap, filling and also a great way to fend off the low temperature.
Pražská šunka, that you probably know as Prague Ham, is sold everywhere in Prague.
It's a slow-roasted and crispy ham, legally protected so it can only be sold in Prague.
You can buy it by weight or ask for a sandwich. Both options are cheap and filling.
Beer goulash – Czech style – is served in Prague with dumplings.
The locals love to pair it with a cold beer.
Trdlo (Trdelnik) is also one of the most popular desserts in Europe, also sold in Slovakia.
You'll also find it a bit everywhere in Prague.
It's a cake made from rolled dough, grilled and topped with sugar and walnut mix.
When we visited Prague in winter, many shops also sold the "cold season version" of trdelnik.
It was filled with whipped cream, chocolate or custard.
Where to Stay In Prague – Winter Edition
Prague in winter is super affordable if compared to other popular European destinations in the colder months.
The best thing is that you can find lodging in Prague for less, without having to give up on luxury and comfort.
Here are a few options that we think you might enjoy!
Hotels in Prague for Less than $100/€100 per night:
Cute Budget Hotels in Prague – Less than $50/€50 per night: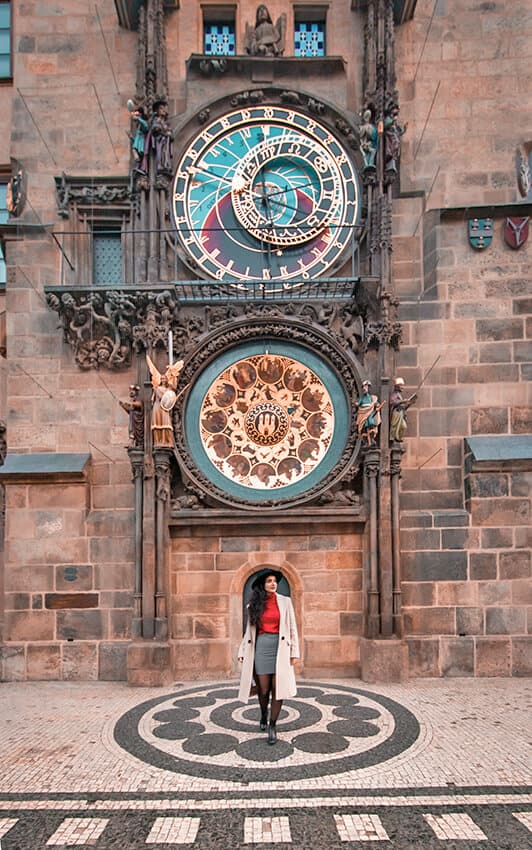 Why Winter is the best time to visit Prague
Winter is low season in Prague, which means that there will be fewer tourists.
However this doesn't apply to Christmas and the holidays, when the prices are higher.
Having less tourists around means taking better pictures, without having to get up at 5am to make sure you reach Charles Bridge before everyone else (true story!).
Photo opportunities are thus better, and even the lines to enter Prague Castle or the popular attractions will be shorter than usual.
Generally speaking, visiting Prague in winter is the smart way to go if you want to enjoy the city without having to push your way through the noisy crowds.
There's something special in the silence of the narrow streets, with the delicious scent of trdlo in the air and snow slowly falling down!
Besides… it's super romantic!
Prague is popular because of its historical buildings with red roof tiles.
In Winter it is amazing to see the red peeking out from under the snow. It feels like living a fairytale.
And if it's too cold, you can always warm up with a nice cup of hot cocoa or a loaded trdlo!
You might also like:
Where and what to eat in Prague
Prague districts – where to find lodging
How to spend 2 days in Prague
Why Prague in Winter is awesome
Visiting Europe in October: 20 awesome fall trip ideas
The best destinations in Europe for a Fall trip
New Europe entry requirements and ETIAS authorization
Are you planning your trip to Prague? Or maybe you've already visited Prague in Winter? Share your opinion on this beautiful city in the comments!
Pin it for later!
Travelling Dany – Danila Caputo
Danila Caputo is a bilingual travel writer living in between Naples and the Amalfi Coast (Italy), graduating from the University of Naples Suor Orsola Benincasa in Foreign Languages and Literature. She travels and works with her husband Aldo, photographer and videographer. Their blog chronicles their adventures around the world, their love for the USA (where they have family), Italian/European culture and tips on how to be responsible travelers. You can find out more about their latest trips and their life on Youtube, Instagram and Facebook.