This post is also available in: Italiano (Italian)
Christmas is coming (hello Ned Stark!) and it's time to start looking for some unique travel gifts for her. Who? Your very best friend who loves to explore on horseback, the sun-kissed sister in love with Hawaii and Bali, or even the super-hero mom obsessed with London (mine included!). Well, to be honest, finding useful travel gifts for girls who love to travel is not as easy as it might sound. I know it because so many friends ask me what should they buy: but us female travelers do not come from another planet! So I decided to write down a few travel gift ideas that you can steal to make that special girl in your life very happy. Because while receiving a present is nice, what is way more amazing is to see a joyful smile lit up your best friend's face when she unwraps your gift! Let's have a look!
Budget gifts for world travelers (up to 50$)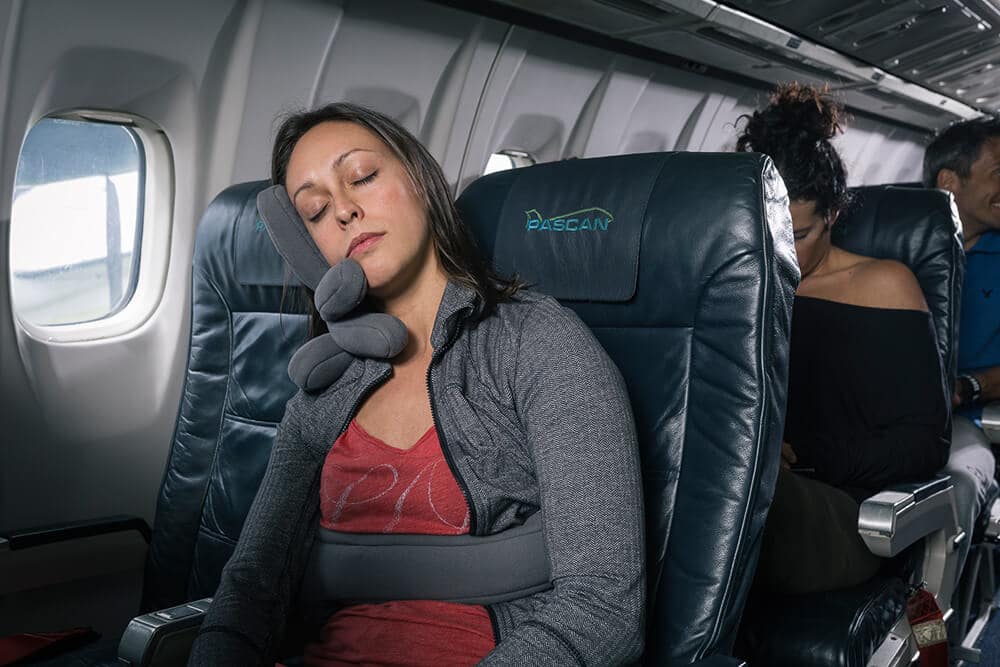 Neck pillows are the most amazing things ever, whether you have to survive a long flight or if you want to rest on a train. Neck pain is the number one cause that threatened to ruin my vacations several times so I never go anywhere without my neck pillow! This is one of the most useful travel gifts ever!
Me and Aldo are currently using this one. It has all the things we actually always wanted in a travel pillow. First of all, the memory foam is super comfy, and since it's ergonomic, it supports your neck, allowing you to rest. It's great for long flights! Also you can fold it so that it becomes tiny: it comes with a pouch so it won't take too much space in your bag. Last but not least, this travel pillow has a washable pillowcase, so I can just throw it in the washing machine as soon as I get home: I prefer them when they're germ-free! Click here to check it out and you won't be able to travel without it anymore!
The sun can hurt your eyes even when you travel in winter. So you must be always prepared. If you know your girl quite well, you can definitely buy her a pair of cheap-but-cool sunglasses. Look for those that block at least 99% of UVB rays and 95% of UVA rays.
These ones for example are super cool, they won't break the bank and they're also very safe.
Sunglasses will be super useful if she's going to visit Italy. Especially if she's planning to explore the best beaches on the Amalfi Coast!
Sunglasses are good gifts for people who love to travel, but if you're not sure about the right style, look for something else in this list!
As a female traveler I can tell you that there's nothing that scares me more than being stranded somewhere with a dead phone battery. When I visited Prague in Winter I realized that batteries tend to last even less in cold weather: a power bank can thus be the best gift for a solo female traveler. And if you're looking for unique travel gifts, then I have the right one for you!
This power bank is super cute and can charge also your tablet or camera. Its full capacity can fully recharge your phone at least twice! Because I love cats and this was so very sweet, I absolutely had to have one! Check it out here: there are many different colors!
I have a friend who loves to travel just like me. Yet while I'm always taking pictures… she draws. Whenever I visit Rome (where she leaves), I leave her alone for five minutes to go to the bathroom and when I get back to the table our napkins have already been decorated with colorful drawings and doodles. It's her "zone", where she is the happiest girl on the planet!
If you also have a friend who loves art, one of the best gifts you could get her is a bullet journal or a travel journal.
It's one of the travel themed gifts because she will be able to record all of her travels, drawing her own, amazing journal!
I'm planner-bsessed and at the moment I'm using a Happy Planner for my everyday tasks, and a traveler's notebook for when I'm on the road.
If she's very creative, another option would be to buy her a customizable bullet journal and a set of accessories like washi tape, pens or fineliners.
Fashion is a fun way to express yourself, sending a message about who you are. If you're looking for unique travel gifts for her, then have a look on Amazon Handmade (which is often overlooked). There are thousands of absolutely cute handmade travel themed jewelry.
From travel protection prayer necklaces to Tolkien-travel inspired bracelets, to rings where you can engrave the coordinates of her favorite destination in the world: there's a lot! Not only it's a unique gift, but you can be sure she'll love it!
Okay, please tell me that we can talk freely about menstrual cups? Facebook is full of threads where people say the worst things ever about those who use them… and I find it sad.
Provided that I firmly believe that every girl out there can do whatever she pleases with her body, menstrual cups are great for female travelers. Not only they help reduce our use of plastic, but they are very comfortable for when you're on your period, whether you're going to hike or just to explore a new city.
It's one of the good gifts for travelers you know well enough, because, of course, it's a pretty intimate gift. My sister was grossed out and terrified of trying menstrual cups at first. Then I gifted her one last Christmas and she realized that it was absolutely awesome! Sometimes all it takes is a tiny push in the right direction!
Hats are amazing. Not only they are useful, because they protect us from the cold or from the sun. They also are a top fashion statement, reflecting our style and personality. Some of the most amazing travel pictures I've found on the 'gram feature hats!
You might also like:
Insider tips for visiting Italy in winter
What to pack for a trip to Europe in winter
Why Prague in winter is absolutely amazing
Italian Christmas food you never knew existed
How to visit Vienna Christmas markets
The best of Bratislava Christmas market
15 awesome trip ideas to visit Europe in winter
Where to find the most amazing Christmas markets in Europe
Incredible travel gift ideas for women – have a smart Christmas!
20 awesome Christmas markets in Italy
Once you find the perfect one for you… it's for life! This one of the travel gift ideas that you can tailor on the special girl you're buying for. Is she an adventurer who likes to travel also in winter? Then a knitted pom pom hat would be great! If, on the contrary, she's in love with warm beaches and tropical paradises, maybe you could buy a straw hat. There are some that also inspire some serious wanderlust!
Selfie sticks are always at the top of every list for travel gifts for women. Sexist much? Who doesn't like to take pictures while on the road anyway (come on boys, I know you also take selfies!)?
Yet when you travel solo, you can rely only on your selfie stick or on a solid tripod. I have a bright pink one because… well. I just couldn't stop myself from buying it! Some models use a tiny remote, but I prefer those with a built-in shutter button. The foldable selfie sticks are very practical and can fit in every bag!
Full disclosure: compression packing cubes have changed the way I travel. They are a-m-a-z-i-n-g! If you're buying them for a backpacker, she'll love them because they keep every backpack well organized. If your friend is always struggling to pack light, with a good set of compression packing cubes she will be able to pack more in her usual carry-on. It's hands on one of the best travel gifts for her that you could ever find!
Nowadays you can also find good compression packing cubes for a tiny price. Because I love them so much, I have a few sets of packing cubes, so I can mix and match colors and sizes according to the flavor of the month!
One of the most unique travel gifts you can buy is a custom phone case. I make them with pictures of my cats, and often gift them to both of my parents with pictures of their cats as well (yes, we're a family of cat-lovers). Believe me, there's nothing like a customized gift! You should see their face when they see the custom phone case!
You could order one with a picture of their pet, or with a picture of you two, or even better, with a travel picture she's particularly fond of. Zazzle is easy to use and guides you step-by-step to create a custom phone case where you can also add a travel quote or her name!
Among the useful gifts for someone traveling there are cosmetic (or makeup) travel kits. The smaller sizes are in fact absolutely perfect for those who only use a carry-on, as they usually respect the TSA standards for liquids. Sephora has awesome travel kits for as little as 25$, and you can choose different ones. Hair kits, makeup travel kits, moisturizers: there's something for everyone!
One of the things I like to do (because I can be quite lazy) is to check how many steps I'm doing every day. You wouldn't believe how much I walked when I spent a weekend in London! Maybe you think that activity trackers are fun travel gifts that don't belong to the budget category. What if I tell you that you can get a nice one for about 30$? I have been using a Xiaomi Mi Band 3 for over a year and it's indestructible! I can also get notifications from my phone, and it also feels nice when I'm hiking!
Are you after useful travel gifts for a girl who loves to travel? A portable hair dryer could be a great present that will make her happy! Not every hotel has decent hairdryers: because I have long hair in some cases it took me ages to get ready to go out after taking a shower!
In some others… the air was so strong and warm that I felt like putting my head in a furnace! Besides, if your girl prefers hostels, it's unlikely that she'll find hairdryers. You can find some very nice, tiny and light ones for as little as 14$: it's one of those presents that she'll definitely use a lot!
Maybe blanket scarves aren't absolutely unique travel gifts (as in you probably think she already has one), but they are super cool and can be used in winter or in fall. My sister is absolutely in love with them, to the point that she always carries one in her bag.
Weather in Milan can be a bit unpredictable so for the colder months she prefers to be prepared! There are so many different types and prints that you can never go wrong! From the animal print ones to the huge fringed ones that can cover you as a blanket, I'm sure that you can find a style that fits her!
Mid-range travel gifts for women (from 50$ to 150$)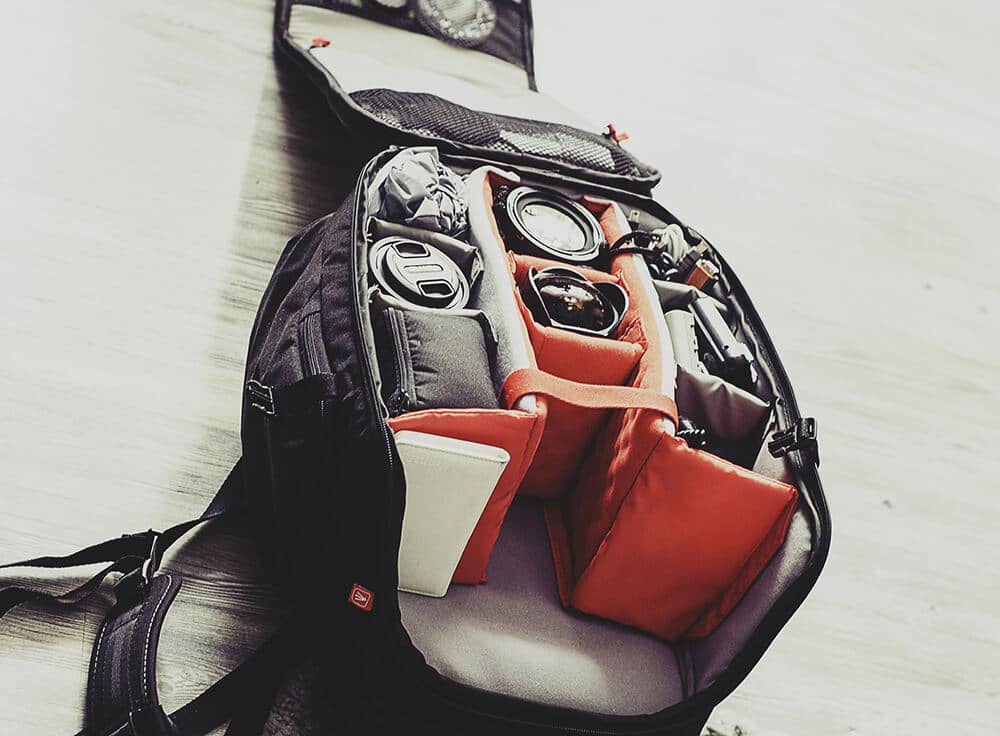 One of the best gifts for frequent travelers who like photography is a camera backpack. You just can't put your DSLR (or mirrorless), lenses and filters into your regular bag without ruining them. It's important to use a backpack that has specific protections.
This Beschoi camera backpack is absolutely amazing as it's also waterproof. The padding makes it comfortable to wear, and the shoulder straps distribute the weight well, so you can carry it also for hours without hurting your back. If you're looking for a stylish photographer, then by all means, get her a leather camera bag!
There are models specifically designed for women who want to dress up for the occasion, without having to carry a sporty backpack. This one from Purple Relic is a bright red leather crossbody bag with removable inserts, it fits most of the bulky DSLR lenses, so if she has a mirrorless like me, it'll be even better! They also make yet another model which is absolutely stylish and classy. It really does look like a regular handbag… and because the camera case is removable, it's a multi-purpose bag, perfect to travel light!
Hard case spinners are the latest travel trend. What am I talking about? Well, it's a carry on luggage with a hard shell, with 4 wheels to roll it easily, without weighting on your hand.
If you're thinking of buying one, believe me, it's one of the very best useful travel gifts for girls who love to travel! I've bought one to my mom as well, as she was always struggling with her old carry on: she can't travel without it now! This Delsey Helium Aero can be used as a cabin luggage and you can push it just using your finger. Prepare to be smothered with kisses!
Not everyone likes to travel using a carry on. In case you're looking for the best travel presents for a backpacker, then actually go for the easiest thing ever. A backpack! Doh! Osprey Farpoint 70 is one of the best out there. It fits a lot of stuff (even the more so if you pair it with good compression packing cubes), and is lightweight. We have used backpacks that were so heavy even when empty: never again!
Osprey Farpoint 70 makes backpacking easy and once she arrives at her destinations, she can repurpose it as a hiking backpack. Win-win!
She has a backpack and a carry on, but you'd still want to surprise her with something she still hasn't thought of? What about an overnight bag that she can use for a weekend out? It's one of those unique travel gifts not everyone thinks about. But it's actually very useful because it can be repurposed also for business travel, short trips… someone even uses it to go to the gym!
Another one of the best gifts for travelers who explore the world on their own is a good tripod. It's useful because you can take your own pictures, and of course you can work with astrophotography or night images. The most important thing that it should provide is stability. You'd never want to risk crashing her expensive DSLR (and lenses)! Manfrotto makes a compact action tripod which is absolutely perfect for travel, and a taller version which is still light and folds to fit easily into carry on luggage and backpacks. It's one of the most used brands in Italy!
In case you're looking for fun travel gifts, let me suggest you a brightly colored Fujifilm Instax Mini! It's the newest trend, full of cute accessories: everyone loves them! It works just like a Polaroid. You push the button and in a few minutes you get a fully developed picture. The Instax Mini is easy to use, not just for selfies, but also for macro photography!
Does she love music? You won't believe me but one of the most unusual gifts for travellers (as in no one ever thinks of buying one) is an iPod. Yet I have one with me at all times. It keeps me company on a flight, on the train, heck, even when I'm waiting in line somewhere!
I get to learn a lot of interesting stuff thanks to the podcasts I can download for free and when I'm in the mood… I've started to listen also to audio books! I want to offer a tip not many would give you.
Instead than buying the newest, bulky and pretty expensive model, get her an Apple iPod Nano 6th generation. I have no idea why it was discontinued (you can still find it online), but I love mine! It's tiny, it fits in every pocket, and it even has a built in clip that is absolutely useful even when you bring it with you for a morning jog! Besides, being a discontinued model it costs a fraction of what the newer iPods would cost you!
With music come… headphones! It fits perfectly in my list of best travel presents. Read above: I can relax during a flight or a train ride, when I just want to keep to myself without feeling forced to interact with the world. The Skullcandy Crusher are wireless (please don't tell me I'm the only one who was always fighting with the headphones' cord?) and have a built in micro USB charger with a secondary universal USB charging port. They are also foldable, which means they're perfect to travel!
Another thing that is always in my bag? Of course, my Kindle Paperwhite! It's another one of the unique travel gifts that make people happy, so if you know a girl who loves to read, this one is for her! I know that Amazon provides new and expensive models, but I still love my old Paperwhite.
It's very thin, waterproof and I can basically stuff it everywhere. Because it's an e-ink device you can read even under the sun on the beach, while it'd be much more difficult with a regular tablet because… gah, those things can't be used at all under the sun! All in all, I just can't leave it at home. I even get to read a bit when I'm in the bus or in line at the post office. The newest Paperwhite have twice the storage and can be used also for audio books: I'm in love!
Last one of the "nerd" travel themed gifts is a bluetooth keyboard. If you are buying a gift for a digital nomad or for a freelancer who loves to be on the road, then I'm sure she will love this. It can be paired with a smartphone or a tablet, which means she won't be forced to drag her heavy laptop everywhere! She will be able to work also on her flight and believe me, she will thank you a lot!
Okay but what if she's not much into technology? Well then one of the best travel gifts for her might be a pair of boots! Of course I'm guessing you know her size (if not, be sneaky and ask or try to see if a friend can help you investigate) so all that is left is choosing the perfect color.
These Discovery Expedition boots are the ultimate outdoor boots. While they're also good for hiking, they aren't as bulky as the usual hiking boots, and so she will also be able to wear them in the evening!
Luxury travel themed gifts (from 150$)
Let's say you're looking for unique travel gifts for a special occasion. I have a few suggestions that are quite expensive but that every female solo traveler out there would find useful. Have a look at the previous sections if you're looking for something more reasonable priced!
The first thing I'm going to suggest is something that usually makes me go all "oh my gosh!" on my husband: camera or lenses.
Amazon is always the safest bet in my opinion. Free shipping, lots of accessories available, and should the camera break, they'll replace it.
Not bad, right? Of course, be aware of what you're buying. I'm assuming you know about photography, but just in case, this is one of those purchases you'd better do after pondering quite well what you want to get her.
As a woman who loves to travel, I prefer to use a mirrorless camera because it's less heavy and bulky if compared to my old DSLR, and yet I can still use different lenses for different scenes!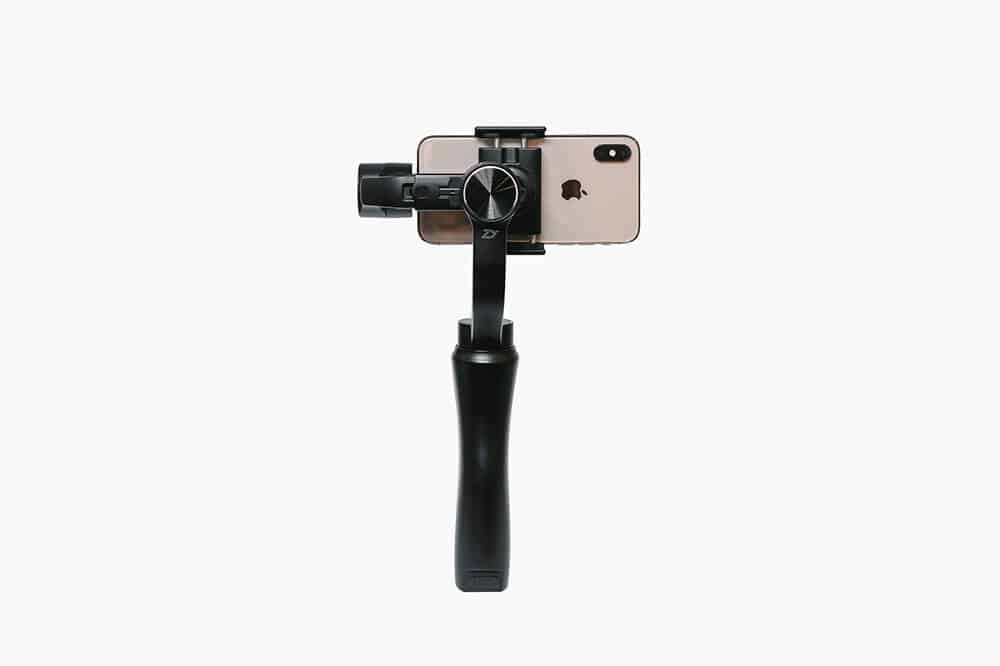 Another one of the unique travel gifts that are usually useful if she likes to shoot videos while she's on the road is a gimbal. This is an electronic stabilizer that makes sure your videos (and photos) are perfectly still even if you're moving (ex. walking or running).
I'm using a Zhiyun Crane V2 and a DJI Ronin: they are perfect for my mirrorless camera and for my smaller camera that I use for shooting videos.
Now don't kill me but I have 3 suggestions from the same manufacturer. It's just that here in Italy it's one of the most popular and I'm using their products as well! I prefer to offer ideas that I've personally used and tested, especially when it comes to presents for a special someone!
The first two suggestions from Apple are an iPhone and an Apple watch. iPhone XR is an awesome (albeit expensive) smartphone, that takes amazing pictures and videos (in case she doesn't want to travel with heavy photo equipment). The Apple watch series 4 has a very cute pink aluminium case, for the girly girls! It's water resistant and it usually saves my life because it has GPS and it vibrates on my wrist to show notifications. After my trip to Japan I've started to mute my iPhone, but this means that most of the times… I missed important calls or messages. With an Apple watch I keep everything on my wrist and I can relax!
Last but not least, my iPad is one of the most amazing travel gift I've ever received. My husband bought it knowing I wasn't able to carry a laptop with me at all times, on top of my photography equipment. I'm using the iPad 128GB, and you might be surprised but it's not the absolutely biggest one. It's the perfect size for me, because while I don't do the mini (not enough space), the bigger one was too much and I don't think it's easy to carry when you're on the road.
Mine is gold-rose and has a 9.7 inch retina display. There aren't enough good things I can say about it. I use it for work, to develop pictures while I'm on the road, to skype with family and friends at home, and even to watch movies and tv-series on Amazon Prime Video. It is by far one of the most useful items I bring with me!
Was this list of unique travel gifts for her useful? Let me know in the comments how she liked your present(s)!
Pin it for later!