It's not easy to find the perfect gift for someone, but with these travel-themed presents, you can be sure that the woman in your life will be super happy! Whether she is an avid traveler or someone who has never set foot outside of their hometown, there are presents on this list to suit every personality and budget.
Check out this list of the very best travel gift ideas for her and show how much you care!
Christmas is coming and it's time to start looking for some unique travel gifts for her. Who? Your very best friend who loves to explore on horseback, the sun-kissed sister in love with Hawaii, or even the super-hero mom obsessed with London (mine included!).
Well, to be honest, finding useful travel gifts for girls who love to travel is not as easy as it might sound.
I know it because so many friends ask me what should they buy. Many seem to believe that us female travelers come from another planet!
So I decided to prepare a useful list with 30 travel gift ideas for her that anyone can use.
No matter how small the budget.
Hopefully it will help you to put a huge smile on her face when she unwraps her present!
Budget Travel Gifts For Frequent Travelers (from $5 to $49)
1. Neck Pillow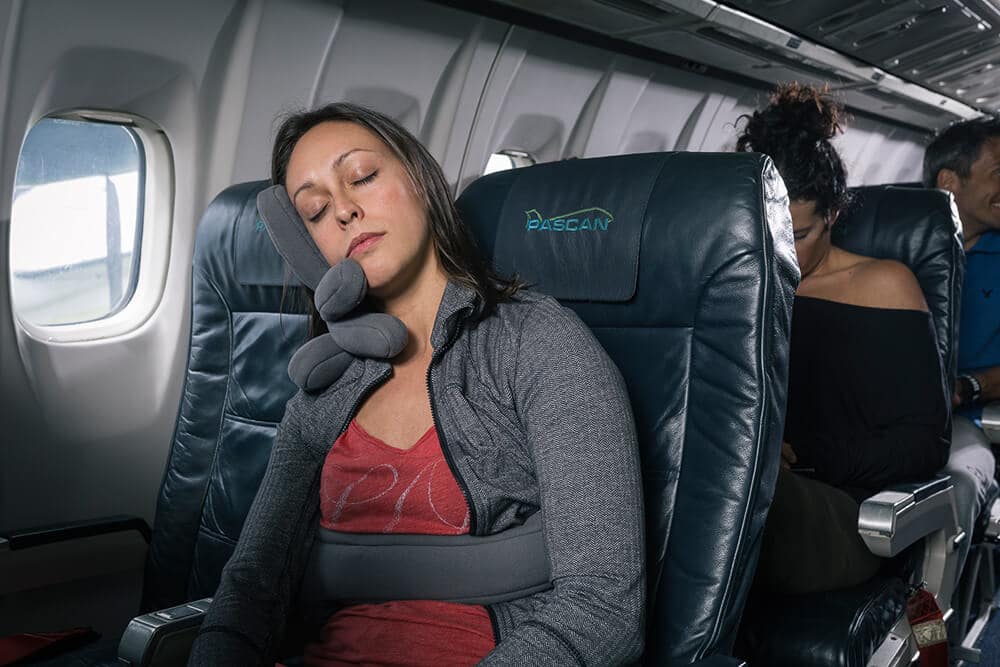 Neck pillows are an amazing Christmas gift. Really.
Neck pain is the number one cause that threatened to ruin my vacations several times so I never go anywhere without my neck pillow!
Hence why I make sure they are always on the top of my list of travel gift ideas. For anyone, men or women.
They are useful and cheap. Even if they prefer road trips to airplanes.
Me and Aldo are loving this one.
It's super comfy, ergonomic and it can be folded into a tiny bag.
Perfect for long flights, when you can only bring a carry-on with you.
Check it out here: it comes with eye mask, ear plugs and a cute pouch.
Basically the whole kit to sleep while you travel!
2. Passport Cover
Passport covers protect passports and important documents from the wear and tear that seem to be inevitable.
It makes sure everything is always in one piece and is particularly useful for frequent travelers.
Amidst the enormous pile of identical passports, a passport cover allows you to spot yours immediately!
While you are at it, choose a cover that has RFID Protection.
It's a special barrier that blocks RFID information thefts. Protecting personal information stored on passports and credit cards.
I'm currently using this one.
It's slim and lightweight, durable and super cute. Of course, it has a RFID barrier as well!
Check it out here.
3. Power Bank
As a female traveler I can tell you that there's nothing that scares me more than being stranded somewhere when my phone is off. Due to a dead battery.
When I visited Prague in Winter, I realized that batteries tend to last even less in cold weather.
A power bank can thus be the best gift for a solo female traveler.
If you have a small budget but you're still looking for good travel gift ideas, I have something you might like.
You can now buy a 2-pack power bank for the price of one.
What's the use?
Your girlfriend will always have a full battery, even if they haven't been able to recharge the power bank.
Having two means they can leave for a solo trekking trip with two portable chargers. They'll always be able to call home or use their phone, and they'll be able to listen to some music while camping!
Check this 2×1 offer here.
4. Travel Journal
I have a friend who loves to travel just like me.
Yet while I'm always taking pictures… she prefers to draw what she sees.
Whenever I visit Rome (her hometown), I leave her alone for five minutes and when I get back to the table our napkins have already been decorated with colorful drawings and doodles.
It's her "zone", where she is the happiest girl on the planet!
If you also have a friend who loves art, one of the best gifts you could get her is a bullet journal or a travel journal.
It's one of the best travel themed gifts because she will be able to record all of her travels, drawing her own images, in an amazing travel journal!
I'm planner-bsessed and at the moment I'm using a Erin Condren planner for my everyday tasks, and a traveler's notebook for when I'm on the road.
If she's very creative, another option would be to buy her a customizable bullet journal and a set of accessories like washi tape, colored pens or fineliners.
5. Travel-Themed Jewelry
Fashion is a fun way to express yourself, sending a message about who you are.
If you're looking for unique travel gifts for her, then have a look on Amazon Handmade (which is often overlooked).
There are thousands of absolutely cute handmade travel themed jewelry.
From travel-themed cosmetic bags to Tolkien/travel inspired mugs, to solid perfume.
There's so many things you can buy at small prices – even the customizable items!
Click to check out Amazon Handmade.
6. Spices From All Over The Globe
One of the best things about travelling the world is that you get to taste a lot of delicious food.
Many add a food tour of the best Italian dishes to their travel bucket list. And for a food reason!
Buying a world flavors seasoning collection can be a great travel gift idea for women who love good food.
You know, the kind of female traveler who isn't afraid of ordering even the weirdest dish on the menu. Because you have to experience the authentic local traditions!
Foodies will love to use the spice blends to cook international dishes for their friends and families.
Maybe even during the Christmas holidays!
Check out this set.
It's crafted in small batches and comes with magnetic tins (super useful also for those living in a van!).
7. Winter Hats / Scarves / Gloves
Knitted hats are always on my packing list. Whether I'm planning to visit Europe in Winter or if I'm going to hit Banff for a longer trip.
They're the kind of travel related gift that girls can use whenever they want. For any trip.
Or even just to go have fun ice-skating with their friends.
Think about getting her a cute pom pom hat that will make her Instagram pictures absolutely great!
For the full winter bundle, you can also buy a pair of touchscreen gloves and a wool scarf.
Touchscreen gloves are very important so they can keep using their phone without having to remove their gloves every time.
A wool scarf is the perfect Christmas travel gift because she can use it for many things.
A night out? Check. Skiing? Check. Exploring London for Christmas? Check.
You might also like:
Insider tips for visiting Italy in winter
Why Prague in winter is absolutely amazing
Winter Packing List for Europe
Italian Christmas food you never knew existed
How to visit Vienna Christmas markets
The best of Bratislava Christmas market
15 awesome trip ideas to visit Europe in winter
Where to find the most amazing Christmas markets in Europe
Incredible travel gift ideas for women – have a smart Christmas!
20 awesome Christmas markets in Italy
Christmas in London – Everything you need to know
Why you should travel with your partner
8. Selfie Stick
Selfie sticks are always at the top of every list for travel gifts for women.
They are perfect, whether you're a couple traveler or not.
Yet when you travel solo, you can rely only on your selfie stick or on a solid tripod.
So if you want to take a lot of cute pictures for the 'gram, then you absolutely need to get yourself one.
Some models, just like one, use a tiny remote. You hide it in your palm and pose for your pictures.
Easy peasy!
The best ones, in my opinion, are lightweight, foldable and compatible with every smartphone.
Check this one out. It also has a remote!
9. Compression Packing Cubes
Compression packing cubes have changed the way I travel.
They are a-m-a-z-i-n-g!
If you're buying them for a backpacker, she'll love them because they keep every backpack well organized.
If your friend is always struggling to pack light, with a good set of compression packing cubes she can pack more in her usual carry-on.
It's hands on one of the best travel gift ideas for her that you could ever find!
Nowadays you can also find good compression packing cubes for a tiny price.
Because I love them so much, I have a few sets of packing cubes, so I can mix and match colors and sizes according to the flavor of the month!
Check this set out.
It includes 6 compression packing cubes, the kind with mesh-top panels.
So she'll always know what she packed, without having to open them all!
10. Mini Travel Emergency Kit
If your friend is a girl who loves to hike on her own, she already knows.
Hiking alone as a woman can be dangerous.
We must be prepared to everything.
Solo hiking in the wilderness can be dangerous if you're not taking care of every little detail.
For female hikers, there are often additional mental hurdles to overcome on the trail.
Not only we have to be conscious of our surroundings, but also of other hikers.
Make sure she stays safe by getting her a small, light first aid kit. She can put it in her backpack, knowing she'llbe able to deal with minor cuts, scrapes, sprains or burns.
Click to check this one out: it includes 140 items!
Vanlifers on the contrary might also find useful another kind of travel emergency kit.
The one you'd use to jumpstart your car/van!
This one includes a first aid kit and even a poncho. So she'll also be protected when it's pouring!
11. Personal Security Door Alarm
Sometimes, hotel rooms can trigger dread or anxiety.
It happened to many of my friends throughout the years. And I won't lie: I've felt it as well.
There are many reasons that I can think of.
Travel fatigue (happens a lot to me!), being alone in a new place, jet lag, safety concerns.
All this can ruin the whole trip.
The one device I found helps a lot is a door alarm.
Basically it' a tiny, lightweight thingie that you can put on the door handle (or next to the window) before you go to sleep.
If someone tries to open the door (or the window), it'll go off with a loud sound.
A travel door alarm adds a sense of security also at home.
You really sleep better, knowing that no one will get in unnoticed.
This device for example is compact and lightweight – you can fit it in every bag.
You don't have to install anything and it even has a very useful flashlight.
Check it out here!
12. Activity Tracker
One of the things I like to do (because I can be quite lazy) is to check how many steps I'm doing every day.
You wouldn't believe how much I walked when I spent a weekend in London!
Maybe you think that activity trackers are fun travel gifts that don't belong to the budget category.
What if I tell you that you can get a nice one for about 40$?
I have been using a Xiaomi Mi Band for over a year and it's indestructible!
I can also get notifications from my phone, and it also feels nice when I'm hiking!
It fits into the budget travel gift ideas for her that she will love.
Why?
It's cheap – so you do not have to worry about being too rough or ruining it while hiking.
It's smaller than, say, an Apple Watch. That means even girls like me, with small wrists, can put it out without feeling uneasy.
It's waterproof – no need to remove it when you shower or if you want to spend the day at the beach.
Check out the new model here.
Compatible with almost every smartphone out there!
13. Travel Hair Dryer
Are you after useful travel gifts for a girl who loves to travel?
A travel hair dryer could be a great present that will make her happy!
Not every hotel has decent hair dryers. And sometimes hostels or b&bs don't even have one.
Been there, done that. Sadly.
Even vanlifers or those who love to road trip by sleeping in their car will find it useful.
A travel hair dryer is a compact device you can fit in any bag and use almost everywhere.
What would you say if I told you that you can buy one for less than $10?
Great brand, lightweight, powerful and foldable. The perfect Christmas present for less!
Check it out by clicking here.
14. Waterproof Portable Bluetooth Speaker
A great travel gift should bring joy and happiness.
Which is also what music does, right?
I listen to music wherever I go, but when I travel solo, or when I am with my friends, I can't really use my earphones.
A tiny bluetooth speaker can be a great travel gift idea.
You can fit it in every bag and it's compatible with any phone. The thing I prefer is that you do not need yet another cable to use it!
Get her a waterproof bluetooth speaker: it will be perfect for beach or pool parties!
Also great for hikers and those who plan to go camping.
Check this one out.
The sound is great, the brand is even better.
The fact that it doesn't require an app to setup is just the cherry on the top!
15. Travel Backpack
Not everyone likes to travel using a carry on.
In case you're looking for the best travel presents for a backpacker, then actually go for the easiest thing ever.
A backpack! Doh!
A good travel backpack should be large. But still be flight approved.
So in case your girl doesn't want to pay extra, she can use it as cabin luggage.
Extra points to backpacks that can be reused throughout the trip!
We always empty our favorite backpack in our hotel room, and then carry it around for longer day trips.
Check this one out by clicking here.
It's practical and convenient, with an external (super useful) USB port and a separate laptop/iPad compartment!
16. Overnight Bag / Weekender
She has a backpack and a carry on, but you'd still want to surprise her with something she still hasn't thought of?
What about an overnight bag that she can use for a stylish weekend out?
It's one of those unique travel gifts not everyone thinks about.
But it's actually very useful because it can be repurposed also for business travel, short couple trips and much more.
Check it out here – this one is absolutely gorg!
17. Travel Coffee Table Book
One of the best travel gift ideas for girls that not many seem to think about is a travel coffee table book.
I have a favorite. It's an adventure coffee table book with 1000 ideas for bucket list trips. Whenever I open it, I start dreaming of all the places I want to go to!
This one includes activities that can fit into any itinerary, for travelers of all ages. You won't find anything else this amazing at this price!
Check it out here.
18. Travel Savings Piggy Bank
A fun and budget idea for a Christmas present could be a travel themed piggy bank.
Get her one that she can use as an inspiration for her next trip.
One of my friends has hung one in her laundry room, and she always stores in there all the coins she finds in her pockets before she washes her jeans!
A travel fund box will inspire her to save more, maybe for a lovely trip with all of her girl friends!
Check this one here – it's perfect for Christmas!
19. Scratch Off World Map
A scratch off world map makes a great travel gift! It's not too expensive, it can inspire your friend to travel more, and it's great to decorate a room! Or even the office!
Make sure you get one that has also cute accessories. Like this one here, with memory stickers a magnifying strip and even an extra USA map!
If she already has one, I have the perfect alternative for you!
Get her a scratch off USA map!
This one here is specifically designed for women who are loking for a fun way to keep track of their trips.
It can also be a great Instagram pic prop, and comes with a ton of cute accessories!
Check it out by clicking here.
Mid-range Travel Gifts For Women (from 50$ to 100$)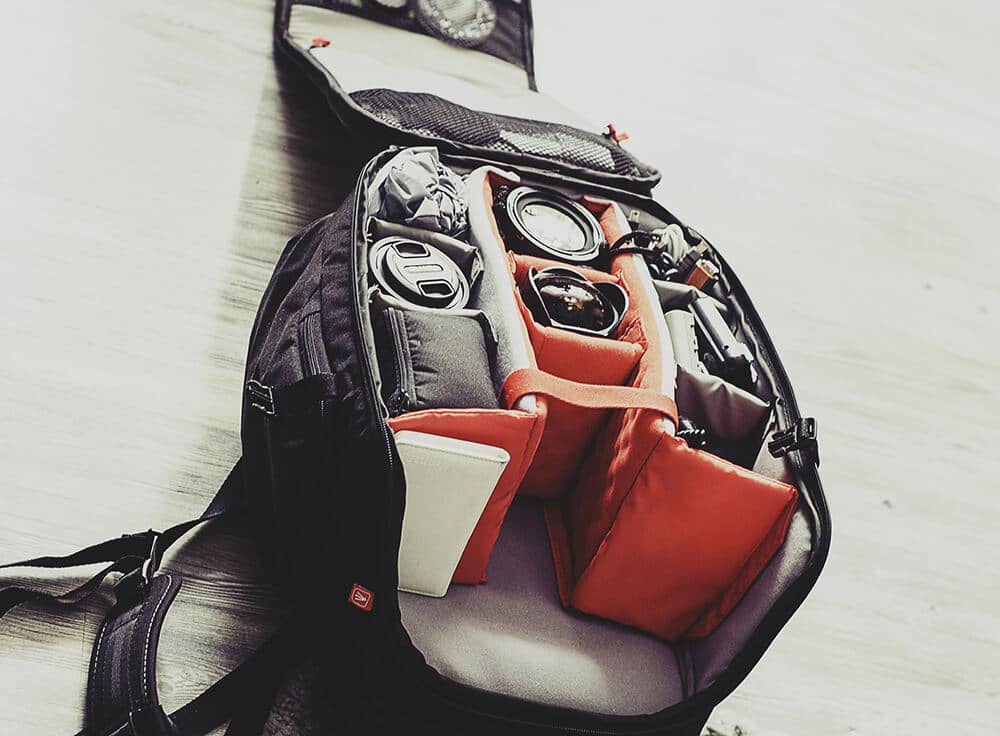 20. Camera Backpack
One of the best gifts for frequent travelers who like photography is a camera backpack.
You just can't put your DSLR (or mirrorless), lenses and filters into your regular bag without ruining them.
It's important to use a backpack that has specific protections.
The padding makes it comfortable to wear, and the shoulder straps distribute the weight well, so you can carry it also for hours without hurting your back.
If you're looking for a Christmas present for a stylish photographer, go get her a leather camera bag!
There are models specifically designed for women who want to dress up for the occasion, without having to carry a sporty backpack.
Check this one out.
It's super-stylish, with customizable padded dividers and quick access on the side.
21. Hard Shell Spinner
Hard shell spinners are the latest travel trend.
It's carry on luggage with a hard shell and 4 wheels to roll it easily.
If you are late and you need to basically run to the other side of the airport, a hard shell spinner can help you not to miss your flight.
If you're thinking of buying one, believe me, it's one of the very best useful travel gifts for girls who love to travel!
I've bought one to my mom as well, as she was always struggling with her old carry on. She can't travel without it now!
This one is, in my opinion, the best value for money you can get.
It's sturdy, it comes in many colors (and sizes), and it's expandable.
So you can fit in all the souvenirs from Scotland you want to bring home!
22. Professional Camera Tripod
Another one of the best gifts for travelers who explore the world on their own is a professional camera tripod.
It's useful because you can take your own pictures, and of course you can work with astrophotography or night images.
The most important thing that it should provide is stability.
You'd never want to risk crashing her expensive DSLR (and lenses)!
This one is sturdy, flexible and super versatile.
It's also good for female hikers because they can fold it and tie it to their backpack, quite easily!
23. Fujifilm Instax Mini
In case you're looking for fun travel gifts, let me suggest you a brightly colored Fujifilm Instax Mini!
It's the newest trend, full of cute accessories: everyone loves them!
It works just like a Polaroid.
You push the button and in a few minutes you get a fully developed picture.
The Instax Mini is easy to use, not just for selfies, but also for macro photography!
As a bonus, it makes a great prop for all kinds of Instagram photos!
Check it out by clicking here.
24. Travel Headphones
There's nothing more boring than a long flight without decent entertainment.
A good pair of travel headphones can even save you from that chatty seat neighbor, you know?
Travel headphones are a great gift for women who love to travel by themselves!
Make sure you get her a foldable pair, that won't take too much space in her purse.
The ones I have also reduce ambient noises, so they are great when I just want to sleep on a plane.
Check them out here.
25. Ebook Reader
Another thing that is always in my bag?
Of course, my Kindle!
It's one of the unique travel gifts that make people happy, so if you know a girl who loves to read, this one is for her!
I know that Amazon provides new and expensive models, but I still love the "cheap one".
It's very thin, waterproof and I can basically stuff it everywhere.
Because it's an e-ink device you can read even under the sun on the beach!
The great thing is: she can read for free.
Just tell her to use the Libby App to connect her ebook reader to her local library!
All in all, I just can't leave it at home. I even get to read a bit when I'm in the bus or in line at the post office.
The newest model has twice the storage and has a useful built-in light.
Click here to check it out.
26. Bluetooth Travel Keyboard
Whether she is traveling for work or if she's chosen van life, a bluetooth travel keyboard will be super useful.
Especially if you're looking for travel gift ideas for digital nomads or for freelancers who love to be on the road. Just like me and Al!
A bluetooth travel keyboard can be paired with a smartphone or a tablet.
That means she won't have to drag her heavy laptop everywhere she goes.
Besides, working during a long flight will be super easy!
A good bluetooth keyboard like this one should be foldable.
My absolute must is that it's super sensitive and with a touchpad that simulates a mouse.
Check it out here: you'll make her happy!
27. Outdoor / Hiking Boots
What if she's not much into technology?
What if she just loves hiking because she can go for a complete digital detox?
Well then one of the best travel gifts for her might be a pair of hiking boots!
Of course I'm guessing you know her size (if not, be sneaky and ask or try to see if a friend can help you investigate) so all that is left is choosing the perfect color.
Personal opinion here, but I believe Columbia makes absolutely amazing hiking boots.
At accessible prices, which is never a bad thing as far as I'm concerned!
This pair here is the best value for money from Columbia.
There's a ton of colors and being ankle-high, they also provide extra protection.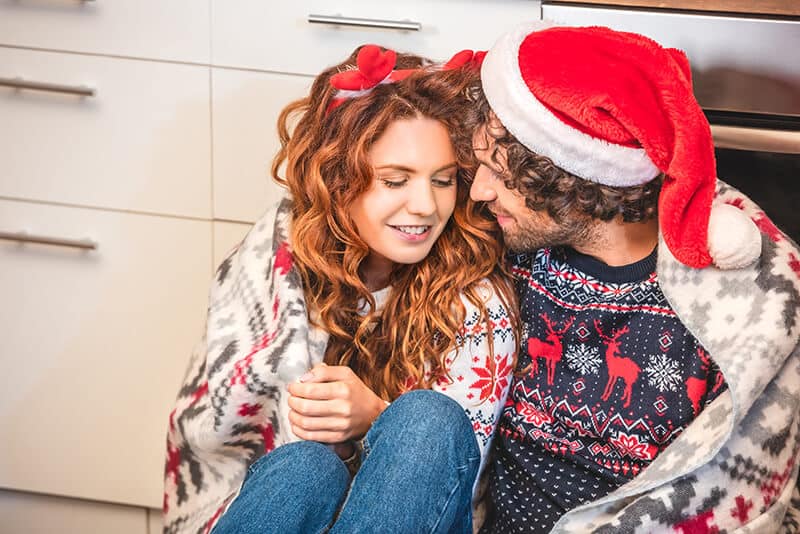 Luxury Travel Themed Fifts (from 101$)
Let's say you're looking for unique travel gifts for a special occasion.
I have a few suggestions that are quite expensive but that every female solo traveler out there would find useful.
Have a look at the previous sections if you're looking for something more reasonable priced!
28. Camera
The first thing I'm going to suggest is something that usually makes me go all "oh my gosh!" on my husband: camera or lenses.
Amazon is always the safest bet in my opinion.
Free shipping, lots of accessories available, and should the camera break, they'll replace it.
They even have an extra insurance you can buy to feel even safer!
Not bad, right?
Of course, be aware of what you're buying.
I'm assuming you know about photography, but just in case, this is one of those purchases you'd better do after pondering quite well what you want to get her.
As a woman who loves to travel, I prefer to use a mirrorless camera because it's less heavy and bulky if compared to our old DSLR.
Yet I can still use different lenses for different scenes!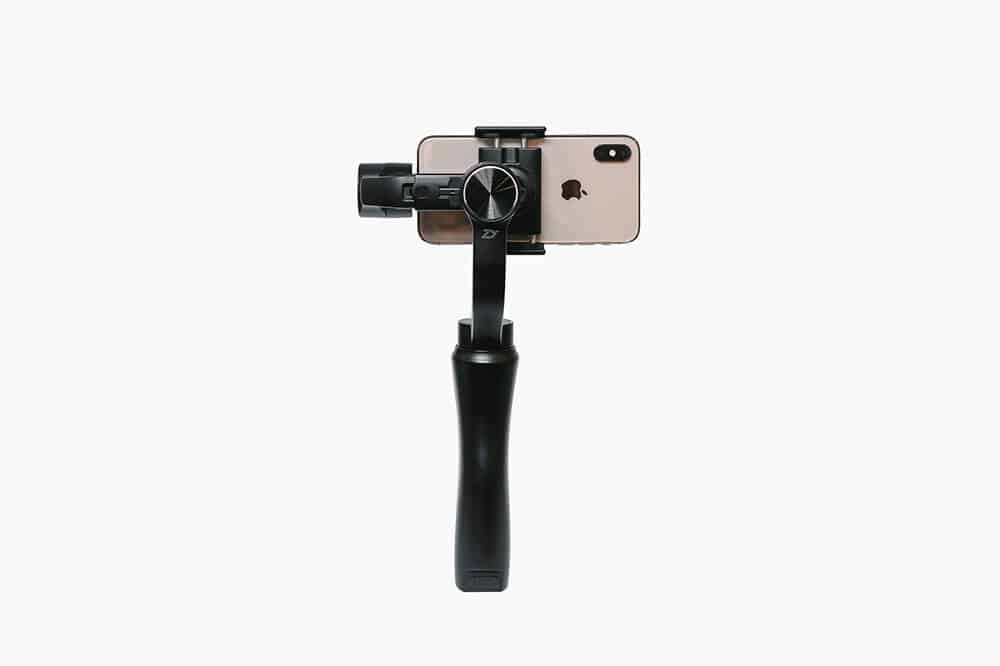 29. Phone Gimbal
Another one of the unique travel gifts that are usually useful if she likes to shoot videos on the road is a gimbal stabilizer.
This device is an electronic stabilizer that makes sure your videos (and photos) are perfectly still even if you're moving (ex. walking or running).
It's the perfect present for digital nomads or vanlifers!
Me and Al absolutely love to work with our DJI products.
So absolutely go for the newest and best gimbal on the market: DJI OM 5 Stabilizer.
Check it out here at the best price on the market.
30. Apple Watch
If you scroll up, you will see that I suggested an activity tracker among the many travel themed gifts for girls.
Yet the Apple Watch is much more than "just" an activity tracker.
Since when I got mine, I've noticed it has helped me more than I would've ever guessed.
An Apple Watch is great for staying focussed.
One of the most challenging things for many people (including me) is focussing.
Especially when you're working from home or on the road.
My Apple Watch keeps me focussed: I set my goals every day and it reminds me to stop procrastinating.
Also Siri is a great "online friend".
More often than not I do not bring my heavy business planner with me and thus I used to forget a lot of things.
Now I just ask Siri to add a few reminders throughout the day and I can keep track of all my appointments.
The new models will also help you to speak on the phone while your hands are busy.
There's no need to look at it, just keep working and talk!
All in all, the Apple Warch is in my opinion a great luxury travel gift for any girl.
Especially if they travel a lot for work!
Was this list of unique travel gifts for her useful? Let me know in the comments if she liked your present(s)!
Pin it for later!
This post is also available in:

Italiano