This post is also available in: Italiano (Italian)
There's a place in Naples where it's Christmas every day of the year. Via San Gregorio Armeno is in fact also known as "Christmas Alley". This world famous street is definitely worth a visit, and not only if you want to shop for an Italian nativity set! There are infact a number of Christmas gifts you might want to check out for yourself or your loved ones!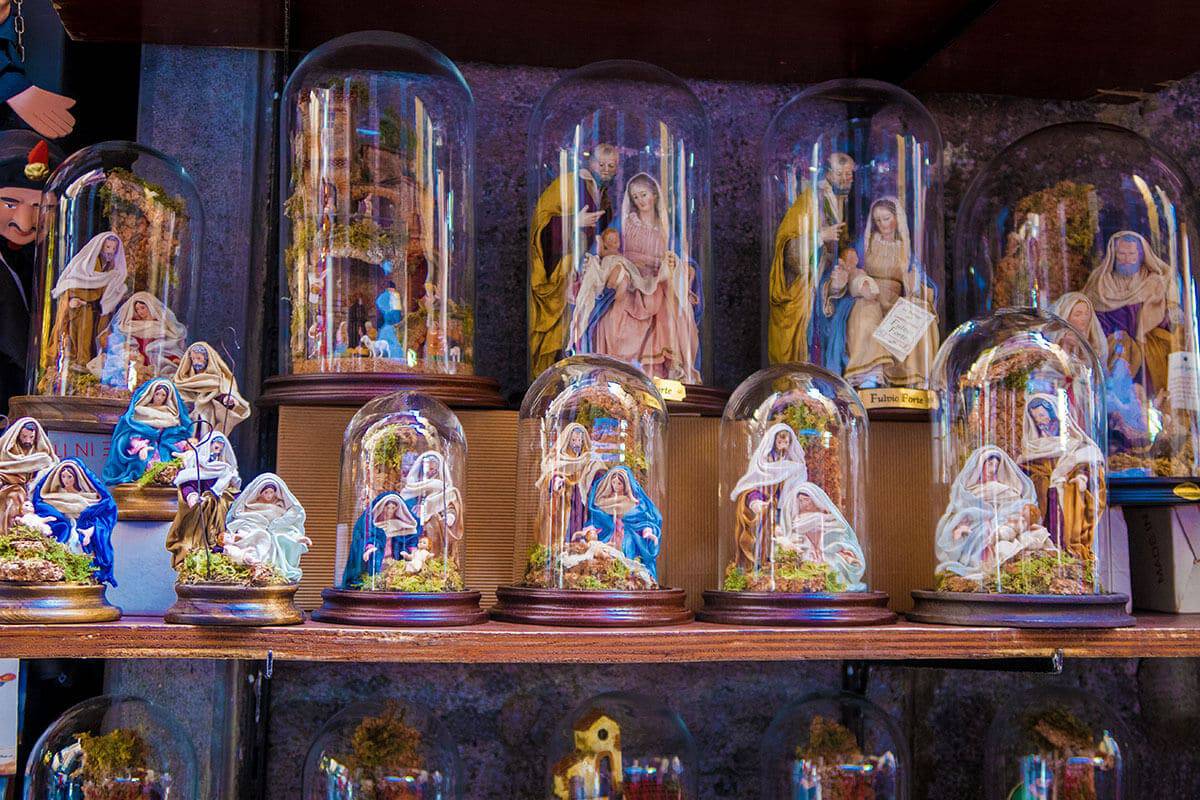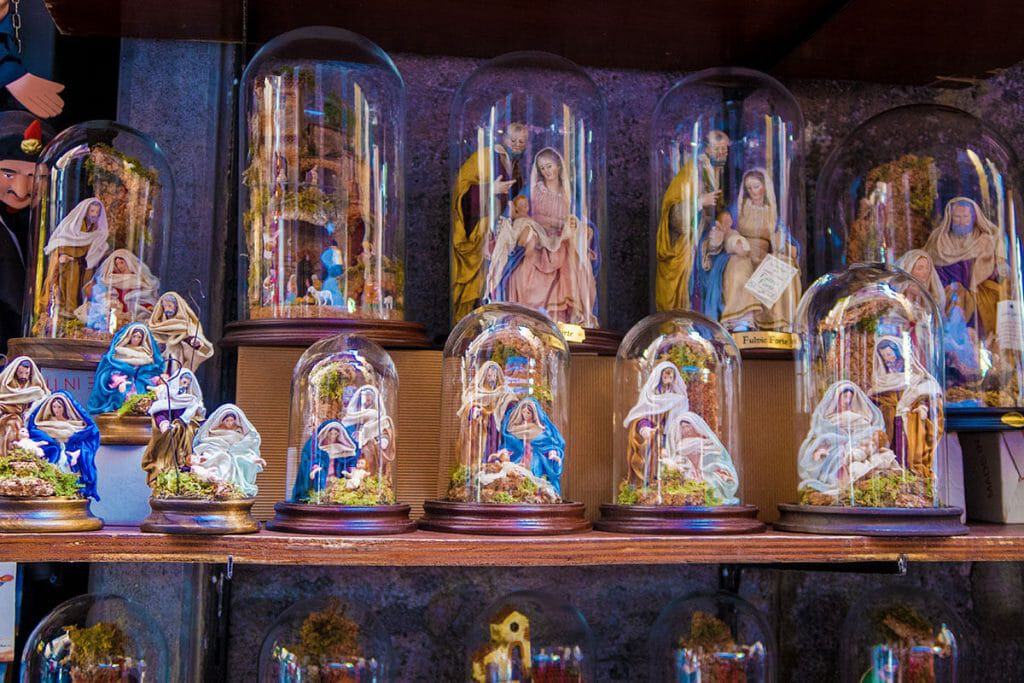 When people visit Naples, the sunny seaside city in the South of Italy, there are a few stops that generally are automatically added to every itinerary. A day trip to Pompeii, or even an Amalfi Coast road trip, if they really want to feel the vibe of our beautiful region.
Yet there's an ancient part of Naples that not many people know about. And those who have heard of Via San Gregorio Armeno, have no idea where is it or how to go there. If travelers are already scared about the Old Town, they might skip it because they think Naples is a dangerous city.
The good news is that you can definitely add it to your itinerary even if you are spending only one night in my city. If you read my one day self guided walking tour of Naples, know that "Christmas Alley" can be added to that one, or you can just plan a whole day just to discover the oldest part of Naples, stopping by a few museums and Churches and enjoying Naples cafe (hopefully you already read our guide to tipping in Italy so you know what to do and say), which is the best espresso in Italy!
Lodging in Via San Gregorio Armeno is not a good idea because during the Christmas festivities the area can be very crowded and noisy. If you're still looking for the best area to stay in Naples, look for lodging at Centro Storico, especially if you want to visit Christmas Alley. It's close by, cheaper and more quiet! Beware: if you're visiting Italy in winter and want to explore via San Gregorio Armeno, you will need to book your hotel well in advance!
If you do visit with your significant other, make sure to visit also the most romantic spots in Naples: they aren't too far away from San Gregorio Armeno!
Many people ask me if they should rent a car to visit Naples, but the truth is that you don't, especially if you're planning to visit the Old town and San Gregorio Armeno. Use the Naples Metro with its beautiful Art Stations in stead, so you won't have to stress out because of the (lack of) parking and traffic. As a bonus you'll also be able to see beautiful art museums for free in each station!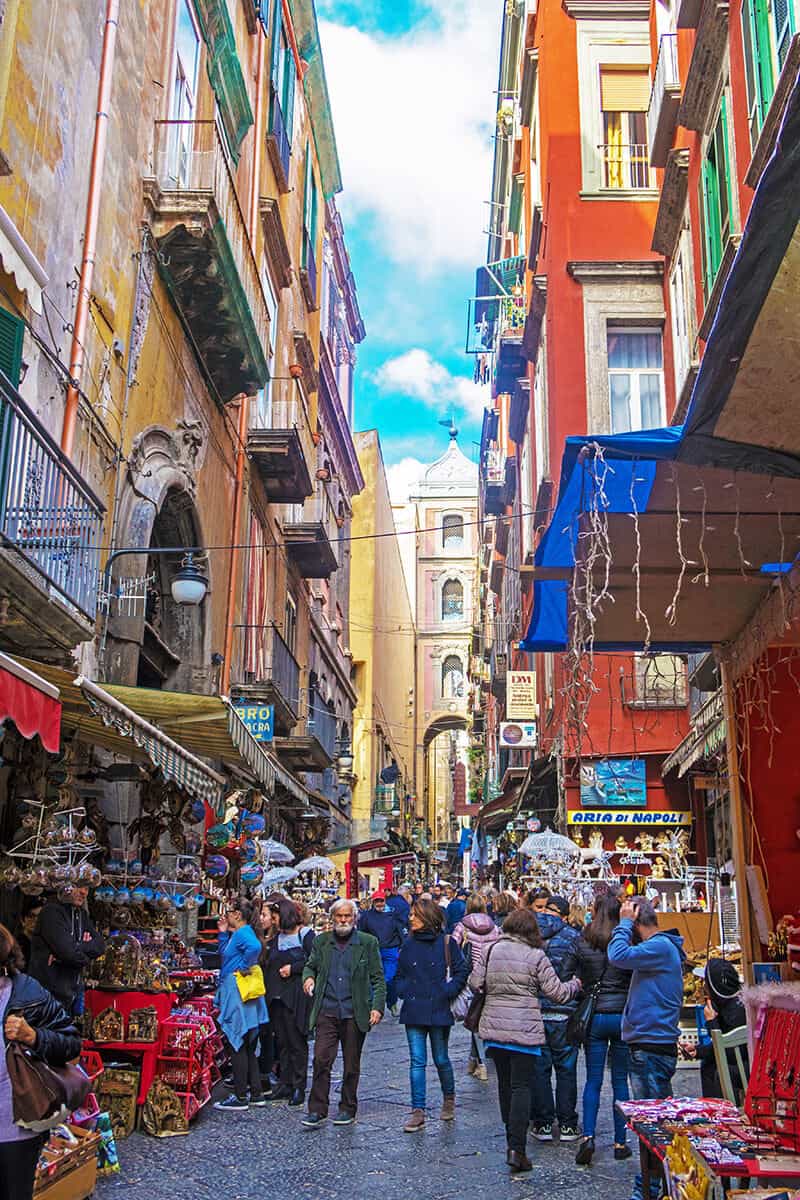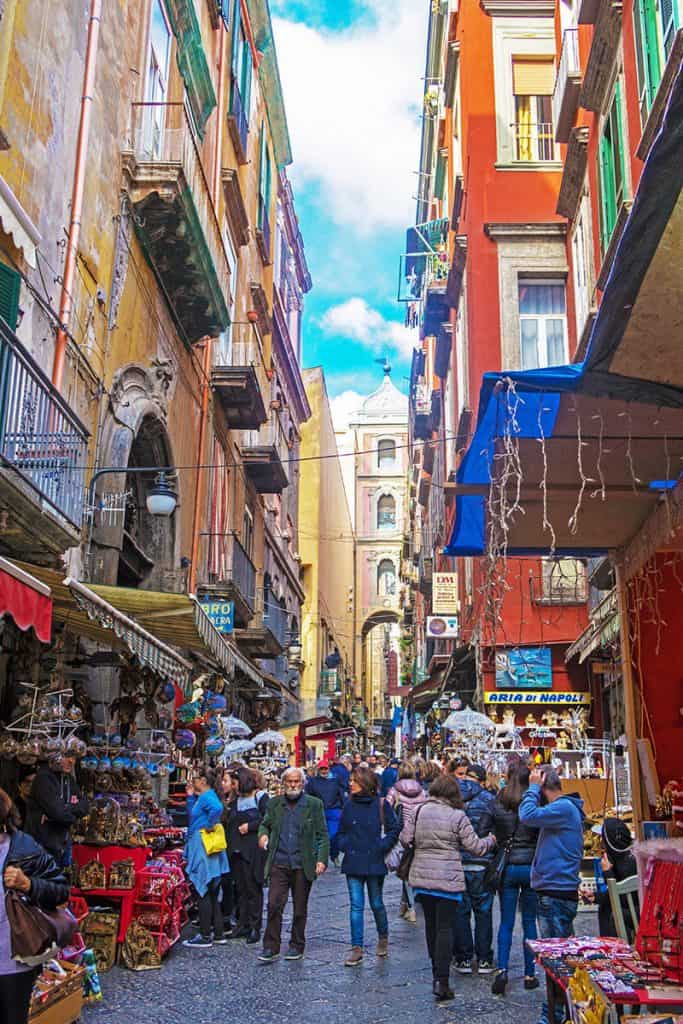 While I was cruising the Mediterranean on the Norwegian Epic, I met a British journalist who worked for The Guardian. All I heard from her, for the whole time, was an offensive series of clichés about Naples. Apparently I live in a city where solo female travelers are constantly in danger, because there are rapists hiding behind every corner. A city where we live suffocated by filth and garbage, and where they will steal everything you have if you only step out of your hotel.
Of course, the worst part of the city would be the historic centre of Naples, as the narrow streets are notoriously the place where the criminals live.
Do I really have to tell you how rude this was and how mortified I felt?
This kind of cliché is unfortunately very common and yet it's very offensive to think that even today it is used from journalists (and, sadly, also a few bloggers) who don't care about verifying the facts. The person I met refused to disembark in Naples because, according to her, there was nothing to see: the city was dangerous and she wasn't going to get robbed.
The worst part is that she tried to scare away other girls from our group and now I keep thinking that it's what she might be doing with her articles as well. Unfortunately a couple of them decided not to hike to Mount Vesuvius, influenced by this bad behaviour from the British journalist.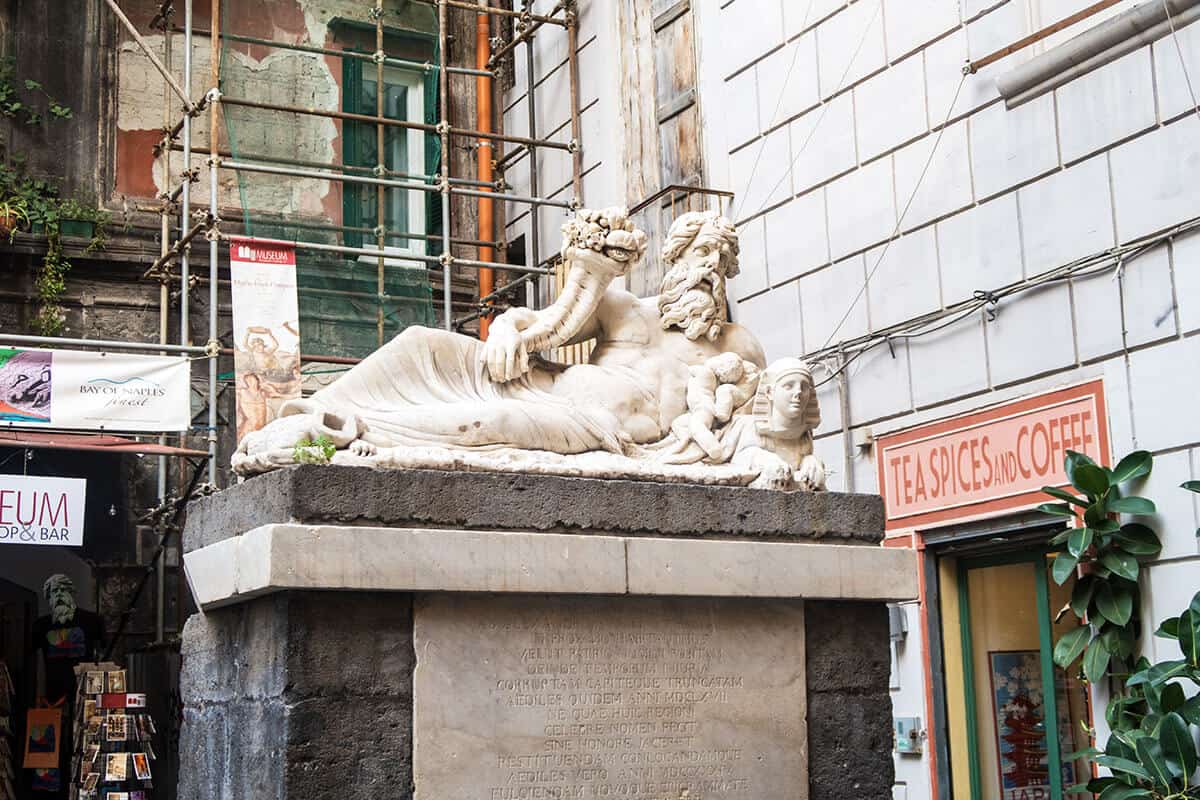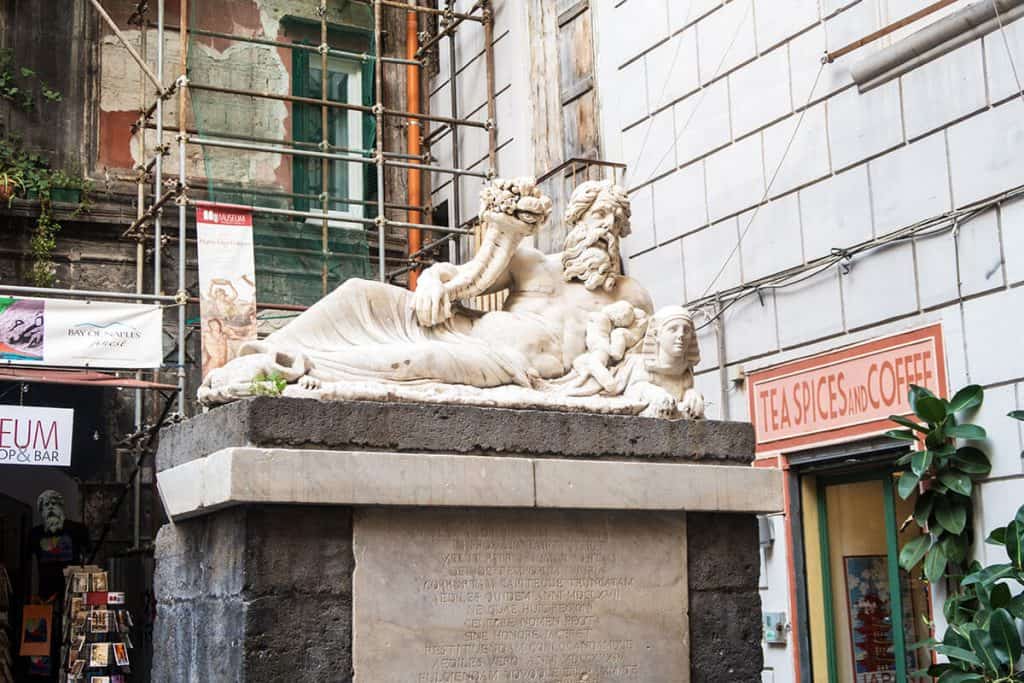 In the last ten years, more or less, Naples has completely changed. The city has had a very rough few years: who hasn't read about the garbage emergency in Naples? Yet if you visit now, you won't find rubbish and filth everywhere, as some media keep on saying, because they love the sensationalism more than the truth.
There aren't rapists waiting to jump on the solo female travelers, gosh, how can people believe that?
Of course, like every big city on this planet, criminality in Naples is a thing. You have to be street smart, especially in the crowded areas like Via San Gregorio Armeno, which is narrow and full of people. Pickpockets can be found everywhere, not just in Naples.
I like to think of myself as a wise (hopefully!) traveler: I watch my surroundings and avoid to wear expensive jewelry when I'm visiting an area I don't know much about. Not only in Naples, but everywhere I go. Does it mean that every place I've visited is dangerous?
There are many interesting things to see in Naples: don't let the bad press scare you!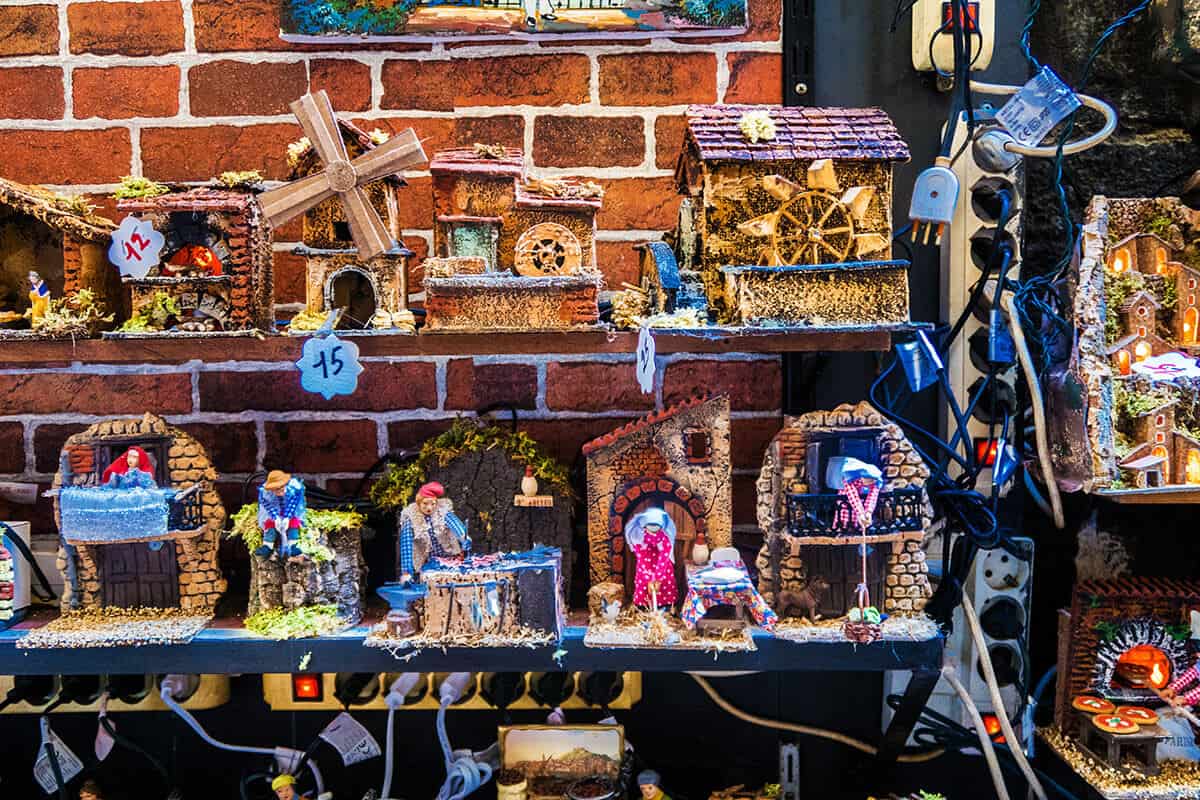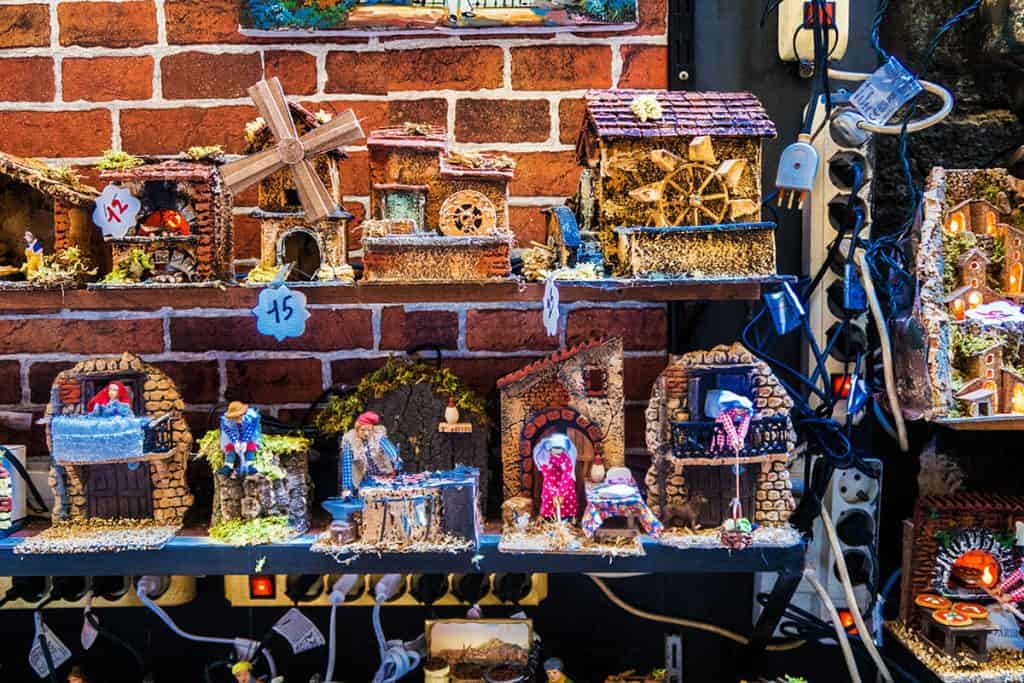 How to get to Via San Gregorio Armeno
Naples is a pretty ancient city. The historic center, a UNESCO World Heritage Site, includes the Decumani, three roads built in the VI century b. C. They are the Decumano superiore, the Decumano maggiore and the Decumano inferiore. All of them include a high number of historical buildings where the aristocracy used to live, archaeological sites and ancient Churches.
Via San Gregorio Armeno, also known as the street where the artisans build the beautiful Italian nativity sets, connects the Decumano maggiore (via dei Tribunali) and the Decumano inferiore (via San Biagio dei Librai). If you are already in the area you'll have to walk one of those streets to reach via San Gregorio Armeno.
If you are at Piazza Garibaldi, near the Central Station, you'll have to cross the square and go to Corso Umberto (which we call "Rettifilo"). Unless you'll stop at each and every one of the very nice shops on this street, it'll only take about ten minutes to get to Spaccanapoli (Decumano inferiore) or via dei Tribunali (Decumano maggiore). From there, as I already mentioned, you just have to walk all the way to Via San Gregorio Armeno.
If on the contrary you prefer to use the metro, from the Central Station in Piazza Garibaldi you can take the Line 1 to Piazza Dante. Once outside, walk to Port'Alba and from there you can easily reach via dei Tribunali. In this case, you will find more practical (and save money) to buy the daily ticket TIC Napoli Urbano. It costs 4,50€ and you can use it to move through the city for the day. It includes unlimited usage of public transport in Naples.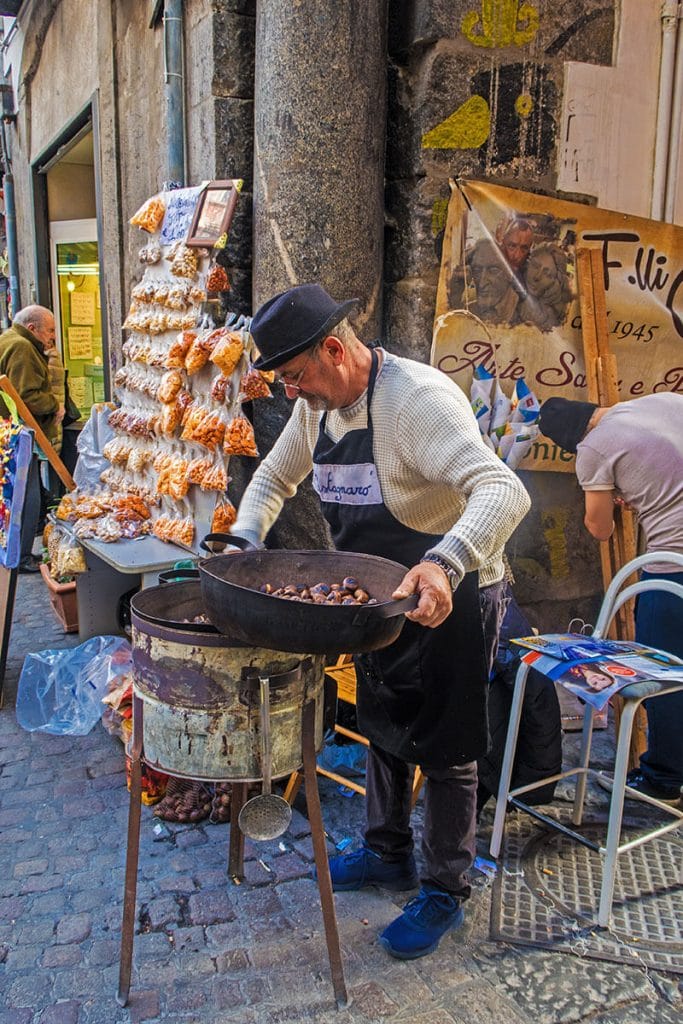 The story of "Christmas Alley"
As you probably already know, Via San Gregorio Armeno is a narrow, long street in the heart of Naples. Here you will find all the artisans who still craft the famous Italian nativity sets, what we call "presepe", using traditional techniques.
During the Roman Empire, in this street there was an ancient temple dedicated to the goddess Ceres, who was believed to protect the fields and agriculture in general. Neapolitans brought ex-voto (votive offerings), little terracotta statuettes made in the little shops in the area, to this temple.
Later on, the San Gregorio Armeno Church was built on the temple ruins, but it seems that the first Nativity set was only built by the end of the seventeenth century. It was then that San Gregorio Armeno was labeled as the street in Naples where they make presepi.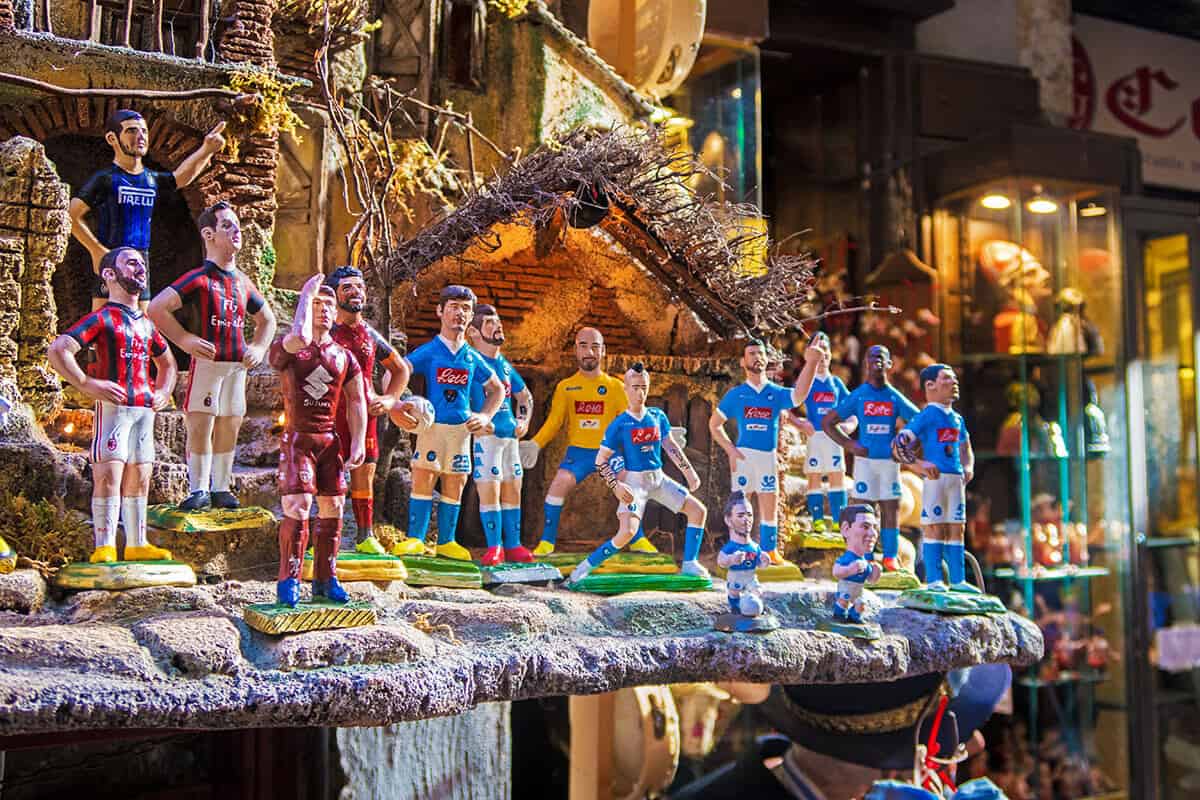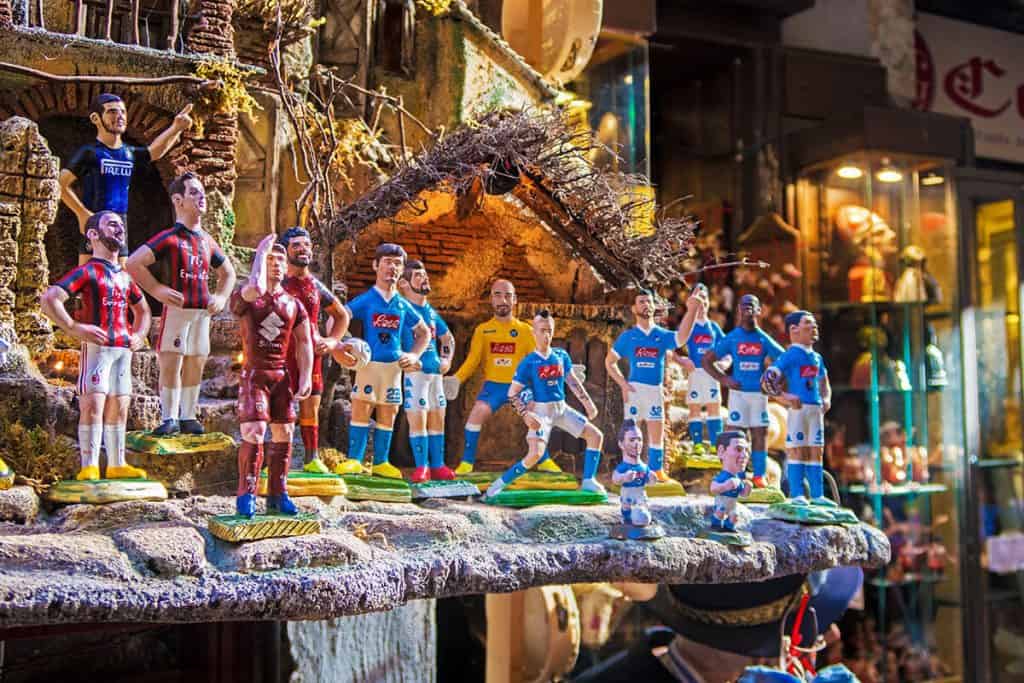 The Neapolitan "Presepe"
Describing via San Gregorio Armeno to someone who doesn't live in Naples isn't easy. That's why we added the video on the top. If you get there not knowing what to expect, you could feel overwhelmed by the many stalls, the thousands of Italian Nativity sets everywhere, the colorful shops, the Christmas lights… and the many people from all over the world.
Other places have "regular Christmas markets". Via San Gregorio Armeno in a way is Naples Christmas Market, but there's a lot more to that.
Next to the statuettes and the nativity scenes, it's particularly common to notice something that generally shocks so many tourists. There's a distinctive Neapolitan trait to our presepi, that you won't find anywhere else in the world. They mix sacred and profane. Via San Gregorio Armeno tradition in fact is to craft statuettes representing the protagonists of the year: politicians, socialite, movie stars and sports champions.
You will find Donald Trump and Kim Jong-un next to a nativity scene, maybe not too far away from Angela Merkel and Theresa May (of course Pier Silvio Berlusconi is always present, in different poses too). Weird? Maybe, but it represents perfectly the complexity of Naples.
Every year there are dozens of statuettes with a blue shirt and white shorts. The S. S. C. Napoli is our football team and our artisans craft statuettes for the whole team… of course they never miss the chance to mock the players who have "betrayed" the team and the whole city, by moving to another team. Naples and the S. S. C. Napoli are basically the same thing!
Sacred and profane represented in the Italian nativity sets are just another way to show how ironic and creative are the Neapolitans. A few artisans are now only crafting specific faces and know how to feel the pulse of the world, transforming news and world events into statuettes.
Another character you'll find everywhere in via San Gregorio Armeno is Pulcinella. The symbol of Naples is a theatrical mask, a metaphor of a population who's had enough of tyranny, but also a buffoon, the emblem of being a Neapolitan. You will find lots and lots of statuettes, and he's often represented with other symbols of Naples like the red horn (which we call "o'curniciell"), espresso coffee, because here espresso is a serious matter, and the number 13. Full disclosure: in Naples we're very superstitious!
As you probably saw in the video already, the presepe artisans in Naples often craft animated statuettes. This kind of craft takes more time, and the results are incredible, especially because the statuettes are very detailed. You can find washerwomen, pizza makers putting their Neapolitan pizza in the oven, a creek where there's real water, a blacksmith hammering on the anvil and many more.
There are expensive animated statuettes and the less expensive ones. Which doesn't mean they aren't beautiful: they just use different materials. The artisans always try to make something for every pocket.
This means that unless you plan to make a completely animated nativity scene (but that would be also expensive because of the electricity bill), you can add a couple of animated pieces to your set. The smaller ones cost about 15€ so it's definitely affordable!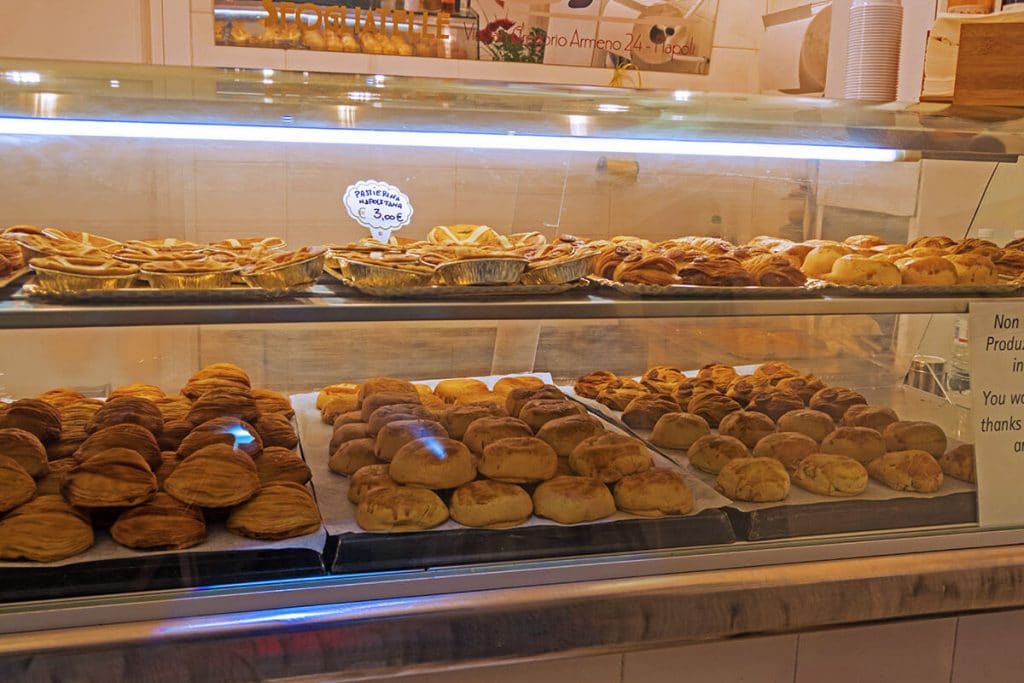 Street food and Neapolitan cuisine (eat on a budget)
In Naples we have a way to turn even the most elaborate Italian dishes into street food. This is particularly true in Via San Gregorio Armeno: a visit here wouldn't be complete without a mini food tour that you can do on your own, and it includes most of the iconic foods of Naples we already talked about. Remember to go there very hungry because with just a few Euros you will be able to buy the most traditional and delicious food, off the beaten path and away from the tourist traps.
Pizza "a portafoglio" ("Wallet" pizza)
Neapolitans love it. We really do. I still remember when I was a kid and I went with dad to buy fresh fish at the fishermen's market. There was no way I'd get back home without having had a pizza a portafoglio (it costed 1.000 Lire, which correspond to today's 0,50€ more or less): it was warm and delicious, my treat for when I had a lunch "date" with my dad!
Pizza a portafoglio is a smaller pizza margherita (tomatoes, basil, olive oil and mozzarella cheese) cooked in a wood-fired oven. Once cooked the pizza maker bends it in the middle, then bends it again, just like you'd do with a wallet. It's an iconic street food in Naples that you can buy in Via San Gregorio Armeno and the Decumani area (also in other places of course, but here you will spend only 1,50€!).
Because it's street food and it's not that much fun to burn yourself with a huge drop of scorching hot  tomato sauce, on pizza a portafoglio you won't find as much tomato and mozzarella cheese as a regular Pizza Margherita. Trust my word: you won't even notice the difference!
You might also like:
Insider tips for visiting Italy in winter
What to pack for a trip to Europe in winter
Why Prague in winter is absolutely amazing
Italian Christmas food you never knew existed
How to visit Vienna Christmas markets
The best of Bratislava Christmas market
15 awesome trip ideas to visit Europe in winter
Where to find the most amazing Christmas markets in Europe
Incredible travel gift ideas for women – have a smart Christmas!
20 awesome Christmas markets in Italy
Neapolitan "cuoppo"
We already talked about cuoppi that you can eat in Naples: they are paper cones full of delicious deep fried food. There are several shops that sell them both in Via San Gregorio Armeno and the Decumani area. The price changes according to what fills the cuppo. We've seen sweet ones, with deep fried pastry and nutella, but also fish cuoppo (with shrimps and squib), anchovies or even just fries with pieces of wurstel.
Taralli
In Via San Biagio dei Librai there's a nice new shop: the Taralleria Napoletana. The owner is Leopoldo Infante, who has been making taralli since 1940 and guarantees for the quality of the product.
There are several kinds of taralli, from the vegan option to the whole wheat ones, from those with "friarielli" (they're oh-so-good!) to the traditional ones, up to the spicy kind with "soffritto" (a particularly spicy traditional tomato sauce).
The price is very low, you can buy one for only 0,50€ and they aren't just a nice snack to go. In fact they have fancy boxes that you can fill with all the taralli you want: they make a great souvenir you can bring back home or a nice present. In Naples we are giving them to friends and relatives in stead than chocolates, for example when they invite us over for dinner. Everyone loves taralli!
Panino with ragù
If you are very hungry and you want to taste a piece of the traditional Neapolitan cuisine, you can stop at Tandem d'Asporto in Via Mezzocannone 75. This shop is entirely dedicated to the tomato sauce that is the symbol of Naples in the world: ragù.
They make something that generations of grandmothers and mothers here have prepared for their grandkids or children. Bread with ragù, or, as we say it in Naples "Cuzzetiello col ragù". It's the bottom end of a Neapolitan loaf of bread. We remove the soft inside and we fill it with warm ragù and sometimes with homemade polpette (meatballs).
With only 3/4€ you can eat this delicious street food, tasting the pillar of the Neapolitan cuisine. Tandem owns several restaurants and to go shops in Naples, and all of them are specialized in dishes with ragù. At Tandem d'Asporto you will thus find also pasta with ragù for about 5€.
Why is ragù so good? It is prepared with the traditional recipe, so boiled for 6/8 hours, then left alone for one night and warmed up the following day. It is always served very hot: if you are around, it's mandatory that you taste this!!!
Sfogliatelle e pastiere napoletane
At Sfogliate e Sfogliatelle in Via San Gregorio Armeno you will find delicious Neapolitan sfogliatelle. Next to the traditional ones, they also sell those prepared with an ancient recipe: Croce di Lucca.
There's no ricotta cheese inside but semolina, nuts and almonds. The recipe was written in 1624 from nuns at the Convento della Croce in  Lucca, and it was then sent to the nuns in Amalfi. It has been found again after centuries and the Croce di Lucca is now baked and sold only at this shop in Via San Gregorio Armeno.
Here you will also find small "pastiera napoletana", which is a cake made with pastry filled with wheat, ricotta cheese and eggs. It's traditionally baked for Easter but at Sfogliate e Sfogliatelle they bake them all year long!
You might also like:
A taste of Italy – The best regional food in Italy
Italian Christmas food you should eat on your next trip to Italy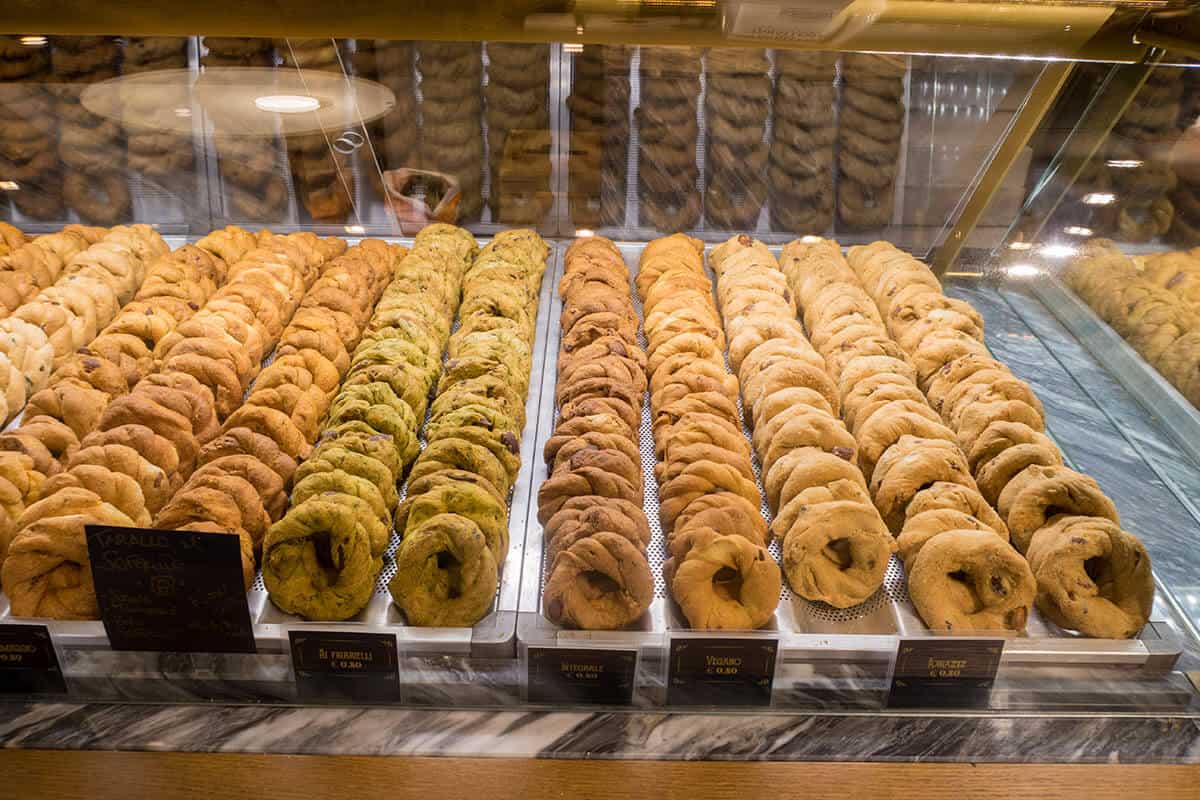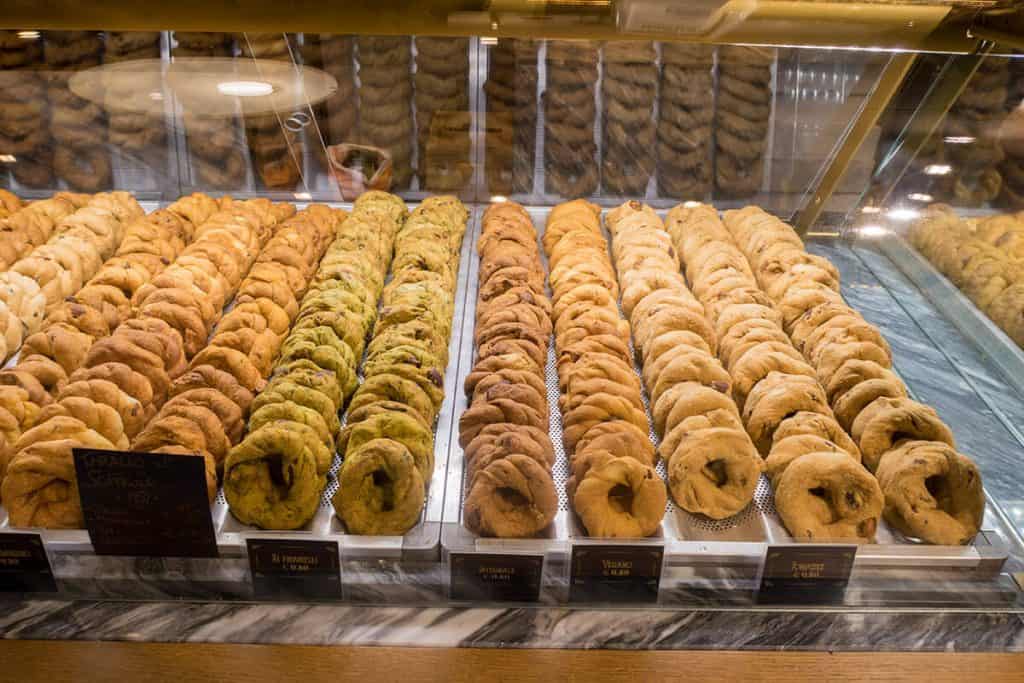 When should you visit Via San Gregorio Armeno?
The artisan shops in Via San Gregorio Armeno can be visited all year long. That's why people call this place "Christmas Alley": there's a little Christmas village always open in the heart of Naples. Yet every year in November there's an official "opening" ceremony that launches the Christmas Season. The Naples Christmas lights are lit and the street gets all its nice seasonal decorations.
The shops open generally from 9:30 am to 8 pm, but during the holidays opening and closing times are subject to change. It's not uncommon to find shops open at 10 pm.
People often ask me when they should visit via San Gregorio Armeno. As a local I can only tell you that this narrow street becomes a nightmare in December, especially in the evening. There are thousands of tourists and it's impossible to shop properly. I've been there in December more than once and I remember the claustrophobic feel of people pushing and pressing: never again!
If you are visiting Naples in December, you can still try to go to via San Gregorio Armeno in the morning when the artisan shops open. It's way less crowded! You won't be able to see the Christmas lights but there are better places in Naples where you can go for that!
Me and Aldo generally like to take a walk through the Decumani and Via San Gregorio Armeno in October or during the first days of November at the latest, to get a first taste of Christmas without the huge crowds.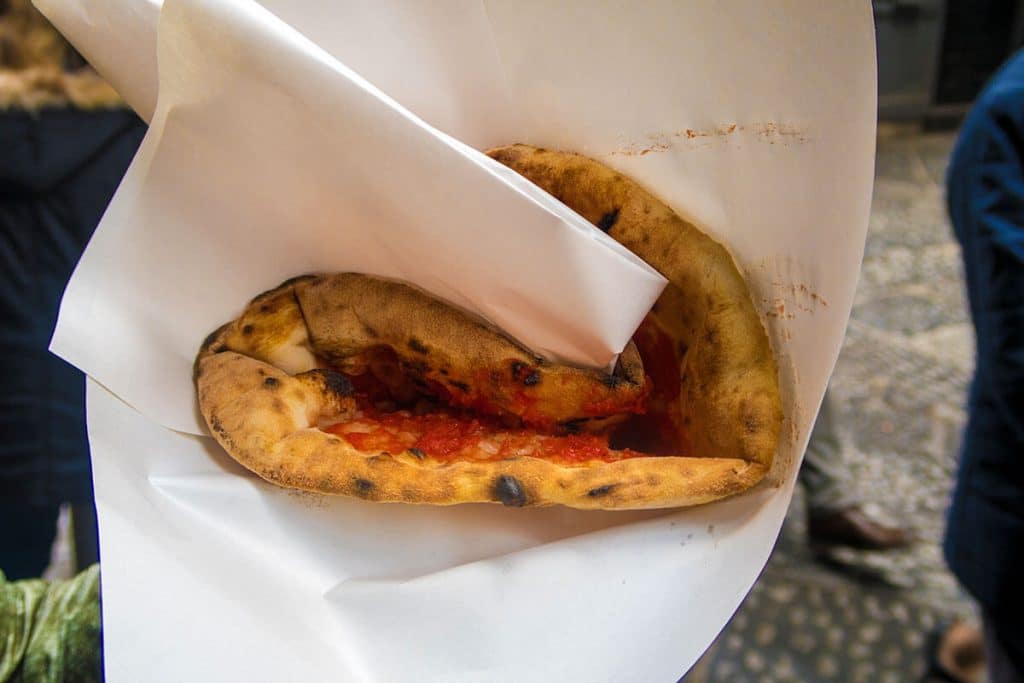 Curiosities and Folklore at Via San Gregorio Armeno
The football player from Argentina, Diego Armando Maradona, will forever be the favorite champion for every Neapolitan out there. He's never been forgotten: Naples "adopted" Maradona and even so many years after he's left in Via San Gregorio Armeno and the historic centre of Naples you will find things that celebrate his greatness.
In many artisan shops there are old shirts of the S. S. C. Napoli with Diego Armando Maradona's autograph, or memorabilia and framed newspapers that report the news of when our team won the Italian championship (in 1987 and 1990, both with Maradona).
Right after Piazzetta Nilo, you will even find a small altar that has since become a point of interest for Neapolitans and tourists alike. In a glass case there's a hair that people believe was pulled from Maradona. In the past there were supporters of the S. S. C. Napoli coming here to "pray", like this was a religious relic. They asked for miracles… The team absolutely had to win that important match!
"El Pibe de Oro" (golden foot in Spanish, as Maradona is also known in Naples) has become one with the city and even today he's a legend in Naples.
Just think that there are supporters from abroad who visit every year for a tour of Maradona's "relics" in Naples: if you visit and just mention "Maradona" or "Diego" (he's part of the family here), be prepared to hear a lot of enthusiast ramblings about the champion. And it doesn't matter if you don't understand a word of what the Neapolitans are saying. They'll find a way to make you understand!
You might also like:
What to eat in Naples
Naples neighbourhood guide – where to book your hotel
The best 45 things to do in Naples
How to spend one day in Naples
Naples cafes and how to drink espresso
Is Naples really dangerous?
Pompeii travel guide from a local
Riding the art metro in Naples 
Hiking Mount Vesuvius – how to get there
How to visit Naples Christmas Alley
20 best destinations in Europe for a fall trip
Pin it for later!