This post is also available in: Italiano (Italian)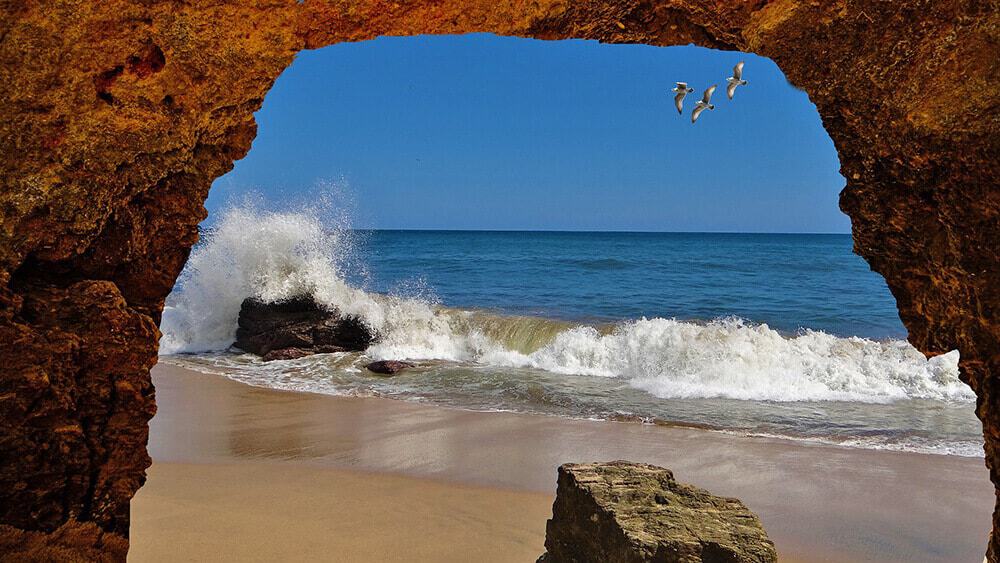 The Amalfi Coast is visited every year by over 5 million people: it's one of the must see destinations usually added to every itinerary for a trip to Italy. Famous for its winding roads, mouth-watering Italian cuisine, movie sets and breathtaking natural landscape, it can also be one of the most expensive and crowded places… ever. Finding where to stay on the Amalfi Coast should be your number one priority, whether you're renting a car or not. What you might not know, in fact, is that each and every one of the Amalfi Coast towns has a specific culture and unique identity, despite existing shoulder to shoulder for hundred of years. Some travelers might be looking for instagrammable spots and a lively nightlife, some others for a secluded spot. You need to be careful with your choice, especially if you intend to visit all the best beaches on the Amalfi Coast. Some of them are quite hard to reach! Accommodation here ranges from luxury hotels to family owned B&Bs. The secret to enjoying your Amalfi Coast vacations is finding the village that best fits your style: being a local, I think I can help with that. Let's go find the best places to stay on the Amalfi Coast according to your needs and budget!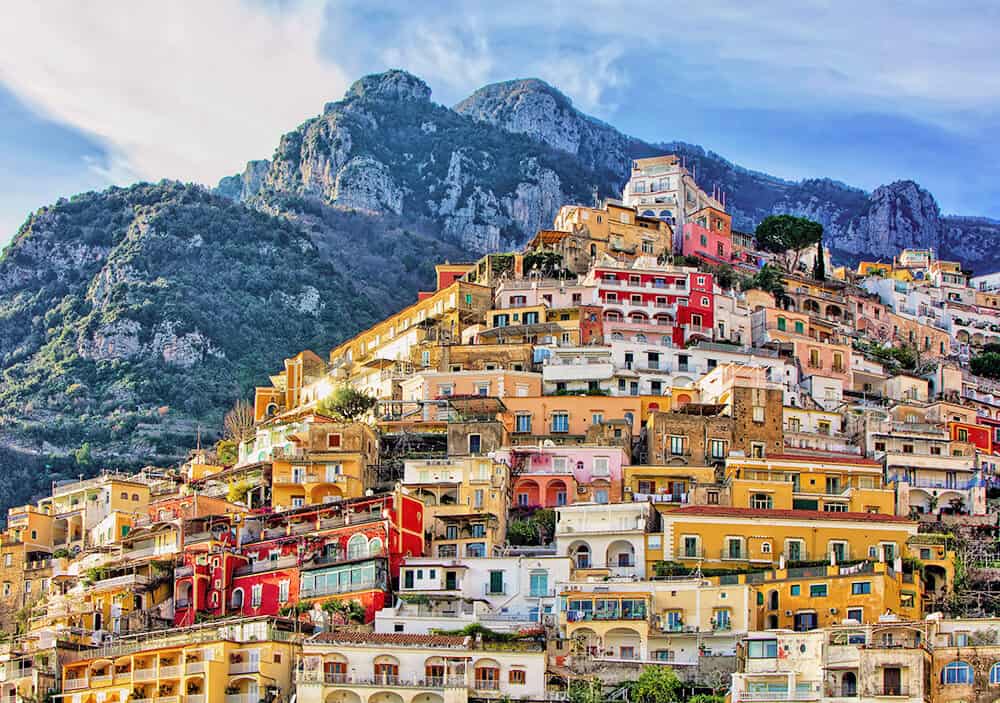 Where to stay in Positano – livin' la vida loca
Positano is probably the most famous town on the Amalfi Coast, thanks to the pastel-colored houses that spill down the cliff into the sea. It is also known as the "vertical town". Once you get down to the beach, you need to hike back up and it can be hard!
From April to October there's a special ferry from Positano, so it is a great option if you're also planning a day trip to Capri.
If you are renting a car, make sure you find one of the top hotels in Positano that also offer parking discounts or parking spots. You can't use your car in most of Positano anyway!
One of the popular activities in this colorful town is to buy handmade sandals (you can find some amazing ones at Artigianato Rallo or La Botteguccia) and locally crafted goods like ceramics or limoncello as souvenirs from a wonderful trip to Italy.
Positano is the best town to stay on the Amalfi Coast if you want to try the sweet, Italian life. You might meet celebrities, there are a lot of amazing instagrammable spots and the food is to die for. It has at least three awesome beaches, and from April to October you can plan day trips and tours to explore the islands.
Yet it might not be for you if you don't like the crowded, touristy spots. Accommodation is also pretty expensive, more than the other towns on the coast… the same goes for clubs and restaurants. There are also lots of stairs between you and the beach: take it into account!
In case you decided you want to give it a try, here are the best places to stay in Positano:
Where to stay in Amalfi – icy limoncello shots!
Amalfi is the largest town on the Amalfi Coast. It's very famous in Italy and abroad for its Limoncello. This delicious liquor is made with lemons harvested in the Amalfi gardens and fields.
Packed with historical interest and beautiful medieval buildings, Amalfi is right in the middle of the coast. The perfect base for easy day trips! If you hop on the bus to Sorrento (then you'll have to take the bus to Napoli) you can spend one day in Naples and maybe another one to Pompeii Archaeological site.
In case you have a sweet tooth just like me, head over to Pasticceria Pansa, and sit outside in Piazza Duomo. They make a delicious "Delizia al Limone", a fresh and yummy lemon pastry. Another great pastry shop is Pasticceria Leone, which serves also icy shots of limoncello.
Amalfi is the perfect place to stay if you want the luxury and beauty of Positano without the expensive prices. It's one of the liveliest towns on the Amalfi Coast, and a major intersection for nearly all the buses, boats and ferries shuttling tourists between islands and towns. If you love art and history, mixed with beautiful beaches and great food, by all means, book a room at one of the Amalfi town hotels!
The cons are that Amalfi is just as crowded as Positano, especially in high season. Parking is almost as expensive as in Positano, yet the bonus is that there are more parking spots, and you can use your car in most of the town.
The best hotels in Amalfi that you can book for a dream trip to Italy are:
Where to stay in Sorrento – the gateway to the Amalfi Coast
Sorrento isn't officially one of the towns on the Amalfi Coast, but it's the easiest town to reach from Naples. There is in fact a direct Circumvesuviana train from the Stazione Centrale in Naples (Piazza Garibaldi). Also named the "gateway to the Amalfi Coast", it's a quite large city built right on top of steep cliffs. The fact that there's a direct train connection makes it absolutely easy to plan day trips to Naples, Pompeii and Herculaneum, but it's not all. Sorrento is in fact also the perfect starting point for day trip to the islands in the Gulf of Naples.
It is thus a good place to stay for a wide-ranging holiday in which you can visit many of the surrounding areas. In case you are renting a car, Sorrento has many parking spots and it will be easy to drive around.
Yet you need to be aware of the fact that Sorrento is pretty crowded in high season, especially because it's a cruise ship port. It's also not very close to the Amalfi Coast towns. Whether you're driving or riding a bus, it might take you hours to get to Amalfi or Positano, especially if you visit from May to August due to the traffic on the main road.
The best hotels in Sorrento are:
Where to stay in Ravello – for the romantic ones
Ravello is a tiny village is set back from the shoreline, located atop a cliff overlooking the sea. It doesn't have direct beach access, and is sadly famous among us locals because there's barely a few parking spots outside the city (which are also pretty expensive). This village, a romantic and peaceful enclave, has all the glamour and affluence of the nearby towns during the day, turning into some sort of fairytale village at night, when most of the tourists leave.
The views from Ravello are spectacular. It is one of the best places to stay on the Amalfi Coast if you want to take a break from the crowds. The view from Villa Cimbrone alone is considered to be one of the most spectacular in the world. And if it looks familiar, it's because it was featured in the Wonder Woman movie, with quite a few scenes filmed on the infinity terrace at Villa Cimbrone! Even many writers such as Gore Vidal have visited the gardens and claimed that it helped them to feel at peace with the world.
Another bonus is that within walking distance you will be able to access several hiking trails, if you want to explore the off the beaten path areas on the Amalfi Coast.
The cons of staying in Ravello are that it's up the hill, so you will have to hike back to your hotel every time you go out, and it's difficult to get to the beaches. There's only one bus that gets up here and either taxis or shuttle buses are quite expensive (besides they probably won't be able to drive you to the door of your chosen hotel).
Yet if you're looking for a romantic hideaway on the Amalfi Coast, here are the best hotels in Ravello:
Where to stay in Praiano and Conca dei Marini – beaches galore
Praiano and the tiny Conca dei Marini are often overlooked. These two towns on the Amalfi are located halfway between Amalfi and Positano and are usually loved by the couples who want to enjoy a romantic trip to the Amalfi Coast. From Praiano you can in fact see Positano and even Capri: the sunsets are gorgeous. Once a fishing village, Praiano looks a bit like Santorini, with lots of cute white houses… and lots of stairs to get to the beach!
Only about a hundred people live in the cottages on the cliffs at Conca dei Marini. They guard the legendary Grotta dello Smeraldo (Emerald Grotto), a partially-submerged cave filled with beautiful, green light, that people often compare to the Blue Grotto in Capri. Even if it's a tiny village, Conca dei Marini has its own dessert (among the things you can eat in Naples as well) known as "Santa Rosa". It looks like a sfogliatella riccia, so it's crunchy and delicious, but it's not covered in powdered sugar. You can recognize a Santa Rosa because it's decorated with custard and cherries in syrup.
Both towns are known for its charming little beaches, and the fact that they are way less crowded than Positano and Amalfi. They will let you soak in the small-town atmosphere, allowing you to mingle with the locals. Another good point is that while accommodation ranges from designer chic to modern holiday villas, it's still less expensive than the other Amalfi Coast hotels. You do have access to a lot of lovely beaches in Praiano and Conca dei Marini, as well as the chance to hike in the area.
The negative points of both cities are that you will absolutely need a vehicle to get around. Positano, the closest town with a good connection to the main boat lines, is 10-15 minutes away. In high season the local buses fill up to the brink pretty quickly (it's not uncommon to find quite a line just to get on the bus) and you might need to wait for a long time for one because of the traffic jams. Another point you absolutely need to take into account is that there are lots of stairs to get to each one of the cute beaches. Also both Praiano and Positano only have pebble beaches with a rocky and steep coastline.
If you have decided, here are a few suggestions for your Amalfi Coast vacations in Praiano and Conca dei Marini:
Where to stay in Maiori and Minori – stuff for foodies!
Maiori and Minori are the "twin towns" on the Amalfi Coast. They share the same main street, and you wouldn't know where one ends and the other starts! Another thing they share is a long stretch of sand, the longest beach on the Amalfi Coast (there's yet another one in Maiori but it's only accessible by boat). This long beach is flat, accessible from the street (no stairs, yay!) and family friendly.
I always tell my friends to find lodging in Maiori or Minori when they visit the Amalfi Coast. Hotels are in fact way cheaper if compared to the expensive ones in Positano or Amalfi. Usually from June to early September there's a quite nice "summer bazar" on the seaside road that connects Minori and Maiori. You can find street food (with local delicacies like fried anchovies), but also souvenirs, shell necklaces, sundresses and more.
Minori is notable for being an ancient Roman settlement and home to spectacular ruins, especially the Villa Marittima Romana, one of the most important archaeological sites on the Amalfi Coast. From Maiori you can also take a boat tour to the Grotta di Pandora, a stunning sea cave.
Minori enjoys a fresher microclimate than many of the other towns on the Amalfi Coast, as it's always blessed with a pleasant breeze. Known as the "city of taste", it has vineyards, lovely lemon trees and it produces some of the best pasta in the South of Italy.
Both Minori and Maiori are usually way less crowded than the other popular towns. They are a good choice also if you're traveling with children or if you want an easy-to-reach sandy beach. The foodie travelers will love all the good restaurants in Minori and Maiori. Starting with the king of the Amalfi Coast: Sal De Riso. One of the most popular confectioner in Italy has a shop in Minori. It looks like a pastry boutique, every little pastry is always colorful and bursts with flavour. Sal has his own lemon orchard that he uses to produce amazing Delizia al Limone, also sold in many popular restaurant in Italy! Once you're there, try to eat his "Melanzane al cioccolato". While you might probably be terrified of trying the combo eggplants with chocolate, it is a local treat (specifically from Minori) and surprisingly good because Sal De Riso uses his grandmother's recipe!
The downside of staying in Minori or Maiori is that the towns are pretty far South. It will take you about one hour to get to Positano. Yet you won't need to get so far if you just want to visit Capri, because from April to October there's a direct ferry also from Minori.
If you are looking on where to stay on the Amalfi Coast and want a practical, budget option, here are my suggestions for Maiori and Minori:
Have you decided where to stay on the Amalfi Coast? If you're visiting our Country, please, make sure you know the tipping rules in Italy so you won't be rude to the locals!
Pin it for later!