Discovering the 23 Best Things to Do in Positano: Your Essential Guide
This post includes affiliate links. As an Amazon Associate, I earn from qualifying purchases. Full disclosure.
Discover the best things to do in Positano with our ultimate guide. From stunning beaches to scenic hiking trails, our comprehensive list of top activities and attractions has got you covered!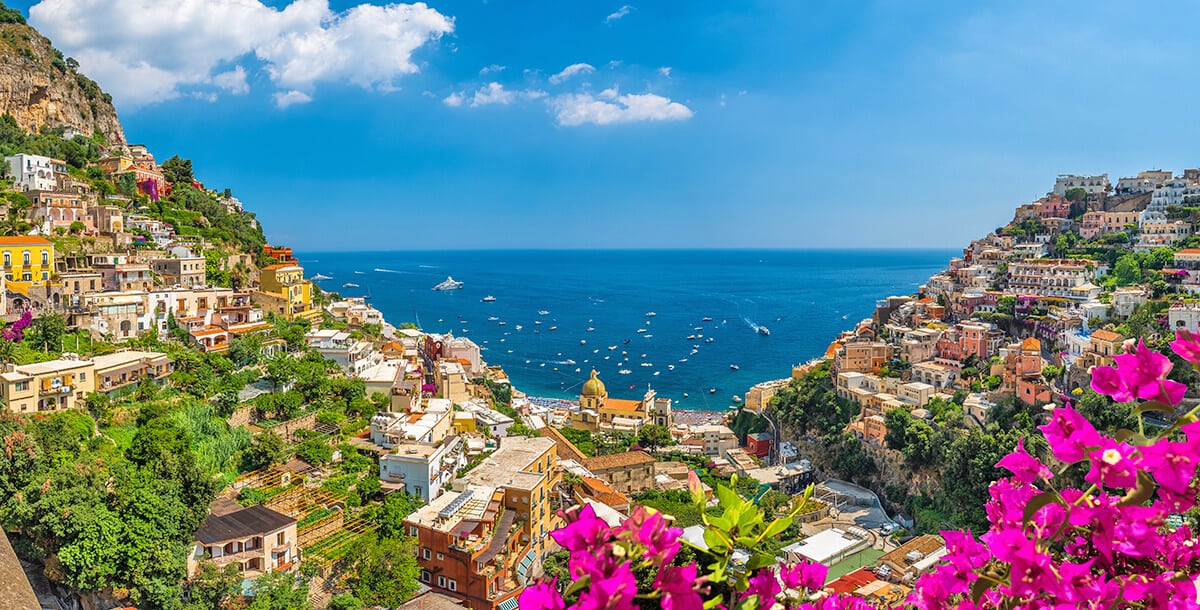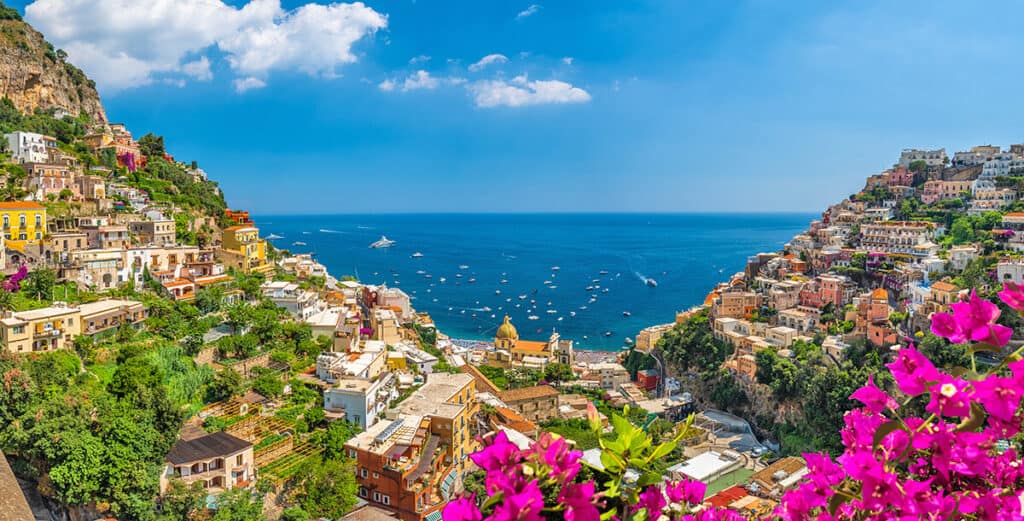 Positano, a stunning coastal town on the Amalfi Coast, can be a bit overwhelming. That's why I decided to put together an authentic guide, written by someone like me who lives in the area. I included all the best things to do in Positano. From exploring hidden beaches, to hiking scenic trails. Whether you're a first-time visitor or a seasoned traveler, my guide will help you make the most of your time in this beautiful coastal gem. Let's dive in!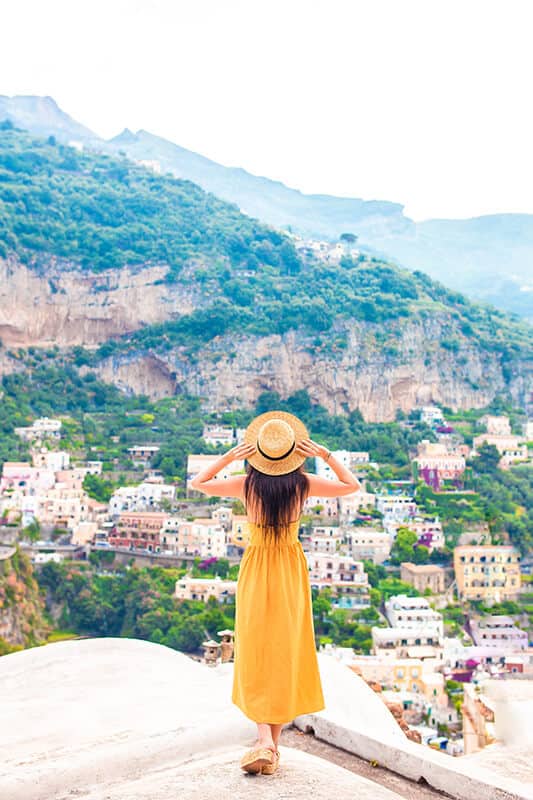 Quick Links to Post Content
Why should you visit Positano (Italy)?
Positano has something for everyone, whether you're a foodie, a history buff, or just looking to relax on the beach.
And with its warm hospitality and laid-back atmosphere, you'll feel right at home in no time.
I promise!
Those of us living in Southern Italy are famous for making everyone feel welcome.
We just like making new friends, and we can manage even if we do not speak the language!
So why should you visit Positano?
For starters, the food is out of this world.
From fresh seafood to homemade pasta, you'll be treated to some of the best cuisine in Italy.
And let's not forget about the stunning Amalfi Coast beaches, where you can soak up the sun and take a dip in the crystal-clear waters.
But there's more to Positano than just its delicious food and beautiful beaches.
This town is steeped in history, with ancient ruins, beautiful churches, and picturesque squares waiting to be explored.
So pack your bags and get ready for an adventure. Positano is calling!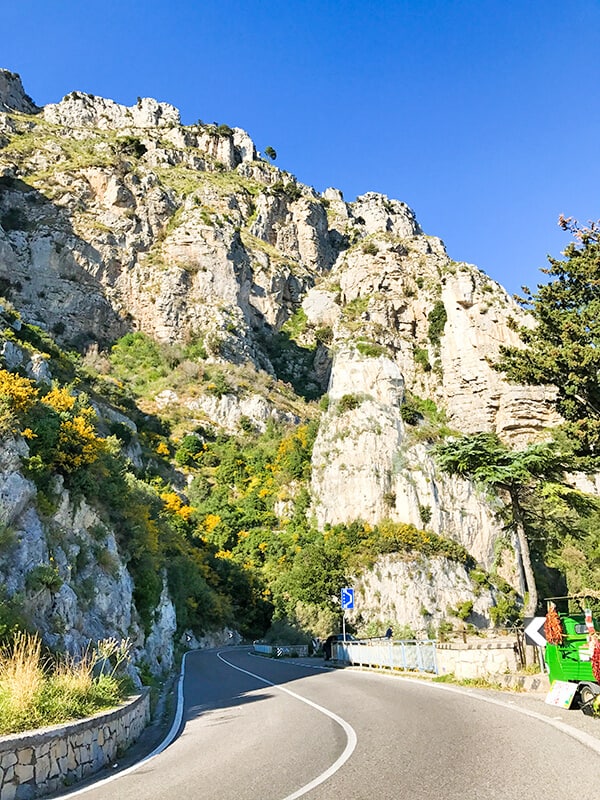 How to get to Positano
Getting to Positano is easier than you might think.
Whether you're coming from Rome, Naples, or another city in Italy, there are several options that will get you to this beautiful coastal town.
If you're flying into Rome or Naples, the easiest way to get to Positano is by train.
From Rome, take the train to Naples and then transfer to the Circumvesuviana (a local train).
It will take you to Sorrento.
From Sorrento, you can take a bus or a ferry to Positano.
If you rented a car, keep in mind that you can't drive inside the small town.
You'll need to park your car in special parking lots outside of Positano and then walk to the city center.
This can be a bit of a hassle, but it's worth it to explore the winding streets and picturesque views of the town.
Worried you'll need a bit of help?
Download the FREE Italian Travel Phrasebook here! It includes the correct Italian pronunciation and lots of useful sentences that you'll be able to use on your trip to Italy!
As a general rule, us locals prefer to explore Positano and the Amalfi Coast by using a Vespa or a motorbike.
Driving can be tiring and honestly, traffic jams are super common.
Since you can't even drive around Positano, I suggest you just use public transport or a private driver to get there.
If you're coming from another city in Italy, you can also take a bus or a ferry to Positano.
The bus is a great option if you're on a budget, while the ferry offers stunning views of the coastline.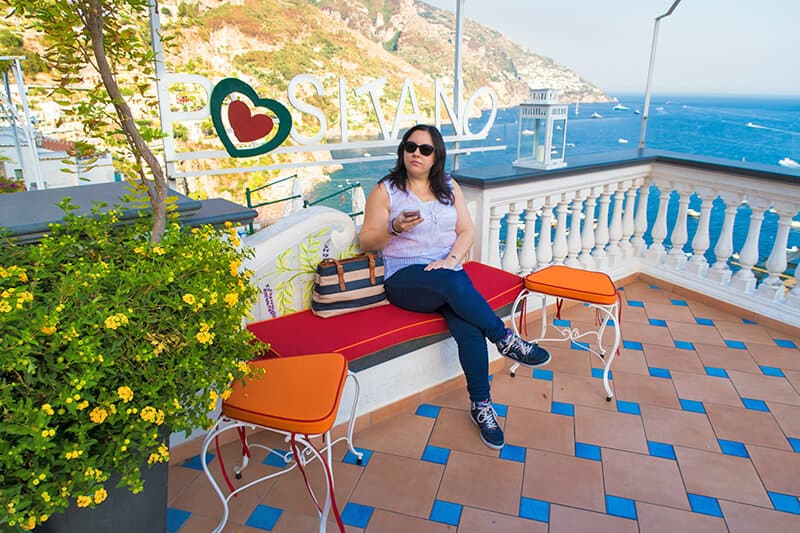 What to do in Positano – Like a Local
Benvenuti a Positano, one of the most beautiful and charming towns on the Amalfi Coast!
In case you just booked your trip, let me tell you a secret.
You're in for a treat because this town is packed with amazing experiences and activities that will leave you in awe!
Please do not feel bad if you've just planned a day trip to the Amalfi Coast. Even if it's your first visit to Positano, there's still a lot that you can do.
Once you've done all the things on your bucket list, you can just hop on a SITA bus from Positano.
On to the next small town on the coast!
I will do my very best to be your virtual guide.
There are a lot of hidden gems and local secrets I really want you to know!
My pleasure, of course.
I'm the happiest ever when people love visiting my beloved Campania region!
Important update!
Read the news about the new visa requirements for Europe and ETIAS Authorization you need from 2024!
Walk barefoot on the sand at Spiaggia Grande
Spiaggia Grande is a must-visit destination for any traveler to Positano, and for good reason.
Basically when someone tells you about the "Positano Beach", they refer to Marina Grande!
This beautiful beach boasts crystal-clear waters and soft, golden sand that just begs to be walked on barefoot.
It's also a prime location for spotting VIP tourists who frequent the area, so keep your eyes peeled for celebrities and other famous faces!
Of course, with its stunning beauty and popularity, Spiaggia Grande can get quite crowded, especially during the peak season in July and August.
That's why I always suggest you carefully pick the right time to visit Italy!
But don't let that discourage you, if you already planned your trip to Italy in the summertime!
There's still plenty of space to spread out and soak up the sun, and the lively atmosphere only adds to the charm of the place.
You might also like:
– How to plan a Romantic Italian Honeymoon
– How to plan the Perfect Honeymoon on your own
– Abruzzo Food: The Secret Italian Dishes
My personal experience at Spiaggia Grande was nothing short of magical.
I spent more than a few lazy afternoons lounging on the beach, sipping refreshing drinks and watching the waves roll in.
And even though the beach was busy, it never felt overwhelming or crowded.
Maybe because I'm a Neapolitan girl used to a bit of chaos? I might be a bit biased!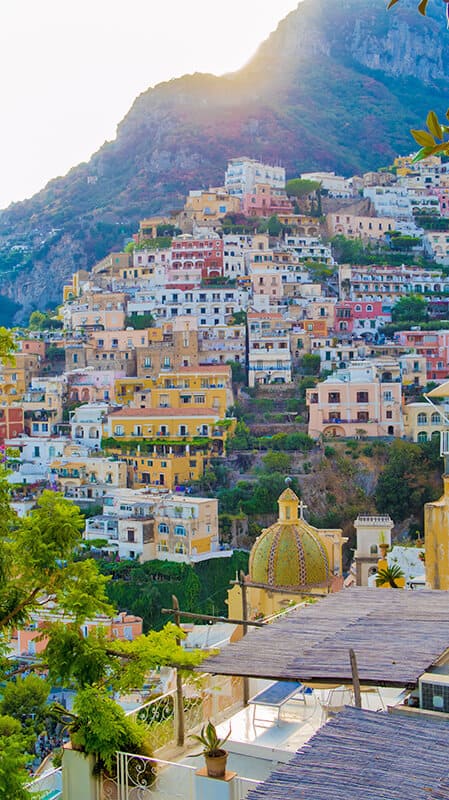 Visit the Church of Santa Maria Assunta
No trip to Positano would be complete without a visit to the breathtaking Church of Santa Maria Assunta.
This stunning landmark is located in the heart of the town, and its Byzantine-style dome is sure to catch your eye from afar.
Once you step inside, you'll be struck by the sheer beauty of the place, including the impressive 13th-century Byzantine icon of the Madonna.
One of the best things about visiting the Church of Santa Maria Assunta is that the entrance is free, so you can explore at your leisure without worrying about the cost.
And if you're wondering how to find the church, don't worry – it's easy to locate in the center of town, and you can easily get there on foot!
During my own visit to the Church of Santa Maria Assunta, I was blown away by the intricate details of the architecture and the sense of peace and serenity that permeated the space.
I was lucky because a relative got married there, so we visited when the Chiesa di Santa Maria Assunta was fully decorated for a wedding.
What a sight!
In my opinion, it's truly a must-see destination for anyone traveling to Positano, and I can't recommend it highly enough.
Because it's free, you can add it to your itinerary without breaking the bank!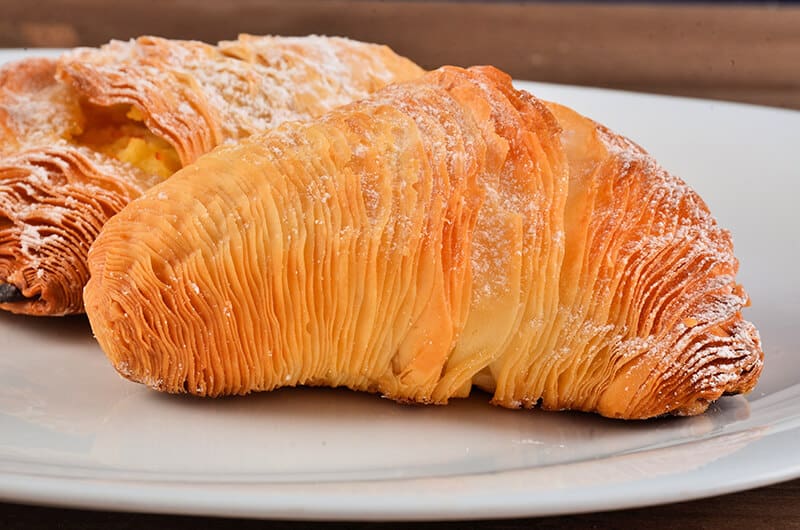 Start the day with a piping hot sfogliatella
What better way to start your day in Positano than with a piping hot sfogliatella?
This classic pastry is one of the best things to eat in Naples and Campania, and is beloved by locals and tourists alike.
Sfogliatella is a crispy, layered pastry filled with sweet ricotta cream and flavored with orange blossom water.
It can be "riccia" if the outer layer is crispy. Or "frolla" if the outer layer is buttery and thicker.
Neapolitans absolutely love to start their day by eating one, often paired with a steaming cup of espresso.
You can also consider it one of the most popular street food options in Naples.
But where can you find the best sfogliatella in Positano?
Look no further than Pasticceria La Zagara, a quaint pastry shop tucked away on a side street.
Here you'll find freshly made sfogliatelle that are crispy on the outside and creamy on the inside.
Whether you're a foodie or just looking for a delicious breakfast, this is one stop you won't want to miss!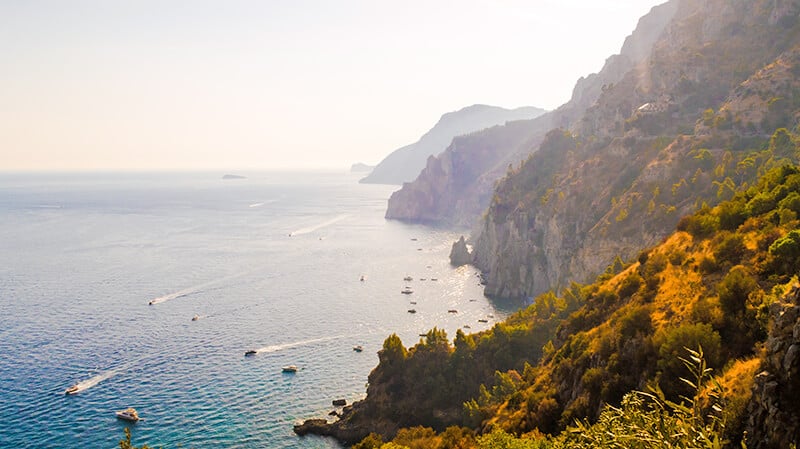 Hike along the Path of the Gods (Sentiero degli Dei)
If you're an adventurous traveler who loves hiking, then you absolutely can't miss the Path of the Gods in Positano.
The name itself already suggests a spectacular journey, and it really is!
This world-famous trail offers breathtaking views of the Amalfi Coast and the Bay of Naples, and is considered one of the most scenic hikes in Italy.
The Path of the Gods starts in the town of Bomerano, and ends in Nocelle, a small hamlet near Positano.
The trail is rated as moderate, so make sure to wear comfortable shoes and bring plenty of water.
If you're visiting in the summertime, also bring a hat with SPF: you will be glad to have it!
To get to the starting point in Bomerano, you can take a bus from Positano, which takes about an hour.
The hike itself takes around 3-4 hours, depending on your pace and how often you stop to take in the stunning views.
Trust me, the effort is worth it!
So, put on your hiking boots, pack a light snack and plenty of water, and get ready to experience the beauty of the Amalfi Coast from a unique perspective!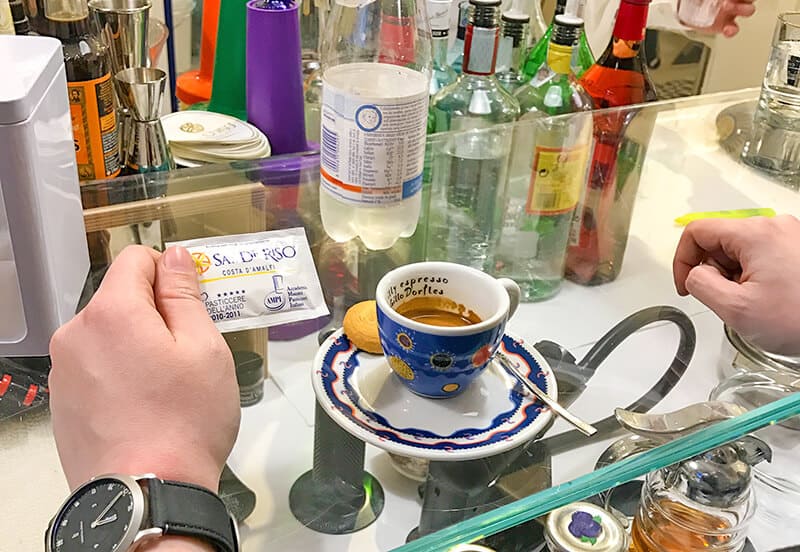 Try the authentic Neapolitan espresso
If you're a coffee lover like me, then you absolutely have to try the authentic Neapolitan espresso when in Positano.
It's quite different from the American-style coffee that most people are used to, but trust me, it's a must-try.
And Positano is the perfect place to get a taste of espresso!
The "caffè napoletano" (Neapolitan coffee) is served in small cups and is incredibly strong.
If you're not used to drinking strong coffee, you might want to go easy on it.
Here in the Campania region we usually serve espresso with a cup of water.
Sometimes you'll also be offered bite-sized pastries or cookies.
To look like a local, you will first drink some water.
Then nibble some of the buttery cookies (or a bite of chocolate!).
When you're done, sip your espresso.
That's how we drink our "tazzulella e' cafè" ("cup of coffee" in Neapolitan dialect)!
The best place to get espresso in Positano is at Casa e Bottega, a charming café tucked away in the heart of the town.
They make their espresso using only the highest-quality beans, and it's sure to give you the kick you need to start your day off right.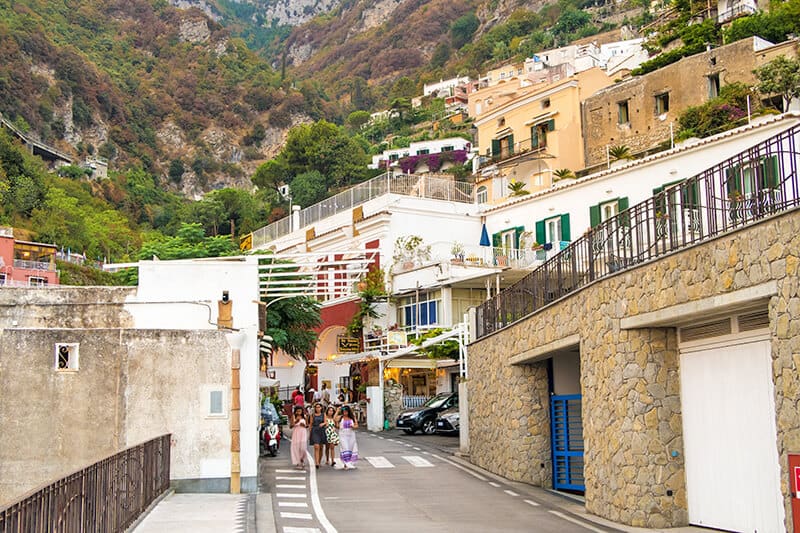 Take a walk through the narrow vicoli
Walking through the narrow vicoli in Positano is a must-do for anyone visiting this charming town.
Yet I'm sure it's already on your Amalfi Coast bucket list!
The colorful buildings and charming architecture of the vicoli are the heart of Positano.
Strolling through them is one of the most romantic activities you can do.
Especially at sunset, with your significant other.
That's why it's the perfect thing to do if you planned your honeymoon in Italy!
As you wander, you'll be immersed in the local culture and way of life, and you're sure to fall in love with Positano.
Don't forget to bring your camera, as the views are stunning and perfect for capturing memories to take back home with you!
I'm absolutely sure you will stop along the way to take a ton of instagrammable pics (just like I do every time I go there).
So, take your time, enjoy the sights, and get lost in the maze-like streets of Positano!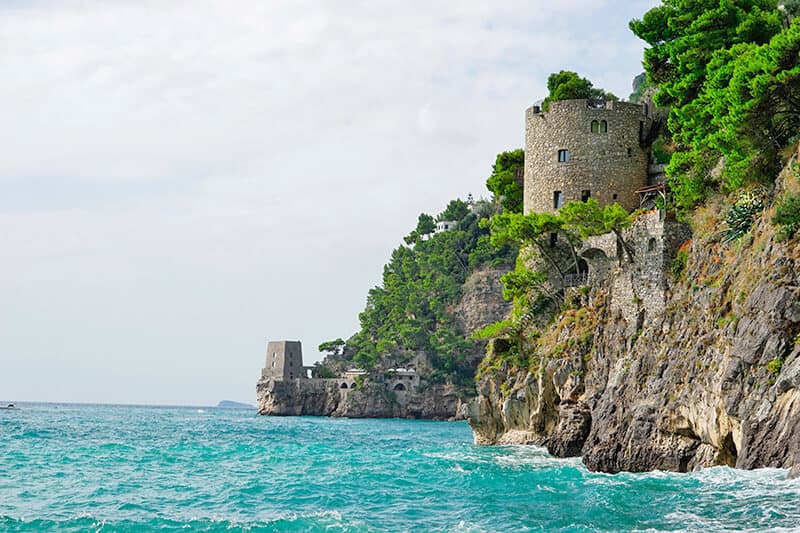 Get a tan at Fornillo Beach
If you're looking to catch some sun and relax in a quieter and more peaceful environment, Fornillo Beach is the perfect spot for you.
This beach in Positano is a great alternative to the more crowded Marina Grande, especially during the summer months.
Fornillo Beach is smaller and has that "Amalfi Coast vibe" to it, making it one of the beaches along the coast that us locals prefer.
Spiaggia di Fornillo is more secluded, so you can enjoy a peaceful day sunbathing and swimming in the crystal-clear water without the hustle and bustle of other tourists.
Make sure to bring your own beach towels and umbrellas, as there are no rental facilities available!
Getting to Fornillo Beach is easy, just take a short walk from the city center, or if you prefer, take a water taxi from the main beach.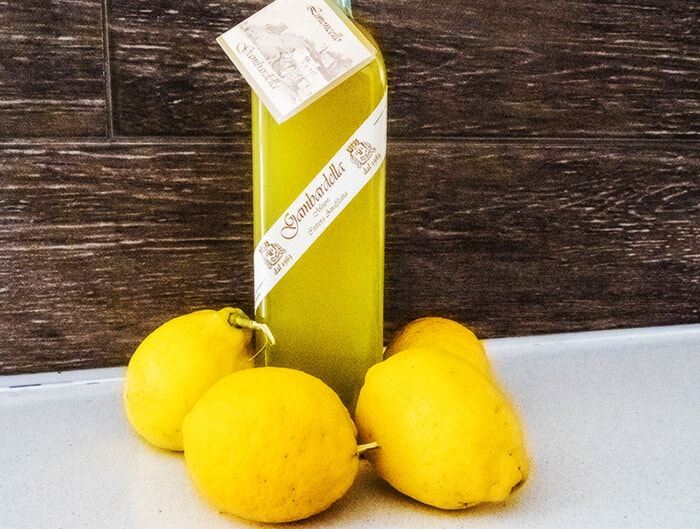 Sip some authentic Limoncello
Limoncello, the popular lemon liqueur, is a must-try for anyone visiting Positano.
This traditional Italian drink is made by infusing lemon peels in alcohol, sugar, and water.
It's absolutely not uncommon that here every family makes its own Limoncello at home, with a special family recipe.
Us included!
But what makes the limoncello from the Amalfi Coast so special?
The lemons grown in this region have a unique flavor due to the fertile volcanic soil, the warm sun, and the salty sea breeze.
Sipping on a glass of this refreshing drink while watching people is a perfect way to enjoy the beauty of Positano, let me tell you!
For the best limoncello in Positano, head to Il Ritrovo.
This restaurant has one of the best views in Positano, and they make their own Limoncello!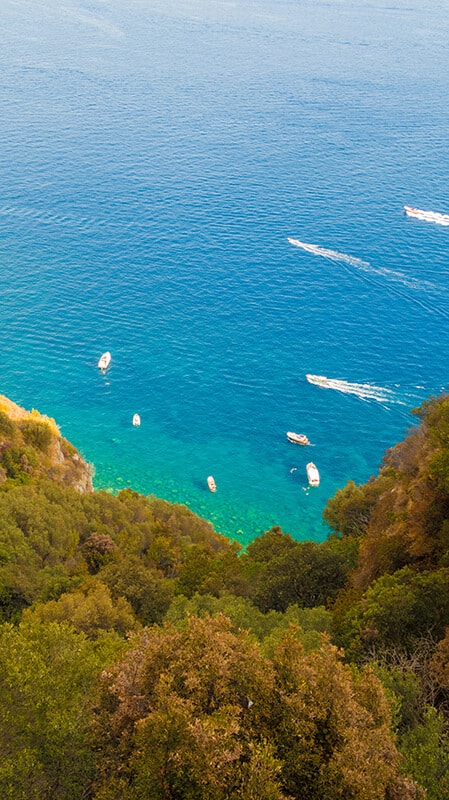 Take a boat tour of the Amalfi Coast
Those looking for a different way to explore the Amalfi Coast should know that a boat tour is the perfect choice!
These tours can take the full day, but it's a good alternative to avoid the traffic and crowds on the roads.
Many boats cruise along the Amalfi Coast, giving you a different view of Positano and the stunning coastline.
Positano from the sea is absolutely amazing.
You'll get to see the hill covered in tiny, colorful houses.
And you can take pictures of yourselves on a boat sailing on crystal-clear waters.
Insta-perfect!
Whether you choose a private or group tour, this experience is sure to be one of the highlights of your trip to Positano.
So why not relax on a boat, enjoy the sea breeze and soak in the beauty of the Amalfi Coast?
Go shopping in the local boutiques
Positano is one of the greatest destinations for shopping in Italy.
There are a ton of tiny, local boutiques and art galleries that you can explore!
The narrow streets of Positano are filled with shops selling unique, often handmade souvenirs from Italy.
Whether you're looking for ceramics, clothing, or jewelry, you'll find plenty of options.
Positano is a popular town due to its colorful and stylish fashion.
Many boutiques sell the latest fashion trends, Positano-style.
Do you know those gorgeous, white sundresses you see all the time in the movies set in Italy?
That's where you can find them!
Don't forget to also check out the local art galleries, where you can find some beautiful and unique pieces of art.
Shopping in Positano is a great way to spend an afternoon and take home some special memories of your trip to Italy!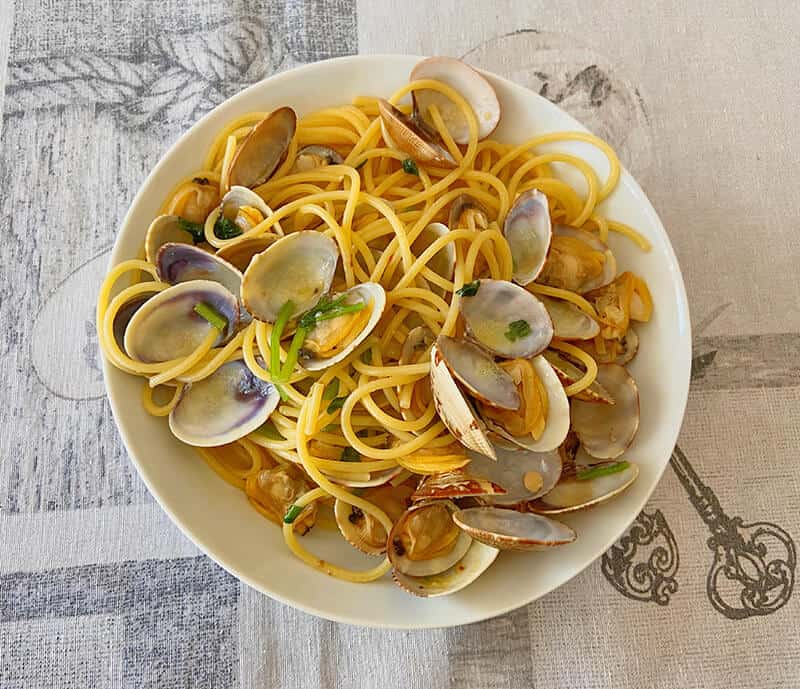 Enjoy the local cuisine
When visiting Positano, one of the most exciting things to experience is the local cuisine.
Italian cuisine is famous all around the world, and each region has its own traditional dishes that are simply delicious.
In Positano, seafood is a staple, and you'll find plenty of seafood dishes on the menu.
One of my favorite dishes is spaghetti alle vongole, which is spaghetti with clams.
It's a simple yet incredibly flavorful dish that's sure to impress your taste buds.
Another traditional dish that you must try is the anchovies. Find them on the menu as "alici".
Although Cetara is mostly famous for fishing them, you can also enjoy them in Positano.
The best way to enjoy the local cuisine is to dine in one of the many local restaurants that offer fresh and authentic dishes made with local ingredients.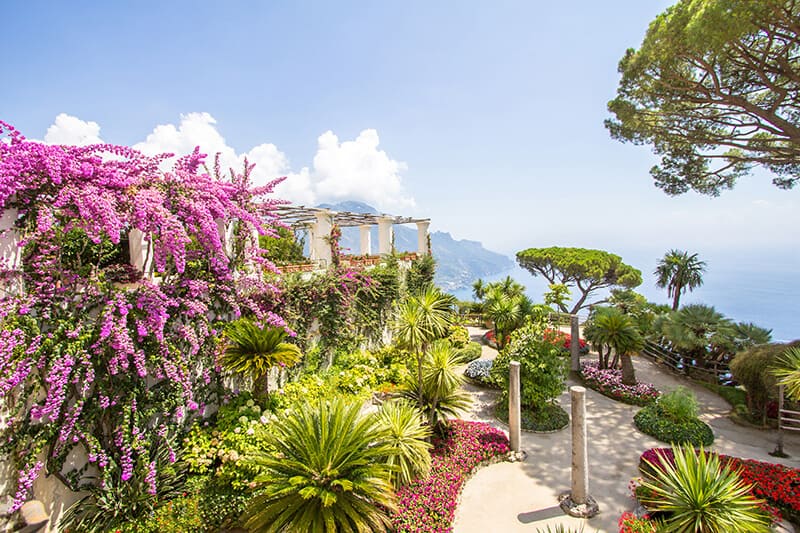 Visit the nearby Villa Rufolo
Located in Ravello, just a short drive from Positano, Villa Rufolo is a must-visit attraction for travelers in the Amalfi Coast region.
This breathtaking villa is perched on a hilltop and offers panoramic views of the coast, along with stunning gardens and historic architecture.
It's known for its connection to classical music, with many famous musicians having performed in the gardens over the years.
Villa Rufolo has also been featured in several movies set in Italy, including "The Talented Mr. Ripley".
To get there, you can take a bus or taxi from Positano, and the journey takes around 30-40 minutes.
It's definitely worth the trip, and you should plan to spend at least a few hours exploring the gardens, admiring the views, and soaking up the history and culture of this beautiful villa.
Add Villa Cimbrone to your Amalfi Cast Itinerary
Another must-visit destination near Positano is the enchanting Villa Cimbrone, known for its breathtaking views and stunning gardens.
Located in Ravello, about an hour's drive from Positano, Villa Cimbrone is a medieval building with a fascinating history.
The villa's gardens are particularly renowned for their beauty, with a variety of rare plants, flowers, and sculptures.
The views from the villa's Terrace of Infinity are simply awe-inspiring, overlooking the Amalfi Coast and the sparkling Mediterranean sea.
Many movies have been filmed in Villa Cimbrone, including "Wonder Woman".
If you have time, it's worth visiting both Villa Rufolo and Villa Cimbrone on the same day, as they are located close to each other.
Make sure to allocate at least half a day in your itinerary to fully appreciate the beauty of both villas.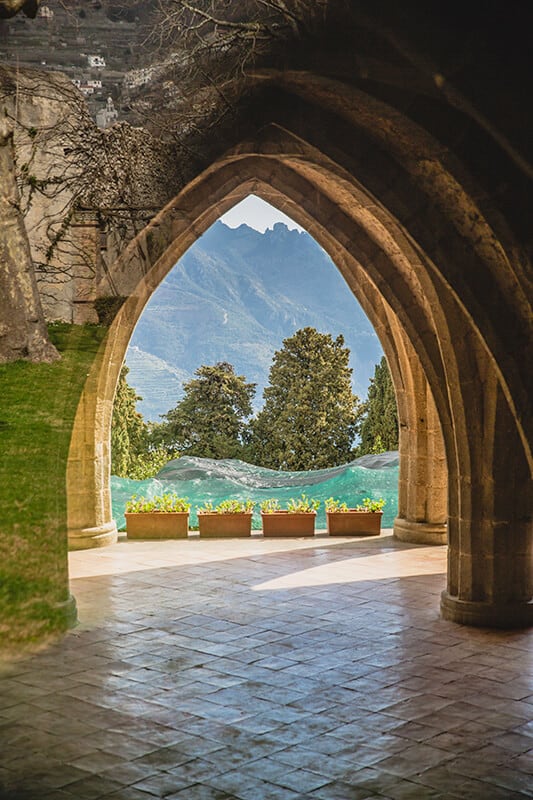 How to get to Villa Rufolo and/or Villa Cimbrone from Positano
In case you didn't rent a car, the best way to reach Villa Rufolo and Villa Cimbrone from Positano is by using a bus.
To get to Villa Rufolo, you can take the SITA bus from Positano to Amalfi, which takes about 40 minutes.
From Amalfi, you can transfer to another SITA bus that goes to Ravello, which takes about 15 minutes.
Villa Rufolo is located in the heart of Ravello, and you can walk there from the bus stop in about 5-10 minutes.
To get to Villa Cimbrone, you can also take the SITA bus from Positano to Amalfi, which takes about 40 minutes.
From Amalfi, you can transfer to another SITA bus that goes to Scala, which takes about 10 minutes.
Once you arrive in Scala, you can walk up to Villa Cimbrone, which takes about 20-25 minutes.
Alternatively, you can take a taxi from the bus stop in Scala to Villa Cimbrone.
As a local I feel the need to let you know that public transportation in the area can be crowded and a bit unreliable.
Please check the bus schedules in advance, make a plan B, or book a private tour!
Get yourself a pair of handmade sandals
Positano is famous for its handmade sandals, and getting a pair is a must-do for every traveler!
These sandals are unique souvenirs that you won't find anywhere else in Italy.
Each pair is crafted by skilled artisans who have been making sandals for generations, using high-quality materials like leather and suede.
It can take up to a full day to create a pair of sandals, but it's worth the wait for the perfect fit and comfort.
There are several shops in Positano where you can buy handmade sandals, such as the famous Nanà Positano shop and Mastro Sandali Positano.
Don't miss out on the chance to take home a piece of Italian craftsmanship that you can wear and enjoy for years to come!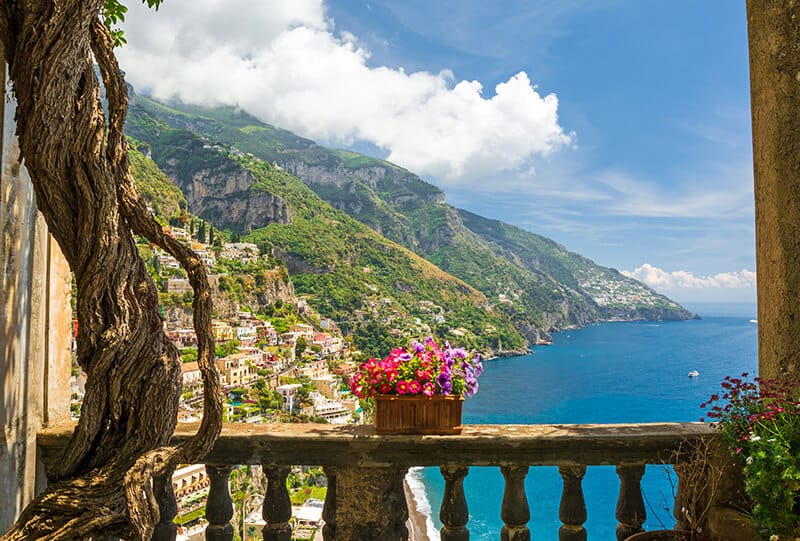 Explore the narrow staircases that lead up to the hilltop
Exploring the narrow staircases that lead up to the hilltop in Positano is a must-do activity for any traveler visiting this charming town in Southern Italy.
Not only will you get the absolute best views in Positano, but these staircases are also perfect for capturing some truly instagrammable shots.
While climbing up to the top can be a bit challenging, it's definitely worth the effort.
The very best tip I can offer is to wear comfortable shoes, such as flats or sandals.
High heels would make the climb more difficult.
Just take your time, enjoy the climb, and be sure to bring your camera to capture the stunning views along the way!
Oh and bring plenty of water if you decide to visit Positano in July or August!
Check out the Ceramiche Casola pottery studio
If you're looking for a unique souvenir to bring home from your trip to Positano, be sure to also check out the family-owned Ceramiche Casola pottery studio.
This is a must-visit spot for those interested in traditional pottery and local craftsmanship.
You'll be able to see the talented artists at work, crafting unique objects that make for perfect souvenirs.
The studio is known for its intricate Amalfi Coast tiles, which are world-famous and absolutely stunning.
Each piece is one-of-a-kind, so you're sure to find something special to take home with you.
It can also be an educational trip for the little ones, in case you're visiting with the kids!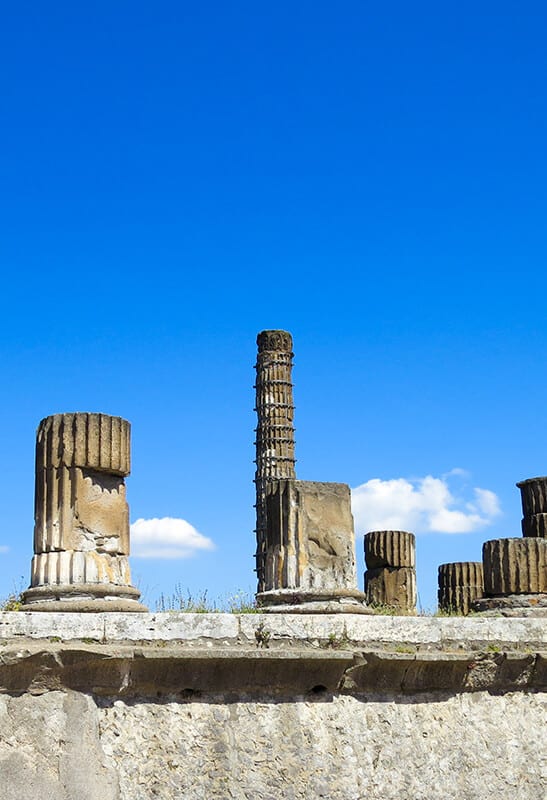 Visit the MAR Positano
MAR Positano (Museo Archeologico Romano) is a must-see museum for any traveler visiting Positano.
Located in the heart of the city, it's a Roman archaeological museum that showcases an ancient Roman villa and its artworks.
To get there, you can either take a scenic walk through the narrow streets of Positano or take a bus from the main square.
The museum's tickets will cost you 15€ per person.
MAR is open from 9 am to 9 pm from April 1 to October 31.
And from 10 am to 4 pm from November 1 to March 30.
MAR Positano is a perfect place to escape the heat and crowds, and to discover some of the finest artwork, just like in Pompeii.
Whether you're an art aficionado or just a curious traveler, you'll find something to appreciate in this widely underrated museum.
Delight in the taste of Delizia al Limone
Delizia al limone is a must-try dessert in Positano, Italy.
It's a delicious lemon cake that's famous for using the local Amalfi Coast lemons.
This dessert is so popular among the locals that you'll find it in almost every café and restaurant in town.
It's a perfect alternative to Italian gelato, especially if you're a fan of lemon-flavored treats!
The best place to try delizia al limone is at the Sal De Riso shop in Minori, which is super close to Positano.
The shop has been making this delightful dessert for decades, and their recipe is a closely guarded secret.
Once you're there make sure you also try "Melanzane al cioccolato" (chocolate eggplants in Italian).
While the combo might surprise you, this is one of the best guarded secrets on the Amalfi Coast.
Sal uses his grandma's recipe and you won't find this dessert anywhere else!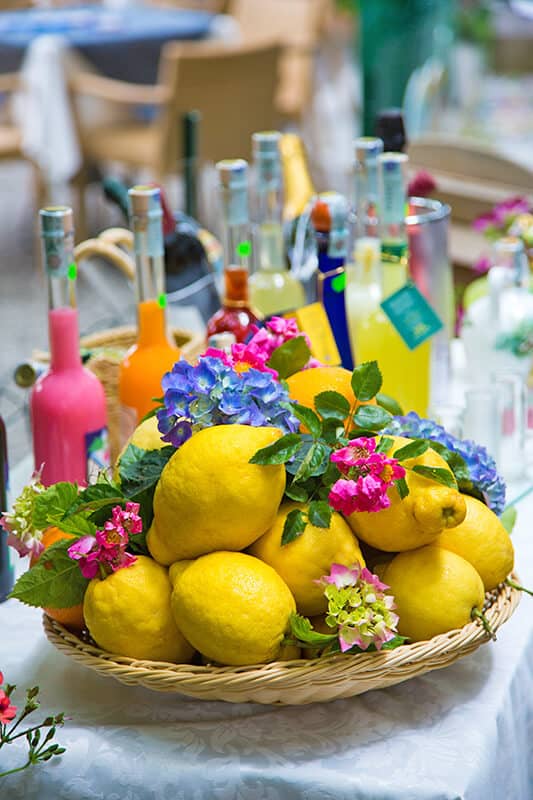 Visit a lemon farm and get a taste
Positano (and the rest of the towns along the coast) is known for its gorgeous lemon groves, which are dotted along the scenic Amalfi Coast.
Campania region's lemons are famous for their vibrant flavor, used to create delicious and refreshing drinks, desserts, and savory dishes.
Many of the lemon farms in the area also have charming tea rooms or restaurants where you can relax and enjoy a meal or a drink while taking in the stunning views of the coast.
One of the best places to visit is the Tramonti lemon farm, which offers guided tours of their orchards and a chance to taste their delicious lemon products.
You can click here to check out the rates for their guided tours.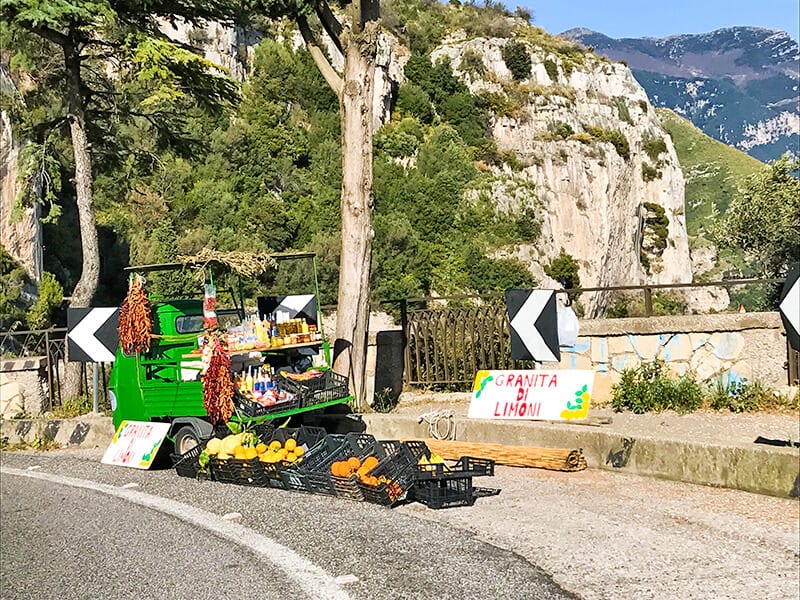 Book a cooking lesson
Cooking lessons are always a blast, but they're even more fun when you book them in a place like the Amalfi Coast.
People in Southern Italy are welcoming and always have a smile on their face, which makes the experience that much more enjoyable.
We never get mad about the so-called "mistakes", so you won't have to feel uncomfortable, not even if you aren't a good chef!
It's also a great way to meet new people and learn about the local culture.
But the real draw is being able to taste authentic Italian cuisine and learning how to recreate it yourself.
You can impress your friends and family back home with your newfound cooking skills!
There are many options for cooking lessons in Positano, from pasta-making to pizza-baking.
This one is my favorite, because it also includes the chance to visit the local farmer's market.
Click here to check rates and availability.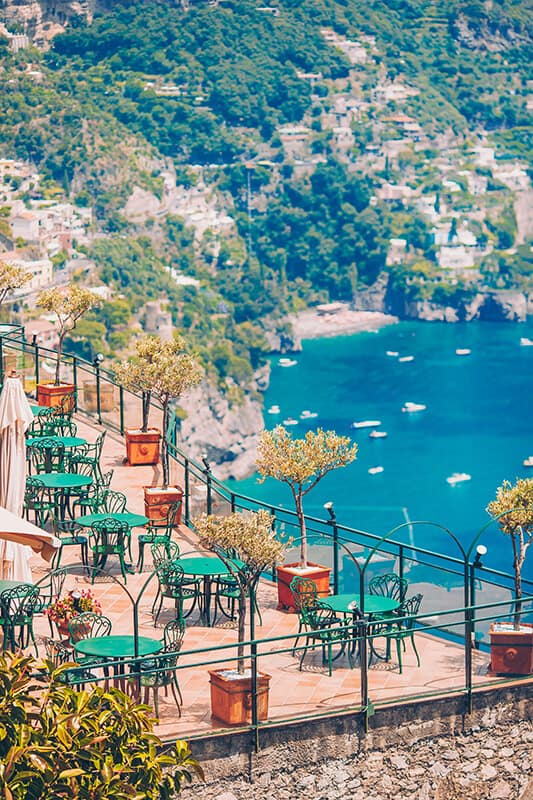 Sip a cocktail at Franco's Bar
Franco's Bar, located in the heart of Positano, is one of the most popular spots to sip a cocktail and take in the stunning views of the Amalfi Coast.
With an amazing terrace that overlooks the sea, Franco's Bar is the perfect place to relax and unwind after a long day of exploring.
The bar's decor is all Positano-style, with handmade ceramics and tiles that add to the bar's charm.
Franco's Bar is also a great spot for taking those instagrammable shots that will make all your friends jealous.
It's no wonder that this bar is frequented by VIP visitors to the area!
So, grab a drink and soak up the atmosphere at Franco's Bar for an unforgettable experience in Positano!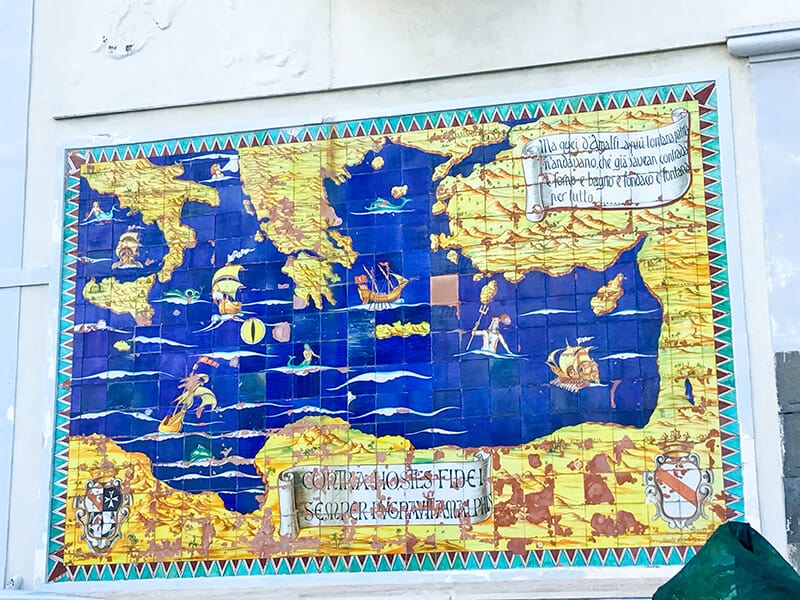 Take a day trip to the nearby towns on the Amalfi Coast
Since you're in Positano, you just can't miss out on exploring the neighboring towns on the Amalfi Coast.
The best way to go from one town to the other is by bus or private driver, especially during peak season.
Traffic jams and parking are in fact a huge issue (even for us locals).
Some of the must-see towns on the Amalfi Coast include Amalfi, Ravello, and Praiano.
Please do not make me pick: I just love them all so it's too difficult for me!
Each town has its own unique charm.
You can spend the day wandering through the narrow streets, soaking up the stunning views of the sea and coastline, and enjoying the local food and culture.
It's a day trip that you won't forget and will leave you with memories that last a lifetime!
In case you're looking for a driver or a tour, we have a specific guide on the best Amalfi Coast tours that will be super useful!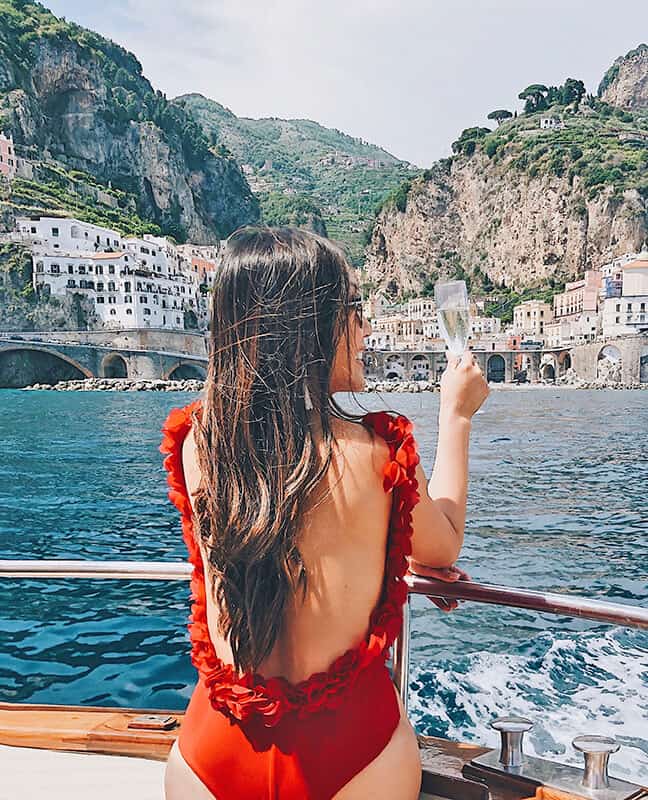 Plan a day trip to Capri (or a mini-cruise)
Capri island is one of the most popular destinations on the Amalfi Coast and a must-see for any traveler visiting the area.
It's famous for its stunning landscapes, crystal-clear waters, and luxurious lifestyle.
A Capri day trip or mini-cruise from Positano is a fantastic idea for anyone who wants to experience the island's unique charm.
Make sure to book your tour or ferry tickets in advance, as Capri can get very busy during the high season.
While Capri can be expensive, you can still visit on a budget by bringing your own lunch.
Get panini in Positano, it'll be way cheaper!
If you choose to do a mini-cruise, you'll have the chance to see the Amalfi Coast and Positano from the sea, which is an incredible experience in itself.
Overall, a day trip or mini-cruise to Capri is a fantastic way to explore the beauty of the Amalfi Coast and soak up the luxurious Italian lifestyle!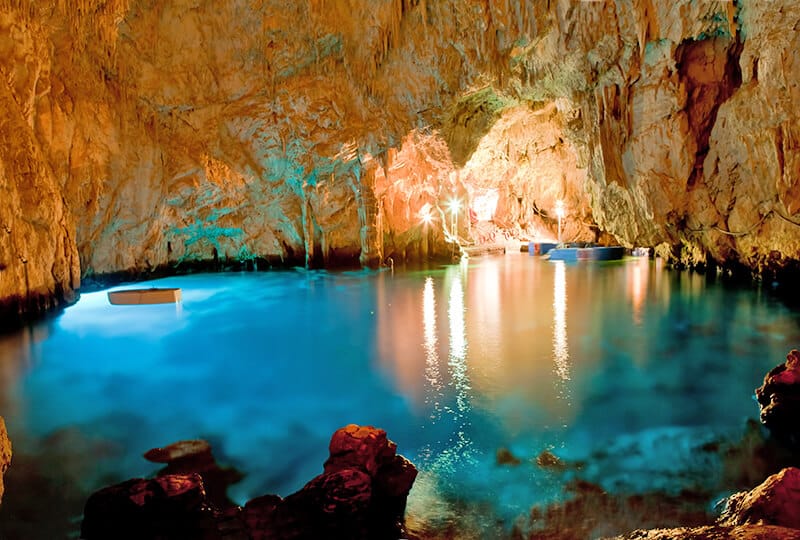 Marvel at the Emerald Grotto (Grotta dello Smeraldo)
One of the top sights to see near Positano is the Emerald Grotto.
This grotto is located in Conca dei Marini, on the coast between Amalfi and Praiano, and it's accessible by boat or by taking a bus or taxi.
The Emerald Grotto is famous for its beautiful emerald green water, which is created by a combination of natural light and minerals.
Visitors can take a guided tour of the grotto, which includes a small boat ride and a walk through the cave.
There is a small entrance fee (usually about 15€ for a 30 minutes boat tour), but it's well worth it to see this unique and stunning natural wonder.
Important note: Nope you can't swim in the Emerald Grotto! I've read that some people still try to do it, but it's against the rules and it can ruin the beauty of this place. Please do not do that!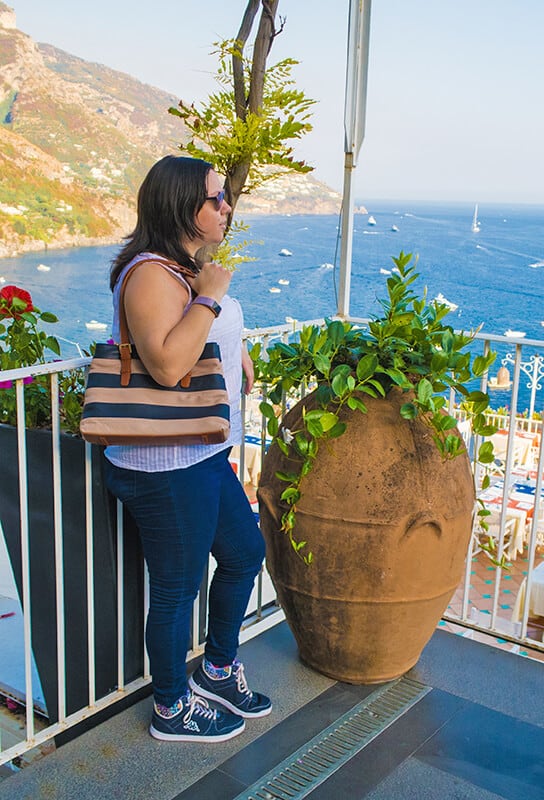 Where to stay in Positano
If you're looking for a luxurious and romantic escape, Le Sirenuse is an iconic hotel in Positano that is worth considering.
This is where all the VIPs go.
The hotel is perched on a cliff overlooking the Tyrrhenian Sea and has been carefully designed with a mix of modern and traditional styles.
Staying at Le Sirenuse comes with a high price tag, also because of its rooftop terrace, Michelin-starred restaurant, and exclusive spa.
In case you're visiting on a tighter budget, Hotel Dimora Fornillo is a great choice.
This cozy and charming hotel is located in a quieter part of Positano and offers beautiful sea views.
Rooms are clean and comfortable, and the hotel serves a delicious Italian breakfast every morning.
While it doesn't have all the luxurious amenities of the more high-end hotels in the area, it's a great value for the price and offers a more authentic experience of Positano.
For those who are looking for a more secluded and intimate experience, Villa Treville is a great option.
This stunning hotel is tucked away on a private estate with breathtaking views of the sea and features beautiful gardens and terraces.
With only 15 rooms, you'll feel like you have the place to yourself.
The villa also has a private beach club and offers a range of wellness treatments.
Keep in mind that the hotel is located on a steep hill, so it may not be the best option for those with mobility issues!
I have a full guide on the best hotels in Positano and on the Amalfi Coast that can also be super useful, if you're still looking.
And it offers a lot of pros and cons that you should consider!
Visiting Positano: Most Asked Questions
Will I get bored in Positano?
Absolutely not!
There are plenty of things to do in Positano, such as visiting the Spiaggia Grande beach, taking a boat tour to see the town and coastline from the sea, going on a hiking adventure on the Path of the Gods, dining at the best restaurants in Positano, and exploring the vibrant nightlife.
When is the best time to visit Positano?
The best time to visit Positano is between May and September when the weather is warm and sunny.
However, this period is also the busiest, and prices are generally higher.
If you prefer fewer crowds and more affordable rates, consider visiting during the shoulder seasons of April and October.
How can I get to Positano?
If you are coming from outside Europe, you can fly to Naples International Airport and take a private taxi or public transportation (such as the Circumvesuviana train, followed by a bus or a ferry) to reach Positano.
If you are traveling from other cities in Italy or Europe, you can reach the town by train or bus.
What are some day trips I can take from Positano?
There are plenty of day trips you can take from Positano to explore the beautiful Amalfi Coast and surrounding areas.
Some popular options include visiting the Island of Capri, taking a day tour to Amalfi, or spending a day at a beach club.
What's the best way to get around Positano?
Positano is a pedestrian town, and most of the attractions are within walking distance.
However, you can also use public transportation such as buses and ferries to get around the town and surrounding areas.
Private taxis and rental cars are also available, but they can be expensive.
How long should I stay in Positano?
It's recommended to stay in Positano for at least 2-3 days to fully experience the town and its surroundings.
However, if you have more time, you can extend your stay to a week or longer and explore other nearby destinations such as Amalfi, Sorrento, and Pompeii.
You might also like:
Where to find lodging on the Amalfi Coast
The best Amalfi Coast tours reviewed from the locals
Discover the best beaches on the Amalfi Coast
Plan a fantastic Amalfi Coast road trip
What to pack for Italy in Fall
Capri in a day – plan your day trip from the Amalfi Coast
Find the best souvenirs from Italy on the Amalfi Coast
Autumn in Europe – 20 ideas for smart trips
Delicious types of Italian pizza you should eat in Italy
22 Awesome Day Trips From Naples
Top Things To Do On The Amalfi Coast On A Budget
Updated Europe entry requirements and ETIAS waiver
Guide to the best time to visit Italy
Must-watch movies set in Italy
23 Best things to do in Positano
Pin it for later!
Travelling Dany
Danila Caputo is a bilingual travel writer living in between Naples and the Amalfi Coast (Italy). She travels and works with her husband Aldo, photographer and videographer. Their blog chronicles their adventures around the world, Italian/European culture and tips on how to be responsible travelers. You can find out more about their latest trips and their life on Instagram and Facebook.