Procida island travel guide: a hidden gem in Southern Italy
This post includes affiliate links. As an Amazon Associate, I earn from qualifying purchases. Full disclosure.
Procida island is one of the unique places to visit in Italy you should add to your itinerary, because you're missing out big time! This island off Naples is way cheaper than Capri, less crowded, but just as beautiful. Us locals absolutely love visiting Procida and its colorful houses! With this Procida travel guide you will learn how to plan a Procida day trip from Naples, where to stay for a longer holiday, and all the best Procida beaches you should hit in the warmer months. Are you ready to explore one of the best hidden gems in Southern Italy?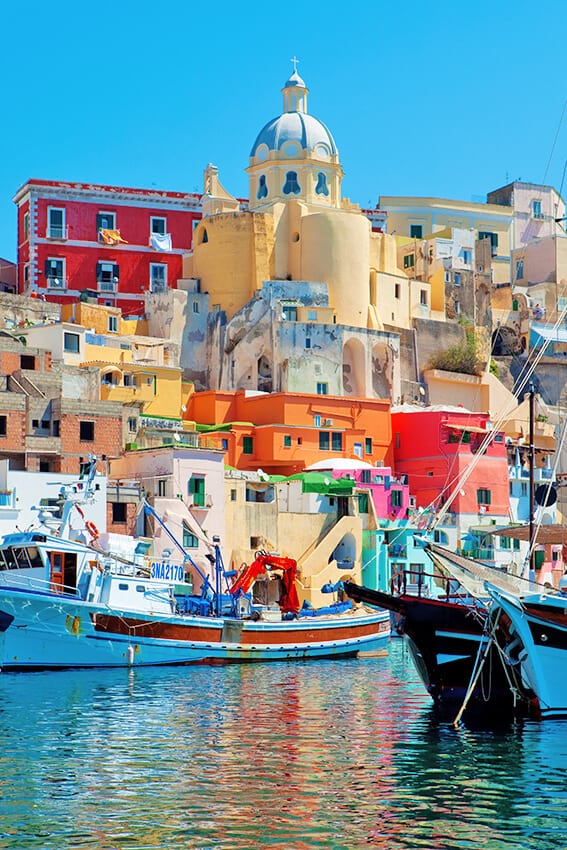 Quick Links to Post Content
Where is Procida?
Procida is a tiny island off Naples, located between Cape Miseno and the island of Ischia. The Phlegraean Islands ("Isole Flegree" in Italian) also include Vivara and Nisida.
Us Neapolitans like to think that Procida is one of the best hidden gems in Southern Italy, mostly because tourists tend to only visit Capri and Ischia.
The smallest island in the bay of Naples is thus close enough to be visited as a day trip from Naples city, and yet off the mass-tourism radar!
You might also like:
5 unique itineraries to spend 10 days in Italy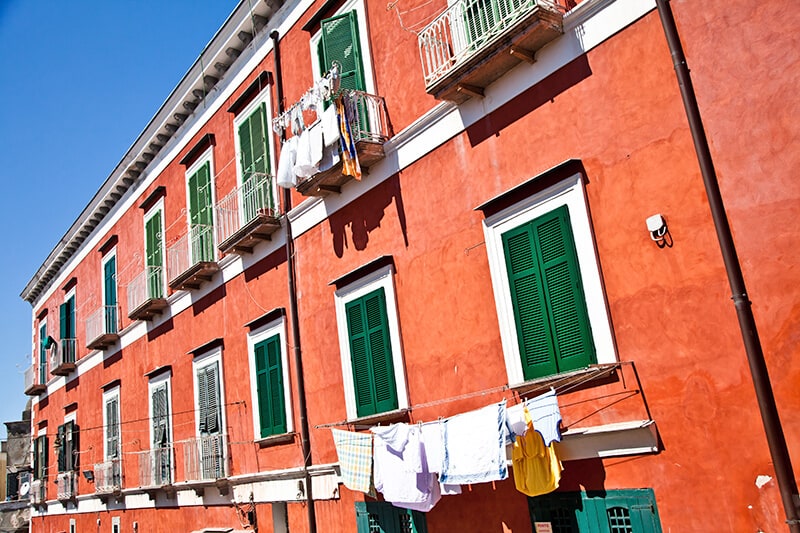 How to get to Procida from Naples
Getting to Procida from Naples is super easy. You just have to hop on a Ferry ("Traghetto" in Italian) or a Hydrofoil Ferry ("Aliscafo" in Italian) from Molo Beverello (Naples), Mergellina (Naples) or Pozzuoli.
The departure port I prefer to visit Procida is Molo Beverello, which is close to the most beautiful part of Naples and easy to get to. You'll just have to hop on the subway, on Linea 1, which is where all the Naples Art Stations are located.
From Napoli Piazza Garibaldi, where the main train station is located, the subway station Municipio will be your second stop.
To get to Molo Beverello from Municipio you'll just have to cross the street and walk towards the sea for about 5 minutes.
The departure port is clearly visible as soon as you get out of the Municipio station.
Traghetti and Aliscafi will leave for Procida island all year long, unless the weather is very bad (it can happen in winter). In that case, all the connections to the islands will be suspended.
Are you visiting from Sorrento? Click here to book a day trip to Procida from Sorrento by boat! This private tour includes beverages, snacks and snorkeling equipment!
During the summer season, ferry and hydrofoil tickets are more expensive. Booking well in advance is a great idea to save some money and to make sure you can actually visit Procida island!
Us Neapolitans like to reserve our seats also on Sundays and for the holidays. The ferry to Procida also stops at Ischia so it can be pretty packed!
The average duration trip to go from Naples to Procida is 1:15 hours by ferry and 45 minutes by hydrofoil.
Ferry tickets for Procida from Naples will cost you on average 10€ per person, while hydrofoil tickets can cost up to 17/20€ per person.
You might also like:
60 gorgeous souvenirs from Italy you should buy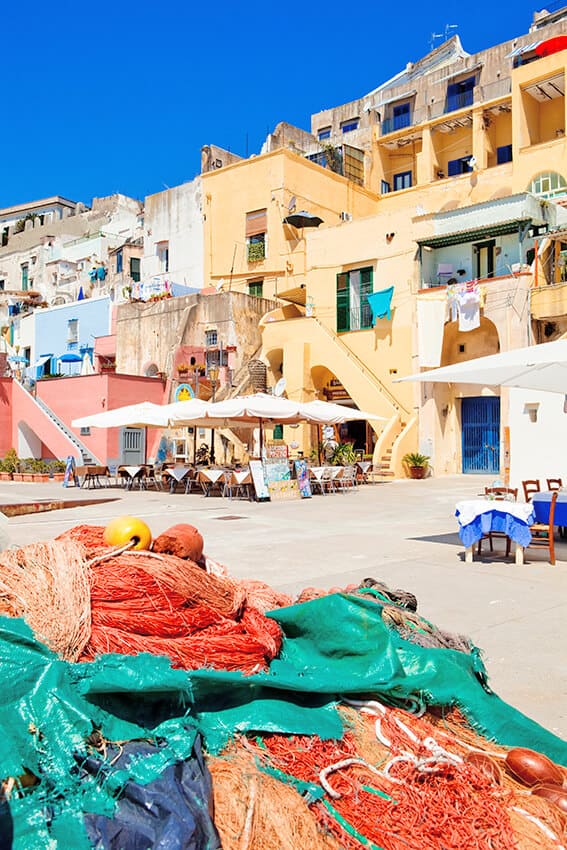 Will you need a car to explore the island?
In case you're wondering: you absolutely don't need a car to explore Procida island! On the contrary, that would be a hassle, because your ferry ticket would be more expensive and you'd have to deal with the lack of parking on the island.
The best way to spend one day in Procida is by walking around or to use a bus.
As soon as you hop off your ferry in Marina Grande you'll see the bus station. Buses will reach every part of Procida. While it's super easy and fast (tickets can be bought on the bus) you'll need to pay cash so be prepared!
A bus ticket in Procida will cost you 1,50€ and it lasts 60 minutes.
If buses are not your thing, at Marina Grande you'll also find a few taxis. Make sure to ask how much it will cost you to go where you need to go.
On average taxi rides should be between 15€ and 20€.
You might also like:
Italian tipping etiquette – when should you tip?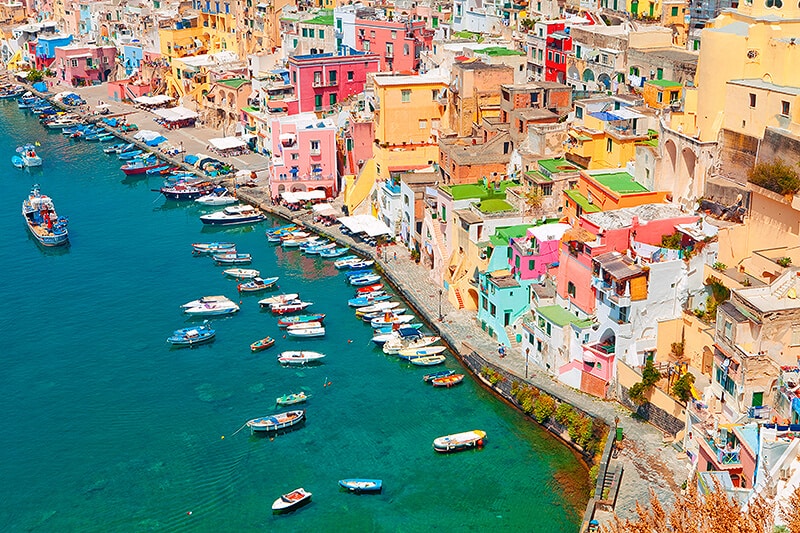 What to do in Procida
While Procida is a tiny island (only 4 square kilometers!), there's so much to see and do… according to how much time you have, of course!
If you have only one day in Procida, I'd spend it walking around to enjoy the breathtaking views, exploring the Italian Churches and, of course, eating delicious fresh fish.
Those of you who have planned a longer stay, or who are looking forwards to an Italian honeymoon in Procida, away from the crowds, should experience the quiet morning strolls, lazy lunches by the sea, afternoons at the beach, and aperitivo in the late evening. Just like the locals!
Having more time will also allow you to visit the Vivara Island State Reserve.
Located on a half-moon shaped island, this reserve used to be a volcano. Vivara has been closed for a few years, and it has only been reopened in 2017.
There's a tour with a local guide (tickets will cost you 10€) from Friday to Sunday (included), from 11am to 3pm to visit the island. Booking minimum 2 days in advance is mandatory, because they always try to walk with small groups.
The only building you'll see in this natural reserve is an ancient villa, dating back to 1681, with a gorgeous terrace, often compared to Ravello's Terrazza del Paradiso on the Amalfi Coast. The view is in fact breathtaking: you'll get to see Ischia, the Naples Coast and the gulf.
Worried you'll need a bit of help?
Download the FREE Italian Travel Phrasebook here! It includes the correct Italian pronunciation and lots of useful sentences that you'll be able to use on your trip to Italy!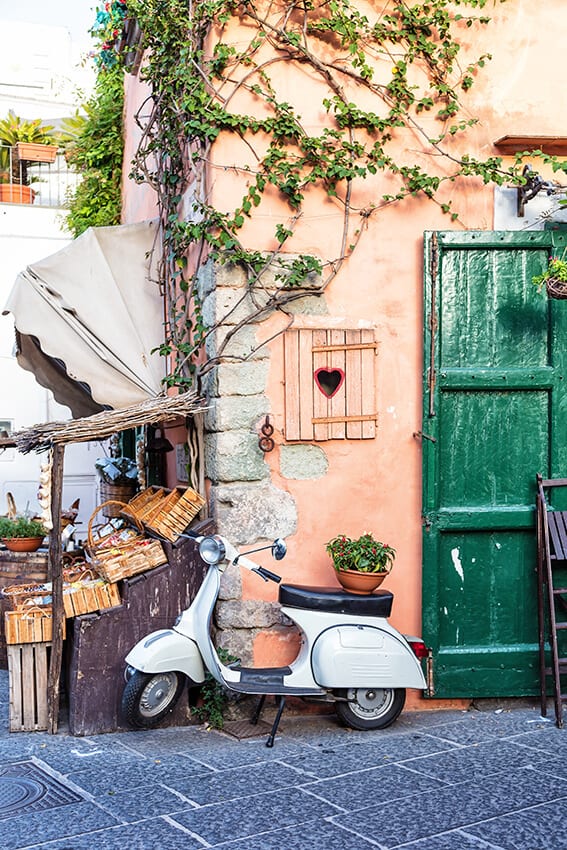 Many of the tourists who decide to visit Procida island do so because they've fallen in love with online pictures showing a tangle of colorful houses.
Marina Corricella, the colorful fishing village you've seen countless times online (and on world-famous travel guides) is Procida's main highlight.
The village was built into the rock and dates back to the 17th century. It's another pedestrian area, because the streets are way too narrow for cars.
The "vicoli" are enlivened with bright pink bougainvillea flowers, jasmine and daffodils: their scent will follow you as you wander the medieval streets, especially if you're visiting Procida in spring.
You might also like:
Italy in spring – everything you need to know
If you're planning to take a few pictures of this colorful village on the island of Procida, head over to the Terra Murata.
The highest point of the island, and the oldest village, with fortress walls dating back to the 15th century, is the perfect place to go for some instagrammable shots. From up there you'll have a clear view of Marina Corricella and its houses.
Once you're on the top, make sure to also visit the Abbazia di San Michele Arcangelo, which is the cultural centre of the village of Terra Murata.
This Benedictine Abbey dates back to the 11th century and has been torn down and rebuilt several times.
The imposing structure is an exhibition of the many transformations that have taken place in Procida over the centuries. The Abbazia di San Michele Arcangelo has also been ranked as one of the richest and most prestigious Churches in the South of Italy.
While strolling through the narrow streets at Terra Murata, you might notice a tiny white church located on a cliff. It's Santa Margherita Nuova, which has been reopened in 2012 after extensive renovations that took over 15 years.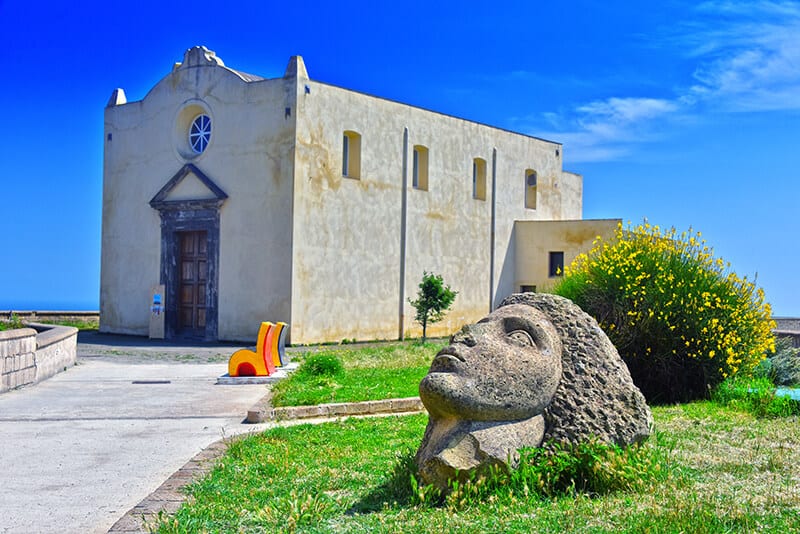 The main harbor in Procida is Marina Grande. Just across the ferry terminal you'll find the main square, Piazza dei Martiri.
I know that while reading you might be wondering if you'll have to walk a lot or if you'll have to see everything, but remember that Procida is a tiny island!
From Piazza dei Martiri you can access Torre Murata, it's just a few minutes away!
Another great place to go to enjoy the view is Marina di Chiaiolello, a crescent-shaped harbor located along the Southwest tip of the island. This Marina is lined with cute cafes, restaurants and tiny shops selling handmade products, jams or limoncello from the Amalfi Coast.
The Santa Maria delle Grazie dome can be seen also from the hydrofoil as you approach the island of Procida. It's magnificent and at sunset it makes a great postcard view from Italy. This Church is absolutely gorgeous, with golden ceilings and paintings.
You can visit Santa Maria delle Grazie for free, but keep in mind that this is a place of worship, so be respectful! You'll also need to cover your shoulders and legs, like in every other church in Italy.
Last but not least, Casale Vascello, an ancient village built in the 15th century, features the first houses ever built in Procida, which will give you an idea of the true Procida architecture of the 15th century.
You can access Casale Vascello only through two narrow passages. One is located in Via Principe Margherita and the other in Via Salita Castello.
The main houses are built around a central courtyard, where the locals still hold several cultural and religious events.
All the houses in Casale Vascello are brightly colored. They were built side by side as a wall to keep the enemies away from the center of the island.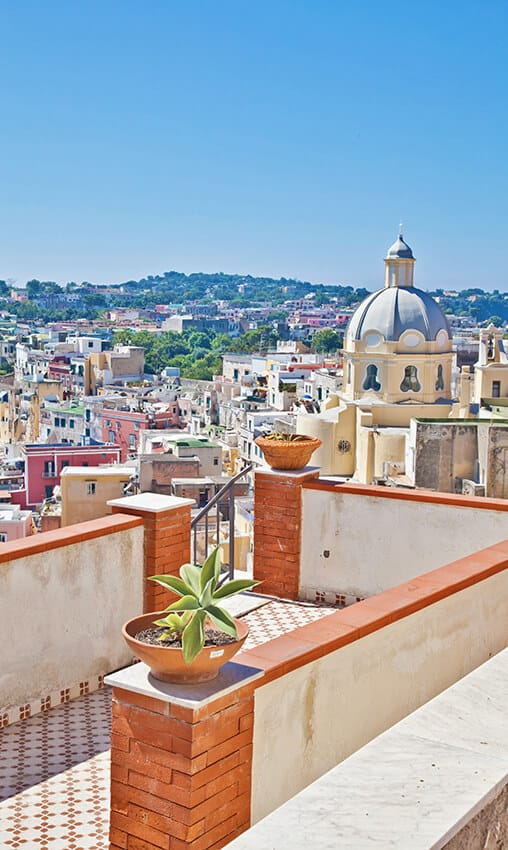 Explore the gorgeous Procida beaches
The island of Procida is endowed with beautiful beaches, where you can spend a few hours also if you're only planning this as a day trip from Naples.
The weather in Southern Italy is usually beach-perfect so you might be able to jump in the pristine waters of the Gulf of Naples from early spring to late autumn. The water is never overly cold!
You might also like:
What to wear in Italy in summer – a useful packing guide
Spiaggia della Chiaiolella
Chiaiolella beach is located at the far end of the island. You can get there using a bus, both Linea 1 or Linea 2 stop there.
The coastline at Chiaiolella is the longest on the island, where most of the tourists like to go. It is a great beach because the water is warm and shallow, so it's perfect also if you're visiting with your kids.
At Spiaggia della Chiaiolella there are quite a few food kiosks so you can easily have lunch on the beach.
Spiaggia della Chiaia
Chiaia beach is located on the west side of Procida island and it's perfect for families with kids.
This long stretch of golden sand is great for a day out in the sun or some relaxing sunbathing.
Spiaggia della Chiaia can be reached by boat or through a long staircase (186 steps), starting from Piazza Olmo, which made me think immediately of the narrow staircases along the Amalfi Coast!
You can get to Piazza Olmo by bus: Linea 1 and Linea 2 both stop there.
You might also like:
The best beaches on the Amalfi Coast (complete guide from a local)
Spiaggia del Postino / Spiaggia Pozzovecchio
The Postino Beach, also known as "Pozzovecchio" is shaped like a horseshoe and is super famous because here they filmed the movie "Il Postino".
In Campania region and especially in Naples, the main actor, Massimo Troisi, is very much loved. Even if he passed away when he was still quite young, every Neapolitan here knows him and loves him as if he's still a part of our community. That's also why many Neapolitans love to visit Pozzovecchio: it's Massimo's beach!
The Spiaggia del Postino is located 20 minutes away from the Centro Storico on foot. It's at the end of Via Cesare Battisti, and you'll have to walk a dirt trail behind the cemetery to access the beach.
The view from Postino Beach in Procida are unforgettable: white sand, crystal clear water and dramatic cliffs make this a perfect place to relax, swim or snorkel.
As I already mentioned, Neapolitans love to visit this beach so it's usually considered mostly "for the locals", off the beaten path. If you're looking for a taste of the real Procida island, by all means, make sure to add Postino Beach to your itinerary!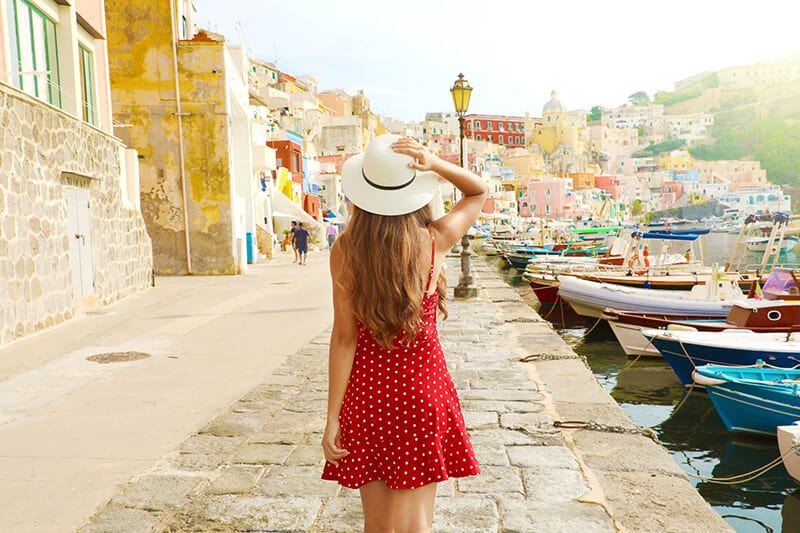 Spiaggia della Lingua
Lingua beach is located next to Marina Grande. It's the closest one to the harbor and it can be accessed through 2 routes. One is through narrow steps at the back of the beach (they lead to Terra Murata) and the other is from Via Roma at Marina Grande.
Tourists (both Italians and from abroad) love the Spiaggia della Lingua because of the crystal clear and shallow water. There's also a small beach bar, "La Lingua" where you can purchase gelato, snacks and lunch specials.
From the Spiaggia della Lingua you can easily walk to the Spiaggia dell'Asino, which has been wonderfully described in the novel Arturo's Island by Elsa Morante.
Spiaggia di Ciraccio
The largest beach on the island of Procida is very popular because of the Faraglioni. The rock formations are pretty similar to the ones near Capri. They immediately made us think of our trip to Puglia region, where faraglioni have the same shape!
Usually Ciraccio beach is sunny and there's some – much needed – wind making sure you won't melt. To access the beach you'll have to go through a lido, a beach establishment which can also rent loungers and a beach umbrella. You'll need it if you're planning to visit in July or August!
Spiaggia di Silurenza
Silurenza beach is also pretty close to Marina Grande. You can get there walking the same route you'd do to go to Ciraccio Beach. The access is also on Via Roma at the Marina.
Silurenza has a lido and is perfect for families who are visiting with young children because they actually have showers, bathrooms, a snack bar and a small restaurant.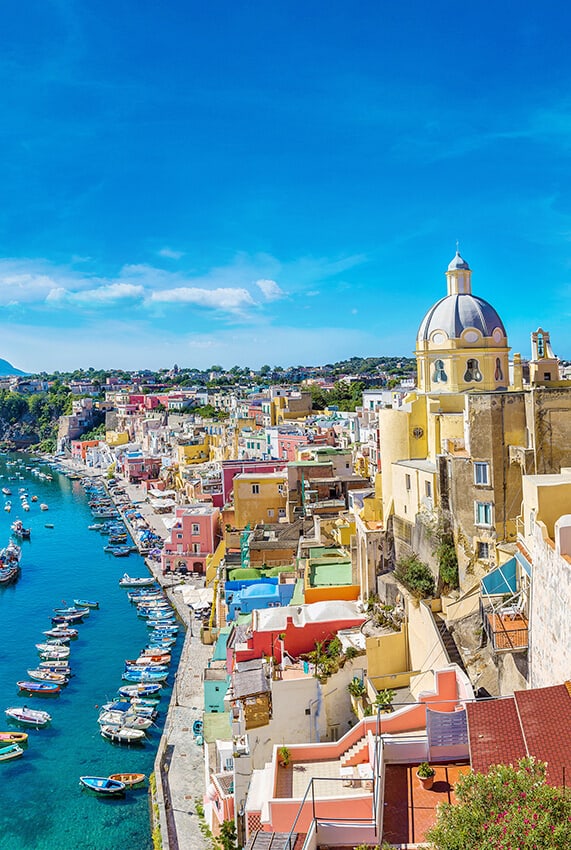 Movies filmed in Procida (and books you should read)
While for us Italians Procida will always be "L'isola del Postino" (The Postman's Island, translated from Italian), the Massimo Troisi movie isn't the only movie which was filmed on this beautiful island.
The Talented Mr. Ripley, a 1999 movie by Anthony Minghella with a young Matt Damon, Jude Law, Gwyneth Paltrow, Cate Blanchett and Philip Seymour Hoffman (would you guess I'm a movie-nerd?) has also been filmed in Procida!
The scenes featuring the fictional town of Mongibello in fact were filmed in Positano, Ischia and Procida.
Another Italian movie which made history here is "Detenuto in attesa di giudizio" by Nanni Loy, with the world famous Alberto Sordi.
You might also be surprised to know that Cleopatra, by Joseph L. Mankiewicz, with Elizabeth Taylor and Richard Burton, was also filmed in Procida!
There's a scene where Richard Burton is standing on a terrace at Castello Aragonese in Ischia, to look at Cleopatra's boats, and in the background you can clearly see the colorful houses of Marina Corricella and the island of Vivara!
Procida island is not all about movies, even if many more were filmed here.
As I already mentioned, Elsa Morante, in 1955, was inspired to write "L'isola di Arturo" (Arturo's island) while looking at the lemon grove next to her hotel, Albergo Eldorado.
There's two more books you should read before you visit Procida, to get into the right mindset.
The first one is Graziella, written by Alphonse de Lamartine in 1852, describing his love for a girl he met in Procida. While the real name was Antonella Jacomino, "Graziella" has since then become the symbol of every true girl from Procida: Mediterranean, down to Earth and with a sunny disposition.
Another interesting read is Girl by the sea, written by Penelope Green. It's a memoir of an Australian woman who lived in Procida. It describes a lot of places you can actually visit on your own. For me, as an Italian, it was great to be able to read how someone from abroad sees Procida!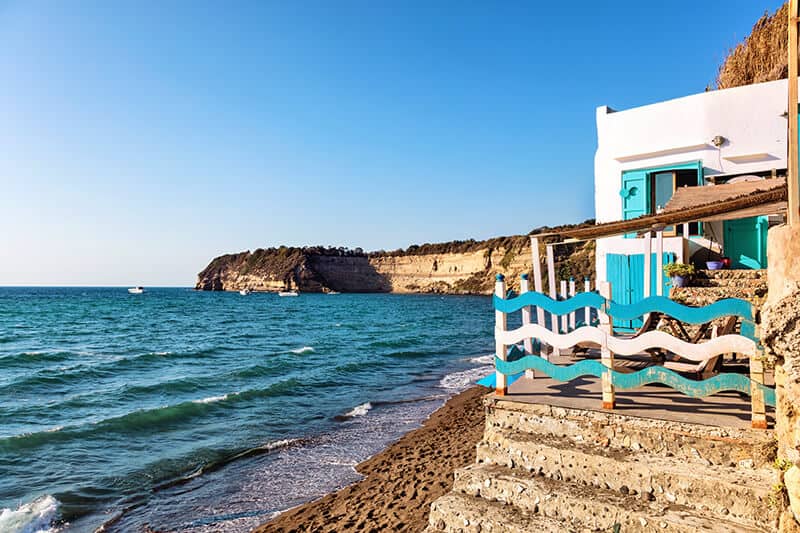 Where to eat in Procida and what to order
Whether you're spending one day in Procida or if you've decided to stay for a while, I suggest you hit the restaurants to enjoy some delicious local food.
Fresh fish and seafood are the main ingredients used in almost every restaurant, together with homegrown vegetables, fresh pasta and cakes. Procida is home to the popular Italian dishes you can also eat in Naples. Once you're done eating, you should order Limoncello from the Amalfi Coast or Meloncello, which is a delicious cream liquor, served cold and made with cantaloupe.
You might also like:
– How to plan a Romantic Italian Honeymoon
– How to plan the Perfect Honeymoon on your own
– Abruzzo Food: The Secret Italian Dishes
Note: one of my favorite dishes in Procida is Spaghetti con le vongole (spaghetti with clams), while Aldo absolutely loves Spaghetti ai ricci di mare (spaghetti with sea urchins).
The most popular restaurant in Procida is La Pergola, where you can have lunch under the lemon trees.
La Pergola is a super romantic place, the perfect spot (especially at night when it's candle lit) where honeymooners love to dine, or where you can pop the question.
It is a bit pricey, and it's always better to book a table in advance, but you won't be disappointed!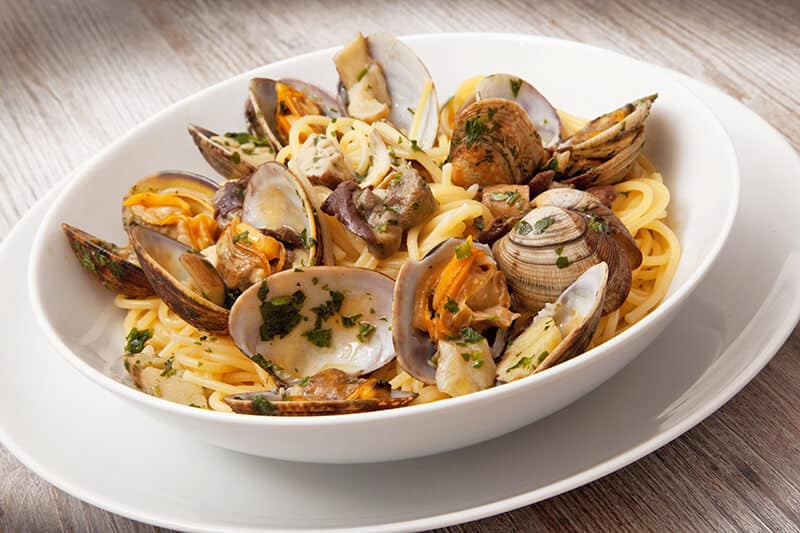 Another great place to eat in Procida is La Lampara, where you can have lunch with a view on Marina di Corricella. Of course fresh seafood and catch of the day are the main highlights of this restaurant!
Not too far from La Lampara there's another great restaurant, Caracale, where your table is usually placed next to the small fishing boats. Here you'll also find some vegetarian dishes, as they serve Italian food with a modern twist.
If you're visiting the island of Procida on a budget, I have the right places for you.
Bar Graziella is located in the heart of the "colorful houses" area.
Here they serve large portions at reasonable prices. Stay away from seafood and order pasta al pesto, it's the budget option that will still fill you up!
At Bar Dal Cavaliere in Marina Grande, you can have a delicious aperitivo, or a sandwich. But my suggestion is to try the local pastries, Lingua di Procida, stuffed with lemon custard. There's a version with chocolate but… the lemons are locally grown so the lemon custard is to die for!
You might also like:
The best regional dishes you should try in Italy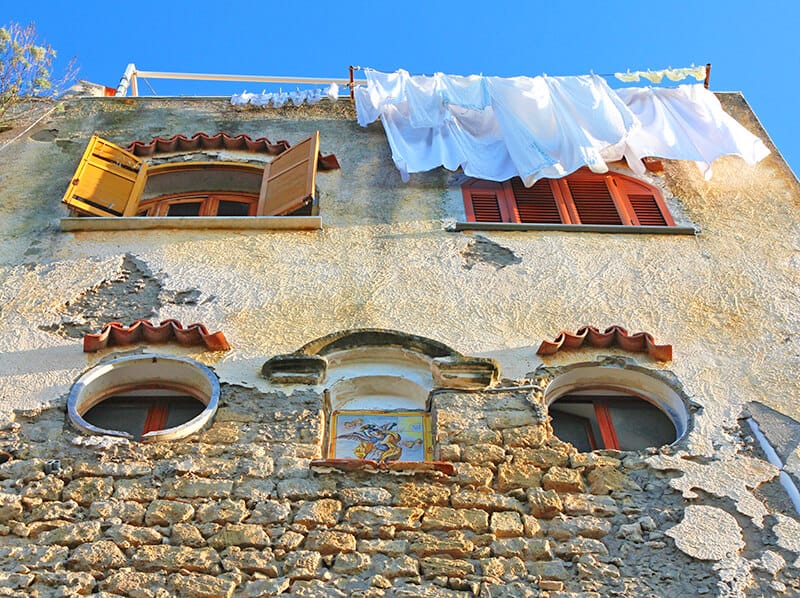 Procida holidays: finding a hotel might not be easy
The island of Procida is tiny, which means that finding a hotel might not be easy. After all… there aren't many rooms available!
My suggestion is to also check out some of the lovely houses available for rent. They are cheap (so also perfect if you're visiting on a budget), very cute and with a view!
Here are only some of the best apartments in Procida island for rent.
Here you can find the most beautiful, cute and romantic B&B in Procida.
Looking for something more exclusive for your Italian honeymoon? Check these out!
Click here to book a full day trip to Procida from Naples: this tour includes round trip ferry tickets, restaurant lunch and a guide!
You might also like:
What to eat in Naples
Naples neighbourhood guide – where to book your hotel
The best 45 things to do in Naples
How to spend one day in Naples
Naples cafes and how to drink espresso
Is Naples really dangerous?
Pompeii travel guide from a local
Riding the art metro in Naples 
Hiking Mount Vesuvius – how to get there
18 lip smacking street foods in Naples
How to visit Naples Christmas Alley
Procida island travel guide – Our hidden gem
20 best destinations in Europe for a fall trip
30 different types of pizza you should eat in Italy
22 Amazing Day Trips from Naples (Italy)
10 Completely Free Things To Do in Naples (Italy)
Do you need ETIAS Authorization or Visa to enter Europe?
Guide to the best time to visit Italy
Ultimate guide to the best movies set in Italy
Pin it for later!
Travelling Dany – Danila Caputo
Danila Caputo is a bilingual travel writer living in between Naples and the Amalfi Coast (Italy), graduating from the University of Naples Suor Orsola Benincasa in Foreign Languages and Literature. She travels and works with her husband Aldo, photographer and videographer. Their blog chronicles their adventures around the world, their love for the USA (where they have family), Italian/European culture and tips on how to be responsible travelers. You can find out more about their latest trips and their life on Youtube, Instagram and Facebook.