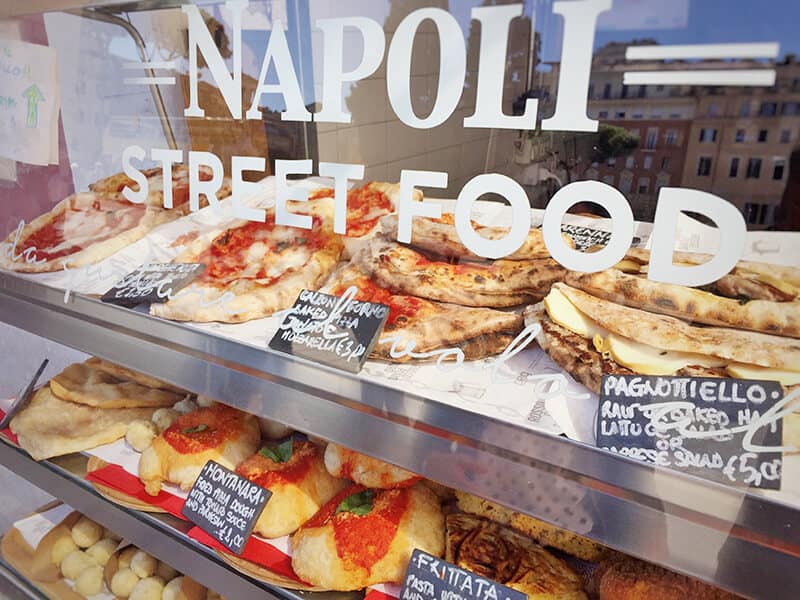 The best street food in Naples (Italy) is absolutely cheap and yet mouthwatering. Eating for less is possible if you know what to look for! Being a Neapolitan foodie means that my mission is to find all the best food in Naples which doesn't rhyme with "tourist trap". Here we love to eat on the go because we can sit near the sea, or inside a beautiful garden, or next to a magnificent castle. Can you really blame us? The view is mind-blowing, so the more easy-to-eat street food, the better.
Let me show you all the cheap eats in Naples you should add to your foodie bucket list: they're all well under 10€!
Planning your trip to Naples last minute?

If you're booking your trip to Naples (Italy) and you are in a hurry, I can help you!
Below you can find some of our favorite tours, hotels and more!

Top Experiences and Tours in Naples:
1. Naples Underground: Entry and Guided Tour
2. Sorrento, Positano and Amalfi Tour
3. Pompeii and Mount Vesuvious Full Day Tour
4. Catacombs of San Gennaro: Entry and Guided Tour

Our Favorite Hotels in Naples:
1. Grand Hotel Vesuvio
2. Hotel & Apartments Piazza Bellini
3. B&B Hotel Napoli

Click to check out the updated rates for renting a car!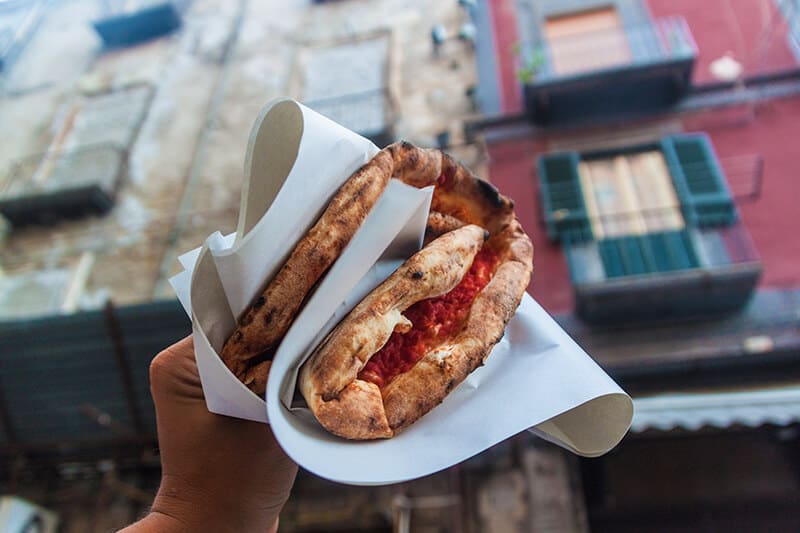 Pizza a Portafoglio – One of the must eats in Naples
Pizza a portafoglio can be described as pizza margherita on the go. It's one of the most popular pizzas in Italy, only you can fold it and eat it as you walk down the narrow vicoli in Naples.
If you're planning to visit San Gregorio Armeno (Christmas Alley) in Naples, then you'll be surprised by the fact that the oldest part of Napoli smells like pizza. The narrow vicoli hide lots of tiny pizzerias which only sell pizza a portafoglio and deep fried Neapolitan street food.
Pizza a portafoglio in the oldest part of Naples will only cost you 1.50€ (some places in the touristy areas sell it for 2.50€ but it shouldn't be more than that) so it's one of the cheapest eats you'll find in Naples!
You should eat it scorching hot. The "pizzaiolo" (pizza maker in Italian) will cook it and serve it folded in a way that you won't mess up your clothes with tomato sauce.
A word of advice: it's super easy to get a huge drop of scorching hot tomato sauce on your shirt. So start by eating the upper crust of this pizza, the "cornicione", and then keep going until the lower tip of your triangle. By then it shouldn't be as hot as it was before: you'll turn into a tomato sauce pro in no time for your trip to Naples!
Have you always dreamed to learn how to make Neapolitan pizza? Click here to check out this short and cheap Pizza Making Workshop! It includes a 3-course meal, transfer and an English-speaking local guide!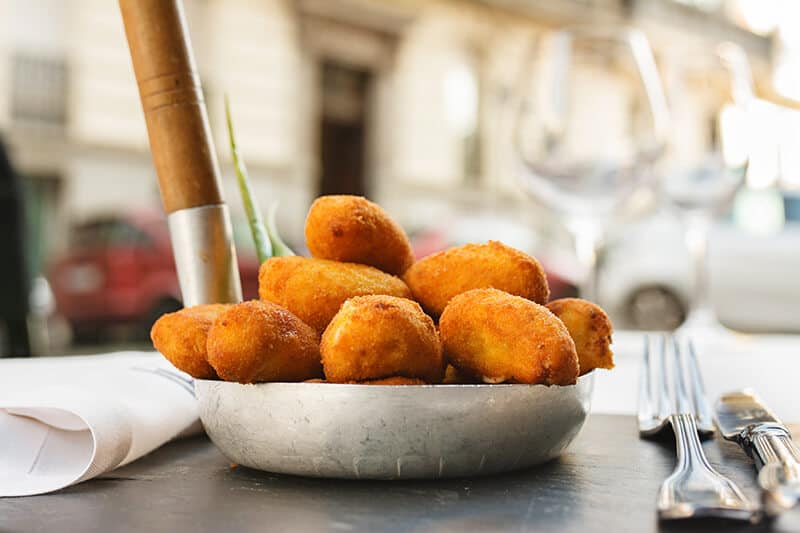 Crocchè / Panzarotti Napoletani – Glorious potato bites
You might be thinking I'm surely wrong. Aren't "Panzerotti" like a deep fried calzone from Apulia? Yes, they are!
Yet in Neapolitan dialect "Panzarotti", known as "Crocchè" in Italian, indicate yummy potato bites, covered in bread crumbs and deep fried.
Panzarotti are made with mashed potatoes and eggs. The traditional Panzarotti include also some ground pepper and fresh parsley. Some of the modern variations on the contrary are served with a tiny bit of mozzarella in the middle, so that there's a soft, cheesy center.
Panzarotti, together with Pasta Crisciuta (keep reading to know more), are also sold at moving kiosks throughout Naples. Usually Neapolitans ask for a bag of "Pezzelle e Panzarotti" (Pasta Crisciuta and Crocché).
To make sure you avoid the tourist traps, always tell them how much you're going to pay first.
"2€ di pezzelle e panzarotti" will buy you a medium-sized bag of scorching hot panzarotti and pezzelle, while "5€ di pezzelle e panzarotti" will buy you a paper bag full of deep-fried yummy bites.
Usually the 5€ bag is a serving for two, which means that this mixed bag of goodies is one of the cheapest street foods in Naples you can also buy if you're visiting on a budget!
Worried you'll need a bit of help?
Download the FREE Italian Travel Phrasebook here! It includes the correct Italian pronunciation and lots of useful sentences that you'll be able to use on your trip to Italy!
Pasta Crisciuta / Pezzelle / Zeppulelle
Pasta Crisciuta, also known in our dialect as "Zeppole" (not the sweet ones with custard!), "Zeppulelle" or "Pezzelle", is usually served with Panzarotti if you order them at one of the super cheap mobile kiosks in Naples.
The original version is only prepared with flour, water and yeast, making it one of the most loved, easy-and-yummy cheap eats ever. Even when our city was very poor, we still had pizza, and all the delicious alternatives like pezzelle, which you could prepare with cheap, leftover ingredients.
Of course, they're deep fried, like most of the street food in Naples!
Nowadays the restaurants also make them with algae (find them on the menu as "Pizzette d'alghe"), or pumpkin flowers (find them on the menu as "Pizzette con i sciurilli") or sometimes with different vegetables. The base used is always the same, ancient one, but the modern versions are more expensive, especially if you buy them at a restaurant or pizzeria.
Aldo's grandma cooked a very special version of pezzelle, with pumpkin flowers, ground pepper and pecorino cheese, without yeast. They were absolutely delicious, so much so that even now that she has passed, we still use her recipe. It feels like she's here with us whenever we smell that distinctive scent. That's the superpower of Neapolitan food: it smells like family!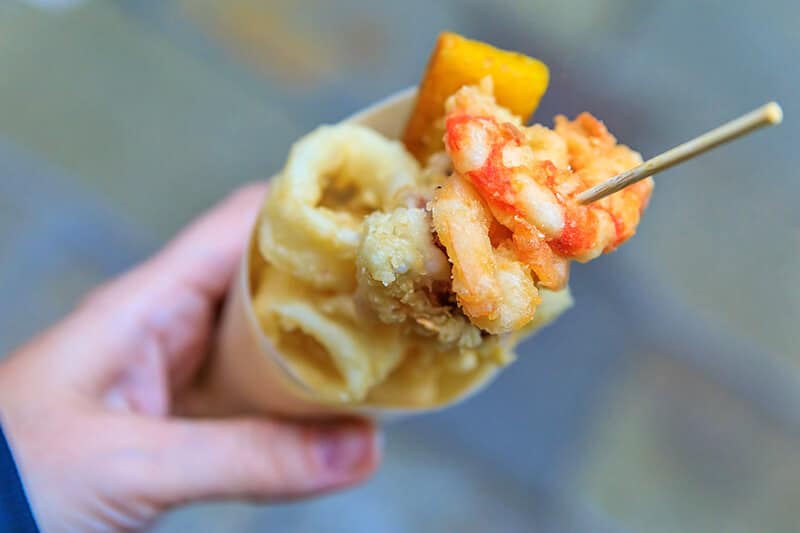 Cuoppi napoletani – Fish or deep fried goodies
Neapolitan "Cuoppi" are among the must eats in Naples, whether you're visiting on a budget or not.
This paper cone filled with yummy goodies is one of the staples of the Neapolitan food culture (dating back to 1800!), and comes in different versions.
Prices vary according to what you want to eat, but in the narrow vicoli Cuoppi sell for 2.50€/3€. At pizzerias, restaurants and at some of the touristy spots we have seen cuoppi sold even for 7€.
There are Cuoppi filled with deep fried fish (also anchovies from the Amalfi Coast), or with zeppole and panzarotti, with chicken nuggets and deep fried bites of mozzarella.
One of the most famous places where you can eat huge cuoppi, filled with mouthwatering bites and scorching hot, is Passione di Sofì, in the central Via Toledo, our popular shopping street. This is also where you'll find lots of deep fried traditional street food.
Planning to visit Naples and you don't know how to get to the Amalfi Coast? Click here to check out this 5-stars, cheap tour with pick-up from Naples to visit the Amalfi Coast! It includes lunch, drinks and a 30-minute boat trip!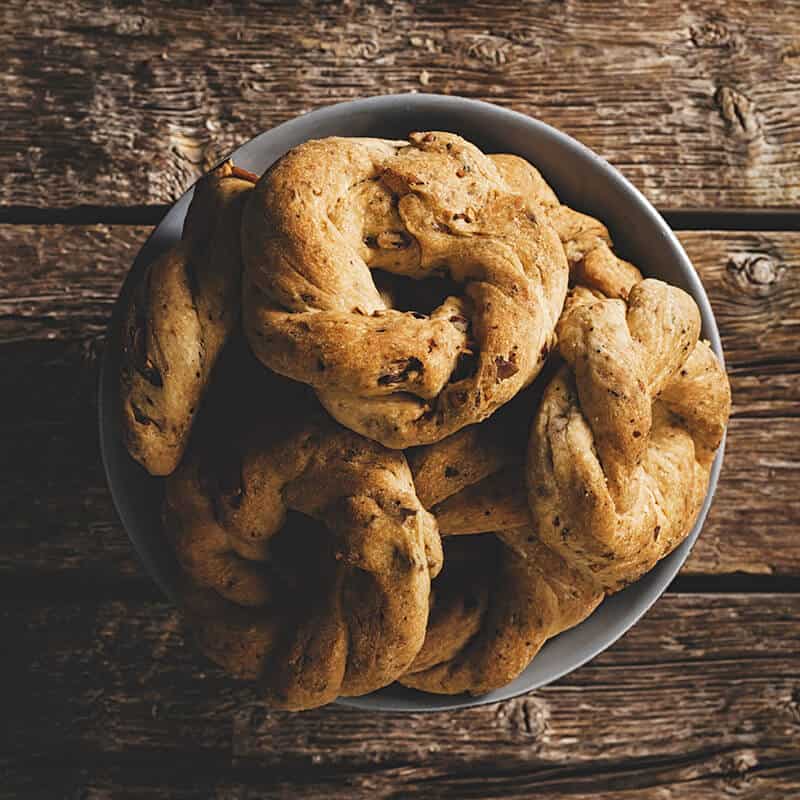 Taralli Sugna e Pepe – Also a good souvenir!
Neapolitan taralli are one of the cheap street foods that Neapolitans love to snack on while drinking a cold beer. There are many vendors on Lungomare Caracciolo, on the waterfront. We absolutely love to eat taralli while watching the ships go by and at night while admiring the city lights and our Castel dell'Ovo.
Traditional taralli are made of 'nzogna (Neapolitan dialect for "lard"), ground pepper, flour and almonds. Yet there's a "hipster" version of taralli which has become quite popular in Naples.
Taralleria Napoletana, hidden away in one of the vicoli in the oldest part of the city (within walking distance from Christmas Alley), has turned Naples street food into something that can be bought as a present for an elegant dinner, or as a souvenir.
They sell tiny taralli into cute boxes, and have introduced an assortment of new flavors, like friarielli (which are generally used as one of the best pizza toppings in Naples), bell peppers, sausages and much more. They made sure to create vegan and gluten free taralli, which you won't find anywhere else.
A box of tiny taralli from Taralleria Napoletana can be also a great souvenir from Italy, but make sure to always check if you can bring them back home!
You might also like:
60 gorgeous souvenirs from Italy you can't miss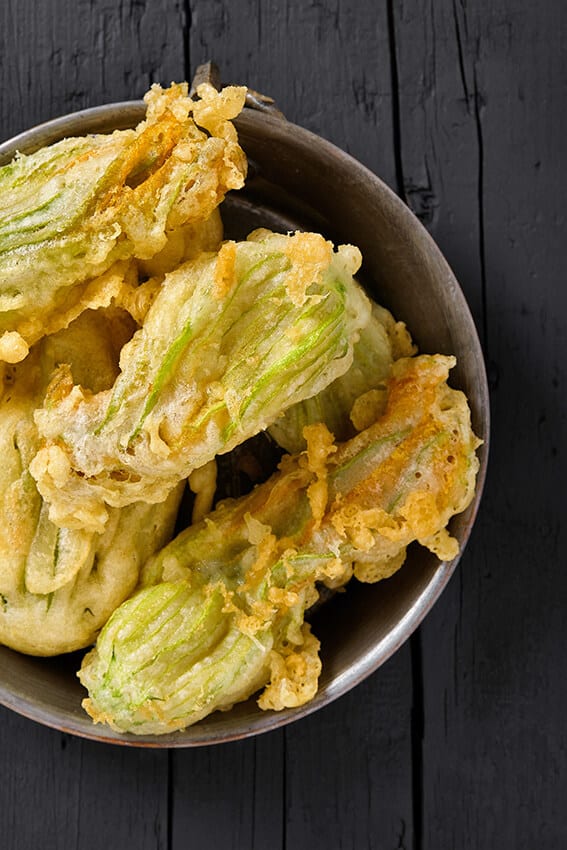 Fiori di Zucca Ripieni – 'Sciurilli 'mbuttunati
Fiori di zucca ripieni are a staple of the traditional street food in Naples. They are crunchy, deep fried pumpkin flowers with a surprise. The filling comes in many forms. Some use potatoes, others use mortadella and black olives.
In Naples you'll almost always find a soft filling with fresh ricotta cheese, some ground pepper and tiny bits of baked ham (the Italian "Prosciutto Cotto"). The Amalfi Coast on the contrary uses anchovies a lot, especially in Cetara, the world famous (tiny) fisherman's village where they cook anchovies in over a hundred different dishes.
So the Cetara version of Fiori di zucca ripieni is filled with anchovies.
I personally prefer the Neapolitan version, for the simple reason that I love cheese and ricotta in Naples is absolutely mouthwatering! Some pizzerias and kiosks also sell a version of "sciurilli 'mbuttunati" ("Fiori di zucca ripieni" translated from Neapolitan dialect) filled with fresh mozzarella cheese or provola.
The crunchy outside can be compared to Japanese tempura, as it tends to be more soft on the inside. The "sciurilli 'mbuttunati" should be always served warm, but be extra careful not to burn your tongue with the scorching hot filling!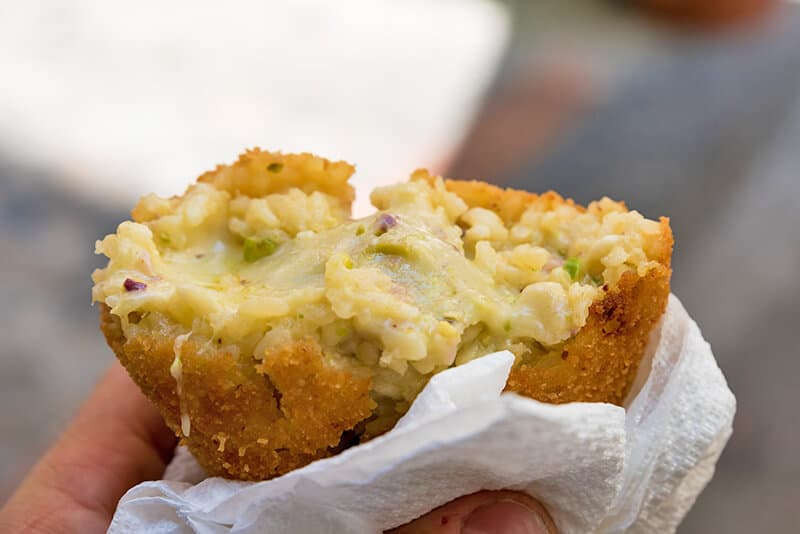 Frittatina – Deep fried… pasta!
A while ago a German friend who was planning her itinerary for a trip to Italy, asked me, baffled, if it was true that in Naples we deep-fry pasta dishes.
The answer to that is… absolutely yes! By now I'm sure that you've gotten the hint: almost all the cheap and yummy street food in Naples is deep fried!
Frittatina is yet another one of the must eats for every trip to Naples, if only because you won't find it anywhere else in Italy.
A crunchy outside hides a creamy inside. The original Frittatina is in fact made of bucatini pasta with creamy besciamella, green peas, some ground pepper and little cubes of Italian baked ham.
Once again I must say that as a local I've had the very best frittatina at Passione di Sofì in Naples. They make huge frittatine which usually serve as a filling to-go lunch.
Prices are absolutely low, a frittatina will cost you 4€ but you can find it for 2€ or 3€ (they are slightly smaller) at almost every bar or tiny pizzeria in Naples.
A delicious variation is Frittatina con pasta e patate, which is made with one of the most popular dishes in Italy – using the Neapolitan version. Pasta with potatoes and provola cheese. Passione di Sofì is also experimenting with different kinds of frittatina. They are now selling also Frittatina con gnocchi, with four different cheeses ("Frittatina ai quattro formaggi") or with tomato sauce and mozzarella ("Frittatina alla caprese").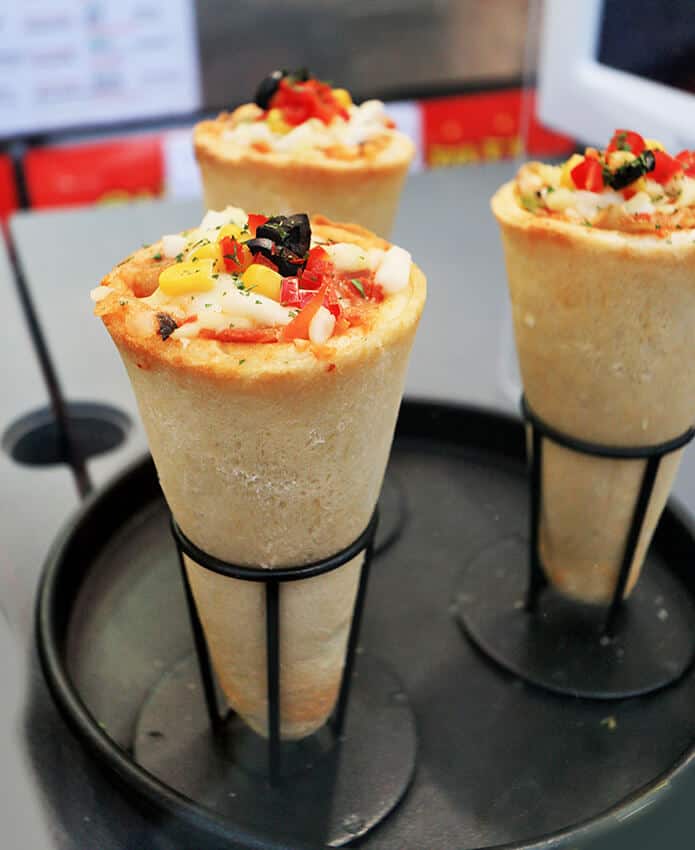 Cono Pizza – When pizza falls in love with gelato
Cono Pizza is a kind of street food that a few years ago was super popular. While now it's still widespread in the Amalfi Coast and at Salerno, it's less likely to be found in Naples as us locals prefer to eat Pizza a portafoglio in stead.
That doesn't mean you shouldn't try it, especially if you're worried that you might mess up your new shirt by eating Pizza a portafoglio!
Cono pizza is a mix between pizza and an ice-cream cone. The pizza dough is shaped like a cone, so it's very easy to carry around, and the inside is filled with mouthwatering pizza toppings and lots of sauce.
Cono pizza is now a hit also abroad, but here in Naples it has been used as aperitivo or as a to-go meal at least since 2012. Our version is bigger and often more creative when it comes to the filling, which is why I suggest you try one if you're super hungry or if you want to share it with a friend.
Some pizzerias that specifically cook cono pizza even fill them with "polpette e patate" (Neapolitan fried meatballs and fries), or with panzarotti! I confess they're so big that I've never been able to finish an entire one by myself!
A nice pizzeria that I really like, where you can find the weirdest, most delicious (and some of the most traditional) fillings is "'O Cono 'e Napule". They experiment a lot by using some of the most traditional Italian dishes like Bolognese sauce, deep fried meatballs, or even fresh fruit for the hot summer days.
Prices go from 3,50€ to 4,50€ and the staff will let you know if there are some missing ingredients: they only use seasonal vegetables to make sure their cono pizza is the best!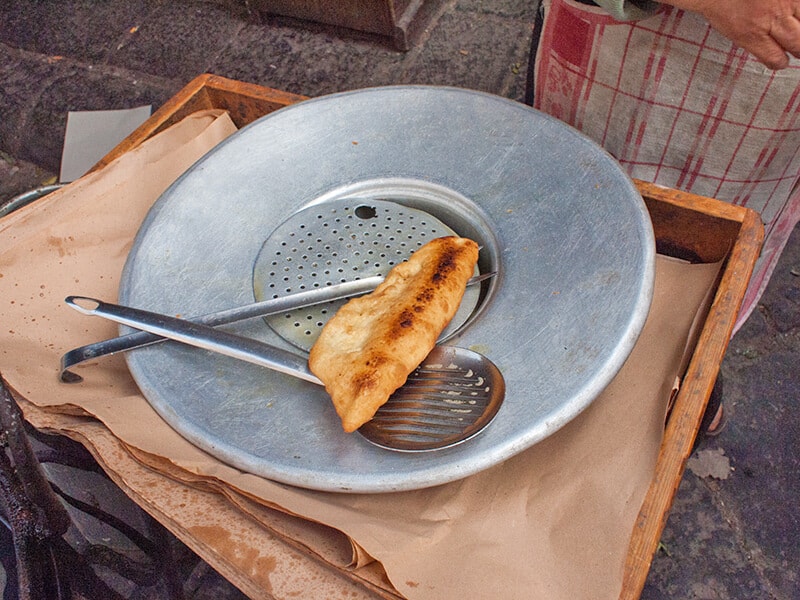 Pizza Fritta – Only in Naples!
One of the best cheap eats in Naples is… Pizza Fritta.
While the name means "Deep-fried Pizza", this super popular food in Naples looks more like a deep-fried calzone.
Us Neapolitans have some kind of cult-like devotion to Pizza Fritta, which is super cheap, huge and delicious.
The "pizza pocket" is traditionally filled with ricotta cheese (usually buffalo ricotta), "cicoli" (pork crackling), ground pepper and sometimes bits of Neapolitan salame.
Each one of us has its own preferences, for example, Aldo likes his pizza fritta without cicoli, with more salame and a hint of chilli pepper. Some of our vegetarian friends eat it only with ricotta cheese, mozzarella and ground pepper. There's only one very important thing you always have to keep in mind: pizza fritta has to be eaten very hot!
You can find pizza fritta in every pizzeria, at mobile kiosks which also sell zeppole and panzarotti, and at "friggitorie", places where they only cook deep-fried Neapolitan food (like "Passione di Sofì").
Pizza fritta is usually more expensive at pizzerias and in the touristy areas, but it's super cheap if you buy it at a mobile kiosk. Prices can go from as low as 1€ to 6€.
Please stay away from pizzerias selling pizza fritta for up to 9€ or even more! These are tourist traps: us Neapolitans don't like to endorse such places!
NOTE: There's a smaller version of Pizza Fritta (no filling) : Pizzonta a traditional Abruzzo food. It's a bit of dough deep fried and served with different toppings!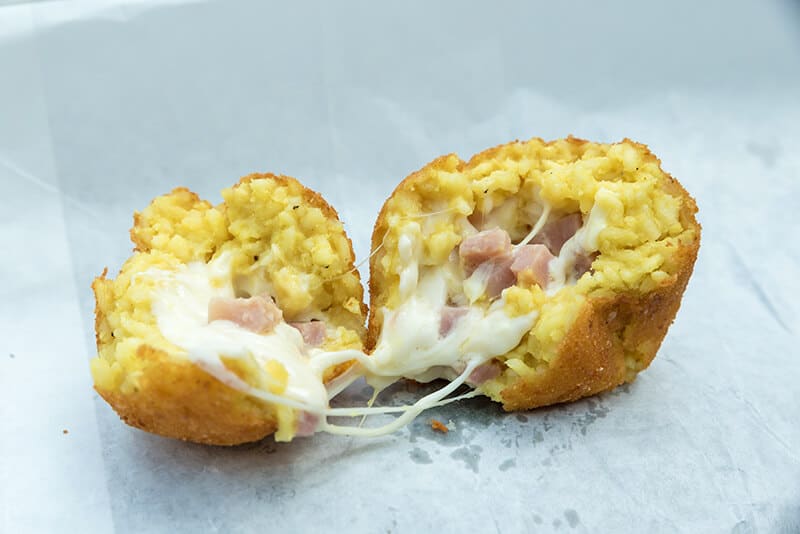 Arancino Napoletano – Our take on the Sicilian delicacy
Neapolitan Arancino is also known in Naples as "A' Pall' 'e ris" (in Neapolitan dialect).
Not many people know that Naples was ruled by the Spanish Bourbon when our city was the Kingdom of Naples and Sicily. During that time, Naples felt pretty close to Sicily due to commercial exchanges and traders going back and forth along our peninsula.
That is when this Sicilian recipe became popular also in Naples.
The Neapolitan Arancino differs from the Sicilian Arancina by the fact that ours is smaller, usually round in shape, and filled with rice, tomato sauce, sweet peas, ground meat and mozzarella cheese.
It is known as "Arancino", which literally means "little orange" in Italian, because it looked like the Sicilian fruit: same color, almost the same size, but it hides a surprise.
Nowadays, our Arancino is a super popular street food in Naples and the whole surrounding areas. We do have different kinds of fillings, from "salsiccia e friarielli" (which is also a very popular pizza topping in Naples) to saffron and ground meat.
Aldo's favorite Arancino is filled with butter rice, sweet peas and tiny cubes of Italian baked ham (you can find it as "Arancino bianco" on the menu). Mine? I absolutely fell in love with saffron Arancino (find it on the menu as "Arancino allo zafferano"): in case you see it on the menu, do yourself a favour and try it. Don't blame me if you'll get addicted!
Arancino in Naples comes in different sizes and different prices. The tiny ones are as cheap as 0.30€ each, while the bigger ones can rise up to 2€ if you buy them at a kiosk or in one of our "Friggitorie". Arancini might be slightly more expensive when you order them at a pizzeria, but they'll never cost you more than 4€ per serving. The menu will state how many Arancini you'll get: generally it's about 4 or 5.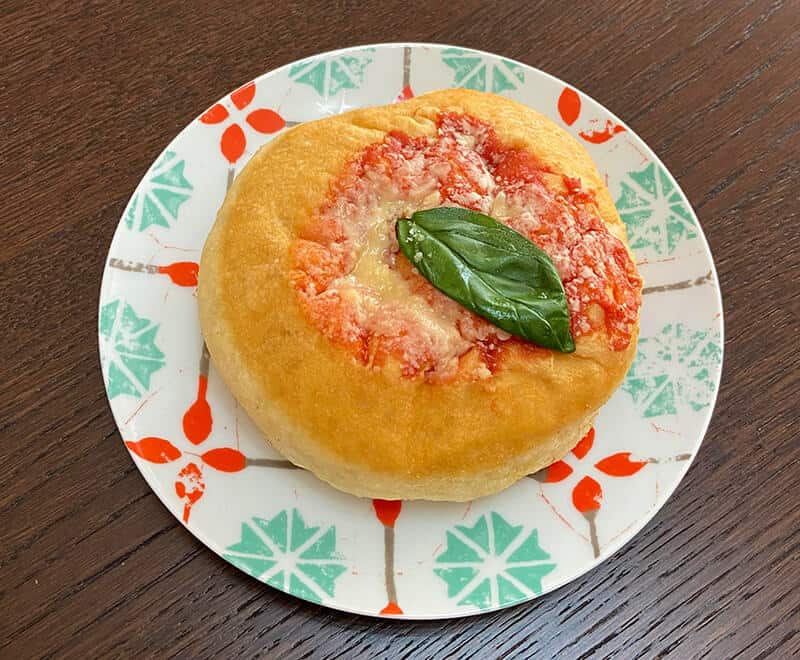 Pizza Montanara – Fluffy, deep-fried pizza
Pizza Montanara is possibly the best street food in Naples you should eat if you want to have a good overview on our local flavours.
It is quite different from the pizza you're used to: this one is puffy, soft, quite tall and deep fried! On the top, some (never too much) tomato sauce made with our local tomatoes, grated parmesan and fresh basil.
Once you bite into this soft and mouth watering goodie, you'll immediately realize how different it is from "pizza".
The inside is slightly chewy and never oily, because Montanara is deep-fried in a way that leaves the outside slightly crunchy and the inside super soft, but dry.
Pizza Montanara became famous in Italy thanks to the movie "L'oro di Napoli" (The Gold of Naples) directed by Vittorio De Sica. In the movie, it's our magnifica Sofia Loren who cooks Montanara, so nowadays one of the best places to go if you want to try a traditional Pizza Montanara is Pizzeria Donna Sofia ai Tribunali, which was inspired by the movie to only prepare the best of the best.
At Donna Sofia ai Tribunali you can eat a deep-fried Montanara, with traditional Neapolitan ragu sauce cooked for 6 hours, only for 5€. Their Montanara is absolutely… huge. So my suggestion is to try a "Tris di Montanare" (also for 5€) which will present you with 3 smaller Montanare and 3 different toppings. One is served with the traditional topping, one with Genovese sauce (beware, there's a lot of onion!) and one with salsiccia e friarielli.
Almost every pizzeria in Naples, and many smaller kiosks, sell Pizza Montanara. Prices go from 2€ to 5€. If it's sold for more, it's a scam!
Scagliuozzo – A unique local treat
Scagliuozzo is a Neapolitan dialect word which indicates one of the must try foods in Naples you probably never heard of. The small triangles of deep-fried polenta are usually sold in every friggitoria, and also at mobile kiosks. They are very cheap, and sometimes you can ask for a few of them to be added to a mixed bag of "panzarotti, zeppoline e scagliuozzi".
Aldo loves them quite thin, so they become crunchy, with a bit of ground pepper on the top. Usually the slices of dried polenta are thicker, so they're crunchy on the outside and soft on the inside: there's no set rule, aside from the fact that either they should be shaped as triangles or as small rectangles.
Some pizzerias offer scagliuozzi as antipasto, before you eat your pizza. Others sell them in cuoppi, or in a mixed dish, together with other deep-fried goodies.
Because they're super cheap, usually scagliuozzi are perfect for those who are visiting Naples on a budget. Just imagine walking around, enjoying the view and a crunchy triangle of deep-fried polenta. It's so very Neapolitan!
Sometimes pizzerias and restaurants will add them as "Triangolini di polenta" to the menu, if they don't want to use the local dialect.
You can buy scagliuozzi at mobile kiosks for just a couple of Euros per serving (each serving usually has min. 6 of them), or at pizzerias, restaurants and friggitoria.
On average, the price per serving should be about 4€.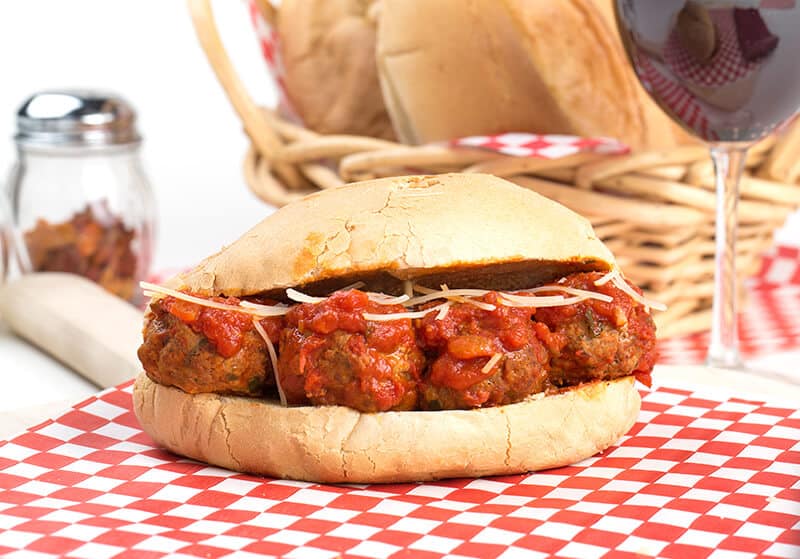 Cuzzetiello Polpette e Ragù – If you're super hungry!
Cuzzetiello polpette e ragù is not exactly what you might think. While it's technically considered "street food" and it's also super cheap, I find it huge! Of course it's a personal preference but because of all the tomato sauce (or other ingredients) I still prefer to eat it while sitting down somewhere. Trying to bite into this huge thing while walking around might prove to be… a little difficult!
This is one of the cheap eats in Naples for those who are super hungry. For 5€ you will get a bread bowl made from Neapolitan bread. We remove the soft inside to leave only the crunchy outside. This bowl is then filled with ragu sauce (cooked for 6 hours) and Neapolitan meatballs, fried and then cooked a second time in the tomato sauce.
This massive meal used to be known as "marenna", a hearty, filling lunch that bricklayers used to be given by their wives, to sustain them during a day of hard work. It had it all: meat, sauce and carbs!
A few years ago, in the narrow vicoli located in the oldest part of Naples, some nonna started to prepare and sell "marenna" for everyone: students, workers or even hungry tourists bought them for just a few Euros. That's how the trend began.
Nowadays many places sell this kind of "sandwich" (even if it's not really a sandwich) in Naples and the surrounding areas. They even broadened their offer by adding other fillings to the menu, like salsicce e friarielli, eggplants and more.
Tandem is one of the eateries in Naples which is all about ragu. Here you can eat cuzzetiello polpette e ragù, but also cheap ragu dishes with pasta, or just ragu meatballs.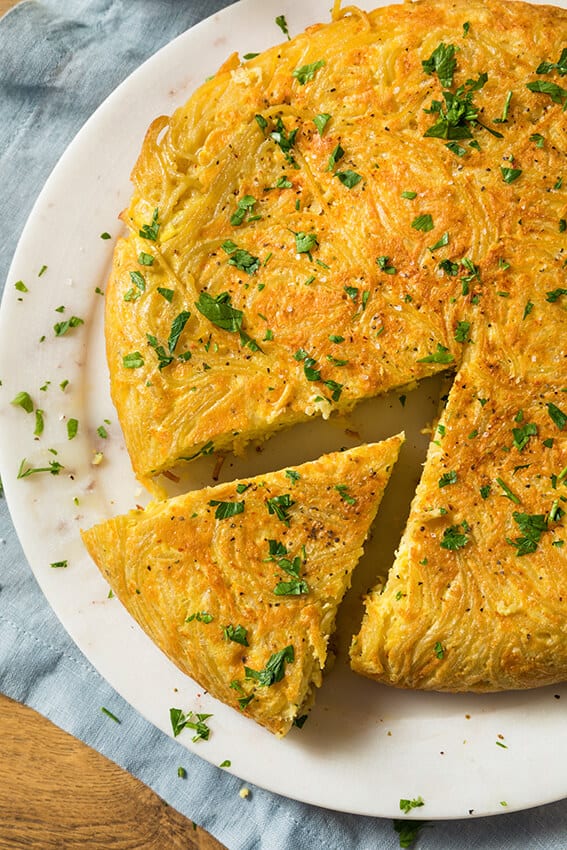 Frittata di pasta Napoletana – Cheap and filling
We already talked about Frittatina (scroll up to re-read that part), so you might think that this frittata with pasta is the same thing. But it's not!
This is yet another Neapolitan treat that you can only eat in Naples so make sure you add it to your foodie bucket list!
As Neapolitans, our childhood memories (and probably every memory which has to do with a day out or a picnic) are filled with frittata di pasta. It's the staple of every day trip for us, because it's easy to eat, easy to cook at home and absolutely delicious.
While the name suggests a generic "pasta" (in dialect it's known as "Frittata 'e maccarune"), the traditional Neapolitan frittata is always made with spaghetti.
Back in the day, when the city was very poor and after the world wars, families didn't have much. Pasta was cheap, so they bought a lot. Many people had chickens making eggs, so they cooked lots of pasta, then mixed the leftovers with eggs, ground pepper, cheese (usually parmigiano or pecorino) and fried it. They then let it rest for a few hours before to slice it as if it was pizza, so they could distribute it to all the family members.
As time passed, this kind of frittata has become something to rely on for picnics, also used as cheap and filling street food.
The outside is crunchy, while the inside is soft and delicious. Someone even adds bits of pancetta (Italian bacon), to give it a very tempting scent.
In Naples you will find triangular slices of frittata di pasta (sometimes also known as "Pizza di maccheroni" – we're slightly pizza-obsessed here) in many eateries and bars. Each slice will cost you 2€ on average.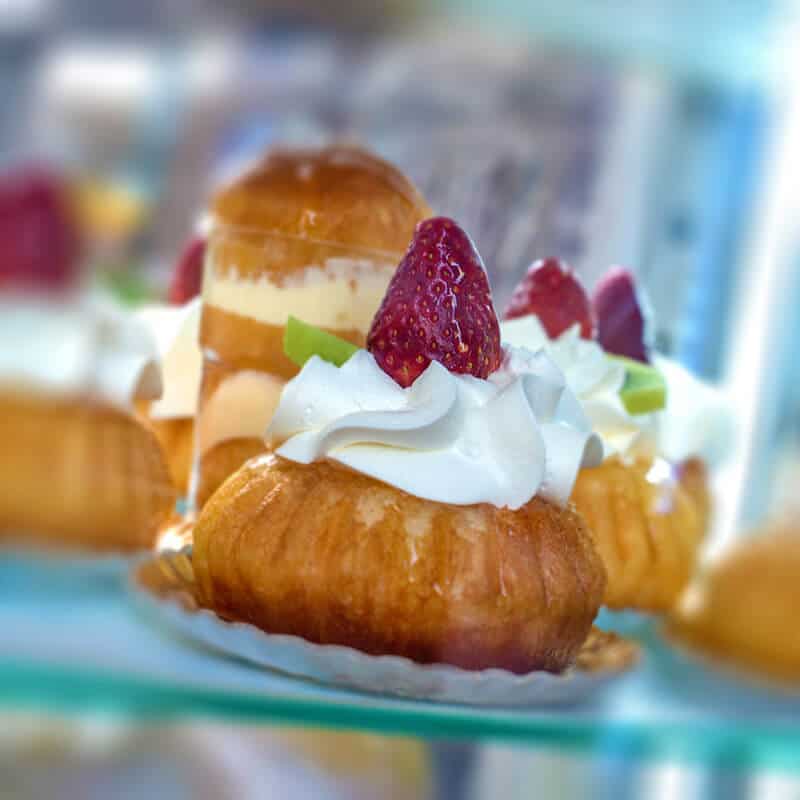 The best sweet Neapolitan street food treats
Eating on the go in Naples doesn't have to mean that you should give up on desserts. There's quite a number of yummy delicacies you can enjoy to appease your sweet tooth. Gelato is just the tip of the iceberg!
As you walk along Via Toledo, in particular, look out for the small shops selling tiny pastries and lip smacking delicacies… like handmade chocolates, which you can also buy as souvenirs, if you make sure you always keep them fresh.
One of the very best chocolates shops in Naples, dating back to 1800, is Gay Odin. The shop on Via Toledo is tiny, but it's packed with Napoli-inspired treats: some are so cute that I always feel bad when I eat them!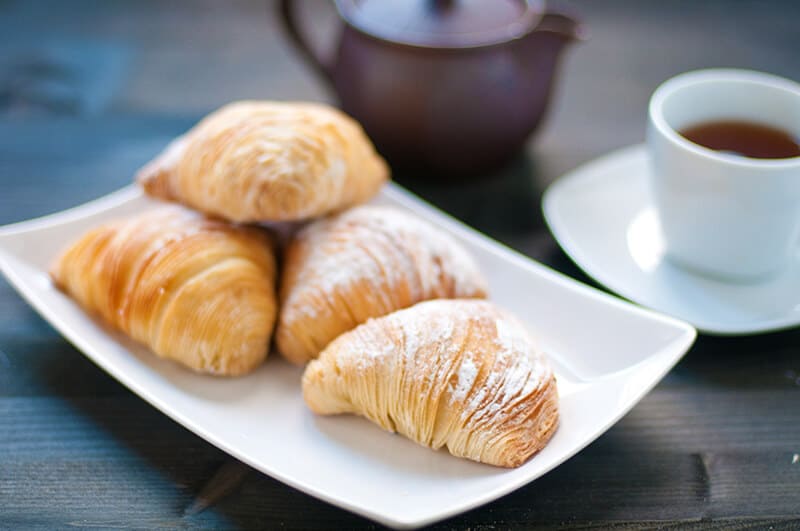 Sfogliatella Riccia or Frolla – The addictive pastry
Sfogliatella is the symbol of Naples just as much as pizza. While some other regions sell frozen sfogliatella, only in Naples and the surrounding area you'll have the chance to eat the authentic ones, handmade and usually sold in tiny shops which smell like paradise.
In Naples there are two types of Sfogliatelle, with the same yummy filling and two completely different outer shells.
Sfogliatella Riccia is shaped like a shell, very crunchy on the outside and soft on the inside. Sfogliatella Frolla, on the contrary, is round and covered in shortcrust pastry. You can recognize its sweet and buttery scent whenever you walk in an area where there's a "pasticceria" baking sfogliatelle.
The Sfogliatella filling is made of a mixture of semolino, sugar, Neapolitan ricotta, eggs, candied citrus peels and a tiny hint of cinnamon.
Because it's a layered pastry with two variations, while the filling is the same, it feels like eating two completely different pastries, due to the way the soft custard inside combines with the outer shell.
Neapolitan sfogliatella should be eaten hot, fresh off the oven. Some shops will warm it up for you and cover the top with powdered sugar ("zucchero a velo" in Italian). Usually they ask you if you want it or not: being from Naples I suggest you give it a try, because it really does complement the cinnamon in the sfogliatella!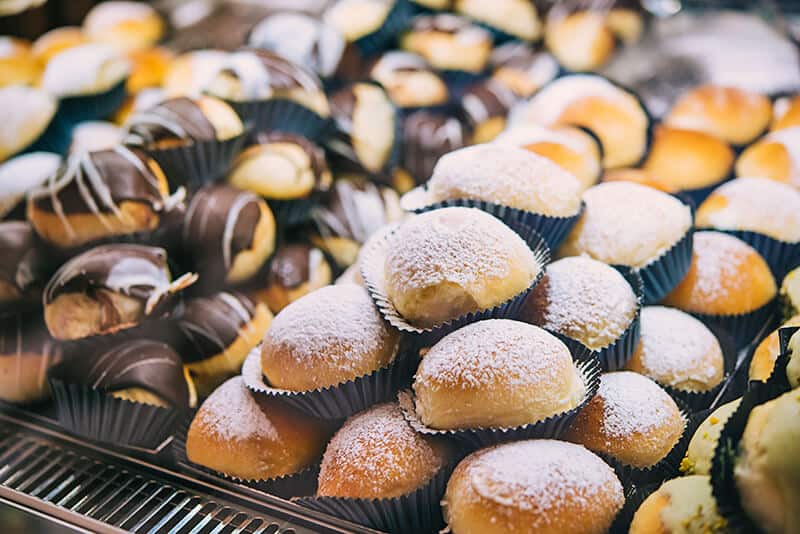 Where to eat the best sfogliatella in Naples Italy?
Sfogliatella is one of the cheap eats in Naples, despite being absolutely delicious. You can buy either Sfogliatella Frolla or Sfogliatella riccia for 1.50€ on average. Some of the smallest shops in the oldest part of Naples still sell them for 1€!
I have a few favorite shops where you can buy them: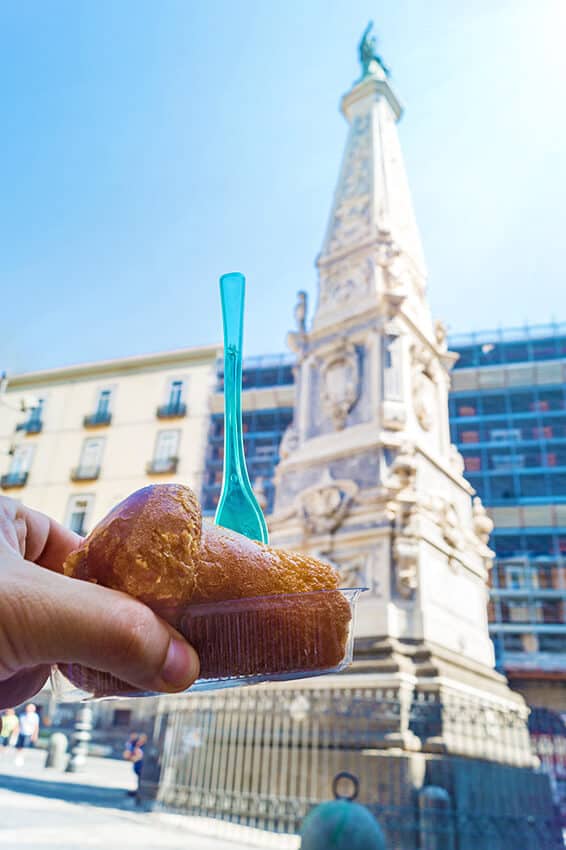 Babà Napoletano – A local dessert with rum, whipped cream and fruit
With its unmistakable mushroom shape, the Neapolitan babà is yet another one of the things you should note down on your foodie bucket list.
It's a very popular cake, which you can eat, being careful, while window shopping, as a sweet treat before lunch or as an afternoon snack.
But why should you be careful? Well, the fact is that this cake is soaked in a mix of rum, water and sugar. Usually when you buy it, they even add some more, because half the fun is basically eating it without messing up your shirt.
Luckily enough, some shops and pasticcerie on Via Toledo have fixed this issue. They are now selling big plastic cups (yes, unfortunately it's single-use plastic) filled with several tiny babà that you can eat as you walk, using a fork. It's practical and also quite romantic if you're visiting with your significant other, because you can share a cup!
While many only know about the simple mushroom-shaped babà, there are several kinds of babà in Naples. Often you'll find shops (including Sfogliatella Mary) which bake a bigger babà, slice it in the middle, and fill the gap with whipped cream and fresh fruit. It is a blessing on the warm summer days, and a quite large serving that you can eat if you're very hungry.
The simple, no-frills babà in Naples costs 1,50€, while the cup of mini-babà on average can cost up to 5€. The price of one babà with fruit and whipped cream depends on the size and the kind of fruit used. It can go from 3€ to 5€.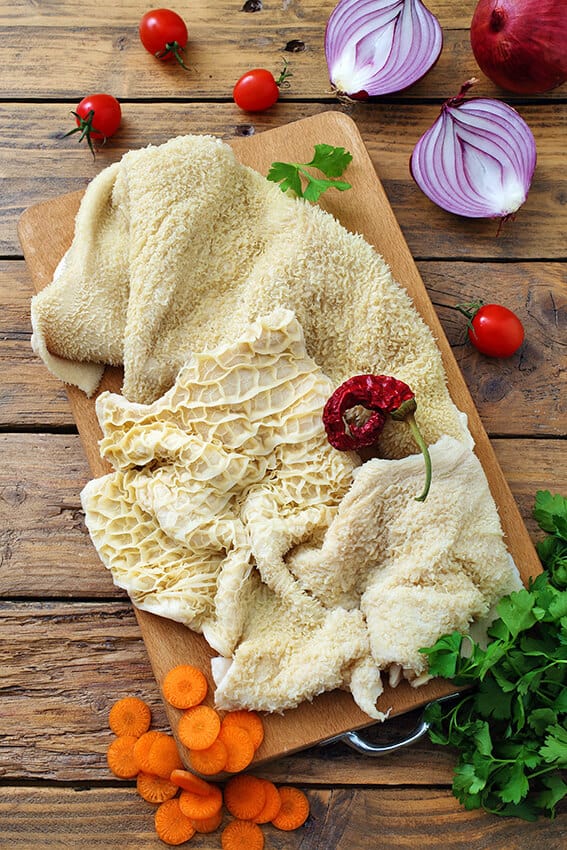 Bonus: the weird cheap eats in Naples
O' Pero e O' Musso – For the brave ones!
As you walk around, you're bound to find tiny kiosks (often mobile ones) selling stuff that seems to come straight out of "Bizarre Foods with Andrew Zimmern". Often they're decorated with big, yellow lemons all around and they don't always smell good.
Here in Naples we call them "'O pero e O' musso".
This traditional dish of the Neapolitan ancient culture is made of pig's trotters, calves mouth, tripe and cow's breast. It is a bit similar to the Lampredotto which is a traditional dish in Tuscany, but in Naples it has to be eaten cold and covered in salt and fresh lemon juice.
Do you want to try all the best street food but you don't know if you can find it or if you have enough time? Try frittatina, pizza a portafoglio, pizza fritta and arancini on a fun tour with a local, English-speaking guide! Click here to check out rates and availability.
'O pero e O'musso ("Feet and lips" translated from Neapolitan dialect) is usually boiled for hours to make sure it's safe to eat and odorless, then it's sold on the street in big cuoppi or to-go boxes, together with one or two fresh lemons.
It is absolutely cheap: one huge serving with lemon juice, a pinch of salt and some ground pepper (optional) will cost you on average from 3€ to 6€.
You might also like:
What to eat in Naples
Naples neighbourhood guide – where to book your hotel
The best 45 things to do in Naples
How to spend one day in Naples
Naples cafes and how to drink espresso
Is Naples really dangerous?
Pompeii travel guide from a local
Riding the art metro in Naples
Hiking Mount Vesuvius – how to get there
18 lip smacking street foods in Naples
How to visit Naples Christmas Alley
Procida island travel guide – Our hidden gem
20 best destinations in Europe for a fall trip
30 different types of pizza you should eat in Italy
22 Amazing Day Trips from Naples (Italy)
10 Completely Free Things To Do in Naples (Italy)
Do you need ETIAS Authorization or Visa to enter Europe?
Guide to the best time to visit Italy
Ultimate guide to the best movies set in Italy
Pin it for later!
This post is also available in:

Italiano